---
These are the latest Rolling Stones news and updates for you! IORR is a non profit fan club run by fans for fans. All parts of the It's Only Rock'n Roll web site is copyright of The Rolling Stones Fan Club. When using information from this site, please include a reference to IORR and the main web address www.iorr.org.
---
---
The Rolling Stones
Heinz Field
Pittsburgh, PA, USA
Saturday June 20, 2015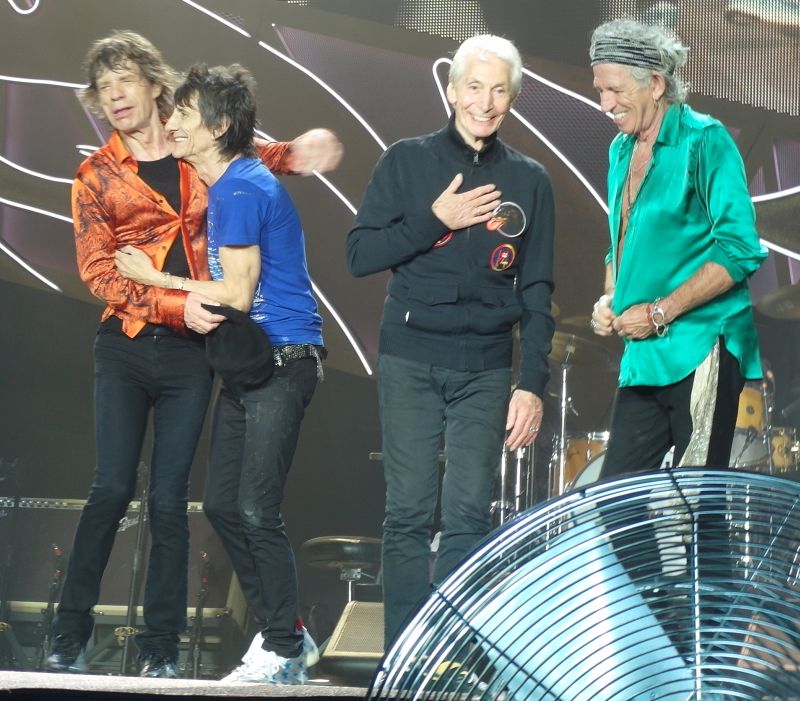 The Rolling Stones final bow at Heinz Field, Pittsburgh - Photo by Bjornulf Vik
---
The set list
Jumping Jack Flash
It's Only Rock'n Roll
All Down The Line
Tumbling Dice
Doom & Gloom
Bitch
Moonlight Mile
Paint It Black (by request)
Honky Tonk Women
--- Band introductions
Before They Make Me Run (Keith)
Happy (Keith)
Midnight Rambler
Miss You
Gimme Shelter
Start Me Up
Sympathy For The Devil
Brown Sugar
--- Band off stage
You Can't Always Get What You Want (with choir)
Satisfaction
---

Show start :  9:15pm
Show end   : 11:23pm

---
---
Review by Ronny
They are more powerful every year. Even more energy than 2013 concert in Toronto. Typically they enjoyed their own concert as much as the audience with each band member giving his all. Great set list, most appropriate Pittsburgh themed animations, gigantic screens, Black and gold striped socks on Charlie watt! And of course fireworks. Great bang for the buck with only two exceptions. Sound system way off at times with annoying echo and Micks voice drowned out by the instruments on many songs. Opening act a little much for the middle aged members of the audience but perhaps that's just a personal opinion.

All in all the Stones never fail to deliver a great night of pure Rock and Roll!
---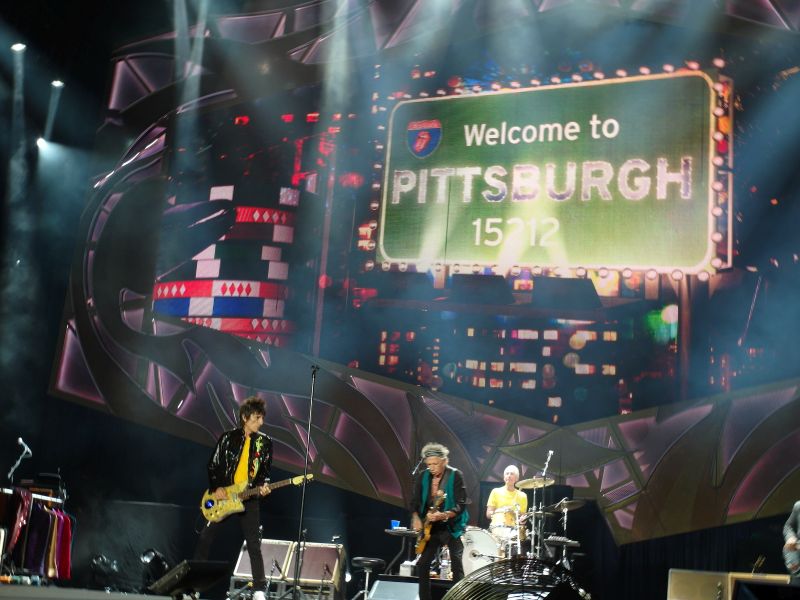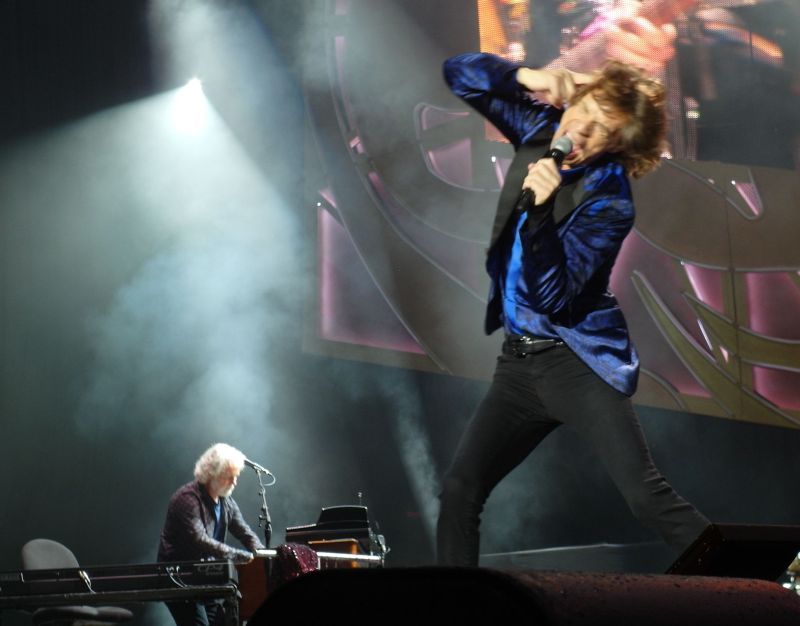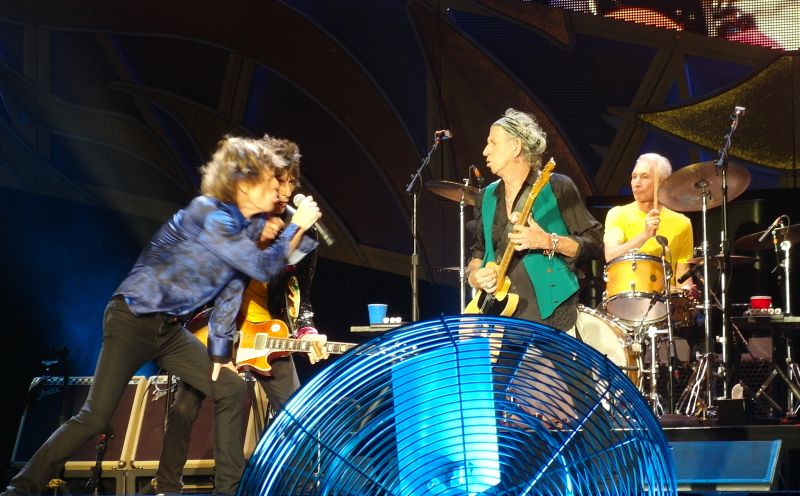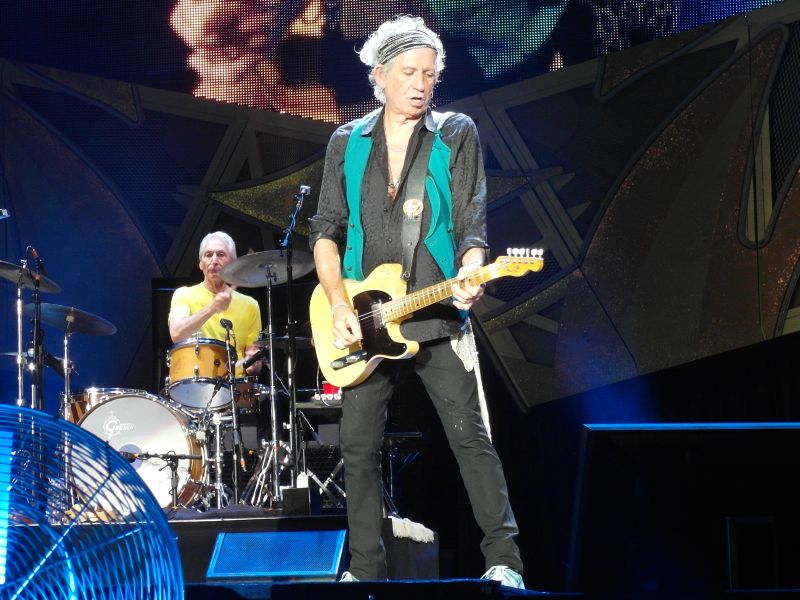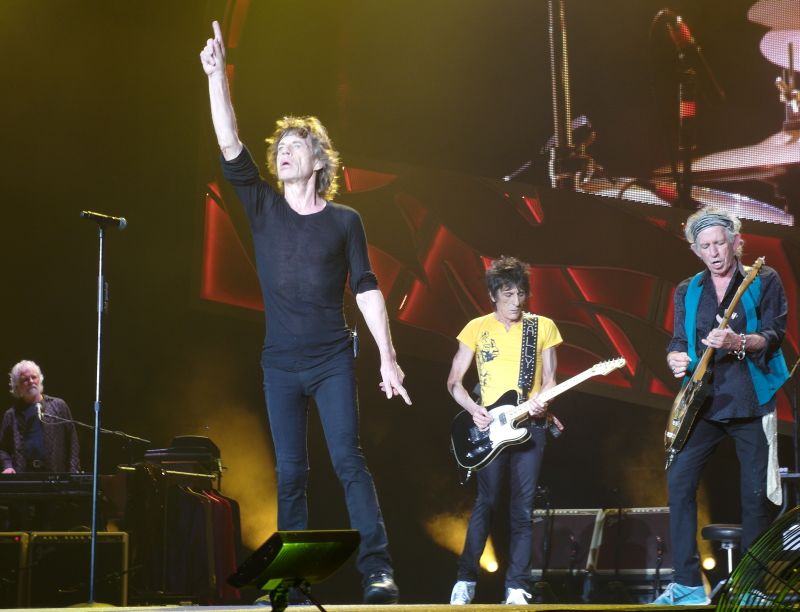 Photos by Bjornulf Vik
---
Review by David Andrews
It was loud as f*ck, even in the nosebleed seats, and was the best time I ever had in a less-than-perfect seat. (In fact, it was my best less-than-perfect seat.) They played at the edge of distortion, like they were out to dominate three rivers and a skyline.

Sloppy Good is right. It was actually funny when Jagger went back to JJF in the middle of IORR, and - as I heard it - took Keith with him! They pulled off an excellent, quick save. And getting lost in the middle of Bitch? They were doing that in 1972. The guitars were of equal loudness, which is important, and the guitarists were both in great form compared to 2013 and 2014. Karl Denson finally hit his groove and was good throughout.

The setlist betrayed a view of Pittsburgh as a Hot Rocks kind of town, which we're not. Jagger repeated lyrics in more than one song, less a symptom of age than of a wandering attention - but he was otherwise on point. My biggest complaint is that Mick didn't wear one of those swell two-toned shirts.

This was some of the best playing of the tour, better than the benchmark Atlanta show; and not only better playing than 2013 and 2014, but better than PNC Park 2005. No CHYMK, but an equally good bump-and-grind on Midnight Rambler. Sympathy didn't suck, and there was an exciting, impromptu coda after YCAGWYW.

The best time I had all year, anywhere. I'd go back to the same seat tonight if I could. You all know my snarky mouth, so if I'm saying this it's truer than true, and Lester Bangs is spinning in his dusty grave.
---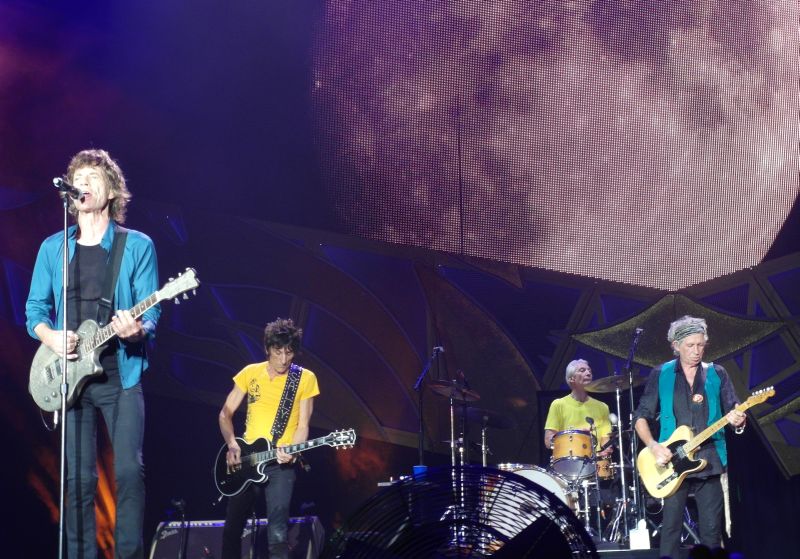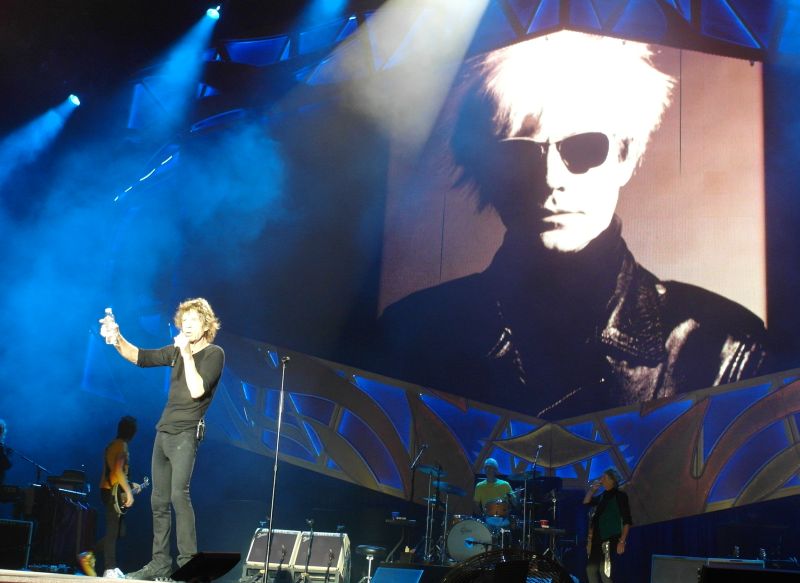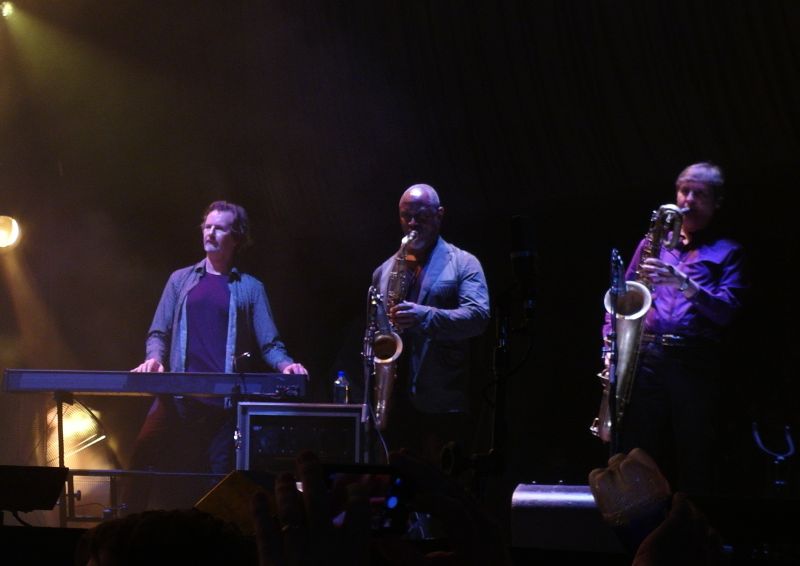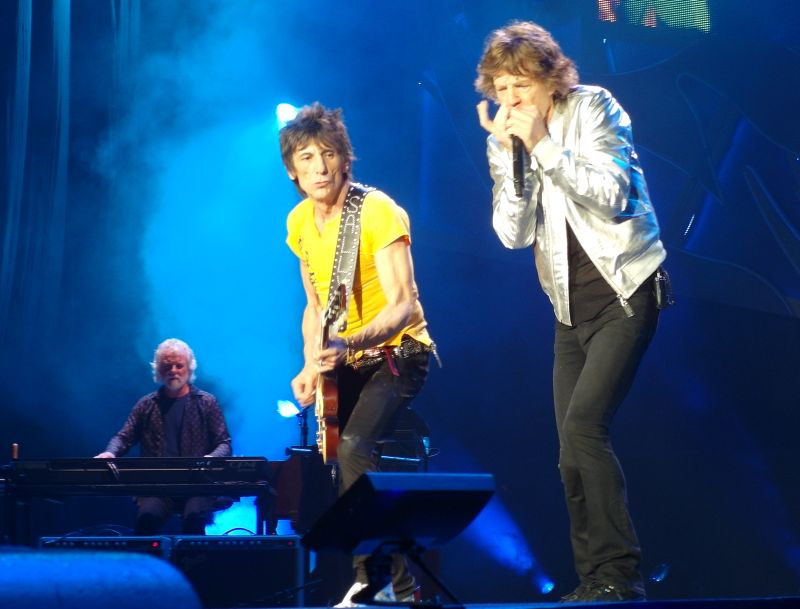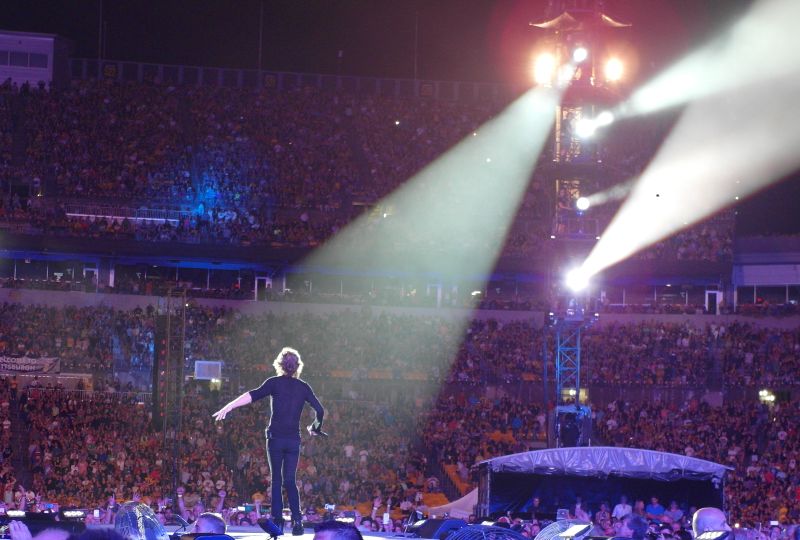 Photos by Bjornulf Vik
---
Review by Robert Bagel
"We don't get here often but we always enjoy it", said Keith Richards during his featured part of the show. That was a fine summary of a beautiful summer evening in Pittsburgh, first threatened by rainstorms but later graced with rainbows on both sides of the Allegheny River at sunset. Pittsburgh seemed especially psyched up for the Stones (and everyone else's) visit and the band picked up on the energy immediately and focused it into an absolutely smoking performance. The energy and musicianship made me think of the great show at the Igloo back in 1999 on the No Security tour. You can even acknowledge the setlist haters' points, yet still come away saying tonight was one where the band just had that extra edge and quality that makes them the World's Greatest Rock and Roll Band.

Heinz Field is nearby the Andy Warhol Museum, and the Stones nicely tied in the historical context by putting a picture of Warhol on the large screen with Mick saying Warhol designed the cover for the Sticky Fingers album. The main treat of the Sticky Fingers songs tonight was Moonlight Mile, with Mick's rhythm guitar an underrated highlight, contrasting with the crispness of Charlie's drumming as the song shifted from soft to loud and then back again.

I know I have seen it a number of times, but Before They Make Me Run is always such a rush when Ron and Keith lean back and intertwine their playing. Rock and Roll does not get better than this, and if anyone can think of two guitar players ever playing so well together, please let me know. That one song is the height of skill and artistry and I could see it performed twenty times in a row and not complain about that setlist.

One big surprise on Zip Code has been Midnight Rambler, post the 2012/2013 period when Mick Taylor once again put his stamp on it. When I first saw the song on this tour, my mind started running comparisons to the recent Taylor versions, and it held up extremely well with one less guitar and Ron taking more of the leads. With tonight in Pittsburgh, I can say I like the Zip Code version even more than the versions of a few years ago. I don't know what Ronnie did with his sound on the song, but his guitar sounds HUGE, and licks sound more raw and dirty. The song is more rock and less sophisticated than the jazzier Taylor takes, as Wood has turned an already powerful song into one that packs more of a punch that any version I have heard before.

Has anyone noticed Mick throwing in the "sugar" ad lib more in songs than in the past? Tumbling Dice and You Got Me Rocking are two specific examples from the Zip Code tour. While it reminds me of Tops from the Tattoo You album, it is another detail that marks versions of songs as unique and makes them fresh as in 2015, Zip Code.

The evening concluded on a comical note, as Mick was about to thank the choir for their nice job on You Can't Always Get What You Want. Before he could express his appreciation, Keith fired off the opening riff to Satisfaction like a panicked soldier unloading his weapon, drowning out Mick's words. Mick made a face and looked around in a "What is he doing!?" reaction, but it was too late as the band joined in with Keith, and consummate showman Mick rolled with the error and started the song too. I thought maybe the choir would get their due after Satisfaction, but it was not to be. So it must suffice to say now that it was the Penn State Concert Choir, and they were excellent.

Pittsburgh is a great city for steel, for Warhol, for its Czech and Slovak heritage, and not least because it seems to bring out the best in the Stones. The way the band played, and the way the songs sounded made clear to me that the band is gaining quality and artistic momentum as the tour progresses, as they typically do when on the road. Summer in America, and the Rolling Stones in stadiums where they belong: a season does not get any better than this.
---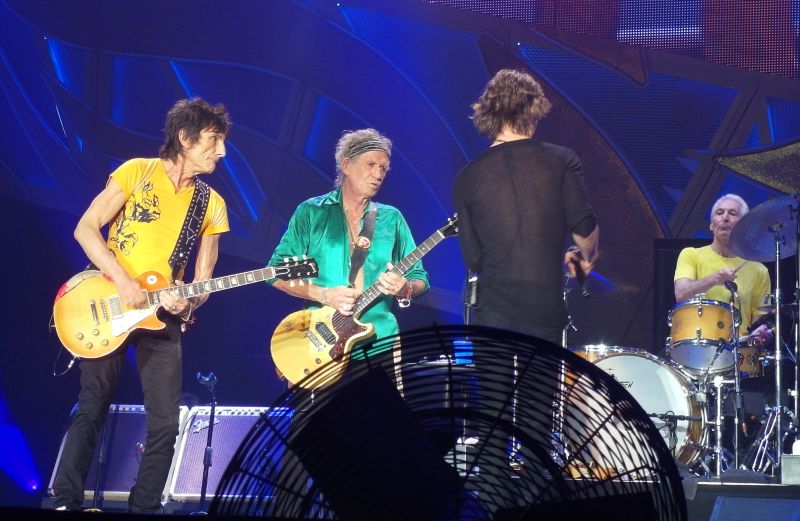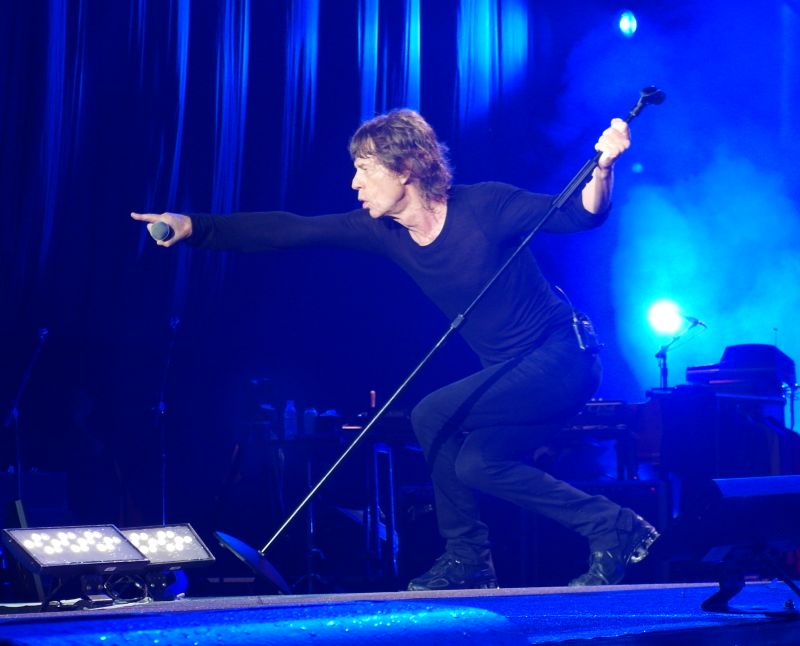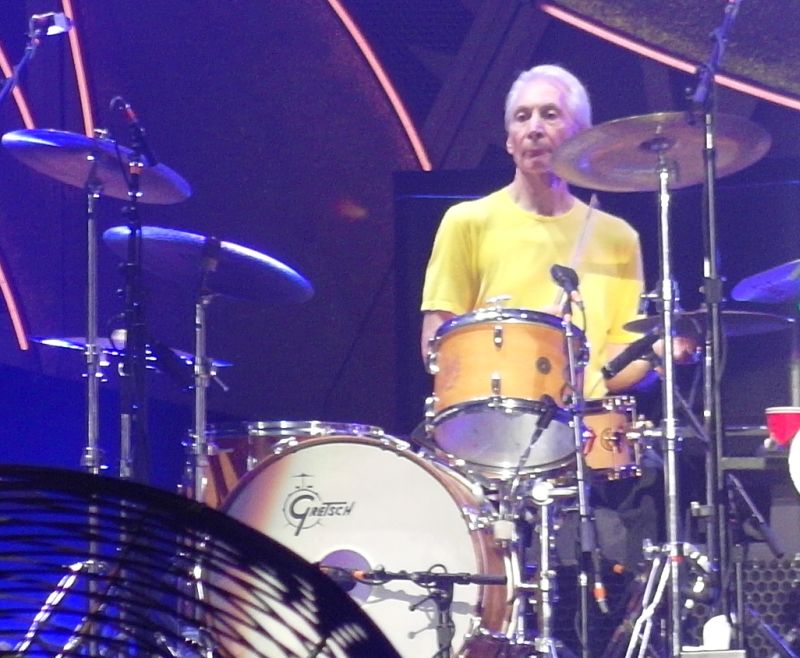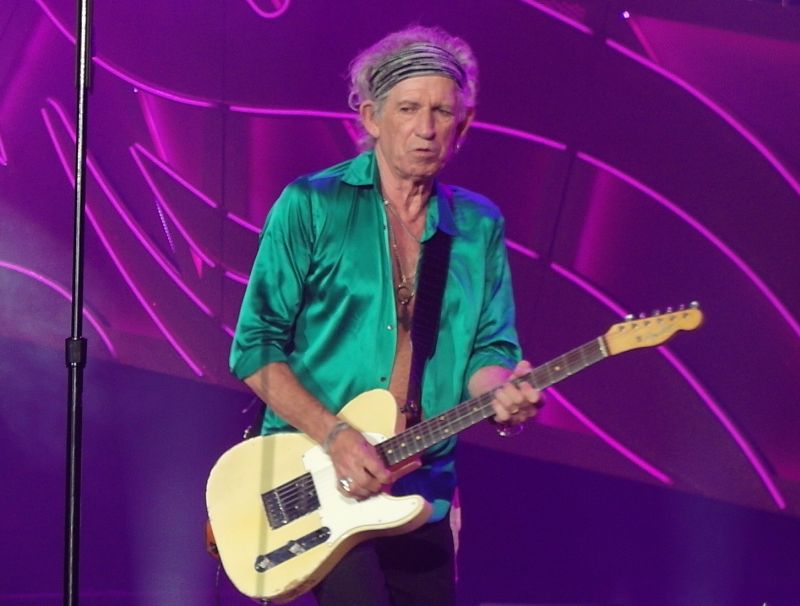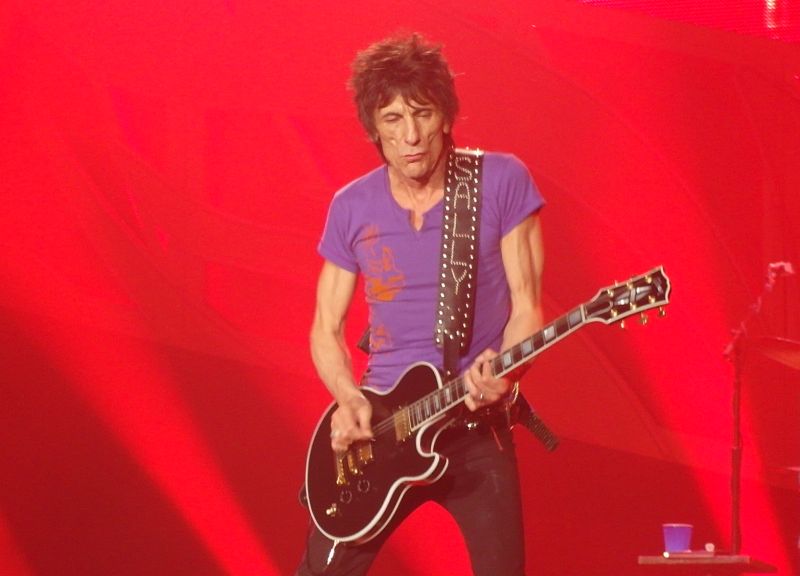 Photos by Bjornulf Vik
---
Review by Alwyn Welch
There is no drought in Pittsburgh - after the rain yesterday certainly none of water and none of Stones fans. This is a big city yet the downtown was heaving with people wearing tongue shirts, and after the gig walking home. Before some more detailed notes, a few random observations...

God likes the Rolling Stones, or Keith's "weather stick" really works, or they are very, very, lucky. After hours of light to torrential rain, with thunderstorms on the outskirts of town, creating puddles underfoot in the car parks and field area, the rain stopped as the support band's gear was being removed.

Mick doesn't like to keep ladies undergarments thrown in his direction these days. He tossed a rather colourful pair at Karl Denson after picking them up on the catwalk. I'm not sure Karl kept them, but he grins so much, who knows?

Keith forgot that the choir needed a "thank you" and charged into Satisfaction as Mick tried to mention his appreciation of the choir. He seemed to look a little pissed-off at that. I'm sure Keith meant no slight - after over 2 hours all the band must have been exhausted.

Prior to that at least, Mick and Keith (and as usual Ronnie) were in playful mood. As the choir was starting YCAGWYW, you could see Mick deliberately bump backwards into Keith's backside. Like teenagers again. I think they are all enjoying themselves so much this tour - and no surprise as the audiences have been so appreciative.

Charlie can cope well with Keith's "emergency stops" on some numbers. I think it was BTYMR last night where we didn't get the usual nod or arm in the air or eye contact before the final power chord. Charlie looked at Darryl, raised his eyebrows about 2 feet, and grinned. Keeping the band on their toes. Charlie had very fetching yellow and black socks on his toes, socks which he exposed during his introduction.

Ronnie is playing as good as I've heard for years - it's like the "I've got my own album to do" quality. Whether weaving, playing slide, pedal steel, or lead - he rocks. Last night Rambler and YCAGWYW stood out for me.

Darryl and Tim are adding a bit more of a jazzy/funky flavor to the mix: not too far off-piste, consistent with the overall Stones brand. But on Miss You, both stretched-out again to show their virtuosity in the right way. Tim also does some nice Hammond tinkling as well towards the end of the show.

Lisa didn't need pushing to the front in Shelter, and she continues to belt out those vocals on many songs. Bernard remains a strong under-pinning for Mick - I hope they can find an opportunity for him to sing a little "solo" like Lisa. He deserves it.

Karl has continued the inspiration I felt he received in the Bobby Keys tribute show and, as a result, has Keith wandering over to him during Brown Sugar just like he did for Bobby. Matt seems to be playing more keyboards, if only in the background, and in Pittsburgh his French horn playing was much improved!

Last, but not least, Chuck Le Vell (as Mick introduces him). With the re-energised band (especially Keith) he doesn't need to do so much of the cueing and intros. Result: we get some great piano playing. And unlike in Nashville, at the end of Honky Tonk Women he gor his boot back-up on the ivories. Been working out at the gym a bit maybe?

Away from the gig, a couple of other experiences helped get some perspective on the fact that we only see the tip of the touring party iceberg - it takes many people to put the "Big Four" plus "Seven" on stage (4 plus 7 would make a good title for a live album from this tour.... no royalty needed for that idea Mick).

By total chance we bumped into Pierre de Beauport after we had brunch in town the day of the gig. For the un-obsessed, Pierre is Keith's guitar technician and runs the backline on stage. I cheekily asked him to take a photo of the four of us, not him!, which he did. He, and I guess some of the backline crew, were leaving their hotel at midday. We had a brief chat about the challenges, and the motivation for the band, of playing in the rain.

Pierre's forecast of when the rain would stop proved correct, and when we thanked him as his team for all their work he kindly thanked us for coming along. Very nice man: very big job, with some no doubt demanding bosses. I suspect their working day finished 15 or more hours after it started.

I was catching-up with some other fans in a bar after the gig, some I knew, some I didn't. One of the fans I knew introduced us to Mick's security man, and a lady at the table then spent a few minutes trying to extract Mick's room or floor number! Mick's security man very elegantly avoided giving an answer - this must happen every single day. No wonder they value and protect their privacy and security. The security team, a couple of whom I've chatted to before, have a long and tough day, every day, when on tour.

A few words on the show. We got Paint it Black, the usual thumping version, and for my second time an exquisite Moonlight Mile. Bitch, Rambler and Shelter stood out in my mind. But in reality, again, the whole show was excellent. It just felt like a party from the opening chords of Jumping Jack Flash to the last note of Satisfaction.

As Mick reminded everybody, the Stones first played Pittsburgh on 17th June 1964 - just over 51 years ago!! - at West View Park, then an amusement park, now a shopping mall. Some reviews suggest the audience were in shock and not too receptive. This year it was a football stadium and 50,000 fans from all over went bananas.

51 years before the Stones' first Pittsburgh gig Al Jolson and Irving Berlin were getting going. None of the performers around in Pittsburgh 1913 could draw a crowd in 1964, let alone one 150 times the size. This phenomenon that we call The Rolling Stones needs to be put into that context occasionally.

Writing this I guess that whatever future touring or playing plans evolve, they won't return to Pittsburgh. I hope for the folks here I'm wrong. Lets face it, who thought in 1964 that they'd be here 51 years later......
---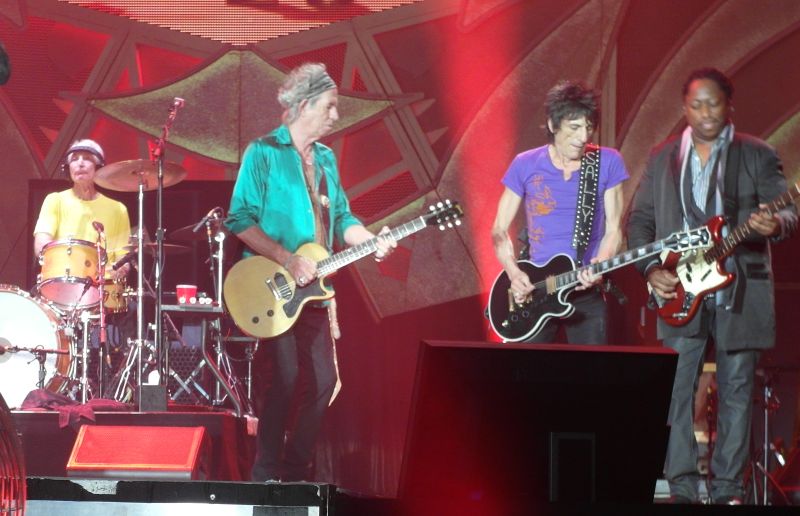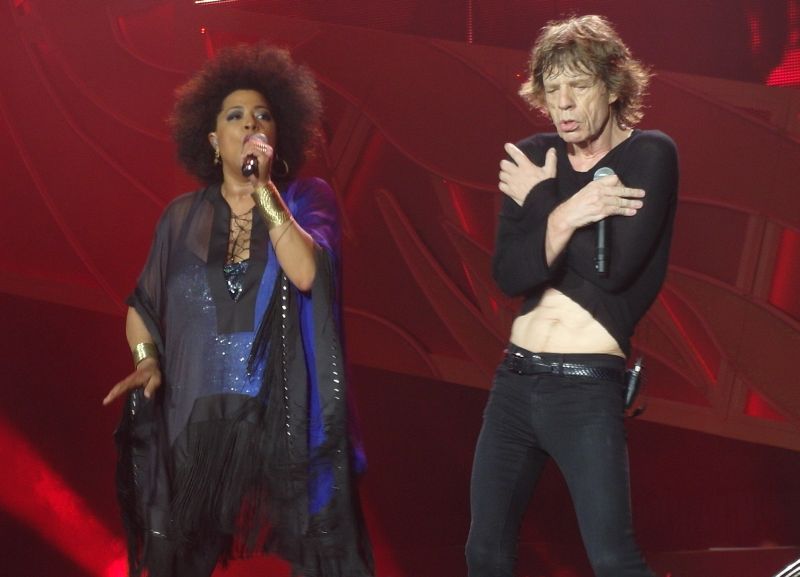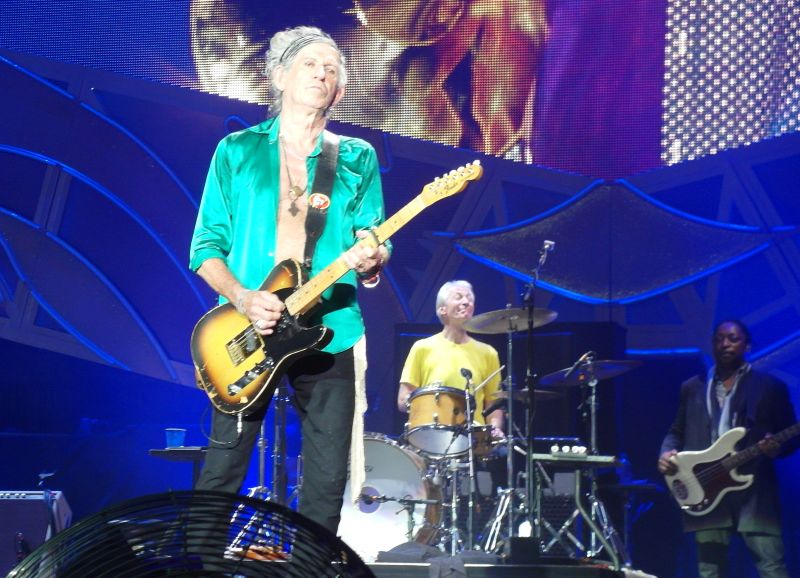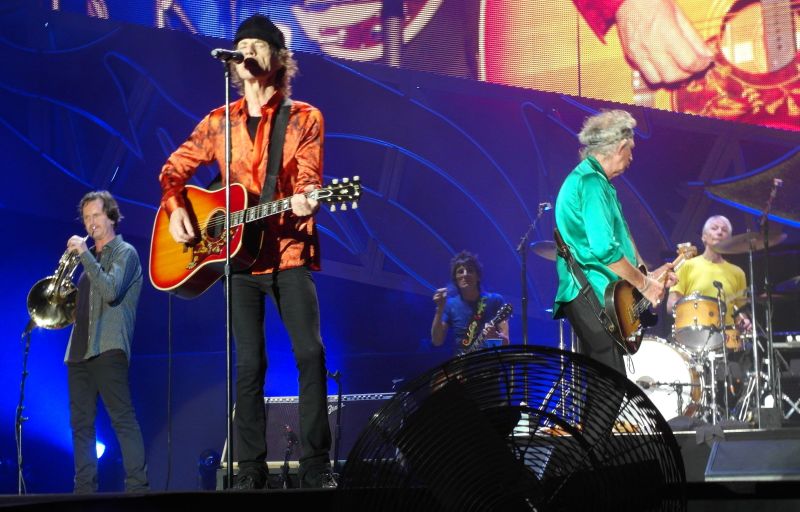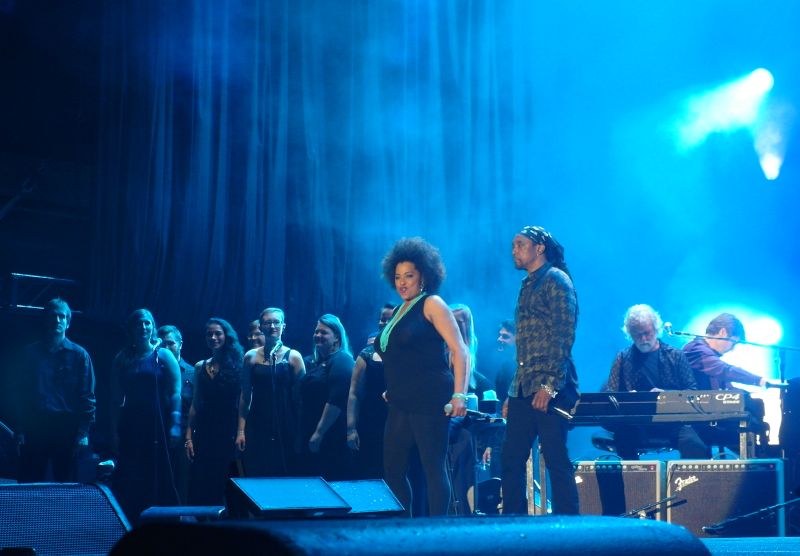 Photos by Bjornulf Vik
---
Review by Paul Gimson
As most of you know I was unable to go and see the Rolling Stones in Buffalo so we decided that a road trip to Pittsburgh was in order. Reviewing the weather forecast before we set out on Saturday morning was a little scary with rain and scattered thunderstorms predicted throughout the afternoon and evening. We encountered rain as we stopped at the very famous Grove City Outlets but we cheered ourselves up with a few purchases. As we arrived at the DoubleTree Pittsburgh Green Tree, the rain was getting harder as we checked into the room. A quick lunch and a couple of Beverages later the rain was getting worse so we sheltered in our room and decided to get a later shuttle to Heinz Field. Shortly after 6pm we ventured to the front of the hotel and made some friends with other Stones fans waiting for the bus. 30 minutes later the bus dropped us off in front of Heinz field, the rain was still falling and the parking lot was a sea of umbrellas. Like most we headed for the relative safety of the concourse and went to look for our seats. First break of the night was that section 226 Row K had a roof over it, so we got beer and watched the poncho dressed crowd slowly file onto the field.

AWOLnation was the opening band, I was not familiar with them and after their short set it may stay that way. They tried hard and they obviously had a couple of fans in the arena. As they were preparing the stage for the Stones, a miracle happened. The rain stopped and above the stadium a Rainbow appeared and then another one. Obviously God loves the Rolling Stones. A quick run to the bathroom and another stop at the concessions for a couple of beverages and we were ready for the most famous words in Rock and Roll History, "Ladies and Gentleman the Rolling Stones".

Out of respect for those seeing them in Buffalo I won't reveal the set list but needless to say you will know all the songs. For their ages the band is remarkable, while Mick has amazing energy I think Keef looks the best of them and that man can still play an amazing guitar. The crowd was a real mixture, there were Granddads with their Grandchildren, Mom and dads with their kids, whether you were old or young it really was impossible not to have a good time other than the couple seated next to me who clearly had a row from hell before and never smiled danced or even talked to each other for the whole 2 hours.

I have been to many concerts in my life and I have to admit this was not the best but it was great fun and I am happy to strike the band off my bucket list. The Stones deserve credit for surviving the Rock and Roll world for 50 years and still being able to make sold out arenas stand up, dance and sing for two hours. If you don't have a ticket for 7/11 there are about 3,500 on stub hub. My advice is to wait until the prices come down which they will and buy one. You will have fun, even if it rains!
---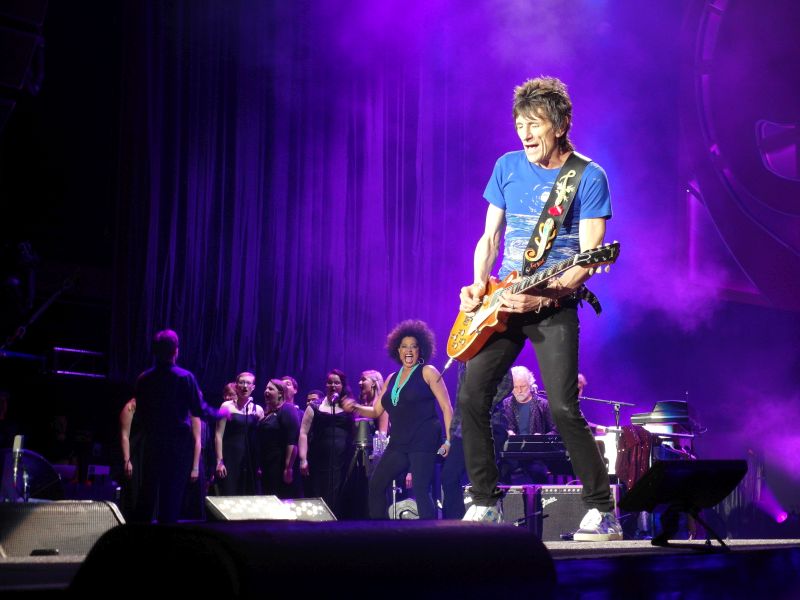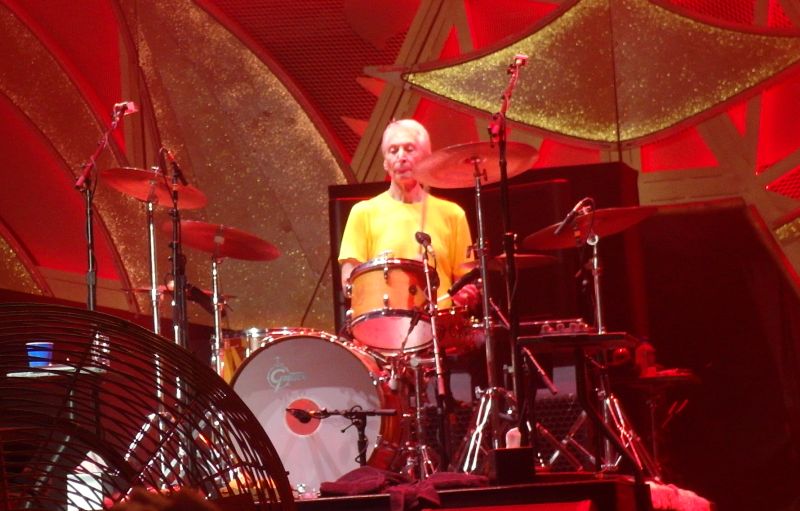 Photos by Bjornulf Vik
---
Review by Trish
"Rain Fall Down" was the scene at Heinz Field on Saturday. The crowd was soaked or clad in plastic ponchos looking forward to seeing the legendary Rolling Stones. It was so appropriate on the anniversary of Sticky Fingers to perform in Andy Warhol territory. This was true raw rock'n'roll starting earlier than expected, startled (as usual) when the band magically appeared playing JJF. The crowd was transformed to a sea of dancing and singing, as young and older blended into appreciation of Rolling Stones talent with so many families in attendance. It was mentioned when Mick sang "Bitch" he sang Bit. On Saturday he pronounced Bitch and even commented to the fans "you're a f--ing great crowd" and teased with mentioning Philadelphia for some crowd reaction which he got. The band played hard and loud. This was what one would expect! It was unbelievable. Never a doubt about these dudes! We will always return. Lisa amazed the crowd with "Gimme Shelter" and all night long. Daryl was on the mark, solo supreme. Tim Ries rocked on his sax with talent. The entire band was tight and performed a true great live concert. We were SATISFIED!
---
Review by Rick Pierce
Show No. 17 for me which is not a lot compared to many who read this board. This is also the first of two gigs for me on the Zip Code Tour. Great show by the band as has been stated by others. The highlight for me was the delivery of a warhorse they haven't played every night on this tour, Paint It Black. I think most knew once it was FINALLY posted on the website as one of four choices, it was going to win and most appropriately, it did. The funny thing about the song vote is All Down the Line was also a possible choice and Mick made reference to that saying something like "Well, we already played that one" as it was the third song of the night, well before the song vote. Never have seen that where a song that was in the voting, was not selected and still played BEFORE, the winning selection. I guess it has happened.

Anyway, for those of you holding lucky dip tickets you might want to secure another pair of tickets just in case. My tickets absolutely SUCKED as did many who were in line around me. The promoter must be to blame, although Stones management certainly is not guilt free, for selling tickets with an obstructed view or obstructed sound or both. I could only see Mick, Keith and Ronnie and many near me could only see Mick. The view of Charlie and everyone else on stage was obstructed. The sound was horrible as not one speaker was directed toward the sides and there are no screens for side views as well. To make matters totally worse, Heinz Field's protective roof for those in the last twenty rows of the upper deck ( I was third row form the top!) muffled the sound even more to the point you didn't even recognize what song was being played until Mick began to sing and I can usually pick out any Stones song, in just a few chords. It really blew. I asked to be relocated and the security team basically threw up their hands and said they couldn't help me, other than to tell me I couldn't stand against a wall in the concourse that was not obstructing anyone's view or passageway. Amazing. Needless to say I wandered a good chunk of the night and saw the band from many vantage points. With the speaker direction and screen set up, I think the best vantage point for a football stadium is to view them from the opposite end zone to get a full frontal shot. Yes, you might be a bit far away, but still you see everything and the sound is coming right at you, not over you (like on the field) or bouncing around if you are on the side. In Pittsburgh, the seats in the opposite end zone were some of the cheapest as well and those who sat in sections 521-527 should have gotten their monies worth. IF you have lucky dip tickets, consider buying another pair from somewhere at a decent price. You might get a field seat, but most lucky dip seats suck as was not only my experience, but most everyone else's in Pittsburgh. The seats were also preselected in Pittsburgh as I was handed an envelope with my name on it so these tickets were drawn for me by someone else, not like other places where you picked your own sealed envelope. Hell, if I had known that I would have partied with my friends longer instead of getting in line at 5 as I was instructed. We were not permitted to go back into the parking lot, the tickets were handed to us after we went through the gate and entered security.

The highlight for me beside the band's awesome performance, (much better than Philly's 2013 show) was meeting Bernard Fowler and getting a picture with him. Very nice dude.

Band is playing better than two years ago so go see them.
---
Revieww by Brian Galley
My buddy an I headed out from Toronto on Friday with a stop at the Rock and Roll Hall of Fame and an Indians game In Cleveland first. The RnR HOF is interesting but don't go too far out of your way to see it. The Paul Simon exhibit is bigger than the Stones and Beatles exhibits combined.

Arrived to monsoon rains on Saturday in Pittsburgh and it looked like it was going to be a soggy night. But as we headed to our seats in the lower bowl back right corner of the stadium the clouds parted and we actually get a rainbow ( only Jagger can make that happen). I've been lucky enough to catch the Stones 3 times (New Jersey, Toronto x2) so far on this extended 50+ year tour and all the shows have been excellent – sound, playing, energy levels etc. But as this show was back to a stadium my expectations were modest at best. However from the opening song I could tell this was going to be a different show.

The sound was very loud, not muddy and the boys sounded great. Hearing Keith and Ronnie like this is a stadium is a treat. Bitch rocked, Moonlight Mile was nice – if a little out of place, Midnight Rambler is always a favorite (Ronnie has definitely picked up some of the slack with no Mt), SMU and BS were solid with some great fills.

This show was my birthday present to myself and the week I was born Paint it Black was the #1 song on Billboard – so it was very fitting that it was the internet choice for the night. Mistakes were made but they worked through them as usually with a wink and a nod. The crowd around me really enjoyed it – a 70+ year old man was dancing around the aisle most of the night while his bemused family looked on.

The merchandise booths were a mosh pit before, during and after the show – people lined up for 30 minutes to buy $40 and $50 shirts in the wrong size – amazing. Overall a great night and if you have an opportunity to see them on this leg of the tour take it – they're playing and sounding better than any stadium tour in recent memory. On to Detroit and Buffalo.
---
Review by Ken Marciano
Keith has remarked that "At outdoor shows, God joins the band". When the rain stopped and the double rainbow appeared in the distance, we knew we were in for a great night. Seated midway up in Section 522, the sound was incredible. Attendees included just one brother and his wife, as well as my spouse. Brother Bill did not make the pilgrimage this year. Seated to my left was a delightful young man, Chris. He told me he was 20 years old and this was his first Stones show. He will be back next tour!

The set list was loaded with favorites, and a mild surprise, Moonlight Mile. When they mentioned doing some songs from Sticky Fingers, I was hoping to hear Dead Flowers, a personal favorite of mine. Although it didn't happen, there was no disappointment. Lisa Fisher stole the moment with her part in Gimme Shelter. It is always a highlight. Happy and Before They Make Me Run kept a smile on Keith's face. I would love to hear a 3rd song from him!

The music was certainly loud and clear, the playing was better than ever. Paint It Black was a great "fan choice". With such an extensive catalog, they could have played 19 more songs and still the crowd would be wanting more.

We are hoping they add some shows in the NY/NJ area on the back end of this tour. There were only a handful of empty seats and plenty of overjoyed fans in the hotel lobby on Saturday night Sunday morning. It looked as if the Stones were enjoying the moment as much as we were.

Age is only a number, and after seeing our first show in 1969 at Madison Square Garden, being of Social Security age (like me) has not adversely impacted their play. Any critics that think otherwise, can stay home. The show was 2 hours plus of pure energy.
---
Reports please!!!
Please send your comments, reviews, links and more to:

[email protected]
---
Links
... coming ...
---
This page will change over the next few days, as you and other fans send reviews, set lists and reports. Please send your e-mail to IORR. Thanks! For details and great photos from the Rolling Stones and their World Tour get the IORR magazines.




It's Only Rock'n Roll 1980 - 2015
© The Rolling Stones Fan Club Of Europe