---
These are the latest Rolling Stones news and updates for you! IORR is a non profit fan club run by fans for fans. All parts of the It's Only Rock'n Roll web site is copyright of The Rolling Stones Fan Club. When using information from this site, please include a reference to IORR and the main web address www.iorr.org.
---
---
The Rolling Stones
Marcus Amphitheater - Summerfest
Milwaukee, WI, USA
Tuesday June 23, 2015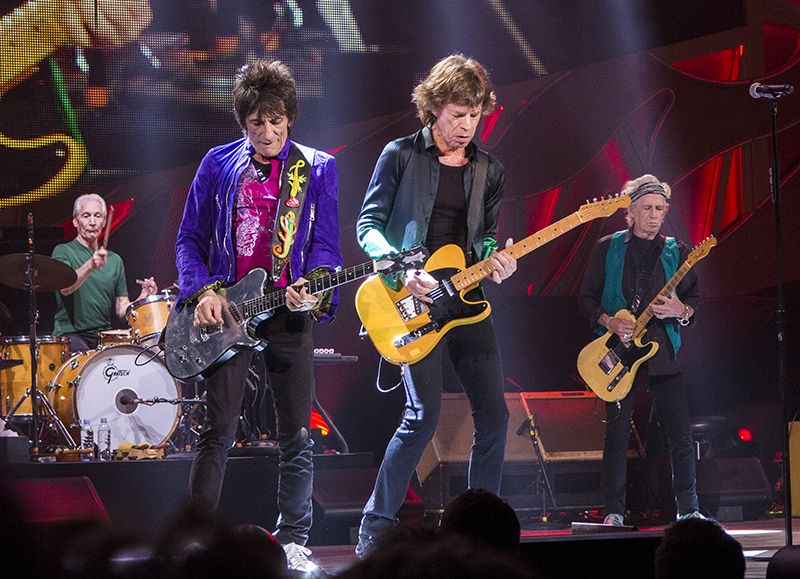 The Rolling Stones at Marcus Amphitheater Summerfest - Photo by Jim Pietryga
---
The set list
Jumping Jack Flash
It's Only Rock'n Roll
Tumbling Dice
Doom & Gloom
Can't You Hear Me Knocking
Moonlight Mile
Champagne & Reefer (with Buddy Guy)
Heartbreaker (by request)
Honky Tonk Women
--- Band introductions
Before They Make Me Run (Keith)
Happy (Keith)
Midnight Rambler
Miss You
Gimme Shelter
Start Me Up
Sympathy For The Devil
Brown Sugar
--- Band off stage
You Can't Always Get What You Want (with choir)
Satisfaction
---
Show start :  9:30pm
Show end   : 11:39pm

---
---
Review by Dean Goodman
After a self-imposed Stones detox of 28 days, I found myself within sniffing distance of Mick's crotch at the b-stage on Tuesday as the Stones popped in to Milwaukee for an, ahem, intimate show on the lakefront.

They recycled 10 of the songs, as well as Buddy Guy, from the time I last saw them here, a decade ago. But the crowd was much better tonight, and the Stones appeared to do their best. Mick seems fascinated by Milwaukee. Maybe he just likes saying the name or invoking its Teutonic hertitage. His joke-writer at one point had him saying, "We came on the bus with a crate of Miller Lite and some bratwurst. Next year we're signing up for the sausage race."

He also dedicated "Moonlight Mile" to "one of Milwaukee's favorite sons, Liberace," and gave a knowing nod that seemed to say, "Yeah! Bet you didn't know that!"

One of the more fascinating developments on this tour is the resurrection of Matt Clifford, who now has a keyboard set up behind the horns players. I lost count, but I would estimate he plays on about a third of the songs, including "Tumbling Dice," "Doom and Gloom" and "Moonlight Mile." He is also spotlighted in the introductions. I wonder how Chuck feels about this. True to form, Matt was among the last of the auxiliaries to leave the stage before the final bow.

The highlight of Buddy Guy's appearance on "Champagne and Reefer" was Mick's harmonica solo. It is sorely missed in "Can't You Hear Me Knocking?" which now sounds lethargic, with the staccato sax solo not helping. At some point you almost wish Rob Thomas and Santana could come out and rev things up by doing a seamless mash-up with "Smooth." Mind you, the person next to me was thrilled with the performance. "Forget about Mick Taylor!" he hollered.

The same chap yelled, "Hot damn! Oh my God!" after "Midnight Rambler," which clocked in at an economical 12 minutes, down by almost five minutes from Roskilde last year. Keith's intro to "Honky Tonk Women" was a mess, and he seemed grumpy about something during "Gimme Shelter." (Join the club.)

I could go on, but at this stage it's best to pretend each concert is my first time and to bask in the miracle of it all. After "Brown Sugar" ended and the Stones bid adieu, even the staunch security guard in front of me broke with protocol and applauded.
---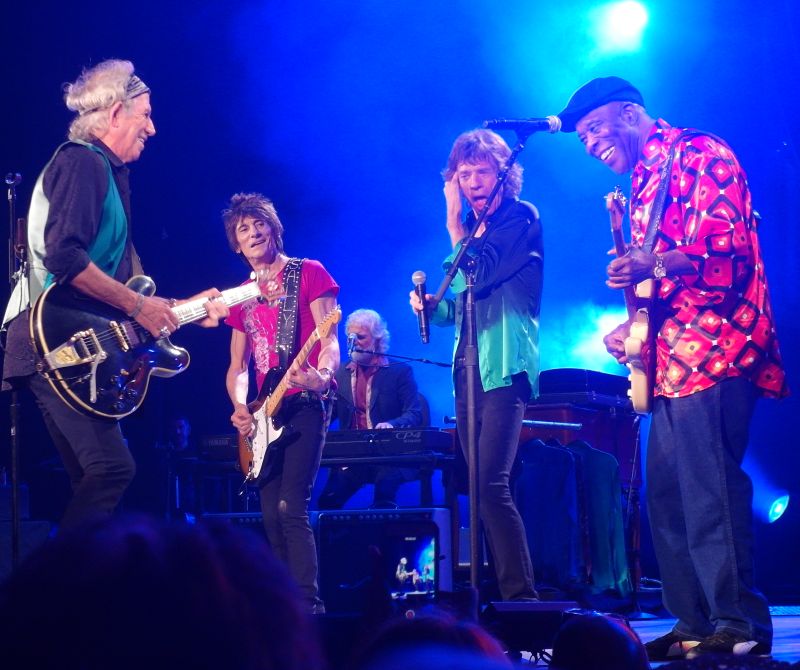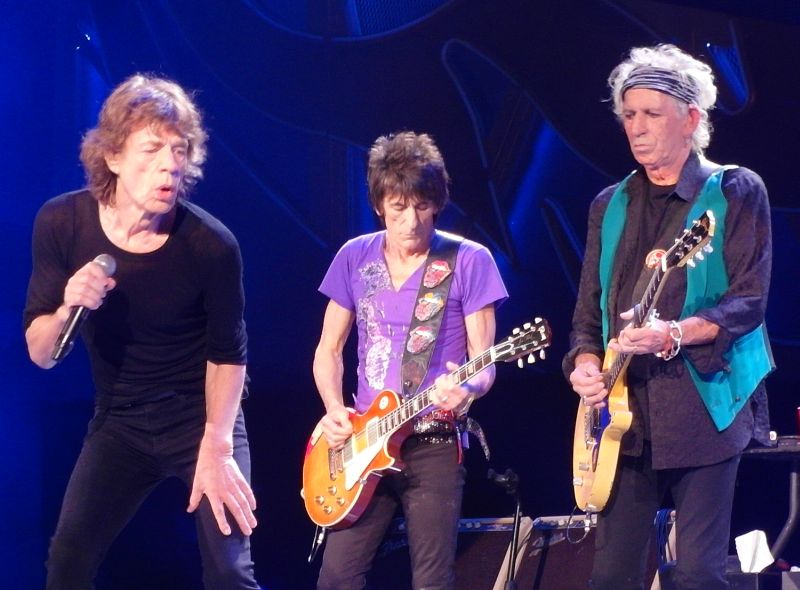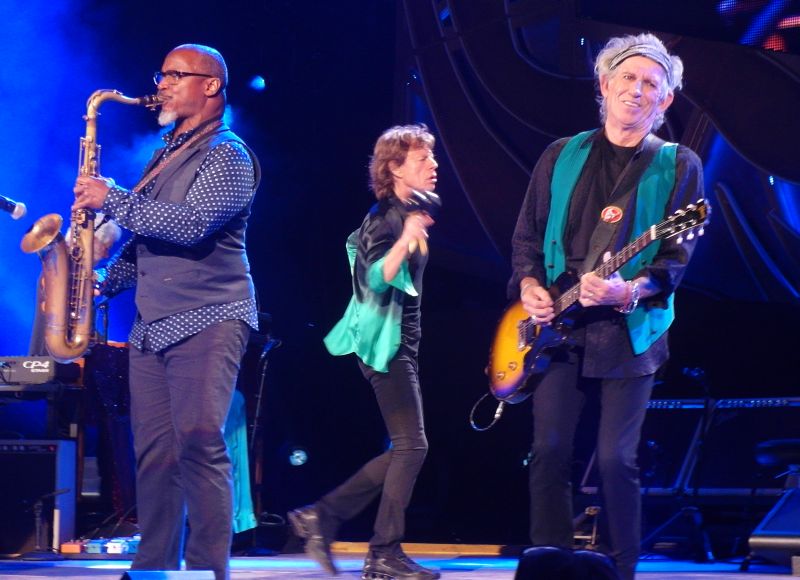 Photos by Bjornulf Vik
---
Rewview by Dave Kohl
Another great night of Stones as they continue to amaze, even making the best of the many challenges of the Marcus Amphitheatre. They hit the stage promptly at 9:30 and were "on" for the majority of the show. There were several contenders in the perennial "What will be the 2nd best song to Midnight Rambler?" derby, and even the morning after I can't narrow it down between "Can't You Hear Me Knocking", "Champagne & Reefer", and "Moonlight Mile" for which one.

A solid start to the show and the slightly extended and punched up version of Jumpin' Jack Flash is an excellent opener. I got concerned when the #3 song slot was skipped, fearing we might me losing one song, but that was made up for, and then some, later on when Buddy Guy game out for a fantastic version of "Champagne & Reefer". Early in the song Mick practically pushed Buddy up to the front, but Buddy stayed back by Keith, only to come front and center later in the song to trade his fantastic vocals with Mick.

The mini Sticky Fingers set was a major highlight. Even without Mick doing a harmonica spot, this was the best version I have seen since about midway through the Licks tour. Karl Denson took on the sax solo and made it his own, showing how he is already growing after just a few gigs with the band. Ronnie was amazing on the guitar the entire night, and it peaked during this part.

At first I was personally a bit disappointed that Moonlight Mile came up (since I'm hoping for You Gotta Move, the only SF song I have never seen live), but once it got going I came to realize that was plain and simple the best version of the song I have ever heard. They played every note like it mattered.

Well, we did have the, ummm, unique version of Honky Tonk Women. From the very start, it wasn't right. They should have stopped it and re-started. The extended cowbell was the indication, and it was like playing the 45 in 33 for a while there. This version sent a reminder that, hard as it is to believe at times, they really are human and are not always perfect on the stage. But after the SF songs and Champagne & Reefer, it wasn't that big of a deal since they did the more important songs so well.

Keith was having a good time all night, and I have to say I found this to be his best set of all of the shows I have seen going back to '06. Neither of his songs seemed like auto-pilot even though he has done the same two every show of late. This time, I enjoyed Happy because he did it so well, as opposed to only being excited because it is the song before the highlight of every show, Midnight Rambler.

Mick came out with a slightly extended harmonica spot as the intro to Rambler, so we could tell right away he and the guys were ready for it. Another of those "If this is the only song they did and left the stage after, it would be a great show!" versions, as always.

Miss You was tighter than usual, and, again, Karl Denson was excellent on sax and added to the tune. Gimme Shelter was a great as always, although I'm noticing that Lisa has gotten too much into screaming her part than singing it as well as she is capable of. I'm hoping she goes back to the way she has done it over the years, but it is still such a great song.

All of this greatness helped to overcome the Marcus. Where we were, the sound mix was excellent, but some of the guitars and the occasional vocal were a bit distorted. But from my having seen numerous shows there I would say that for this place the sound was excellent.

Those who made such a fuss about the walkway had to be disappointed at the mini-walkway that went just a few steps to the circle, but the band took advantage of it. It was interesting that for the closing bow the four of them walked out the few steps and stood on the nearby circle, something they can't do when they have the current "real" stage for the other shows.

It was also a bit ironic that those who had the most expensive seats did not get to see the fireworks. They surprised everyone by shooting them from the roof above the stage, meaning that only those in the back bleachers and on the lawn could see them during and at the end of the show.

Buddy Guy as opening act did a couple of really good songs during his 45 minutes. It's too bad he was the victim of people trying to find their seats with so few ushers to help and navigate the tiny and gridlocked aisles in order to be ready for the Stones.

But it's not the venue, it's the performance that made this still another great Stones night!
---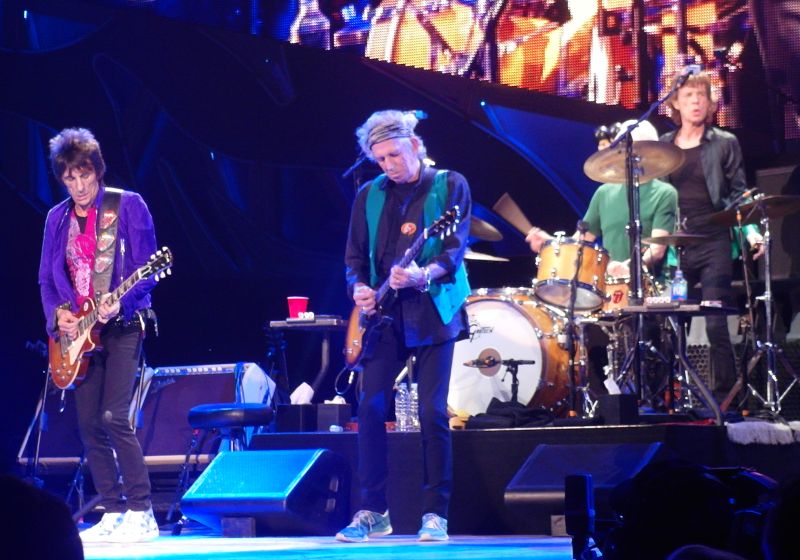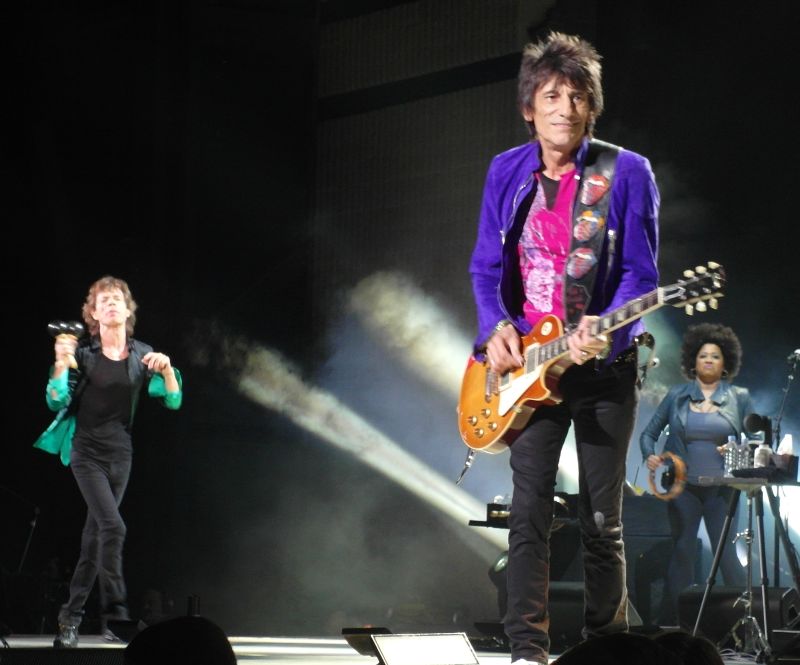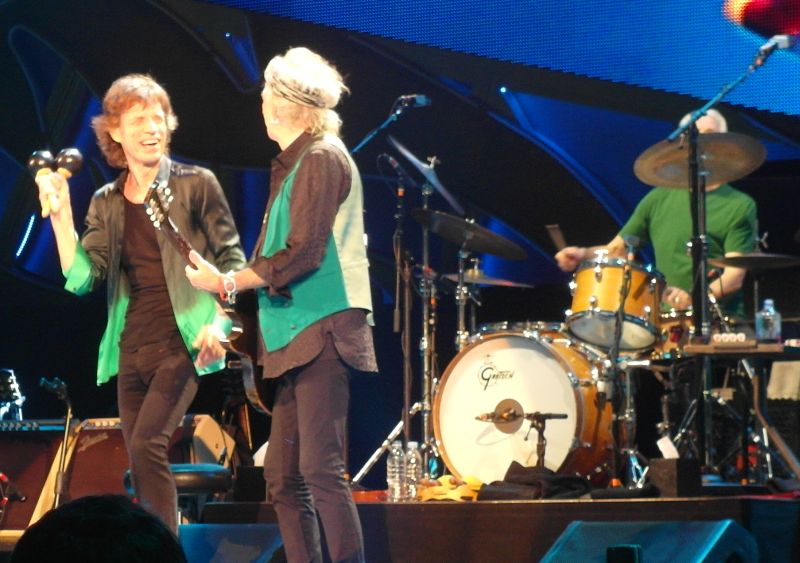 Photos by Bjornulf Vik
---
Review by Bjornulf Vik
With the heavy rain and wind we got on Monday, the day before the show in Milwaukee, I was not sure if the weather would be ok, but it turned out to be an excellent evening in Summerfest land. The area is sitting on Lake Michigan, great to see the lake and the boats as a backdrop of the location.

Those who added the roof to this venue did not care or know about acoustics. I have been spoiled with razor sharp guitars as well as Mick's voice and harmonica playing thios summer at open stadiums, where the sound travel undisturbed to my ears. At the show tonight the sound was muddy like they played in my bathroom, I missed the crystal clear sound, but may be it was only my position near the front. With this kind of venue it would be almost impossible to have great sound everywhere, unless they pølayed with 120 dB, which woulds kill our ears. Just get rid of the roof and take the weather as it is!

The set list was great. "Can't You Hear Me Knocking"... Ronnie is now in his own state of performing. With the small stage and the small walkway to the almost "on stage B-stage", Ronnie just played and wandered around like a zombie, what he played was just excellent, but if he met his wife or a good friend while he was walking around there on stage, he would not notice. He is now deeply concentrated all through every song and every solo, which makes the shows so great.

I liked the small and very low stage, it made the show and the band more intimate, like a club show. "Cheese heads", I think Mick used that term, I had cheese as a pre-show meal, and Spotted Cow, a local beer, my favorite, Milwaukee has been nice to me, this was a great place to be and a great show.
---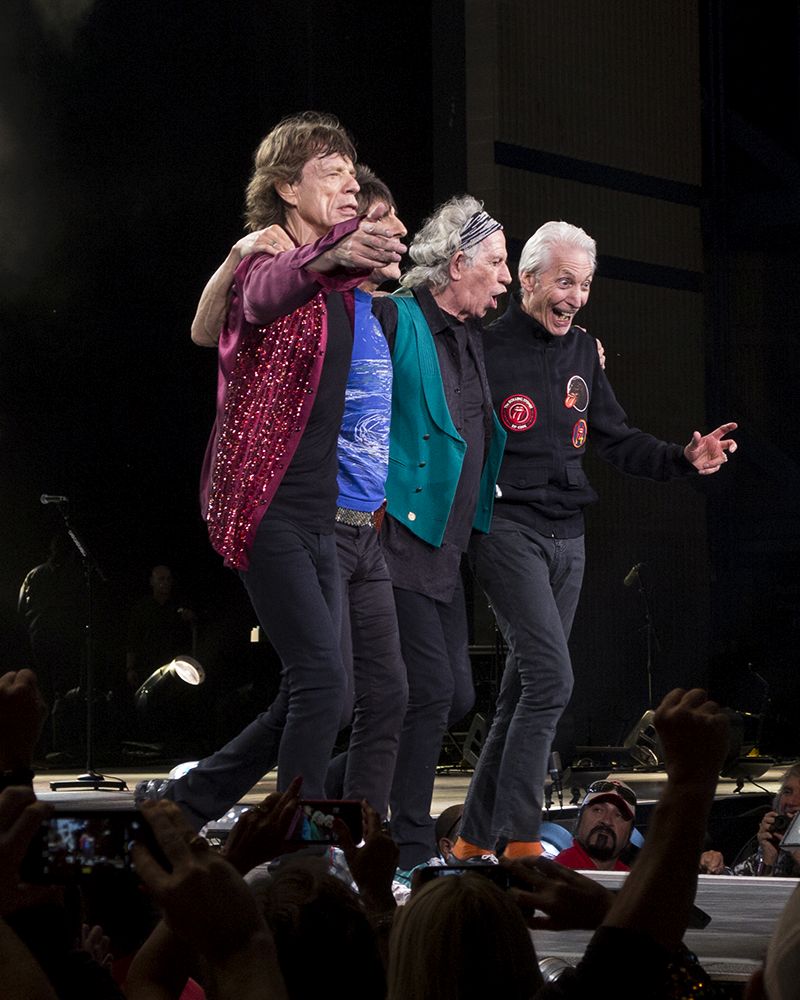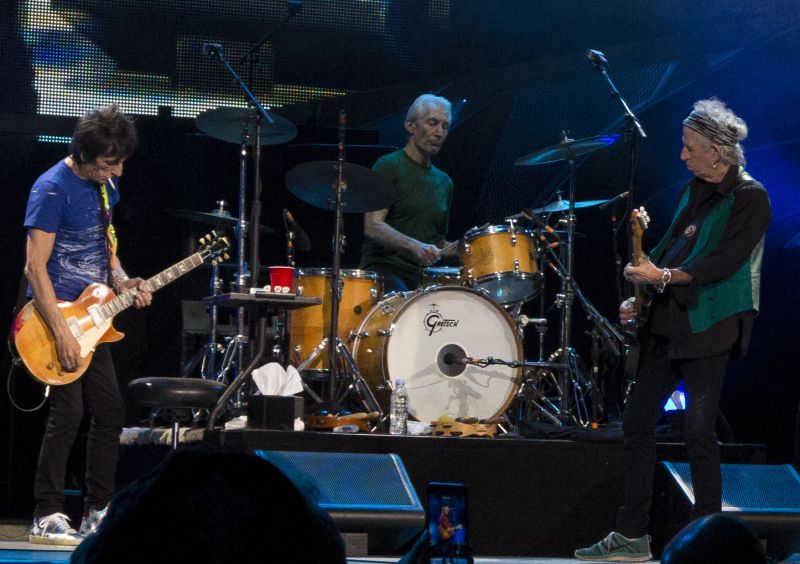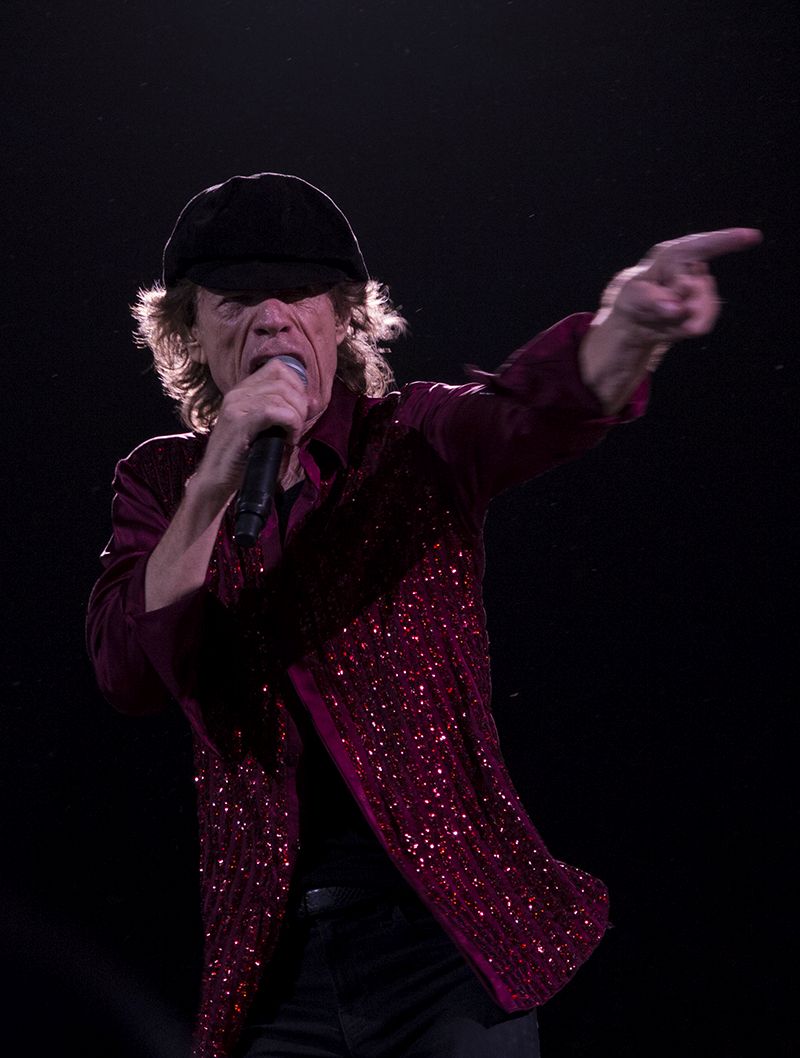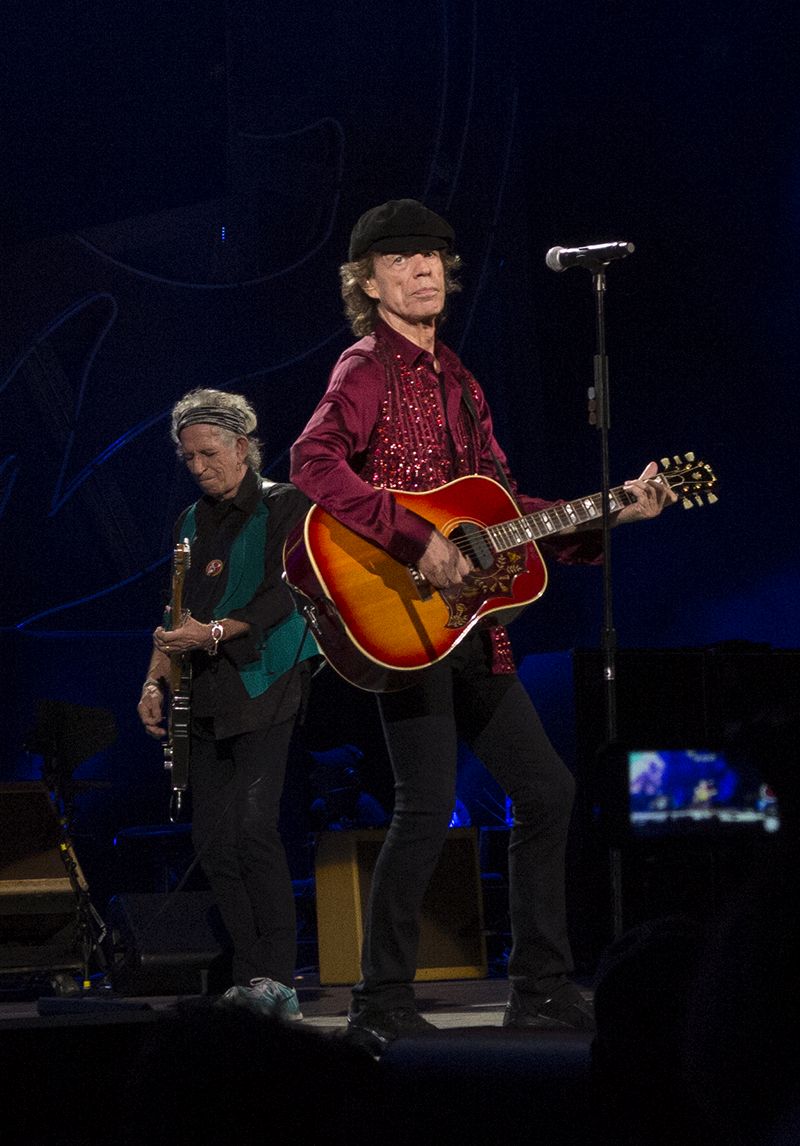 Photos by Jim Pietryga
---
Review by Matthew Turner
Stones at Summerfest

I have recently moved back to the US and live in Michigan. So I drove six hours to meet up with two good friends and fellow Stones fans. We met at our first show together in '81. And have been best friends and long-term Stones aficionados. Having never been at Marcus Amphitheater, we were quite surprised how poorly it was designed. Terrible crowd flow and choke points with masses of people. And it sure seemed like the show was oversold. It was packed to the gills!

Our seats were passable. Not the best, but they could have been worse. We were very excited that Buddy Guy was opening. We have a long history of seeing Buddy in Detroit and Chicago so many times I have forgotten the exact number. And Buddy was on fire! He does have a tendency to not do complete songs, performing partial snippets then adding commentary and stories. He did a bit of that tonight, but he also played some great hard hitting blues! A great Hendrix like version of I Just Want to Make Love To You, and an incendiary version of Meet Me in Chicago. Whew, he said it when he exclaimed "Shit!"

Finally, the house lights dimmed, and a loud announcer blasted an introduction, "And now ladies and gentleman! THE ROLLING STONES!" Keith was the first out, and he immediately started bashing the chords to Jumping Jack Flash. BV is right. Unfortunately, the acoustics at Marcus are crap! A very muddy sound at times, but hell, it still sounded pretty good, and the band played this old warhorse with conviction and passion. A great opener, and a longer version. That was one of the themes of the evening, songs were a bit longer and stretched out with some nice jamming.

Overall this was a very solid show that at times seemed to teeter on the edge of shambled destruction, yet right at the precipice they would recover into a glorious fire of classic live Stones. I just new we would get Can't You Hear Me Knocking tonight! I predicted to my friends, they hadn't done it for a while, and they seem to like to pull it out at unique venues... and they did! My favorite Stones song was played with reverence and respect. Ronnie was fantastic. He clearly was watching and listening to Mick Taylor during the 14 on Fire Tour, as he incorporated a more fluid style on the lead (unlike his version during the Licks tour). It was far more successful and passionate, he utilized aspects of Taylor's solo, with the structure and hooks, but added his own Faces like raunch to it (as opposed to a more Latin flavor favored by Taylor). And it worked!

Moonlight Mile was a true highlight as well. I had seen them do this before on the No Security tour, and have a few versions from bootlegs and always thought Mick struggled with starting the song in tune. Not tonight! HE WAS IN THE POCKET! Not only was Mick spot on for the entire night; he nailed MLM! It was sublime in its beauty. He effortlessly hit the falsetto notes at the end of the verses. He sang with passion and commitment, and played some very tasty guitar for the entire song.

I won't go into every song, but will end by summarizing a few interesting things. My friends hadn't seen the Stones in a long time, and they were very impressed by the entire band. There were times when Keith seemed a bit lost. And also Keith and Mick seemed to be battling for control of the band. Often Keith would start a song a bit slow, and Mick would sing it faster forcing them to catch up. There were a few instances where Keith cut Mick off when he was interacting with the audience and would just barrel forward into the next song. Then during You Can't Always Get What You Want, it was Mick's turn to try to wrest control of the song playing his acoustic far too fast, while Keith anchored the song in a far more beautiful and emotional slower pace. Mick finally fell back, and discarded it acoustic and slowed down. It turned into a great version!

I have heard, and seen Brown Sugar performed many times. It is almost rote and engrained into my psyche. However, tonight this song truly came alive. It was one of the best versions I have heard, and definitely the best version I have seen live. The boys really put their heart into it. Also, this again was one of the songs where Keith totally took control from Mick and started the song while Mick was still doing his "who whoo" after Sympathy. Brown Sugar became, what many have said is impossible for the current Stones to achieve, an organic jam, where they truly were playing as if they had just written the song. NO VEGA HERE! Just some great Classic Rock and Rolling Stones. The entire audience was exhausted after this stellar performance.

Another notable mention was the audience. They were on their feet the entire show! I mean everyone. There were only a few people near us that sat for a but during Moonlight Mile, but when no one else sat, they succumbed to the illness of needing to shake and slither to every song the boys were feeding the hungry audience. And the audience was LOUD. Roaring with approval. When Satisfaction started, we left our seats and snuck as close as we could. The guards were even dancing and shaking their fannies. It was infectious. This was no staid, sterile show. It was full of surprises (Champaign and Reefer!), passionate flubs, and pure joy and abandon. I can't wait until Detroit's show!
---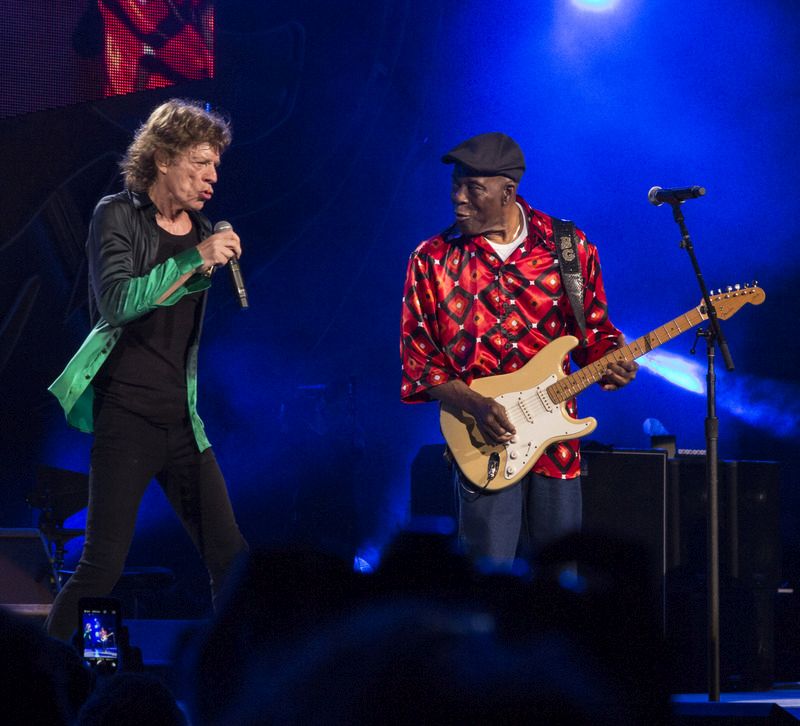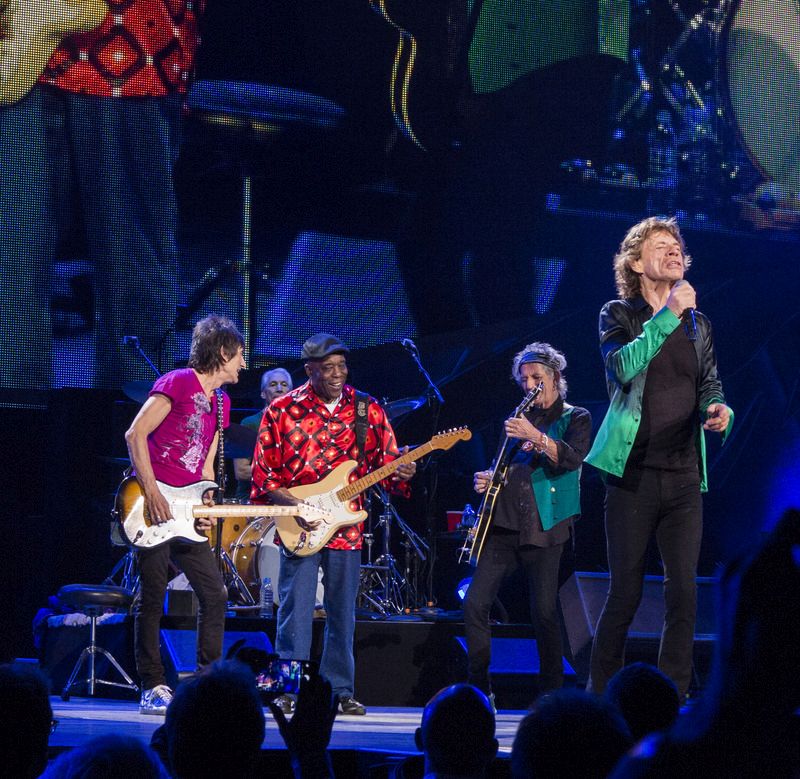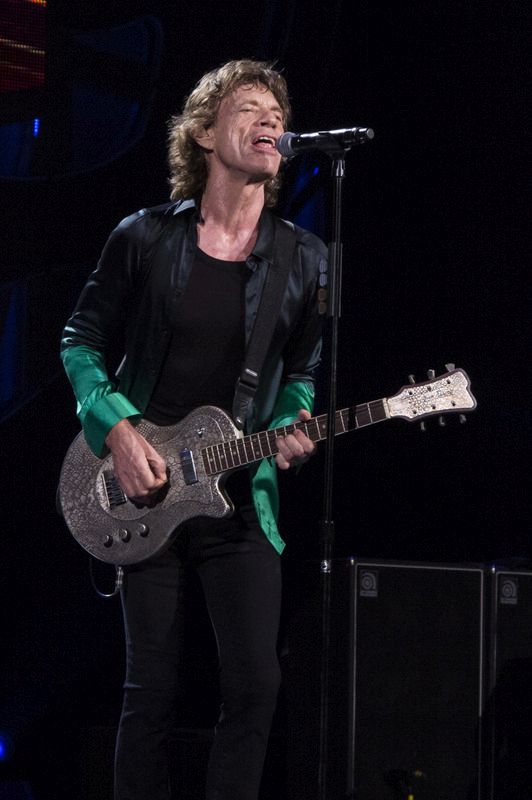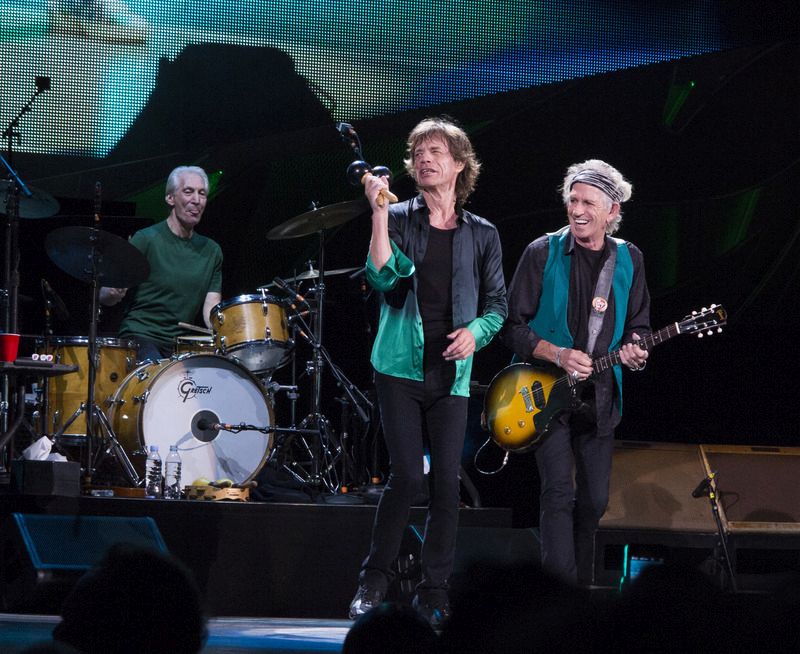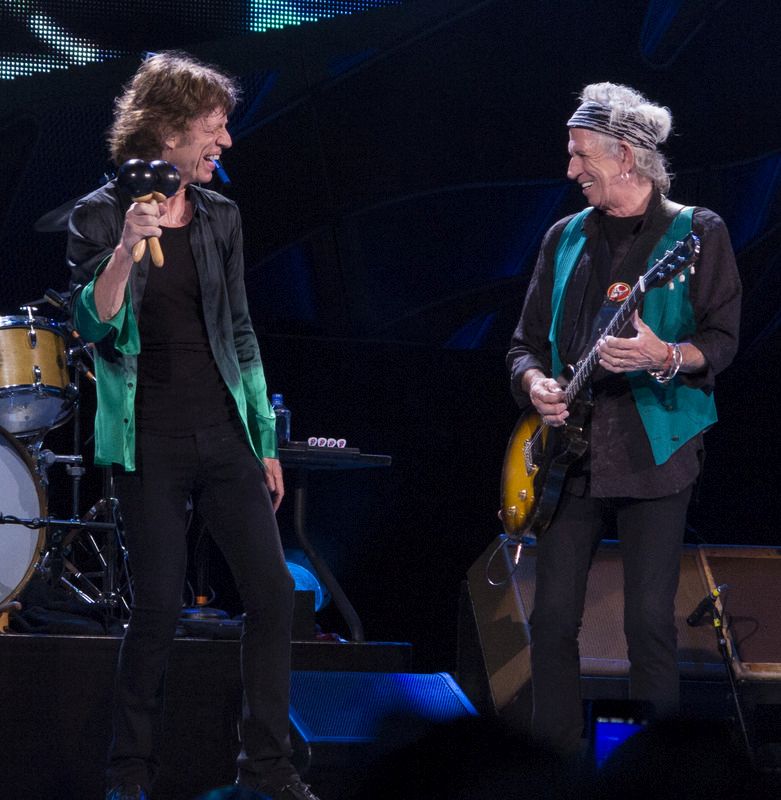 Photos by Jim Pietryga
---
Review by Donvis
My two daughters, girl friend and myself attended the Milwaukee show last night. Both daughters are Stones veterans, the oldest was seeing her 10th show since 1994, the youngest her 8th since 1999. My girlfriend went to two shows in 2013. I have been to about 50 since 1975.

Milwaukee is a beautiful, hospitable city. This hospitality though didn't extend as much to the concert goers who were a little on the rude side. Our seats were in Section 1, row U and were pretty good. I had to clean them off because they were dusty and covered with cobwebs. The paint was peeling on them. Unfortunately under the roof where we were the sound was rather muffled similar to the basement bathroom sound of an enclosed football stadium. That was disappointing and did not improve.

The show itself was a real hodgepodge. Moments of brilliance were mixed with a few pretty substandard performances and some on the bizarre side.

JJF- the intro was totally screwed up. I wondered if they could hear each other. Keith started the riff and the band followed but almost immediately it fell apart. Then somehow the various parts came together and they muddled through it.

IORR- was just a mess. Keith's little guitar licks sounded out of tune and incongruent to the song. I looked at my daughters and they gave me the same looks of concern. I thought the whole night was going to be a disaster.

Tumbling Dice- they recovered here with a fairly decent performance. Not too bad.

Doom and Gloom- another disaster. It's not unusual for Mick to sing the choruses too fast but this time he was trying to speed the whole thing up. This wasn't the first song nor the last of the night where the tempos were all over the place.

CYHMK- first of all I was amazed that they would play it. The versions I heard in 2002/2003 were the last time I heard it. This time it was much better. They didn't play it too fast and Keith's introductory riff had a lot fatter sound, closer to the record. The sax solo was a little jazzier than Bobby and Ronnie's solo didn't really follow Mick Taylor's very much but all in all I enjoyed it, although it was a little bizarre in the way Bob Dylan changes his songs with time.

Moonlight Mile- the song I wanted to hear the most. A flawless perfect performance. And not speeded up like in 1999.

Champagne and Reefer- first time live for me. Incredibly good despite Keith's weak guitar solo.

Doo Doo Doo Doo Doo(Heartbreaker) -adequate but I missed the wah wah guitar.

HTW- adequate, standard version

Before They Make Me Run- started out good and then absolutely kicked ass. The ending with Ron and Keith's dueling guitars was absolutely savage . One of the best versions I've ever heard.

Happy- again another hard rocking version. No complaints.

Midnight Rambler- absolutely flawless. Incredibly hard charging and hypnotic. It seemed early on that Mick wanted to speed up the song but Keith kept it to a slower groove,steadily progressing it in speedy to an appropriate frenzied pace. Mick mesmerized the crowd with his gestures dancing and singing. Along with Moonlight Mile, the height of the night!!!

Miss You- a rather pedestrian version, maybe I've heard it too many times.

Gimme Shelter- somewhat of a reworking to my ears. Keith played the opening riff a little differently and alternating how soft and loud he played various parts. Again a rather bizarre version but yet I liked it! Lisa was a little over the top though.

SMU- loud and hard version. Sloppy but one of the best I've heard in many years.

SFTD- flawless. Keith did not struggle with the solo as in 2012 and 2013.

BS- again a perfect version! Keith was outstanding.

YCAGWYW- another mess. The choir was weak and so was Ronnie's solo.

Satisfaction- again amazingly perfect. Keith solos on this song often don't really fit but tonight they were the icing on the cake.

So in conclusion the night was a mixed bag with more pluses than minuses. One of the best set lists, highlights like Rambler and Mile, and perfect or near perfect versions or war horses I have grown a little tired of live. On the other hand, there were some screw ups in cohesiveness, timing and solos. Finally there were some surprises with Gimme Shelter and CYHMK which were excellent but unusual in their delivery.
---
Review by Robert Pudlo
What can I say? The Rolling Stones at the Marcus Amphitheater rocked!!!! I was so glad to make it to this show, but the traffic/road construction was a bitch to contend with. My other concern was what the weather would be like (rain/winds in Illinois area was terrible the day before), especially commuting from the western Chicago suburbs.

Fortunately, all was well, finally got parked and caught part of Buddy Guy; good to see him w/the Stones again; great act. The crowd was really into this show, and the Stones appeared to really appreciate it, giving it there best, starting off with JJF. Then the usual list for this tour (IORR, TD, D&G), but then they started into CYHMK; this really caught my attention; Ronnie sounded great and I was really into this one. Then Moonlight, which was the first time I ever heard live in person; really cool. Then a couple of surprises; Buddy Guy joined up with the Stones for C&R; very nice and also the request song, Heartbreaker, which I haven't seen live since 1994 (Voodoo Lounge tour).

Then they continued with the rest of the usual set of Honky Tonk, intro's (Charlie getting a huge ovation) and then Keith's set. Some people make a beer/bathroom run at this time, but I refused to do that because I had a feeling that he was going to play my 2 personal favorites of his (BTMMR and Happy). Thanks Keith!

Midnight Rambler was great to hear again; kudos' to Ronnie on this one! Miss you was OK, nothing new. Thought that Lisa nailed her solo on Gimme Shelter. The final wrap-up, which they nailed pretty well as expected (SMU/Sympathy/BS). Encore was great! Loved the choir for (YCAGWYW); first for me. And of course; SATISFACTION!!!

Except for the crappy road construction/alternate routes, this turned out to be a most fantastic time. Great concert, great crowd. Will this be the last time? Who knows?? All I know is that I was fortunate enough to see the greatest R&R band in the world; THE ROLLING STONES!!!!!
---
Review by Julia Feliciano
Milwaukee was my 47th show since 1972. What makes a great show? ... The band's energy, how well they play, the sound, the set list, the crowd, and how good your personal view is. In San Diego, my only other show this tour, the Stones sounded to me like they hadn't rehearsed quite enough. The sound was horrible where I was on the field, often distorted and going in and out. My view was completely obstructed by a very tall person in front of me. A loud person near me talked all the way through Moonlight Mile. The floor seats were so cramped you were jostled on all sides. So for me San Diego wasn't a great show.

Milwaukee was a great show for me. The Marcus Amphitheater seats were wide enough that you had room to dance. The band's energy was high, especially Mick's. Possibly due to the smaller stage, he was non-stop movement and he did some pretty amazing and impressive dance moves. Their playing was smooth, seemingly effortless, Woody and Keith's guitars just meshing perfectly. Midnight Rambler, which sounded so great in Nashville on Periscope, was once again mesmerizing. Mick's harp playing was achingly beautiful. Woody's guitar was eloquent and Keith's was pounding. That song spoke to me as much as it did on Ya-Ya's.

Keith was on fire with Gimme Shelter. Lisa's vocals on GS were much improved from San Diego. Brown Sugar never rocked so good. Moonlight Mile was beautiful. SFTD was flawless. The legendary Buddy Guy was, as always, superb on Champagne and Reefer--that was a real treat. Even Doom and Gloom sounded better to me than I've ever heard it live. So it was a good set list. I didn't care for their performance of Heartbreaker. It felt forced and rushed to me--the only time I felt they weren't enjoying themselves. Keith's vocals on BTMMR were strong and he had a blast playing Happy, but didn't seem too interested in singing the lyrics.

The crowd was loud and on their feet all night. The sound was good where I was, Keith's side, tenth row. Unlike San Diego, I could hear all the instruments. I had a completely unobstructed view and was close enough to see the expressions on their faces. They were having a great time and there was a lot of mutual affection and playfulness displayed between Mick and Keith. It was not my "best show ever" (that would be Stockholm Cirkus 2003), but it was definitely in my top 5. The Rolling Stones are still, in 2015, the greatest live rock and roll band in the world. Thank you Mick, Keith, Charlie and Ronnie for still coming out to play for us. We love you! Please Never Never Never Stop!
---
Reports please!!!
Please send your comments, reviews, links and more to:

[email protected]
---
Links
... coming ...
---
This page will change over the next few days, as you and other fans send reviews, set lists and reports. Please send your e-mail to IORR. Thanks! For details and great photos from the Rolling Stones and their World Tour get the IORR magazines.




It's Only Rock'n Roll 1980 - 2015
© The Rolling Stones Fan Club Of Europe