---
These are the latest Rolling Stones news and updates for you! IORR is a non profit fan club run by fans for fans. All parts of the It's Only Rock'n Roll web site is copyright of The Rolling Stones Fan Club. When using information from this site, please include a reference to IORR and the main web address www.iorr.org.
---
---
The Rolling Stones
Esprit Arena
Dusseldorf, Germany
Thursday June 19, 2014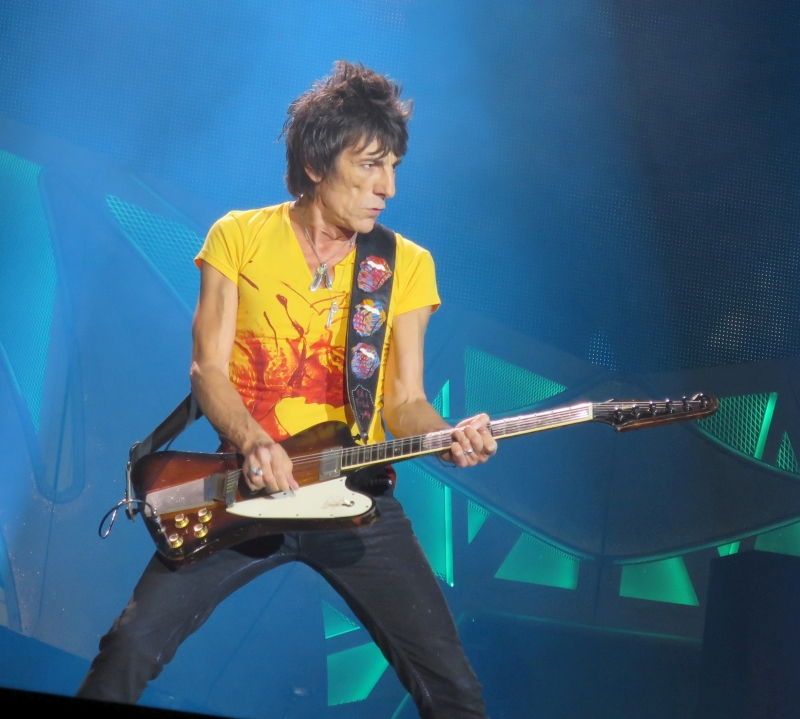 Photo by Bjornulf Vik
---
The set list
Jumping Jack Flash
Let's Spend The Night Together
It's Only Rock'n Roll
Tumbling Dice
Worried About You
Doom & Gloom
Street Fighting Man (by request)
Out Of Control
Honky Tonk Women
--- Band introductions
You Got The Silver (Keith)
Can't Be Seen (Keith)
Midnight Rambler (with Mick Taylor)
Miss You
Gimme Shelter
Start Me Up
Sympathy For The Devil
Brown Sugar
--- Band off stage
You Can't Always Get What You Want (with choir)
Satisfaction (with Mick Taylor)
---

Show start :  8:50pm
Show end   : 11:00m

---
---
Review by Bjornulf Vik
"You Got Me Rocking" was replaced by "Let's Spend The Night Together" tonight, "Worried About You" was the slow song in the number five spot, and "Street Fighting Man" was the internet vote choice. Not a bad selection of three songs if you ask me!

The "innenraum" i.e. the floor was fully packed tonight at the Esprit Arena in Dusseldorf. You could not move an inch. It was oversold, and the fire brigade would not have liked it if they were here, but it kept us warm in a cooler night. Also, it was inside, so no worries about freezing while the temperature outside was the coldest so far on this tour, probably slightly below 20 degrees C.

I was thinking may be there is nothing more to report about when you have seen the Stones live nine out of nine times this summer, so I did not think much about writing a report. But then they performed the best version of "Gimme Shelter" I have heared in a long long time. It was a monster - a monument. Keith was so great, Ronnie was so great, lots of great guitar work, and then adding the rest of the band, some times "Gimme Shelter" feels like one of the most complete Stones songs.

"Street Fighting Man" is one of the few songs invited to the captain's table, i.e. for the final set in a show. To have that song as number six just sliding in as a bonus song is ... a true bonus. I would not mind a ten minutes version of SFM, but the five minutes we got tonight was yet another guitar work songs, sort of in the same spirit of "Gimme Shelter", which came later.

Mick congratulated Germany with a great game vs. Portugal, and he wished the best luck for the World Championship to the German crowd. No mention of the English team tonight, they lost a gave vs Uruguay on the same day as we were here to see the Stones in Dusseldorf. And I bet there will be no mention of football on stage in Madrid next week at this stage of the championship.

"Can't Be Seen" again powerful, and I noticed a great solo guitar playing by Keith. Great to see he is stepping forward and taking the lead so many times tonight.

Mick mentioned the Koelch and that he had an altbier today, refering to the fine line of beer drinking here in the area. Everybody is drinking altbeer in the Sussseldorf area, a dark beer served directly from the brewery houses, while going just 20 km south to the outskirts of Cologne it all changes to the Koelch bier. They both taste great by the way. Talking of the area, I noticed there were fans on travel from all over Germany, as well as for nearby The Netherlands, a short car drive away.

During "Satisfaction" the choir came and danced with the rest of us. I could see they had a great time with lots of smiles on stage during "You Can't Always Get What You Want", and they had more fun with us in the crowd, as you can see from the picture below.

Another great show in Stonesland for sure!
---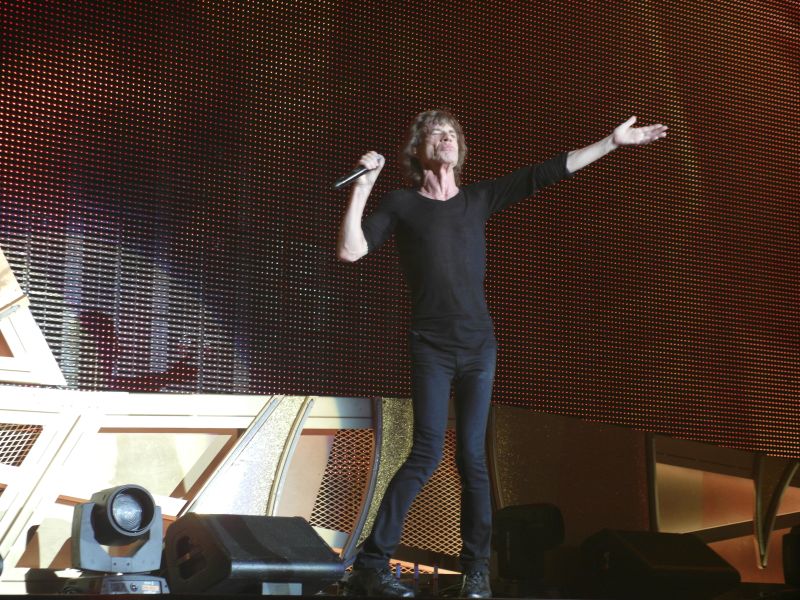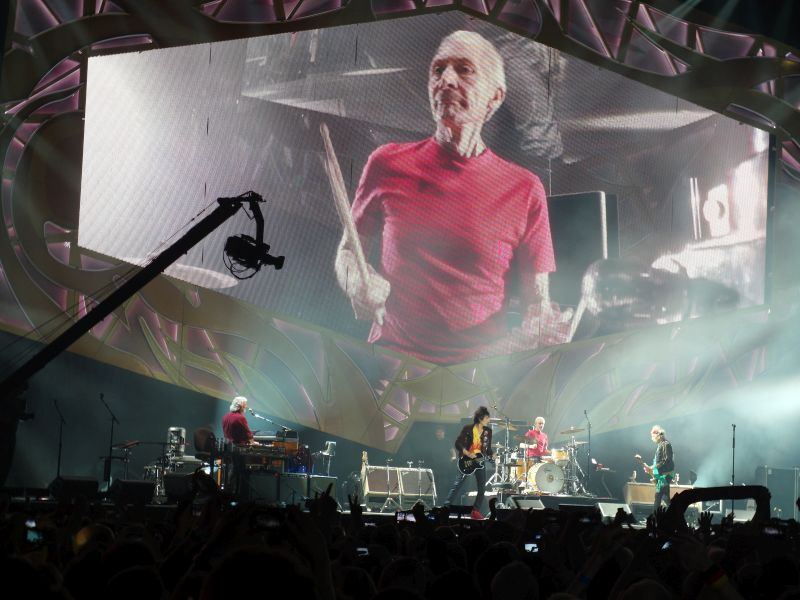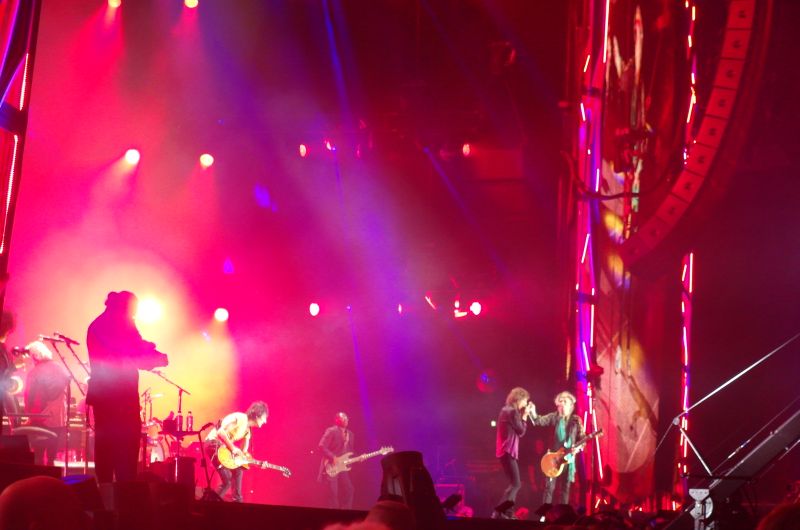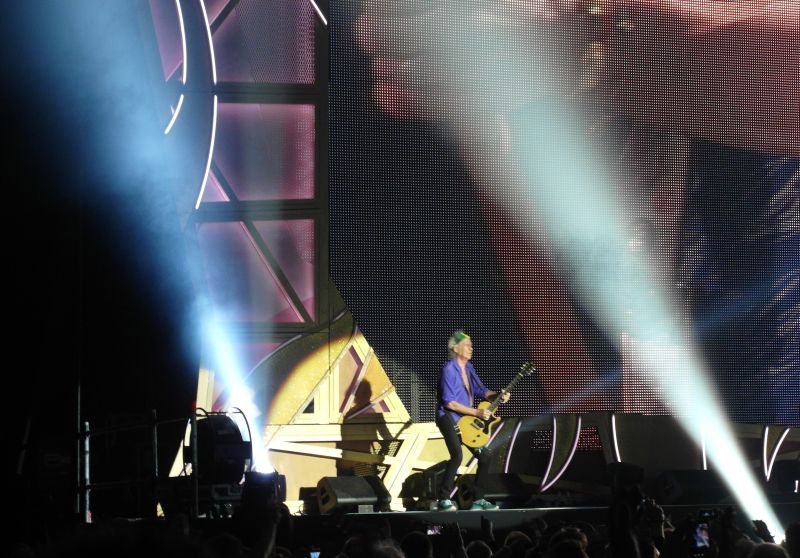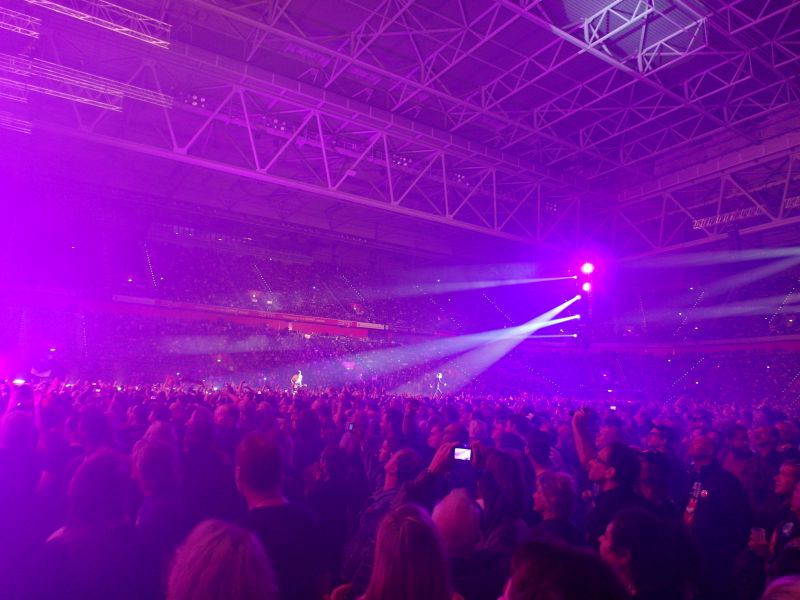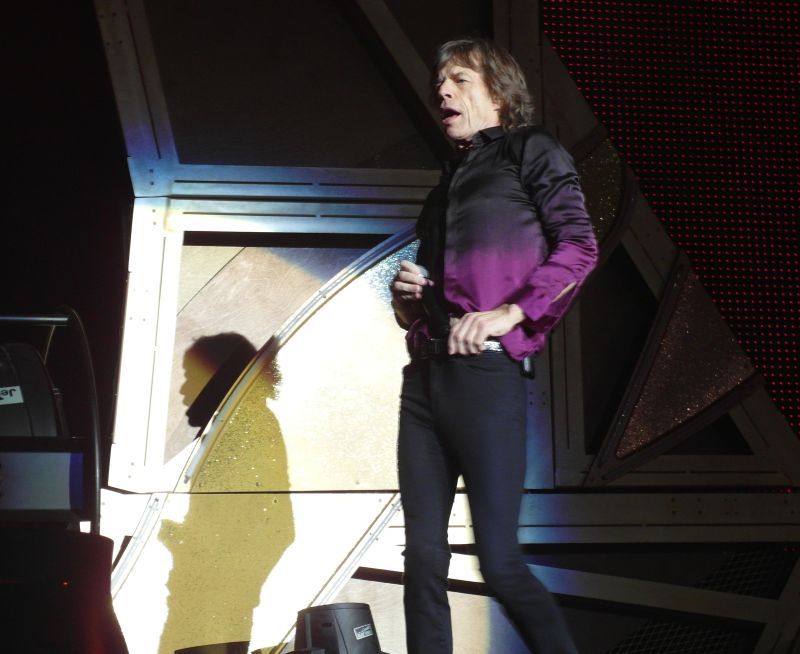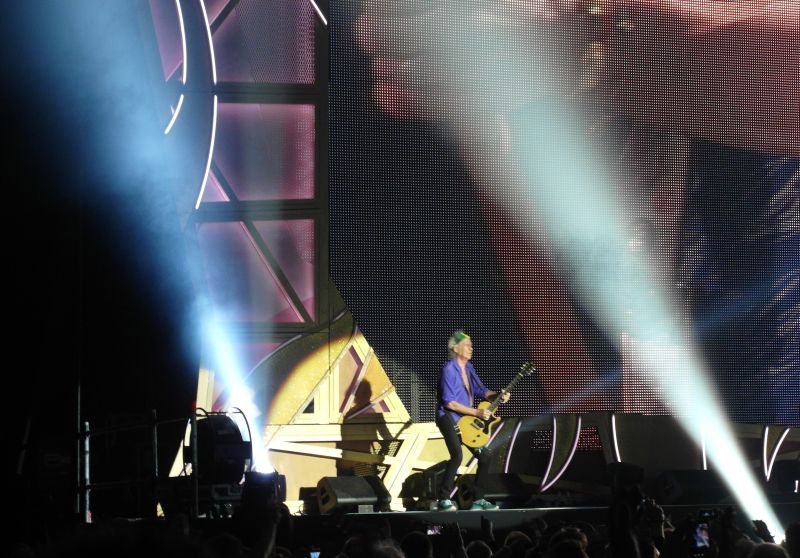 Photos by Bjornulf Vik
---
Review by Michael Getzner (Vienna, Austria)
Who said the Stones couldn't change their setlists? While the second part of the show remained nearly the same like the ones before, we got a wonderful Let's spend the night together as the second song after the opener, Jumpin' Jack Flash. You got me rocking was left out, and but we got Worried about you. Personally, I'm not too much of a fan of Worried, but this version was really fantastic. Mick Jagger is just the best front man in the history of rock'n roll, and at this show, it was on him to muddle through Brown Sugar and to lose his pace. Mick is also only human, even if you won't believe that when you see him jumping and running and singing for 2+ hours.

However, the Stones made another point at this show: They are not just a rock'n roll band with guitars, they are THE guitar band in rock music. They did two things: Turn up the volume of the guitars; especially Keith's was loud loud loud. A friend of mine once said: If a guitar cuts through your brain like a chain saw, that's rock music how it should be. So we got probably the loudest, guitariest concert of the Stones on a long time. My ears are still ringing the next morning (I had a place in the middle of "front of stage 1" rather close to the enormous speakers), it was like a Johnny Winter club concert where you definitely needed earplugs. And the Stones did theirs in particular with the vote song, Street fighting man, to make this statement.

Mick was not that much Out of control here in Dusseldorf as in Vienna and especially in Berlin where he ran and jumped like, yes, being out of control. And the communication between Keith and Mick was not as pronounced as it was in the shows before, while we experienced a great solo by Ronnie on this tune. Generally, Keith was disciplined in the sense that basically all songs found a decent end.

It seems as if, especially at this tour, Keith's playing is improving constantly. Start me up, usually noteworthy due to recent failures to hit the right chords, was excellent. We saw Keith doing his own solo which nearly drowned Ronnie's who - by the way - played excellent as well throughout. We also got another cool version of Midnight Rambler with Mick Taylor. It was also great to hear Darryl's solo on Miss you last night, Keith and Ronnie stood close to him and watched enthusiastically (probably they thought, THIS guy can play bass). While Keith plays his great guitar on most of the tunes, imo, the Sympathy for the devil solo is still not improving (and probably won't in the future).

This show was the third and final for me during the European leg of the 14 On Fire tour, and the first time, I saw more shows of a single tour than "only" one. I have to say, it is just fascinating to see the differences between the shows, songs that are o.k. in one show shine in another. Songs you would not play at home are fantastic when played live. And, I have to admit, it is really hard to compare shows even if the setlists do not change that much. I really enjoyed the Berlin show especially for the mood of the band and the audience; the Vienna show for its music and the looseness with Keith doing extra licks to extend half of the songs, and for the excitement how they would end the songs (wrecking them or finding a different/new ending). And I liked the Dusseldorf show in particular for some changes in the setlist, but not so much for the audience which I thought was much more energetic and into the show in Berlin and especially in Vienna. Even in front of the stage, the energy was somehow muted. So you could rank the shows according to the band's and the audience's mood, the setlist, the musical quality, the overall impression. And for some nice events on the side: Before the show, Monika asked Frank whether he would marry her by means of a large poster - and a significant part of the FOS1 crowd clapped hands when Frank said Yes to Monika - So those guys had their engagement party with the Stones ... . All the best to them, and to the Rolling Stones!
---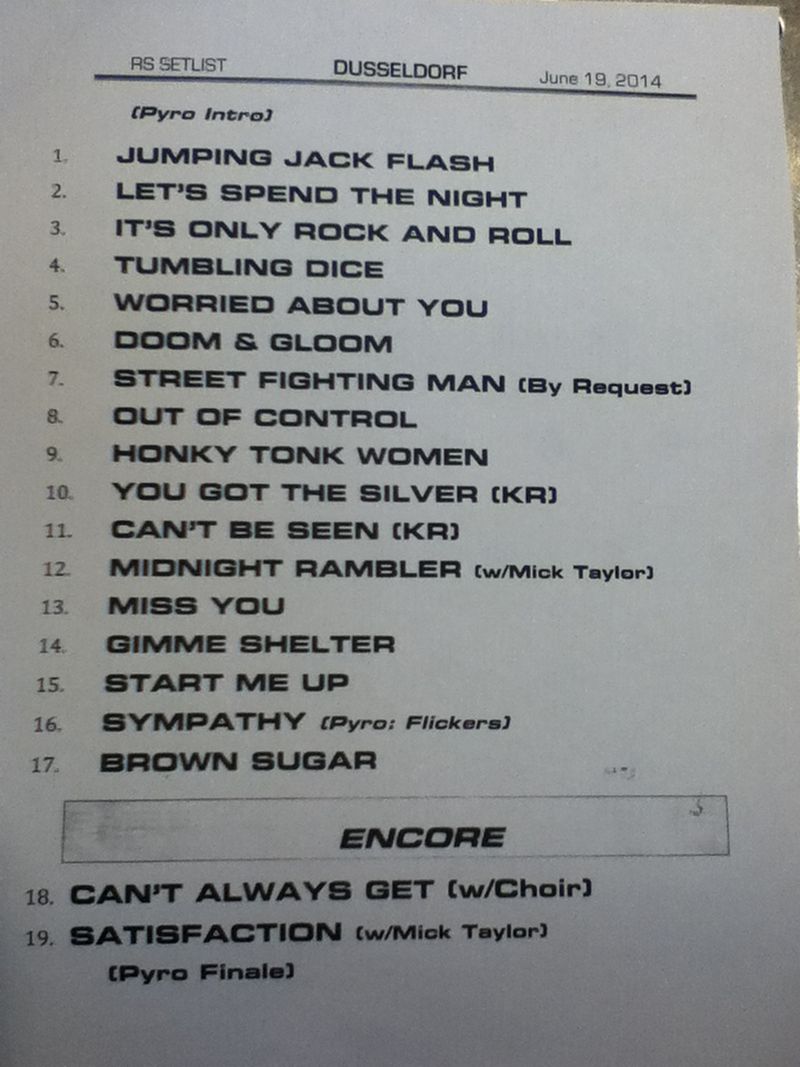 ---
Review by Robert Achtziger (USA)
As a rabid and crazed fan since my first show at MSG in 1969 the Stones never ever cease to amaze me, in January 1998 I took my daughters to their first show thinking this would be the "Last time" and how wrong I was. When they toured the USA in 2012/2013 I attended 18 shows and again thinking Wash DC on June 24 would be the last and again how wrong I was. I really wasn't planning any European shows this year mainly for logistical reasons and I do have to work once in a while at my Las Vegas office but after reading some reviews "I got the itch" and got on a plane to Germany and here I am still blown away from last nights show. While there were a few slip ups that only us hardcore fans can pick up it was a very intense show with the band really interacting and those opening riffs by Keith made this trip to Germany so worthwhile. Even though I am scheduled to fly back to NYC tomorrow I am now considering to join the tour on the last 2 shows in Scandanavia.

LONG LIVE THE STONES!!!!!
---
Review by Boyan Garvalov (Germany)
The Rolling Stones delivered a stunning performance in Düsseldorf! The metaphor may be becoming clichéd by now, but it's also uniquely apt: the band were truly on fire that night, and when this is the case the result is inevitably a show that will live forever in the memory of those fortunate enough to have witnessed it!

In fact, not everything started on a perfect note. Listening to the background music before the concert I had the feeling that the sound will not be great, and those fears were confirmed as we got to the actual show. At least where I was standing (at the front of 2. FOS, a few metres from the end of the catwalk) there was plenty of echo, so that moments of crisp and clear sound alternated with spells of muddled and misbalanced acoustics, sometimes even what sounded like breakdowns – and it surely wasn't because the band played that way. I suppose this was due to the closed roof, which may have sounded like a good idea considering the light rain outside and the ability to better set up the lighting and to control the overall atmosphere in the dark, but I would have preferred to get wet and see half of the show in daylight than having the sound the way it was. That said, the quality of the performance was such that long before we got to track 18 of the set list, worries about the acoustics were expunged to the background and I knew that even if you can't always get what you want, you get what you really need.

The rest was all good news. Starting with the supporting band, The Temperance Movement. I didn't know that they still make groups like that nowadays. A hard driving blues-rock band, with elements of Led Zeppelin, Lynyrd Skynyrd or The Black Crowes, but certainly no copycats. These guys played with passion and fun that were contagious. The lead singer has certainly been looking carefully at Mick Jagger, but has gotten beyond the imitation point and the performance zeal was all his own. I had never heard any of the songs, but could immediately get into them, many people all around were dancing and clapping to the music and that's not something that happens very often with supporting bands. Of all the groups I have heard opening for the Stones, these guys certainly have impressed me the most. If they continue like that for the next 50 years they may even approach what The Stones delivered!

As for the main act – everything seemed to be hitting the perfect spot! Reading some of the early reviews from this tour I was a little anxious whether Keith would be in good shape, but these fears were laid to rest already with the first, shatteringly powerful chords of "Jumping Jack Flash". Keith absolutely ruled in Düsseldorf, he was the boss as he should be, playing with total confidence. He nailed all of his riffs, made great appearances on the catwalk and was in total control throughout. And when this is the case we are inevitably looking at a great concert! But it surely wasn't all about Keith. Everyone seemed to be in fantastic shape, not just musically, but also physically. Mick was singing, dancing and running around the full stage like a man possessed, even by his own standards. Ronnie was very focused, the perfect complement to Keith's performance last night, with some outstanding solos. Charlie was as solid as ever and the rest of the musicians on stage really went along and rose to their highest level. Everyone on that evening and was playing with fun, fervour and freshness that produced a very special show indeed. I was just a couple of metres away from Mick when he walked out to the end of the catwalk and could see how his face was lit by a big smile when the audience was going berserk around him – as if he had managed to achieve that for the first time in his life.

"Let's Spend The Night Together" worked really well as a second song, with Keith contributing some loud and clear singing - and by then there were no doubts that this would be an unforgettable night to spend together with the Stones! "Worried About You" was another standout song on this highlights-only concert. Mick was playing keyboards in the middle of the stage and if anybody still thought he needs to establish vocalist credentials as opposed to "only" being the best front man in the world, this song should have settled it. I thought that his singing on "Emotional Rescue" at the shows last year was really impressive, but "Worried About You" was actually a step up! It also works better in the flow of the show and offers more change of tempo to keep the audience fired and not just relaxing to a slow song.

Mick was speaking a lot of German between the songs, with some well-chosen crowd pleasers like mentioning drinking local beer, or Germany's convincing World Cup victory against Portugal, predicting that Germany will become World Champions; I was a little saddened to learn afterwards that as the Stones were playing, England had lost their second match in Brasil, all but guaranteeing the end of the tournament for them. The joke that drew the most laughs was at Ronnie's expense during the band introductions – as the huge round of applause for Ronnie was starting to calm down, Mick said something like "Tolles T-Shirt. Gibt's das auch für Manner?" (Great T-Shirt. Do they also have one like that for men?) For the audience vote Mick said that they had been rehearsing "Tage wie diese" (Days like this) – one of the most popular songs of the Düsseldorf band Die Toten Hosen. What they did instead was "Street Fighting Man", turning it into a further highlight of the concert with great guitar interplay between Keith and Ronnie.

Keith was very good on "You Got The Silver", he and Ronnie have really developed this song to perfection on stage. "Can't Be Seen" was perhaps the only glitch, with Keith stumbling over some of the lyrics, but his guitar work was on par with the rest of his playing.

"Midnight Rambler" was the centrepiece of the show that it usually is, with Mick Jagger and Mick Taylor starting their exchanges already from the opening moments of the song. Mick Taylor has really grown to own this song, rather than just being a "special guest guitarist". It was a joy watching him on stage and what a pity indeed that this joy only lasts some 12 minutes.

"Miss You" offered a further occasion to witness the great mood on stage. As Darryl Jones was doing his solo, Ronnie and Keith started circling around him, holding each other tight, with big smiles on their faces. Darryl smiled too.

The version of "Gimme Shelter" from Düsseldorf must have been one of the best they've played on recent tours. The sound was heavy and powerful, Mick's singing was intense as it should be and Lisa Fisher sang as if she has read some of the negative opinions about her on these pages and was out there to prove that she is in fact an astonishing singer. As far as I'm concerned, she did that with a vengeance, giving her absolute best and that means a lot! I really don't think I have ever seen or heard her sing so well on this song. As if in appreciation of that Mick followed her as she went back to the left side of the stage and stayed singing with her and Bernard for quite a while as a "backing vocalist".

Things continued with amazing versions of "Start Me Up", "Brown Sugar" (Keith's riffs on both "to a T") and "Sympathy For The Devil". "You Can't Always Get What You Want" was opened by the Pop-Up Choir of the Detmold Music Academy – an ensemble that sings popular tunes and one could see that. Their performance was less "classical" and more "pop-like" than what we've seen from other choirs and they were dancing, spontaneously as it seemed, all along the song, which was quite nice to see. And to end it all, a riveting version of "Satisfaction", the perfect finishing touch embodying the great atmosphere and astonishing power of the show.

We certainly saw The Rolling Stones in top shape in Düsseldorf – among the concerts I have seen this may well be the one where the band maintained the highest motivation and enthusiasm throughout the show. They seem to be going from strength to strength on this tour and if they keep it that way, the fans will certainly be privileged to see some amazing concerts for the rest of the tour!
---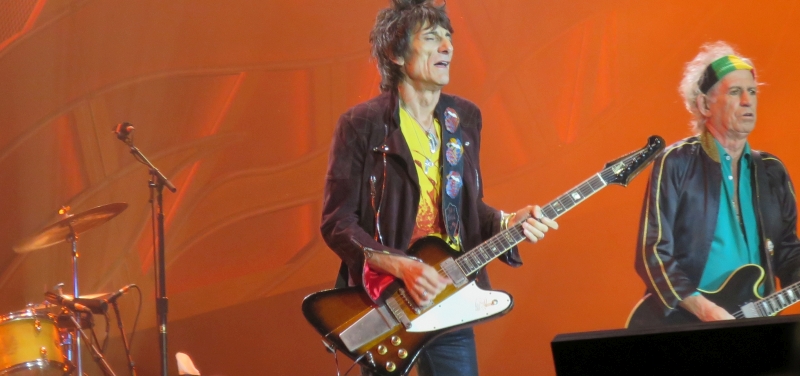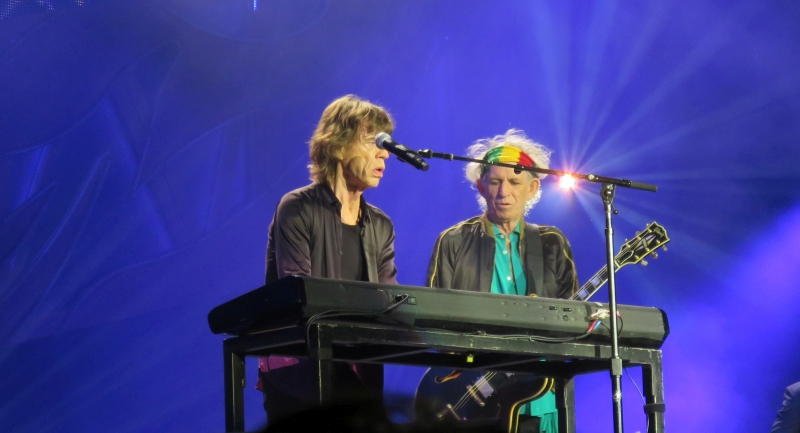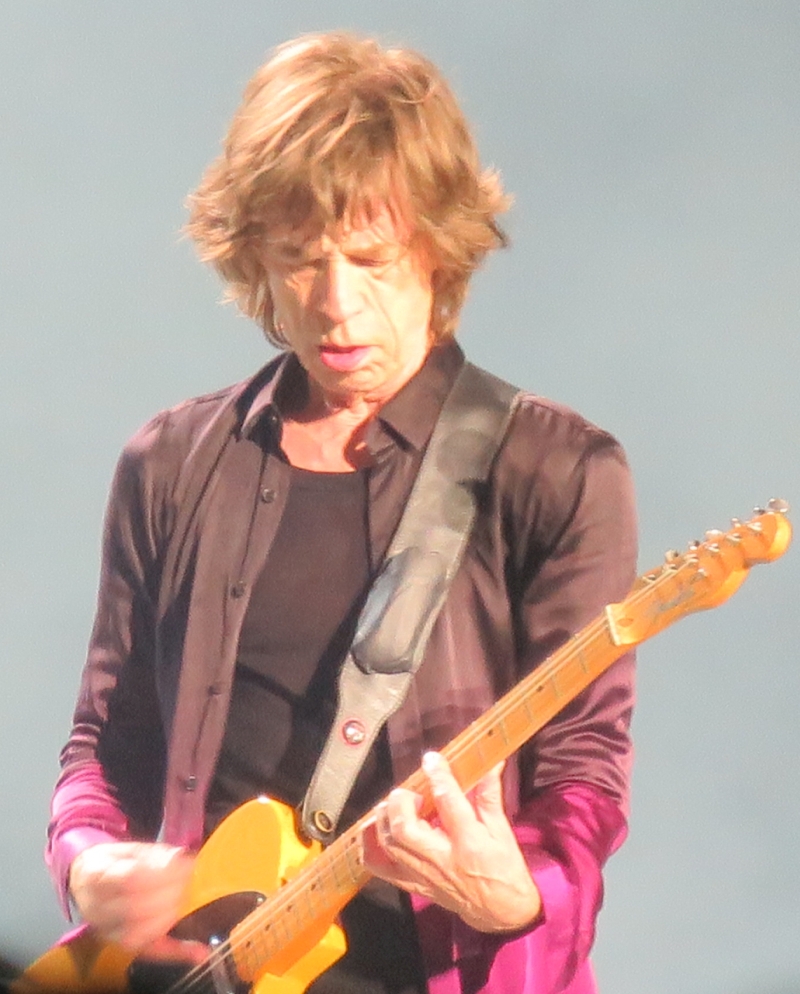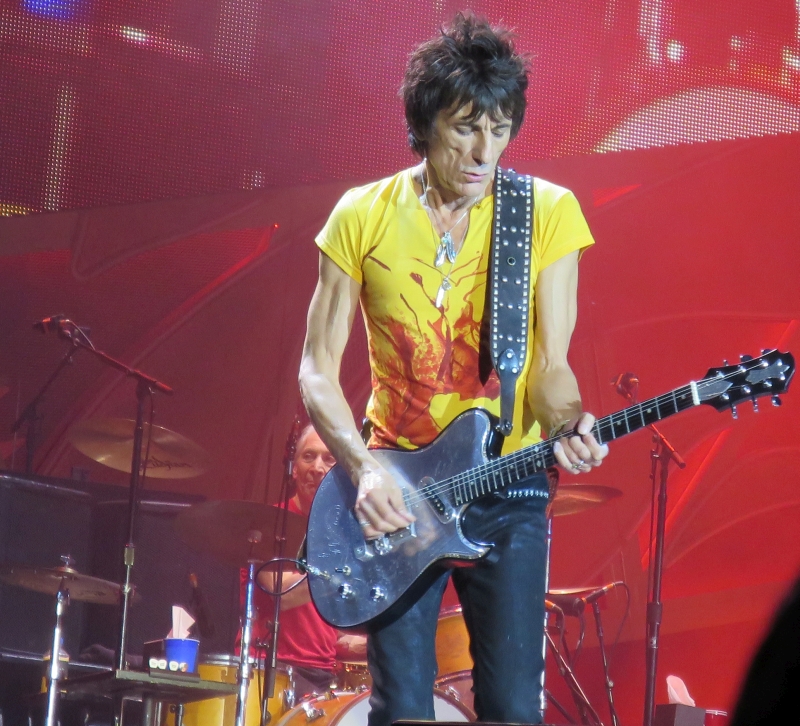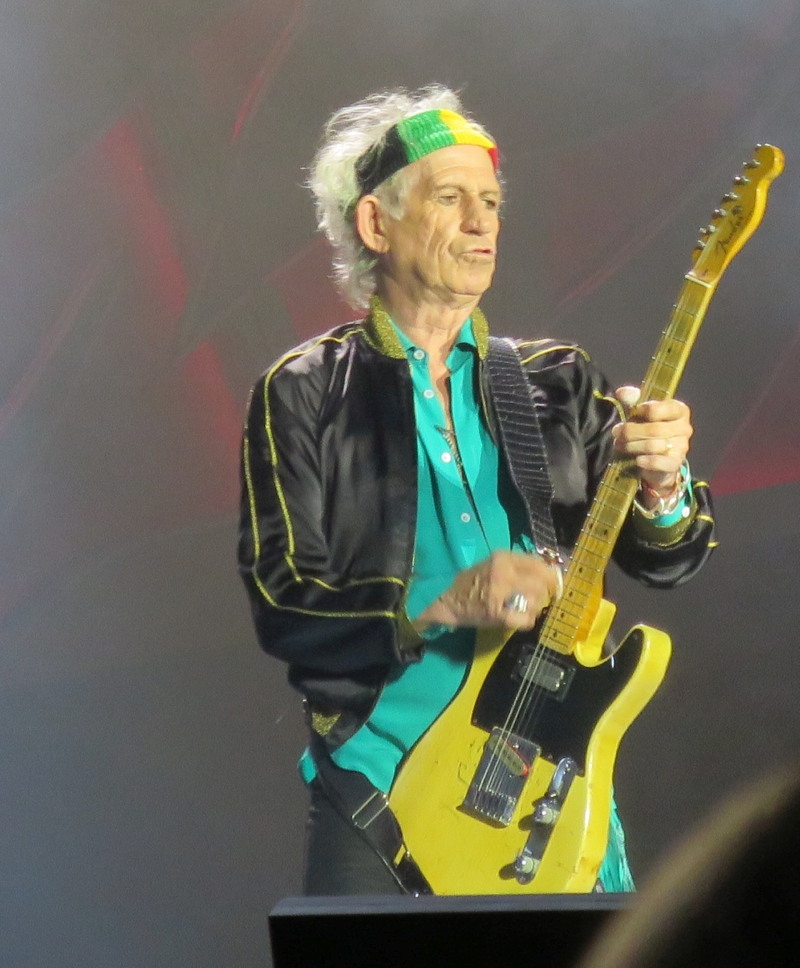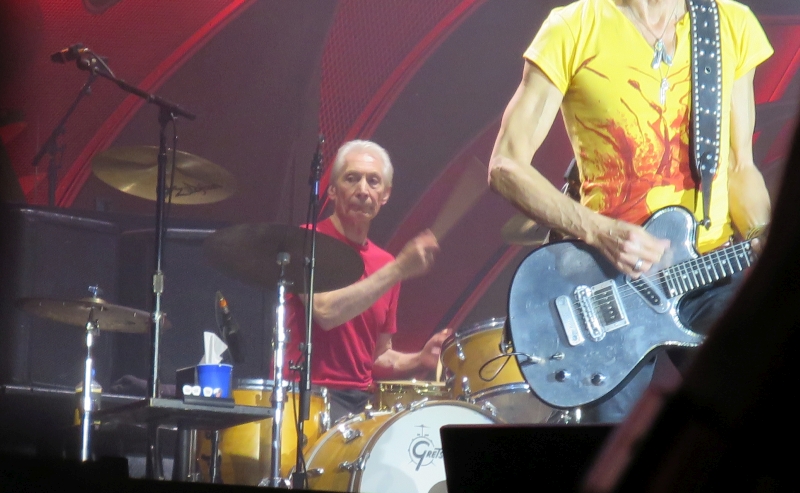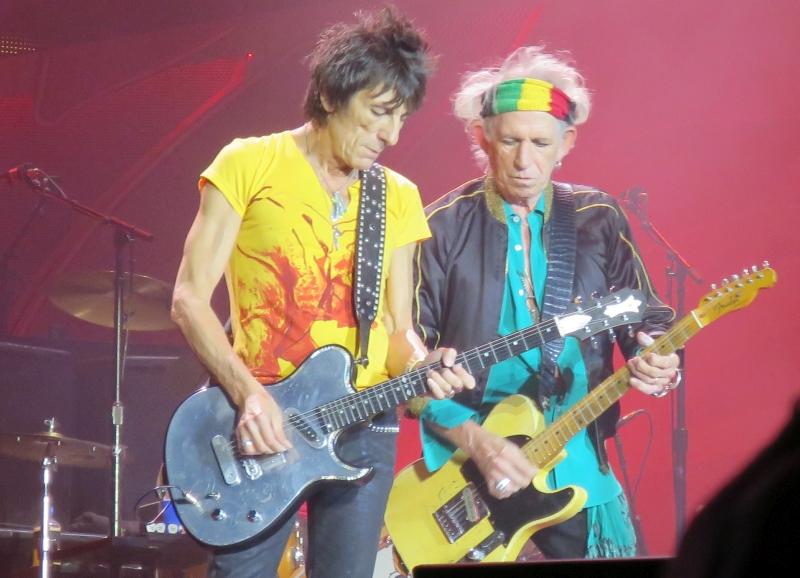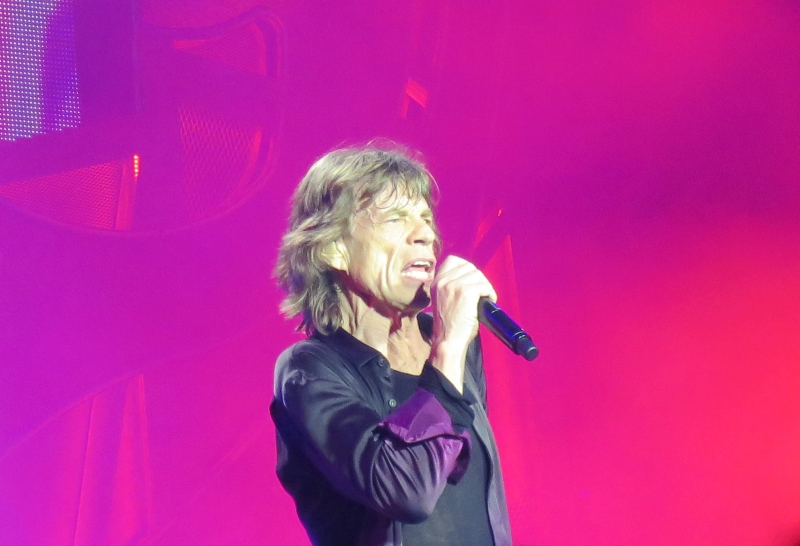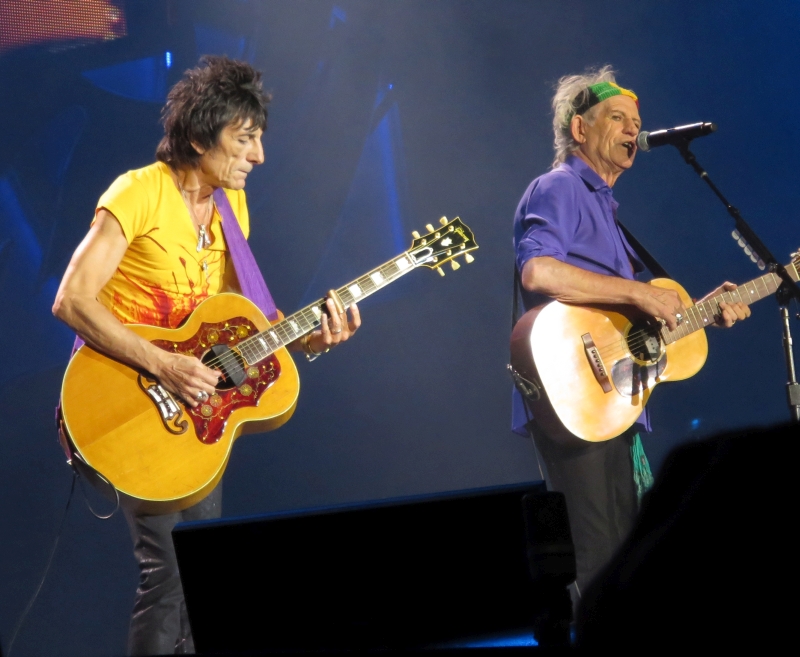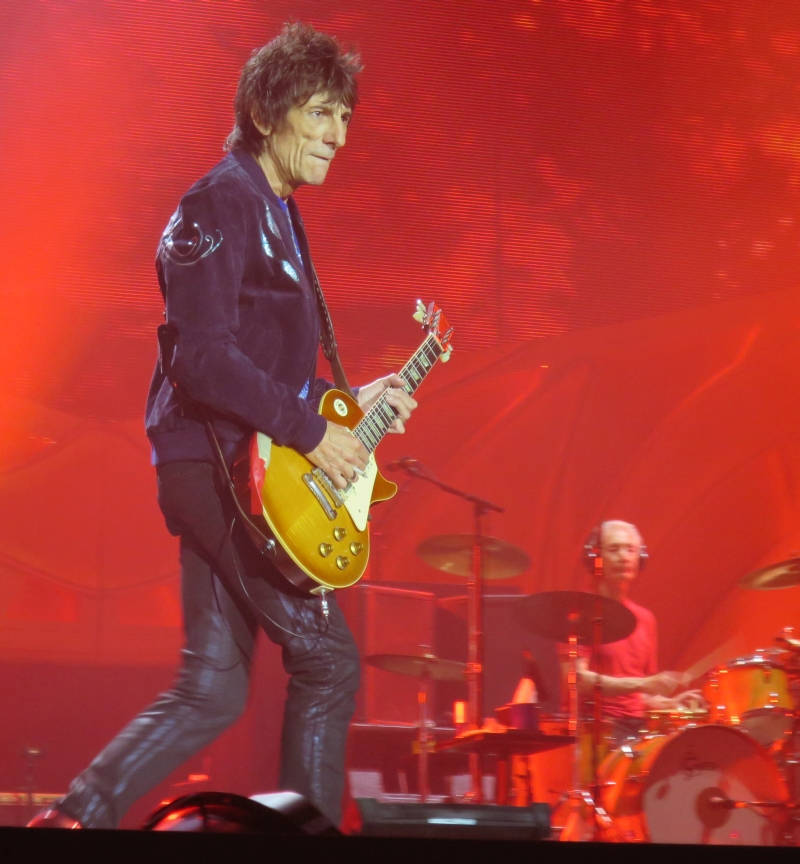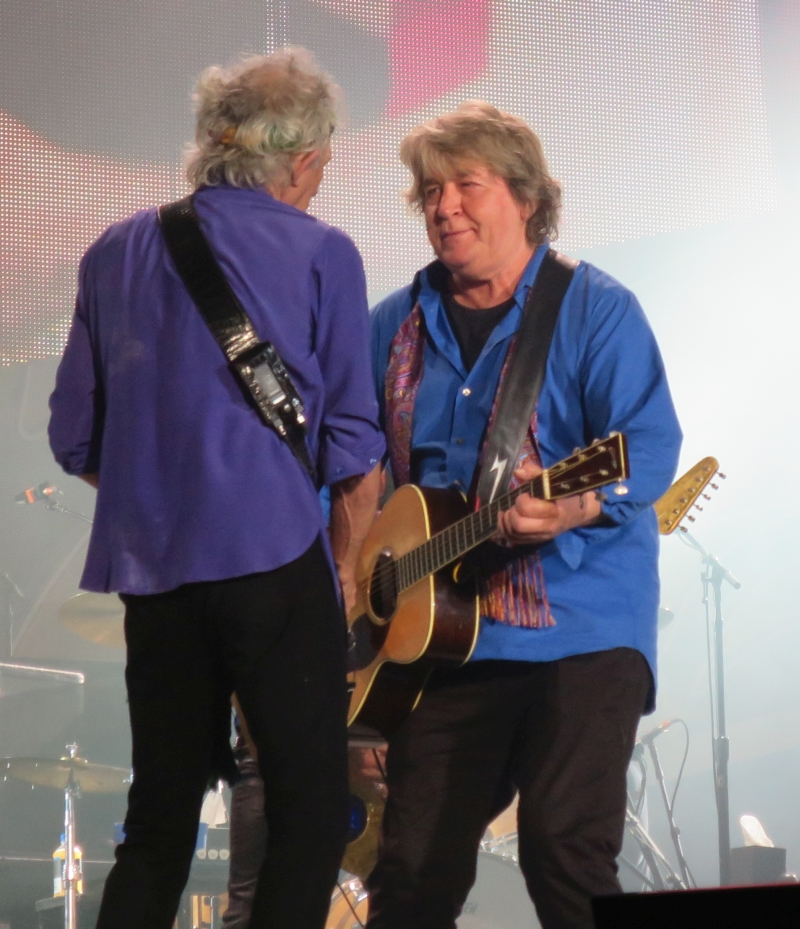 Photos by Terje Eriksen
---
Review by Norbert Maaß
The show yesterday at the ESPRIT-arena was among the best I have seen (since 1990). Maybe you remember my review about the disappointing show in Cologne in 2006 (Ronnie was absolutely out of it...)... Yesterday, he was great, played as well as he did 2007 in Duesseldorf...

This time, the roof of the arena was closed, because the weather wasn´t so good, so I enjoyed the Stones in an indoor venue for the first time - and they played LOUD. My God, my ears are still bleeding.

My personal highlight was, of course, "Worried about you", a song I´ve always wanted to hear! Great version, they nailed it.

Especially Mick and Keith put lots of energy in their performance. - Sometimes I read reports by people saying Keith doesn´t move a lot on stage or doesn´t play much - but he was spot-on yesterday. He looks younger and plays much better than seven years ago. And they all seemed to have enjoyed themselves on stage - as much as the crowd who was really enthusiastic. Great gig and worth every penny. Thank you! See you in a few years!
---
Review by Wilco
Arriving late at the Esprit Arena in Dusseldorf, I entered the stadium around 7 pm. It was an easy 2.15 hour ride from Voorschoten (Netherlands) and to me it seems, having been to Gelsenkirchen and Monchengladbach before, that all German stadiums are close to the highway and have huge parking areas, German grundlichkeit I suppose, but I like it! I got in the 1st FOS area without any problem, but it was already packed with many fans. The roof of the stadium was closed, a good choice as it was raining outside.

The opening act did their best, but who wants to see an opening act when you only want the Stones. And they took the stage at 20.50, opening with JJF, Let's Spend The Night Together, IORR and TD. Well how about that for opening a show? I thought it was absolutely brilliant! One minor thing was Ronnie's guitar solo on TD, but that aside they were great. Mick was talking a lot in German and told us they would slow it down a little with Worried About You. Nice song, saw it before in Vredenburg Utrecht 2003 I think and after that they started rocking again, such energy with OOC, HTW, loved it!

After the band intros Keith did You Got The Silver and Can't Be Seen, thought that he lost the words a bit during the 2nd song. Then Mick Taylor joined them on stage and we got a fantastic Midnight Rambler, Taylor on Guitar and Jagger on harmonica were stunning, best Rambler I ever saw. After that we got all the well known war horses, like Miss You, SMU, Gimme Shelter, BS and the encores. After a final bow they left the stage at 23.05. I went out quickly and was fast enough to see them leaving the stadium in some fast cars, waving goodbye to us. See you in Werchter guys!
---
Review by Peter Lacres
Düsseldorf was my fifth concert so far on the European leg and I'm really happy after last night. I've been spoiled with great spots so far and Düsseldorf was no exception. Arrived there just after noon, no bars were open, even the food stalls opened after 2 o'clock. The doors were supposed to be open around 5.30 but there was a slight delay and it started to rain… Once inside, I started to run as fast as I could and entered the FOS1 after a couple of checks. Anyway, I was second row Keith's side and I saw every musician clearly as the stage wasn't too high.

The Rolling Stones were great in Düsseldorf. Mick welcomed the crowd and was planning to say something about the world soccer games but Keith started with Let's Spend The Night, Keith was definitely on fire, weaving with Ronnie and Mick Taylor and Can't Be Seen is getting better and better… I saw Keith reading the lyrics on the screen as he's very enthusiast and acting during the song, really liked how he put this guitar away to sing the 'six feet under the ground' line.

Mick was great as usual with an emotional Worried About You, a powerful Gimme Shelter & Midnight Rambler. Mick is the king when it comes to entertaining and interacting with the audience. I noticed that he really looks to the first rows to start them moving. What else can I say? I'm still thrilled and it's good to be alive and it's great to be at yet another Stones concert. Next stop, Werchter but I can't wait for Stockholm as it will be an indoor show just as last night.
---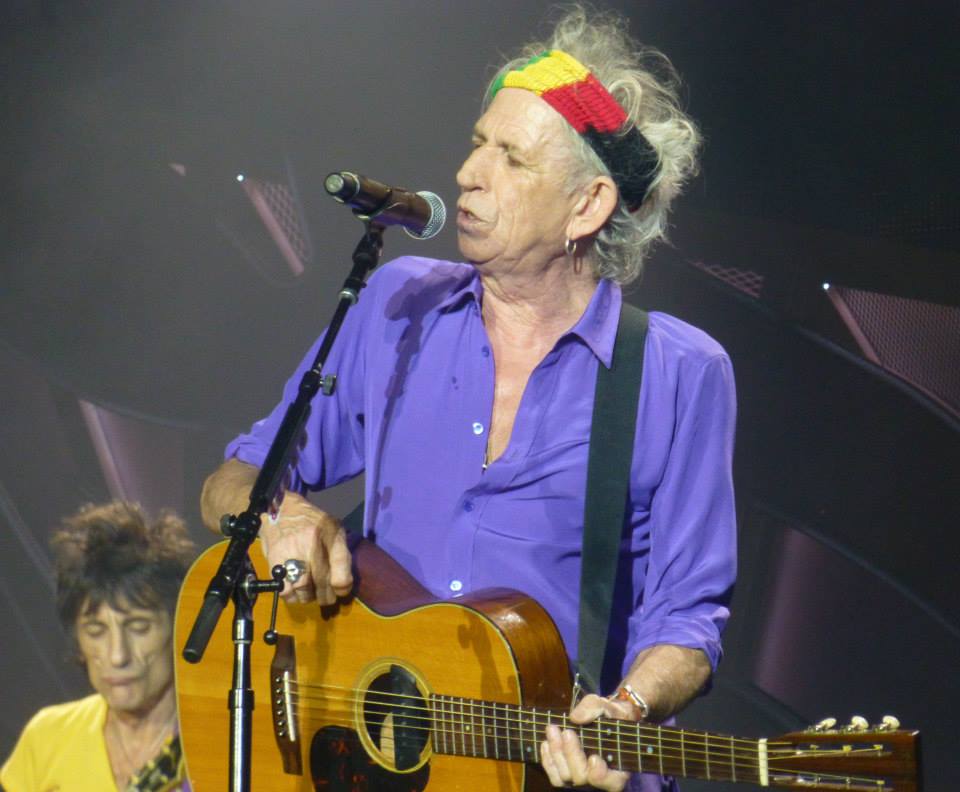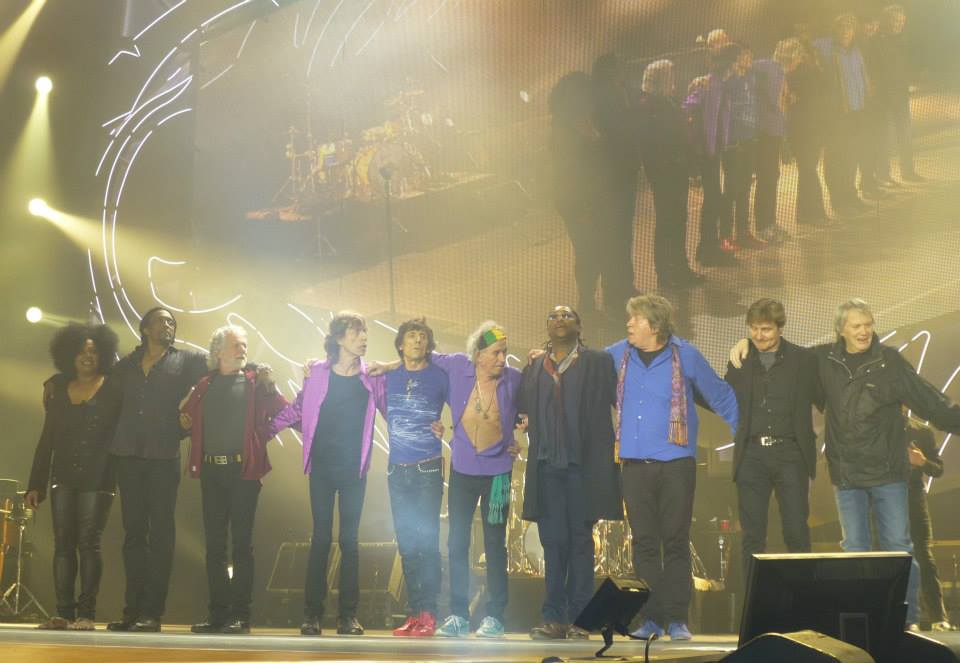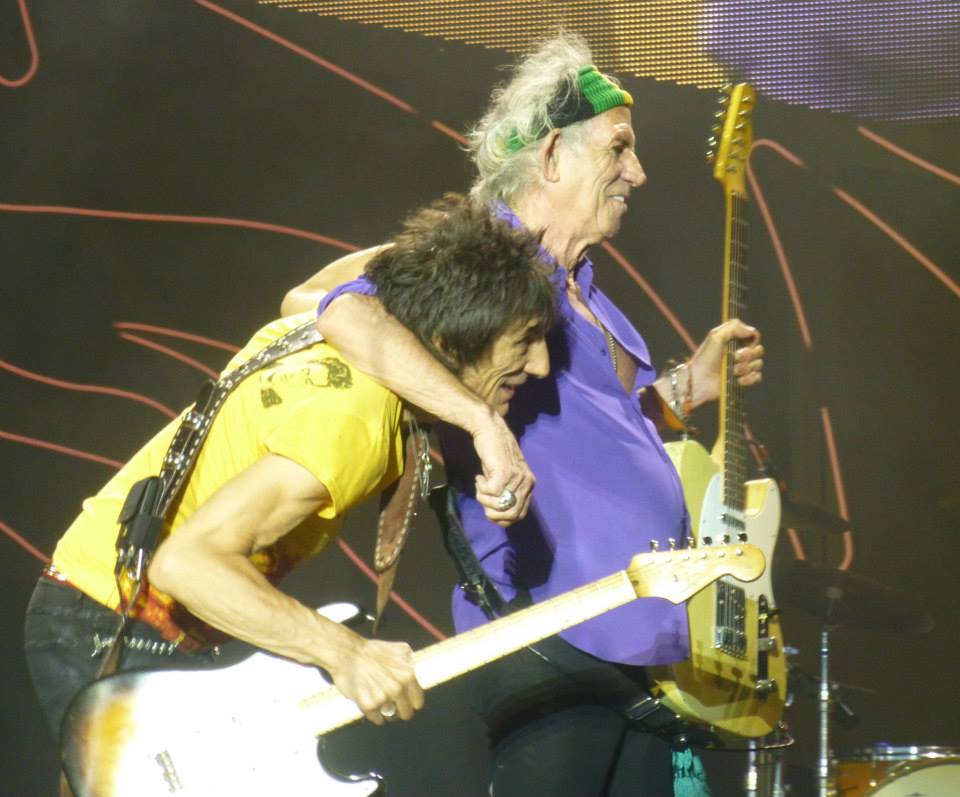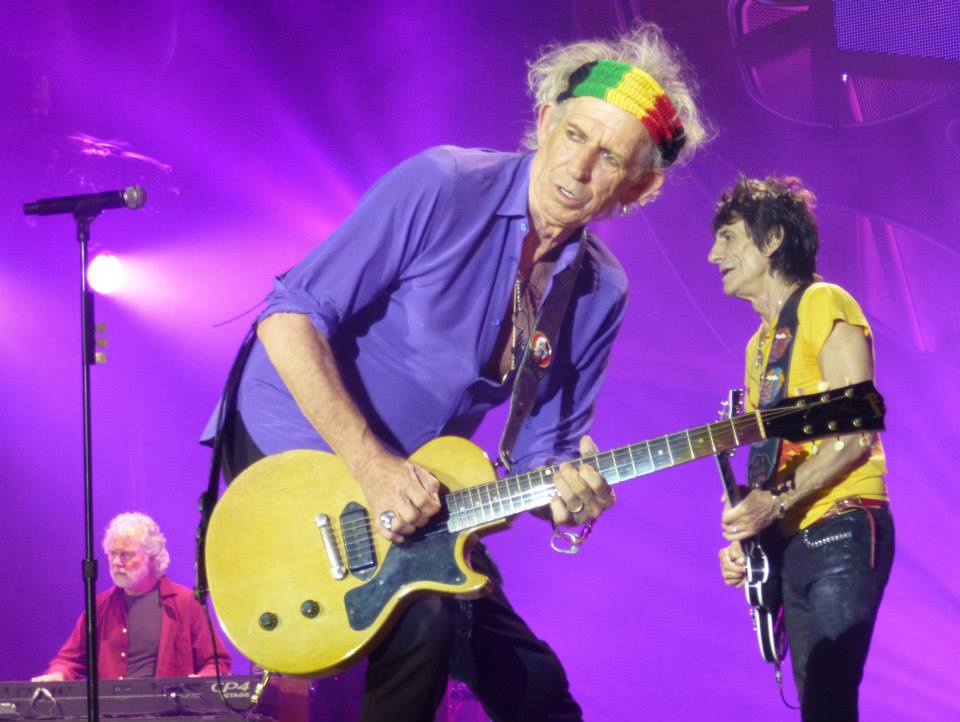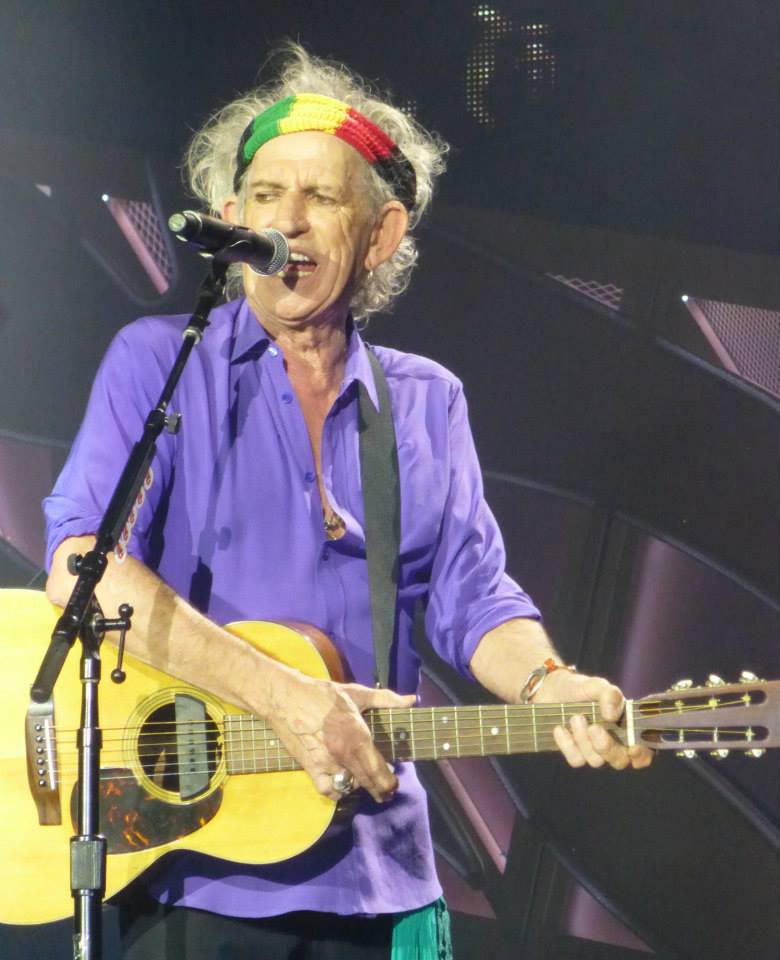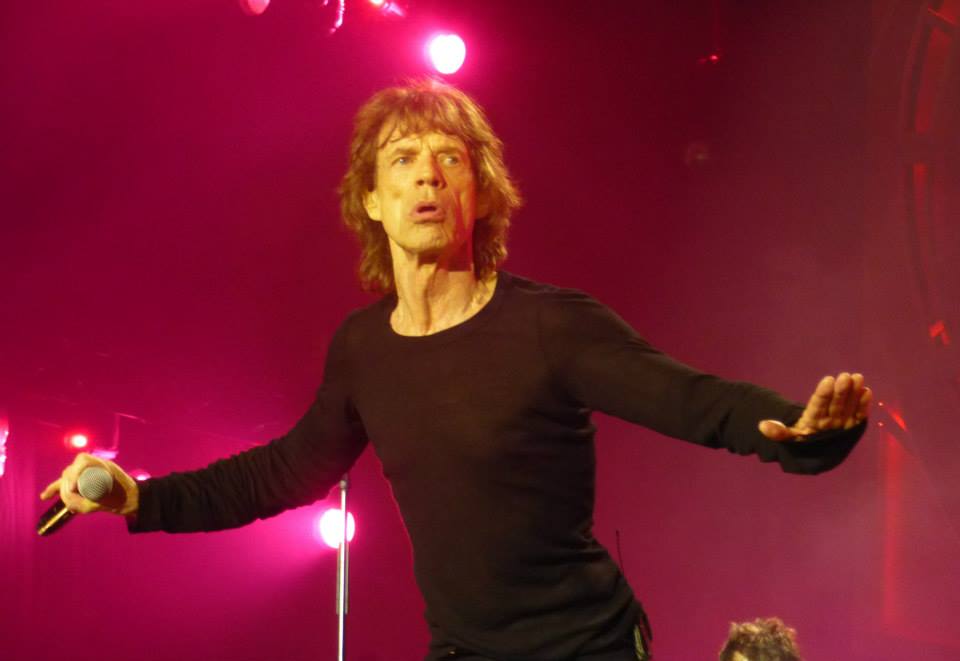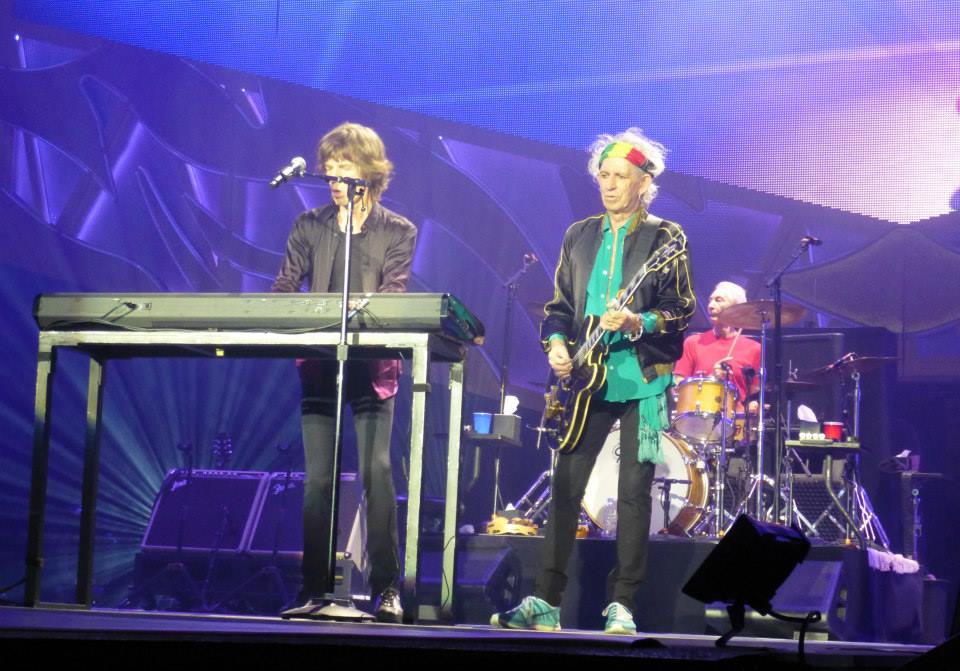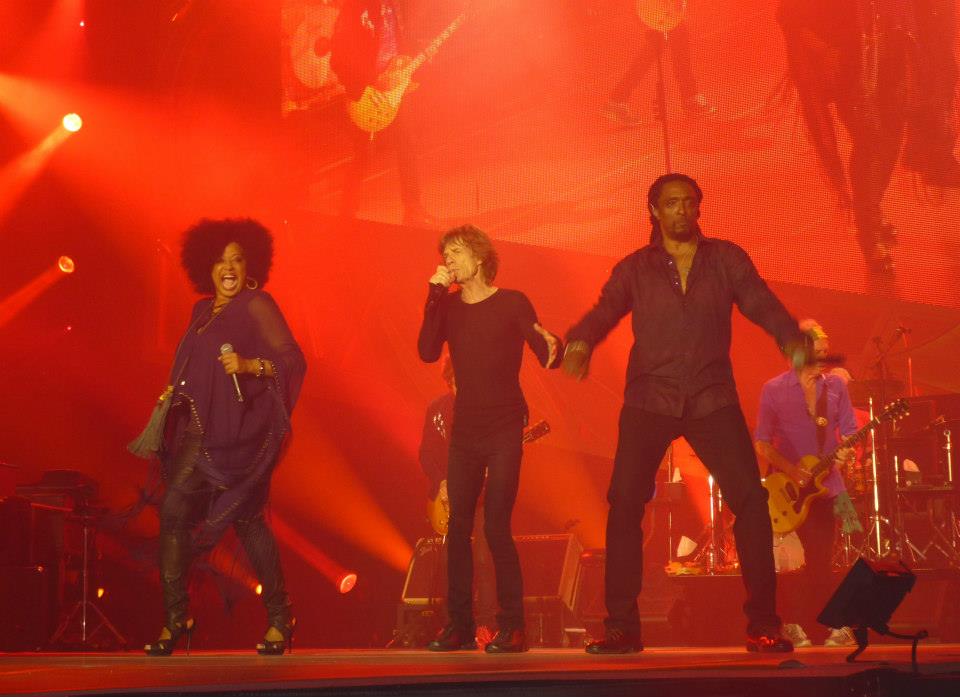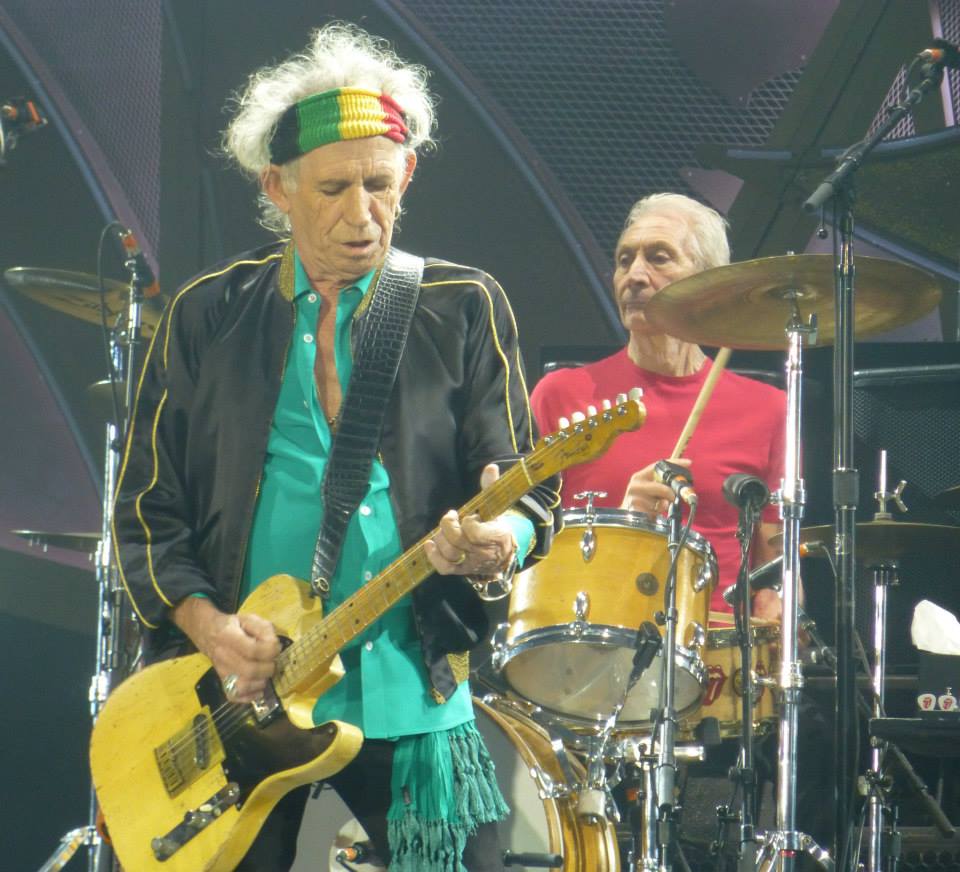 Photos by Peter Lacres
---
Review by Dean Goodman
There are many wonderful cities in Europe, and especially Germany. Duesseldorf is not one of them. It is just as grey and austere as I remember back when the Stones played here in 1998 -- or as others might remember as the unglamorous setting for the British TV show "Auf Wiedersehen Pet." To add insult to injury, the local Starbucks has blocked access to iorr.org.

Duesseldorf is probably the least interesting city on the Stones' 2014 itinerary, I could be wrong, but it was not even worthy of its own t-shirt and poster. But the Stones made it a bit more special than usual by dusting off "Let's Spend the Night Together," "Worried About You," and "Street Fighting Man."

If you thought security was hopeless in Vienna, the yellow-jacket folks were exponentially more clueless in Duesseldorf. No one knew where the box office was, or how to get into the pit. And then, once in the pit, I was shocked that it was completely packed - long before the Temperance Movement came on. Something was suspicious. As with a few other die-hards, I basically watched the show on the screen, trying at the same time to avoid all the smokers, so probably missed a lot of the on-stage revelry and oddities.

"Worried About You" was an epic. At one stage the are three keyboard players in stage. That's 50 percent more than what you get with Elton John + Billy Joel. "Wow!" Mick said afterwards, echoing my reaction.

Elsewhere, he joked that the Stones had rehearsed a Die Toten Hosen song, and thanked a few members for showing up; and he introduced Charlie by saying "all the way from Wembley, weighing in at 160 pounds..." My personal highlight - apart from seeing the adorable Sally Wood up close before the show - was "Street Fighting Man." What a thunderous display, and always relevant to the human condition. It is a mystery why this war horse was dropped. Maybe Mick still has nightmares about being eaten by the Urban Jungle dog.

Both Mick and Keith seemed in better sync tonight. Keith was in an especially good mood, though I don't care for him and Ronnie gaily dancing arm and arm around Darryl during the "Miss You" bass solo. It seems a bit disrespectful. Keith pecked Ronnie on the cheek after "You Got the Silver," but then got lost on "Can't Be Seen." Mick also seemed to lose his place on "Brown Sugar." Oh well. Still a great show overall.
---
Review by by Alwyn Welch
In summary: a really excellent show. More and more and more energy and passion. When a band is enjoying itself, it shows – and in Dusseldorf it really showed. Fantastic. Even the songs I've heard live 50 times were exciting – like meeting old friends for a big party.

Dusseldorf didn't feel like Stones town – some people walking around in Stones shirts but all very low key. Gig day was a public holiday so maybe that kept things quiet. Pretty old town – except of course much was re-built 60 years ago. And most places were shut after the gig… but still worth the trip next tour. There was a big crowd when I walked past the band's hotel – police there to keep the road clear – everyone looking for a glimpse of glimmer.

The transport system in Rheinland was brilliant – easy access to the gig (and free with ticket), and afterwards the U Bahn had one train every 2 minutes or so back to the city centre. Thank you Rheinland for that efficiency – can you advise London and other cities how to do that please.

Getting into the arena/stadium was more complex. The entrances were at the opposite end of the arena to the station – so an unnecessary walk around it for many many people at both ends of the gig. The queue must have started at 2pm – by 3pm it had 100 people, some sitting, but by 5pm everyone was standing in a rain shower.

Security… well some very friendly and very helpful. The security boss at North West entrance seemed surprised when they opened the gates and people started running for best places – even tried to stop all the people entering to stop the running – some chance pal. I think I showed my ticket 5 times to get into the Pit, FOS 1. Not very efficient at all, as several people seemed to blag their way in.

It was difficult to move in the Pit as most people squeezed up as soon as they arrived – so from joining the queue to enter to walking into my hotel afterwards was 9 hours standing, walking, dancing – mostly standing. Maybe Jagger wants us all to get fitter and slimmer – it was a real work-out. At least they know how to cool the arena in Germany – unlike the heat-only ventilation in Oslo.

I'd bumped into Bernard Fowler in the street the previous evening and he commented, that the band was playing really well. Tonight demonstrated that Mr Fowler is a master of the understatement as well as rather a good vocalist.

Everyone on stage was up for it in their own way. Energy, passion, smiles and laughs. It was like a party on stage, with whoever was leading a particular song being watched and helped by the others. Any slip caused smiles and support from the rest of the band. This was no over-choreographed theatrical show – this was ROCK'N'ROLL.

There were a few "mistakes" - including one from Mick on Brown Sugar. A great glance and smile from Keith to Chuck and Charlie when that happened - and Keith recovered it. Did they all forget how to end SFM? Well I liked the extended jam at the end, demonstrating that 50+ years of playing together has many benefits.

Keith even said "follow me" when things got a bit vague during Can't Be Seen - after I think his teleprompter stopped and he got a bit lost on words. All the band enjoyed that interlude, even Matt Clifford. But it worked out, and was much improved. You Got The Silver was sublime. I think Keith is singing live better than ever – whether on backing vocals or leading during in his set.

As I've said before, that cameraderie and looseness is what makes a great band. Its what the Stones are all about. You can keep the clinically perfect arrangements and performances for Pink Floyd or One Direction.

If tonight was any pointer (or one direction....), the Stones are entering another awesome phase. Yes the setlists might be a bit more limited compared to 2002/3 (very good tonight and a couple of surprises - but I'd have liked Sing This All Together - honest! Maybe a reggae version??) but they still pay for well over 2 hours – unlike any time before 1981.

But the spirit; the performance; the glances and asides; the enjoyment on stage and off; the power and looseness - all the things that separated the Stones from others who played the same type of music ; they are all on maximum volume through the drive channel.

Sound at the front was very good – you could hear a little echo off of the back, so I suspect people further back may have had a mixed experience. The crowd near me was enthusiastic, a couple of guys too enthusiastic with one ejected.

Mick was, as ever, the consumate performer running miles and miles; driving the songs along; showing emotion and playing some mean harp on OOC and Rambler. But mainly he is playing as part of a tight band – not the up front solo performer. In the middle, of everything mixing it up.

Keith was on brilliant form (and so so powerful in the open-tuning numbers). 100% engaged, and playing about, taking some very good solos, and no soppy intros. As in Oslo he got close to Mick at the start of Worried About You, with a really caring look, supporting his old mate. Those two look closer than at anytime since the 1970s, passing the musical baton between them with ease and fluidity.

Ronnie was playing manically (was he on heat?? or something else??). A couple of scorching solos (WAY, Rambler), and lots and lots of weaving. Very interesting close up to see him and Keith watch what the other is playing on some numbers and then filling the gaps and playing very adaptively. A guitar mis-function (no rude bits showed!) was the only time he looked a bit flustered.

It is easy to take Charlie for granted. He sits there bashing out the numbers for over 2 hours, keeping a close watch around the band for the cues. Just an ultra pro and very cool. Pity he couldn't be tempted down the catwalk. Grinning like a cat several times. Awesome.

A couple of words about the terrible two who people on this forum love to hate.

Chuck was playing some delightful stuff, especially on Miss You. Maybe he has a little less of a leader role when the rest are on this form, giving him space to stretch out a bit. For what its worth, whether on keyboards alone or with Matt C or Tim Ries, he complements the guitars very very well. And he can play the styles of all the historic Stones keyboard players as well as his own – of course he's played with the band for 33 years now…

Lisa must have been reading some of the schoolboy comments about her on this forum. She was belting it out in Germany; really top performance. Has she upped her game? I don't know, but no question she cuts the mustard (as we Brits say). Some verbal and non-verbal encouragement from Bernard and Mick as well. Unfairly criticize members this band and they pull together folks.

Darryl, looking very studious, had a very nice solo on Miss You. Keith dragged Ronnie over the watch and pay homage – I think they were both learning some bass solo tricks. Bernard was higher in my mix than normal, and again adding a lot. Bobby was good, but I couldn't see him well, and he was mainly repeating his usual solos – with a Texas hat. Tim similarly good in support – and nice keyboards on YCAGWYW and WAY. Matt C a little more prominent: the French horn well down in the mix.

Editing this review I realized I missed Mick T… why? I think he over-played a little on Rambler; almost trying to take the lead from Keith and Mick J. Some beautifully fluid lines however – back to 1973 tour quality. But I'm not sure 3 electric guitars work in this band unless 2 play simple rhythm (like on Miss You or Respectable). Just too complex.

On this form it's a pity they finish this European Tour in only a couple of weeks - they really should carry on the momentum. Passion like this should not be wasted. For whatever reasons, and we can all speculate on those, this phase of the Stones is awesome and shouldn't be wasted. It is different to 10 or 20 or 30 or 40 years ago – maybe less different than 50?

Perhaps Keith and Ronnie should follow Charlie's example and play some low key gigs leading up to a tour to get gig-ready. Maybe they band should do more small warm-up gigs and fewer rehearsals. I don't know. Clearly non-stop touring is not going to happen – every one on the tour has a home life, and the more mature members (that's everyone now….) will tire and BV will go broke. But somehow this magic energy must be sustained.

I look forwards to Stockholm, and have to think about Aus/NZ. But don't tell my wife that!
---
Review by by Sjouke Hoving
It was time for my third (and unfortunately last) show of the 14 On Fire Tour. After Zürich and Tel Aviv, it was Düsseldorf for the place to be. While I was in the morning still at work, we drove around 12pm from Basel to Düsseldorf and arrived there around 5pm. Time to explore the nice old part of the city… it was crowded everywhere: football and the Stones is a good combination and reason to go into the pubs and restaurants. After something to eat and some "Altbier" it was time to head to the ESPRIT arena. It was already crowded there, but we got in pretty fast into the 1. FOS part.

After a few minutes the support act the Temperance Movement (like in Zürich) started their set. And as in Zürich, this band is a good warm-up for the Stones. Raw, energetic blues rock a bit in the style of the Black Crowes. But then the waiting for the real work started. At 8:50pm the lights went off and the drums started the intro. Showtime!

Jumping Jack Flash was the opener in a fully-packed ESPRIT arena. Hard rocking with loud guitars and it was clear that the band was on fire. It was directly followed by a change in the set list and surprise song Let's Spend The Night Together. Really nice to get this one so early in the show. It followed with the standard IORR and Tumbling Dice, and both were very good and real crowd pleasers. The keyboard was broad on stage, so I knew it would be the same song as in Zürich, Worried About You. A great song and great playing from all. Next song was the "new" song Doom & Gloom.

Finally, we got Street Fighting Man by request. Oh man, what a loud and long version did we get here. It is so good that Out Of Control has now its fixed point in the set list. This is such a great song live. Honky Tonk Women is always a good crowd pleaser and then it was time for the band intro and Keith's songs. You Got The Silver is great as always, Can't Be Seen was much better than in Zürich, but still not that good. I think Happy or Before They Make Me Run or even Little T&A would work much better.

Every time highlight is Midnight Rambler with Mick Taylor. Absolutely a stunning version, I love this song again and again. The rest of the songs are during this tour always the same, but we got great versions of Miss You with a great bass solo by Daryll Jones. Gimme Shelter was amazing this time. They really nailed the song. Start Me Up (with correct intro), Sympathy For The Devil (with the pyro) and Brown Sugar closed this part of the show.

During Brown Sugar something went wrong, but it was minor. You Can't Always Get What You Want (with local choir) and Satisfaction closed this fantastic show in Düsseldorf. It was an extreme loud experience. It was a hot experience as well; I thought it was hot during the show in Tel Aviv, but with the roof closed in the ESPRIT arena it was hot as well.

We had some more "Altbier" after the show in the old part of town again. Great atmosphere, football fans all over the place, many Stones fans all over the place. It was really late when we were back at the hotel with great memories of a great show… I know, it's only rock 'n' roll, but I like it…
---
Reports please!!!
Please send your comments, reviews, links and more to:

[email protected]
---
Press links
---
This page will change over the next few days, as you and other fans send reviews, set lists and reports. Please send your e-mail to IORR. Thanks! For details and great photos from the Rolling Stones and their World Tour get the IORR magazines.




It's Only Rock'n Roll 1980 - 2014
© The Rolling Stones Fan Club Of Europe