---
These are the latest Rolling Stones news and updates for you! IORR is a non profit fan club run by fans for fans. All parts of the It's Only Rock'n Roll web site is copyright of The Rolling Stones Fan Club. When using information from this site, please include a reference to IORR and the main web address www.iorr.org.
---
---
The Rolling Stones
Wells Fargo Center
Philadelphia, PA, USA
Tuesday June 18, 2013
---
Photo by Bjornulf Vik
---
The set list
Get Off Of My Cloud
It's Only Rock'n Roll
Paint It Black
Gimme Shelter
Wild Horses
Dead Flowers (with Brad Paisley)
Emotional Rescue
Doom And Gloom
One More Shot
Honky Tonk Women
--- Band presentation
You Got The Silver (Keith)
Before They Make Me Run (Keith)
Midnight Rambler (with Mick Taylor)
Miss You
Start Me Up
Tumbling Dice
Brown Sugar
Sympathy For The Devil
--- Band off stage
You Can't Always Get What You Want
Jumping Jack Flash
Satisfaction (with Mick Taylor)
---
Show start  :  8:55pm
Show finish : 11:15pm

---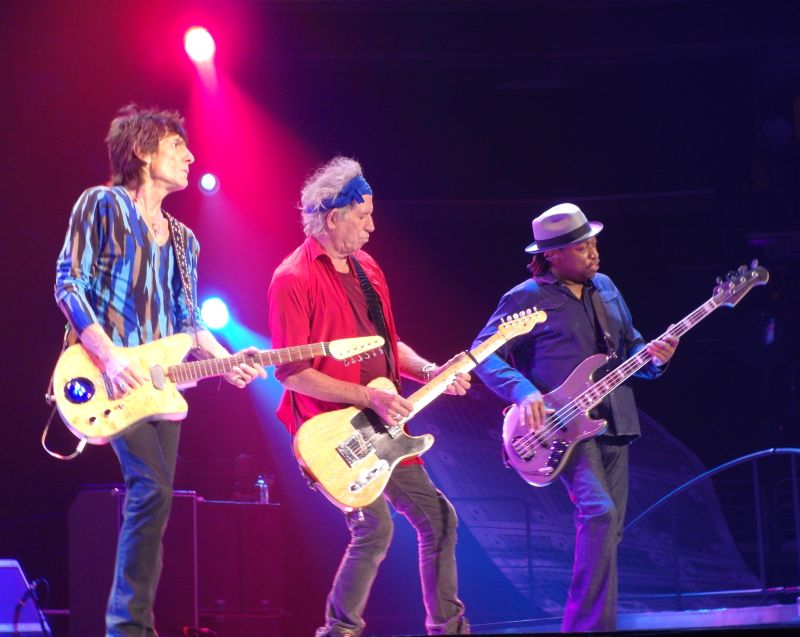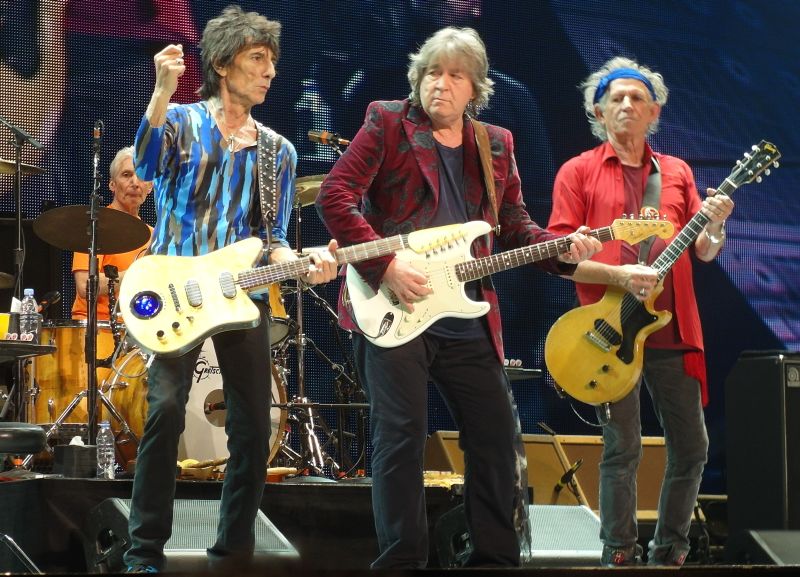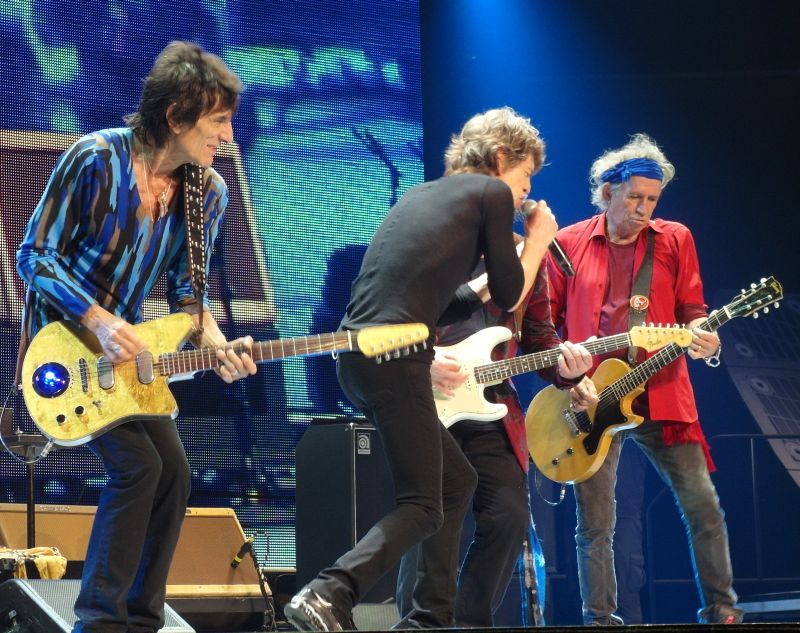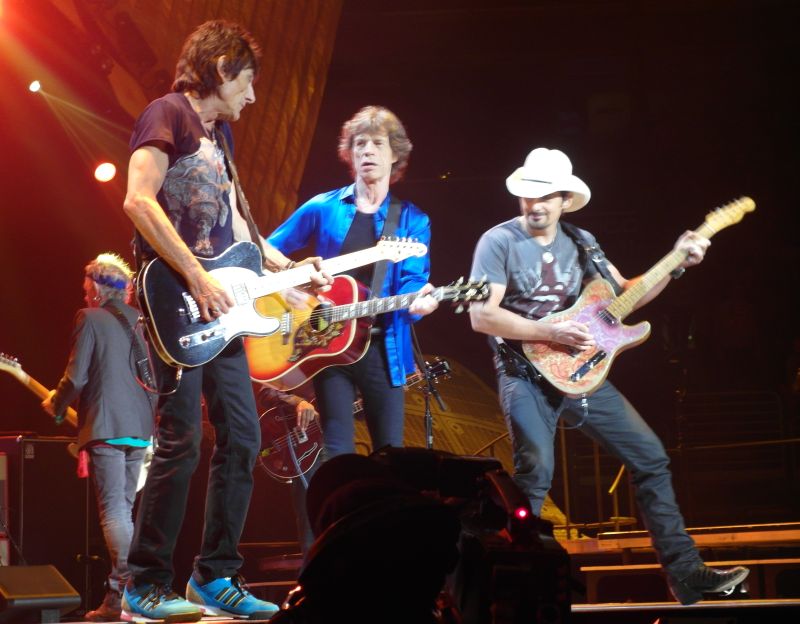 Photos by Bjornulf Vik
---
Review by Robert Bagel
Philadelphia and the the Rolling Stones were well matched tonight, in that both were in a good mood despite the showers that have seemed to follow the tour since it moved east last month. Early on, Mick Jagger called attention to it being Philadelphia's 331st birthday and rang a small (liberty) bell given to the Stones by the city's mayor. Despite the city of brotherly love not being known as a hotbed of country music, the show definitely had that flavor: Wild Horses was a graceful lead in to Brad Paisley's guest appearance on Dead Flowers, complete with his "trademark" cowboy hat, a stage accessory shared by many in his genre. I spent a few moments working through whether Paisley was truly confident and relaxed, or just putting on an awards show host smugness to get through his appearance. The verdict: Paisley's guitar was right on with fills to compliment Jagger's vocals, and he had a decent solo that fit well with the song. It appeared he genuinely was enjoying himself, and was in his element due to a good song selection. This was definitely a successful guest appearance, though not as risky or innovative as those of Keith Urban or Taylor Swift. And the real spark on the song was when Ron Wood was side by side with Paisley. Ronnie fired off a great guitar lead, which also served as leading by example.

Wood continues to be stellar as the tour goes on, embellishing Doom and Gloom to bring that new song to an even higher level, and playing rock solid on You Got the Silver so it is apparent that his biggest fan is Keith Richards. And while there are many great guitar combinations throughout the show (especially when Mick Taylor is on stage), I think the purest rock and roll head rush occurs during Before They Make Me Run with Keith laying down the rhythm and Ronnie ducking in and out with his piercing style that has defined the Rolling Stones sound since any of us first curiously tore open the cellophane that covered a Some Girls record.

The other new song One More Shot was especially interesting tonight, as Bernard and/or Lisa seemed to be mistaken on the timing of a verse. Mick ran over toward them, kept the timing of the song by gesturing with his arms, and with several checks between Charlie, Keith, and Darryl soon the band had worked the song back on track. While the song was not perfectly played, it was a pleasure to see the true professionalism of this unit as it calmly improvised to keep the performance intact.

Finally, I stood next to a gentleman tonight who said he has seen many shows and regularly posts somewhere on the internet about the Stones. I told him I too have seen many Stones shows, and hoped to leave it at that. Unfortunately, he mistook our common interest as license to do a running commentary during the show with such inane alcohol fueled remarks like, "That bass line isn't as good as Bill's!", "Best version I've seen since '99!"' and "Where would you rank that?!". While it is great to talk about the band over an after show beer, or write about it later, the best thing to do during a Rolling Stones show is: watch and listen to the Rolling Stones. Or even clap and sing along! But showcasing one's knowledge of the Rolling Stones by shouting over them is idiotic. I am not sure what is the most polite and respectful way to say, "Shut the fuck up!", but if that advice can be heeded so even one die hard fan has a better experience during the remaining five shows, I will rest easy in that I have provided a public service.
---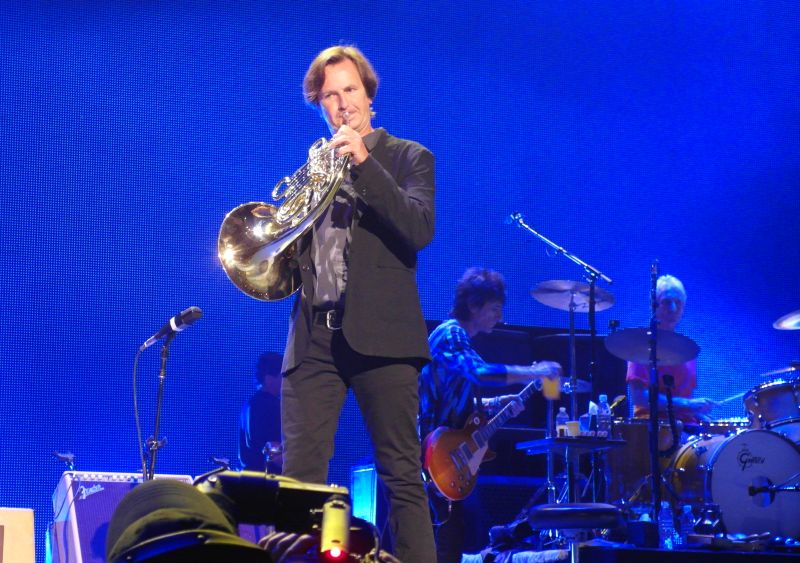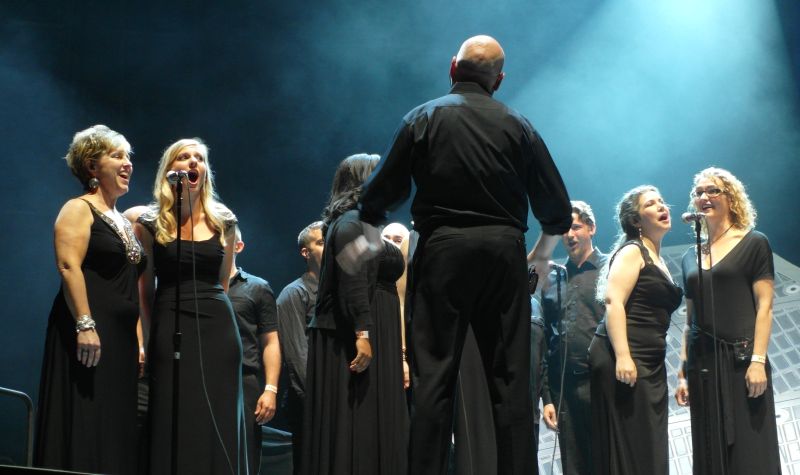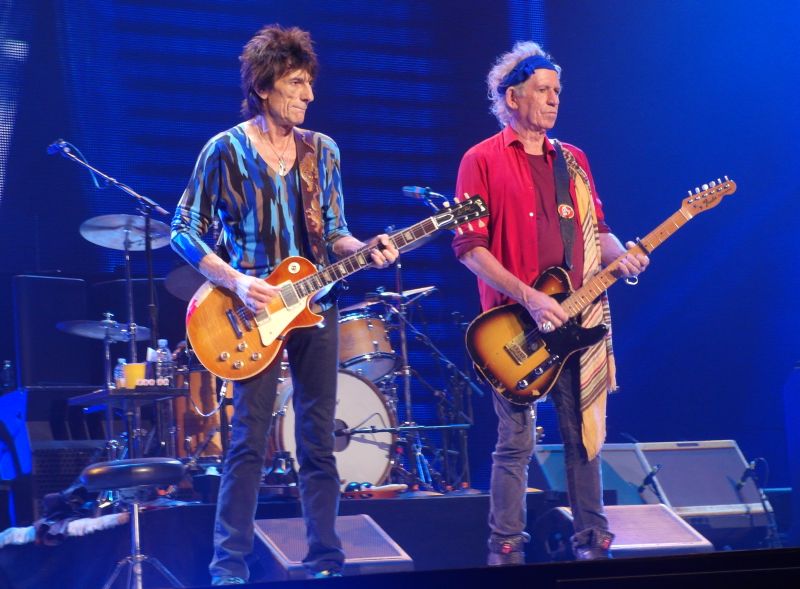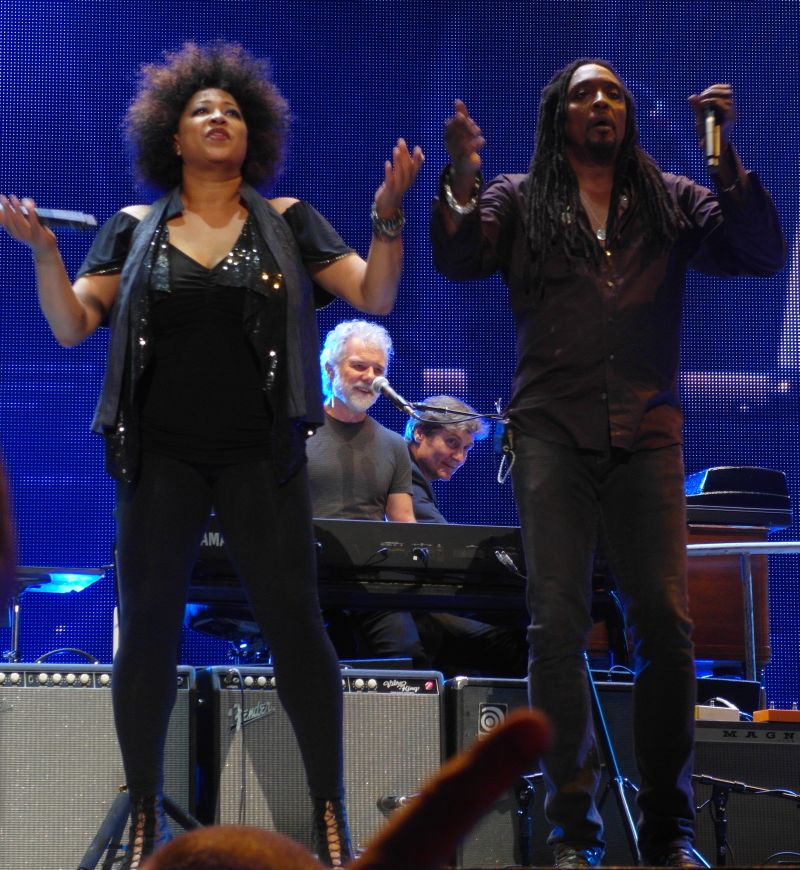 Photos by Bjornulf Vik
---
Review by Rick Pierce
This show was my 16th overall but first on this tour. The crowd was awesome and excited and very loud. Met some very nice people from all over the East Coast, not just Philly. Had two lovely Stones virgins from Norfolk, VA sit next to me and they appeared to have a really good time as well.

The band started out strong with Get Off My Cloud as a high energy opener. Itís Only Rock ĎN Roll slowed the pace a bit and Paint It, Black even more of which the ending was a bit of a train wreck. Gimme Shelter also sounded a bit off, but this is where the show really begins. Lisa once again as she has so many times electrified the crowd and really got the show going. Unfortunately, Chuckís setlist slowed the show again with Wild Horses.

To make matters even more dull, we get countrified Brad Paisley to play on Dead Flowers. Boy that was a surprise. Still, it was done very well. One thing Chuck, you canít tell me that the internet choice was Dead Flowers. Letís just say this was the song chosen for Paisley and leave it at that, then play the real selection which was probably No Expectations or maybe Street Fighting Man. They have never played No Expectations in Philly, never, thus I have never heard it live and was duped by the website vote into thinking they were going to play this song. To add insult to injury, they dropped one number they normally perform from this part of the setlist and shortened the total to 21 songs, the fewest on this tour yet.

Still, I donít want to sound ungrateful or that the show wasnít good. It wasnít, it was fantastic. Once I got over hearing Dead Flowers again, I really got into Emotional Rescue which really pumped up the show again for me. Although the crowd was not as into hearing this or Doom and Gloom and One More Shot, this mini set brought me back to reality, the reality that a Stones show is a freaking awesome event.

Keithís set was terrific as highlighted by a great rendition of You Got the Silver and a rocking Before They Make Me Run. Rambler was long and terrific, but I was surprised that they would haul around Mick Taylor for just a couple short solo breaks on one song for an entire tour. He was practically inaudible on Satisfaction. Yet, Rambler was once again another highlight and continues to be the best song performed live at most shows. I do think Taylor raises everyoneís level of play.

Keith was terrific and right on for the solo on Sympathy, another well done track and the choir was outstanding for YCAGWYW. JJ Flash really rocked and was played at a good pace, coming in at just under 4:15. Satisfaction was a great sendoff and a nice farewell from band to all of us in the crowd and a nice farewell from me to the band.

Hope others continue to get Satisfaction at their shows. With the price paid and the setlists of every show readily available, I guess Iím a little miffed we didnít get more, especially with the great crowd. It was an awesome time though and still worth the dough.
---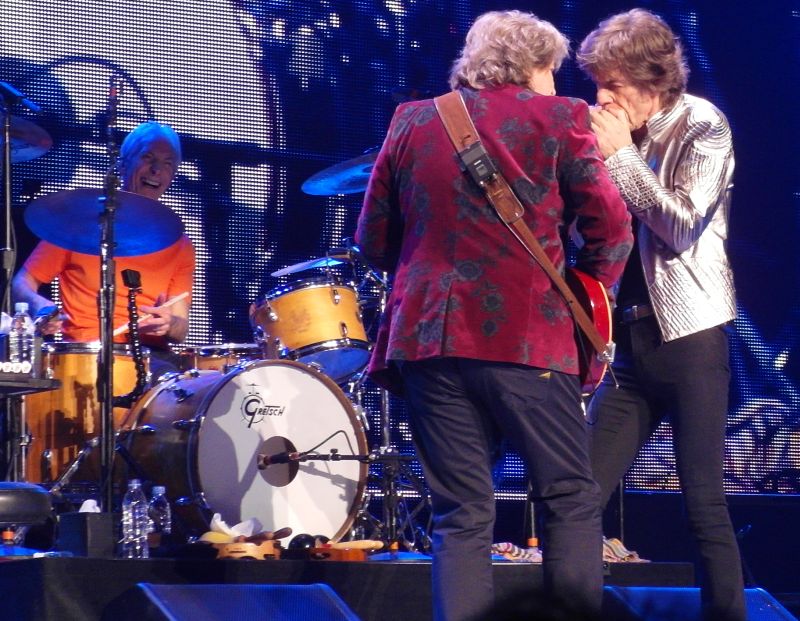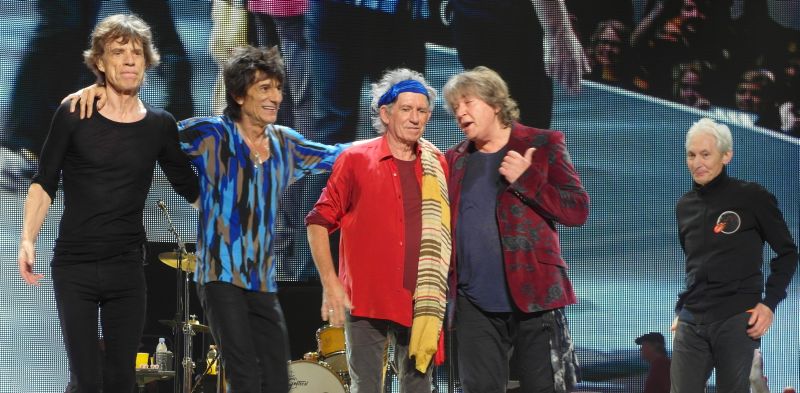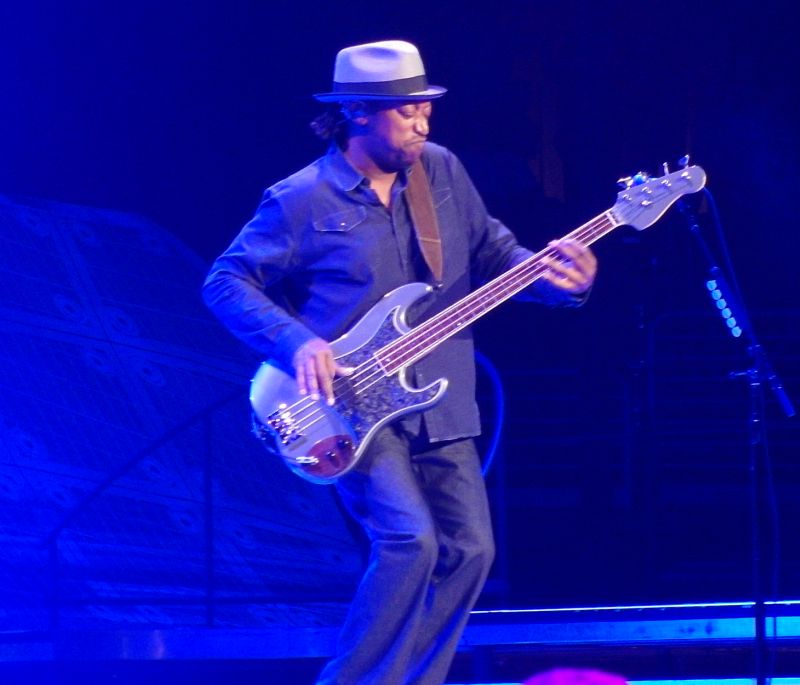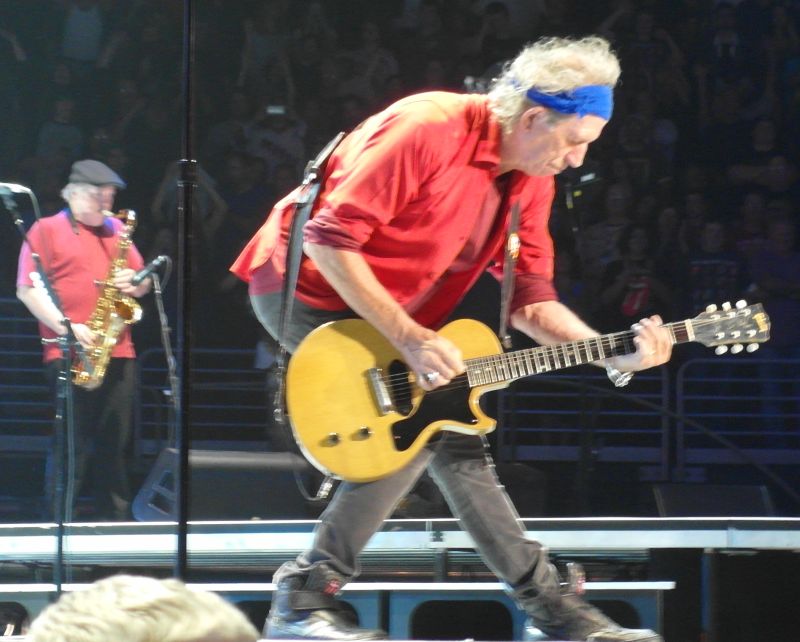 Photos by Bjornulf Vik
---
Review by Marc Abrams
My 20th show and like the Rolling Stones, it never gets old.

I went with a lady friend of mine and she brought her 12 year-old daughter (both seeing their 1st show) who were into for the moment the lights went down. I forewarned them that it will be tough to take your eyes off of Mick and at the end of the night they told me I was correct.

I had followed the tour through this website with the setlists and videos and wasn't surprised with anything but that still did not deter my amazement of the Greatest Rock n Roll Band in the world.

Although I like some songs better, Midnight Rambler was the highlight of the night. Mick's energy not only rubs off on the band but also on the 18,000 plus in attendance.

I am looking forward to Friday as much as I did my 1st show as I know it will be yet another stellar performance.
---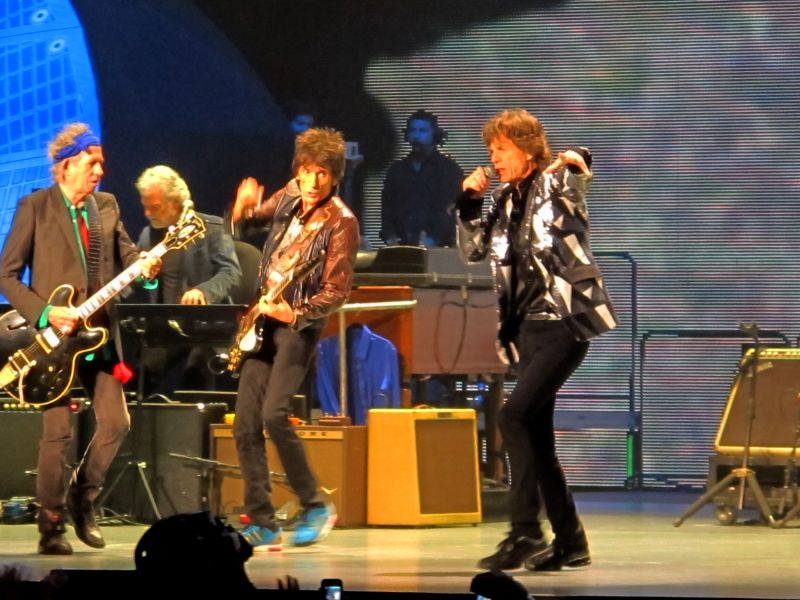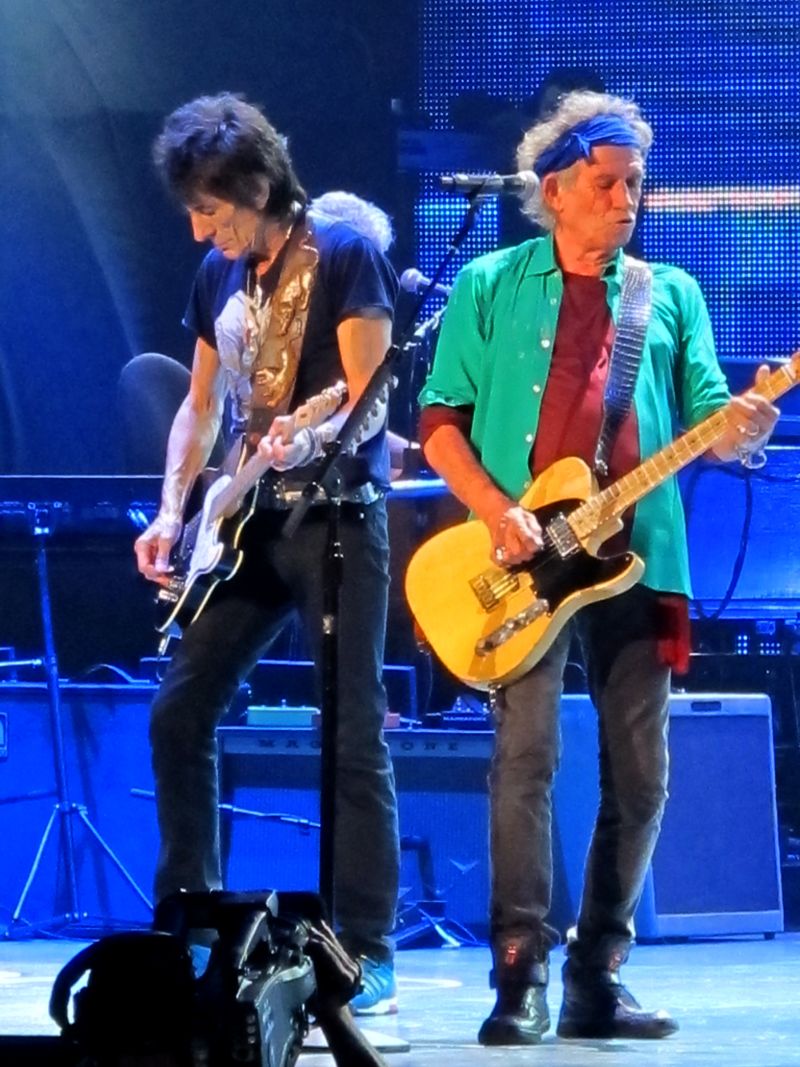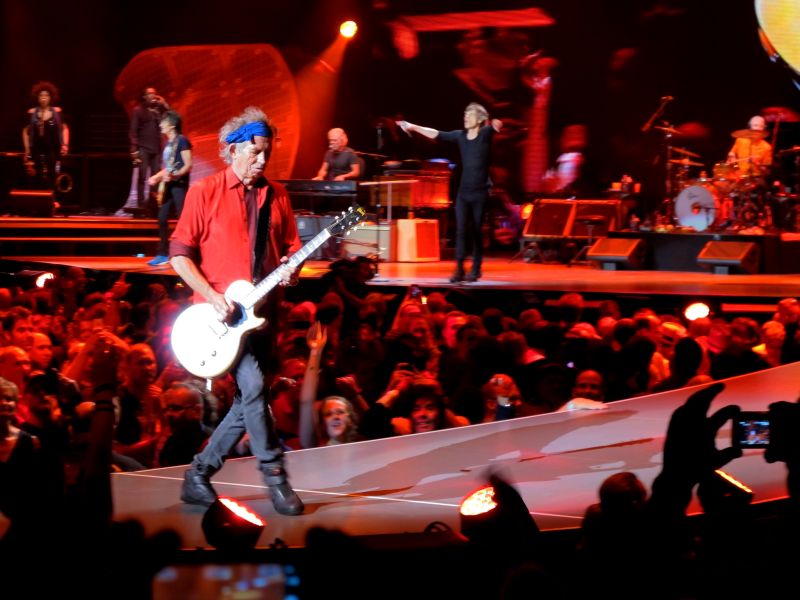 Photos by Ursula Gloor.
---
Review by Cardiff Giant
Another great night of Rolling Stones excitment in Philadelphia, one of the best Stones cities you can find. Made the trip with a longtime buddy, we've done this on past tours, as well. He was reminiscing about his first ever show, 1981 in Philadelphia at JFK Stadium.

Our seats were not the best, but it did not matter, a great view from Section 213, and the arena was packed, the fans were on their feet all over the venue. Binoculars bring you right to the middle of the action. The $85 mystery tickets, still very well worth it. So much energy when the show gets underway. Mick made mention of the special 'Stones Week' proclamation made earlier in the day by Mayor Nutter, and showed off the mini-Liberty Bell that was given to the band. Pretty funny. Mick said that today was the 331st birthday of the City of Philadelphia.... a little history lesson.

A key word for tonight, was ....swing. So many songs had a new little swing to them, a great groove that just tweaked the style enough to make some songs really shine.

Gimme Shelter was outstanding yet again...Lisa Fischer taking it to a whole other level, night after night. Sound quality was great, and the performances by every person on stage were so electric.

A back to back shot of country-inspired classics, with Wild Horses followed by the fan vote winner, Dead Flowers, with special guest Brad Paisley....A top-notch effort from the country superstar. He was confident and right into the tune, and the song took off. Paisley ripped a great guitar solo, and Mick and Keith admired from the backline, with Mick shooting a grin and head gesture to Keith, like, "hey, check him out, how good is that?" At the conclusion, even Charlie came off his stool to give Brad a high-five and a smile.

Emotional Rescue was next, and it had a great new swing, a better groove....Darryl's bass and the drum beat from Charlie added a nice extra punch. My buddy was never a fan of the song, and even he said it was great! I've been loving hearing this song on this tour. The way the Stones can play so many styles, and so well, is something to admire.

It was clear that the set would likely be one song shorter tonight, a bit of a bummer, but no big deal. It's quality, not always quantity. The two new songs also had a little extra punch. Mick was forceful on Doom and Gloom, and Charlie brought a big beat. One More Shot saw Keith bring a little swing to the performance, again, adding to the enjoyment.

During the band intros, we could see Mick and Charlie having a laugh behind the drum kit and amps. It's great to see how much Charlie is smiling and laughing. Just fantastic. And a very big ovation for Charlie from the audience. Keith's chat with the crowd was another classic. Reacting to huge cheers, "Hey Philly, it's your birthday, not mine... but I'm not sure who is older !!" Keith also had the head, heart, balls salute, with the extra hip swivel.

You Got the Silver was a bit rough to start, but who cares....It's Keith and Ronnie, and they turned in another winner. Before They Make Me Run was great too. Keith is really hitting his vocals strongly....All through the show, you can tell how much he enjoys being out there, going strong.

The absolute highlight, as usual....was Midnight Rambler. Jagger and Taylor are really taking each other up, higher and higher on this song. And yes, it had a little extra swing too. The two Micks were incredible, weaving with guitar and harmonica. When they all get into a zone, dial it in, yet still hit the improv parts, it is amazing.... Taylor was phenomenal, Ronnie had a great solo, Charlie was able to laugh at one point, Keith keeps the rhythm going and mixes with Ronnie and Taylor. Jagger was doing some great little vocal parts, and big shouts, but without the song screeching to a halt, yet still doing so, if that makes sense?,...Mick Taylor leaned on Keith, and Keith leaned on Taylor in spots. Taylor threw a punch towards Charlie at one point on a big beat. The action in the "engine room" in front of the drum kit is just awesome... and this time the song clocked in at 15 minutes...no lie !!! I always time it on my Iphone stopwatch......the fastest, yet most savory 15 minutes of music you can find.

Miss You was slinky, as always, and even the most cynical fan who only likes the "rock" tunes had to love it.

Start Me Up had a big riff from Keith...Energy!!! Charlie was also huge on this one. Mick and Ronnie had fun out on the tongue ramp....Mick grabbed Ronnie and nearly forced him to sing with him on "you make a grown man crrrrryyyyyyy." ..These guys are having a blast.

Brown Sugar wrapped up with Keith in classic form, and sealing it with a kiss to his guitar neck, and a smile. Bobby Keys hit great sax solos all night, especially on Sugar.

Sympathy for the Devil did hit its stride and took off, thanks to Keith being dialed in and powerful on his big chords and his solo. He was out on the tongue, slashing through it all, and shaking his head with that devilish grin, and laugh.

The encore clocked in at 22 minutes, for three great songs... It really makes the show great, knowing you will get a nice long encore. The choir on You Can't Always Get What You Want was superb, Keith had the kicks, and punches going for Jumping Jack Flash, along with nice sharp power chords, menacing.... And Satisfaction was hot, as usual. Mick Taylor even sang some backing vocals, sharing a mic with Darryl Jones. Keith circled the entire tongue catwalk, not playing as much, but stopping on both sides to giver a big wave and salute to the crowd in the upper reaches of the arena. The song closed with Charlie doing his final swing on the drums, and this time, Taylor took off with a nice riff, and the two were ready to just keep going and going, so fun, ....The Stones are just out there, having fun, and setting a new standard for what rock greatness is all about.

My final show, for this tour ....for now. Newark pay-per-view, a hot show for Toronto #1, and a great night for Philly #1. I think the title "50 & Counting" will prove to be true.... I hope my next show is a question of 'when,' ...not 'if.' ...To be continued... Anticipating the next chance to see the Stones. And that's a great spot to be in.
---
Review by John E Flannery
Another great show by the Stones, back in the city where it all started for me. The Stones played JFK Stadium in 1981, with George Thorogood and The Destroyers as openers, and that was my ďawakeningĒ to the best live act I have ever seen. As the celebrity-laden video says that introduces the current tour , it was that sound that hooked me on a warm Fall day in 1981. And the same was true 32 years later this past Tuesday night.

Mick Taylor and Mick took Midnight Rambler to a new level Tuesday night, as it wailed out so clearly through the Wells Fargo Center. And a surprise treat for a guy who doesnít really like country music (me); Brad Paisley did a great job on Dead Flowers. Keith smiled a lot more than the Anaheim show, but I donít think Mick and him communicate much at all on stage, aside from the song collaborations

East Coast audiences are more vocal and engaged than those in my home region of Southern California; the Philadelphia crowd was raucous from the start and it didnít slow down.

Thereís not much else to say that hasnít been written in these reviews and pages. I attended with my lifelong friend Tom Hannum, a buddy who I have gone to 7 shows with over the years. We agreed that if this is The Last Time that we see them live, it was a helluva way to end it. The band sounded great, Mick was his hyper-energetic self, and our upgrade to seats from row 23 to row 8 made it an amazing night.

IORR, But I Like It !
---
Reports please!!!
Please send your comments, reviews, links and more to:

[email protected]
---
This page will change over the next few days, as you and other fans send reviews, set lists and reports. Please send your e-mail to IORR. Thanks! For details and great photos from the Rolling Stones and their World Tour get the IORR magazines.




It's Only Rock'n Roll 1980 - 2013
© The Rolling Stones Fan Club Of Europe