---
These are the latest Rolling Stones news and updates for you! IORR is a non profit fan club run by fans for fans. All parts of the It's Only Rock'n Roll web site is copyright of The Rolling Stones Fan Club. When using information from this site, please include a reference to IORR and the main web address www.iorr.org.
---
---
The Rolling Stones $85 Ticket Saga
by Kurt Schwarz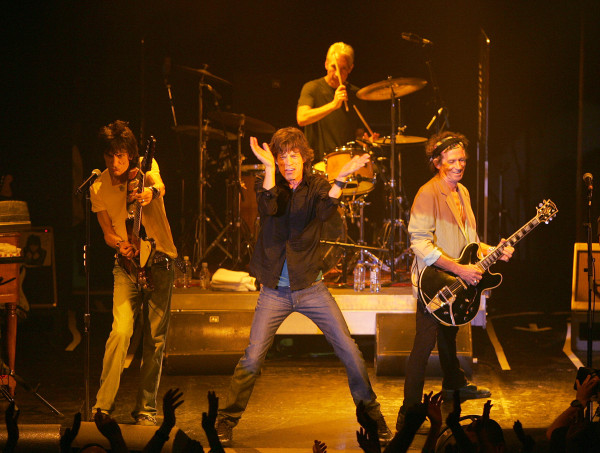 ---
Ticket prices certainly dominated the news when The Rolling Stones announced their North American "50 & Counting" tour. With face-value prices skyrocketing, fans worldwide questioned the band's motive behind the $600 lower bowl/floor seats and the $1,500 Tongue Pit packages. VIP seats were even offered for $2,000, although at least they included dinner!
Then came the news of the mysterious $85 ticket offer. The inexpensive tickets would be sold in pairs only, and in an anti-scalper type measure, the location of the seats wouldn't be revealed until they were picked up at Will-Call the night of the show. RollingStones.com promised that some would be in the Tongue Pit with others spread around the arena. A gift for the fans and a gamble worth taking, in my humble opinion!
Thanks to the information provided on IORR, I stealthily procured these "lottery tickets" for three separate shows: Las Vegas, Chicago night #2, and Chicago night #3. I firmly believe that without the help of the 'Tell Me' message board, I would never have been able to successfully navigate the secret Ticketmaster links to even find these offerings!
The process leading up to each show night was agonizing and almost too stressful for me. Only The Stones can make the night before a concert feel like Christmas Eve and it literally was hard for me to sleep before each gig due to the uncertainty of my fate! Each night's adventure was basically the same: show up at the designated Will-Call area; look for the GRRRegory sign; stand in line with ID, confirmation #, and credit card; and wait to be given a plain white envelope filled with love and hope and sex and dreams and...tickets!
My wife and I drew an upper level "Rear Stage" Section 218 pair from our envelope in Vegas. Ugh. As we waited in the staging area, the only thing that lifted my spirits was watching a father-son duo literally cry when they received a coveted Tongue Pit prize. Our seats were four rows from the roof yet my initial disappointment quickly subsided once I learned we were actually "side stage" with an incredible vantage point looking down on the action. The sound was absolutely PERFECT there and watching Mick Taylor dancing and playing air guitar behind Charlie's drum riser was a real treat. We determined that this section cost $150 per seat, so not a bad investment.
Chicago #2 found me driving from Detroit with my brother, parking the car and heading straight to the Will-Call line. Again, barely able to contain my excitement, we waited for another envelope only this time the process was slightly different. My ID was triple checked against a clipboard full of names, as was my confirmation #, and we were NOT given a white envelope but instead directed to the end of the table to talk to "Mr. Nate." After some excruciating small talk, I asked "Mr. Nate" if he was going to make us happy tonight. "What would make you happy?" he replied with an unnerving lack of emotion. "Pit?" I answered tentatively. Then...BAM! He slapped two General Admission Pit tickets on the table in front of us and I proceeded to freak out. We had an absolute BLAST and spent the evening surrounded by others that had paid $1500 each to get their 'Satisfaction'.
For Chicago #3, I took my 15 year-old son to see our heroes and once again entered the "Line of Anxiety." This time our envelope held FANTASTIC Section 234 Club Level seats with a spectacular view of the stage and screens. The private Club Level concourse was a comforting bonus before the show and I couldn't have picked a better spot for my son's first Rolling Stones' show if I had tried. Oh, and the guys sitting next to us paid $600 each for their seats. Wow!
I would never have been able to afford the added expense of travel and lodging to make these shows a reality had it not been for the $85 ticket offer. To be able to share my love of the band with my family and to create memories that will last us a lifetime was truly a dream come true. Thank you, Rolling Stones. Thank you, kindly.
---
Read more about the Rolling Stones $85 Ticket Saga, and how these tickets have been made available to fans in the very popular IORR forum thread:
"Thousands" of $85 Tickets - latest news!
This thread has been read more than 76,000 times by fans so far (as of June 18, 2013), and there are more than 1300 stories and advices told about these tickets, from fan to fan!
---
This page will change over the next few days, as you and other fans send reviews, set lists and reports. Please send your e-mail to IORR. Thanks! For details and great photos from the Rolling Stones and their World Tour get the IORR magazines.




It's Only Rock'n Roll 1980 - 2013
© The Rolling Stones Fan Club Of Europe