---
These are the latest Rolling Stones news and updates for you! IORR is a non profit fan club run by fans for fans. All parts of the It's Only Rock'n Roll web site is copyright of The Rolling Stones Fan Club. When using information from this site, please include a reference to IORR and the main web address www.iorr.org.
---
---

The Rolling Stones
Gottlieb-Daimler Stadion, Stuttgart, Germany
Thursday August 3, 2006
The set list
Jumping Jack Flash
It's Only Rock'n Roll
Oh No Not You Again
Let's Spend The Night Together
Ruby Tuesday
Streets Of Love
Tumbling Dice
Midnight Rambler
Night Time Is The Right Time
--- Introductions
Slipping Away (Keith)
Before They Make Me Run (Keith)
Miss You (to B-stage)
Rough Justice
Start Me Up
Honky Tonk Women (to main stage)
Sympathy For The Devil
Paint It Black
Brown Sugar
You Can't Always Get What You Want (encore)
Satisfaction (encore)
Warmup : Simple Minds
Rolling Stones: 8:45pm - 10:50pm
---
Review by Christian Tresper
We left Vienna quite late (around 11am) because we thought it wouldn't be a problem to arrive in time (usually a 6 hour drive tops). Unfortunately after the border we found ourselves in a traffic jam of about 300 km. Thinking we would miss the show we did our best and in the end arrived in Stuttgart at 8:20pm. We quickly found a parking lot but now had to get tickets since we didn't have any. Somehow (wasn't easy though) we managed to get standing tickets and off to the show we went. Of course we missed the Simple Minds (which I personally wouldn't have minded seeing) but we arrived in time for the show.

About 7 minutes (no kiddin') after we had entered the stadium the guys hit the stage. A roaring Jumping Jack Flash opened the show (as always) and one thing everybody noticed right from the start: The sound was simply incredible. We had GA tickets and were standing close to the B-stage, so kinda far away from the main stage - however the sound was simply amazing - with the guitars loud and clear - the way every true Stones fan wants them.

Now the playing was incredible - almost flawless (I say almost because it wouldn't be a Stones show without some mistakes). The setlist however (although we got the 2006 premiere of Ruby Tuesday) was quite standard and boring. I have to say it again and again. I really don't know why (and let me say in advance - i KNOW most fans see them ONCE a tour so the greatest hits HAVE to be played) - I really don't know why they don't throw in more Gems and mix up the setlist more often - with a back catalogue that huge it wouldn't be a problem. But at least we got a decent show in Stuttgart with great playing, a band that was in a good mood and MAYBE (just maybe) this was the last concert on German soil EVER.

P.S Keith PLEASE we've heard Slippin' Away about 200 times since the Licks Tour. It's ENOUGH :)
---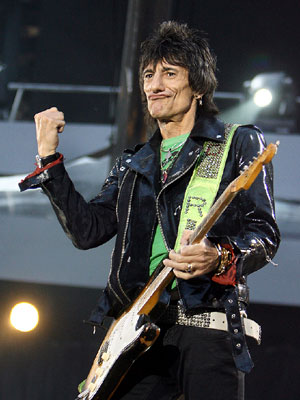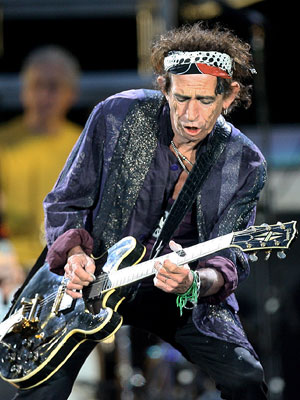 ---
Review by Terje Eriksen, Norway
Got there a bit earlier than planned since it looked like to be a cold nice day with maybe a little rain on the way. Had 4 in front of me when the gates opened but luckily only one with a bag. When they opened, it all went wrong. People crash-running over the security, getting their tickets torn apart and then running. I was number 20 or so when we reached the FOS check, but try to get 10-20 people from stop running and miss a good seat. So finally I got a first row, 10th seat or so from the cat walk. My back neeeded it, after the running that is.

Ronnie was a bit quiet today, but still joking around the way only one person can do. Hope he is fine, health wise. He is back at the cigarettes on stage but looks very sober and fit. Throwing pics, playing with Mick, getting Keith to break down in laughter. How can you dislike that guy. Moves around a lot more than during Licks. Maybe in 2009 when they are doing 20 shows at MSG, instead of touring, he will make it all the way out to the wing.

I will not get very much into what went wrong, where, how and then. A setlist is personal and I realize that I will love to hear 5 songs in a 50,000 stadium that 49,000 more or less get bored of after 1 minute.

Great to get 'Let's spend the night' back to the "German setlist". For a second I thought "As tears go by" was coming, but it was good old Ruby. What a substitute! The set went on as usual 'till I got the starting tunes I've been waiting for since Licks. Yes, finally getting the Midnight Rambler after 7 shows this tour. Got a bit spoiled during Licks after getting it almost every nigh, only interrupted by 'Can't you hear MK', or both as in Berlin.

Lisa did her job, Bobby got his share of the "thank you", Keith did his job and then it was time for the B-stage without any surprises. Chuck throwing away roughly 100 pics during the 4 songs. He is really having a great time, hate or love him.

Was more or less a normal night and we got 'Paint it black' as the last little "substitute".

All in all, a great night as always. Maybe better than Cologne but I can't say. Your mind gets a bit spoiled when you get better seats than usual. And something happens when Mick jumps down to the 1st row at Keith's side first, security going mad, no one was ready. When he do the same for us a Ronnie's he spends even more time. Got the shake and the grin from 0.5 meters and it was no way to top the night. Fun to see the Stones security laughing and and smiling (not the local ones) and shaking their heads. It was not planned.

I had my hand of 2 of Ronnie's picks, wonder if anyone found the mystery one that went MIA. When I left it was still 5 guys looking for it with the help of the security guards. The night for me ended with Lisa throwing out the setlist and I thought I was back at Fenway Park, jumping up and catching it. The smile on her face saying – You got it, made my day. Thanks Lisa. Opening it later finding a little souvenir was just plain fun.

Thanks boys and Lisa, see you later...
---
Please send your show reviews and comments by e-mail to: [email protected].
The reviews will show up here soon! Thanks!
---
News links
Thanks to Elmar Frühe for news links.
---
The IORR magazine
For exclusive reports and unique high quality pictures from the Rolling Stones tour and more see the IORR magazines.
---




It's Only Rock'n Roll 1980 - 2006
© The Rolling Stones Fan Club Of Europe