---
These are the latest Rolling Stones news and updates for you! IORR is a non profit fan club run by fans for fans. All parts of the It's Only Rock'n Roll web site is copyright of The Rolling Stones Fan Club. When using information from this site, please include a reference to IORR and the main web address www.iorr.org.
---
---

The Rolling Stones
Amsterdam ArenA, Amsterdam, The Netherlands
Monday July 31, 2006
The set list
Jumping Jack Flash
It's Only Rock'n Roll
Oh No Not You Again
Bitch
Sway
As Tears Go By
Streets Of Love
Tumbling Dice
Night Time Is The Right Time
--- Introductions
Slipping Away (Keith)
Before They Make Me Run (Keith)
Miss You (to B-stage)
Rough Justice
Get Off Of My Cloud
Honky Tonk Women (to main stage)
Sympathy For The Devil
Start Me Up
Brown Sugar
You Can't Always Get What You Want (encore)
Satisfaction (encore)
Warmup : Toots And The Maytals
---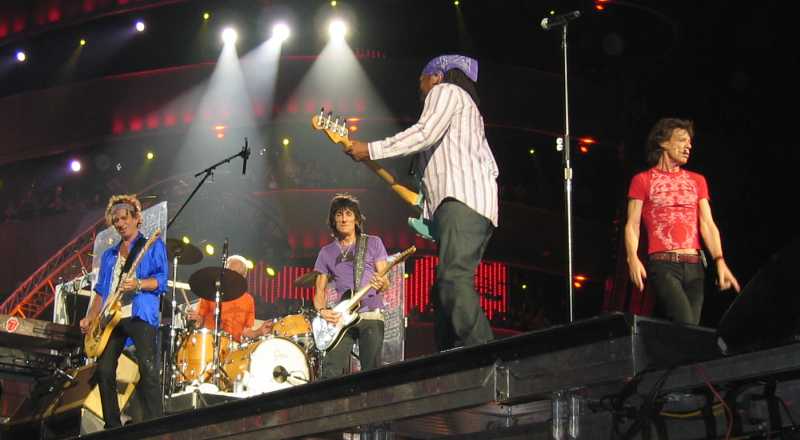 ---
Review by Marcel Bizarro
When The Rolling Stones announced the European tour last year I thought: "Oh No Not The Amsterdam ArenA Again", because of the bad sound in the past. During the warm-up act Toots and the Maytals the sound was worse than ever. I thought that the sound couldn't get any better that evening, but I was wrong.

The great opener 'Jumping Jack Flash' was followed by 'It's Only Rock'n Roll'. I was in the front row area, but I couldn't hear Mick's voice very well but after 'Oh No Not You Again' the sound were getting much better. They played 'Bitch' for the first time this European tour. I was surprised they did 'Sway' again. The first moment of chickenskin was when they played 'As Tears Go By'. It was very nice too hear new songs like 'Streets Of Love' and my favourite 'Rough Justice'. Lisa was really great when she sang a part of 'Night Time Is The Right Time'.

After the band introductions, Keith promised he will never climb trees again. After that he did fantastic versions of 'Slipping Away' and 'Before They Make Me Run'.

On the B-stage they played 'Get Off Of My Cloud'. The encore was great when the audience sang 'You Can't Always Get What You Want' very loud. After the last song 'Satisfaction' I thought that this was not the last time in Holland. The Rolling Stones are still the greatest rock'n'roll band in the world, and while there are still lots of people who want to see them (despite the high ticket prices), they keep on rockin'!
---
Review by Gert-Jan van der Wal
If there is a God,...

Thank you for giving us the Rolling Stones!

It was fantastic again yesterday, good show, good sound, A museum!
---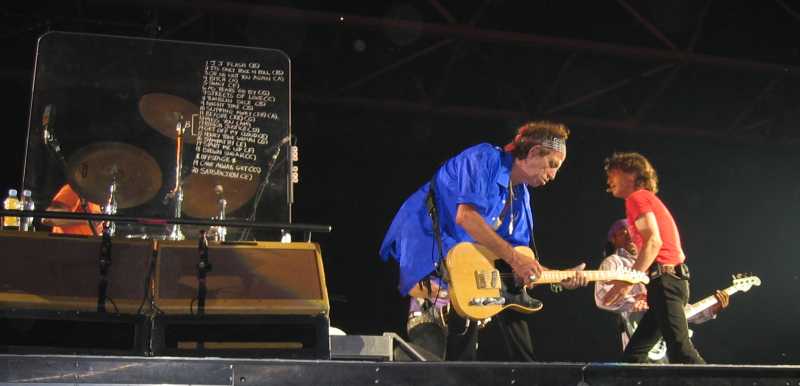 ---
Review by Jeroen Starink, Castricu, Holland
Still can't believe it!! I had not much expectations, after reading some reviews , and having my doubts about Keef's accident. Plus the fact they shortened their European Tour, instead going to the States But... yesterday was my 26th concert in 33 years and the boys have surprised me... again!!.

The sound was okay in the Amsterdam Arena (where i stood , near the small stage), until they came and played there. Mick was dancing and joking like a young dog, incredible that his voice sounds after all these years. Most of all, i saw Keef enjoying his playing and playing very well with a lot of solos!! He looked so happy!! I dont know if he did his best, to support Ronnie?? After a while Ron seemed to wake up and played really great with fantastic solos!!

The songs that come to mind with Rons solos: Sway/Bitch/You cant always get... During the concert the sound became better and you actually could hear the typical Stones guitar sound: 2 guitars duelling with each other!! Great!! A surprise was Miss you, and then they came on the B-Stage. Great to see them up close again, after a 3 year wait!! But... the sound in the middle of the Arena was terrible. Only Charlies drums and Micks voice could be heard.

I really enjoyed the Concert!! Micks energy and showmanship, the sheer fun Ronnie and Keef showed and Charlies Banging!! It was very hot in the Arena, but one of my favourites. Hope to see you soon again boys!!
---
Review by Steve, NJ, USA
We had a wonderful time at the show. We came from the US for the show, and stayed with Dutch family. I have seen 10 shows this tour and this was one of the best. The band played with passion and intensity. Keith (who promised to "stay away from trees"), played Slippin' Away, beautifully , with real emotion, and Before They Make Me Run was great. Loved As Tears Go By, which Mick sang wonderfully, accompanied by that great acoustic from Keith. Sympathy was incredibly intense, and Satisfaction was the best I've ever heard--and having gone to over 30 concerts since '72 , I've heard it alot . Whoa, Keith played his ass off, on that and alot of stuff, like Bitch. All in all, a super show. The crowd loved it. I'm just glad I have more shows to go back home in the US.
---
Review by Hans Peperkoorn
I saw the Stones for the first time in 1976 in The Haque, and was very pleased to see them 30 years later in Amsterdam.This time they were far better than in 1976! To make a long story short: Bitch was tremendous, marvellous. Our guitarists seemed unleashed. Even Mick Jagger couldn't stop them and was blown away. It took him some time to pick up the song again. Usually he interrupts the guitarsolos, but not this time and not during the whole concert! Sway was nice and new for Holland, but I still believe Jagger places the emphasis on the wrong words.

Let's not overrate this song only because they never played it before on earlier tours. I already heard and saw As Tears Go By in Vienna. It's a great song, and they play it every concert now I hope. Unfortunately in Amsterdam the guitar interruption/solo by Richards didn't succeed at all. He did it well in the States and he did it perfect in Vienna and probably in other countries, so why failing in Amsterdam?

Streets of Love is a great life song: better on stage than on CD. Everybody liked this number and sang along. It became a tremendous applause. It's an audience pleaser, a new performance hit. Slipping Away and Before They Make Me Run were great due to Keith's guitarwork. He can't sing and play together as we all know but when he played it was overwhelming! The man has made a great comeback.

Keith was in a very good condition. He wasn't even tired at the end of Satisfaction. Still smiling and playing and willing to go on forever. Wood did his best but it seemed to really hurt him this time. I didn't like his guitarsound: too much ""peeping" on the square centimeter. Anyhow, Richards and Wood were at work this concert. The played very concentrated and didn't mess around with the public like in Ahoy Rotterdam in 2003. Jagger was fantastic of course, but I think he should wear some other clothes and cut his hair a bit.

Why always jumping in this black trousers? I liked his 1981/1982 outfit. Since then he keeps on wearing the Steel Wheels-clothes! This was a great concert. The Stones were put down in the Dutch press last week, but now they had their revenge. They are still the greatest r&r group on earth. They deserve this title not only by what they did in the past but also for what they are still doing this tour: giving perfect rock'n'roll shows!
---
Review by Ria and Hans
We entered the stadium around 19:00. Just before 21:00, the show started. Radiating, sparkling, full of energy, the crowd got wild!

A very impressive version of Streets of Love followed by the good old Tumblin' Dice really Blew the roof of the hot stadium. The Night Time is the Right time also featured Lisa, doin' her best to get the crowd going, in wich she completely succeeded! Man, it was awsome..

Keith did his Slippin' Away and Before they make me run really cool. Ron's solos were great, the man was obviously in great shape.

We all were surprised by a very good version of Get off my cloud. Intro of Brown Sugar was a bit messy, but the really good encores made that up. YCAGWYW was everlasting, and the crowd enjoyed it very, very much. Another last encore Satisfaction, in wich the Stones really gave everything, to put it short: a concert to remember!
---
Review by Greg Verwijmeren
Here's a review of what was probably my last Stones show, my eighth since I first saw them in 1982. For sure it was the last time I saw the Stones in a stadium. I haven't read any other reviews so there might be some overlap with other peoples' observations.

Let me begin by saying I really enjoyed the show, at least three quarters of it. After the b-stage I think they were on autopilot, or maybe it was just me having heard these songs too many times, finding them too reminiscent of Licks. I think Jagger was fantastic, he MADE the show, practically on his own. Not just his singing - which was great - but also the interaction with the crowd, the choreography. The amount of work he does, compared to his bandmates... nothing but respect for him. The setlist had a few nice surprises (Bitch, Sway - played far too fast) and imo SOL was the absolute highlight of the evening (hated the song first!). More power to Mick for writing it and singing his heart out. The crowd loved it and it was good. Miss You was great as well, much better than on previous tour.

I think the Keith set was the most musical thing last night. Plain and simple. What his voice has lost in the upper regions, he has made up by great phrasings - love it. Great authority there. His moving slowly back and forth across the stage during Slipping Away like some sort of ancient chief was a good thing to see. BS was horrible - again, as if it's a curse. Mick came in too late, Keith forgot some chords and when Bobby played his solo - very convincingly - it was as if the whole band was blown from the stage. The low point of the evening. Went on painfully long.

Now musically.... I don't like the sound of the band anymore. I came to love the Stones more than any other band because their rock at its core was always supple, agile and vibrant; there was an elastic quality to it that I think made their groove so unique. Now the rock has become dead concrete: Charlie beating his drums harshly, almost callously, the whole show through, and Darryl... he has never even tried to reproduce one of Bills ballroom style lines, missed so much today. Also, the concrete is suffering from decay: the failed guitar parts and aborted solo's are almost too innumerable to count. Ronnies solo's?.. Well, if one wants to be positive one might call it stretching up the boundaries of tonality! And again very 'Lickish': far too much posing by both.

Wrapping it up, it was an OK-show. But it depends on one's expectations. No longer being a creative live band todays' Stones can best be compared to a symphony orchestra bringing the top hits to the millions. Like the New York Philharmonic interpreting the Bolero, the 5th symph, Pictures at an Exhibition in a heavily sponsored tour. They have this terrific back catalogue which combined with their appearance still makes a great mix. The fact that the firsttimers I was with loved it tremendously (esp. the warhorse part) shows that more than anything else. But speaking for myself, I'll let it pass next time.
---
Review by Simon
Me and my father arrived at the Arena around 18:00, bought a t-shirt and got to our seats... and they were good seats! Right of the stage, very close to the catwalk and right under the speakers. I knew I was in for a good night! Toots & The Maytals came on, and I have to say, they were quite enjoyable. I saw Keith walking backstage, and everyone who could see him was shouting and he waved at us. I saw the Zemaitis skull guitar being brought in and I knew it! We were going to get Sway. Cool! So, finally, the lights went off and the video started... and there comes Keith to get things going with Jumpin' Jack Flash! I loved it! Everyone seemed to be in good shape, although, unfortunately, there was a vent on the stage right in front of Charlie from my seats, so I couldn't see him. Then came It's Only Rock 'N' Roll... same story, it was solid. I would say this is really a song that has seen it's best days, and it would be better of being replaced by Midnight Rambler. But it was nice. Next up, Oh No Not You Again. Keith tried to do some wacky soloing at the start instead of just hitting the right chords, something he appears to be doing more and more these days. His real solo was really good! I loved it! A good version. Then came Bitch! A bit of a surprise. It sounded very good, although the horns actually messed up for a moment. A great version of a great song. Sway was next, and I have to say, it rocked! The solo's were quite nice, but Ronnie has done A LOT better. The next one was As Tears Go By. A very, very good performance of this song. Keith was in great form on this one! I think this is where the crowd really got going. Streets Of Love was next, and, I have to say, quite ironically, this was one of the highlights of the evening! The song really works. Mick played some good guitar, Keith on the acoustic, and Ron really nailed the solo completely. It was great shouting along with Mick, 'I-I-I WALK THE STREETS OF LOVE!'. Really fantastic. Then came Tumbling Dice, and, it may be a warhorse if you hear it on a bootleg or something, but, in real life, this is a real crowd pleaser and I really loved it too, no matter how often it's played. The Night Time Is The Right Time, to be with the ones you love, The Rolling Stones! This one was cooking! Lisa was ON FIRE! I mean, really fantastic, her singing, really gave me goose bumps!

The band introductions were next, and Mick said to Lisa, in Dutch, "beautiful dress, I think I saw you in the Red Light District". Ronnie really got a surprisingly huge applause, and Keith did too, naturally. He promised us he'd leave the trees alone and told us that it was good to be back, and, he felt sorry for saying it because he said it was truly a nice place, it was good to be anywhere. Including the famous devilish cackle. He started Slipping Away, and it was nice. I did notice how really half the crowd was going to get beer or take a leak. I really think that's strange. Before They Make Me Run was next, and it ROCKED! The riffmaster in fantastic form! Ronnie's solo really gave me goose bumps too! I think this song really shows what a great backing band the Stones have. They're perfect for this song.

Keith left the stage and Miss You started. This one is getting a little old. But, a good version as always, the crowd liked it, so why not? Next up was Rough Justice, and it rocked! Keith messed up, but it was a good, rocking version, just plain rock 'n' roll! Get Off Of My Cloud was really fantastic! I mean, the band was really feeling this one. And so was the crowd! Everyone was going "hey, you! GET OFF OF MY CLOUD!". It works fantastic in stadiums, it has to be said. Honky Tonk Women was great too. Some versions in 2005 were a little too fast, but this was perfect. Keith completely nailed the solo. The tongue balloon on the main stage was funny too.

Sympathy For The Devil was next, and I have to say, it was really good. The crowd was woo-wooing, and then Mick came up, it was fantastic! The flames, although not as many as in 2003, were a nice touch too. There was some other fireworks too. Good song, good version, great show, what can you say? Next was Start Me Up, and this is where the beer, and who knows what more, really started to kick in in the crowd! There was a big explosion in the intro, Keith was on fire, everyone was dancing, jumping, singing! Mick walked out on the catwalk and was so close to us singing "START ME UP!" and doing the hand gestures. Fantastic! Brown Sugar was also fantastic, I mean really fantastic, the crowd was rocking again, and Keith ran out to our catwalk too and was rocking so close to us! Amazing! Yeah, yeah, yeah, WOO! Truly great. You Can't Always Get What You want was also great, it's a real crowd pleaser, and it pleased me too. It's great seeing Keith do that one. Ronnie's solo wasn't his best, but you don't even really notice that if the show is really rolling like it was tonight! And then, there was Satisfaction! Great, great stuff! The whole band was fantastic. At the bows, they got a huge applause. Funny thing was, Keith was already practically off the stage, and Charlie was still standing there waving. It was nice to see. Then there were some big, loud fireworks, and that was it.

I have to say, from where I was, right under the speakers, the sound quality was very good considering it was a stadium. Even better than the Kuip, actually. I had very expensive seats there, but I was further away from the speakers, so it may just be me. So I really can't complain about that. Also, the Arena was really simple to get away from after the show. We were out of Amsterdam very quickly. It was very well handled. The Arena Cards for beverages, though, were really terrible. You were practically forced to buy a € 20 card if you wanted to have a few beers. I didn't, but imagine how much money they're making with that. It was € 3.50 for a beer. That may possibly be an ever bigger rip-off than the Stones' ticket prices. Anyway, I had a great time last night. Mick was FANTASTIC. Amazing. The rest of the band, their usual self, nothing special. But they rocked as always. It may have even been better than the stadium show I saw in 2003. Truly amazing. They really are the greatest rock 'n' roll band in the world!
---
Review by Laura Vredeveld
Have seen all Stones-shows in Holland since 1990 and some other in UK and Germany, but in my modest opinion this was one of the best. The guys really enjoyed playing and Mick was at his best ! Unbelievable, I can't understand how he does it, over and over again.... Streets of Love was so great, sounded so beautiful ! As Tears Go By, Get off of my Cloud, wonderful ! I think they can trade Brown Sugar or Satisfaction now for other uptempo songs, but that's my opinion. I did not dare to expect too much, because of reviews in the Dutch press, but boy were they wrong... I just loved it, loved it, loved it...

Hope to see you again, guys !
---
Review by Leen ( HappyRambler ) from Delfgauw, Holland
THE DAYS BEFORE:

This week I've seen three shows ( Cologne, Paris and Amsterdam ). Let me tell you about the last one. I live in Holland, so the morning after the show from Paris we left the town and went straight to the Amstel hotel in Amsterdam. We were there saturday at 8 PM, and just missed the Stones checking in between 7.30 PM and 7.45 PM. What a pity ! I took my son, age 6, who was going to see his first Stones concert in Amsterdam. At approx. 9 PM Bernard Fowler came out of the hotel and I was able to take pictures from him with my wife and my son. Very cool guy, very friendly ! At aprox. 9.15 Lisa came out. See was dressed in a sort of jogging outfit, and was carrying a bike !! My wife said: "look, there's Lisa", but I laughed because I didn't believe her because at first i didn't recoqnize her. After moving closer and looking her in the face I stopped laughing; it was her. I asked if I could take a picture with my son, and she said: "Yes, offcourse". I took it, she jumped on her bike, and went away into the city, all alone !

The next day ( Sunday ) we went to the Amstel again around 3 PM, we just missed Ronnie going out. Around 5 PM Ronnie returned, but went straight from the car into the hotel. Right after that Chuck was returning to the hotel, and walked about 50 mtrs. from his car to the entrance. That was my chance: I yelled at him: "Chuck, please play SWAY tomorrow". He laughed, and pointed his finger at me. Then I knew we were getting to hear SWAY in Amsterdam ( at least that's what I keep telling myself ). Around 6.15 PM Mick left the hotel, and I was able to take a picture. Than we went home to take a rest for the concert. The same night we want back to Amsterdam to stay the night in front of the gates of the Amsterdam Arena. After sleeping the night and sitting the day, the gates opened around 5.15 PM. I was first in, and having a FOS-ticket, I was heading for the best place in the FOS-area on Ronnies side. But just like Paris, there were already about 100 people in there who've been let in 30 minutes earlier. VIP's who paid between 1500 and 2000 dollars for the concert and two nights in the Marriot-hotel. Great guys, but not fair for the fans who stayed outside the gates. Two VIP's let my wife, my son and me stand between them, first row against the barriers, about 30 mtrs. away from the catwalk, so I was happy after all. Thank you guys !

THE SHOW:

Everybody knows it, and nothing can be more true than that: The Amsterdam Arena is far out the worst place to have a concert !! Even after the adjustments the've made it's bad. Example: The opening riff of "Slipping away" sounded like it's played with three guitars instead of only one, echo, echo. The show itself was more lame I think than Paris. They played solid, but not energetic. The highlights for me were:
AS TEARS GO BY: Great song to hear live and great reintervention of that.
STREETS OF LOVE: Still surprising how well this works live, very much sing along and great guitars.
SWAY: Great, great song, great solo Ronnie ! ( and played on request ).
GET OF MY CLOUD: Very pumping, great drums.
HONKY TONK WOMAN: One of my alltime favourites, the inflateble tounge does a great job, especially for my son.
START ME UP: Allways good to hear, never boring to me, and the flames really make my son go nuts.
Mick was doing his best to reach the audience, but the Dutch were not really into it. After all, a good concert, but not great. And I was happy that I had the chance to took my son for the first time, he really loved it. Let's hope it's not the last time. In Holland, the news said that there are going to be more concerts in Europe next year, fingers crossed !
---
Review by Nikita Safarian (11 years) and Kiwi Farber (12 years), Brussels Belgium
For Nikita it was concert number 7th and for Kiwi concert number 1.

We had a nice drive from Brussels on this sunny Monday and the concert started nicely at the Amsterdam Arena, surprisingly filled even though there were rumours of a "not sold out" gig.

After 2 minutes one of the stupid security guy decided he wanted to spoil the concert for us and asked to confiscate our camera. Followed a "3 songs" negotiation with this dumb guy who was so keen of forbidding one pocket camera (ours….) but not the 200 others that were around us. He also did not care with the people blowing cigarette smoke in our face for the entire gig; for sure a camera is much more dangerous than 2nd hand smoke…..

Anyway, this being said, we had a great time with the oldest Rock and Roll Band in the Universe. These people know how to move a crowd and we left the Amsterdam Arena full of "Satisfaction" and anyway, we took plenty of pictures with our cell phone…….
---
Please send your show reviews and comments by e-mail to: [email protected].
The reviews will show up here soon! Thanks!
---
News links
Thanks to Axel Schumacher for news links.
Thanks to P-H Mees for great pictures!
---
The IORR magazine
For exclusive reports and unique high quality pictures from the Rolling Stones tour and more see the IORR magazines.
---




It's Only Rock'n Roll 1980 - 2006
© The Rolling Stones Fan Club Of Europe