---
These are the latest Rolling Stones news and updates for you! IORR is a non profit fan club run by fans for fans. All parts of the It's Only Rock'n Roll web site is copyright of The Rolling Stones Fan Club. When using information from this site, please include a reference to IORR and the main web address www.iorr.org.
---
---
The Rolling Stones
Slane Castle, Slane - Dublin, Ireland
Saturday August 18, 2007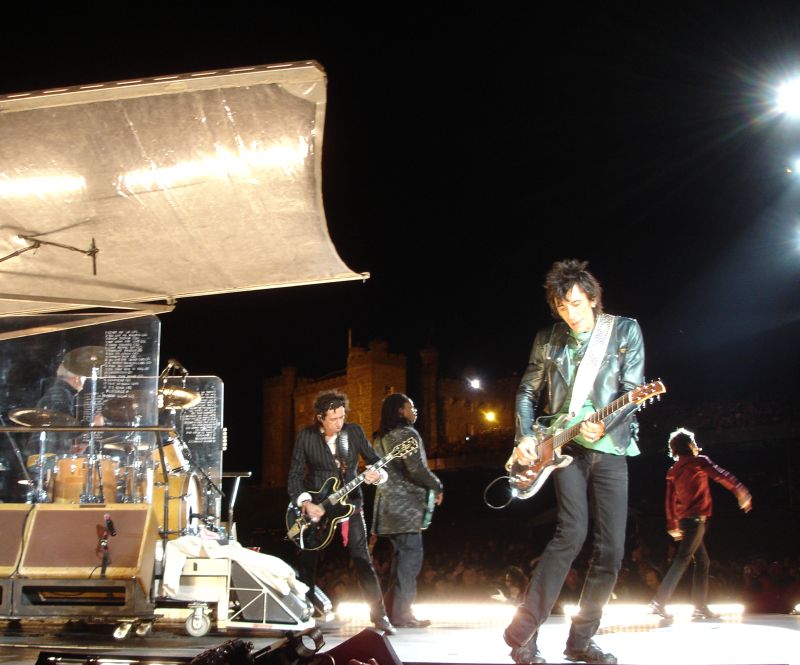 ---
The set list

Start Me Up
You Got Me Rocking
Rough Justice
All Down The Line
Dead Flowers
You Can't Always Get What You Want
Midnight Rambler
I'll Go Crazy
Tumbling Dice
--- Introductions
You Got The Silver (Keith)
I Wanna Hold You (Keith)
Miss You (to B-stage)
It's Only Rock'n Roll (B-stage)
Satisfaction (B-stage)
Honky Tonk Women (to main stage)
Sympathy For The Devil
Paint It Black
Jumping Jack Flash
Brown Sugar (encore)

The Rolling Stones  :  8:55pm - 10:50pm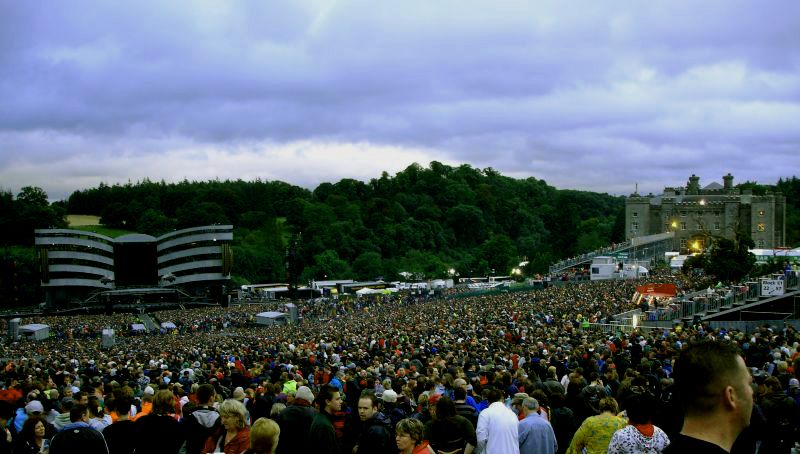 ---
Review by Ken Cowley
Very enjoyable show from the boys tonight, back after 25 years at Slane Castle. The sound was perfect, at least where I was. Jaggers vocals very up front. Performance wise Jagger and Wood particularly had very strong nights. Keith only seemed to get going around the time of his own (well performed) set.

Setlist highlights, for me anyway, were the ones I hadn't seen before, such as Dead Flowers and I Go Crazy. Also, tour de force performances of You Can't always Get and Sympathy.. A specatular show in a spectalar (and very muddy) venue! The crowd, who weren't letting the mud and bad weather get in the way of a good booze up, seemed to enjoy it. Mick was fairly chatty, with poor to middling attempts at speaking the Irish language, but the band in general, especially Mick and Ronnie, seemed to appreciate being back in Ireland again..
---
Review by Jim Nolan
well a very well polished performence by the stones in a muddy and windy slane. (at least it didnt rain during their set!) as i said to willie and dave (over from cardiff) keef must have gotten his rainstick out!

i have great memories of slane 82. it was my first stones show. and they blew me away. since then i have travelled to see them in the US, canada and various dates in europe. But thats enough of looking backward as keith says "lets get back to the show" show highlights:
All down the line
Dead flowers
midnight rambler (epic version,much longer than Warsaw)
I go crazy ( great singing from Lisa)
Keith sang Silver and Wanna hold you really well and great guitar work from Ronnie The big hitters were played with real gusto and mick danced his arse off and covered every inch of the stage.

I was standing right at B stage on Keiths side in gold circle. brill to see them up close and in all their splendour! Oh and Ronnie said during band intros "up the Royals". he was referring to Meath who play Cork today (sunday). That was my eighth B.Bang show since 05. up with the best of them ie. Pittsburgh Toronto and Glasgow Roll on next sunday for the final show in O2 Dome. Hope to hear Shine a light or maybe even Ventilator blues! A big thank you to the stones and to the crowd for making it a wonderful gig.
---
Review by Gerry Daly, Dublin
Outstanding Show! Sound - simply pristine. So sharp and clear it was scary, no wind battering it left and right, no booming echo ala stadium/arena, ok we were about 10 metres from front at the catwalk but i hear the sound was great at the back too. The whole performance was slick and fresh. oh wow Dead Flowers with Mick on that nice acoustic, felt like a club, Mick was just on fire non stop, his Gaelic banter pretty good too.

Damn that Midnight rambler! gurgled up so slow, swamped to the max, knocked the socks off yaya's vesion! The segue from a stunning I go crazy into Tumblin dice with no break was really cool. Ronnie was shining especially all nite with You got the Silver and his YCAGWYW solo especially perfect.

A nice moment for myself as they passed over head, Charlie just above, pretty straightfaced, everyone's hollering at Keith and Mick, I give a big shout and thumb up to Charlie and get a massive smile and nod in return! oh wow. In Sympathy, Keith's solo was the most like the original I ever heard. even the high pitched squeaky parts! haha u know wha I mean. Keith played not a single dud all the gig. I really hope the show is broadcast/released as mentioned before. It was a shiner and on a par with the Dublin Licks shows for me!

It seemed they were using up any remaining fireworks at the end of this last outside gig for ABB, they lasted a good 15 mins! Beautiful show.
---
Review by Dean Goodman
Saturday's show was more like an episode of Survivor than a rock concert. Transportation issues, muddy terrain, and a brisk crosswind combined to make the event a real challenge, At least it didn't rain, and the crowd was great. I don't want to perpetuate cultural sterotyping, but there were a LOT of drunk, rowdy Irishmen there.

Since the gig was out in the sticks, it was inevitable that the Stones would play a country song. Alas, we got Dead Flowers rather than Faraway Eyes or Sweet Virginia. The overall show was solid. I must confess the bitter cold (I was woefully underdressed) preyed on my mind, and I spent the second half plotting a hasty exit.

I guess I should be grateful I got there in good time. Double-decker buses took most Dubliners from a central location in the city. The line was enormous, pretty much ringing a city block. I sauntered to the front to see what was going on, and accidentally got swept up in a wave of people boarding a bus. One problem solved. And when we got there, we then had to walk a muddy trail for 40 minutes. Once inside the venue, we slipped, slided our way down the hill to the front of the stage. A lot of people were covered in mud, apparently quite happy about it.

It was a nice setting, though - a river behind the stage, and the illuminated Slane Castle overlooked the venue, from Keith's side. The Stones came on about 9 - not a moment too soon as the hypothermia started to take effect. I should note that Ronnie traditionally moans and complains about the cold. This time, he was completely stoic - an example for us all. He got a rare turn at the mic, during the intros, when he uttered, "C'mon the Royals," a remark that elicited some boos. (I guess they must be a local football team.) Still, he got the loudest cheering overall.

The boisterous crowds on this tour continue to amaze me, with the Irish crowd ramping it up to a new level of hysteria and love. The locals even "over-participated" on You Can't Always Get What You Want, surprising Mick, by chanting the title line, each time he finished singing a line of the verse beginning, "We decided to get a soda." It definitely sounded weird, and Mick struggled to find his momentum on that verse.

Keith delivered a crisp intro to All Down the Line, much better than the version I heard a show or back ago. He and Ronnie had fun on both that song and Dead Flowers.

Presumably the wind was playing havoc with the sound system because Mick's singing blew in and out all the time. He also blew his nose a few times - hope the cold conditions won't cause any problems for the 3 homecoming shows.
---
Review by Tony Renouf, Nyon, Switzerland
Superb show, I'd seen them the week before in Lausanne and where I was close into the stage in the "not" gold circle. This time I was with the "posh" people in a seat and a long way from the stage. You have to see one show from there to really appreciate the stage and special effects. The sound was awesome and the quality never dropped throughout, even with a strengthening wind through the concert.

Highlights for me were Satisfaction, I first heard this in 1965 at the Gaumont in Bournemouth, 42 years on the band were as strong as ever, Sympathy with Devil, Midnight Rambler way better than Lausanne and Its Only Rock and Roll.

If this proves to be their last open air concert, then what a way to go, but looking at the boys last night, there has to be more years in them.
---
Review by Gazza
Musically, they sounded really good. Keith made a bit of a botch of the first part of the solo in 'Rough Justice' - Roadster and I shot ourselves a quick look that said "Eek!" but things soon recovered. His solo in 'Sympathy' was pretty short and ragged, but the song picked up and the latter part of it was pretty glorious. At one point, Mick missed a cue, sang in a place where he wasnt supposed to and Keith looked around in bewilderment with this priceless expression which seemed to say "Jagger - what the f**k ARE you doing?". Otherwise Keith seemed sharp enough. You kinda knew it was gonna be a good night when he absolutely bounded onstage, hit that first chord of 'Start Me Up', kicked his leg in the air and the crowd went absolutely nuts. He came out to both catwalks at various points, got down on his knee to the crowd when playing his solo on 'Tumbling Dice - generally he seemed to be moving around quite well.

Ronnie though was absolutely superb. He really has risen to the challenge this summer when it was needed.

Mick said a few lines in Gaelic before one song. No idea what it was as I dont speak it, and it was probably phonetically strange for some of the locals too., but a nice touch nonetheless. When doing his spoken intro to 'Dead Flowers' he asked 'Do you want me to say it in Gaelic?" and then did! 'Dead Flowers' was really beautiful. Great to see Keith singing back up vocals on it, although it was noticeable that when doing so, he didnt play guitar (it seems to be a Gerald Ford 'dont walk and chew gum at the same time' thing). 'Midnight Rambler' - well, I dont need to say much about it, other than it was utterly explosive. They just always seem to manage to nail this one.

'I go Crazy' went down really well. Helped partly by Lisa wearing a skirt which was flapping around so much in the breeze that at one point you could almost see what she had for breakfast. At the end of it, it just segued into 'Tumbling Dice' without a break which was really nicely done. I've really liked the versions of this song on this tour - Keith's added some extra little touches to the coda at the end which come across as a bit jazzy.

Ronnie was introduced as the "Boy from Naas", and then, resplendent in a green shirt for the occasion came out and stood rubbing his arms as if he was freezing his bollocks off. Being something of a 'local', he got a massive reception. Never seen anything like it, a long chant of "Ronnie, Ronnie, Ronnie" which he of course absolutely milked, prowling around the stage and getting the crowd to keep it going. Mick had to delay Charlie's intro because it went on and on. Ronnie eventually went over to Mick, grabbed his microphone and shouted "Up The Royals" (I assumed this was some Gaelic football reference as I dont know of any football team in ireland with that nickname - with the benefit of research, it seems that Meath (the county where the show took place) is known as the "Royal County", so presumably the local team are known as the 'Royals') Charlie got introduced as "Charlie O' Watts", Keith got a huge welcome and made some sarcastic wisecrack about the weather. I dont know... I didnt find it THAT cold, to be honest. Depends what youre used to, I suppose.

Keith's set worked fine. Sang 'You got the silver really nicely and 'Wanna hold you', a train wreck on some early shows, seems to be working out nicely.

Hard to really judge the b-stage because when youre standing there, youre hearing two sound systems competing with each other and sonically its a bit chaotic. Crowd absolutely went nuts during it though. We were at the back behind Darryl so it was hard to get too many good photos. They went through the closing warhorses really well, with JJF being really good and Brown Sugar was quite flawless.

There was one moment more than any other that took me back to my first Stones show at the same venue in 1982. I distinctly remember watching Mick towards the end of that show on JJF sprinting from one catwalk to the other and thinking "he's almost 39. How the f**k can he do that. He'll never be able to do THAT again in two or three years". Back then, I was 19 and you just associated musicians over 40 in the way we'd see the likes of Chuck Berry nowadays. Well, during 'Brown sugar', Mick just TOOK OFF and SPRINTED like a young gazelle down the catwalk to where the b-stage was. Cue a quite audible mass "GASP" from 60,000 people wondering how the hell a 64 year old man who has been moving like he does for two hours be capable of that.

This was the first time I'd been to Slane in twelve years (my 6th visit overall with 1982 being the first). Theyve certainly organised it a bit better than was the case many years ago and those responsible (and the local police) deserve a lot of credit for doing so, plus the local villagers for putting up with this influx every summer. The ONE sore point was the walk from the buses to the castle itself which took about 75 minutes. Easy enough for someone able bodied like myself, but an absolute nightmare if (like a mate of mine) you're not so lucky. The rain stayed off for most of the day once we arrived, with just a couple of showers during the opening acts. Incredibly muddy in parts though, although we had a bit of canvas to stand on at the b stage which made it easier. dreadful getting out back up that hill in the mud, however. Took at least half an hour to get out of the castle grounds.

Probably the youngest crowd I've ever seen at a Stones gig. Maybe even more so than 1982! When people doubted the Stones could sell this show out beforehand I said that the fact that it was at Slane would mean theyd be guaranteed to sell 30-40,000 tickets regardless of who is on, as this has become the biggest musical 'event' in Ireland every summer. So, it was a very youthful crowd, most of whom would have been seeing the band for the first time. the reaction seemed very positive, with them being really into it from the first number. Hopefully the lively reception from this show and the Isle of Wight festival have shown the Stones the positives to be gained in not continuing to ignore a younger audience.

Also it was probably the most drunken crowd. As the great Spike Milligan once said, "All over the world, people are dying of thirst - but it seems the Irish were born with one". We'd no sooner stepped off the bus at 2.30 pm and there were scores of people already off their tits. Never saw anyone arguing or fighting, though, everyone seemed in high spirits. That said we did see one pair of guys holding on to each other and staggering around in a way where you'd have thought they were siamese twins who had been joined at the shoulder. One of them was a complete bollocks. In the space of 500 yards, he had managed to almost get himself arrested twice by acting the maggot in front of a police car and then a policeman on a horse - and in between that he fell on his arse into a puddle. We were just talking about how much of an idiot he was when we heard this shuffling of feet beside us and looked around just in time to see the silly twat staggering past us and then falling head first into what was probably the deepest and muddiest puddle in the whole of Ireland that afternoon.

So, anyway, a historic day with a bit of an 'alpha / omega' feel to it with the Stones playing what may be their last Irish show (and maybe even their last stadium sized show) back where I'd first saw them a quarter of a century earlier. At that time Mick bade us farewell with a promise "we'll see you again some day". How we laughed at the time of the absurdity of such a remark - then again, it wouldnt be the last time we underestimated how utterly unique this band is.
---
Review by Paul Bell
To sum the show up, I felt it took about 5 songs for the band top really get cooking.

Keith was not playing as well as he did the last time he was here, although Ronnie was playing a blinder and covered for him admirably well. Keiths singing was, however, as good as I have ever heard him. This more than made up for any quibbles I had with his guitar playing. I would be concerned about the size and shape of the end of his left hand index finger. It would remind me of a severe case of arthritis.

Mick was as usual incredible, athletic, diplomatic(local lingo used as appropriate), sexy(well the sparks appeared to fly when he was duetting with the mighty Lisa Fish-aww), 120% on top of the game.

Charlie played a solo!!!! A small but beautifully formed solo! It was really obvious that he was enjoying the show and keeping the tempo well nailed down.

Ronnie played out of his skin. I was continously impressed with the way he played, solos or rhythm. It was an amazing turn around from the last time they played in Dublin, when he appeared to not even know where he was or what he was supposed to be doing.

About half way through the show the band pulled off the amazing trick of making this huge outdoor venue seem like a small intimate hall, such was the contact with the audience.

I saw the band here 25 years ago and would have to say they were better this time around in many ways. I never imagined then that they would still be around 25 years later playing even better. I have stuck in a photo of the 1982 opening. How stage design has changed!!!
---
Please send your show reviews and comments by e-mail to: [email protected].
The reviews will show up here soon! Thanks!
---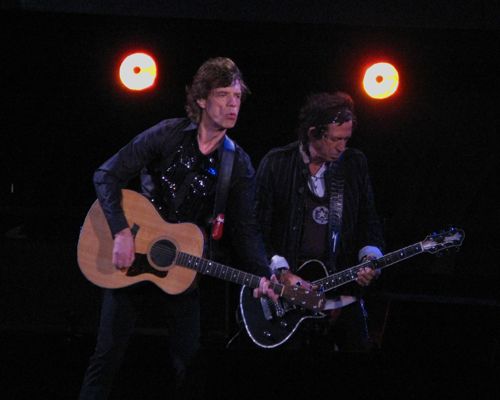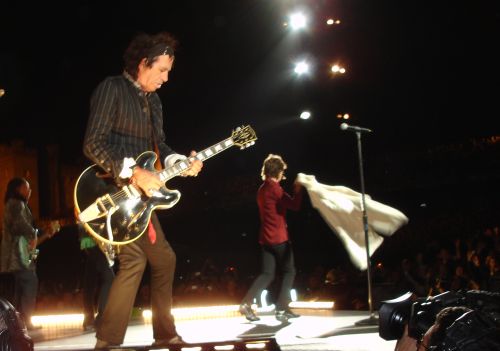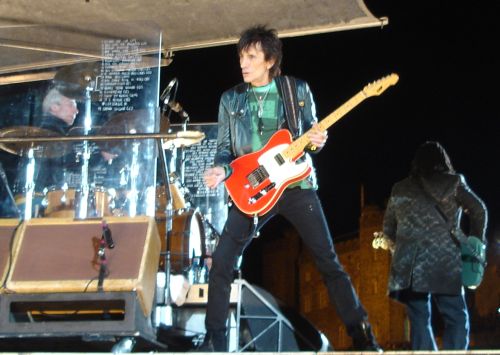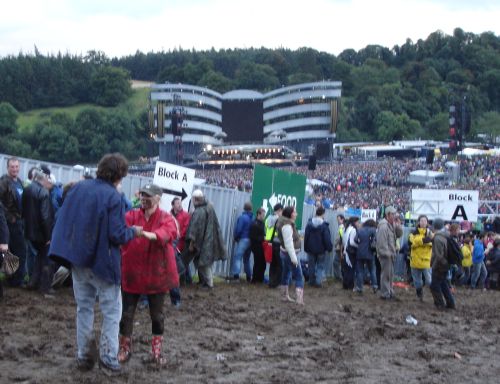 ---
IORR Forum comments and reports
Slane/Dublin reports and comments
---
News links
---
Photos by IORR.
Additional photos by Jim Pietryga.
---
The IORR magazine
For exclusive reports and unique high quality pictures from the Rolling Stones tour and more see the IORR magazines.
---




It's Only Rock'n Roll 1980 - 2007
© The Rolling Stones Fan Club Of Europe