---
These are the latest Rolling Stones news and updates for you! IORR is a non profit fan club run by fans for fans. All parts of the It's Only Rock'n Roll web site is copyright of The Rolling Stones Fan Club. When using information from this site, please include a reference to IORR and the main web address www.iorr.org.
---
---

The Rolling Stones
Goffert Park, Nijmegen, Netherlands
Friday June 8, 2007
The set list
Start Me Up
You Got Me Rocking
Rough Justice
All Down The Line
She Was Hot
Sweet Virginia
Can't You Hear Me Knocking
I'll Go Crazy
Tumbling Dice
--- Introductions
I Wanna Hold You (Keith)
Happy (Keith)
It's Only Rock'n Roll (to B-stage)
It's All Over Now (B-stage)
Satisfaction (B-stage)
Honky Tonk Women (to main stage)
Sympathy For The Devil
Paint It Black
Brown Sugar
Jumping Jack Flash (encore)
The Rolling Stones     :  9:00pm - 10:50am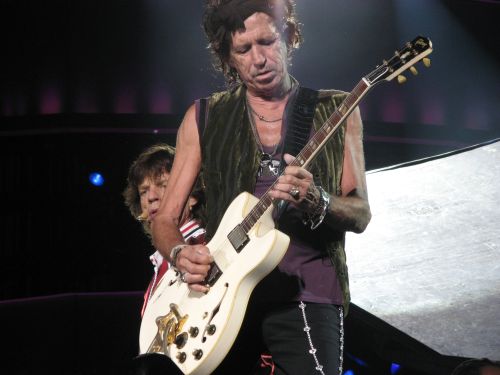 ---
IORR show comments:
Soaking wet show indeed with one big big thunderstorm hittting at 7pm and just dumping 15 mm (half an inch) of rain on the fans in 5-10 minutes. Then by a miracle as the Stones hit the stage at exactly 8:58pm the remaining after-rain suddenly stopped and all plastic and umbrellas were gone in a split second.
If Werchter was the warmup show this was the great real starter. Keith was the killer doing some great great guitar playing on SHE WAS HOT - Ronnie said thank you that was great great great playing to Keith as the song finished, while Mick was jumping around like there were no slippery wet surface on stage. Indeed there were. Everybody who walked over to the far end wing of the Keith side of the stage got blessed with Keith on his knees doing the Sympathy For The Devil guitar playing. During Painbt It Black the guy next to me said something in Dutch. I explained I did not undererstand. Then in English he said: They get better and better every year".
Everybody was singing along and dancing on Paint It Black. May be the best song of the show. Or may be it was "Can't You Hear Me Knocking", where Keith and Mick was thanking Ronnie for his great playing. The crowd was wet but very happy. Too bad they had to finish. A great show indeed.
---
Review by Henk Faas, Ede, The Netherlands
A long hot day in Nijmegen seems to have ended up in rain and thunderstorms. But - it was a miracle indeed - at nine o'clock the sky cleared up and a few seconds later The Stones were on stage: Start me Up! Great performance, clear sound and the crowd went wild. First highlight. She Was Hot. Great guitar playing from Keith. Second. Sweet Virginia. After the song ended Mick started - with acoustic guitar - a sing along with the crowd singing the chorus. Great moment. Third highlight. Can you hear me knocking. Ron on fire with his solo. Keith's set was allright. First Wanna Hold You and second Happy. At the beginning of Happy it looked like he did'nt know which song he started, but it ended well. Then to B-stage with a beautiful It's all over know and then the warhorses. I thought Paint in Black was really good. It was a good show. Ronnie played excellent. Charlie and Mick like always. Keith has to work hard, but he was okay, I think. Next stop Isle of Wight Festival. I won't be there. Have a good time!!! And my greetings to Wim.
---
Review by Sjouke Hoving
We left around 6.30 AM from Basel (CH) with nice weather and arrived around noon close to Nijmegen (where it was 32 C) to pickup my sister who was going to join the show (first time). We had some drinks and food and went on to Nijmegen where we arrived at 2.00 PM. The gates would open only at 4.00 PM, so we had to wait and were just enjoying the nice atmosphere in front of the gate. Then finally, at 4.00PM the gates opened and we went in and ran to the FOS area. We chose Ronnie's side and were quite in the front.

We were having some drinks and food again, protection against the sun, and then the clouds came. But before a Dutch blues musician (ex-Skik, from Drenthe, close to the area where I grew up) took the stage and played some nice blues songs for half an hour with his band. It was getting darker and darker however. At 7.00 PM Van Morisson took the stage, starting with Please Don't Go, and then the rain started as well. Not just a shower, but really heavy heavy rain. People got completely soaked (see pics on my website). Heavy thunder and rain forced Van the Man to stop his show after three songs and the stage was cleared. It was announced that more rain was expected but that the Stones whatever happened, would play (of course).

Just before 9.00 PM it was getting dry and the Stones took the stage with a firing Start Me Up, followed by You Got Me Rocking. The band was in great shape, that was clear from the beginning. The sound was really good as well, at least at the point where we were standing. And no complaining about setlists, we even got two songs from Undercover... But first Rough Justice, the only Bigger Bang song. For me, they could play more titles of this album, but they decided to do only this one.

Then the surprises were coming: All Down The Line, very nice done, followed by the highlights She was Hot (premiere in Europe) and a great Sweet Virginia. During this song Mick asked the audience to sing along, and when the song finished he took the guitar and continued solo for another verse, with singing audience. Next one, Can't You Hear Me Knocking, the jam song of the show, replacing Midnight Rambler, very well done. Then the cover I'll Go Crazy (James Brown), really good, highlight with Lisa Fisher. Next song was Tumbling Dice, not my favorite song, but well performed.

Band introductions were done, followed by Keith' set. He was very talkative, but a bit unclear. His set were only rockers this time, Wanna Hold You and Happy. On with the show with IORR and the move to the B-stage, this song works well in this position. On the B-stage we got (like in Werchter) It's All Over Now and Satifaction. The two real old ones, but both with great versions. Back to the main stage with Honky Tonk Women, and a few changes compared to Werchter. Sympathy was back in the old position after the B-stage, again with lots of red lights and fire. The show was concluded with Paint It Black and Brown Sugar, both played very well. One encore, Jumping Jack Flash, finished this - again - great concert of one of the greatest bands in the world.
---
Review by Rolling Tony
A special night. After a hot and humid afternoon thunder & lightning broke loose. Heavy rains forced Van Morrison to quite after a few songs. After an hour or so the rain stopped and the Stones came on. Always a fantastic moment and they started well with SMU and a great solo by Ronnie Wood. You got me rocking followed and kept things rolling.

In Rough Justice Keith took the first solopart. All Down the line was a nice surprise, as was She was hot, although the end was the usual mess. Sweet Virginia got Mick on acoustic. Ronnie and Keith played electric all night. At the end of the song Mick asked the crowd to sing and he started another round of the chorus, just him and his acoustic guitar. Very nice. Can't You Hear Me Knocking was the highlight for me. Very well played. Ronnie's solo was beautiful. His guitarsound (a Strat) was much better than during the Licks tour. Less distorted, just a clean natural sound. After the song finished Keith gave Ronnie a hug. Nice moment.

I'll Go Crazy was great. Mick is so good on this, as was Lisa. Keith went straight on with Dice. I Wanna Hold You was much better now than at Werchter. Keith sang the right 1st verse and at the end of the song we got to witness the WEAVIN! Ronnie and Keith playing great sololines against each other. Truely beautiful. The intro of Happy was a bit rusty, but Keith's singing was perfect. The key of the song was B again (on Licks he dropped it to A) and his high pitched voice came across clearly. I noticed how Ronnie gave Keith the cue for the 2nd solopart. Ronnie was sharp tonight. Keith was good. He still had some trouble with Brown Sugar though. The 1st bars of the intro were ok, but It took awhile (until the solo of Bobby) before he nailed the 2nd part (the D# part). Anyway, never mind. The end of the show was as usual with the familiar warhorses (with the exception maybe of a very well executed Paint it black). All in all I think the Stones went back to their hotel (or plane) in good spirits, 'cause they had given a good show and left a happy crowd.
---
---
Review by Wilco Schepen
Great day in Nijmegen! I arrived at 10.30, expecting many people (article on Dutch Teletext: "people started waiting in line Thursday afternoon, spending the night in the park"), but I only found some 350 people hanging around, lying in the sun. The sun was hot, very hot, very very hot, extremely hot. Security noticed this and was walking around with buckets of water snd sponges to cool down. At 14.45 the calm situation got disturbed with a run for the gates, so all were standing for more than an hour. When the gates opened at 4 pm it was a great relief. After a quick check of my bag (one bottle taken, the other not found) I ran to the front section. Halfway I noticed that running was not really necessary so I decided to slow down. The FOS was open until 4.45 pm, how about that? Seen this only in Gelsenkirchen in 1998, when people were also walking in and walking out without a wristband, mind you!

To kill some time I made a chat with a security guy, he said that only 20.000 tickets were sold, but they were expecting some 25.000 people. I was noticeable on the field that it was far from sold out, you could get coins for drinks, drinks and food within seconds. I didn't think about getting a poncho by then, wish I had …..

At 5.45 Daniel Lohues and the blues something group opened the evening and I have to say that they played some nice blues song. At that time the sun was long gone and dark clouds came in. My wife called at about 6.45 saying that the weather was really bad in the south and that Nijmegen would also be hit by thunder. And we were hit, at 6.55 when Van Morisson had just started his set, he quit the stage after 10 minutes or so. Within seconds everyone, including me was soaking wet. I got a poncho in the end that kept me from getting even more wet. Van didn't come back, heavy rain stopped around 8 pm and we got the message that the Stones would be playing, rain or shine, the boys are always fine. I have to admit that probably my best Stones show was the july 1 1995 at Paris when thunder and rain arrived together with the Stones.

At 9 pm the Stones opened with Start Me Up, followed by You Got Me Rocking and Rough Justice. Mick thanked us for staying around with the insane rain (his words) hitting the field. I thought they had a great first half of the show, with Sweet Virginia and Can't You Hear Me Knockin'. Then Keith played Wanna Hold You and Happy which I thought were not so good, then on to the B-stage with It's All Over Now and Satisfaction also not super. Back on the main stage they continued with Sympathy For The Devil, Paint It Black, Brown Sugar and JJF. I've read reviews about how great Paint It Black was, but really Keith didn't play the riffs that come with this song, at least I didn't hear them. Still a good show, with Charlie hard hitting and Ron doing very well. Best man on the field, without any doubt, was Mick though, running and dancing and singing well.
---
Review by Hans Wijngaard, Wijk bij Duurstede
Waiting in the burning sun, followed by thunder and rain, rain, rain pooring down on us. Fortunately I took some plastic, used to cover furniture when painting, and it was really heartwarming to see how other people also appreciated this piece of plastic of 4x5 meter!

We were opposite to Ron's counter of the stage. Ron did really, really well. The boys rocked, but there were also some downsides. Keith completely screwed up the Happy intro, just as he missed a couple of times in other songs. Was I the only one to notice this? Didn't find it back in other reviews.

As I stood there with my kids, it felt awsome to share these precious moments with them. But when I watched the boys playing, I also realized that this very well may have been The Last Time.

Sweet Virgina was so nice, just as All down the line. Personally I didn't think the show was as good as the one on july 31th last year. And Van Morrison definately should have brought an umbrella :-))
---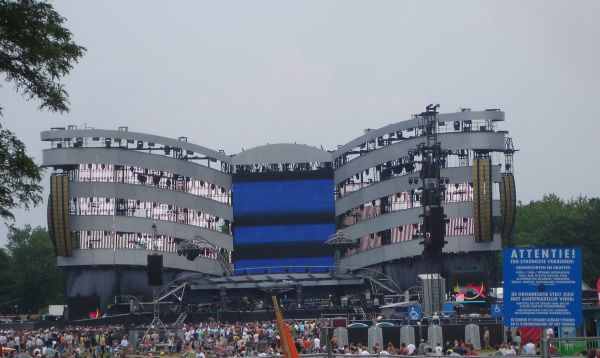 ---
Review by Steve, NJ, USA
It was a great night and a real adventure in Nijmegen, the Netherlands. I was lucky enough to be there from the USA , and with Dutch family, and some close friends from the USA who happened to be in Holland. With all the arenas and stadiums,and even the Beacon, I'd never seen the Stones in a park ! All day , the Dutch radio said there would be storms, and I was in denial . Well, after Van Morrison had done 2 songs, the skies opened . It poured, hard, and suddenly Van Morrison was gone, and we were completely soaked .I knew the Stones were going to play , no matter what, but I really wanted it to stop! . And then, just about when it was time for the Stones, the skies cleared ! (Keith later said "Sorry about the rain. I mistimed it") And we were treated to a great , wonderful show. The Stones were excellent. Keith just burned,and I kept looking at my companions in amazement. He was great on All Down the Line , She was Hot , IORR , and Sympathy. And , on the B Stage, they did a great It's All Over Now. I loved what Keith was doing during that song.

Mick was in great form, all over the stage, in great voice, and speaking lots of Dutch to the crowd. Ronnie's guitar was cutting, particularly on Can't You Hear Me Knocking. Great to hear that one again. And Charlie was perfect as usual. It was a special night, and the Stones delivered. They are just the best. See you in London
---
Review by Dean Goodman
This is what passes for a nice summer's day in Holland - torrential rain, thunder and lightning. I'm sure there will be plenty more shows like this. And if the weather drives the Stones to the glorified heights that they reached in Nijmegen, then fans are in for a great tour.

God bless Van for cutting his set short midway though about the 4th song. No one was paying any attention, because we were huddled under giant plastic sheets -- some of us unfortunate enough to be suffocated by smokers. The early stop allowed the Stones crew to get ready, while I was bracing myself for a painful couple of hours in the rain and cold.

Fortunately, the rain stopped just as the show started, and then my pot brownie started to take effect, so I was feeling great.

Mick had a slow start, constantly looking back at guidance from Chuck for "Start Me Up," and evidently forgetting every part of "You Got Me Rocking." He was about to sing a chorus until Chuck pointed out that it was the time for Ronnie's guitar solo.

Tonight was Keith's night, with sizzling solos -- aided and abetted by Ronnie -- on "She Was Hot," "Can't You Hear Me Knocking," and especially "I Wanna Hold You." The latter seemed like a completely different song from the never-ending one performed at Werchter. I have to admit I had no idea what song Keith was playing next until about 30 seconds in. It seemed he was playing every riff in his songbook before locking on the one for "Happy." I also had that feeling at the end when he came out to the spotlight solo and started on what would eventually be "Jumpin' Jack Flash." My only advice -- no more sleeveless shirts. His upper arms, pockmarked and wrinkly, are not a pleasant sight.

"Sweet Virginia" was another highlight. When the song was clearly over, Mick asked everyone to sing the chorus again, a capella. And I thought we did a great job. But then I had one of those drug-induced moments of paranoia where I thought I was the only one singing and the stadium was completely silent.

The only real issue I have is that the backing vocalists are still too high in the mix, and Chuck's keyboards are now threatening to dominate "Start Me Up."

Once again, transport afterwards was a hassle. With the show starting about an hour early, the buses weren't waiting for us at the close. I was lucky to get one of the first ones out, but thousands must have been left cooling their heels for some hours.
---
Review by René Spork, Rotterdam, Netherlands
The heat, the rain, the thunder, the crowd, the Stones… what else do you need to make a concert memorable. Well, a good set list and a good performance will help and the Stones did a very good job last night in a field in Nijmegen called 'the Goffert Park'.

Daniel Lohues & The Louisiana Blues Club opened the show ten minutes or so before six o'clock, when it was still warm and dry. Lohues played well. For him and his band this was the first time they played for such a crowd as Lohues stated 'he saw a lot of new faces in the audience'.

Round about seven o'clock 'Van The Man' started fabulous with 'Baby Please don't go' but he had to give up soon because of the heavy rain. The speaker asked the crowd if they were there in 1998 in The Hague in a field called 'The Malieveld'; that's the concert were the public almost drowned or got stuck in the mud for the rest of their lives. I never saw such a heavy rainfall, but in Nijmegen it was almost just as bad. Every thunder strike was greeted by the public with a cheer and everybody was in a good mood and got in an even better mood because of the Stones.

When the Stones started at 9 o'clock the weather was fine and the sound was terrific. 'Start me up', sure enough. The next song 'You got me rocking' made me fear we would get all the numbers with 'rock' in the title but the Stones gave us a great set list. Highlights were 'All down the line', 'She was hot' (played for the first time in the Netherlands), 'Can't you hear me knocking', 'I'll go crazy' (James Brown tribute, Lisa was thunder-and-lightning), 'Sweet Virginia' and 'Paint it black'. Ronnie played very tight and worked hard and Keith had a very good night too. Charlie is always a steady force, just as Darryl, but the man who really deserves a compliment is the man in front: Mick Jagger. The man delivers quality and gives everything he has to let the Stones and the good times roll. Thanks!
---
Review by Hans, Amsterdam, The Netherlands
Another touch of glory, yesterday night. After attending the Grand Opening of the tour in Fenway, Boston, in '05, I followed the tour with wild expectations. Last year, at the Amsterdam Arena, the Stones were surprisingly ok and fresh. But yesterday in Nijmegen has been a real treat.

Despite the heavy rain, I witnessed a very pieceful 'festival-atmosphere' (unlike my first Stones experience ever in 1976 at the Zuiderpark in The Hague, where the cops had to clean the Stadium fron the Hell's Angels). The sound and the setup in Nijmegen was far better than any concert I have attended, and The Stones were clear and crispy. Keith was sparkling, Mick full of unknown energy, and the band showed us their pleasure and guts. "Angie" would've been the icing on the cake... but there's always something left to be desired.... Hans, Amsterdam The Netherlands
---
Review by Nick Parrott
I've been going to rock concerts for more than thirty years – (but much less often these days) - and I have never seen the Stones. I was a fan when I was about nine or ten – they were sexy arrogant and upset the establishment – and more importantly they upset my parents – but by the time I was a teenager they were the establishment and it became hip not to like them. But hell they've been playing together 45 years now. Generations of rock heroes have come and gone but the Stones are still strutting it. Let's go and pay respect.

I went without too many expectations. Mostly about big crowds, a distant stage, overpriced beer, smelly toilets and overpaid prima donnas. But they were awesome. They fully deserve their reputation as the best rock n roll band in the world. Because they are. Their music has become so familiar that it sometime seems like wallpaper. Hell you even hear it in shopping malls these days. But to see them play it live is something else. From the opening chords of Start Me Up we all knew this was the real McCoy. Everyone knows the Stones songs – but seeing them played live makes you remember what all the fuss was about.

Watching them do Its All Over Now and Paint It Black bought back memories of watching them on top of the pops in black and white and my parents or uncle saying they'll never last. And I bet Keith or Mick's mothers said to them -""yes but what you are going to do when you grow old?" Against all odds they're still doing it and better than how many generations of rockers who followed. Mick is a bundle of energy – a Pan like figure who never grows old – and is sometimes ridiculed for that – but who is still the best rock front man in the world. At 63 he has the body, energy and arrogance of a 20 year old. He must have done 10km up and down the stage never stopping- one can't stop thinking he has made some Faustian pact and there is a painting of him mouldering away in an attic a la Dorian Grey. Keef, whose continued presence on this planet defies most bookmaker's odds goes walkabouts a lot too, though often to light up another fag. If they ever ban smoking in public halls surely they will think about calling it a day. Seeing Mick and Keef, or Keef and Ron trade licks, in the same frame on the video screen was just one of those shivers up the spine moments that don't happen very often

The acoustics were superb, the stage set well thought through – the effects were special and sparingly used so they really did surprise and the back up band were so tight. I never really thought I wanted to see the Stones – but I'm so glad I did.
---
Review by Carlos Matthijs
What more can I say? 2 Rolling Stones concerts in 4 days. On Tuesday Werchter with my kids, on Friday Nijmegen with friends. Both concerts were good, very good.

Werchter; Beautiful wheater, a nice summer evening. The kids loved it. For the the youngest one (14) was it his first rock concert. He really enjoyed it.

Nijmegen; With partly the same group we did Bridges to Babylon and 40 Licks.

Heavy rain, but, when the Stones started, it was dry and it stayed dry.

So now Biggest Bang. Hard to say, but do they get better as the get older? . I think so.

They played very well. Very well. Both shows were not sold out, but the fans who did not show up were wrong.

Where Keith seemed a little bit in a different world in Werchter, he was sharp in Nijmegen.

Also Ronnie and Charlie, and the rest of the band (great performance of Lisa in the James Brown song) but specially Mick. What an entertainer.

I had the impression they gave some extra for the many fans who stood there, most of them soaking wet after heavy, heavy rain, thunder and lightning.

The sound on both locations was cristal clear, the stage is very impressive, so is the lightshow, the video screen and the fireworks.

The greatest Rock 'n Roll band on earth. For sure.
---
Review by Jorg, The Netherlands:
Getting there...

I never had the intention of showing up early. In fact it would be impossible, since I always take my brother to the Stones and he really had to work until five. No probs, we would just enjoy the spectacle from the back this time, strolling about the field from left to right and just be relaxed. Leaving at 17:00 from Limburg (southern Netherlands) would allow us to be on the site at about 19:00.

My bro's meeting ran late. It was nearly 17:30 when we left and the first thing we encountered was a traffic jam on the motorway. Our plan was to drive to Oss, which is at about a 20 mins. train drive to Nijmegen. This would allow us to comfortably park the car and have an easy way out after the show. This instead of finding a parkingspot near the venue, which, as we all know, can be a drag to take the car out of after a gig.

The complete 100 mins. drive to Oss was covered by black clouds and spectacular lightning. And slow traffic. The Oss trainstation has a more than adequate parking and four trains to Nijmegen every hour. Yes we were late, but the train we caught would drop us at Nijmegen at about 19:45. We probably wouldn't see much of Van though...

At a village close to Nijmegen the train stops, due to thunder struck at Nijmegen's southern yard. After a while, back we go, to Oss... our concert seems to go down the drain. A quick resetting of plans has us re-occupy our car at Oss, and drive it up to Nijmegen anyway, with a more than average chance of getting a lousy parkingspot and arriving only after the Stones had started. Oh well, at least it's something. The car is packed by the way, since we take three other Stones fans, a mother and her two daughters (as well as a Nijmegen-bound student) to save them the trouble of finding a bus or taxi and miss most of the gig.

Parked the car at 20:15 (I admit speeding), in a residential area of Nijmegen (parkings full from where we were coming) and neither of us new what way to walk. Of course, we took the wrong way at first. So it took us 30 mins. from the car to the site, and we had our tickets checked at 20:48, being delighted the Stones were not on yet. At this point I am struck by severe cramps in both my legs, probably from the walking or whatever. And as I am, in quite some pain, stretching against my brother, the opening video appears on the big screen quite unexpected.... You know from bv's report this was at 20:58. So we stumble on a bit, find us a sport not too far from the b-stage, and from then on just enjoy the great atmosphere. It appeared that we of all people, being late, were saved from the biggest shower, since by that time we had still been driving!

...and the show!

Start Me Up was up to standards. I am one of those that like You Got Me Rocking a lot, so fine with me. Some lyrics were missed or late I believe, but these things are adequately corrected. Rough Justice was done well, and this year Keith is more prominent with a solo, although the live versions have never featured Ronnie as much as the record. On with All Down The Line, no problems there, I love it! People around me don't know it, except for an about ten year old boy, who jumps along with his father while screaming out the lyrics. That's the spirit.

She Was Hot! Yeaaah! And what a performance! Have I already mentioned the excellent sound? Keith spot on. Even though lots of people don't know this, it's such a cheerful tune they dance along anyway. Sweet Virginia is about the slowest song tonight, which is remarkable. The singalong at the end ("because you dutch people like singing a bit") is a bit fading with us in the back, but it must have been a thrill up front I'm sure, judging by Mick's smiles. Can't You Hear Me Knocking is opened with strong riffs by Keith, Mick's harp doesn't seem to impress me too much this time. Ronnie's solo loud and clear. Not the best version, but good enough. I'll Go Crazy is this year's dead musician song and it's a nice change, although the Charles tune last year made a stronger impression. Lisa's moment of fame, by the way. She impresses everyone.

Keith set was tonight's biggest surprise, to me anyway. Knowing that two rockers has as far as I know never happened since 1990 (admittingly You Don't Have To Mean It has served as the fast as well as the slow song in his set) I was very thrilled with the choice of Wanna Hold You and Happy, both of which I had never seen live (I always got Before They Make Me Run and almost always Slipping Away). Wanna Hold You does certainly not have the smoothness of the 1997 dvd, but it's one of my favourites, jumping guaranteed. The intro to Happy was completely unrecognisable. He announced it after Wanna Hold You so I knew what is was supposed to be. I've never seen his face more puzzled than now, it took halve a minute before the wreck was rerailed and he sang the first words. Good version after that. His set needs a bit more rehearsing though.

It's Only Rock'n'roll to the b-stage. It's All Over Now was a highlight tonight, even with Mick appearantly having some mic problems thereby missing most of the first verse, changing to the handheld. The crowd sang along the chorus so enthusiastically, I was pleasantly surprised. This is so good it should be a stayer. Satisfaction worked great here, it's like seeing them doing their most famous riff in a club nearby. Honky Tonk Women back to the mainstage.

The drumsample and red stage indicated Sympathy would not be the encore tonight. Keith soloing on the right wing for ages. Paint It Black always pleases the dutch crowd, who mainly know it from the Tour Of Duty tv-series. Brown Sugar and the encore Jumping Jack Flash were strong and loud on guitars.

A good show and a great atmosphere. We loved it. And we got the car out without problems, since we were so far away. Managed to drive home in less than two hours... after a great day.
---
Please send your show reviews and comments by e-mail to: [email protected].
The reviews will show up here soon! Thanks!
---
IORR Forum comments and reports
Nijmegen set lists and reports
---
News links
... coming ...
---
Thanks to Detlef Neumann and Sjouke Hoving for photos!
---
The IORR magazine
For exclusive reports and unique high quality pictures from the Rolling Stones tour and more see the IORR magazines.
---




It's Only Rock'n Roll 1980 - 2007
© The Rolling Stones Fan Club Of Europe