---
These are the latest Rolling Stones news and updates for you! IORR is a non profit fan club run by fans for fans. All parts of the It's Only Rock'n Roll web site is copyright of The Rolling Stones Fan Club. When using information from this site, please include a reference to IORR and the main web address www.iorr.org.
---
---

The Rolling Stones
Isle of Wight Festival, Seaclose Park, IOW, UK
Sunday June 10, 2007
The set list
Start Me Up
You Got Me Rocking
Rough Justice
Love In Vain (with guest Paolo Nutini)
Can't You Hear Me Knocking
Ain't Too Proud To Beg (with guest Amy Winehouse)
Tumbling Dice
--- Introductions
I Wanna Hold You (Keith)
Slipping Away (Keith)
Miss You (to B-stage)
Satisfaction (B-stage)
Honky Tonk Women (to main stage)
Sympathy For The Devil
Brown Sugar
Jumping Jack Flash (encore)

The Rolling Stones     :  9:13pm - 10:46pm

---
IORR show comments:
First time in ages for a real 3-days festival for the Stones. Mick said it was so expensive here, with two quid for water, four quid for a burger, and the dog took his dope... but fact is the beer was only three quid, not more than you pay at a regular bar in the tourist areas.
It was a hot day, not as hot as Nijmegen, but still, lots of burned people to be seen. Most had purchased their ticket to the show half a year ago, long time before the Stones were confirmed for the Isle of Wight festival. And most people stayed in a tent, where the average age was 30 or so, and they just loved the Stones. Well the other acts got some great following too, but the push on the B-stage really started around 8pm or so, as it got closer to Stones time. The front of the stage had been packed for hours and hours.
Everybody was right on today. Everybody. Short festival set but still some great songs. Blues night with "Love In Vain" and "Can't You Hear Me Knocking". Both very bluesy and soulful versions. They could have played it safe and given us Paint It Black but this was blues night and it worked. And with "Ain't Too Proud To Beg" nobody could say they were playing the crowd with their big hits to make it easy.
Mick said he had been staying in a tent with his kids. Ronnie got such a great ovation during the presentations, because of his "Knocking" guitar solo, that Mick said Ronnie would move to the island. Charlie did a great drum solo, and Keith did what he is best at, playing the guitar, saying how great it was to be there and gave us great versions of "I Wanna Hold You" and "Slipping Away".
Most people are still on their way to the mainland, with their bags, tents and great memories from the rock legends The Rolling Stones. Being lucky to catch the first ferry back to Portsmouth after the festivalfinished with some magnificent fireworks, it was great listening to what people said. Normal people, not Stones fans. It sounded like they were pretty happy. Really happy in fact.
Festivals are such a pain when you are "grown up" and used to the luxury of hotels, but I wish they could do more festivals. Yes indeed! It was all worth the hazzle!
---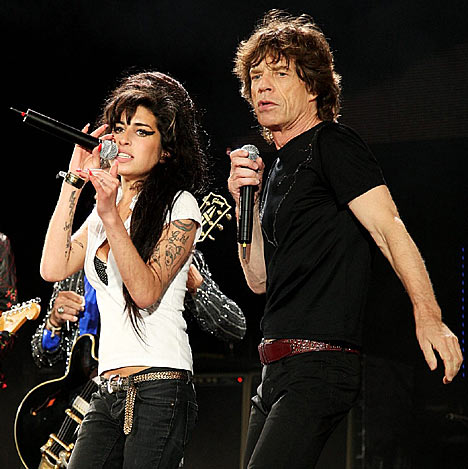 ---
Review by Susanne, Vienna, Austria
The 3rd show of this year's tour at the Isle of wight festival 2007 - a legendary festival with a legendary band. After a long journey from Nijmegen we arrived saturday night.

After a few hours sleep we stood at the gates at 10.30. Not many people there. The gates should have opened by 11 a.m., but after 3 times "one more 15 minutes" we finally got in at about 12. The first part of the area looked like a kermis, with different sales stands and a little amusement park. We rushed on to the main stage area and really got front row, right side, just next the corner. Amazing, didn't know the area was that large! At the beginning not too many people were FOS so it was really comfortable to sit down and have a chat. The first band started playing, "Siniez" - 3 15 year young boys who won a competition and were allowed to play the same stage as the Stones. They were really good.

After the boys "The Hedrons" entered the stage (this was just noise), followed by Country Joe McDonald. The place filled up with more and more people, you had to stand from now on (about 2.30 p.m.). Melanie C (ex Spice girl) was followed by James Morrison - the young people were in ecstasy. Then Paolo Nutini showed up (support in Vienna last year) - really great show, great voice this young guy!

When the Fratellis entered the stage, the crowd got really wild. We were pushed and squeezed towards the barrier - just like in good old non-FOS-times. Luckily we stood front row so it was possible to keep our places (we fought for them, believe me). Keane with his smooth songs calmed down the crowd. From time to time Securities picked out people from the front - some were ill, some wanted to leave this "inferno", very few were drunk.

Then, at about 8.20 p.m., we were waiting for the Stones. They started a bit late but set the stage on fire immediately. We got an exciting long version of "CYHMK" with Mick extending on the harmonica and a really fantastic solo from Ronnie; and we got "Love in Vain" - I had tears in my eyes! Paolo Nutini joined during Love in Vain and he was absolutely great, he played from the heart. Mick liked his performance too.

Amy Winehouse joined for "Ain't too proud to beg" but for my opinion she was dispensable. She had a chewing gum all the time and no idea of the text. The Stones played a shorter setlist (the festival had to end on 11.p.m. on sunday) but they played energetic, fresh, absolutely fantastic. Ronnie wore the same shirt as in Nijmegen - he must really love it...:-))

"Miss You" was another "new" song on this 3rd concert. The show ended at about 11 p.m.. When I first saw all this very young people I thought that many of them would leave before the "Old Rockers" entered the stage. But I was wrong - they loved the Stones. And so do I. See you next in Frankfurt!
---
Review by Isabella Bartsch, Vienna, Austria
What a great experience! Our first UK-Festival and the Stones are the headliner. After the wonderful show in Nijmegen - "Sweet Virginia" still in my ears - we took the plane to London, got our IOW-Tickets from a Stones-Fan at Waterloo Station in exchange for one Slane Castle and one London O2 and headed for the Isle of Wight.

We had booked a hotel in Ventnor, on the other side of the island. So on Sunday we came to the festival area rather late at about 10:30. What a surprise! Just a few people were queuing at the entrance to the main stage, and we could hardly see any Stones-T-Shirts. We recognised, this was a festival and not a typical Stones-Concert.

Since there was a large crowd and no FOS-area, we decided not to run this time and simply enjoy the festival without any stress. But what we never expected happened: we stood in the first row, right side, just near the catwalk. Incredible, altough it was not easy to keep that place. As more and more younger people came to the front rows, to see such acts like James Morrison and Melanie C, it got very tight. Nine hours without any drinking or going out - it was like in former times.

Country Joe McDonald was a highlight for me - a great entertainer, still critical words - he brought kind of a Woodstock-feeling to us. I didn't really care about the other bands. Paolo Nutini was great, I saw him in Vienna last year.

Finally the long waiting had an end. At 9:30 pm the Stones started - of course with Start me up. The audience was fantastic - much louder and more enthusiastic than the crowds in Werchter and Nijmegen. We could also see several pirate flags.

"Love in Vain" was the highlight of the show for me - I've never heard it live before; Paolo Nutini was the special guest on it, he did a very fine job with Mick. Amy Winehouse on "Ain't too proud to beg" didn't do very much.

They played "Can't you hear me knockin'" in a wonderful long version - Ronnie's Solo and Micks harmonica getting better and better since Werchter. Keith did "Slippin' away"; I love it, it's simply beautiful.

I don't want to go in details, I only want to point out one thing: I was a little concerned, if the Stones would "look old" in comparison to the other young guys playing there, but there was no reason to doubt.

This music is so full of energy, so amazing. It's unique. They convinced me again, that they are still the greatest Rock'n Roll-Band in the world. And I'm glad that I can see them 23 times this summer.
---
Please send your show reviews and comments by e-mail to: [email protected].
The reviews will show up here soon! Thanks!
---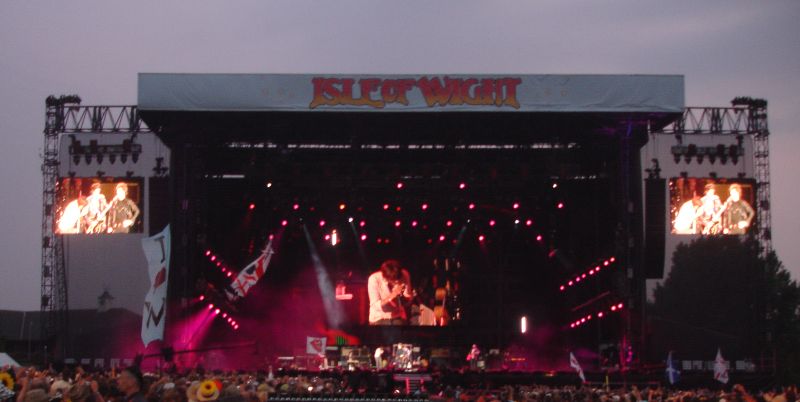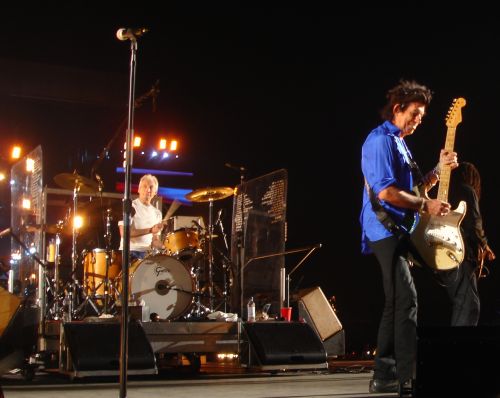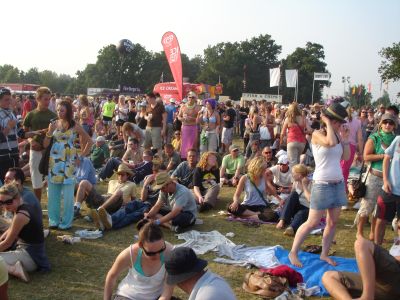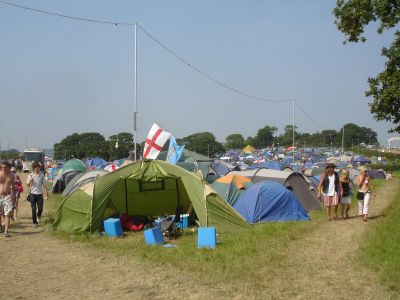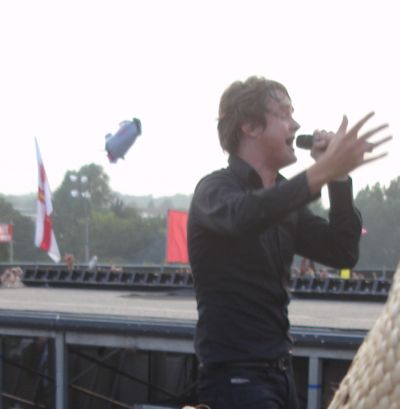 ---
IORR Forum comments and reports
Isle of Wight set lists, reports & comments
---
News links
Thanks to for news links!
---
The IORR magazine
For exclusive reports and unique high quality pictures from the Rolling Stones tour and more see the IORR magazines.
---




It's Only Rock'n Roll 1980 - 2007
© The Rolling Stones Fan Club Of Europe