---
These are the latest Rolling Stones news and updates for you! IORR is a non profit fan club run by fans for fans. All parts of the It's Only Rock'n Roll web site is copyright of The Rolling Stones Fan Club. When using information from this site, please include a reference to IORR and the main web address www.iorr.org.
---
---

The Rolling Stones
Magnetic Hill Concert Site
Moncton, New Brunswick, Canada
Satursday, September 3, 2005
The set list

Start Me Up
It's Only Rock'n Roll
Live With Me
Tumbling Dice
Rough Justice
Ruby Tuesday
You Can't Always Get What You Want
All Down The Line
Night Time Is The Right Time
--- Introductions
The Worst (Keith)
Infamy (Keith)
Miss You (to B-stage)
Oh No, Not You Again (B-stage)
Midnight Rambler (B-stage)
Honky Tonk Women (from B-stage)
Sympathy For The Devil
Paint It Black
Jumping Jack Flash
Brown Sugar
Satisfaction (encore)

Show start :  8:35 pm
Show end   : 10:35 pm

---
Review by Glenn Harper, Moncton, New Brunswick
Today was a perfect Stones day & night. After taking a special friend for a long drive in the rural area of Albert, a good pre-game meal it was off to the show About 80,000 fans of all age groups were given in my view a near perfect show. It is called Magnetic Hill as adjacent to the site is a tourist attraction where it appears your car coasts uphill... an optical illusion. Tonight the only real magnets were in the pickups of Keith's and Ronnie's guitars (also in Mick's and Daryl's) and believe me the performance was NO ILLUSION. From the opening riffs of Start Me Up. it was evident that the concert was going to be right on the money.

This is my home town and to witness the Stones in my backyard and not have to travel a long ways was a pleasant change Keith and Ronnie were the masters of the art of weaving playing with Woody's searing solos interchanging with Richards'masterful playing as he squeezed riff after riff. The solo on All Down the Line sounded like an angry bee as the high pitched slide guitar cut thru the night air.. a high light for me All the songs were great and Mick showed us Maritimers why indeed they are The World's Greatest Rock and Roll Band.

People will ask me "Is this the best show you have ever seen?" No it's the next one is the answer. A special hello to my friends in the UK and on to NYC for me in a week. In short the sound was amazing, the stage spectacular.. 4 songs were played on a b-stage that glided out of the main stage. The choice of new songs have given me a heightened sense of the new cd coming out in a few days. Finally to the many pundits who always slag Pan & the Pirate .. get down on your knees and thank God that they are still playing with the passion that they had in '62 when the majority of you were still dna in your parents loins. God bless the Rolling Stones. I would like to give more info regarding the setlist etc but it will take a couple days to come down off my cloud and by the way this is my 49th cloud.
---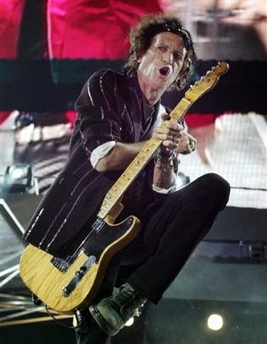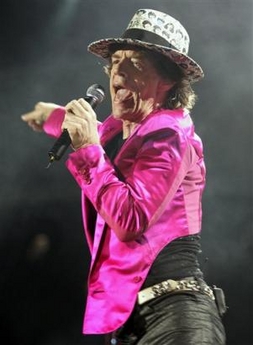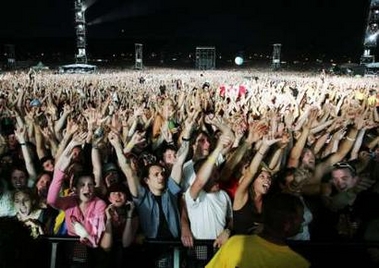 ---
Review by Forrest Orser, Fredericton, New Brunswick
It was a beautiful sunny day, about 25 C, with just a few clouds to give us some shade once in a while. We rarely get hurricanes here but we often get driving rain as they head north and fade away. After Hurricane Katrina caused so much suffering in the southern U.S., I was worried that we would get soaked at the concert. But the storm moved quickly and we had a few days of heavy rain half way through the week. Friday and Saturday were sunny, so even the ground was dry.

It was a great site for a concert; the big field slopes gently down to the stage so you had a good view from almost anywhere. It was the site the Pope used during a visit in the mid-1980s. There were about 85,000 people there for the Stones and watching that many people was a big show in itself. Most people were polite and friendly as Stones fans tend to be when they're together. There are no big cities in New Brunswick, so it is a little amazing that we provided the biggest crowd of this tour.

My brother-in-law Roberto Florean was waiting in line at the portable toilets, which were at one side of the site, near the fenced-in road used by the organizers. Roberto saw a limo drive by with Mick Jagger. He had his window down and was videotaping the people standing in line.

All the opening acts were good; The Tragically Hit really rocked.

But as soon as the Stones took the stage, it was obvious why they were the main act. They played with great energy and everyone I've talked to was amazed.

The sound was very good; you would even understand what Mick and Keith were saying when they talked to the audience between songs.

As soon as they played It's Only Rock and Roll for the second song, I knew we were in for a different set list from what they had been using for the other concerts on this tour. But I had been looking forward to It's Only Rock and Roll as the last song because it's one of my favourites and if they played it last, it would have been a much longer version.

I was glad that Jagger spoke in French a couple of times to recognize New Brunswick's large francophone minority.

We stood beside the little stage where we also had as good view of the main stage. When the Stones played on the little stage, we were about 10 feet from it. This is my seventh concert but I've never been that close to them. It was like having these famous men, whom I have admired for so many years, in my living room. My sister-in-law had a disposable camera she'd bought on site. She said when she was taking Ronnie's picture, he saw her and stood still long enough for her to get his photo. And they did Midnight Rambler, another of my favourites, on the little stage. After looking at the song lists from the other concerts, I'd resigned myself to not hearing it this tour.

I've always had to travel, usually to Toronto, to see the Stones. This time it was just a two-hour chartered bus ride. Thank you, Rolling Stones, for coming to our remote little province. Come back again!
---
Review by Keith Anderson
Well, the Rolling Stones put on a show for Moncton, for Atlantic Canada, for the World.

I saw the 1st concert in Boston, and now the concert in Moncton. Both shows were amazing. For Boston, I had a 3rd row seat, real close to see it all. For Moncton I had just a general admission seat, like most of the 80,000 people who attended.

The crowd was getting excited by 8;15 as darkness started to fall. The crowd was standing already. By 8:35, it was dark. Then all lights went out, the Video opening the show ran. For this concert, there were 3 big screens, the main one on stage, and 2 in the crowd, which given the size of both the venue and the crowd was a great idea.

Then the riffs of Start Me Up got the crowd rocking.This song was just great, esp for this crowd, most of whom never imagined the Stones ever playing in Atlantic Canada.

After Start, Mick then said, "Hello New Brunswick, we'll do some old ones, some unkown ones, and some covers" He was kind enough/smart enough to mention all four Atlantic Canadian provinces, ..Newfounland, Nova Scotia, Prince Edward Island, and the host province of New Brunswick. He even had some words in french for the french speaking members of the audience. ( New Brunswick is the only officially bi-linguial province in Canada)

The RS then did It's Only Rock'n'Roll. Then came Live with Me, then Tumbling Dice. This was a great version, maybe better then in Boston.

Other songs done were Rough Justice, Ruby Tuesday, You Can't Aways Get What You Want, All Down the Line.

The tribute to Ray Charles was amazing, as in Boston. Mick's voice sounded real fine on The Night Time is the Right Time. Mick and Lisa Fisher are two great voices on this song.

The Intros were even cool, ,....Ronnie Wood seemed like he was having a great time, coming to the edge of the stage, blowing kisses to the crowd.

Then Keith came out to do his 2 songs, The Worst and Infamy from A Bigger Bang . He said ," It was good to be here, It's good to be anywhere', which got a laugh from the crowd. His guitar work on Infamy was amazing, ...I forget how good he is, he plays so effortlessly.

Miss You brought the band and the crowd onto the B-stage fun. The crowd loved getting to see the boys up close. This was followed by Oh No, Not You Again.

While on the B-Stage, we heard Midnight Rambler. This extended version was one of the best of the night.

Also heard were Honky Tonk Women, Symparthy for the Devil, Jumpin' Jack Flash, and Brown Sugar.

But for me the highlight song was Paint It, Black. 1st time I have heard in concert. I can still hear it!

The encore was just 1 song, ....Satisfaction. Just the 1 song , but still the crowd was happy at the end of this concert. The best concert so far held in this part of the world,....I am not sure who can top it, .maybe the Stones on their next tour!
---
Review by Matthew Landry
The day couldn't have gone better: clear blue skies with white, fluffy clouds and never a sign of potential rain. After 4 opening acts (Les Trois Accords, Our Lady Peace, Maroon 5 and The Tragically Hip respectively), we were ready for the real reason we were all there today. At 8:30pm sharp, the crowd went nuts at the sound of the first 3 notes of "Start Me Up", highlighted by some pyrotechnics. Everyone was singing along: "You make a grown man cry..."

Having checked out the Detroit setlist the night before, I really didn't expect the next song to be "It's Only Rock And Roll". Though it obviously works well as a show closer, I think it also went over really well so early in the show. It seemed to set the mood for what was --- obviously --- a Rock 'n' Roll show.

After "Live With Me", a song I'm not that familiar with, came "Tumblin' Dice", which was awesome. Then they introduced us to the first new song: "Rough Justice". I have to say, this song is really good. In fact, all the new songs (3 in total) sounded great. I can't wait to buy the new album on Tuesday!

There was a short pause at this point, almost as if the band were making a change in the setlist? Mick said something like (I'm paraphrasing here): "Now we're going to take it down a notch...". Cue the piano intro to "Ruby Tuesday", which the crowd really got into. From their reaction, I'd say it was one of the crowd favourites last night. From there we were treated to an early "You Can't Always Get What You Want" (another song I expected to hear near the end of the show).

Next up was "All Down The Line" which, I have to admit, is another song I wasn't all that familiar with. It was a great number though, so now I'm gonna have to go buy that album!

"(Night Time Is) The Right Time" was really cool. Mick introduced it by saying that Ray Charles was someone that influenced them a lot early on. I was singing the "night and day..." part, which was fun. Lisa Fischer was especially amazing on this one. She really gave it her all and put a lot of soul into it. She must love performing that one.

Then Mick introduced the band and left the stage as Keith took to the mic and said a few words: "It's great to be in New Brunswick..." He smiled, stepped back for a second, then added: "It's great to be anywhere!" He sang "The Worst" and "Infamy", the 2nd new song that night. I don't know the name of the male backvocalist who sang right next to Keith, but together they were amazing and had great chemistry.

The next song was "Miss You", surprising most people as a part of the stage glided down to the end of the b-stage. From where I was I couldn't see much of the band for the next few songs, as one of the "sound tents" was blocking the view. It was okay though, because I knew it was only temporary. Still, I looked around and it seemed like the people around me weren't all that pleased. Oh well, it gave others a chance to see them up close, so no complaints here. Especially considering the songs they played while on the b-stage. "Oh No, Not You Again", the 3rd and last new song played last night, was yet another great indication of how good the new album is going to be.

What followed was the highlight of the night for me: I heard a few piano notes and somehow I guessed "Midnight Rambler?". A few seconds later came that amazing guitar intro and I was blown away! I love the live version on Hot Rocks and last night's version sounded almost identical, complete with all the different parts and tempo changes. People really got into the last, more upbeat part, jumping and dancing around. I still can't believe they played it!

This was followed by yet another one of my personal favourites: "Honky Tonk Women". In my opinion, those two back to back were a really great choice. Near the end of the song, the b-stage returned to the main stage where giant, inflatable lips, complete with a protuding tongue (the classic Stones logo), had filled the "roof" over the stage. They were pink with flowers: a nice nod to the 60s, I thought.

Once the lips were deflated, the lighting and screens went red, as the band broke into "Sympathy For The Devil". Mick appeared on the "roof", where the inflatable lips had just been, and when the chorus came, two giant fiery torches lit the top corners of the 7-story stage. What was truly astouding was the heat coming off of them, which was felt instantly! I can't imagine how hot it must be on stage, let alone up at the top of the stage!

Another great surprise was "Paint It Black", which really struck a note with the crowd. Everyone was very familiar with this one. The tv screens were black & white, complete with a negative and strobe effect: a clever production choice.

Then it was right into "Jumpin' Jack Flash" which, in my mind, is unarguably THE quintessential Rock 'n' Roll song EVER written! A great follow-up was "Brown Sugar", with Mick urging the crowd to sing along to the "Yeah, yeah, yeah, wooh!" part. He even had us echo a high-pitched "Ow!" (picture that vocal sound Mick does in the intro to "Sympathy For The Devil").

After a long outro, the band left the stage for a moment, then returned for one more song: "Satisfaction (I Can't Get No)". And it was a really long version! I'd guess it was around 6 or 7 minutes long, with Mick running down the b-stage as a kind of farewell to everybody. Then after they'd said their good-byes, we noticed the "house lights" hadn't come on yet, so as others were starting to leave my friends and I decided to move closer, hoping to hear another song. It didn't happen, but the fireworks that came moments later were the perfect send off to what was a truly amazing event.

I still can't believe they came to such a small town like Moncton, though I'm forever grateful. An amazing setlist, a great performance, long live The Rolling Stones and long live Rock 'n' Roll!
---
News links
---
Thanks to Iris Nölle-Hornkamp, Joelle Bonnet and Robert Jacob for sending news links!
---
The IORR magazine
For exclusive reports and pictures from the Rolling Stones tour opening see the IORR magazines.




It's Only Rock'n Roll 1980 - 2005
© The Rolling Stones Fan Club Of Europe