---
These are the latest Rolling Stones news and updates for you! IORR is a non profit fan club run by fans for fans. All parts of the It's Only Rock'n Roll web site is copyright of The Rolling Stones Fan Club. When using information from this site, please include a reference to IORR and the main web address www.iorr.org.
---
---

The Rolling Stones
Comerica Park, Detroit, MI, USA
Wednesday, August 31, 2005
The set list

Start Me Up
You Got Me Rocking
She's So Cold
Tumbling Dice
Rough Justice
Back Of My Hand
Beast Of Burden
Ain't Too Proud To Beg
Night Time Is The Right Time
--- Introductions
The Worst (Keith)
Infamy (Keith)
Miss You (to B-stage)
Oh No, Not You Again (B-stage)
Satisfaction (B-stage)
Honky Tonk Women (from B-stage)
Out Of Control
Sympathy For The Devil
Jumping Jack Flash
Brown Sugar
You Can't Always Get What You Want (encore)
It's Only Rock'n Roll (encore)

Show start :  9:20 pm
Show end   : 11:25 pm

---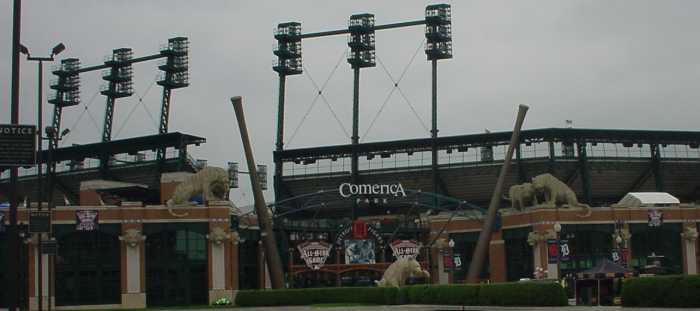 ---
OnStage Review by Kurt Schwarz

The Rolling Stones have topped themselves this tour with a unique and refreshing idea of putting people On Stage, or rather "In Stage" at all of the stadium dates on this tour. My wife and I just returned from the Detroit date at Comerica Park, home of the Detroit Tigers, which is a relatively new baseball stadium. I was lucky enough to buy two On Stage lower level, Box #4, seats from Ticketmaster, even though I already had purchased floor seats through the Fan Club Presale. It was the best thing I have ever done.

After checking in at will call, we proceeded to a table inside the venue to pick up our wrist bands and laminated passes. We were allowed to watch the opening band, Maroon 5, from a special area inside the stadium, but the wait was killing me. Finally, after the band ended their set, we were gathered into a line and lead into the stage. The walk down through the inner workings of the ballpark lead us back on to the field and back behind the stage. What a stage! It really is huge and two flights of stairs lead us to our lower lever box. Everyone got right on the rail and waited. Looking out on to the crowd was really special and I instantly spotted my friends and family waving frantically at us from the middle of the floor. They looked jealous and I must admit that I felt GREAT!

Our box was Stage Left, Keith's side, directly above the horn section and it had to be the best spot in the set up. We had personal interaction with almost everyone, Mick waving, pointing and singing to us, Keith giving us his love, Daryl loved us and was looking up constantly, Lisa gave us that incredible smile of hers, Ronnie with his bicep flex, and the horn guys looking up every time they hit the stage. After the final bow, Charlie looked up and smiled. Perfect. I am telling you, it KICKS ASS.

They have a cash bar set up there and portable toilets for convenience. I must say that during Miss You, I ran to the bathroom since the band was now entertaining the rest of the crowd on the B Stage, and the sound in the portajohn was better that anything I've ever heard in the old Pontiac Silverdome, (RIP and good riddance.) You could see, feel, and hear everything and everyone perfectly from our vantage point. After the show, my friends told me that I had been on the big screen. It is definitely a place to pretend that you are a RockStar.

Go to this show and sit in these seats! A once-in-a lifetime event that is not worth missing. I thank the Rolling Stones for making it an unforgetable evening.
---
Comments by Rich, Karen, and Keith Richard Kaczmarek (age 3)
We decided this morning to drive from Chicago to Detroit for the show. Our son was very excited and had certain songs he was looking forward to hearing, none of which were played tonight.

We all enjoyed Start Me Up, although there were some sound problems, and the NFL Football video felt more like a commercial than a show starter.

Our son's first request of Shattered had been replaced by She's So Cold, which was wonderful for us to hear for the first time live.

Night Time is the Right Time was great. It's nice to hear Lisa singing something new.

The moving stage was cool. Our son said it looked like a boat moving through a sea of people. The moving stage was a very innovative way to move to the B-stage and use that time playing a number rather than running down a runway.

Satisfaction and Honky Tonk Women sounded better than ever before.

Out of Control was well-received and it's great to hear it.

Overall, it was fantastic to hear the guitars so prominently throughout the night. This is a show that definitely features Mick, Keith, Charlie, and Ron.

We share the sentiments of the other Stones' fans of hearing many of the same songs on every tour. We were hoping for a little more variety than the "standards" that still fit the "hits" that everyone enjoys hearing.
---
---
Review by John Bielusiak, Lansing, Michigan
Each and eveytime I see the Stones, I am simply amazed how they always are able to come up with something novel and unique.

Myself, my friends Jana and Kathy arrived in Detroit around 3 pm and went to a pre Rolling Stone's party at the Hub where we met some wonderful people. Around 6:30 we headed over to the stadium. We had 2nd row seats and were simply amazed at the massive stage that was built. The on-stage seating was something I had never seen before, but I was glad we had 2nd row because it put us so close. The sound was absolutely crisp and clear. That was a concern I had prior to the show, but no worry. The instruments did not interfere with Mick's vocals. A highlight for me was the Stone's adding "Ain't Too Proud To Beg", which fitted in nicely since Detroit is Motown. Mick's voice is the best I have heard. He sounded excellent for the Lick's tour, but his voice seemed even better this time around.

Again, Mick worked the stage with an agility that is unmatched by anyone in rock & roll today. There were a few pyrotechnics & fireworks at the end, but the nice thing is that the massive stage and props did not overshadow the most important element, which was the music.

One interesting and unique addition was how the B stage simply moved from the main stage to the center of the field using hydraulics or some system. Again, another novel idea the boys came up with.

I am not going to analyze each and every song but simply want to add last and foremost, that the Stones are true professonals and we could see it coming through on every song from start to finish. The jokes about the Stones by Leno & Lettermen are so lame that they are simply boring. Mick said it best: "Dave, I will do your show if you will come and do mine"
---
On-Stage review
by Cardiff Giant
My second show on this tour, after seeing Fenway #2. This time I was on-stage, along with a buddy, we made the trip from western New York State! Second level nearest to the middle of the stage and the video screen. Before the show, we got our special on-staqe laminate lanyards...way cool! We were able to hang out on the Pepsi deck in right field during the opening act, Maroon 5. As we looked down below, we saw Ronnie Wood and his wife watching Maroon 5 from the right field tunnel entrance. Ronnie applauding after the song. very cool!

About 30 minutes before the Stones took the stage we were led as a group down into the bowels of Comerica Park, into the backstage area with lots of equipment and crew, I gave out a yell of "hello, Cleveland" (from Spinal Tap) which got everyone laughing) and then out through the tunnel and along the right field warning track to go onto the stage . As we walked into centerfield, we went by the pyro set-ups and into the steel structure. Up the stairs to our box. We were told we could not bring binoculars or cameras. I had both in my pockets. Great views and great photos.

Once we were up into the boxes, it was interesting to look around and see all the lighting and stage steel. As you've probably seen, the facing of the stage balconies is grey steel, but up close it appears to be a fiberglass material, with inset lighting on each level that projects the colors onto the balcony fronts. Also, behind each box on the steel frames, there are thousands, and I do mean thousands of tiny multicolored lighting "dots" that are used to create the background light schemes that you see behind our shillouette shadows as we stand in the on-stage boxes...again, very, very cool. The lighting design is incredible. Our view from on-stage is great. I had seats right behind the stage in the first row at two Boston FleetCenter shows on the No Security tour, so I knew what to expect, but in a stadium the expansive view was awesome.

We could feel the heat up close as the pyro opened the show and Start Me Up got us underway. The shell paper from the firework casings fluttered through the air as the song got underway, something you only experience on-stage! The big video screen showed NFL Films clips of current star players... obviously this will be used on the NFL telecast next week. Keith did his great improvised rhythm riff on the middle transition of You Got Me Rocking...always a favorite for me, for that reason. She's Co Cold was a bit slower than in Boston, and it worked perfectly. Great groove laid down by the band. We could read the teleprompter, which had Mick welcoming everyone from Dearborn and Sterling Heights. They choose a couple of suburbs to highlight at each show. Funny stuff! Mick also read from the teleprompter about Detroit being the home of Super Bowl 40.."it's gonna be an exciting football season".

Tumbling Dice was great as always, Rough Justice simply rocks. Keith is loving this song as he romps through it. Beast of Burden was soulful, great vocals. Back of My Hand is gritty blues, back to basics. Mick on slide guitar, a real treat.

One of the biggest highlights was the addition of Ain't Too Proud to Beg ! Mick said they had to do a Motown song here in Detroit. And it was perfect. Guitars were loud, the groove was great, Vocals were outstanding. And we got a double dose of soul with Night Time, and the great Lisa Fischer vocals along with Mick. The view from on-stage is great to watch the entire band really work, and communicate. Tempo changes, improvisations....great to watch.

Band intros were next and then Keith takes over for a great version of The Worst. Tim Ries on clarinet, right up front and Bernard Fowler joining Keith for vocals, and of course, Ronnie on steel guitar. After the song, Keith thanked Tim and Ronnie. Then it was time for what is becoming my favorite new song, Infamy. Keith and the band really cook on this funky groove. After the song, Keith said he made it through his set, and "it was a minor miracle". No one compares to Keith.

Mick returned for Miss You and they were ready to move on down to the b-stage. From our on-stage location you could see the crew move the keyboards into place on the middle stage section and slide Charlie's drum kit forward so the whole outfit could slide out into the crowd. Amazing to watch. To see the stage move away was great, the sight lines were very unique, seeing the band work the songs as the crowd was framed in the background at their feet. Oh No Not You Again was rocking with Keith leading the way. Satisfaction was hard driving with great guitars. We were able to see the inflatable lips and tongue spring forward as Honky Tonk Women got underway. Keith did his opening chords and then raised his arms to the crowd in the back of the stadium, pushing them to get on their feet. A great Keith moment...very energetic! The stage moved back to the front and we were ready for the home stretch.

I always enjoy Out of Control. Mick's effort on this song is amazing. The work by Charlie and Darryl is so good. They create such a deep pocket as the rhythm section, allowing Keith and Ronnie to dive in with great riffs. Mick on the harp is always a highlight. From our spot, we watched as Mick threw the harmonica towards the drum kit, it bounced back to the front of the stage! Without missing a beat, Mick continued his singing and gave a backwards kick to the harp and slid it out of the way. Another great thing you could see only from on-stage. Sympathy for the Devil was very hot, Mick starts out right below us on the catwalk bridge. Keith absolutely loses himself in the song, and always finds new riffs to pop. He carries the song, changes it on a dime, and owns it. Jumping Jack Flash was as electric as ever. Keith again just goes crazy. He hit the quick rhythm riff late in the song, just as he did on the Four Flicks stadium DVD (as he walked the side catwalk with Mick- London..you can't miss it.) Keith and Ronnie urged each other on, and Keith gave Ronnie a shove to the back. Brown Sugar kept the party going. Bobby Keys was right on, as always with the sax solo. Keith stood below him and admired the work. The pyro was huge after this song closed the main set.

You Can't Always Get What You Want got the crowd going in the encore. and It's Only Rock 'N Roll continues to grow as a show closer thanks to great work by Keith. His riffs re-make this song every time they play it. Final bows were very playful, with hugs and shoves. Charlie had a big laugh with Bernard and gave huge waves to the crowd in the on-stage boxes. We could see the motorcade leave below us from the back of the stadium, and then the huge final fireworks, above us, in front of us, behind us.

To watch the interaction from on-stage is incredible. Well worth it. And I still use binoculars to focus in on each band member. From above, to see the work by Keith, filling so many notes and just flowing with the song. He never forces anything. Mick working the tempo changes within the song, Charlie looking effortless and holding his sticks so loosely, but creating huge beats. Ronnie being there to weave with Keith and move up front when he takes a solo. Just a great show from a great vantage point. Sound is great, guitars are way up in the mix, and clear. There were lots of extra cameras to film for the NFL show. Big crane camera at the b-stage, multiple cameras in front. It will be great to see what is used on TV.
---
Review by Patrick D. Berry
These are my impressions of the Detroit show:

The Rolling Stones put on a good show for Detroit. That being said, I didn't think it was as good as 2002, 1999, 1997 or 1994.

I had a really good seat, 19th row, right on the center aisle. The sound was excellent, though a bit mushy to start and the horns were way low in the mix.

Start Me Up - same as it ever was.

You Got Me Rocking - good version

She's So Cold - fun to hear this one

Tumbling Dice - nice, but horns not prominent in the mix

Rough Justice - liked this one a lot

Back Of My Hand - i REALLY liked this one

Beast Of Burden - always nice to hear

Ain't Too Proud To Beg - nod to Motown, great version

Night Time Is The Right Time - one of the highlights of the evening

The Worst (Keith) - the title speaks for itself

Infamy (Keith) - i REALLY did NOT like this one

Miss You (to B-stage) - same as it ever was. as the stage moved by i was crushed into the rail by yahoos wanting a glimpse

Oh No, Not You Again (B-stage) - an absolutely ripping version of a throwaway tune. this is when the show really started to build up some steam

Satisfaction (B-stage) - same as it ever was, which is rock and roll at its finest.

Honky Tonk Women (from B-stage) - ditto!

Out Of Control - i like this one and this was a good version. nice lighting.

Sympathy For The Devil - very good version, great interplay between Ron and Keith. Two huge guys beating the shit out of each other right next to me added to the menacing effect.

Jumping Jack Flash - See "satisfaction" above

Brown Sugar - no surprises here, just bone crunching guitars and rock and roll showmanship as no one else can perform.

You Can't Always Get What You Want (encore) - when Mick came down the walkway and stopped not 10 feet in front of me, the charisma just poured out of him.

It's Only Rock'n Roll (encore) - BUT I LIKE IT!

As I said, this was a good rock n roll show. For $400 (or $160 or $95 or $60), it should have been great. With such a wealth of material, a few rarities could have pushed it over the top. Replace Start Me Up, You Got Me Rocking, Tumbling Dice, The Worst, Infamy, Miss You, and IORR with some deeper tunes and you have yourself a mindf**ker that still placates the masses.
News links
---
Thanks to Jim Pietryga for the great photo of Mick, and also of the final bow.
Thanks to Iris Nölle-Hornkamp and Patrick D. Berry for sending news links!
---
The IORR magazine
For exclusive reports and pictures from the Rolling Stones tour opening see the IORR magazines.




It's Only Rock'n Roll 1980 - 2005
© The Rolling Stones Fan Club Of Europe