---
These are the latest Rolling Stones news and updates for you! IORR is a non profit fan club run by fans for fans. All parts of the It's Only Rock'n Roll web site is copyright of The Rolling Stones Fan Club. When using information from this site, please include a reference to IORR and the main web address www.iorr.org.
---
---

The Rolling Stones
Estadio Vicente Calderón, Madrid, Spain
Thursday June 28, 2007
The set list
Start Me Up
Let's Spend The Night Together
She's So Cold
All Down The Line
Monkey Man
You Can't Always Get What You Want
Sway
Night Time Is The Right Time
Tumbling Dice
--- Introductions
You Got The Silver (Keith)
Happy (Keith)
Miss You (to B-stage)
It's Only Rock'n Roll (B-stage)
Satisfaction (B-stage)
Honky Tonk Women (to main stage)
Sympathy For The Devil
Paint It Black
Jumping Jack Flash
Brown Sugar (encore)
The Rolling Stones     :  10:15pm - 12:15am

---
---
Review by Iván Guillen
Yesterday I went to the Stones show in Madrid. First of all, I´d like to ask the band for some words in El Ejido, because 2 people have died today in Madrid while working in the dismantling of the stage after the show because of an accident. Those are the people who make that everybody have fun and they don´t get any applause, so I give a special applause to them from Madrid and hope that the band will do it in El Ejido tomorrow. Thank you.

Let´s go with the show:

We had a real good time, though the show wasn´t the best I´ve ever seen, we had the chance to see a very special show. The good things? Ronnie was excellent on guitar and he had to play more than in other shows. Why? Becuase in the 1st hour, Keith played not as well as usual he was a bit dispersed and disconcerted.

The sound in the beginning of the show was bad, and the wind didn´t help to solve it a quick as they usually do. If you join this to the setlist chosen for the first part of the show, this made that the audience wasn´t as hot as they are in Madrid. In Madrid, everybody shouts, dances, have fun and sing the songs along with the band, but maybe not all the people in a Stones show, knows the lyrics for Monkey man, all down the line, she´s so cold or Sway. This made that most of the people stared at the stage but they didn´t sung as usual.

Jagger was excellent as the best frontman in the world that he is, good on vocals, making people have fun, and made one of the best songs I´ve ever heard with Lisa Fischer: night time is the right time, in a special tribute to Ray Charles.WELL DONE Lisa!!!!

Keith woke up when he had to sing his 2 songs, GREAT in "You got the silver" both Keith and Ronnie and good on "Happy".

"Miss you" was the song chosen for the travel to the BStage and it wasn´t very good, great "it´s only rock and roll" and Satisfaction was , as usual , one of the best songs in the night.

Keith forgot the rythm in the beginnig of "Honky tonk women" and made Charlie go crazy, but they solved it very well and made a great performance, as well as "Paint it black": strange beginning but good performance.

The last hour was great, everyone played excellent, Chuck Leavell made a great solo in Honky tonk women , jumping jack flash hadn´t saxo and trombones (I missed them) and Brown sugar was great to finish the show with a great Bobby keys . on stage.

See you tomorrow at El Ejido and have fun. For one minute (as you can see in the picture) I felt like a Rolling Stone, hugging Charlie and laughin with Keith.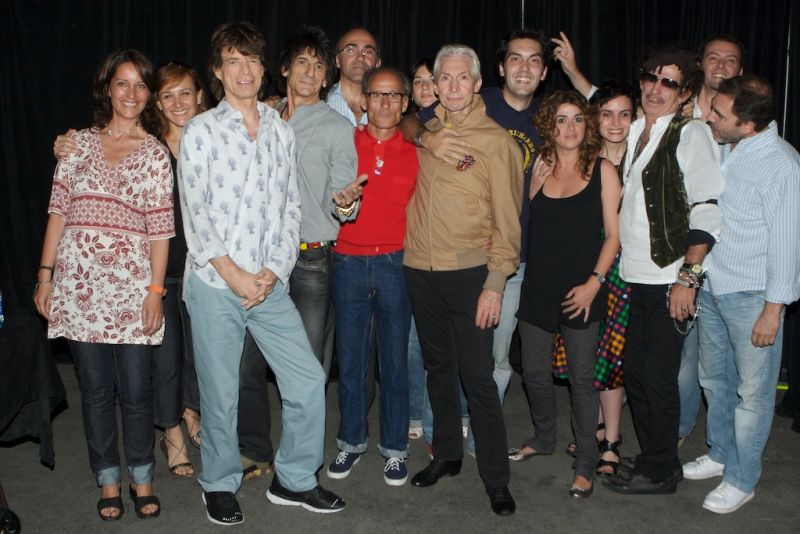 ---
Review by Emilio
The set list: just amazing! It was my sixth time watching the Stones in Spain and never got the chance to hear such wonderful oldies like "She's So Cold", "All Down The Line", "Monkey Man", "You Can't Always Get What You Want" and "Sway" all in a row. Stadium shows are usually "greatest hits" shows with one or two surprises, but this time the boys wanted to do something special for Madrid, and sure they did! And as far as I remember, YCAWYW and "Sway" were played for the first time in this european leg of the tour. I consider that as a present for Madrid audience and an apologise for the cancellation last year. The first half of the show was absolutely magical, at least it was for me. If you add a smoking cover of "Night Time is The Right Time", including an overwhelming singing by Lisa, we've got a winner. I can tell you the audience went crazy on that one!

I saw them in Barcelona last week and I also enjoyed the set list very much ("Ain't Too Proud To Beg"!!!!), but Madrid really beats it. Like many others, I find strange they did not play any song from "A Bigger Bang", but it was ok for me as long as I can listen to so many classics for the first time.

The second half of the show was the usual bunch of warhorses (although "Paint it Black" still feels like a surprise to me, I love that song so much...), including the B-Stage. With ups and downs due to Keith, but good anyway. JJFlash was great, I must say. No matter what, Keith is unable to play bad on that one! Probably the best moment for him last night. He seemed the Keith we all know, bashing his guitar like hell, throwing powerful chords to our faces. Terrific.

The performance: well, mixed emotions here. Mick and Charlie never fail, that's for sure, so I won't say anything else. Outstanding as always. About Keith I'm sorry to say that he's obviously ill. It's painful to say that since Keef is like a God to me, but he's not well. He seems to be lost on stage for long periods of time. I was in the first row, and I could see clearly how Ronnie had to stand in front of Keith with his guitar, showing him how the chords were on "She's So Cold". Later,during his own set he almost fell on his back during "You Got the Silver" and completely messed up "Happy", missing the lyrics, not knowing when the solos came (you could see the worry on Ronnie's face when Keith told him to do the solo before it was supposed to) and making evident gestures for the band to finish the song as soon as possible. At least he seems to be aware of his own lack of punch, but it's sad to see him suffering that way. I don't know what's going on with him, but I hope he gets well soon.

A detail here, it's touching seeing the rest of the band giving ol' Keef as much warm as they can. Even Mick sometimes gets close to him with supporting gestures. For me, one of the most beautiful moments of the show came when Ronnie took Keef by the shoulder to the front of the stage so the audience could show their love for the man. It's odd but I remember Ronnie so messed up in past gigs with Keith supporting him, and now It's Ronnie the one taking care of his mate.

So the point is that Keith's playing was a mess sometimes (more than usual, I mean), but he was correct most of the show. And, like in the past, when one of the guitarists has a bad night, the other one is perfectly able to go on with she show on his own, as Ronnie did in Barcelona and Madrid. Ronnie's the man on this tour and that's good news after all, since he's been through very bad times on stage in previous tours.

So, a very good show, with a killer first half, powerful sound, great audience and magical moments. If you ask me if it's still worth to attend at a Rolling Stones concert, I'll answer yes without thinking it twice.

One last thing, the first supportin act: Loquillo y los Trogloditas. A living legend in spanish rock, they were wondeful yesterday. They deserved hitting the stage after Jet, not before them. During Jet's boring set, many people still asked for more Loquillo. Significant, right? If you are not from Spain and want to know how good spanish Rock & Roll can be, check this band!

Greetings from Madrid to you all.
---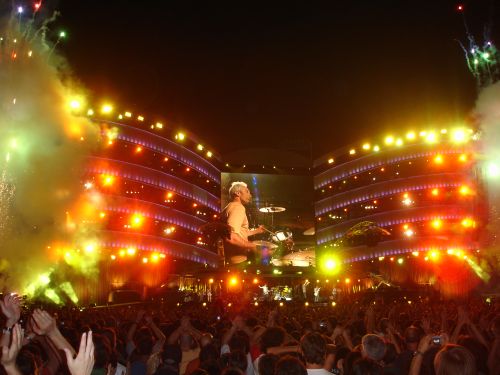 ---
Review by by Sarah from California
Well after 14 ABB shows in America this was my first show in Europe since my first ever at Knebworth in 1976. I had front row in section 214 and it was awesome. The show took off immediately and rocked. Apart from a power crazy security guy who kept running up and down snarling and almost ruined Sway for me! Mick really got the crowd going on the B stage with Satisfaction and, yes, Keith did have a couple of worrying moments but Ronnie stepped in. All in all it was a great show, everyone looked like they were having a great time and I am so happy to have once again seen the greatest rock and roll band in the world. Hoping for Can't You hear me knocking or Midnight Rambler in El Ejido for my last show of the tour. And Lisa, Lisa, Lisa you are the sexiest woman alive, night time is the right time oh yeah.

Great to meet Paulywaul, Beast, Susanne, Isabella and others from this board and stonesfrk I am so happy you got front row on the rail for your last show even though you are sunburnt and have sore legs. Rock on Boys! Sarah, aka Sparkly Top
---
Review by Susanne and Isabella, Vienna/Austria
Without any doubts, this was Mick´s night! From the very beginning his energy set the stage on fire. And the audience went with him and this made Mick acting even more excentric. Especially we liked his extraordinary dancing during Monkey Man. You could see he really enjoyed this evening and the "spanish flair" - the crowd was hot and so was Mick.

Indeed, the whole band seemed to be in a good mood at this show - they were joking and laughing with each other. Sometimes Mick moved his bandmates like figures on a chessfield. He clapped Ronnie´s ass ("great solo, man"), he took Keith´ arm ("move forward, they want to see you"), always with a smile on his face, and he kept everything going.

Keith was Keith himself, as usual. He seemed to be a little tired, so Ronnie took over more of the guitar parts. This time also "You got the silver" was not as soulful as in the last shows. Keith sang it way too slow and Ronnie really had to work hard to keep the rhythm. When Keith danced around him during the solo he got on his knees and almost fell behind - but he managed to get up again, smiling over the whole face and gave Ronnie a big kiss. After the song Ronnie acted like throwing his guitar on Keith´ head - of course he did not do it... And Keith, when will you learn the verses of "Happy"???

Later, on the B-stage, Keith messed up the intros of "HTW" and "IORR"; But in the meantime we are used to it :-))

Ronnie was superb again. His slide playing on "Monkey Man" went through and through. Y a la batteria Charlie - powerful and relieable as ever. The setlist was covered from last year; at least we got 3 new songs on this summer leg: "Sway", "YCAGWYW" and "The right time (Day and Night)", hommage to Ray Charles.
---
Review by Mariano Muniesa
ROLLING STONES IN MADRID; STILL THE GREATEST If seven days ago we spoke, or rather we wrote about which the Stones came to Barcelona to pay the debt opened in 2006, and they paid it offering a formidable show, in Madrid repeated the occasion and the payment of that debt, as it could not become of another way, took control of another great concert, another full Stone rock wild party of fabulous songs, moments that are going to be recorded for ever in our "stone" memory like unforgettable and perhaps unique historical moments.

Keith Richards, who looked like apathetic and dull in Barcelona, and not very motivated in Donosti, from the first moment appeared on the scene of Vicente Calderón, smiling, rocking and doing it conscientiously. For the first time in their concerts in Spain, an intense "Happy" instead of "Wanna Hold You" gave to us, and next to authentic and rediscovered master of the Slide Guitar as Ronnie Wood has been revealed us, it returned to move to us with a "You Got The Silver" to take everybody to the seventh heaven. That is our Keith!

"Monkey Man", "Sway" and a vibrant "You Can´t Always Get What You Want" were the most remarkable new songs of the set list next to a version of "Night Time Is The Rigt Time" of Ray Charles whom replaced the traditional "I Go Crazy" of James Brown, with Lisa Fischer singing and dancing in her traditional erotic way with Mick, a thing that I missed of the previous tours.

And in the final part, the "Jumpin´Jack Flash" more energetic, strong and sweeping that I have seen them and listened in all its Spanish tour. I always come up that never I can be one hundred objective percent nor one hundred percent aseptic journalist when I speak or I write on the Stones because I cannot avoid that the heart and the emotions of fan control to the supposed coldness of which approaches them like mere journalist. And trying to see them like a simple rock group, like spectacle, even with the critics that can be done to them or the deficiencies that can be indicated, when Mick Jagger dance and sing the verses of "Sympathy For The Devil" or as the group attacks with all the force of a hurricane "Brown Sugar", with the age whom they have and the punished thing that are, I cannot by minor return to astonish to me before them and to render my sincere respect to "The Satanic Majesties".

And now, in a few hours, we go away towards the Ejido. History follows, and rock´n´roll don´t stop...
---
Review by Borja Menéndez, Madrid
I arrived at the stadium at 2 pm. approximately with one friend. It was extremely hot down there, so we decided to buy some water in order to be able to spend so much time waiting. We were standing right next to one of the doors, but some guys told us that the main queue would be at the front door, so we had to move there. The doors were supposed to be opened at 6.30 but they finally did at about 7. We run as quick as we could to get good places. We finally managed to be 8 metres far from the front and next to the row where they go to the b-stage.

We were weary, but Loquillo y los Trogloditas did a few songs and made us to have some fun. Then, Jet. I must say that it's an awful band. They are just too noisy but with no sense anywhere. They are not worth watching at all. I hated them. And more than any, I didn't like the singer. He just shouted and nothing else.

But at 10.15 PM, after long waiting, the scenery lights turned off and alter the usual video on the screen, the chords for Start Me Up sounded. The crowd got crazy. They did a great performance in this one. Alter that one, Let's Spend the Night Together, known by everyone, was played. It was really fun and the guys were on fire. Mick running all around the stage and the rest of the band playing their best. When it finished, Mick spoke a few words in a really acceptable Spanish apologising for what happened last year.

Then the first surprise, She's So Cold. Much fewer people knew this one, but they played it amazingly and it was one of the best of the night, for me. The two that came alter that one, All Down the Line and Monkey Man…………….wow. The first sounds of this second one were just like music from heaven. They got them back to their best era. I was totally excited, because some reviews I had read about the other shows this year told that Keith wasn't playing too good, or that the band had got old……… That's a lie. The Rolling Stones were best than ever. Everybody's in great shape. Maybe Keef has got old, but he still does his best and always has a smile on his face for us.

Alter all that, maybe the best present Mick could have given us: You Can't Always Get What You Want. It hadn't been played before during this tour, so with this one the crowd really got ecstatic. It's such a beautiful song. One of their best, certainly. Everybody sang all the chorus with Mick at the end of the song. They made a long version, so we enjoyed more than ever. Then another one played for the first time this tour: Sway. I would have never thought that they would play this one, but with the first chords, it was great. What an amazing setlist, so far!

Then, instead of I'll go Crazy, which they have been playing in all the concerts in Europe this year, they played Night Time is The Right Time, from Ray Charles. I think it was even better than when they play the James Brown's one. Keith Richards sat down next to Charlie Watts, on front of the drums, maybe because he was tired. Never mind, he maybe did his best performance of yesterday. That's what he likes, playing old rhythm and blues. Lisa Fischer later came to sing in this song and she was one of the most cheered of the night. She has the best voice I've ever seen live. What a great singer, the Stones are lucky to have her! One of the hits last night, for sure. Mick later spoke some words in Spanish. He was really trying to please their fans.

Then Tumbling Dice, as good as usually. And after it, Mick presented the band. With Lisa and Bobby the crowd cheered really loudly. Then, of course, also with Ronnie, who was really funny, as he always is, and Charlie, who did a solo.

Alter that we all cheered for Keef. He was really smiley and offered us You Got the Silver. I swear, he sang better than I've ever seen him sing. Ron played the slide guitar, and while he was playing solo, Keef got next to him and looked at his playing until he almost fell down. But he just laughed more and more. Then Happy. He didn't sing it so good, but it was quite nice to listen to his best song. I think it was the best set for Keith so far this year.

Then, going to the b-stage, they played Miss You. Later, there, IORR. They both sounded as they did thirty years ago. It's amazing how they still have the flame to play like that.

Right then, I must say, the absolute greatest hit of the night, Satisfaction. The crowd cheered louder than with any other song and they did the greatest version I have ever seen onstage. The solos were clear and perfect, and everybody played great. Thank you for this one, Stones.

With Honky Tonk Women, Keith committed some little mistakes doing the solo and at the beginning, but the song itself was great. Sympathy for the Devil was fantastic, specially Mick's singing. Keith had a good performance on this one.

Paint it Black had a weird beginning by Keith, but he managed to get his edge and finally played better than on most of the others. It was great listening to this oldie. Back to the glorious days.

With JJF, everybody was on fire. Keith felt so into it. He was more participative than ever, and did some wonderful riffs. Maybe the most enjoyable of the night. It rocked all the place!!!

Finally, Brown Sugar. They did a really long version, and Mick ran all along the catwalk. A stunning ending.

As a conclusion, I must say that It was the best I've ever seen. They are the greatest rock and roll band of all time yet. The best spectacle on Earth…whatever. Everything is few compared to the feeling you have when you see them play. They still can rock, as great as always, and they will go on for a long time...
---
Please send your show reviews and comments by e-mail to: [email protected].
The reviews will show up here soon! Thanks!
---
IORR Forum comments and reports
Madrid reports
---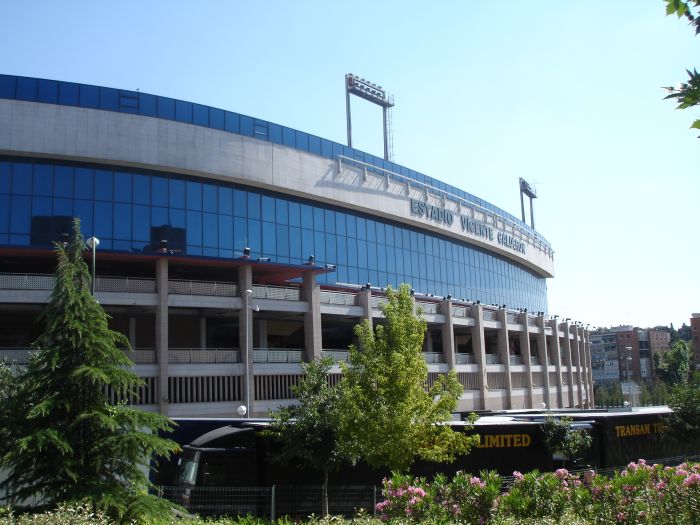 ---
News links
... coming ...
---
Photos by IORR.
---
The IORR magazine
For exclusive reports and unique high quality pictures from the Rolling Stones tour and more see the IORR magazines.
---




It's Only Rock'n Roll 1980 - 2007
© The Rolling Stones Fan Club Of Europe