---
These are the latest Rolling Stones news and updates for you! IORR is a non profit fan club run by fans for fans. All parts of the It's Only Rock'n Roll web site is copyright of The Rolling Stones Fan Club. When using information from this site, please include a reference to IORR and the main web address www.iorr.org.
---
---

The Rolling Stones
Estadio de Santo Domingo, El Ejido, Spain
Saturday June 30, 2007
The set list
Start Me Up
You Got Me Rocking
Rough Justice
Bitch
Live With Me
Ruby Tuesday
Midnight Rambler
I'll Go Crazy
Tumbling Dice
--- Introductions
You Got The Silver (Keith)
I Wanna Hold You (Keith)
Miss You (to B-stage)
It's Only Rock'n Roll (B-stage)
Satisfaction (B-stage)
Honky Tonk Women (to main stage)
Sympathy For The Devil
Paint It Black
Jumping Jack Flash
Brown Sugar (encore)
The Rolling Stones     :  10:40pm - 12:35am

---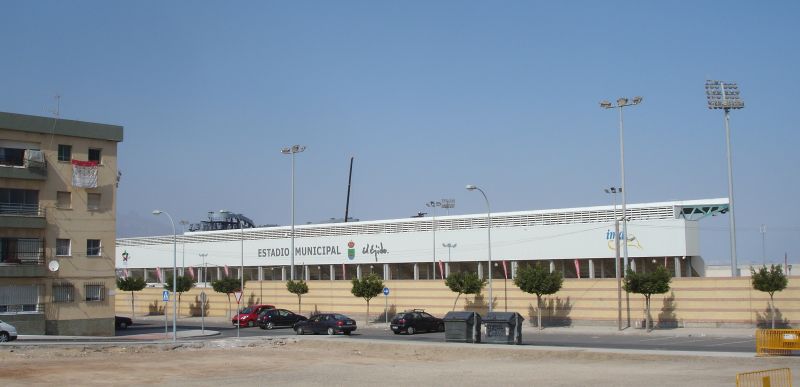 ---
Review by Sarah from California
This was to be a special show for me. Not only was it my last of the ABB tour on a full moon night, but is was number 100 for my friend and Stones addict, Colin, who passed away in February and had so wanted to reach 100 shows. I had promised his mother I would see number 99 and 100 in his honor. Madrid was 99 and this was to be 100. When I bought my tickets on the internet in California in section A first row seat 10 I thought I was in the first section by the stage but when I got there it turned out section E was the closest and section A was miles away! What to do? So I prayed to the Rolling Stones Gods and Colin"s spirit led me to two great young guys from Jerez, seeing the Stones for the first time, who let me share their seats in the front row of the first section by the stage, first seat on the aisle right in front of the extension of the stage and level with the center mike. No security and no hassle and everyone mell ow. The Boys exploded onto the stage and were all on fire tonight. I thought Keith was brilliant and at one point he was on his knees grinning in front of me. Mick - what to say? We danced the night away. All I could do was send them all love and thanks for the wonderful wonderful moments in my life and all they have given me. Charlie was amazing and Ronnie rocked. Midnight Rambler, yes yes. So I left the stadium with joy in my heart and the hope of seeing them again back in San Francisco in a year or two. Long Live the Rolling Stones!
---
Please send your show reviews and comments by e-mail to: [email protected].
The reviews will show up here soon! Thanks!
---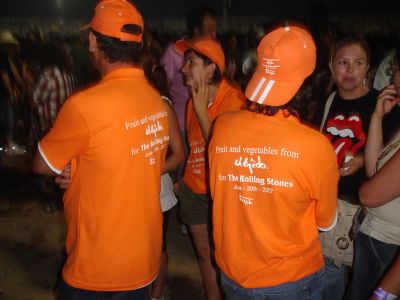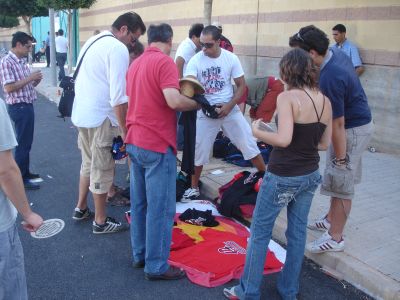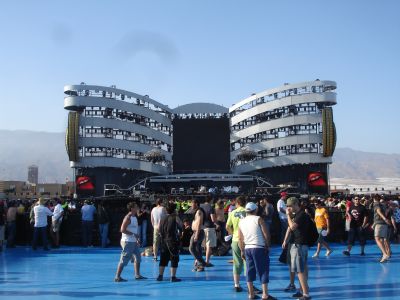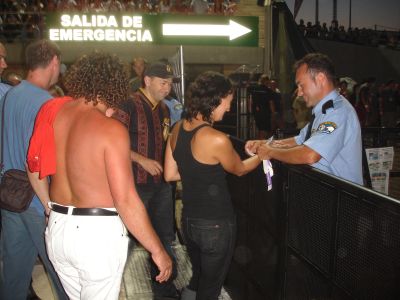 ---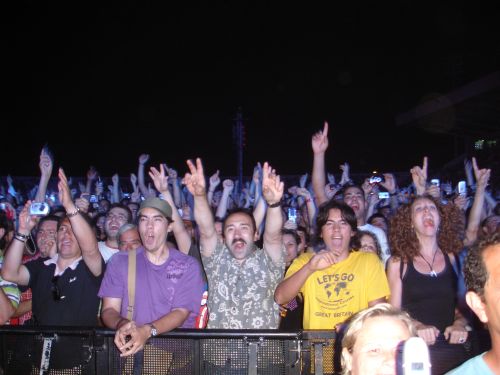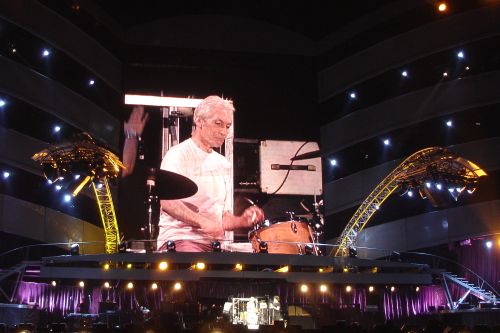 ---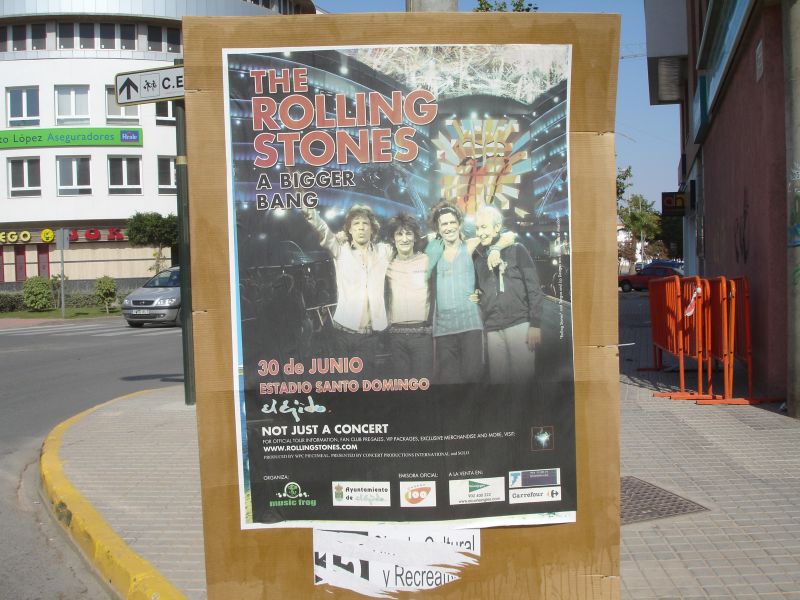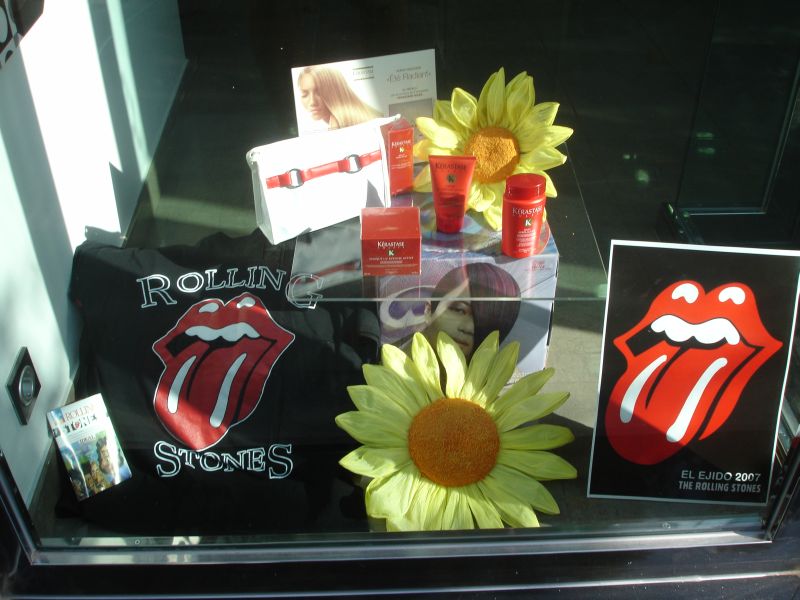 ---
IORR comments:
El Ejido is an industrial and agricultural city approx seven km inland from the famous coastline of Almeria. While the tourists enjoy their sangria and cerveza by the beach, business is as usual in El Ejido. They don't sell postcards here, well may be if you look hard, but after four hours of walking they were nowhere to be seen. But after one long year of waiting, following the cancellation of the show last summer due to Mick's laryngitis, they are now ready once more. The Stones and A Bigger Bang is in every paper. One of the hairdressers in the city have made an exclusive "Stones display" in their window, as you can see. Best so far on the Bigger Bang tour for sure. The pictures are only telling half the story...
So while you enjoy your dinner somewhere in Spain or wherever, rest assured those tomatoes or peaches or whatever fruit or vegetable you are enjoying as part of your meal they were made and picked by the Salt Of The Earth in El Ejido, may be, and this is the city where the Stones will be very welcome for sure!
The stage is up. El Ejido is ready. The sun is shining. Like every day all year. The temperature in the shade is 32 C i.e. 90 F so it will be a hot hot show for sure. More from El Ejido soon!
---
IORR Forum comments and reports
El Ejido show reports and comments
News links
---
Photos by IORR.
---
The IORR magazine
For exclusive reports and unique high quality pictures from the Rolling Stones tour and more see the IORR magazines.
---




It's Only Rock'n Roll 1980 - 2007
© The Rolling Stones Fan Club Of Europe