---
These are the latest Rolling Stones news and updates for you! IORR is a non profit fan club run by fans for fans. All parts of the It's Only Rock'n Roll web site is copyright of The Rolling Stones Fan Club. When using information from this site, please include a reference to IORR and the main web address www.iorr.org.
---
---
The Rolling Stones
The O2, London, Great Britain
Sunday August 26, 2007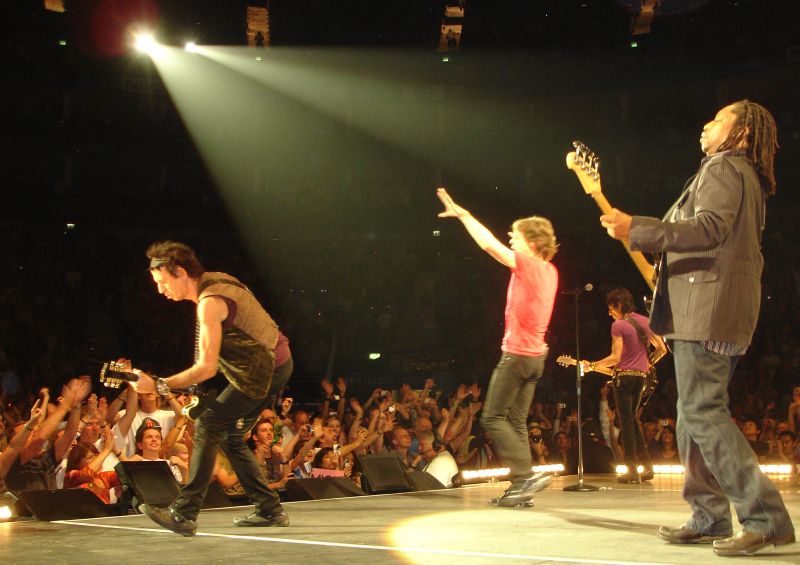 ---
The set list

Start Me Up
You Got Me Rocking
Rough Justice
Ain't Too Proud To Beg
She Was Hot
You Can't Always Get What You Want
Can't You Hear Me Knocking
I'll Go Crazy
Tumbling Dice
--- Introductions
You Got The Silver (Keith)
I Wanna Hold You (Keith)
Miss You (to B-stage)
It's Only Rock'n Roll (B-stage)
Satisfaction (B-stage)
Honky Tonk Women (to main stage)
Sympathy For The Devil
Paint It Black
Jumping Jack Flash
Brown Sugar (encore)

The Enemy (warmup)  :  7:00pm -  7:30pm
The Rolling Stones  :  8:25pm - 10:20pm

---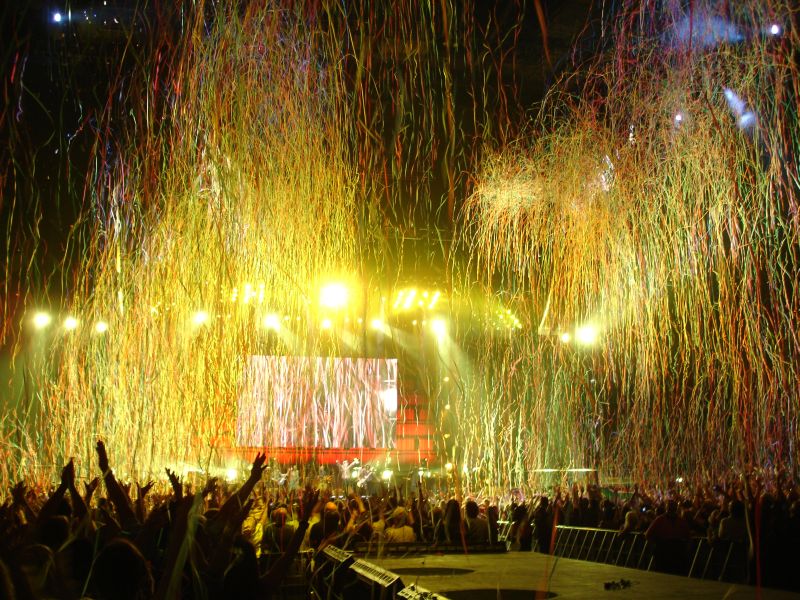 ---
Review by Robert Bagel
In the midst of England's Bank Holiday weekend, the Rolling Stones end the group of shows which will forever be referred to (after their outstanding two year old album) as A Bigger Bang with their 147th show of the tour. As with any final show, the mood of the evening was bittersweet. I recall my eyes carefully following Keith offstage in 1981, thinking that would be the last time I see him live. Twenty six years later I knew better than to attempt any conclusions like that, so I tried my best to just enjoy the show for each glorious moment of entertainment it provided. And within each millisecond of music, most of the time I could not tell if I was in the O2 Arena, Oklahoma City, Albany, or Oakland. This is not to fault the originality or newness of the Rolling Stones, but to recognize the consistent, solid showmanship they repeatedly produce, which inspires and enables people to travel thousands of miles to multiple cities and countries and not be disappointed. During band introductions Mick was most gracious in recognizing the crew who worked so hard throughout the tour, and thanked the fans whose faces he said he recognized over time. And Jesus Christ, there have been many of us who over time have not only become familiar with each face in the band, but with each other. That community felt very strong tonight, and did not make the show's finality an issue. Keith did a tremendous job addressing this point, modifying the lyrics of You Got the Silver saying with ultimate Keith trademark conviction, "I'll be back for a little more". As anyone who has seen Keith watch the now 92 year old Les Paul at club Iridium in New York City would realize, in some way, shape, or form we have not seen the last of these guys. That is very comforting.

After the customary opening Start Me Up, the Stones did You Got Me Rocking, a creation from Voodoo Lounge which has never been presented as a rarity and without notice or fanfare has become a sweat-inspiring staple of the live show alongside the much older classics. It was awesome to see this included in tonight's set. Ain't Too Proud to Beg followed, Keith and Ron attentively keeping the Motown feel of the song with Chuck Leavell's bright piano complimenting Mick's soul singer persona. She Was Hot was next, with another promising reference to the future as Mick sang, "I hope we meet again in a cold Chicago night", a reminder of when they debuted the song live to a half empty Soldier Field in temperatures barely above freezing. After that You Can't Always Get What You Want deeply involved the crowd with its sing along, making the O2 Arena seem almost church-like, though pre-empting any hope that the song would be part of a two song encore.

The greatest non-musical highlight of the evening occurred before Keith's two feature songs. On Thursday Keith defiantly lit up a cigarette in reaction to the British tabloids' heavy coverage of Keith and Ron disobeying the indoor smoking ban on the night of the first show. How could this possibly be topped? Keith answered that by acting as if he were going to light up (as the O2 crowd wildly cheered him on), and then instead ate his cigarette whole! It was an amazing moment, defying authority with great creativity and showing a toughness and strength which it is easy to get inspiration from. Anyone who questioned whether Keith could really have snorted his father's ashes…I think you have your answer!

The round trip to the B-stage and back was predictable yet nicely energetic with Miss You, It's Only Rock'n'Roll, Satisfaction, and Honky Tonk Woman, the kind of songs you would want the Rolling Stones to play in this part of the set on the last night. Returning to the main stage, they launched into what turned out to be a unique Sympathy For the Devil. For the "Ooh Ooh!" part, the regular backing singers were joined on stage by a multitudinous choir of women made up of the Stones' friends and families, ranging in age from young to mature, with everything in between and enough blond hair, red lipstick, and fishnet stockings to get one wondering about England's statutory age of consent.

While this last show of the tour was not commemorated by special guests or truly unusual or extra songs, the encore of Brown Sugar was punctuated by both Keith and Ron coming out with large lipstick marks on each of their right cheeks. It was pretty funny, but the humor was soon left behind by just how deliciously blistering the song was with its crashing guitar interplay, vocalists Bernard Fowler and Lisa Fischer flanking Mick on the "Yeah, yeah, wooooo!" singing, and toward the end Mick and Keith laughing and sharing a moment at stage left, recognizing each other's efforts and seeming to mutually acknowledge just what a great time they were having. It was a moment that made me think that in the week when Martin Scorsese put out the movie trailer for Shine A Light (the record of last fall's two shows at New York's Beacon Theater), that film will not be a final historical document of this band. The Rolling Stones, their immediate families, the community that has developed over the years, and the rest which rounded out the O2 Arena's crowd were having simply too good a time to think they will not try it again somehow, somewhere, sometime, in the not that distant future.
---
Review by Dean Goodman
When the 3 London shows were announced, I had grand visions of doing all of them - at great cost - but I'm glad that common sen$e prevailed and I caught just the final performance. Predictably, there were no huge surprises in the set list. Have they ever ended a tour by rolling out some never-played tunes? Perhaps the biggest shock was the 8:25 p.m. start time, which forced me to knock over quite a few people to get to my seat just in time.

If it's the last-ever show, which now seems unlikely, at least they went out on a high note, buoyed by an enthusiastic crowd. For me, the public displays of affection between Mick and Keith were the highlight. They really do love each other. For that reason, it's impossible to imagine they would kill off the band.

During Brown Sugar, they shared a tender moment on stage, as Mick rushed over to the ramp on the audience left where Keith was holding court. Mick noticed that Keith had a lipstick mark on his cheek (Ronnie had one too), and they joked about it, arm-around-shoulders style.

Keith also gazed longingly at Mick played his harp solo in Can't You Hear Me Knocking, and they embraced at the end of that song.

And finally, Keith bestowed a pretty enormous compliment on the crowd: "You're all part of the band," he said. And he added later, "I'll see you again."

Mick thanked the crowd for sticking by the band through "fire and ice and storms and trees and God-knows-what," noted quite a few familiar faces among the fans, and recalled that a woman who had proclaimed on a banner that she had seen 100 shows "probably knows the lyrics better than I do."

I don't have a strong opinion either way on the grandchildren issue. Were they all grandchildren anyway? The only offspring I recognized was Leah Wood. Anyway, a lot of fans were distracted by security issues: After the small stage, where there were no restrictions, we were prevented from returning to our seats up front by a cordon of bozo guards. I had to jump over chairs to get to my spot, and was catching my breath when I noticed the kids on stage. My main thought was that these tykes won't have to work a day in their lives. Grrrr!

Well, for me, it's 199 shows. I hate to think how many tens of thousands of dollars the 67 shows on this tour cost me. But I am thankful to the Stones for at least one thing: without them, I would not have met a nice Brazilian girl the day before the Rio show, and we would not have got married on the afternoon of the Vancouver show. Now I'm consumed with guilt trying to explain that the Stones still come first.
---
Review by Graham Wylde
She Was Hot!

What can one say about a show that had everything? Fans from all over the world gathered at the O2 Arena last night wondering, fearing, was this to be the last show? Well, if it was, we were certainly not short changed, this was the band at their wonderful shimmering best.

Yes, I know, every Stones concert is special, you would not expect anything else, but this one had something, some extra bite, some magic ingredient. Of course the fans were all pumped up for this one. Everyone on their feet from the start and, as I looked around the arena up to the top tiers, it seemed that everyone was clapping and singing along. 'You are all part of the band' said Keith in a genuine show of emotion.

You can argue about the lack of ingenuity over the set list, but this was not an evening for major surprises, basically they stuck to the long serving standards and belted them out with real gusto. Ronnie and Keith were superb throughout standing aside to allow solos, no sign in any tensions tonight. Mick never stopped moving, ensuring that the audience were involved throughout. Can anyone work an audience better than this man? I seriously doubt it.

Highlights? Well, 'Can't you hear me knocking' is always a favourite and an excellent showcase for Mick on harp, Ronnie's solo and, of course, their long time friend Bobby Keyes. Superb. 'Paint it black' is a great crowd favourite and had even the hardest to please on their feet. For me the highlight was 'She was hot' a great addition to the set list for this last show.

Well, I have been going to concerts since 1966 when I saw them at the Liverpool Empire. I have enjoyed everyone. I have sat on the steps of many arenas around the world and shed a tear fearing that this was really the last time I would feel that raw excitement, that disbelief that I was really there amongst the audience and that the band was here to play for me. I shed another one tonight. It has to end somewhere. I pray that this was not the final curtain, but, if it was, they certainly did us proud.

The Stones have been part of my life for as long as I can remember and there are so many memories. This one will be right up there and there is still room for more.

Thanks guys for another unforgettable evening.
---
Review by Jerrie Klaris, Netherlands
So this was the last show of the tour. In total I've seen 20 Bigger Bangs all over the world the most in the USA I prefer the arena ones.

This night highlight for me is the harmonica playing from Mick in Can't you hear me knocking. The band was amazing and on a scale on 10 I would give them a 10. This evening it was for me very clear that they had pleasure to be on stage. At sympathy for the devil the daughters (I think) from all bandmembers were singing whooooooowhoooooo.

After the show was over I rush to the tube to go to restaurant Simpsons on the Strand. Before the show someone told me that they will have a party overthere. When I arrive Blondie walked in there were some photographers outside. My hotel was opposite this restaurant so I grab my camera and wait what will come. Crewmembers and backingbandmembers walked in. After a while a minivan stopped in front and Keith walked out in a black long coat and a hat. I thought maybe the rest of the should arrive in a few minutes. So let's wait for it. After a half hour Keith came out and the crowd was yelling and clap their hands for Keith. A few minutes later ( I didn't know he was in) Bill Wyman came out complete with family. Later I read that Bill was backstage at the show. After this I went for a sleep for 2 hours and after that I went home back to the Netherlands.

Great tour Great Memories.
Next???? New tour????
I'll be there.
---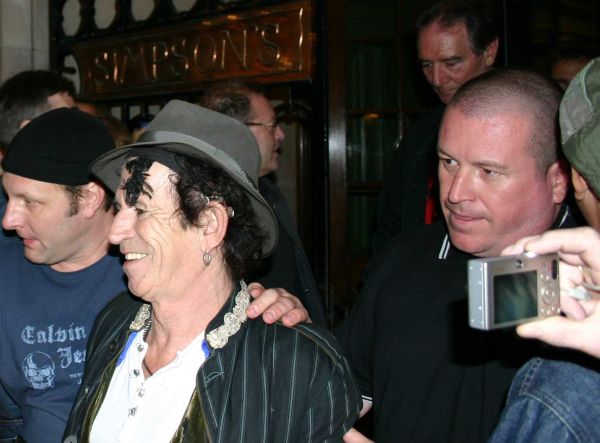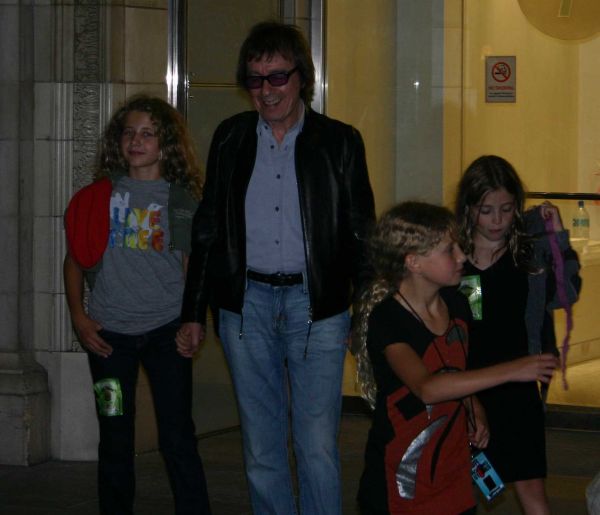 ---
Review by Nanker Phelge
Phew what a fantastic show!

I didn't see Thursdays show so I cannot compare, but this was even better than Tuesday.

Highlights were She Was Hot - first time of seeing this live and it was awesome. It was also great to hear YCAGWYT which felt like an encore due to the massive audience participation.

Keith was great and has ended the tour on a high - I can't see anyone having a bad word to say about his performance - very funny when he ate his cigarette!! He also told us that we are all part of the band - very touching!

There is no way that the band can stop whilst in this form - it was a real joy to be there and witness the still greatest live band on this planet-no doubt!!

Have to start saving for a US Arena show next year!
---
IORR Forum comments and reports
O2 London #3 - show reports and comments
---
News links
---
Photos by IORR.
Additional photos from the Simpson's after-party by Jerrie Klaris.
---
The IORR magazine
For exclusive reports and unique high quality pictures from the Rolling Stones tour and more see the IORR magazines.
---




It's Only Rock'n Roll 1980 - 2007
© The Rolling Stones Fan Club Of Europe