---
These are the latest Rolling Stones news and updates for you! IORR is a non profit fan club run by fans for fans. All parts of the It's Only Rock'n Roll web site is copyright of The Rolling Stones Fan Club. When using information from this site, please include a reference to IORR and the main web address www.iorr.org.
---
---

The Rolling Stones
The Forum, Inglewood, LA, CA, USA
Monday, March 6, 2006
The set list
Jumping Jack Flash
It's Only Rock'n Roll
Oh No Not You Again
Sway
Far Away Eyes
Worried About You
Tumbling Dice
Midnight Rambler
Gimme Shelter
--- Introductions
This Place Is Empty (Keith)
Happy (Keith)
Miss You (to B-stage)
Rough Justice
Respectable
Honky Tonk Women (to main stage)
Sympathy For The Devil
Start Me Up
Brown Sugar
You Can't Always Get What You Want (encore)
Satisfaction (encore)
Rolling Stones show time: 9:15p.m. - 11:15p.m.
Opening Act: Queens of the Stone Age (special guest: Billy Gibbons of ZZ Top)
---
Review by Alan Bravin, Lake Forest, CA
Last night's show is exactly the reason I've been going to Rolling Stones concerts for 34 years. It was LOUD, it was raw, the Stones themselves were very playful on stage, they worked the crowd into a frenzy. Even Charlie spoke last night during band introductions, although it was only one world "NO". Mick said after ONNYA that they had played LA earlier on the tour, and they were going to play a few different songs. Well – they sure did play some crowd pleasers, including SWAY. WOW. From our 3rd row seats, it was the loudest Stones concert I've been to. Lisa Fischer – looked like she was having the time of her life and enjoying every single second. Her solo on Gimme Shelter was fabulous. I won't go song by song, I'll leave that to someone else, but this concert absolutely ROCKED from the opening chords of JJF to the closing of Satisfaction. Woo Woo.
---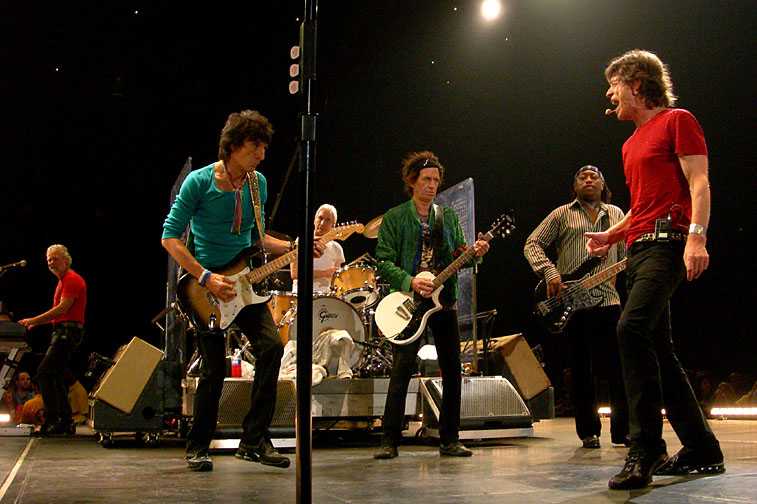 ---
Review by William
Sometimes I wonder why the Stones are still rolling on after all these years, but after the show in L.A last night I know it's because their love for the music and the pure enjoyment they feel when playing for the world cannot be easily let go. The show in L.A can be compared when Martin Luther posted the 95 Theses on the door of the castle church sending notice to all those past and presence and leaving no question to who is still the greatest band ever. No show on this tour has come close to the set they played last night; I may be more inclined to laud the show I went to but it was incredible. Mick reminiscing on being back in L.A said, "We haven't played this joint since 1975, and we hear it has become a church," referring to the Forum in Inglewood which is now used for Sunday Gospels. This led into Far Away Eyes with Mick on guitar and Ronnie on slide, which drove the crowd when he sang the line, "Well the preacher went right on saying that all I have to do is send ten dollars to the Church of Sacred Bleeding Heart of Jesus located somewhere in Los Angeles California and next week they played my prayer on the radio and all my dreams will come true, so I did next week I got a prayer for a girl well you what kind of eyes she got." It almost made me cry hearing this song, after being preceded by Sway and followed by Worried about you, a peace came over me reenergizing and breathing fresh life into my soul. There are sometimes in life when we feel the world around us is too overwhelming and our worries seem surround us like the feelings ofs despair, dissolution and desolation in the darkness hours of night, but then you hear such a beautiful, heartfelt outpouring of emotion, and you realize these temporary feelings can and will never last and that a light is always shining at the end of the road and the only limits to what your future holds is what you allow. The inspiration and motivation to love and enjoy life and seize the moment everyday is the message the Rolling Stones have brought to this world, and for everyone who needs encouragement and support in your times of need listen to their music and the words will guide you through those hardest moments in life.
---
Review by Gricha Safarian, Brussels, Belgium
As I heard on a local FM radio on my way back to the hotel (95.5 – very good) "The Rolling Stones kicked some ass tonight at the Forum".

Then a bunch of still excited fan were commenting the concert and all agreed to say that this was a great show, the Stones very relax and having fun, some rare songs and a very nice looking arena.

It's quite nice to have such a good FM radio for the 2 hour drive back to San Diego, hearing about the concert as well as plenty of live tracks from the Stones.

Never enough….. Even tough it was the fourth gig I saw in LA, never never enough, especially here.
---
Review by Apu Smith
This was my second show. I also saw the first Hollywood Bowl show. And it was also my 15th time seeing them overall. They seemed a bit off but very relaxed. They also played five songs I had never heard them play live. Sway, Far Away Eyes, Worried About You, This Place is Empty and Respectable. Sway was a wildly cool choice. Before Far Away Eyes Mick made some chatter about the band not playing the Forum since 1975 and how it was now a church. The rendition of Worried About You was playful. This Place is Empty sounded all right from the urinal. Respectable has always been one of my more favorite Stones tunes ... and they butchered it. Flayed it. Don't get me wrong, I was happy (oh, thankfully, Keith gave up one of the slow ballads and stuck in Happy) to see them and grateful they were playing one of my favorite tunes, but all the same Respectable was just poorly done. Sympathy kind of just ended awkwardly too. I'm not really a muscian type but I seemed to notice quite a few ! flubs. The tradeoff though was they seemed very at ease with the crowd. There was a nice familiarity.

I'm curious how they manage to play just about exactly two hours every show but have now subtracted a song. It looked like they were regularly playing 21 songs earlier in the tour and are now playing 20. Personally I think they should be playing anywhere from 28 to 32 songs, but that's just me and my $200 ticket talking. Oh, and as long as I'm bitching, they should ALWAYS do nothing less than a two-song encore. The Rolling Stones are just too damn legendary to do that one-and-done crap. No-no, I've said it. It belongs to the Internet now.

Overall, of the 15 shows I've seen I think this was the nicest set list. Maybe number six or seven in terms of performance. I really wish they had dragged out Sweet Neo Con. Why not, y'know? They did Far Away Eyes inside a "church." I'm sure everyone who's a fan has their idea of what a great set list should include though. That reminds me of something I have been saying since at least the Steel Wheels tour. Is it just me or does the sound seem to be dramatically raised for the last five to seven songs? Are they just playing with the full contingent or more bass (cowbell!!!) or something? I would bet my life or a large (small) sum of money this is true.

Anyway, long live the Stones. It really is hard to believe they're still doing what they're doing at the level they're doing it, Respectable butchering or not.
---
Review by Scott Williamson, Newport Beach, CA
Driving up to the LA Forum in the steady rain Monday evening, I remembered the last time I was at the famous arena: 1980, Magic Johnson's rookie year...game 1 of the Lakers vs. Philly 76ers World Championship NBA series, where $22 got me a ticket for 1st row of colonnade……and there was no Hollywood movie stars except Jack Nicholson, no one there just to be "seen", no one in their "Law" firms seats…...………just basketball fans……how time has changed…and yes …..as a huge sports and Stones fan in Southern California……..31 years later 1975 to Mick, Keith, and the boys last Forum show to the 3/6/ 2006 Bigger Bang show…... the GREATEST ENTERTAINERS EVER…The Rolling Stones play the Forum again……………..thank god the Forum is now a church…that gave us "Far Away Eyes" Monday night!!!!!!!!!

What a rare treat……………..I have seen the stones since 1978 on every tour…... 22 times…... (3 in Las Vegas, 1 in Oakland), and the other 18 in my home of Southern California….and last night I got to see them do "Sway", "Far Away Eyes" and "Worried about You", along with "Respectable" --- 4 songs I have never heard them do live….. that alone was worth the trip!!!!!!!!!!!!! I will say can you name any other entertainers that have played these SoCal sports and entertainment venues in their entire careers -- LA Memorial Coliseum- 81, 89, La Forum - 69,72,75,06, Staples Center - 02, Anaheim Stadium (Angel Stadium, Edison Field),78,02,05, Long Beach Arena, Long Beach Terrace Theater, Dodger Stadium-97, The Rose Bowl-94, The Pond-99, Hollywood Bowl-05, San Bernardino Swing Auditorium--1st SoCal show in '64), San Diego Jack Murphy Stadium-81,98, San Diego Sports Arena Wiltern Theater-02, Hollywood Palladium, the list goes on, and on,……….. And yes…there were the religious protests there ..saying….."you will go to hell if you enter the sinners show"……………I smiled as I walked past them…..knowing they were missing the greatest rock and roll band in history just to preach……...

The show was great as listed here on the other great reviews on Mr. Vik's great IORR site……….one funny I heard as I left the show outside in the parking lot after it was over….. a clueless 50's something couple that went to see them for the 1st time….they stated, "boy that was bad……they would have been torn apart by the American Idol judges…...Simon would have said they were Stoned …what a joke" Well, they just don't understand…….. Let's hope Mick, Charlie, Keith, and Ronnie get to 2012….50 years!!!!!!!!!!!!!!!!!!!!!!!!!!!!!!!!
---
Review by John Walker
What a delight to hear Sway. Having seen 2 outdoor shows in the Fall, it was revelatory to hear them inside. They were loud, (sometimes Ronnie seemed a little too loud!) and the sound was excellent. They also pulled out Worried About You and from out of nowhere Far Away Eyes.

Highlights: They not only played Sway, they nailed it. Very crisp and cohesive playing. Nice version of Far Away Eyes. Jagger's vocal on Worried About You was extraordinary. Ronnie butchered the solo.

Gimme Shelter was terrific, Lisa was on fire the entire evening. Keith stumbled over the lyrics on This Place Is Empty, (no one seemed to care), but pulled off one of the better versions of Happy I've heard. Respectable was strange to say the least. Mick and Charlie seemed to be playing a different song than Keith and Ronnie. How Jagger managed to still get the lyrics out through the maelstreom was testimony to his enormous skills. When it was finally over Jagger asked with amused exasperation "what's going on?"

Start Me Up rocked and Ronnie redeemed himself with a killer solo. All the warhorses went over very well. Jagger mentioned they hadn't played "the joint" since 1975 and the night did have a sense of occaison. It was probably the last time for the Stones at the venerable Forum, but I trust they will be back to L.A.
---
Review by Little Paul Body
Wow. What can be said. The Old Men rocked last night. I mean, they rocked harder than I have ever seen 'em rock Los Angeles, it was without a doubt the best show they ever did in L.A. I have seen just about all of them stretching back to 1965. I was sitting next to someone and she said it was going to be a special night and it was.

They hit the stage with a super charged "Jumping Jack Flash", Keith looked he came for business. The crowd was on it's feet from the beginning, after the manic opener they kept it with "It's Only Rock and Roll" and "Oh No Not You Again". The crowd was still standing and Charlie was smiling. A real good sign.

The first surprise was "Sway" and it was gorgeous, took me all the way back to Santa Fe, New Mexico 1971. Keith was smiling now too. Next surprise was "Far Away Eyes", Mick mentioned something about the Forum being a church and then they country fried the song, digging up the ghosts of Hank and Gram. Then the Jag put on his soul hat and sat down at the electric piano and sang "Worried About You" falsetto, like some lost soul cat. It was beautiful.

"Tumbling Dice" was cool and then came "Midnight Rambler", my homie White Boy Ree-chard doesn't dig the song but he even was smiling because it was a hellacious version of the song. The Jag was definitely channeling Muddy Waters. While they were doing "Midnight Rambler", the Jag was slipping a verse of the Marvin Gaye song, "Baby Don't Do It", just to add the cherry to the top of sundae. Wow. "Gimme Shelter" was "Gimme Shelter, Lisa Fisher was great, she took it to a whole other level. When I saw them at the Forum in '69, little did I know that they would be rocking this hard so many years later.

Introduction time, everyone gets their props. Keith does his two songs and he is digging the crowd and they are digging him. Oh yeah and everyone is still standing. The stage starts moving as the fellas are playing "Miss You" and my homie doesn't know what is coming next. Suddenly, the Stones are right there in front of us, we could just about touch them. "Rough Justice" and "Respectable" rocked like babies in a cradle, they were fierce. All the cats are smiling now, even the Jag. What is so amazing is that, they are having a blast and you could really see it. The stage starts moving back during "Honky Tonk Women".

During the warhouses, the Fabulous Forum turns into the world biggest radio. This is why we all dug the Stones in the first place, those songs were played on the radio. I remember the first time I heard "Brown Sugar" on the radio, man, it took my breath away. Last night it did the same thing, especially when the crowd goes WOO, for me that is always the most emotional part of the show, always brings a tear to my eyes because all of our hearts are beating as one. "Satisfaction" was the last song and they did it the old way, then the call and response thing…….the Jag singing "I can't no"……Lisa, Blondie and Bernard answering with "Satisfaction" and then they took it to Memphis with the horn section. Wow.

Confetti, the final bow and then it's over. Without the best show that they ever played in Boss Angeles, the city where some of their finest recordings were done. Hey and Ronnie was smoking, everyone should stop bellyaching, Mick Taylor is gone, Brian Jones is gone………..it is what is . Shaq isn't a Laker either nothing last forever, well maybe the Stones will. What a show. Charlie was swinging like a tree, never heard him better and he was smiling the whole. Like I told this young lady, who was talking about Bono this and Bono that, I said "I betcha Bono doesn't want to make you want to put a pair high heels like the Stones do". Great show and ain't no party like a Rolling Stones party.

Little Paul Body
Stoned since '64
---
Review by Tom Jordan
The Forum is my favorite arena in LA to see a show. The place is an intimate set up for a larger venue.

The STONES really seemed to like it and gave the star studded LA crowd an Oscar worthy Academy Awards performance on Monday night.

They band looked happy as I have seen them in a while and the raw energy was flowing all night long.

The set list was as diverse as they get this days.

Far Away Eyes was the highlight of evening for my taste, Oh No Not You Again, was great to hear for the first time, and each song held pace.

Watching them on the B-stage stripped down of all the bells and whistles of their huge production I realized once again why over the last 35 years seeing them play always works for me. The Rolling Stones are to me a lounge lizard rhythm and blues rock & roll band and its Only Rock & Roll and I like it, like it, yes I Do!

Mick, Keith, Charlie, Ronnie and the rest of the band thanks for giving me and all the LA stones fans another great show and party!

You still are the Greatest...
---
Review by Chris Epting
Our third show of the tour and this one was special--maybe it's the ghosts of Stones shows past here (Nicaraguan benefit '73, a week in '75 and others) but on this night they seemed to stretch for something more. The mood was loose and genuine, the set list was stellar (we heard Far Away Eyes during sound check and so while not a surprise, it was still a terrific addition) and Jagger commanded this place like the church that it has become (literally--the Forum is now in fact a church). Anyone see the back up keyboard player on YCAGWYW hiding behind Chuck? Looked a bit like Mick Taylor! Who was that??
---
Review by Brent in LA
As a stand-offish fan who had given up on their relevance years ago, Monday night's show was forget-about-it unbelievable. More than about the set, it was Mick & his intensity. Like catching James Brown still at his peak, he never peeled off. Worried About You so overshadowed everything else because he lit up every verse. Keyboard, high vocal, low vocal, performance . . . In spite of Charlie the band could not keep up.

Keith was Keith. Ronnie was on, Charlie blazed particularly through the opening of Sympathy (wish they threw in Can't You Hear Me Knockin). But it was Mick. Its always been Mick. For as long as I live it will always be Mick at the Forum.

Great to hear him call out the 30 years since they had played there last. Great to hear him recognize that a church now owned the place & follow up with Girl... Over the top that they threw Sympathy into the mix.

Talk about blood money. . .
---
Please send your show reviews and comments by e-mail to: [email protected].
The reviews will show up here soon! Thanks!
---
Thanks to Harold Colson for great pictures!
---
The IORR magazine
For exclusive reports and unique high quality pictures from the Rolling Stones tour and more see the IORR magazines.
---




It's Only Rock'n Roll 1980 - 2006
© The Rolling Stones Fan Club Of Europe