---
These are the latest Rolling Stones news and updates for you! IORR is a non profit fan club run by fans for fans. All parts of the It's Only Rock'n Roll web site is copyright of The Rolling Stones Fan Club. When using information from this site, please include a reference to IORR and the main web address www.iorr.org.
---
---

The Rolling Stones
Angel Stadium, Anaheim, CA
Friday, November 4, 2005
The set list
Start Me Up
You Got Me Rocking
She's So Cold
Tumbling Dice
Oh No Not You Again
Ruby Tuesday
It's Only Rock' n Roll
Bitch
(The Night Time is) The Right Time
--- Introductions
Slipping Away (Keith)
Infamy (Keith)
Miss You (to small stage)
Rough Justice
Get Off Of My Cloud
Honky Tonk Women (to main stage)
Sympathy for the Devil
Paint It Black
Brown Sugar
Satisfaction
You Can't Always Get What You Want (encore)
Jumpin' Jack Flash (encore)
Show start :  9:10 p.m.
Show end   : 11:10 p.m.

---
Review by Scott Williamson, Newport Beach, CA
As a huge sports and Stones fan in Southern California, what is amazing is that the Rolling Stones, the greatest entertainers in the history of the World, have played just SOME OF THESE VENUES IN THEIR HISTORY in Southern California: The Forum, Staples Center, Rose Bowl, Dodger Stadium, The Pond, Long Beach Arena, Hollywood Bowl, Long Beach Terrace Theater, The La Coliseum, Long Beach Arena, and their first Southern California Show, at The Swing Auditorium in SanBernardino, back in the early 60's.

In addition, they have managed to squeeze in shows at San Diego, Jack Murphy Stadium, San Diego Sports Arena, and the upcoming Petco Park! Simply Amazing!

But let's take a look at the show November 4, 2005 at Angel Stadium! I first saw the stones at this very same venue in 1978 and again in 2002!!! Festival seating back then in '78.. some 27 years ago.. and during Beast of Burden.. we all threw our shoes to the stage as Mick sang .. "Shoes on my feet!!!" Weed even grew in left field after the show during the late summer on the Angels baseball field!!!!!!!! ...... what a change 27 years later... as Mick, Keith, Ronnie, and Charlie delivered an even better performance that that long ago Some Girls Show....

From my 12th row center stage seat... The highlights were a great version of She's so Cold..... along with the Standards Tumbling Dice........ and a great version of Bitch... It's great seeing Mick come down the center on "you can't always get what you want".......

Keith was Great on Slipping Away as many in the crowd took a break by sitting down???!!! Why???? Keith is brillant and a genius....... What a great show..from the center stage "Get off of my Cloud" was a rare treat!!!!! ......the stage is fantastic.... it's great seeing a moving center stage... watching them play in front of view as they move instead of walk.......

I look forward to the LA Forum show in March 2006!!!!! The last time there was 1975??!!!!!!!! 31 years ago in that venue!!!!????? Can you believe it???????

Please...take time to see them if you have not.....The greatest..and I mean greatest entertainers in show business... "It's only rock 'n roll!!!!!!!!!!!"
---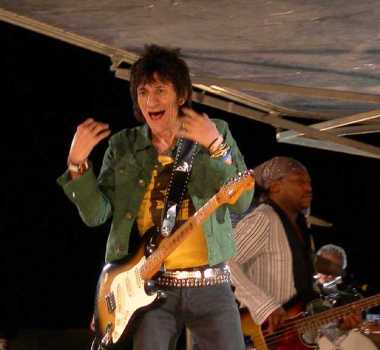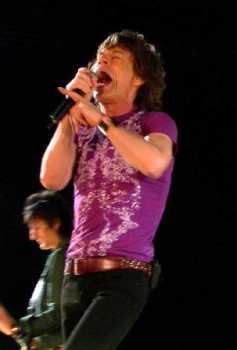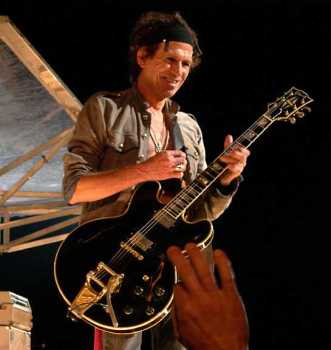 ---
Review by Paul Body
Forget the age thing, forget the setlist squabbles, man forget all of it because the cats still rock. From the chords of 'Start Me Up", it was on. Keef was smiling, so you know it was going to be a good night. Don't know why people don't like "You Got Me Rocking", when it hits the grove like it did last night, it's a monster. Charlie was good last night because he is good most nights. Man, and the guitars were loud. "Tumbling Dice", rumbled and swaggered at the same time.

By the the time thet got to "Oh No Not You Again", they were firing on all cylinders like a well tuned Mini Cooper. It was a gas hearing "Ruby Tuesday" live in seeing the intereaction between the Jag and Keef. All of these were highlights but ….."The Night Time Is The Right Time".WOW. That sucker smoked like a Christmas chimney. Lisa F. was great of course but the Jag held his own with her especially toward the end as he was channeling the High Priest himself by hitting those Ray Charles-like high notes. Now if they only do "I'm Moving On" another song Ray Charles did by way of Hank Snow.

"Slipping Away…GREAT. "Infamy"…..Keith thee Soul Man. "Miss You" moved like it should have and the girls were shaking it and that is ROCK AND ROLL. "Rough Justice" rocked the B stage and it will stand the test of time.

The first time I heard "Get Off My Cloud" was December of '65. Last night it was way better. During "Honkt Tonk Women" the B stage moved back the main stage and then it was time for the fossils. And those bones were shaking. Last night I saw the best version of "Brown Sugar' that I have ever seen, it was short sweet and menacing. But for me it was "Satisfaction", never a favorite of mine but last night, it had the Stax type horns, the call and response from Lisa, Blondie and Bernard and then it reverted back to 1965. SATISFACTION YEAH.

Everyone knows how the night ended. It could have gone on forever. Just remember the Stones have blood of Basie, Elvis, Muddy, Jerry Lee, the Wolf anf the all the cats flowing through them. Miss them at your risk because there is no party like a Rolling Stone party.

Paul Body, Stoned since '64
---
Review by Robert Bagel
The Rolling Stones performed a solid set before a festive Orange County crowd (festive as in low on music focus and participation, but still enjoying the scene, a few beers, and shouting amongst friends during the show). The cool evening air caused Keith to open on a long overcoat, the first time I have seen that this tour. The sound was especially good, with Keith and Ron loud and clear in weaving their guitars together. From the opening Start Me Up and throughout the show, Keith has flashes of brilliance that suggested this was one of those nights where Keith's playing was extra hot. This made for some great moments, but there was some out-of-the-ordinary sloppiness, like confused endings on (The Night Time is) The Right Time and Brown Sugar. It was great to get Slipping Away instead of The Worst during Keith's turn to front the band, and his vocals on this song showed Keith was having a great day both with guitar and voice. The singing was strong and stylish, including the scat-like part toward the song's end when Keith ad-libbed "I'm losing my grip", borrowing a line from his solo song Locked Away.

Ron seemed to rise to meet the "on" night Keith was having, with great leads (Tumbling Dice stood out). During Sympathy for the Devil he consumed a banana; the banana theme grows, as on the big screen animations that open the show, a banana flies past in outer space before briefly seeing the image of Ron's face made out of a constellation of stars. It was amusing to see Ron battle the cold temperatures all night, as when acknowledging and welcoming the heat from the bursts of flames during Sympathy. Mick introduced him with, "He's so cold…Ronnie Wood!"

The band seems in extraordinary form now, and the L.A. area is very psyched to have the Stones in town. Thinking of how hot the Hollywood Bowl shows may be makes getting on an Eastbound plane very difficult this morning.
---
Review by Michael Sold
The Rolling Stones did a kind of greatest hits show here and the crowd was the most lame I ever experienced. Friends told us it was to much of an LA crowd and not responding at all to the Stones. The first nine songs the people did not really clap or do anything to please the fancy Stones.

Once the small stage moved people got a little more involved. We had our places right on the side of the moving small stage it was fabulous. The sound was great and the songs chosen for a big audience. I am sure people will moan about it again. Once again we faced the pee and drinking problem with people walking in and out of the concert. You know what I mean. It's unbelievable that young people cannot hold it for the two hours the Stones are on stage..... Anyway it has been discussed too much on this board. See you at the BOWL..... on with the show.
---
Review by Dean Goodman
Sadly, this was probably one of the worst shows of the 16 I've seen on this tour, which was a drag because I'd had such a great time at the last gig here almost exactly three years ago and was hoping to recapture some of those vibes. I'm not sure whether it was the draining traffic and parking hassles, the appalling multitude of lines necessary to get into the venue and onto the floor, or Mick's shout-out to tour sponsor Ameriquest. Certainly, by the time the band got to the final stretch of songs, from Brown Sugar onwards, fans were streaming out of the venue, which was nowhere near sold-out – no matter what idiot DJs might say on the radio.

The cold (by California standards) weather didn't help. As usual, Ronnie appeared to be in agony throughout, constantly blowing into his cupped hands, and blaming the frigidity for his poor pick-throwing skills. During the introductions, Mick referred to him as "He's So Cold." But the elements also appeared to cause Mick to suffer some brain-freeze. During "She's So Cold," he lost his place, looked back to Chuck for guidance, but he was busy humoring some Ronnie antics. So Mick ran back towards Charlie, bought some time by singing "Oh yeah" as he tried to get back into the song.

As for the Ameriquest mention – "Anyone here from Ameriquest tonight?" – that was met by some boos. Then Mick added insult to injury by noting, "I hope you didn't have to mortgage your home to get a ticket," which I think he has said before on this tour.

Keith revived "Slipping Away" and included a very loud and clear "Oh shit!" halfway through. Which was probably a good summation of the whole evening.

The highlight of the b-stage was watching a very bitter exchange between the Stones' security people and a local security goon who decided single-handedly that he was going to clear everyone away from the barrier surrounding the stage. They sent him away with his tail between his legs and I can't tell you how cathartic it was to hurl abuse at the clown without fear of retribution.
---
Review by Jeremy Noodnic
The first Sones concert that I can remember was the "Free Concert" at Altamont, CA.... the show where the Hell's Angels stabbed a fan to death.. and I know I saw the Stones a few more times after that... but remember, it was the '60's. I really don't remember much of the 60's...

My next conscious memory of seeing them was at the Los Angeles Forum.. in...ah.. 1975? BB King opened... then the Ike & Tina Review came on.. and the Stones finally took the stage at about midnight. Mick apologized for being 2 hours late, and said, "... but if ya don't mind, me and the boys want to make it up to you.." When they show ended, and me and my girl were walking out the exit door.. the sun was starting to come up. Sunrise that day was 6:02 AM... Incredible as it sounds, the Stones had played for hours!

So when I had the chance to do the 2005 Angel Stadium concert (for a mere $US800. per ticket (floor seats, up close..) I jumped on it. One word sums up their performance: AWESOME!

Not being a big fan of their latest *A Bigger Bang* CD, I was glad to hear only 3 songs played from that no-hum song list. Everything else they performed was vintage Stones, and they did each song pefectly. Mick never stopped moving... nor did the rest of the boys. One classic song after another... and when I closed my eyes and just listened.. I was no longer 60 years old.. and neither were the Stones. Magically transported back to a time long since passed, I was on my feet along with the rest of the 45,000 people, from the opening number until the very end of the encore. Even at my age, standing up, dancing, clapping, singing along, etc., didn't bother me 1 bit.

Security was as tight as a knats butt, camera wise, but, well.. I did manage to get my binoculars in with no problem. My binoc's have a camera built in... hahahahahahahaha!!!!!!

Thank God for the Rolling Stones...
---
Review by Dave Wood
a couple of buddies travelled from edmonton canada to los angeles in 1975 to see the stones. i was 16 then and my parents denied me the chance to see the stones then. 30 years later i finally got the chance to see them in southern california so i scooped up the family and headed south. i've seen the stones several times now so seeing them was nothing new but the excitement is still there. i've made a point of seeing them in what i consider the big 3 locations, london ,new york and L.A. the anaheim show was the only remaining of my chosen 3. and what a show it was. from the opening chord of start me up wow. the boys still have it that's for sure.

the show cruised along at a nice pace and my only complaint is i wish they would have played longer and played songs that maybe are a little less known. do we need to hear tumbling dice every show? what about some of their songs released during the 90s? anybody seen my baby, i go wild, love is strong etc.....

i did like the slight variations they did of a couple of songs. i think the version of it's only rock and roll is the best i've heard and even sympathy sounded better then usual. i thought the version of the night time is the right time was excellent and they did it justice. hopefully i'll get another chance to see them on this tour. a final note we shared a cab to the stadium with a couple from nicaragua who had made the trip up just for the show. the guy asks me where my seats are and after i've hung my head and said the nosebleed section he says to me second row on the floor .he then tells me he paid 3000.00 us dollars each of his 2 tickets. crazy.... it's only R&R indeed!
---
Review by Charlie Wolf
I had just arrived, and Toots and the Maytals were more than halfway through their set. I had never seen the Stones and was therefore very excited. After Toots and the Maytals said goodbye, there was what felt like the longest intermission of my life. It was about an hour in actuality but most of the concerts that I've seen had much shorter ones. After waiting for a long time and (at least by my horrible seats) everybody floating blank papers to lower levels, the Stones finally came on. They did an awesome rocking version of "Start Me Up" with Mick in a glittery goldish suit, Keith in a long beige overcoat, and Ronnie Wood in a black coat. Before I had even got to Angel Stadium, I decided I would yell "Free Bird!" between each song and that was exactly what I did. Sadly, they didn't perform it though. :-)

After me yelling "Free Bird" several times, they launched into a loud rendition of "You Got Me Rockin'". They then performed "She's So Cold" (a song I'm not too familiar with), "Tumblin' Dice", and ABB's "Oh No, Not You Again" (I haven't heard the album). Then they started one of my favorite songs, Ruby Tuesday, with psychedelic flowers and stuff being projected onto the screen. Then they did "It's Only Rock and Roll" with a montage of them in the 60s on the screen and everybody (at least in the balcony I was in) making rock n' roll signs with their hands.

They did "Bitch", which I don't even remember them doing, so I'm going to skip that one but I've heard it was good. Next was an AMAZING version of Ray Charles's Night Time is the Right Time, with a good vocal solo by one of the backup singers. Oh, no. Then came Keith. A lot of people on IORR say he sings good...but...well... Then they started in a rocking "Miss You" where a part of the stage came out into the middle of the floor audience. Then "Rough Justice" which I don't remember them doing either (my memory is...bad) then a version of "Get Off of My Cloud" with everybody singing "hey! you!". Then they did a great Honky Tonk Woman on the center stage and went back to the stage for the best version of Sympathy for the Devil I've ever seen anywhere. With a red stage and fire and Mick in his black suit, it was really awesome. Then came a good "Paint It Black" with (i think it was) Keith on acoustic guitar. A long "Brown Sugar" came and went and then came "Satisfaction" with everybody singing. Then they went off, and we clapped for a while, and then the encore. They a great version of "You Can't Always Get What You Wan't" where EVERYBODY in the stadium was singing, and finally a rocking "Jumpin' Jack Flash" with the whole audience dancing. Although people clapped for a good half hour, they never did come back on. Was it a good show? Definitely. I think that everybody who even KIND OF thinks the Stones are good should see them on this tour. -Charlie
---
Review by Lisa Zeigel
Friday night's show was the first time I had seen the Stones at Angels stadium since 1978 - heck, it was the first time I've even been to the place since then. I have dearly loved the Stones starting at a pretty young age...maybe 10 years old? I have seen them as much as possible, and I have to admit that some of those shows were duds. (Including the above-mentioned '78 concert). Last night, I am happy to say - - ranks way waaaay up there with the best! In fact, I was so thrilled and excited that my face actually hurt from smiling (and that hasn't happened since my very first Stones show in '75 at the L.A. Forum).

Due to a logistical error on the promoter's part, my floor seat got changed to another location and I ended up way on the house right side, but close to the front. I made the best of it - - whenever the security got a little lax I would run up to the middle - all the way up front on the rail! And whenever Mick or Keith would run out on the ramp - I was so close I could see Mick's blue eyes and every crease in dear Keith's craggy face! Plus, I was able to dance about with wild abandon - that was the most fun of all. Two hours of it...I think I lost 10 pounds. A lady next to me said "They're wearing me out!" -- which sums up the effect their energy (and Mick's stamina) had on us. And the sound...tight and ...I agree with a previous reviewer that "You Got Me Rockin'" sounded especially good...I've never liked that one live until last night. They all seemed to be having fun - Keith was really on, expertly riffing away. I was so happy to hear "Ruby Tuesday," "Get Off My Cloud" sounded like a different take but I enjoyed it anyway. And they really nailed "Night Time," Lisa Fisher just killed with her vocal turn.

The only thing missing was more songs from "Bigger Bang" - with so many great new tunes they only included three from the new CD. And I didn't get to hear Mick do any of his famous harp work...but in all, a perfect set list - perfect night. I am going back for more at the Hollywood Bowl both nights and again in March at the Forum - scene of my first Stones show. Can't wait!
---
Please send your show reviews and comments to: [email protected].
The reviews will show up here soon! Thanks!
---
News links
Thanks to Harold Colson for great photos!
Thanks to for news links!
---
The IORR magazine
For exclusive reports and pictures from the Rolling Stones tour opening see the IORR magazines.




It's Only Rock'n Roll 1980 - 2005
© The Rolling Stones Fan Club Of Europe