---
These are the latest Rolling Stones news and updates for you! IORR is a non profit fan club run by fans for fans. All parts of the It's Only Rock'n Roll web site is copyright of The Rolling Stones Fan Club. When using information from this site, please include a reference to IORR and the main web address www.iorr.org.
---
---

The Rolling Stones
Toyota Center, Houston, TX, USA
Thursday, December 1, 2005
The set list
Start Me Up
It's Only Rock'n Roll
She's So Cold
Tumbling Dice
Oh No Not You Again
Rain Fall Down
Dead Flowers
Bitch
Night Time Is The Right Time
--- Introductions
Slipping Away (Keith)
Infamy (Keith)
Miss You (to B-stage)
Rough Justice
Get Off Of My Cloud
Honky Tonk Women (to main stage)
Sympathy For The Devil
Brown Sugar
Satisfaction
You Can't Always Get What You Want (encore)
Jumping Jack Flash (encore)
Rolling Stones show time: 9:05 p.m. – 11:00 p.m.
No warm-up tonight. Los Lonely Boys called in sick at 7:30 p.m. !!! Bad thing they brough on some bad yes REAL bad "entertainer" with a microphone talking crap and annoying the crowd with four-lettered words and other stupid talk until he was booo-ed off stage to great applause from the crowd.
Ronnie with Mac at post-show club gig
After the Rolling Stones show tonight, at 1pm or so, Ronnie Wood joined in with old-times faces mate Ian MacLagan, for yet another gig. See report from this gig at The Continental Club !
---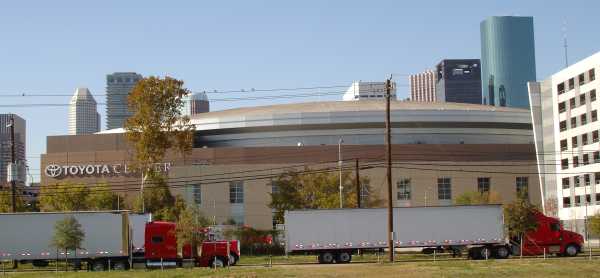 ---
Review by Ed Beaver
Houston is a booming city in USA spending big money on new venues. Keith said: "This is a new joint, right? I like it!" Sure we liked it! First of all I might buy a TOYOTA next time I buy a new car. Even if I have one already. Why? Because these guys are clever. At all other venues I have been to I have been spammed with all sorts of commercials scrolling all over those fancy new display systems they have at all these brand new venues. But at the TOYOTA CENTER tonight there was only one message running on all displays: TOYOTA CENTER! Clean and easy. Why spend 10 million (or more) on the name of the venue if you can't have your name all over? I like it! But as Keith says... on with the show.

I was on my chair at 7:23pm. With my $7.50 tiny little venue pizza. Well prepared. For once I wanted to see the warm-up hitting the stage with a "proper" meal handy. The warm-up is ALWAYS hitting the stage right on time, two minutes before or after the time printed as show time on the ticket. So I had plenty of time in my row 11 seat. Great seat by the way. But the guys kept checking the guitars at 7:35 and 7:40 and 7:45. I had finished my pizza and I knew something was wrong. So I left my seat to talk to friends and crew. Then a few minutes later a guy came out on stage announcing: "Henry Garza of Los Lonely Boys is not feeling well so there will be no warm-up act tonight." Then he said no worries because it would give us another half hour extra to drink beer.

I walked out watching the ever-increasing queues for buying merchandise. They are probably still queuing. I have never seen anything like it. Meanwhile they had brough on a silly guy on stage talking absolutely crap. I mean real crap. He was simply annoying the crowd with four-lettered words and other stupid talk until he was booo-ed off stage to great applause from the crowd. The Stones may have a back-up plan for bomb-threats but they have obviously no plans for a missing warm-up. Or a real bad one. At least get rid of the guy you gave us tonight.

IT'S ONLY ROCK'N ROLL!!! So long time without hearing it. It must be weeks! OK. So they played it in Denver but I was not there, and they played it many times before, but tonight I realized I need to hear it EVERY time in order to get the perfect show.

DEAD FLOWERS!!! Played five times in total on this tour. Before tonight. Mick on acoustic guitar up front. Not just for decoration. His acoustic guitar is really clear and strong all through the song, and I was surprised so well he was strong in the mix. Keith is low key. He has been doing the show up to now. You know, with his black guitar, doing his great riffs, so it was time to hand it over to Ronnie for this song. And Ronnie made it perfect. Mick stepped back to stay with Ronnie. Then Ronnie did a solo I would be desperate to get a recording of. It was simply outstanding. Nothing less.

The B-stage was hot. In fact the show was hot. So hot that Mick used his shirt drying off sweat at times. And I had left my seat at row eleven to be right next to Charlie and Darryl by the B-stage. Mick was all over as usual, slapping hands at times, when he was dancing around. And right there I reached out and he slapped my hand like he was a timberman, strong, real strong. This guy is packed with energy indeed! So the guys next to me slapped me and took part of the joy of close encounters with Mick!

JUMPING JACK FLASH!!! The final missing link of how to do the perfect show. This is how to end the show! And how Charlie is driving this song! Keith running the song. guitar wise. Ronnie doing the guitar licks. Topping it. Licking it. Mick being all over. And Charlie pumping his bass drum with double beats still not moving an inch. Well his arms are moving but JJF is pumped up by Charlie for sure. Perfect closing song. It could go on forever but it is always over long time before I am ready to go home.
---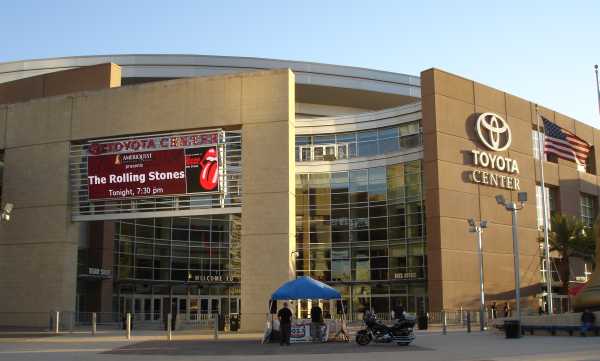 ---
Review by Elia Cipriano
After an average show and subpar night for Keith in Dallas, the Stones came out strong right from Start Me Up and IORR, never slowing down for what was a super show in Houston. It was a lot of fun for me, and I'm tough to please, so I can only imagine that the casual fans must have wet their pants. She's So Cold was a highlight (I feel bad for cities that didn't get to hear it) as was Nightime once again. Dead Flowers, the obligatory country song, was spot on along with a strong follow up on Bitch. It's too bad they wasted Midnight Rambler in Dallas because it would have been great the way they were playing for Houston. Even Sympathy For The Devil benefited from their performance. Satisfaction sounded great and fresh once again and, like the other night, the B-stage was superb. But most of all, after seeing him two nights in a row, I can't believe how good Mick sounds. Frankly, I can't recall him sounding any better the last few tours. He's doing so good he actually might be able to pull off Anybody Seen My Baby! Bottomline: Houston rescued Dallas and left me ready for another show.
---
Review by Alan Tipping
Nice arena, but from our excellent 6th row floor seats, the upper level sure looked like a lllonnnggg way up! I'm not sure why people wanted to give the Los Lonely Boys fill-in such a hard time. He did get a bit old, but it's not like they had time to get a real comedian, and anyone who tries to get the women to show their tits can't be all bad :-) !

No new songs were played that haven't been heard previously this time around. The highlight for me was Dead Flowers; it just sounded really good, and it's only the second time I've heard it this tour. Overall, I thought the boys were all pretty energetic.

They seem to have settled into a 2 hour set (last night shows 1:55), which is about 5-10 minutes shorter than most of the US shows on the prior several tours. My buddy did point out that they play while being rolled out to the small stage, which eliminates some dead time, and when I looked at the # of songs (now vs. then), they're the same or just one less.

The Houston paper's critic was rather brutal, beating the same drum about them being old, just going through the motions, and playing the same old songs. Lousy interpretation of a great show.

I'll close out 2005 with my 9th of the year in Memphis on Saturday!
---
Review by Jeff Young, Humble, Texas
The no show of the opening act was ok, but I was expecting the Stones could add a few extra songs. That would be much easier than offering a partial refund or a gift card for a Stones t shirt. Oh well, I found time to explore and check out the Toyota Center and get in a little exercise by walking around. On my trip to the nosebleed section just to see how far that was from the stage I ran into my high school math teacher,Janis and her friend Tom,leaving their seats with a smile. Someone from either the venue or the Stones entourage had handed them floor seats just a few rows behind me which was about 20 rows from the main stage. What a gift and were they ever grateful.

There was also an amateur comedian on stage that was not funny and insulting and left the stage after a short time. Actually, hanging out with my brother Wes and his wife Kathy was more entertaining. We ate out in sec 111 with a handful of cold and greasy burgers and laughed and had a good pre show visit. I left my binoculars with him and he was having fun checking out to see if he could spot any celebs who usually are seated in sec 121. The fellow behind him had been talking about meeting Ron Woods and buying his art work and was non stop about all that artwork, etc. My brother blurted out oh my there is Joel Osteen seated in 121. The fellow immediately wanted to borrow the binoculars and Wes said, "false alarm." Everyone around found that to be entertaining and better than any pre show comedian on stage.

After being mesmerized seated at the Giant Stadium in New Jersey in September I was expecting similar results in Houston, my home town. My ticket cost me 400.00 plus 100.00 for the platinum fan club fee and service charges added that is about 531.00 which equals $26.55 per song. Start me Up, then IORR, She's so Cold what a way to start a show. Everyone was up on their feet. Where I was seated the sound was too loud and not clear for most of the show. I would like to hear more obscure numbers and more acoustic or ballad songs added. Dead Flowers was put in the slot for a slower song and that sounded excellent with Mick on guitar.

Get Off My Cloud was also a nice surprise for the small stage. Jumping Jack Flash ended the show along with multicolored confetti streamers falling from above. No fireworks tonight. The best part of tonight was spending time with my family and being home in less than 30 minutes. No early flights to catch or all the other issues with travel. More Stones for me in the future. I am not sure I will pay the high price for floor seats. I'm too tight.
---
Two shows in one night...
Review by Carlos G. Zamora
The Stones came out full throttle from the beginning and played for a full two hours. Mick was his usual self full of energy and playing to the crowd all night long. Both Keith and Ronnie's guitar playing were awesome. Seeing them trading riffs was something special. And Charlie Watts looked great as usual, setting the pace for the band and driving the band thru the whole show.

The special songs on the setlist for me were DEAD FLOWERS, BITCH and SYMPATHY FOR THE DEVIL. The whole show itself was really nice, in the fact that it was pretty straightforward with hardly any overkill pyrotechnics or lighting extravaganza.

After the show we went over to The Continental Club, since a friend from Austin had informed me that it was rumored that Ronnie might join Ian McLagan onstage. And, sure enough around 12:45 am, Ole Ronnie Wood showed up to jam with his former Faces band mate and they put on blistering set at the old club on Main. See picture below.

It was awesome seeing both of them in a small club, having a blast. What a way to end the night.
---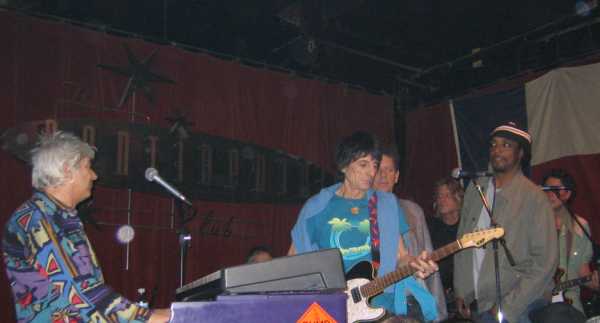 Thanks to Carlos G. Zamora for great photo from The Continental Club
---
Review by Stuart Rosen
Great show for the Stones at Toyota Center; Dead Flowers, She's so Cold sounded especially great. The warm up band cancelled around 7:30... Stones came on stage around 9:05

The highlight of the night was after the show at a local joint, The Continental Club, around 1:00am, Ron Wood and some of the other back-up singers for the Stones walked in and played on stage with Ian McLagan and the Bump Band; evidently they are old pals from way back. (The Faces) They played 3-4 songs together which sounded great! There were maybe 200 people or less in the club. Amazing! Ronnie hung out at the club til around 2am...

Quite a night!
---
Please send your show reviews and comments to: [email protected].
The reviews will show up here soon! Thanks!
---
News links:
---
The IORR magazine
For exclusive reports and pictures from the Rolling Stones tour opening see the IORR magazines.
---




It's Only Rock'n Roll 1980 - 2005
© The Rolling Stones Fan Club Of Europe