---
These are the latest Rolling Stones news and updates for you! IORR is a non profit fan club run by fans for fans. All parts of the It's Only Rock'n Roll web site is copyright of The Rolling Stones Fan Club. When using information from this site, please include a reference to IORR and the main web address www.iorr.org.
---
---

The Rolling Stones
Beacon Theatre, New York City, NY, USA
Wednesday November 1, 2006
The set list
Jumping Jack Flash
Shattered
She Was Hot
All Down The Line
Loving Cup (duet with Jack White)
As Tears Go By
I'm Free
Some Girls
(Just My) Imagination
Far Away Eyes
Champagne & Reefer (blues with Buddy Guy)
Tumbling Dice
--- Introductions
You Got The Silver (Keith)
Connection (Keith)
Sympathy For The Devil
Live With Me (with Christina Aguilera)
Honky Tonk Women
Start Me Up
Brown Sugar (encore)
Satisfaction (encore)

Buddy Guy (warmup) : 8:10pm -  8:50pm
Rolling Stones     : 9:41pm - 11:38pm

---
Review by Russ Rowland
The Stones at the Beacon, it's like a dream come true. Impossible to live up to the hype, but you hope it comes close. Parts of the show were magnificent -- and parts were, you know, another Stones show in a very intimated setting.

What jumped out at me was two things I will always remember about this show:

-- Keith and Mick sharing a mic, harmonies and smiles during the last chorus of Far Away Eyes. What a wonderful sight -- I can't recall the last time I saw that! Even if it was for the cameras, it was still a great moment.

-- Keith doing Connection as the second song in his set. I love this song, was hoping he'd do it and it was just a wonderful, rockin' version. In fact, Keith's one-two punch of You Got The Silver and Connection was hands-down the most enjoyable Keith set I've seen since he's been doing 'em. Having him lay off the guitar and focus on the singing has really been a smart move, and it looks like he's really free to enjoy himself.

The overall setlist was similar to what they played at Beacon one, except they opened with JJF, added Some Girls, Far Away Eyes, Honky Tonk Women, and Brown Sugar as the first song in the encore (I belive it has been slated for Beacon #1.)

Mick's voice sounded great... what I could hear of it. Soundwise, I think there were a few concerts in the beacon tonight: the one in the upper balcony, the one in the middle balcony and the one on the floor. I was way up and while the sound got better as the night went on, it was a bit echoy and muddy. I snuck down to the middle balcony and I couldn't believe how much crisper and louder they sounded, especially the guitars.

Bluesmen aside (well, some), I have always found the Stone's guests to be a letdown. They are either too respectful in their performance or they don't really jive with the Stone's sound. But I have to say as much as I liked Jack White and Buddy Guy appearances, Christina Aguilera blew me away with her singing on Live With Me. It was a blistering version, and she definitely helped take it up a notch.

Go figure!

I really hope someone taped both shows... and from the middle Balcony.
---
Review by Robert Bagel, New York City
While both Beacon shows were excellent, I have to say this night was better than the first. Do not worry Bill, Hillary, and Vaclev: this show just edged out the Sunday one. The wristband/attendee-list farce, the drama of the Atlantic City and Beacon postponements, and the massive rescheduling (and Honolulu cancellation) made this some of the most agonizing and nerve wracking six days for Stones fans in history. So the second Beacon show had a huge sense of relief about it. Sunday was Bill Clinton's birthday party, Wednesday was 2100 people very happy to get in. Though I saw far less of the show from my upper balcony seats compared to Sunday, the overall spirit seemed better. One rough part (New York City is the greatest city on earth and as Keith said, "the Beacon is one of my favorite rooms"): some of the New York ATTITUDE showed through when people complained that the first seven songs were the same as Sunday. Excuse me, but is seeing She Was Hot, Jack White join in on Loving Cup, and I'm Free twice in four days something to complain about? This is not the symphony season and the performers are intent on making a kickass DVD, right? I'm Free had a warm, laid back jam which made the version from the CD Stripped seem rigid and short.

The difference in the setlist made this night the superior of the two. Instead of Undercover we got Some Girls (though the 1999 No Security tour versions of this song seemed better). Also there was Far Away Eyes in the place of Shine A Light, and this provided the prime moments of the evening. At first I wondered whether there would be a country music guest on the song (having seen Merle Haggard at the Beacon 18 months before). Instead Mick did his rap-like lead vocals throughout , and Keith joined in on harmonies. Toward the very end of the song, Keith shared Mick's microphone on the "If you're downright disgusted…" harmonies. Half the fun of seeing the Rolling Stones now is seeing Mick and Keith begrudgingly acknowledge each other on the stage while they are both fabulous showmen. Mick and Keith together doing live vocals was something I cannot recall seeing, and raises memories of the Dallas 1978 film or Ladies and Gentlemen 1972 movie. It was extraordinary.

Connection (as Keith said, a song he did with "the Winos", his solo band The Expensive Winos) replaced Little T&A, and it was amazing. It was fun to hear the Stones do it rather than Keith's solo band, especially Charlie's drumming compared to Wino Steve Jordan's drumming. This was a neater, cleaner version compared to the Wino's nicely sloppy hard rock version. Ron's guitar was graceful as Keith boomed familiar chords.

We did get one more song tonight than Sunday. It was Brown Sugar or Honky Tonk Women however you want to think of it; then take Sunday's Paint It Black out of tonight's setlist. Buddy Guy's performance on Champagne and Reefer was as good as Sunday's, but Christina Aguilera's performance tonight on Live With Me did not equal the first night. While Mick and her aped and clowned better than Sunday, her vocals were not as crisp. We love you Christina, but wish you would have stayed away from the Mariah Carey style tonight, the way you stayed away on Sunday.

So the Beacon Shows are history. And do not doubt, they were historical. Here's hoping Martin Scorsese makes the band sound and look as good on film as he did Travis Bickle. These were great shows, but I know any New Yorker would trade one of these for a relaxed evening at the Garden. Not a bad idea Stones, once you are done with Vancouver!
---
Review by Witz
What a great night!

As I always do in my reviews, I'll leave the song by song critique to others and just give my observations. First off, I avoided this site after Sunday night so as to be as surprised as possible by the set list...and what a surprise it was. Take a look at the first 14 songs! For the set list, "warhorse" complainers, try and take a shot at this one!

For years I have been dying for She Was Hot and after missing it by just a few shows at the Meadowlands in Sept., I thought I had missed my chance, but we got an great version tonight. Why did they wait so long to break this one out, they do a great job of it live.

Although I had heard Loving Cup in MSG a few years back it was great to hear it again. Is Jack White the best we can do as a guest these days, though? I was not impressed with him (sorry to his fans out there). Where have the days of Eric Clapton guesting on Little Red Rooster gone?

My seat was upstairs and not great, but I was able to sneak down to the far left of the upper balcony right next to the movie lights. The lighting guy was cool and let some of stand there...until too many got in the way and ruined it for there rest of us. After As Tears Go By security cleared out that aisle. Unfortunately I was pissed off about that and lost a little focus during I'm Free, but still enjoyed getting another personal debut When they followed it up with Some Girls, I scored another first for myself!!

Buddy Guy was awesome on Champagne and Reefer and Ronnie really hammed it up pretending to be knocked of his feet (literally) when Buddy busted out his first line.

As for the camera awareness, the whole band seemed to be playing to the lens's. Mick's energy was off the charts. The incredible moment of Mick/Keith sharing a mic in Faraway Eyes was clearly for the camera, but who cares! Even Charlie came out during the introductions and said "Hello."

When it was Keith's turn to sing, he spoke more than normal. In between the standard, "The Beacon is one of the best rooms" and the newly varied "it's great to see you, it's great to see anyone," he spoke one of the longest sentences I have ever heard him utter, however, it was unintelligible to me, sounding more like Mick imitating Keith on SNL, when Mike Meyers asked him if he was speaking esperanto! I will turn to the message board for help deciphering that line! Regardless, getting Connection was technically another first for me having heard it in the same "room" years ago when Keith was touring solo.

I could go on forever, but I want to leave space for others. Oh, I almost forgot, I got to meet and be filmed by Albert Maysles! I realize this could be my last Stones show but what a way to go! And, if my moment in the sun somehow avoids the cutting room floor, what a momento!
---
Review by Cardiff Giant
Part II of the Beacon odyssey. So lucky to be in for both shows. Buddy Guy was blistering again as the opener... and then it was time.

While one friend missed out on getting in (Kevin)....another friend paid the big bucks to get in (Kevin). Too funny. I ended up in a better spot than what my ticket was .. I got into 2nd row front balcony, Keith's side, with Delaware Kevin. What a spot !!!

Finally at 9:45, Michael Cohl introduced them..."in their second and final show at the Beacon Theatre...the Rolling Stones."

Keith busted out with a wailing start to Jumping Jack Flash....so much more energy compared to the first show. JJF never disappoints as the opener... This was LOUD !!!!!!!!!! Keith crunching away...and Mick appears...the house goes wild. Keith was playful from start to finish tonight. He was chuckling and smiling at the pretty young things in the front floor. Made me think that he was thinking of this as "girls his daughters' age"..but these airheads knew nothing of the Stones. No matter...Keith was gonna blow them away. He'd laugh,,,then blast powerful rhythm notes.

Shattered began a roll down the lane we traveled in show #1. Again, loud, and wild. Mick apoolgized for the delay for this show. He said he showed up last night in costume but no one was here. So there was no show !!! Then he made a sincere apology.

She Was Hot was hotter than the first night. Keith licking it. Mick kicking it. Ronnie jabbing...Charlie snagging. just great. All Down the Line was tight and nasty. Ronnie was filling with lightning notes.... d---d---dddd-de-d-d-d-d-...."yeah..."....you know the part to which I refer. Keith did a nice "shake it up" move with his arms and hips...very animated. And Ronnie just tore the place up with a solo that was fast and so solid. So much on feel....nothing was forced by Ronnie tonight. Jack White was more confident on Loving Cup. He yukked it up a bit with Keith at one point, getting Keith to lean on him while he played acoustic. Mick was very energzied every time he picked up a guitar...which was a lot in this show !!!!

As Tears Go By provided the most striking visual of either show. Keith on stool, Mick on the mic, their outlines in full silhouette as the lighting was blasting the stage floor, but the Glimmer Twins were in shadow. I hope my photo comes out well !!!!!!! Breathtaking. Keith was really pickin' on the guitar, and as the song closed, Mick and Keith embraced, for real, with feeling and big smiles and a chuckle. The gems just keep coming with I'm Free....Charlie brought some extra bounce, and Keith had real spirit on his backing vocal. With binoculars, I watched that sparkle in his eye.

A curveball next.... Some Girls. and Mick was a jumping bean on this song. Slashing guitar, racing about, exploding backwards to roam the wings. He left out the "jam" lyric...oh well. But the performance was stellar. He really had fire, and was moving his eyes all about as he snarled out the lyrics. Keith gave himself a tap to the head in between notes and then did a fast slice and run back to the middle of the stage. Keith was prowling.

Mick made his 1964 jokes again, about the last time they played a theatre in NYC. Things change... Tickets were $2.50, hamburgers were 19 cents,....there was a war . (pause...and a glance to the crowd).... Mick is subtle with his political statements !!!

Just My Imagination was the first part of a great double dip. The song took off in the middle. Keith was blissful as he stood and made a beautiful noise. Then Mick worked all three catwalks to fire up the crowd. Keith took that as reason to bring his game up even higher. I was drinking it all in. At the end, Charlie blasted the snare with huge strokes that began above his head...He was making a point...loud and clear. Milestone moment on that song...The movie will prove it.

The double dip was closed with a HUGE HIGHLIGHT....I can't emphasize it enough. Far Away Eyes. And I thought it was a treat at Giants Stadium. This was amazing. Keith teased and encouraged Ronnie as he sat at the pedal steel. Keith was sweet... bending down to Ron and patting him on the head. The song was so good. Mick nailed his country rap and was in rare form. But what made this song sublime ....late in the song, Mick and Keith shared the same microphone !!!!!!!!!! For a good 20 seconds as they crooned together...."if you're downriiiiiight....disgusted....." That was worth everything to me !!!!

Buddy Guy was out again for Champagne and Reefer....a blues winner again. Mick on harp for the only time. A guitar fight with Ron, Keith and Buddy. Keith and Ron would circle Buddy and close in for a fight. Very cool. Keith would lean on him...then move out..then lurk back in. Buddy would explode with a vocal. Mick ended the song by saying "Buddy mutherfucking Guy"....nice. Tumbling Dice was once again the back end of an amazing first half of the show. Keith had the scarecrow arms working. No one is more fun to watch.

Band introductions. Mick said Lisa was from Queens...I said, she's not from Queens...Brooklyn I think. And just as I said it, Lisa was making Mick laugh. He said, 'I fucked up.... not from Queens from Brooklyn".... Then he introduced Bernard from Queens...funny moment. I was hoping Mick would try to guilt Charlie into talking...He did !!!!!! Charlie was introduced and came out to stand hand in hand with Mick. Then as he returned to the drum riser, Mick pushed the mic towards him "...Do you want to say a word?" ....and Charlie said a word, "Hello!" Priceless. Mick's witty response "He said a word". First, Mick and Keith share a mic...then Charlie talks.... Can it get any better?......uhhh, yeah it can !!!! Keith is up next.

He thanks us all and says the Beacon is a great room...He loved it with the Winos...big cheer. Then... You Got the Silver was incredible. Ronnie was so damn good on slide...just amazing. Keith, meanwhile, went with a vocal that showed more power and big volume late....you rarely get that from keith. Made a huge impression. And he went to his knees to end it again.

I was penciling in T&A when Keith said, "this next one, ....haven't done it since...I think maybe the Winos....here"..... I was ready to come unglued !!!!...Connection !!!!.... They rehearsed it...and they brought it out !!!!!! And it sounded more Winos than Stripped outtakes '95. This was great. Really great backbeat and driving groove. Guitar from Ronnie and then Keith's first solo was so exciting. Keith was cool and in charge, even if he missed a word or two, he never let the song slip...it kept it's groove. It really reminded me of the Winos live version. I was ecstatic. My third big highlight of the show, coupled with Far Away Eyes and Charlie's one word "chat" that spoke volumes !!!!!!!! What a film this will be.

Sympathy for the Devil had Keith howling out on the guitar....a fighting cry...real cool. Christina Aguilera brought more and more power to Live with Me. She really did a nice job. and the band was jamming. Honky Tonk Women was in the show tonight...Keith with great confidence and groove, walked the center catwalk and took over.... the cool notes. Ronnie was spot on again when the solo came.

Start Me Up closed the regular set...Have they ever done that before ??? I doubt it. Again it was Keith walking to the center and getting this off to a loud start.

The double encore....Keith roams out early and prowls..in the spotlight...building the anticipation.. He may have come out too quickly. Background singers scrambled into place as Keith hit the notes. The crowd had a great energy. Mick was playfully shoving Ron in the chest and then in the shoulder during the song. Mick's energy was great all night and he sang with power. True professional. He was ina zone on his moves....Looked like the Too Much Blood video at one point. He can bring it all back to the late 70's or early 80's with just one quick move or look. So damn cool to watch. Right into Satisfaction.... Mick said, "these lights are burning my ass." Keith was in control. And he got a chuckle out of the pretty girls in front. Honey, let me show ya how it's done, he had to be thinking. Just really getting a laugh out of being a movie star. He had to feel like a kid up there...He acted it. The double encore had so much energy and volume.... This was a loud, guitar driven night.

I feel so lucky to have been there to see it all...both nights. Can't wait to see it on film. I got a setlist sheet on the way out. This one is getting framed. Incredible. !!!!!
---
Review by John O'Hara
With 25 shows under my belt over 31 years, it was thrilling to finally see the boys in a venue as intimate as the Beacon Theater. I have seen the Allman Brothers Band there at least a dozen times, but this was a completely different experience. Great crowd, great energy and the World's Greatest Rock n Roll band did not disappoint. Jagger's voice seemed a bit weak at first as the backing vocal group of Lisa, Bernard and Blondie seemed to have to hit the higher notes, but he got stronger as the night went on.

I am always impressed with how much of the guitar work Ronnie handles and last night was no exception and he and Keith played off one another brilliantly and played to the audience more than usual taking advantage of the intimate setting.

Hearing Shattered and Some Girls on the same night was awesome in NYC and I really enjoyed Jack White on Loving Cup...he seemed a bit in awe, but wouldn't anyone?

Buddy Guy on Champagne and Reefer was a departure I appreciated as the set lists can get a bit repetitive sometimes and Christina Aguilera on Live With Me was good campy fun...she certainly didn't seem intimidated and really brought a different feel to the night. However, I'll stick with Lisa Fischer....nobody brings it like Lisa!

Highlight of the night was Mick and Keith harmony on Far Away Eyes...they seemed to acknowledge each other and their legacy in a way I had never seen...they don't share the microphone much anymore, so that was a rare moment.

All in all, a great night and my disappointment of being in Atlantic City on Friday and then Tuesday's cancellation was erased with this tremendous show. As always, worth the wait. Roll on Rolling Stones!
---
Review by Michel Werthenschlag
The year 1973 had Brussels, 2006 has the Beacon Theater. That how I'm sure many of the lucky fans who scored tickets for both Beacon shows felt after tonight. The band sounded focused. There were great, magic and I'm sure soon-to-be legendary, moments. Some versions of songs we all heard hundreds if not thousands of times, were re-energized and put back to life.

One can only always be amazed by the depth of the Stones' repertoire: I'm Free, such a classic, hadn't been played since 1969, yet they played it with such an amazing energy and freshness you'd thought they've played it their whole life. Or Some Girls, where Mick showed how modern this song still sounds -- even though the racy lyrics were (in part) censored. Too bad he didn't play the harmonica on it. Or Far Away Eyes. She was Hot. As Tears go By. All classics, from different decades, yet with a distinctive Stones' feel.

Champagne and Reefers, a fantastic blues played marvelously on both nights with Buddy Guy was one of the highlights. Funny to see that Buddy Guy changed from the sweatpants during the opening act to the suit/hat combo when playing with the Stones, sort of paying tribute to the Mississipi blues' worshippers that Keith and Mick were when they started. The layers of guitars topped with Mick's screaming harmonica was a sweet wink to the Stones' early beginning, when they were covering bluesmen material. But after tonight, to paraphrase Jon Landau, I saw the future of the Rolling Stones, and it's called the Blues.

I loved the fact that the Stones were by themselves on a few songs (e.g. Jumping Jack Flash or Shattered), only joined by Chuck on the piano. No background vocals, no horns, just bare bones Stones, like their rocking concert at Juilliard. Keith doing some background vocals was also a refreshing, moving highlight of the night. He did some at last Giants' stadium concert, but it seemed like he made an extra effort tonight to participate more in the singing. That's something that, to me, was missing the past few years: Keith and Mick doing harmonies together. Well, they did it yesterday, sharing a mic, like 20, 30 years ago. Was that for Marty's movie or for the fans, we'll never know, but that was really moving.

Keith's part was another peak of the night, with the now traditional You got the Silver, with Ronnie on the acoustic guitar, and -- surprise! -- Connection, which drew the crowd nuts. The crowd by the way was screaming all night long. Standing in the lower balcony, you could see and feel the warmth of fans of all ages. Despite the apparent mishandling of the sale of the tickets, there were still 100% of fans (among which E Street Band's Steve Van Zandt smiling and appreciative or Benicio del Toro) in the audience, feeding the Stones with enthousiasm and energy.

The guests did their job properly. Beautiful version of Loving Cup, with a very respectful (maybe too much?) Jack White, with special kudos to Chuck on the piano. As for Christina Aguilera, I have to say I was a little puzzled at first when I saw her arriving on Sunday night. "The Stones, with Christina Aguilera?" Well, the girl has a fantastic voice and the version rocked. The surprise was gone on Wednesday, but the song still rocked. Aguilera was less playful than Sunday ( but I guess more focused and so were Keith and Ronnie to deliver one of the grooviest versions of this Let it Bleed favorite.

Ronnie, let's talk about him. He has been perfect during the past few concerts in New York and raised him game again. His solo on Start Me Up (yes, the warhorse!) was just fantastic. His interaction with Keith was a pleasure to hear and watch all night long. Their intertwined dirty licks on Shattered, All Down the Line or Some Girls made me feel like I was at the Garden in 1972. I never thought I'd say something like that, but the Beacon concerts were in my opinion as good as any of the Stones' live production from the 1972-1975 period, with mean guitars, a smoking rythm section were Darryll and Charlie complement each other like sulfur and fire and Mick's voice maturing just like a good old French wine. As for Charlie, well, he was himself, i.e., perfect from start to finish, with 2 amazing performances on Tumbling Dice and All Down the Line (fan-tas-tic beat breaks!). The Stones don't need to hide behind layers of horns, keyboard or background vocalists and they showed it yesterday.

The finale, with Satisfaction, just proved the point again. How many times have we heard that song? Yet, they managed to play it with Chuck Berry-esques accents and fantastic complicity between Ron, Keith, Mick and Charlie.

The Stones have nothing else to prove. They could stay in their respective mansions and sip cocktails all day long. Yet, after 40+ years, they're willing to take new risk and try new things. It doesn't always works ( e.g., first versions of Sway), there sometimes are obstacles down the road (e.g., Coconut trees, sore throats), but when it all comes together, when the sparkle is here, you end up with a legendary night in an intimate venue, surrounded with friends.
---
Please send your show reviews and comments by e-mail to: [email protected].
The reviews will show up here soon! Thanks!
---
Thanks to Jim Pietryga for great photos!
---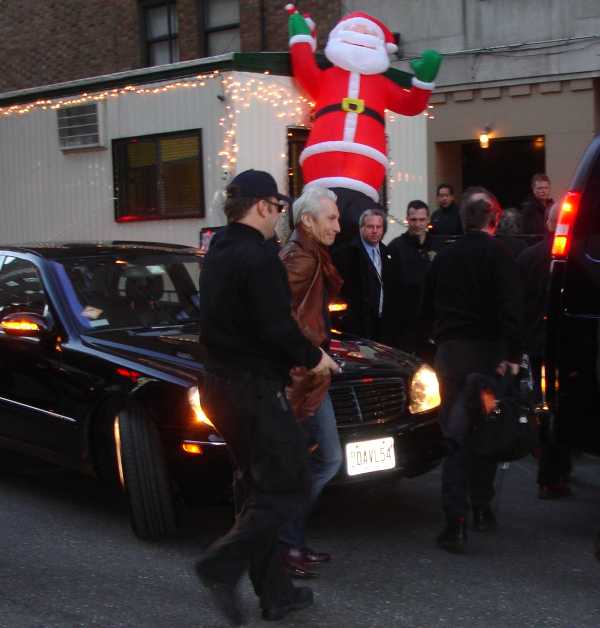 Beacon Theatre Sunday Oct. 29 afternoon: Police escorte arrives at the back door. Keith, Charlie and Ronnie arriving at the same time. Then ten minutes later, Mick is arriving on his own. The whole block is boiling by now. The production setup is giant. Crew and staff everywhere. Trucks, equipment all around the block.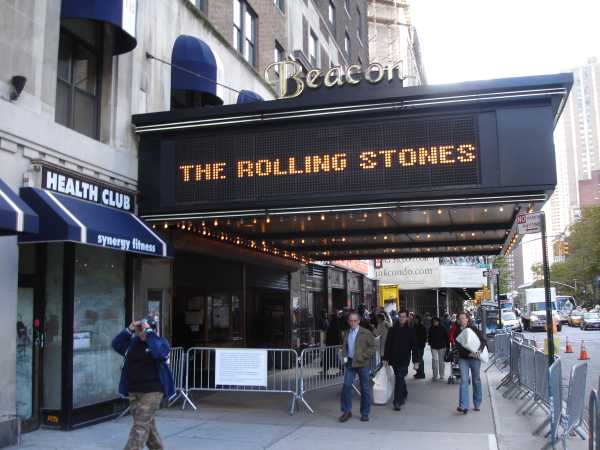 The barriers are being set up. The Stones are on display. The fans are queuing up with hopes for tickets. But soon after they will clear it all and set up for the lucky ones who got a ticket.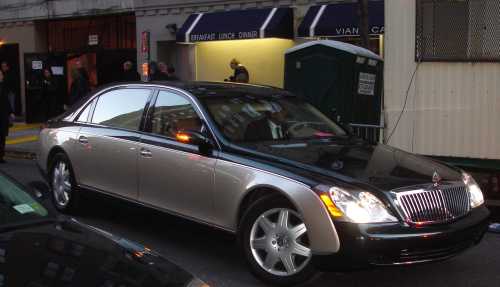 The Martin Scorsese film crew is making interviews with fans. Behind the camera: Albert Maysles - director of the legendary Gimme Shelter. Every fan being interviewed, or being anywhere near the camera, is being asked to sign a paper saying it is ok to be in the film being produced.
---
News links
The IORR magazine
For exclusive reports and unique high quality pictures from the Rolling Stones tour and more see the IORR magazines.
---




It's Only Rock'n Roll 1980 - 2006
© The Rolling Stones Fan Club Of Europe