---
These are the latest Rolling Stones news and updates for you! IORR is a non profit fan club run by fans for fans. All parts of the It's Only Rock'n Roll web site is copyright of The Rolling Stones Fan Club. When using information from this site, please include a reference to IORR and the main web address www.iorr.org.
---
---

The Rolling Stones
Beacon Theatre, New York City, NY, USA
Sunday October 29, 2006
The set list
Start Me Up
Shattered
She Was Hot
All Down The Line
Loving Cup (duet with Jack White)
As Tears Go By
I'm Free
Undercover Of The Night
(Just My) Imagination
Shine A Light
Champagne & Reefer (blues with Buddy Guy)
Tumbling Dice
--- Introductions
You Got The Silver (Keith)
Little T&A (Keith)
Sympathy For The Devil
Live With Me (with Christina Aguilera)
Paint It Black
Jumping Jack Flash
Satisfaction (encore)
Buddy Guy (warmup) : 8:00pm -  8:40pm
Rolling Stones     : 9:34pm - 11:22pm

IORR comments: This was a different show. A very different one. Mick said there were more cameras on stage than guitars. Happy Birthday Bill Clinton. So many rare and great songs, but it was "Tumbling Dice" - the good old warhorse - that got the crowd really going wild. And Christina Aguilera was the big surprice of the night. She made a great funky version of Live With Me, duet with Mick.
---
Review by Robert Bagel
It was an interesting club show tonight in the small Beacon Theatre. For those of us who love to watch the Rolling Stones themselves deconstruct an entire concrete monstrosity of a football stadium, I can say you did not miss much. But if you wanted a star studded celebrity event, tonight was the night for you.

The Clinton birthday celebration was a success it is safe to say, and with Martin Scorsese filming and special guests it is difficult to compare to any other show. It can be said that the Dave Matthews appearances at recent shows were a good primer for the guest appearances tonight. Bill Clinton gave a long winded yet still impressive speech to open the show, and introduced such international heavyweights as Vaclav Havel, the leader of the 1989 Czech republic velvet revolution and Stones fan nicely beating lung cancer.

There was little to complain about for this show, the main complaint being they did not do a single "new" song from the 2005 album A Bigger Bang. Still you knew it was a refreshing show where we did not get Brown Sugar or Honkey Tonk Women. Quite similar to the Radio City gig last March, we got Shattered (as delicious as it is to hear Mick name Manhattan as he so rarely does in the song, you had to wonder whether this has become the official high end charity event anthem). The crowd was definitely not as energetic as the Radio City crowd in March. The middle section was eager to sit down even with the camera booms and technicians filming as they rolled back and forth. Luckily the rest of the place, including—to their credit—Bill and Hillary Clinton seemed eager to participate in making it a great recording.

Jack White of the White Stripes joined the Stones for Loving Cup, and this was brilliant. Loving Cup can easily be a White Stripes song, and Jack White did his parts on vocals and guitars effortlessly. It was the highlight of the evening. Buddy Guy joined the band for "Champagne and Reefer", which the Stones had not done since doing it with Muddy Waters at Chicago's Checkerboard Lounge in 1981. It was also nice to see the Stones recognize Chicago in She Was Hot, where Mick twice used the line, "Cold Chicago Night". She Was Hot is definitely the prime oddity of the fall U.S. tour leg so far. The most wild part of the evening was Christina Aguilera's smoking performance of Live With Me with the band. Ms. Aguilera came out in black tights, black high heel boots, and a tuxedo shirt which delightfully served as a short dress. Her powerful voice was perfectly matched with the powerful band backing up her singing. Mick encouraged her, and any time it seemed her bellowing vocals would be too much she gracefully backed off and sang beautiful harmonies with Mick. She played her part perfectly, clowning with Ron, and then even having the wonderful audacity to interrupt Keith who was back by Charlie in mid-rhythm trance. She demanded Keith's attention and walked him forward during the song. I have never seen anyone get amongst the Rolling Stones and demand a higher standard like Christina did. She was not intimidated, just interested in everyone doing their absolute best, and the result ROCKED!

While the cameras and booms were a nuisance during the show, Mick made light of it saying "the only way to get a good view will be to buy the DVD". The Clinton factor was a bit of a distraction, including Keith saying directly to Bill, "once you have as many birthdays, you don't pay attention to them". Unlike the Radio City show in March, I cannot say this was one of the best shows I have ever seen. I can say it was damn good, and was made excellent by all of the special guests tonight. Maybe with the star expectations of the show it had to be like this, but I know the Stones can put on as good as, if not better show, without all the hired help. Still it was an exceptional show that will be enjoyed in memory or DVD for years to follow.
---
Review by Cardiff Giant
Just when you think the bar can't be raised any higher. Pure magic and art from the Stones at the Beacon. And let me say right off the bat...This film will be amazing. No doubt about it. So many cameras and so much action.

As I got into the lobby, there were some stars to see. (In order of how I saw'em) Richard Belzer, Paul Shaffer, Michael J Fox and wife Tracy Pollack, Elvis Costello and very pregnant wife Diana Krall. Probably others who I missed. After Buddy Guy's blistering set, we waited. All the guitars for Keith and Ronnie lined the back of the stage. Probably out of view for most, but visible in the balcony. Former President Clinton took the stage and gave about ten minutes of talk...even coming back for a second round of extra comments. ?!?!?! When he did, he said, "oh, one other thing I forgot to do....." And at that moment in a quiet theatre, a fan up top yelled out..."Inhale". Pretty funny.

Finally at 9:34, Michael Cohl introduced, "playing for the first time at the Beacon Theatre, the Rolling Stones." Keith stepped up and blistered into Start Me Up. The concert and the fliming were underway. Several small and medium video screens hung from the ceiling so the balcony fans could see ...The obstructed view was not nearly as bad as I expected. The front of the stage has a catwalk center, and wings left and right out into the crowd. But even in my last row seat, I could see 90% of all the action...and it was only Mick who would disappear out of our sight from time to time. Ron nailed the solo and as I expected, the band was spot on. Shattered came next and got the NYC crowd going. She Was Hot started us down a path of gems. Keith and Ronnie were weaving...and I mean really weaving, making it sound like the studio version. And Keith ripped off a mean Chuck Berry solo....nasty and tight. Mick joked with the crowd about the birthday celebration for President Clinton....and her husband !!!! All Down the Line... Ronnie, again, hit a home run on the solo. Mick worked in between Keith and Ron and that image was powerful for me. As Keith and Mick were prowling and attacking on the stage, I had a sudden thought about how those two guys, more than any other duo in rock 'n roll, are the benchmark. I was hit with the thought of how they have known each other since early school days. They are linked for nearly their entire lives. This, and all the other rich unique stories of this band and these individuals in it, coupled with Scocese's vision and talent will create a compelling story on screen. The interviews must be incredible. I expect that we will hear Mick, Keith, Charlie and Ronnie talk and open up, as never before. My mind is racing with the possibilities of what Scorcese will put together.

Next it was time for a guest....Jack White of the White Stripes joined Mick for Loving Cup. Can never go wrong with that song. Debut on this tour. White digs the country thing...He was a good choice. As Tears Go By brought the great image of Keith on a stool playing acoustic. Mick singing heartfelt, and Charlie coming in with that nice beat after the first verse. Love this song live on this tour. It was so clear and crisp. The guitars were sweet. Next, Mick said they were watching some TV this week and saw a commercial with one of their songs...The theatre was pretty quiet, and I yelled out "I'm Free". Most of the room had to hear it !!!! Sure enough, the tour debut of a great oldie. Keith backing on vocals...Nice. At this point, I'm thinking "damn,...I'm seeing 'Stripped' right here...11 years after the fact." And that thought was validated as the show went on.

The magic continued with Undercover of the Night, a live song I absolutely love. It was spooky and funky. Keith hit some unique notes that added texture late in the song. Background singers were a nice boost. For the diehard fans, this was just a barrage of great stuff. Just My Imagination was next and delivered just like at Giants Stadium. Horns that were swinging. And a moment of magic that I can't wait to see in the movie. Keith worked his way over to the wing and then went to his knees to crank some riffs at the feet of Lisa Fischer. The big camera near that area was not rolling... A tech pulled the camera cart into position to get the shot. I think Scorcese's crew was on top of everything in this show. Amazing. Mick joked to the crowd again..."We first played a small venue in New York in 1964, Carnegie Hall. Tickets were two dollars, but now we have wardrobe so prices change." Keith tried to come up and he said something in Mick's ear. There were smiles and laughs all night. The title track was next. Shine a Light. The crowd ate it up. The performance was brilliant. Ronnie's solos were incredible. Tight and locked in and with some nice improv feeling in the end parts. Every person on that stage was in top form. The song came to an end with Keith in a split with the stage bathed in full bright light. This lighting job was unlike any other show. It was classic Scorcese. Think "Casino". White halo light on the head of each Rolling Stone. THIS FILM WILL LOOK FANTASTIC !!! The great run of songs continued with Buddy Guy coming out for a blues jam. Champagne & Reefer !!!! This is an incredible night. Mick wailing on harmonica, with Keith, Ronnie and Buddy all in huddle for a jam. Smiles, laughs and real blues. Charlie with a steady boom. Wow. Buddy gave Mick such a hug after the song. He was like the approving father. After the song, Keith and Buddy relaxed near the amps with Buddy sipping champagne and Keith lighting up. A moment made for the film, I'm guessing. Tumbling Dice got the whole crowd into the party again. But I know that diehards were already in heaven after that run of 10 songs. To have Start Me Up and Tumbling Dice as bookends on a run of 10 gems. Special cannot even describe it. Keith worked the wings on Dice, and we saw the great layout of this stage. Charlie's flourish at the end was with a large steady cam on his left. The movie shots are making me salivate. And the crowd was only seeing basic shots on the video screens...When it's movie time, we will all be blown away. This production was beyond anything the Stones have ever done.

As Mick gave the introductions of the band, Keith and Charlie were chatting it up next to the drum kit, out of sight to most people downstairs. They had the biggest laugh and hug about something. And a wardrobe person adjusted one of Keith's hair trinkets. You can't make this stuff up !!! Mick led Keith out and Keith gave an extra long point to Mick. Then Keiith did his full head, heart, balls routine.

Keith was in the black trench coat for his set. He brushed off the Clinton hype by saying something about "birthdays and shit"..."when you get to my age, you stop counting, trust me!" Keith did his kicks and arm flicks as Ronnie hit those breakdown notes. Before Little T&A, Keith gave a quick " good to be here, good to be anywhere"..and added "especially in my condition". More polished version, but still with endearing ragged edges. Darryl laid down a funky bass solo. Keith really nailed the last lines of his vocals. He was serious and focused tonight, yet laughing and smiling...A LOT !!! I had moved down to the mddile aisleway in the balcony. Great view. Sound was better too. Up at the very top, some sound was cut off.

The samba beat started and Sympathy was underway. Mick was on fire and moving with energy. Keith was behind the amps and exploded forward with a cool, yet powerful riff unlike any version I've seen. No pick at first, wide finger notes. Then it was into the nasty solo. This song, and pretty much everything all night was notceably full and rich....textured. Weaving was evident. Bass lines. Everything was fantastic.

Thinking we were headed for home with warhorses, we got a curveball. Mick said there would be a guest. Live With Me took off, and Christina Aguliera came out, platinum blonde and wearing a tuxedo shirt, stockings, and heels.... apparently nothing else. I know some may have frowned on her inclusion but she has the vocal chops. She did a great job and was under pressure. Mick in her face, and a lot to pull off in the song. She played near Ronnie, then approached Keith as he had his back turned and played to Charlie. Aguilera tried to get close and he turned around with a playful fist gesture. Keith ain't being distracted by any blonde temptress....not on stage anyway. She did not stick around...Fun to watch. Back with Mick, she belted out some big notes. Ronnie and Keith played behind the duet and smiled and laughed, like two mischievous brothers. After the song, she kissed Mick, Ronnie and even Keith who seemed to be having a bit of fun at her expense. Charlie gave her a smile and wave as she exited.

Paint It Black was next, Keith with the riff and half arm flex to Charlie. Again, a very rich, full sound by the whole band. Jumping Jack Flash was another Keith spotlighter. He worked the song like only he can. The shoulder shrugs, the stops and then right into a riff, totally on feel. Keith become this song, and it always amazes me. Mick was top notch as always. No sign of voice problems. (wink) Keith had a very Mick-like shoulder shimmey late in the song, with his back to the crowd.

Satisfaction was the single encore as Keith stood still in front of the drums and cranked that motoring riff he now does for this song. It was a great finale to an amazing show. Charlie ended with his extra drum spot and then it was over. Within a second of tossing his sticks into the crowd, he was locking down his hi-hat cymbal and hopping off the drum riser. Zip up fleece on and ready to go. Keith was wrapping a scarf on his neck and handing back his guitar with no tech there !!! He handed the guitar to Charlie who was crew for a split second, handing gear to the back line. That made me chuckle. A final bow to a cheering crowd and they were off the back. Logistics man Alan Dunn was back line and seemed to have sunburn on his forehead. And quite honestly it may have been from all the lights. The band got their white robes on and were on their way.

Just a few last thoughts..... This show was done as a real Stones concert. Real time, no breaks, no re-takes. There was a digital clock on the far left upper wall for the crew to be in sync with film frames per second and the whole deal. From my vantage point upstairs, the film crews were not nearly as obstructing and noticeable as I expected. Even the boom cams were not in the way, really. The band was wearing deep dark colors all night until the end. I would bet that parts of this film are black and white. The stage was perfect. And the design was built to feed off the ornate decor of the Beacon. No big video screen, just ornate lattice and column backgrounds. A black backdrop for Keith's songs. No tricks. Just great music, energy, lighting and cinematography. The setlist was extra special, the vibe was special, the band was giving the extra effort to show all of it's strengths and influences. The only product we did not see was the result of the filmmaking. That process has just started...it continues Tuesday...and will be well worth the wait whenever it becomes a finished product. For now, I'll take the amazing show I just witnessed..and get ready for the next chapter on Halloween night.
---
Review by Tibor from Hungary
Friday afternoon in Atlantic City the stage was nearly ready, they put up the last chairs on the field when just before 2.pm they started to collect the chairs and put them back together. The show got cancelled. My 1 week visit to the East-Coast did not start very well. I was very disappointed, but never mind. At least I could sleep Friday night and start Saturday with full energy to get a ticket to the Sunday show at the Beacon.

With many other fans I stood at the theatre watching lucky people to pick up their tickets all day. As we were expecting plenty of ticket was not picked up, because the second person didn't show up, or the person's name who showed up was not submitted by 6.pm a day before. So by the deadline at 6.pm Saturday, plenty of ticket remained in the box office which could be resold. We were standing their in the cold, wind and rain, some of us came from Belgium, others from Norway and Holland just for these concerts. Atlantic city was cancelled and it seemed fair to me, to give away those remaining tickets to these hardcore fans. Unfortunately for those who were in charge had different sense of fairness. They said: "We want to be fair to everybody" so "Tickets will be sold only on the internet". I tried what I can, but couldn't convince them to sell those tickets to those, who willing to go through every possible hassle to fulfill their dream to see the Stones in a smaller venue with a more interesting set list than usual. So we went home and tried to click on ticketmaster. I did it until 1 a.m. and then got up early morning and tried again from 7.am to 10.30. There was not even a chance to search. So I rushed back to the theatre and stood in line. I met an other guy from Hungary some people from Germany and of course many real american fans. We formed a line and although every half an hour someone came out and announced that no any ticket will be sold we just continued believing in miracles. Early afternoon they decided to ask help from the police and they broke up our line. Our remaining hope started to fade away.

I was just watching how hundreds of rich people who probably have never seen the Stones entered the venue, while hundreds of real fans had no any chance to get in. When I was just about lose hope my luck changed. Someone from the Bill Clinton foundation gave tickets to a very good friend and eventually I was in. I was jumping and hugging everybody I knew. I missed Buddy Guy which I was a little bit sorry cause he is one of my favorite musicians who still performs after the Stones (Of Course with Eric Clapton and B.B.King), but it really did not matter, I have seen him many times and tonight there was something much more important.

Bill Clinton came on the stage and he seemed very happy when addressed the crowed. He complimented the Stones because " they care about the environment and about poverty in the World".

After Mr. President's speach they started with Start Me Up. Although acoustics of the venue were not very good, they were loud enough and we could hear the guitars very well. In Shattered I loved how Ronnie played. After the cold Chicago night and Seattle they played She Was Hot the third time ever live and this probably was the best performance of the song. It was followed by All Down the Line. Then came Loving Cup. It could have been the best performance of this song ever, because Charlie and Keith were both incredibly energetic but unfortunately Jack White as a guest ruined the song. Specially at the beginning he just sounded awful.

As Tears Go By was a gem. Then came I'm free which was a first timer for me. I enjoyed it so so much. Then Mick picked up a telecaster which is kind of unusual I couldn't even guess what was coming. He started to play Undercover Of The Night. Again I am undoubtedly sure, never heard this song played that well. Was even better than on the Steel Wheels Tour. Just My Imagination was also excellent, great performance. Followed by Shine A Light which was probably the most favorite song of the night for me. Pleasant surprise and the crowed really liked it, you could feel the energy how they reacted to it. Then Mick called Buddy Guy on stage. Keith bowed down on his knee while shaking his hand. Wonderful gesture. Real Rolling Stones moment to pay respect for a master. For Bill's birthday they played Champagne & Reefer a Muddy Waters song (I am not sure if he wrote it but I think so) from the album King Bee. Rough Blues, beautiful jam, I can't wait to watch it again on Martin Scorsese's movie. Then came Tumbling Dice. Ronnie had a nice solo in the middle,he was much more centre stage than usual,

Then Mick introduced the Band. Darryl didn't put up his right fist when he was called on stage, and Charlie beat the drum set harder and with more rhythm then usual. Keith played You Got The Silver and Little T&A. I just can't get enough of these two songs, even though he has played them at the last 10 shows (except Austin). Sympathy was great like always. Then came Live With Me with Christina Aguilera. I was not impressed by her voice or singing, but great song, I could enjoy it. Paint It Black was amazing again, I also love the blue lights they made up with it, although it looks a little better in stadiums. Standard ending with Jumpin' Jack Flash and Satisfaction. They missed Brown Sugar, even though it was on the original setlist. They probably skipped it because of Mick's voice. Altogether an amazing concert. Every body was wonderful tonight, except some guests. I thought Ronnie and Charlie was even better than usual, Keith had a very good day too and even though Mick's voice was not excellent tonight, his performance was. Miracles happen sometime. I was one of the lucky few who got in. Thanks for everybody who made that happen, but i feel very bad because of those who should have been in, but couldn't get in. I hope Tuesday will be a luckier day for them and I can see them inside.
---
Review by Josh Chasin, New York CIty
My friend Dave and I managed to pull two tickets from Ticketmaster to the October 29th Rolling Stones concert at the Beacon Theater. The show was the final event in Bill Clinton's $25K-a-pop birthday-weekend bash, and the first of two shows filmed by Martin Scorsese for a movie about the band (the second is Halloween night.) Tickets were scarce—we heard that only 200 seats went on sale to the general public—and security was so tight we had to show up the day before with photo ID to get wrist bands; no wrist band, no entrance, even with ticket.

You're probably rooting for the show to have sucked; I know I would be. Sadly, it was great. Buddy Guy opened—we didn't get inside in time for his set—and then with only a tad more ado, the Stones did this - see set list above. Interestingly, not a thing from the new record.

If you're like me, and you find the typical Rolling Stones concert to be a little too rote, too predictable, too reliant on the smash hits, then this gig was right up your alley. (If not, you're probably scratching your head wondering what the hell "I'm Free" is.) Only the very last two songs seemed the least bit perfunctory, although of course the Xtina cameo livened things up immensely just before. (About Xtina, allow me to say yet again, "Grrr!") There were great, lesser-known album tracks ("She Was Hot," "Shattered," Undercover") and rare old chestnuts reinvented ("I'm Free," "As Tears Go By," "Shine a Light.") And of course, the Rolling Stones shrunk down from football stadium to concert theater is a revelation unto itself; "Tumblin' Dice," for example, may seem trite in a hockey rink, but at the Beacon it shimmied and shook the house right down to the bone.

After Buddy Guy's set, the Stones brought out a comedian to work the room; fellow named Bill Clinton. Clinton made a nice, brief speech, recognizing several attendees (including Michael J. Fox), and commending the Stones for their commitment to the world's great causes. After such laudatory remarks, I was hoping they'd play "Respectable" ("We're talking heroin with the president, 'it's a problem sir, but it can be bent'.") Oh well. Missed opportunity. Although later, Jagger did note that it was great to see President Clinton in the house, "and I see she's brought her husband."

To accommodate the Stones' stage set-up and Scorsese's crews, maybe forty percent of the floor seats were gone. There were walkways protruding into the house down the middle, and along either wing. The band left the stage effects at home, relying instead on the old showbiz gimmick of spot-on, in-the-pocket rock'n'roll riffing.

"Start Me Up" is just the core band—Jagger, Richards, Woody, and Charlie, plus bassist Darryl Jones and keyboardist Chuck Leavell. Ronnie Wood plays an outstanding lead; he seems to dominate the early part of the show, a surprisingly commanding stage presence given the pull his two glimmer twin bandmates have on the spotlight. "Shattered" is also just the core six, all jagged and full of groove. "She Was Hot" was an inspired choice, one of the great Keef/Woody "weave" songs; Keith digs in here and sizzles.

The horn section joins for "All Down the Line," and before the song's end the whole Rolling Stones Orchestra is onstage. For "Loving Cup," the band brings out Jack White of the White Stripes; he and Jagger begin seated center stage on acoustic guitars and vocals, attacking the song as a blues duet before the band kicks in. White strolls around the stage sharing the rock'n'roll grind with each of the principals in turn (I mean, who wouldn't?) It looked to me like he's a Woody fan.

The semi-unplugged interlude continues, with just Jagger and the two guitarists on stage for "As Tears Go By." Mid-song the three are joined by Watts, Leavell and Jones, and Keith plucks out the lovely melody lines over a bed of Chuck Leavell chording. "I'm Free" is given a kind of folky take; Keith takes the lead guitar part, tossing off spare, easy ringing licks on the outro, reminiscent of, say, his work on "Locked Away."

Jagger has a guitar now, and chugs out the riff to "Undercover." Unfettered by the '80s production style of the studio recording, it is a great song, all sweaty funk, insistent riff and nasty grind, and no distracting chord changes. Then "Just My Imagination," ringing and chunky; Jagger joins in on a frenetic 3-guitar weave in a breakneck close. This one-two punch is, to my ears, an unquestioned highlight.

"Shine a Light" is lovely, featuring a soaring Woody solo all around Leavell's loping lilt. Buddy Guy joins the core sextet for "Champagne and Reefer," a straight blues with the obligatory guitar wank-off session on the break; someone (I think Keith) goes too soon on the first chord change (there are extra bars), resulting in some good-natured laughter amongst the players, then on to the down and dirty. Then the riff to "Tumblin' Dice" comes tumbling out of Keith like breath, and the song is just flat-out great; as I said above, it shakes the place right down to the bone. Band, theater, and audience converge in a magical moment of rock'n'roll.

After Jagger introduces the band, Keith favors us with "You Got the Silver;" just him and Woody, and Keith isn't even playing guitar. Woody plays tasty acoustic slide, accompanying Keith as he camps it up in his long red frock. Then "Little T'n'A," the great Keef track off Tattoo You; he grinds out the goods.

"Sympathy for the Devil" starts off a little bland, "whoo hoo's" notwithstanding; arranged still for the stadium, it feels a little flat… although things get interesting when Keith gets down to business and lights it up. Next, the band welcomes Christina Aguilera to the stage to trade verses with Jagger on "Live With Me." She is white hot, a column of pure sexfire, a platinum exclamation point. And oh yeah, she sings the absolute hell out of the song, she's a true R'n'B diva who delivers the goods.

"Paint It Black" is a diverting choice, although for my money a lot of the Brian Jones-era songs don't translate to the stage with this line-up, any more than you'd want to put a sitar in Chuck Berry's hands. "Jumpin' Jack Flash" is a just so story, and the crowd loves it.

For the encore, the band offers up "(I Can't Get No) Satisfaction," Jagger singing like a man possessed, connecting with the glitterati downstairs, and the slobs in the cheap seats (that would be me.) It's a riff you've heard so often you can play it on your cell phone, but when Keith and the Stones tear away at it, eventually it cuts through the familiarity and lands somewhere primal. Somewhere satisfying, even.

Sure, we shelled out $28.50 a piece-- plus Ticketmaster fees-- for the tickets, but I'd have to say it was worth it. A great show. If I can't go Tuesday night, I'll anxiously await the movie.
---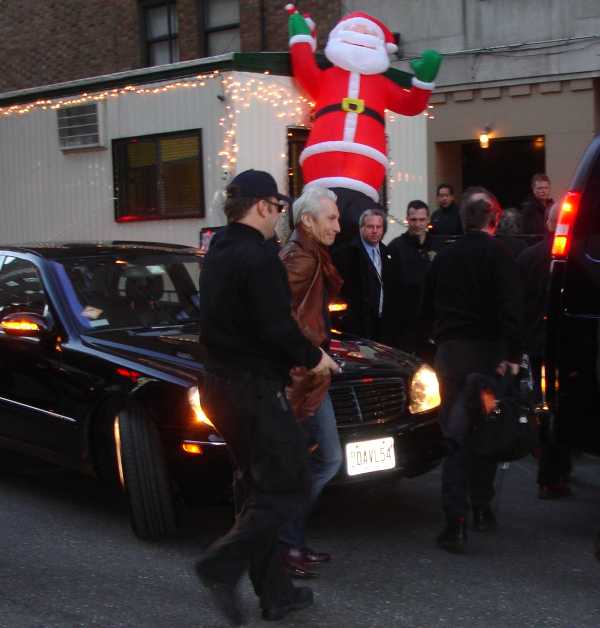 Beacon Theatre Sunday Oct. 29 afternoon: Police escorte arrives at the back door. Keith, Charlie and Ronnie arriving at the same time. Then ten minutes later, Mick is arriving on his own. The whole block is boiling by now. The production setup is giant. Crew and staff everywhere. Trucks, equipment all around the block.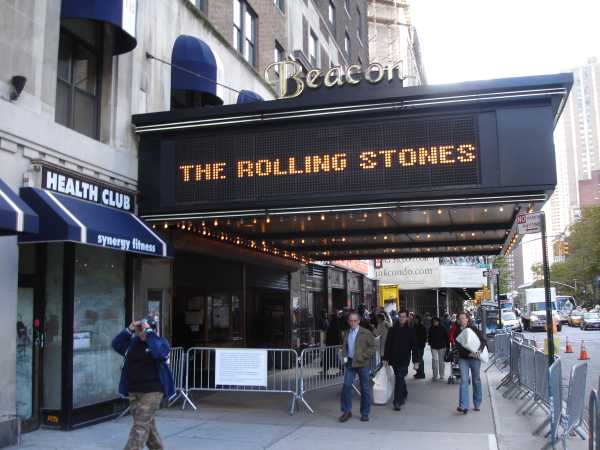 The barriers are being set up. The Stones are on display. The fans are queuing up with hopes for tickets. But soon after they will clear it all and set up for the lucky ones who got a ticket.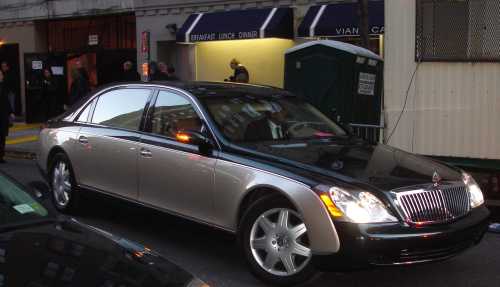 The Martin Scorsese film crew is making interviews with fans. Behind the camera: Albert Maysles - director of the legendary Gimme Shelter. Every fan being interviewed, or being anywhere near the camera, is being asked to sign a paper saying it is ok to be in the film being produced.
---
News links
---
Please send your show reviews and comments by e-mail to: [email protected].
The reviews will show up here soon! Thanks!
---
The IORR magazine
For exclusive reports and unique high quality pictures from the Rolling Stones tour and more see the IORR magazines.
---




It's Only Rock'n Roll 1980 - 2006
© The Rolling Stones Fan Club Of Europe