---
These are the latest Rolling Stones news and updates for you! IORR is a non profit fan club run by fans for fans. All parts of the It's Only Rock'n Roll web site is copyright of The Rolling Stones Fan Club. When using information from this site, please include a reference to IORR and the main web address www.iorr.org.
---
---

The Rolling Stones
River Plate Stadium, Buenos Aires, Argentina
Tuesday, February 21, 2006
For pre- and post-show information see the special IORR Buenos Aires pages!
The set list
Jumping Jack Flash
It's Only Rock'n Roll
Shattered
Oh No Not You Again
Tumbling Dice
Worried About You
Rain Fall Down
Midnight Rambler
Night Time Is The Right Time
--- Introductions
This Place Is Empty (Keith)
Happy (Keith)
Miss You (to B-stage)
Rough Justice
Start Me Up
Honky Tonk Women (to main stage)
Sympathy For The Devil
Paint It Black
Brown Sugar
You Can't Always Get What You Want (encore)
Satisfaction (encore)

Last Warmup    : 7:40pm -  8:40pm
Rolling Stones : 9:45pm - 11:50pm

IORR show comments: The stage design was identical to the Rio stage except much smaller scale. Fantastic crowd. Fantastic show. Keith was so touched when they were singing his name for a long long time. And Charlie Charlie. And Ronnie had his moments too. Mick just loved it and was busy throwing back T-shirts from the B-stage during every song. Lighers lit up River Plate Stadium on "This Place Is Empty". They are probably still singing out there. Just fantastic. Can't wait until Thursday and BA-2...
---
Review by Rodrigo Royán
I went to the show with an Australian friend (Peter). We arrived to the River Plate Stadium at 8:30 PM, and on the access to the Stadium there were a lot of unofficial T-Shirts and any kind of Stones stuff for sale. Of course it was plenty of Stones fans without tickets trying to get one or get in for free, even if they had to steal one, as it happened only two meters away from us.

We had great seats on Belgrano's side on "C" sector... really good... When we arrived los Piojos were playing on stage with a good reception of the crowd. The Stones' show was delayed because there were still a lot of people waiting to get into the field sector, then there was some fighting because the Stones started to play and many people with tickets were still outside. So if you are going to the show on Thursday, go early and hide your ticket till the security guy asks for it.

The show was really amazing, they played so great. Keith kept smiling during the whole show and Mick was like a hurricane!! He laughed at B-stage when he was singing "Miss You", I guess it was since the people couldn´t stop throwing T-Shirts... really a lot of fun... amazing!! Ron and Charlie played great as the rest of the band. I can't explain what I felt, but I think this was the best Buenos Aires show ever. Some of my friends agree with this point.

Mick spoke some words in Spanish, such as "Pasaron 8 años desde la última vez, los extrañamos mucho! "It's been about 8 years since the last time we came, we missed you very much!" ... of course the crowd went crazy!!! After Keith's introduction, Keith was astonished and could not believe when the crowd gave him an ovation of five minutes long.

The set-list was perfect. They started with 4 rocking songs: Jumping Jack flash, It's Only Rock & Roll and Shattered & Oh No Not You Again. It was a sea of people jumping and dancing without stop... FANTASTIC!! 'Worried About You' was a big surprise for me; the Mick's falsetto was so perfect!! I think that's the word to qualify the whole concert PERFECT!! The Stones are totaly in good shape to give us more Rock & Roll! These guys are over 60 years old, unbelievable!!

Towards the end of the show, when the Stones were giving the usual greeting, a fan jumped up to the stage and gave a kiss to Ronnie, but the security guys immediately took him out of the stage... really amazing!!!

I'm sure that the Thursday show will be as good as the first one. If you have tickets, enjoy every moment of a show that you'll never forget.

So, thanks Rolling Stones to be here again and make me HAPPY!
---
Review by Pietro Basso Silva
I just want to start saying that it really is impossible to put in words how great this show was but I¹ll give it a try anyway. This was my first Rolling Stones show so I was extremely excited and happy. It was a great night and the band was awesome! I¹m from Brazil not Argentina but I decided it was better to pay money to see them up-close in a stadium than go to a free concert with another million people. I gotta say this was the most disorganized show I have ever attended in my life, there was one line for field and stands! One line! So that means that there was a 55 thousand people line. It took us three hours to get inside the stadium. And there was no organization at all at the line, so you know what that means. Plus some people got robbed while on line and lots of people couldn¹t get in cause there was fake tickets sold.

The show was perfect, really, really great, I could not believe my eyes when I saw them there, it was really a great night. There was a lot of pushing and pulling which would deviate the attention away from the songs. I always hated that so I think next time I¹ll be up on the stands. I¹ve spent too many shows in the middle of the crowd and lost too many songs because of people that want to get in front of the stage and people who want to leave. It was chaos when the stage started moving and they were in the middle of the crowd. Absolute madness.

The band was excellent, really inspired and happy and they seem to love there. I was please with set list, they didn¹t play Get Off Of My Cloud but they did played Pain It Black. I was amazed when the new songs got such great crowd reactions, each one of them was really well played and well received, people knew the lyrics, the chorus, everything! I think this means a lot, people still love the new Stones records. Lots of young people there, all of them in love with The Stones and rocking with them! I think that means something too. All the older songs were played with much passion! Every time one of the musicians on stage, from the backing band would appear on the screen I would get quite happy, it was great to see them there too, helping the band out. I did not know I liked Blondie this much.

01. Jumping Jack Flash - Can¹t say that I really paid much attention, as there was much push and pull and bit of shoving on the crowd during this song. I did manage to sing a few lines and a chorus and it felt great. The Stones were finally on stage.

02. It¹s Only Rock N¹ Roll (But I Like It) ­ Awesome! Everybody was singing with Mick this song. I cannot say how great it felt to scream out loud that chorus and see the band enjoying it on stage. Really great crowd reaction.

03. Shattered ­ I wasn¹t expecting this song, I thought we would get You Got Me Rocking but I wanted to hear SheŒs So Cold so when I first heard that riff I was really happy. People jumped up and down for this one and everybody sang the extremely catchy and fun chorus! When this song was played I felt like this was a special show already.

04. Oh No, Not You Again ­ One of my favorite songs from the new record got a great crowd response and everybody was singing it and jumping which made me really happy cause it meant the record was doing great in Argentina, at least. I don¹t like how Mick sings this song live, it¹s like he¹s just reading the words out loud and not screaming them with the melody like in the other songs. But still very good, a different guitar solo from Keith than the one on Rio.

05. Tumbling Dice ­ One of my favorites songs, great version. Charlie made himself very noticeable at the end when he restarts the song, his drumming was perfect, swinging and energetic. The people liked it.

06. Worried About You ­ OH MY GOD!!! One of the highlights o the night! This is one of my favorite songs ever!!!! I love this song so much I can¹t explain it! When I saw Mick sitting on a piano I knew it was Worried About You so when he started playing it I went nuts!!! Some people knew the song but mostly didn¹t. The great thing about this version was the improvisations from the band and specially Mick! I love when he scream in falsetto ³Baby²! and Charlie hits the drums really hard. They totally extended the song. If Shattered was a hint that this was a special night than Worried About You was the proof. When it came to Ronnie¹s solo he played it really well and the crowd applauded him. Ronnie was playing really, really excellent that night. He was on fire and the crowd let him know that! The whole and did an excellent job here.

07. Rain Fall Down ­ When Mick started playing the riff people went nuts, I wasn¹t expecting this song to get such a great crowd reaction, everybody knew the words and were singing the chorus with Mick. The bass and drums on this song are really powerful and on your face. Groovie.

08. Midnight Rambler ­ Just as I wasn¹t expecting so many people to know Rain Fall Down I wasn¹t really expecting so many to know this one but they did and they sang it! The band seems to be doing some of the best versions of this song on this tour and they obviously love playing it so you can feel it. Just great.

09. Night Time Is The Right Time ­ I love the Stones¹ version of this one, especially Mick¹s charged up vocals. This went on really well, not as good as Rio¹s version but still good, especially at the end when the song re-starts! I love Mick¹s ³Baby!!²

10. This Place Is Empty ­ After the introduction Keith shared a few words and lots of smiles as the crowd would be screaming ³Ole, Ole, Ole, Richards, Richards!² after every line that he would say. He seemed very happy and played a beautiful version of this song, which he introduced as ³This Place Would Be Empty Without You². Charlie laughed. This song seems to be working really well live. It¹s another beautiful one from Keith.

11. Happy ­ Happy was great and the whole band played it really well but I gotta admit that I¹m a bit tired of this song, I think the show would be more special if he had done something like T&A or Can¹t Be Seem. Still a very good performance.

12. Miss You ­ I didn¹t know the place would erupt for this song like they did. People love singing it and even though it¹s not my favorite song (overplayed) it was done very well and the crowd was obviously pleased and that¹s what you want.

13. Rough Justice ­ I love this song and it was great but it¹s so fast that as soon as it begins it¹s over. Great crowd reaction to it like all other songs got. Mick was allover that little stage, shaking his hips and throwing his hands to the air. Like JJF I couldn¹t really pay much attention to the song as I was trying really hard to leave there with no broken ribs. It was great to see the boys so up close though.

14. Start Me Up ­ By the time they started to play this one I was a bit behind as it was starting to be impossible to watch the show. This song rocked everyone, people love it and it was awesome when Ronnie came in with his solo, he totally nailed it.

15. Honky Tonk Women ­ They¹ve done this one a few times, right? So it was well done. What I liked the most though was seeing the women singing it, there some 14-20 years old girls singing the chorus really out loud.

16. Sympathy For The Devil ­ One of my favorites songs, got another great reception from the crowd. Charlie¹s bass drum was very present and could be heard all over the place, once he starts playing people start moving and get happy. Mick did this one really well, one of my favorite moments is at the end during the ³Now tell me, baby, what¹s my name? Tell me, baby, to go insane!², so the great thing is that after he did that Keith played a bit more and then Mick came back and sang that part again.I wssome! reat thing is that after he did that Keith played a bit and then he came back and sang that part again.ng it, there so!"²!1df;lm I wasn¹t expecting that! Another highlight! Awesome! By the way I think Keith played his second solo a bit longer than usual, very drool worthy.

17. Paint It, Black ­ When they played Start Me Up on the B-Stage I knew that they were going to do this one! This seemed to be Charlie¹s song, once he started hitting his drums people started jumping! People love this song, especially at the end when Mick hums the melody, everybody was humming.

18. Brown Sugar ­ Another song that they can¹t fuck up and that the crowd seems to love, the end got everyone jumping even more. My legs were hurting by now but I was jumping too.

19. You Can¹t Always Get What You Want ­ This was great. Everything on this song was great. But what was the best about it? Definitely Ronnie! This was one of the best solos that I¹ve seen he do, it went on for longer than I could expect, and in the middle of it people started screaming and applauding him! The whole stadium was applauding Ronnie, which gave me chills. Mick was smiling an saying thing to him during the solo! Really well done. You gotta love that bass drum sound.

20. Satisfaction ­ Crowd pleaser that he is Mick played this song with the Argentinean soccer team shirt! Great song to close the show, when you think people have jumped enough Keith started this song and the whole stadium was screaming and jumping. The ending was stretched which sounded great cause I didn¹t want it to end.

This was without a doubt the best show I¹ve been to, I was soaking wet at the end and my legs were hurting like hell but I had a smile on my face that¹s for sure, The Rolling Stones are really amazing! Still lots of energy and passion from them. Mick really wants to please the crowd and Keith, Charlie and Ronnie are really, really tight! When you see a show like that it¹s hard to understand why people want the band to stop playing and making records, this 100% rock n¹ roll and exciting! The visual by the way were awesome! I loved the videos for It¹s Only Rock N¹ Roll and Sympathy For The Devil! It really gets the crowd into the mood of the song!
---
Review by Juan Francisco Pelloli, Zárate City, BA,Argentina
Hey Stones Fans: This was my first time with The Rolling Stones, the show was excellent.Too much exciting.The warm-up was a little bit funny, a local band called: Los Piojos was making the warm-up. Ciro, the group leader, said: It's a Dream for the band, play before the Stones.

The crowd was very excited when the Stones started to play: Jumpin' Jack Flash. The classic Argentinian crowd song: Ole,Ole,Ole Stones Stones. Then, It's Only Rock N' Roll and the Stadium was on fire, singing: 'It's Only Rock N Roll' and then Jagger said: I Like It.Then Jagger said: Holaa Argentina, Hola Buenos Aires (Hello Argentina! Hello Buenos Aires).Then Shattered.After Shattered Jagger Said: Muchas Gracias, Los Extrañamos Mucho,Estan Igual...Esta es la nueva cancion Oh No Not You Again (Thank You Very Much!, We miss you guys, You're like in 95 and 98...This is the new song: Oh No Not You Again). Excellent version of Oh No Not You Again. After OHNNYA Jagger said: Esta Caliente no? Vamos a ducharnos despues del show...(It's Hot no? We're going to have a wash after the show).

Tumbling Dice and the crowd started to Jump, Sing and Dance.Exting song.Then Jagger said: Estan esperando el mundial? Quien va a ganar? (You're waiting for the World Cup? Who's gonna win?) and the crowd started to sing: Argentina,Argentina.Then Rain Fall Down, before the song Jagger said: Everybody's Ok?...Then aplausses from the crowd.Then the Harmonica of Mick to play: Midnight Rambler with a very good Crowd shouting like Mick.The crowd was on fire really.Then an old song of Ray Charle: Night Time Is the Right Time, too much aplausses to Lisa and Mick.

Then Richards and the great moment of the Night. Richards said: Goot To Be Back, Really and he was very happy with serious face, maybe he were going to cry...And the Fans say: Ole,Ole,Ole,Ole Richards Richards. He sayd: I missed you guys...The crowd was on fire with the classic Ole,Ole,Ole,Ole Richards Richards.He couldn't start the song for 1:30 minute or more. The crowd was on fire.Richard said: This is a new song called This Place Is Empty because it would be Empty Without You.The song, and too much aplausses.Very nice songs. The he said: Happy and he started the song.Then Keith said: One Love.

Then Mick appeared on scene with Miss You, and the stage started to moved to the Center of the Stadium. Then the guitar of Rough Justice and too much t-shirts on the stage, Mick was returning the t-shirts to the crowd. Then he started to wave the T-Shirts like the crowd. And everybodys in the stadium started to wave the flags and the T-Shirts. Then Mick Said: Muchas graciasss Argentina (Thank you Very Much Argentina) and the guitar of Start Me Up!, Start Me Up, Start Me Up i'll never stop. And the crowd was on fire waving his t-shirts and jumpin'.The people was excited with Mick waving the T-Shirts. Then Honky Tonk Women with the Keith Guitar, and the stage was moving to the first stage, shaking his hips. Waving the t-shirts and dancing and jumping.Amazing.Then Mick said thankk You, Thank you Very Much.

And then Sympathy For the Devil, the stage colour turned red. The fans was saying: Ouuu Ouuu, Ouuu Ouuu,Ouu Ouuu. Mick appeared wearing black clothes on him. After the song Mick was saying ou ouu, and the crowd answer: Ouuu Ouuu. Then, Paint It Black, the crowd was jumpin like all the show.Too much aplausses from the crowd. And Mick said. Thankk Youu.Then Mick Said: Are You Feeling Good? And the guitar of Brown Sugar!!!, the crowd was on fire jumpin and dancing all night, but in this song the crowd started to say: Yeahh Yeahhh Yeahhh Ouuuuuuuuuuu all the song.Amazing, hot night.Then, You Can't Always Get What You Want: The crowd was singing: You Can't Always Get What You Want, hot crowd. Mick was on fire. Then much aplausses and then Satisfaction...

Mick appeard with the Argentinan Footbal Team T-Shirt.Excellent version, in the middle of the song Mick said: Thank You Buenos Aires Hasta la Proxima (Till the next time)...After the song the crowd start to sing: ohhh Vamos los Stones, los Stones, los stones, Vamos los Stones. Excellent...Show. In the final, all the band made a greet to the crowd, and then the Fourth Stones made a greet to all of the crowd.Only sad: One Guy Jumped to the stage and give him endearments to Ronnie...Then Ronnie,Charlie and Keith leave from the stage and Jagger give the last greet to the audience.

Excellent Show.Very Good. Buenos Aires is the World Capital Stone of the World.Really.
---
Review by Gabriel Cócaro
"Hola Argentina, hola Buenos Aires, los extrañamos mucho", esas fueron las primeras palabras de Mick Jagger al público argentino que se reencontraba con la banda después de ocho años de ausencia. El show empezó a las 9:50 con los inconfundibles acordes de "Jumping Jack Flash" que desataron una fiesta total en el Estadio de River Plate. Luego, siguió otro clásico: "It`s only rock and roll" coreado por la multitud. El tercer tema fue "Shattered", una muy ajustada versión (nunca antes oida en vivo por el público argentino). El primer tema de "A bigger bang" fue "Oh no, not you again", un rock and roll a tono con la clásica linea musical de la banda. Los clásicos volvieron con "Tumbling Dice" y con una perlita: "Worried about you", una balada donde Mick se lució con su clásico falsetto. Después, Jagger tomó la guitarra y empezó a tocar el riff de "Rain Fall Down", una canción muy celebrada por la multitud (aquí se difundió mucho en las estaciones de radio).

Al rato, la gran sorpresa: una extraordinaria versión de "Midnight Rambler". Jagger moviéndose de un lado al otro del escenario y tocando la armónica (!!!)con la maestría de un experto en rhythm and blues, mientras Richards y Wood se sacaban chispas con sus guitarras y Watts demostraba (como lo hizo a lo largo de toda la noche) que él es la columna vertebral del sonido stone. A continuación, el homenaje de la banda a Ray Charles: "The night time is the right time", mientras la banda tocaba una foto de Ray arrancaba el apauso de todo el estadio. Lo que siguió después fue la confirmación del amor entre el público argentino y su stone favorito: Keith Richards. El viejo Keith se acercó al micrófono y fue recibido por el clásico "ole, ole, ole, ola, Richards, Richards". Una ovación que se extendió tanto tiempo que el guitarrista no podía iniciar su set. "Los extrañé muchachos, de verdad", dijo el maestro y arremetió con "This place is empty" y "Happy".

Luego, Mick volvió a escena para"Miss you", mientras la gente cantaba y saltaba sin parar el escenario se iba moviendo hasta ocupar el centro del estadio. Ese fue un momento fantástico del show: la banda tocaba fuerte a la vez que el escenario se movía y los fans, en forma de tributo, le tiraban remeras al grupo. Cuando el escenario quedó clavado en el centro de la cancha sonó una trilogía de puro rock and roll: "Rough justice", Star me up" (en una versión no del todo buena, hubo desajuste entre la banda y Jagger, pero bueno esa es la gracia de un show en vivo) y "Honky tonk women", un favorito del público local que cantaba la canción mientras Mick tomaba una remera y la revoleaba sobre su cabeza provocando el mismo gesto por parte de la enloquecida multitud.

De vuelta en el escenario mayor, la ceremonia continuó con "Sympathy for the devil" y, la gran sorpresa de la noche: "Paint it black", una maravillosa versión que fue acompañada por las gargantas de todos los presentes, una verdadera sorpresa, la primera vez que los Stones la hacen para el público argentino. El final formal del show fue con un clásico imbatible: "Brown sugar" que permitió el lucimiento en el saxofón del eterno Bobby Keys. Los bises llegaron con "You can`t always get what you want" (está última sirvió para que Wood ejecutara uno de sus más inspirados solos en toda la noche) y, por supuesto, "Satisfaction" donde la cancha de River Plate literalmente tembló y mucho mas cuando Jagger apareció luciendo una camiseta de la selección nacional (!!!), un gesto que no sucedió en las visitas anteriores.

Para finalizar, sólo resta decir que los Stones son inoxidables, el tiempo no parece pasar para ellos. La formula que inventaron hace más de 40 años que combina rock and roll y rhythm and blues sigue gozando de buena salud, al igual que el romance con el publico argentino.

PS. About the press:
The reviews of this show in the newspapers of my country are really poor. All the newspapers (except one call: "La Nación") are saying: "The people shock with songs like: "Wild horses", "She`s so cold", "19th nervous breakdown". The Stones never played these songs in the show !!!. I don`t know how is the press in Europe, but here these kind of things (in the reviews of shows) are a classic of the newspapers
---
Review by Simon Emmerson
You know your in the right city when the taxi driver says he is a big fan of the Rolling Stones and then shows you a whacking great tongue tatooed on his arm.This is Buenos Aires aka Stones city.Every news stand is covered in Stones images and the scene outside the Four Seasons is hysterical.It's like it's the 1960's all over again with teenage fans running up and down in their hundreds.Manic.These kids are young enough to be our heroes grandchildren.Crazy.

The River Plate stadium is the scene of tonights gig.Full of football history and fast evolving Stones history.I find myself in the C section to the left of the stage but directly infront of the B stage area.The atmosphere is electric.Was it the beer?No,none for sale at the venue,just the passion and excitement of Argentinian fans. No support band,just the number one rock n'roll outfit in the world!And boy are they hot.I have seen many shows from NYC to Sydney but have never witnessed such an energetic Rolling Stones as I did tonight.They feed off the fans and vice a versa.This is the greatest Stones audience in the world,and our guys respond by playing their socks off.I have now seen how they can play and what they are capable of.Those NYC shows etc,the boys have just coasted.Here in BA they are fully charged by the audience.It's electric and it raises their performance to a new level.

Highlights for me had to be Paint it Black with Ronnie playing the sitar.That sounded just great.Mick took the piano to the front of the stage and did a great version of Worried about you.It appeared that many of the crowd had not heard it before,but soon got into this falsetto song. What a tender moment we got in the middle of Midnight Rambler,Keef leaning on Mick's shoulder for around thirty seconds,grinning and smiling.The Glimmer twins indeed. Start me up got the biggest reaction from the crowd.This appears to be the most popular Stones song in South America.The place just went crazy.Plenty of T shirt waving and "Ole,Ole". And the dialogue tonight was amazing.The Stones were actually talking to the audience.Mick's Spanish went down a treat.Even Keef had learned some,never seen him so talkative.At the end of which Mr Richards says "Your all loco anyhow".And no bathroom breaks during his two numbers either.A sea of lighters waved in the air during This place is empty.Keefs vocals very strong on this classic song. During the band intros which take five times longer than anywhere else,because of the "Ole" factor,Keef seems to get the biggest cheer.Bobby Keys,whose sax on Brown Sugar was a real crowd pleaser got a warm reception too.

This was a gig where no one sat down.Some guys were even climbing up stadium lamps to get better views of the B stage.Security turned a blind eye,I think they were busy watching the show.Indeed we got several intruders on stage during the final bow.Thankfully they were safely evicted. Every number was well received.Ronnie played another great solo on YCAGWUW.This man is on top form.

The B stage was sheer loco.The number of T shirts that were thrown onto it must have been in the hundreds.Stage personnel kept removing them and then it was suddenly full again.But the band were clearly enjoying this and Mick made a joke about gathering the washing,and started to throw the shirts back.This was particularly memorable during Rough Justice.Mick then starts the T shirt waving and the audience follow.There is actually quite an art to this which involves a carefully positioned knot amd controlled wrist action.

All the new songs were well received.ONNUA contained more F***ing up my life lyrics than the original.And Daryl took ownership of Rain fall down with some great bass,whilst the stage was drenched in purple lights.

And a real joy to hear Shattered!

And the final song and Mick is running up and down the full length stage in an Argentinian football shirt belting out Satisfaction.This is a man who has the energy of a 21 year old.Was he full of extra energy tonight because he has just seen his son Lucas again?We shall never know what makes this man tick.But for sure he was the man of the show tonight.

A great firework display to finish off the evening.And I have to say this is my best Stones show ever.The greatest rock n ' roll band in the world gets the greatest audience in the world,it's that simple.If you can catch them in BA they are amazing.See you all for the next show!
---
El concierto que México nunca verá
Por José Jorge Martínez
El próximo domingo las cerca de 50,000 personas que alojará el Foro Sol, no verán a los Rolling Stones. Poco habrán valido las extenuantes filas y la frustración al escuchar en incontables ocasiones el tono de ocupado del 5325-9000. De poco, haber observado al otrora omnipotente mouse, impedido de abrir la página de Ticketmaster para la compra de boletos.

Quienes lograron conseguir su entrada, habrán invertido cientos y miles de pesos, pero solo observarán un show impecable que ha sido ejecutado ya casi en 60 ocasiones, desde que comenzó su gira el mes de agosto del año pasado. Pero los grupos rock, y muy en especial los Rolling Stones, no están integrados solo por los ejecutantes, sino también por una audiencia con posibilidad de inyectar adrenalina a los músicos directamente a la yugular. A diferencia de México y Estados Unidos, donde el espacio vital de los asistentes -en su mayoría entre 30 y 40 años- está determinado por las sillas desde el Steel Wheels Tour; en contraste con los recitales del 2003 en la arena de Wembley, donde ingleses entre 50 y 60 años promedio los disfrutaron sentados como si contemplaran una orquesta; en Buenos aires, los argentinos de un solo pinchazo catapultaron el martes pasado a los Rolling Stones a principios de los años ochenta.

Como si se tratara de un episodio de Tony y Douglas en el Túnel del Tiempo, la mayoría de los 60,000 fanáticos que poblaron el estadio del River Plate, agitaban sus cuerpos de entre 16 y 25 años de vida como miembros de una colonia de serpientes enlazados entre sí, provocando que los cada vez más satánicos y arrugados rostros de los Rolling, fueran sólo máscaras que disfrazan a los jóvenes actores de una compañía de teatro. Sin asientos de por medio, sin más de 3,000 pesos mexicanos para desembolsar y poder participar en el show desde la cancha, los argentinos hicieron por alrededor de 500, que Mick Jagger corriera por el escenario como no lo hacía desde 1981 en la gira Tatoo You cuando, al igual que ayer, la voz de la muchedumbre se imponía en ocasiones sobre el sonido de la banda.

Desde Jumping Jack Flash, al inicio del show, el público se convirtió en una masa danzarina, convirtió al Rock en Slam, en una gran baile circular y por lo tanto árabe, cuyo impulso hizo que Jagger con sus 62 años de sexo, drogas y Rock n¹ Roll, representara como nunca I am Shattered .doesn¹t matter! Llegó Rain Fall Down del último disco y el sonido de los Stones se volvió una amalgama de Blues y Reggae (Black & Blue), mientras el sudor de cada uno se convertía en el sudor de todos, y anticipando lo que serían los mayores movimientos migratorios de la cancha: los que se darían cuando del escenario se desprendiera una pequeña nave en la que se transportaron los Stones para tocar Miss You, Rough Justice y Start Me Up a medio campo.

³Los StonesŠlos StonesŠ.amo a los Stones², se escuchaba desde todas las esquinas del estadio, desde cada pedazo de tierra del campo de futbol, más fuerte que si fuera un partido de Argentina por el campeonato del mundo. ³Los StonesŠlos StonesŠ.amo a los Stones² ¿Quién en algún rincón del mundo hace coros cantando amo a los Stones? Y tenía que llegar el momento del Blues al dar inicio Midnight Rambler, en una versión tan larga, pero mejor que la del Get Yer Ya Ya¹s Out de 1969. Para muchos, quizá la mayor versión que jamás se haya ejecutado, y que apaciguó a la masa de ofidios, encantados por Jagger, el Harmoniquista de Hamelin.

Cómo en todas las crónicas, se habla más de Jagger, símbolo del grupo frente a la opinión pública. Es él quien provoca más seguidores al aparecer frente a la prensa como parte del Jet-Set y el mundo de la moda. Pero en la devoción por esta banda, hay una segunda religión, subterránea, más rockanrolera, la que basa su culto en Keith Richards, a quien el martes la vaticana multitud pidió su santificación.

Los ³Oeeoeeoe, Richaaards, Richaaards, Richaaards², que duraron varios minutos al momento de la presentación, hicieron que el legendario guitarrista se conmoviera al borde de las lágrimas y que en señal de pena, cubriera con las manos sus ojos repentinamente húmedos, antes de confesar frente al micrófono que la larga ovación le había hecho olvidar como presentar la siguiente canción. El gesto mereció aún más ³oeees², pero Richards alcanzó a reponerse para ejecutar This Place is Empty -en un concierto donde las baladas fueron reducidas al mìnimo- y proseguir también con Happy, brindando a la multitud uno de los mejores desempeños que ha tenido él como vocalista en toda su carrera.

Luego de dos horas cinco minutos, este público se vio obligado a admitir que la misa había terminado y que su sacerdote favorito no saldría más al escenario, por más que el público continuara coreando el riff de Satisfaction, a pesar de que la canción había terminado. Argentina es el único país donde la mayoría de los fanáticos profesa la religión de Richards y eso se explica porque la raigambre rockanrolera de este país no tiene comparación en el mundo. Richards representa la imagen viva de la vida al estilo rock and roll y aquí se reproducen constantemente jóvenes de 20 años que forman bandas y apuestan a vivir de esa manera. Si Inglaterra fue la madre, en el Siglo XXI la historia del Rock tiene que rescribirse y reinterpretarse desde Argentina, no sólo por la intensidad de los conciertos que han dados los Stones aquí desde 1995, sino porque es el único país donde ese estilo de música se trasmite de padres a hijos a través de las generaciones y por lo tanto es el lugar donde tiene futuro. Y hoy mismo, luego de 8 años de espera, otros 60,000 fanáticos demostrarán también que tanto esa raigambre les ha hecho extrañar a los Stones.
---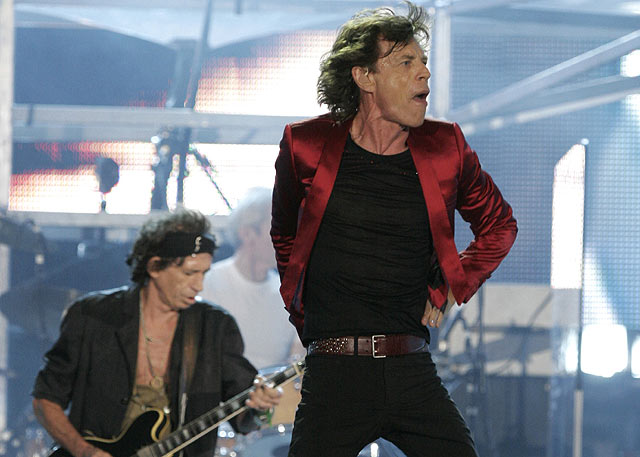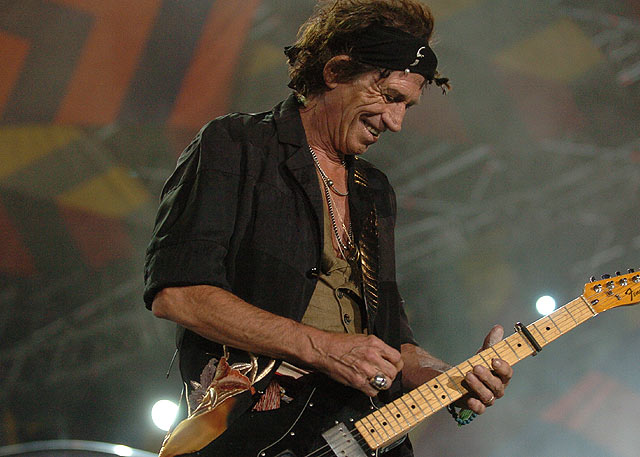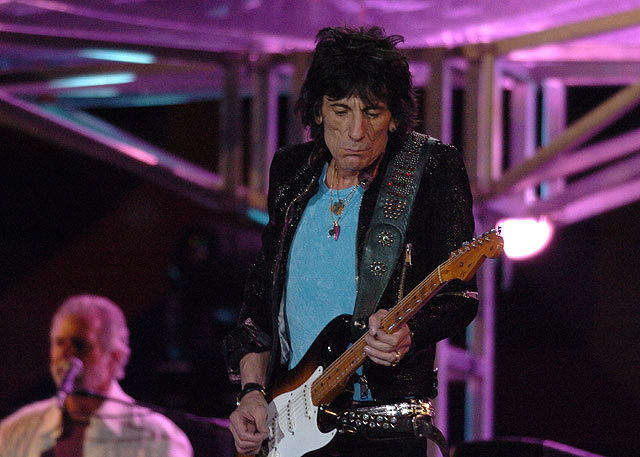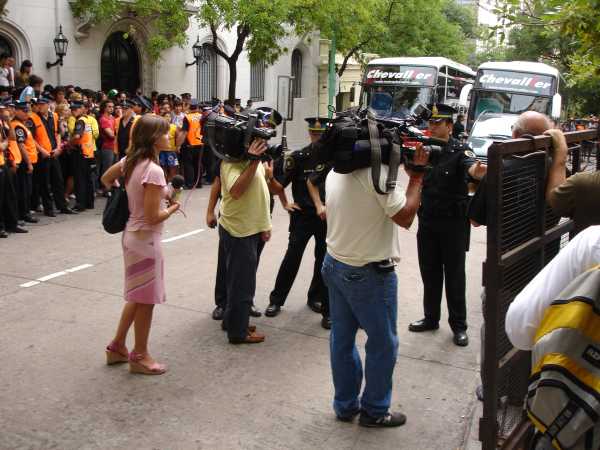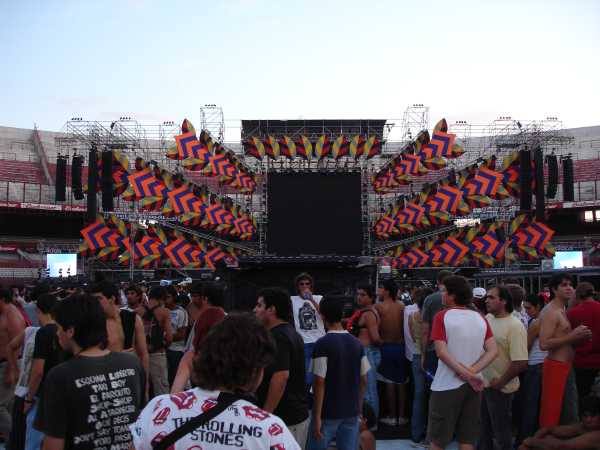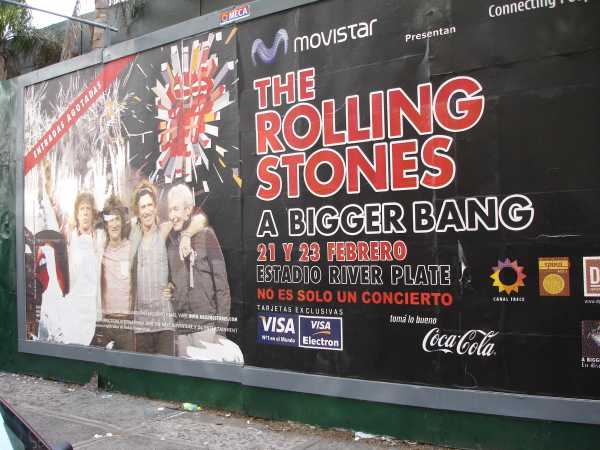 ---
Please send your show reviews and comments by e-mail to: [email protected].
The reviews will show up here soon! Thanks!
---
Links
---
The IORR magazine
For exclusive reports and unique high quality pictures from the Rolling Stones tour and more see the IORR magazines.
---




It's Only Rock'n Roll 1980 - 2006
© The Rolling Stones Fan Club Of Europe