---
These are the latest Rolling Stones news and updates for you! IORR is a non profit fan club run by fans for fans. All parts of the It's Only Rock'n Roll web site is copyright of The Rolling Stones Fan Club. When using information from this site, please include a reference to IORR and the main web address www.iorr.org.
---
---

The Rolling Stones
Boardwalk Hall, Atlantic City, NJ, USA
Friday November 17, 2006
The set list
Jumping Jack Flash
It's Only Rock'n Roll
Oh No Not You Again
She Was Hot
Loving Cup
Streets Of Love
Ain't Too Proud To Beg
All Down The Line
Tumbling Dice
--- Introductions
You Got The Silver (Keith)
Connection (Keith)
Under My Thumb (to B-stage)
She's So Cold
Start Me Up
Honky Tonk Women (to main stage)
Sympathy For The Devil
Paint It Black
Brown Sugar
You Can't Always Get What You Want (encore)
Satisfaction (encore)
The Rolling Stones show time : 9:40pm - 11:40pm
---
Review by Robert Bagel
If you missed the Beacon shows but caught this one, you are blessed: this was far and away better than either Beacon show, and the best Rolling Stones show of the eight I have seen on the fall tour. The big difference was Keith was absolutely hot, playing the best I have seen him play since he had the fall from the tree in Fiji. The atmosphere of the Boardwalk Hall is large; it has the feel of a World War II armory, with curved glass windows, gold ventilation grates, and carefully laid out granite. Like a Grand Central Station you can rock and roll in. After Jumping Jack Flash and It's Only Rock'n'Roll to start, Mick mentioned the last time the Stones were here was for the 1989 pay per view special, recalling guests Axl Rose (somewhat with a laugh), John Lee Hooker, and Eric Clapton. Then the Stones kicked into one of their newer songs, Oh No, Not You Again from 2005's A Bigger Bang. With Keith in top form adding screaming guitar fills, this number made 1989 seem like a long, long time ago even by Stones standards. Next we got She Was Hot, which made for a great stage to have Keith display just how totally ON his guitar playing was tonight. The main solo was mesmerizing, and Keith kept alertly firing fills after each line that Mick delivered in a manic preachy fashion.

Next was Loving Cup, which made me think for a few moments that like at the Beacon, Jack White of the White Stripes would come out for the song. This idea was especially valid as Jack White's band the Raconteurs produced a great set to open for Bob Dylan last night at the Meadowlands. Instead, we got something even better: it was the Rolling Stones, free from guest stars, the working band delighting the crowd with pure, original forms of their best work. If you think Loving Cup is a trip with Jack White, imagine how great it is without Jack White, Mick Jagger delivering every line with Keith taking care so every guitar accompaniment is perfect. This evening seemed to be one of those nights where Mick and Keith were intent on being and working to make each other the two biggest stars in the world, and the results was more amazing than 90% of the Rolling Stones shows I have seen.

Streets of Love was perhaps the highlight of the evening, as the band has worked a relatively dull studio recording into one of the most emotive ballads Mick has ever sung. If Marty Scorsese only had his cameras rolling tonight on this one, it would be much better than anything they picked up a few Sundays ago on the Upper West Side.

While Ain't Too Proud to Beg along with Loving Cup and All Down the Line seemed very reminiscent of Oakland 2002, Keith's solos were so live-wire alive it was like riding a roller coaster to witness the authoritative screeching guitar that Keith was treating us to. Tumbling Dice and Connection provided further forums for Keith to show that he was simply at another level tonight, carrying the whole band with him on his solos, challenging Mick whose vocals were happy to meet Keith's musical challenge head on.

Being part of the center stage frenzy was a gas, and security was fairly good about letting people pack near the small stage. Mick hit his marks perfectly on She's So Cold and Start Me Up, with Keith and Ron joking and playing making sure any time Mick checked on them they were ready to display how intent and focused they were on producing that machine like rock and roll rhythm. Tonight this was not a big production like a Beacon theatre movie or giant football stadium spectacle, it was the Rolling Stones in a comfortable venue, no skyboxes, even more intimate than the MGM's Grand Garden, working a stadium perfectly suited to their style. Mick's vocals on Brown Sugar included the next gig reference as Brown Sugar has done so often on this tour, as Mick uttered a Far Away Eyes-like "Los Angeles California" during the ad-lib refrain part. It will be a while before the Stones have a scheduled East Coast gig again, but tonight they were so good any further wait will be worth it. As Keith said during his set, "Sorry for the delay, but shit happens." New York, Philly, all of New Jersey were here for a night that turned out to be a brilliant performance. From the dilapidated casinos to the Sheraton's Shoe Bar which proudly has a collection of Miss America shoes on display, Atlantic City ultimately proved the perfect camp location for all the Eastern seaboard to come together once more to celebrate a band that has laid down 15 months of great performances. Much of this autumn tour has not been easy, cheap, or convenient, but we got through it all with humor and rhythm still intact. Tonight in Atlantic City was a well deserved and joyous celebration of that, for both the Rolling Stones and their fans.
---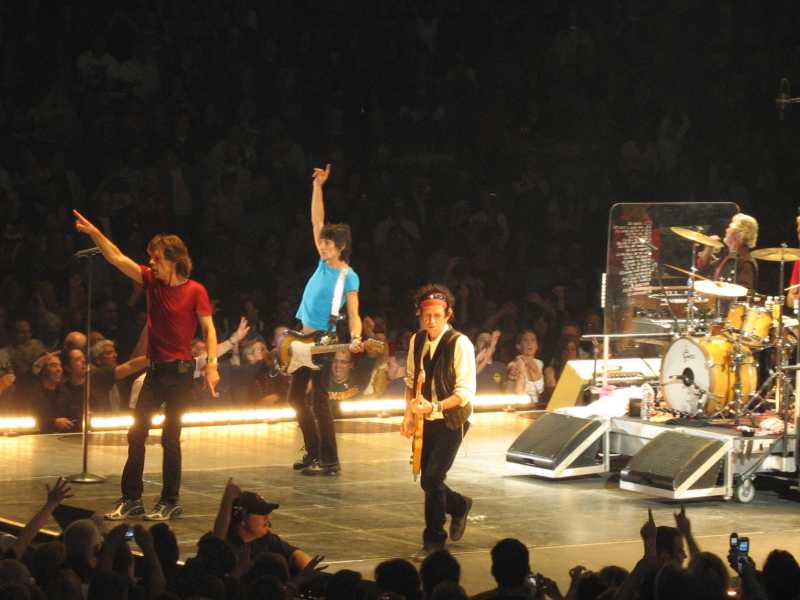 ---
Review by Steve, NJ, USA
Well, this was the last for me, and the 14th of this tour. It was also my second show at a casino in a week. Kind of funny. The Stones were just wonderful. The set list was different, and the band was "on" . Keith was playing beautifully, and the crowd was loud. It was , as my son said "perfect". What a surprise to hear Ain't Too Proud to Beg, and to have Start Me Up on the "B" stage. Other very intense moments were Sympathy, Paint It Black, Oh No Not You Again, She Was Hot, All Down the Line. And a couple of really nice mellower songs - Streets of Love and the wonderful You Got the Silver. Finally how many times have I heard Brown Sugar? That was a great one.

It was a superb tour. Can't wait for the next.......
---
Review by Alwyn W.
Well it may have been three weeks late, but I don't think any of the 12000 people streaming out of the Boardwalk Hall into the chilly New Jersey evening worried about that anymore.

The Hall is an interesting mix of 1920s and modern arena. Small and very intimate. The queues for drinks were immense and, for the junk food, non-existent. Message there for the Hall authorities? This was a healthy crowd! I suspect most of them ignored the depressing acres of slot machines as well.

Keith apologised for the delayed gig. "Good to see yer, sorry for the delay but shit happens". And then he said something like "this one wasn't my fault!" with a little grin. Mick reminded us that their last gig in Atlantic City was in 1989, with guests (Axl Rose, John Lee Hooker, Eric Clapton (big cheer)) who couldn't make it this time.

Soulive did an OK set, culminating with the very appropriate "The Ocean" by Led Zeppelin. Nice choice, geographically speaking, and received some good applause. Then the one hour wait – surely the road crew can set things up faster than this after all the years of practise…

JJF to start, and the place was rocking. Seemed to be standing up for the whole gig and almost all real fans as far as I could see, which makes a change. Loads of energy from the band, and the arena was so small you could see much of the backstage activity. The sound was good from my place on Ronnie's side.

She Was Hot really rocked; Charlie hammering the drums like crazy; Keith doing a truly excellent Chuck Berryesque solo. Charlie seemed to be enjoying himself all through – on top form.

Loving Cup was a real surprise, at least for me. Last time I heard it live was also in a venue by the ocean – Miami. And it worked very well. SOL fitted-in well, so much better when worked-out live, and then Ain't too Proud To Beg followed by a frantic version of All Down The Line. Mick was working hard; energy; dancing; enthusiasm; smiles. Little aside comments. By this time Ronnie had started perching on a stool, which he did intermittently for the rest of the gig – little walking about; no running; almost no arm waving. His playing was great: especially the solo on YCAGWYW – back to 1981 standard, and on All Down The Line – sliding that slide and hitting the solo perfectly! He looked OK, but I guess that like Mick he has had a tough week or so.

Huge emotion from the crowd for Keith, and most people stayed standing/dancing during his songs. You Got The Silver sounded great with only Blondie and Ronnie on guitar – Keith playing the role of maestro conductor in a long black coat, singing really strongly. Connection was at least as good as I heard on the Voodoo tour in London; a bit of help from the teleprompter, and some great guitar playing. "My bags they get a very close inspection" applies to us all now, for other reasons.

I think one of Keith's daughters was standing just in front of him giving him strong encouragement during his set. He finished with his normal Max Miller (English comedian from when these boys were schoolboys) comment about "good to be here, good to be anywhere" and he means that! He also handed out enough "gold rings on you" to make a pirate necklace.

Under My Thumb sounded good and works well, with not too much stretching, to allow the stage to get to he B location and properly docked. She's So Cold, tight and accurate, and good from the B Stage. A slight flinch from Keith when an inflatable football made it's way onto the stage when he wasn't looking – you could almost sense him preparing his guitar for defensive action, before he kicked it away. The inevitable palm tree waving close by was acknowledged with a grin and tapping of the head!

Then the warhorse run-up to the concert end: shorter versions largely – a real benefit of a smaller venue – less distance for Mick to run. Keith got engaged with fans on one of the stage wings at the end of Brown Sugar and Mick was going crazy trying to end the song. He made an aside like "wondered when that one was going to end".

Keith repayed the compliment by starting YCAGWYW really slowly (don't think that this is one on the printed set list where KR sets the tempo…) and Mick was waving his arms like an over-enthusiastic music teacher trying to speed it up. He only succeeded, with some help from Charlie, at the end of the first verse when the tempo and volume always increases. Keith smiled and yielded. It was that sort of performance – great atmosphere from the stage – a true team working together.

And then it was all over. Charlie did a promenade around the stage (very appropriate for a sea-side gig) waving to fans and almost needed to be ushered off stage by Mick. Keith was grinning and waving; Ronnie smiling but without his normal animation.

A few words on the rest of the musicians. Darryl: solid, using more guitars; strong beat throughout. Blondie – played guitar on 5 or 6 sings – some riffs, the occasional strum; filling in the sound nicely; and enthusiastic singing and percussion. Bernard – powerful on vocals and percussion, as was Lisa – who looked for a time as if she would fall out of the top of her dress! Tim – plenty of keyboards as well as sax; talented musician. Bobby and the brass – not that many songs tonight, but blowing and screeching when needed.

Finally Chuck, who gets a little unfair comment from some quarters in my opinion. He has been, for some time, a key part of the set-up. Great playing, and a linchpin on several numbers. Also a very approachable and helpful man. Keep pushing on the setlists please Chuck!

So for me that's the last of ten gigs on this tour – 5 in the US and 5 in Europe. An interesting final three: the rain and great location of Bergen; the vast area and sea of people in Horsens; and now the intimacy of the Boardwalk (which reminds me – they should have played Under the Boardwalk tonight…). To my usual partners in crime (Nick, Hamzah, Nigel) – you missed a good one. Now fingers crossed for some shows my side of the Atlantic next year!
---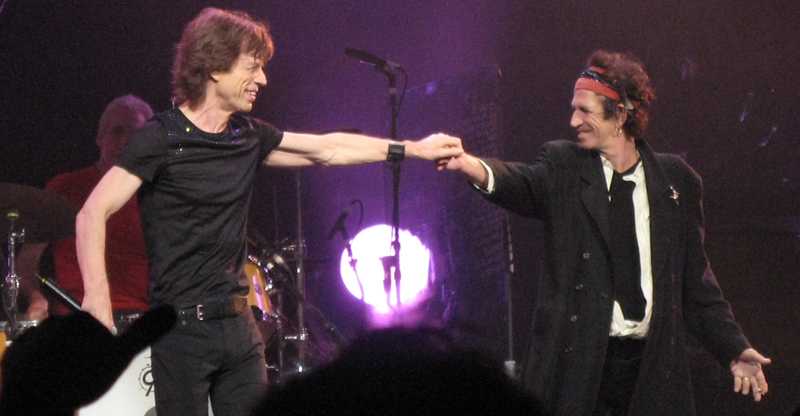 ---
Review by Ken Michaels
This was my 27th lifetime show and the last one I saw 1/20/2006 I thought was "definitive" but here they come to my "hometown" since I grew up about 20 miles away, and I just had to be there (twice) LOL...

Good show, weird kind of hall. The sound was a lot better than "Steel Wheels" but loud, pushing that big PA to the limit. We had the worst VIP box office seats that I have purchased but managed to get down by the "B" stage since there were a lot of empty seats scattered around.

Highlights for me were "She Was Hot", "Loving Cup", "Streets of Love" and "Connection" because I have never seen the "Stones" perform them before. "Streets of Love" sounded more like a "Stones Soul" song than a Mick Jagger solo song as it does on ABB.

Keith stormed the first 4 tunes with his "Chuck Berry" playing and Ronnie came alive during "Streets" with strong melodic solo lines.

All Down The Line was done very well and if I can't get "Midnight Rambler" I'll take it any time.

Ronnie was awesome on "You Got the Silver" and "Connection" was dead on. This is where you could tell that there were a lot of "casino" people in the crowd because if this was Philly the place would have been delirious with these two choices.

The "b" stage was fun, as usual, although as much as I enjoyed "under My Thumb" it is not as seamless a "traveling song" as "Miss You".

The end of the show was pretty loose and Keith seemed a bit "drunk" but it's one of his quirks and I guess you get used to it. When it came to focusing he led the intros to "Paint It Black" (love it) and "Brown Sugar" right on the money. "BS" would not end and Mick even made a comment about it.

The encore started a little slow with Keith on YCAGWYW and Mick visibly worked to pick up the tempo. Another long wild ending to "Satisfaction" but I still love the way Mick does the vocal.

20 tunes tonight, one extra I guess for coming to AC twice.

Thanks IORR for your coverage thru the years.
---
Review by John Scialfa
I was one of the lucky one's last night to witness a truley incredible rolling stones show last night. From the opening riffs (which were dead on) I knew we were going to be in for a special show. The acoustics were loud and crystal clear. JJF rocked the house in bone crushing fashion, Keith was on every riff, Mick vocals were spot on, show no signs of a sore throat, Charlie was smoking on drums and Ronnie and the rest of the gang were there to do business.

IORR followed, sorry I never tire of this classic and it was over the top as well as jjf, and is a great way to keep the party rolling. oh no not you again was great, then we were treated to the first surprise of the night, she was hot, solid version, keith reallly was great, filling in any holes and ripping off chuck berry riffs, like the original master himself. mick didn't stray far on this one, which lead me to believe he's still not to comfortable with the lyrics yet, but still a good effort.

Loving cup, yes loving cup followed, a lovely version, micks vocas are perfect, and the band played perfectly to recreate this exile gem into one of tonites most memorable tunes. streets of love was a blast micks working the stage like roseland 2002, all down the line souned like a locomotive crashing thru a living room. keith and ronnie are shredding this to pieces, i cant believe the energy displayed here, mick working the wings, singing and dancing his ass off, and charlie drumming is sending telepathic signal thru my spine, aint to proud to beg, is another keeper, micks frantic, the crowd is in awe. tumbling dice closes out the first set, and its the best one of the 7 i have seen this tour.

After into's, keith delivers a stunning vocal on you got the silver, ronnie shines as he did on the all down the line solo, by playing some greart acoustic guitar. now the much talked about connection, i read mixed reviews on that one from beacon, but it was absolutely one of tonites highlites, no mick and keith rocked the house, both vocally and with his soloing, incredible. this was so good,that even a much improved under my thumb pailed in comparison,a good umt, but still not a 2nd half opener, unless they play it like 81. she was cold was a great return to the b stage micks pushing it and start me up, is a rocking one, keith continues being a monster on lead and the crowd is rocking out, htw closes out the b stage.

Back to the main stage for a killer sympathy for the devil, mick hits all the right notes, his vocals are loud clear, sperctacular,not to be outdone keith is soloing on the ramps,every note delivered and executed perfectly, theres no shortcuts tonite, these lads came to play, a haunting paint it black followed, know would keith miss the brown sugar intro, hell no, sounded better then the record, a 7 minute jam followed, chaos has errupted, on the main stage, when the carnage as ended, mick says"i thought that one was never gonna end". encores to tonight a great sing along for the crowd, you cant always get, and keith reved up the engines for a terrific satisfaction, to close out the show. They came, they conquered.
---
Review by Dean Goodman
The historic venue was arguably more interesting than the concert itself, which was highlighted by only the third performance of "Loving Cup" on this leg. Keith and Patti's stunning daughters were also in attendance, which may have lit a fire under the old man.

The Stones' first show in Atlantic City since the all-star pay-per-view gig of 1989 brought them back to the Boardwalk Hall, which was known as the Convention Hall at that time.

Shaped like a hangar featuring a curved ceiling finished with ceramic tiles, the cozy 77-year-old venue underwent a $90 million restoration five years ago. But it could be demolished if Donald Trump and Steve Wynn are allowed to build a new casino.

As with Las Vegas, my seats weren't the greatest and I was fairly happy to watch the show sitting down. I had just flown into JFK from LAX, endured a four-four car ride down the coast and faced an immediate return trip to catch the 6:55 a.m. flight back to LAX. Of course, I did the whole thing 3 weeks ago (via Philadelphia) for the gig that was postponed just hours before showtime.

The Stones came on at the usual time of 9:40 p.m. with the familiar combo of "Jumpin' Jack Flash" and "It's Only Rock 'N Roll" -- a lineup that has started eight of the 19 shows on this leg.

Mick failed to apologize for scrapping the Oct. 27 show because of laryngitis, although Keith later did, adding, "Shit happens." But Mick did note that the Stones had not been here since 1989, when they rolled out the likes of Axl Rose (mild applause), John Lee Hooker (ditto) and Eric Clapton (strong applause) for the widely bootlegged pay-per-view show. He added: "For various reasons, they can't be with us tonight."

After "Oh No Not You Again" and "She Was Hot," Mick delivered another zinger when he remarked that Atlantic City is the place you fly to from New York on a private plane and leave from on a bus (cue: Charlie drum beat.)

"Loving Cup" was a treat, a song they performed on this leg during the Beacon twofer with Jack White. It marked the first of three "Exile on Main Street" tunes (alongside "All Down the Line" and "Tumbling Dice"), and set the scene for the similarly expressive "Streets of Love," a ballad Mick described as "smooth and romantic." Unusually, he proclaimed "I know you want to leave me, but I refuse to let you go," before the band launched into the Temptations tune.

The crowd -- a mix of locals and visitors from New York, Baltimore and nearby Philly -- was definitely Keith's. Sustained calls of "KEEF!" punctuated his mind-blowing set.

The b-stage part allowed them to dust off "She's So Cold" for the first time since Austin (Oct. 22). Back on the main stage, it was the familiar tunes. For the encore, "You Can't Always Get What You Want" got off to a wobbly start, with Mick motioning to Charlie to speed things up a bit. "Satisfaction" ended things on a great note, belatedly capping the East Coast portion of this leg -- and hopefully allowing the Stones plenty of time to work up some super-cool stuff for Dodger Stadium redux on Wednesday.
---
Review by Al Pitcher, Chicago
The Rolling Stones put on the best show that I've ever seen them perform in Atlantic City tonight which says something as I've been priveleded to see some excellent shows including The Radio City gig where Mick and Keith performed the infamous climb.

To set the tone, Atlantic City's Boardwalk Hall is an incredible venue. The roof is arched the whole length of the seating area with a permanent stage on one end. The color tones of the roofing tile are light blue and there are accented gold paint highlights throughout ... very art decco.

The show highlights were definately:
She Was Hot - It was here that I noticed the mix/sound level for Keith and Ronnies guitars were better than I've ever heard. Check for the live AC video of this on youtube.com November 23rd. Happy Thanksgiving.
Loving Cup - Mick intros the song with a little story about bringing your girl down to AC and then heading home on "The Bus". What a beautiful buzz! BTW, the horns kicked ass on this.
Streets of Love - Mick showed more emotion than I have ever seen him put into any other performance. He was intense. On another note, I noticed Ronnie sitting on a stool, which he continued to do through out the night. I wonder if he has hurt himself or is just fatigued with all the band has endured this last leg.
Intro's - Mick introduces Ronnie and they stay arm in arm the whole time. It would seem plausible that Mick and Ronnie have been supporting one another during their times of loss. When Mick introduces Charlie he comes out limping, and coyly smiling, this may have been a hidden joke regarding what I said about Ronnie sitting down so much... Charlie definately didn't have leg problems as he quickly turned and walked back to his drum kit.
Keiths set. Keith!!!! Keith!!!... louder and longer than I have ever heard any crowd. He loved it. On "You've Got The Silver", Keith paces and watches Ronnie like a proud music teacher, they are just awesome together on this. Connection was just plain fun. In a nutshell, Keith really was "ON" tonight. His "Shit Happen" comment alluding to the AC concert postponement was hilarious.
Small stage set... Under My Thumb, She's So Cold, Start Me Up, Honky Tonk Woman. Best small set of the 6 Bigger Bang shows i've attended. Keith ran out of picks to give away and had to dig into Ronnies.
Brown Sugar - Loved the European video with the beautiful bare chested lady... Mmmm, mmmm, mmmm.
Encore - You Can't Always Get What You Want, Mick comments, "You sang beautifully". This really was a great sing a long. Satisfaction... how nice, a 20th song. It seem Keith started this out by playing the opening chords on a higher fret giving it a Deeper/Darker beginning, maybe it was just me, but it was killer! Keith didn't want to end the song and I and 12,000 other felt the same.
Atlantic City was an incredible show and given the recent issues the band has endured it may very well have made the 20th Stones concert I've seen since '81 my last. Keep safe and well lads... The Rolling Stones are the greatest rock and roll band in history!
---
Review by Pecman
This was my 5th show of the tour and knowing I had already seen the best Stones show of the tour which was 1/20/06 at MSG, I felt truly grateful and happy that I was going to see them one last time and wasn't expecting musical perfection especially with all that has gone on in the Stones these last few weeks....I had bought tickets and plane tickets (which I have to eat to the price of $340) for the LA show...but because of the change of dates...I had to cancel and got to go to Atlantic City.

For those of you who have never been to Atlantic City, it is truly the toilet bowl of the United States...A run down town with vagabonds, hookers, drunks, drug dealers, sleaze balls, and misfits who roam the streets among gigantic ritzy, fancy, expensive hotels where the rich and the poor mingle with each other to gamble...it is a town much about it's glorified past as it is about keeping up with the times and keeping pace with the future by building the biggest and the best hotels among streets that are some of the worst in the United States...a complete irony...it is very much just like the Rolling Stones themselves...a band with a glorified past and very much part of today...just like musically Keith keeps his foot in the past as Jagger strives for new and tomorrow...and Keith keeps his feet in the streets and has run with a rough and tumble crowd as Jagger mingles with the rich and famous...so in a sense...Atlantic City is the perfect setting for the Rolling Stones. With the majority of the fans staying the night, I knew the crowd would be a drunken mess, partying like crazy...my only concern was would the crowd have the energy to make it through the show because they were probably drinking all day...but to my surprise...the crowd did and were great.

I have wondered why the powerful Casino owners like Trump haven't dropped an atomic bomb on the city and turned it into a parking lot to make it safe...but then it dawned on me that they probably benefit from the dangerous streets because it keeps their customers inside their hotels and prevents them from Casino hopping...I got a hotel room that was about a 10 minute walk from Boardwalk Hall and mentioned to my mom in a casual conversation that I would be walking to the concert...she warned me that I couldn't walk the streets...I paid her no mind...after leaving my hotel...within 1 block...my mom's words were ringing in my head... I had to zig zag at a fast pace to prevent myself from getting mugged....luckily made it to Boardwalk Hall and felt relieved only to find myself almost mowed down by a drunken Chinese guy who was so plastered he drove his car on the boardwalk and was driving through people right in front of Boardwalk Hall! Unbelievable!...I quickly made my way inside.

Now about the show...

Let's just say the Mick and Keith show is now officially the Mick and Charlie show...Mick and Charlie deliver 100% night after night after night...I have been seeing the Stones since 81 and Charlie has turned into a monster of a drummer! It is Charlie and Mick who keep it together...Keith and Ronnie are a crap shoot on any given night...I guess that's why we keep coming back...for the adventure!

Tonight Mick and Charlie couldn't be any better...Keith and Ronnie were another story...they gave a yo-yo performance...greatness and badness from song to song.

Jumpin' Jack Flash went off without a hitch and got the crowd rocking...but at the end Keith was lost and kept playing the main riff when Jagger was singing "JJF it's a gas".

Then IORR, Keith screwed up the beginning and the band stumbled into the song and Jagger had to wait 2 bars before coming in with the words.

ONNYA was great rugged sloppy perfection.

SHE WAS HOT - I was curious how this would sound live compared to the slick production of Undercover...let's just say it sounded as if it came off Exile On Main Street...wow does this song have a whole different feel live...excellent

LOVING CUP - wow! This song was all and I mean all Mick and Chuck...they had Chuck high in the mix and he and Jagger's acoustic guitar drove it...the background singers and the horns killed it...truthfully, Keith and Ronnie played in and out, here and there...

STREETS OF LOVE - I can't believe how this song has won my over live...I hated it on ABB as it sounded like a leftover from Goddess In the Doorway...but live the Stones killed it.

AINT TOO PROUD - no problems

ALL DOWN THE LINE - when I heard this I knew we weren't getting Midnight Rambler and would get YCAGWYW in the encore...Keith came up front so hunched over that I wish someone strapped a pole to his back to straighten him upright...he looked like he really had to concentrate to get the intro right and he did...and the song was great.

TUMBLING - Great

INTRO'S - I was surprised that there were no apologies from Mick but Keith did in his own way...the crowd went absolutely crazy for Keith and he was loving it...truly a Keith crowd... and then he just absolutely nailed the vocals for YOU GOT THE SILVER...Ronnie was excellent...what a great song...after it Keith soaked up the applause and then as if he forgot said...Oh shit I have to do another one...Connection!

CONNECTION - to Keith's surprise, the song started without him as his guitar volume wasn't turned on...he played in and out of the song...but thankfully Blondie was playing along under the stage as I heard two guitars going and one of them wasn't Keith's because his hands were barely on the guitar.

UNDER MY THUMB - a bit of an odd choice for the moving of the stage as I think Miss You works better, though we all have heard it a 1000 times..but sounded great.

SHE'S SO COLD - again, thank God Blondie was playing along somewhere because both Keith and Ronnie kept not playing on occasions...I am still amazed how they can butcher a song like this...it is arguably the easiest song to play and they screw it up.

START ME UP - Keith started it but was wavering in the timing...thankfully Charlie could here it and basically threw Keith's timing out the window and kick started the song again with his own powerful timing.

HONKY TONK WOMAN - great.

SYMPATHY and PAINT IT BLACK and BROWN SUGAR were great with no noticeable problems except the fact that they couldn't get Brown Sugar to end...Mick was visibly upset as he tried a couple of times to bring it to an end.

At the start of BROWN SUGAR, it was 11:15...The show was moving at a lot faster pace and they had to make it to 11:40...so at this point I was resigned to the fact that I would be getting 8 minute versions of Brown Sugar, YCAGWYW and SATISFACTION.

YCAGWYW - I had snuck up to the 1st row by this point and Keith couldn't get the timing together and get his playing in a rhythm for Mick to join in...I seen Mick turn to Keith and say "What the fuck are you doing"...Jagger gave up and started singing and setting his own time and had Keith catch up to him.

SATISFACTION - this song has been played real heavy and grungy on this tour but it totally rocked and sent everybody how happy.

GREAT, GREAT Show...

I left thankful that I got to see them one more time...I pray this isn't it...can someone say Fall 2008!
---
Please send your show reviews and comments by e-mail to: [email protected].
The reviews will show up here soon! Thanks!
---
News links
---
Thanks to Al Pitcher for the great B-stage picture!
Thanks to Jim Pietryga for the great main stage pictures!
---
The IORR magazine
For exclusive reports and unique high quality pictures from the Rolling Stones tour and more see the IORR magazines.
---




It's Only Rock'n Roll 1980 - 2006
© The Rolling Stones Fan Club Of Europe