---
These are the latest Rolling Stones news and updates for you! IORR is a non profit fan club run by fans for fans. All parts of the It's Only Rock'n Roll web site is copyright of The Rolling Stones Fan Club. When using information from this site, please include a reference to IORR and the main web address www.iorr.org.
---
---
The Rolling Stones
Olympiahalle
Munich, Germany
Wednesday June 4, 2003
The set list
Street Fighting Man
It's Only Rock'n Roll
If You Can't Rock Me
Don't Stop
Heartbreaker
Love In Vain
Live With Me
Monkey Man
Midnight Rambler
Tumbling Dice
Slipping Away
Before They Make Me Run
Start Me Up
Can't You Hear Me Knocking
Honky Tonk Women
Jumping Jack Flash
Mannish Boy (B-stage)
Neighbours (B-stage)
Brown Sugar (B-stage)
Satisfaction (encore)

Show time:

Cranberries (warm-up)  : 8:00pm -  8:45pm
The Rolling Stones     : 9:30pm - 11:30pm

---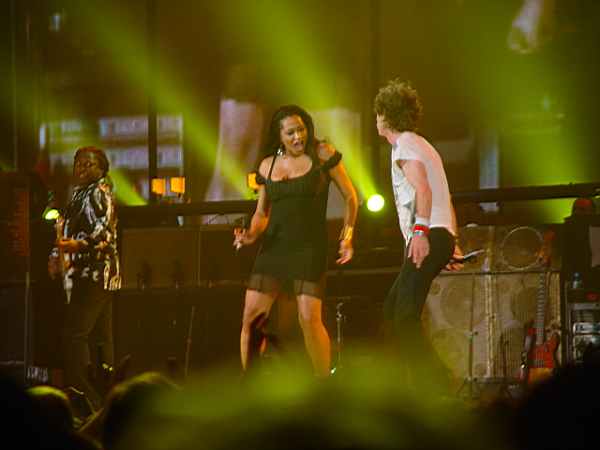 ---
Review by Chris Tresper
| | |
| --- | --- |
| For this Euro opener I met up with my best buddy Charlie McCormick and Joe Bogaard in Vienna. We drove all the way to Munich to check out all 3 shows (thanks to Thomas Hader for the ride). The boys kicked off the Euro tour with an awesome show at the Olympia Halle. The show started out in what has been the norm for the US shows thus far (SFM, IORR, IYCRM, DS) but then we were treated to an excellent version of Heartbreaker and Love in Vain. The band was tight and the sound was great throughout the whole show. The B Stage setlist consisted of Mannish Boy, Neighbors (KILLER VERSION) and of course Brown Sugar. The encore was Satisfaction, therefore they played JJF after Honky Tonk Women. What more is there to say, we are definitely excited to be here and pumped to see them again on Friday at the Olympia Stadium and then to perfectly round it up at Cirkus Krone on Sunday. | |
---
Review by Wolfgang Morscher
Just came back to Innsbruck from the great Munich show!

It has been a very relaxing concert at all, fantastic concert at all but sad experience with security.

Short at the end of the show during "Brown Sugar" I was asked by several security people to leave the show and was carried away to the police station, like dozend others too and had to give away my camera during bad conversation with security. They simply threw my camera into garbage! There were dozens of other people who happend this, they had professionals to delete digital cameras chips; the new chips like SD etc. which have been harder to delete were thrown into garbage without any discussion... My camera was a one-way-camera, no discussion helped, they simply threw it away. I am very very sad about this.

Anyway, besides this, the show until that was great and relaxing.

The openings songs seemed to me personally a little bit nervous by the band, Mick's voice was too high, at least hearing above in the seats. With "Don't stop" the band worked perfect and from then the concert was more than perfect. "Live with me" and "Monkey Man" was one of many unforgettable events, "Midnight Rambler" was better than ever.

"Can't you hear me knocking" was definitely the best live performance I ever experienced until now - you can't imagine that!

"Neighbours" was a cool addition, they should make a new CD of this song.

Rather great evening, unbeleiveable show! Not an orgy, but a brave show.
---
Reviedw by Peter Wenzel, Zurich, Switzerland
It was a hot summer night in Munich with partly thunderstorms in the evening. Driving from Zurich to Munich you can see Bruce Springsteen-signs guiding you to the Olympic Parc everywhere on the highway (the Boss will be in town on Tuesday) , but nothing remembers you to our boys. And on the black market you could get every possible ticket for fair prices. Even me myself has been selling tickets. It was no business at all and in the Olympiahalle there had been a lot of seats free.

Well, the show started with a tremendous and thunderstormy "Street Fighting Man" - wow, extraordinary, big, load, very quick. That's the way I love them most. A surprisingly "Heartbreaker", "Can't You Hear Me Knocking", "Start Me Up" and "Before You Make Me Run" with a superb Ronnie Wood playing guitar. And Bobby Keys was better than the last 15 years or so. Really astonishing. But the rest of the songs rank at average. Disapointing as ever was "Honky Tonk Woman", much too slow and without any emotions.

But during an absolute excellent version of "Midnight Rambler" Mick Jagger has taken the audience back into the late 60's. No doubt, this was the highlight of the show. And at the very end of the show they played a wild and furious "Neighbors", much better as I heard it in Chicago this year. Soo good. Let's hope for tomorrow's show.
---
Review by Dean Bennici
Great show. I wasn't even going to go, because everyone said that I had no chance to get tickets. wrong! there were loads of good seats available and I ended up with very excellent seats for less than box office prices.

I thought that the band was a bit weak with their pop rock songs. Mick couldn't seem to flow to well with some of the melodies, but the blues type numbers like midnight rambler were absolutely amazing. can you do midnight rambler better? i think not. Other songs that came off great, heartbreaker, monkey man and brown sugar. As always, mick danced up a storm. he is always a pleasure to watch. The sound got better as the night went on and the b stage (small center stage) had the best sound in my opinion. Most of the guitar solos were performed by Ron Wood. Keith played very few solo pieces which was a pity considering he is one of the all time great players.

Overall, a very nice evening and a chance to see some of the last living legends once again. what a treat.
---
Review by Adriano
Finally I had my share of fun!

While my negative attitude towards the choice of some tunes and the big amount of (sometimes useless) musicians on stage remains, I can't deny the fact that driving for 1100 kms and being awake for 28 hrs in a row to see the guys, is a thing worth doing. They still are a great band and the happiness you get from the simple vision of the Stones alive is an unmeasurable thing.

To make it quick, the highlights of the gig are Mick's voice (at its best in the last ten years) and, as said by many others before me, Ronnie's shape. The man is alive and gives some great licks every now and then, as on Love in Vain and CYHMK.

Don't Stop sounded perfect, so did If You Can't Rock Me, Neighbours and Monkey Man.

The only strange thing of the night was that the venue was not full and people from the upper rings were invited to go to the lower seats to fill them up. Do we have to blame the high ticket prices or the mad internet way of selling tix? I'm curious to see what will happen in the other European venues.

A last note. Charlie looks younger and at times you could say he's really enjoying beating his drums like a kid.

Ok, one has gone. Up to the other gigs, enjoy them. See you in Sweden and hopefully in Belgium!
---
Review by Beat Kayser
Together with my friend Kusi (a Stones fan for 35 years!), I arrived at the Olympiahalle in Munich at around 3 p.m.! On the way from the underground station to the venue, we met plenty of scalpers trying to get rid of their tickets (including some for the Circus Krone gig - for ridiculously high prices, of course!). The weather was absolutely gorgeous, with temperatures of about 30 degrees Celsius - and we were glad for a 'pint' of real bavarian beer in the shadow.

Outside the venue, the usual stands had been set up - selling the offial Rolling Stones merchandising - including a limited edition 'Munich' T-shirt! Same tour programs as on the US tour!

About 30 minutes before the opening of the gates at 6 p.m., we joined the queue! At 6 p.m. sharp, the doors were opened, and the run to the front row started! My friend and me, we managed to get an excellent spot right in front of the B-stage - with unrestricted view to the main stage! They had split up the floor into two separate areas - 'Innenraum' (some sort of a FOS - including the B-stage) and 'Umgriff' (outside the fence). Soon before the actual start of the concert, some fans from the 'Umgriff' section tried to get into the 'Innenraum' section - which led to some 'fights' with security people.

The Cranberries opened up for the Stones at around 8 p.m.! As is always the case with bands opening for the Greatest Rock'n'Roll Band of the World - it was rather tough for them to get the acceptance from the crowd! They did ok, but then again - the crowd was waiting for what was to follow!

After The Cranberries had left, the stage was re-built for the 'main' act of the evening. During that period, various songs were played over the speakers (as is always the case in concerts). Then, at 9:35 p.m. - the music stopped! This was followed by rather exciting cheers by the fans (some of them seem to had spotted something behind the stage). Seconds later, the lights went off! Clapping, cheering, shouting - pure excitement! And then - unmistakingly, the first riffs were to be heard from Keith! The lights went on - and on stage they were - the ROLLING STONES!!! They opened the show with an excellent version of 'Street Fighting Man', followed by 'IORR' and 'If You Can't Rock Me' (GREAT!!!). Then - after 'Don't Stop' from 40 Licks - an absolute highlight of the evening: an AWSOME(!) and BRILLIANT version of Heartbreaker (still getting goose skin here!).

What followed was a set of songs from the Let It Bleed album - starting with 'Love In Vain' (wonderful!), 'Live With Me' (breathtaking), and 'Monkey Man'. I was surprised that not Lisa Fisher joined Mick on stage for Monkey Man - but Bernard Fowler.

Then - a personal highlight for me - 'Midnight Rambler' (which I last saw life in 1990 in Basel, Switzerland)! INCREDIBLE!!! Mick's harmonica play was brilliant (I got the shiver!).

All of the band's members seemed in excellent mood - even though, according to some German newspaper, Mick seems to have had some disagreement with local (security?) people about an hour before the show! He welcomed the crowed: 'Grüss Gott München' - and 'Heute Abend werden wir richtig Spass haben' (tonight, we're gonna have some great fun together!) - in almost perfect German.

Mick was running around on stage as if he was still in his 20ies or 30ies! Both - Ronnie and Keith - had a BIG smile on their faces, and seemed to have a lot of fun playing up there!

Keith - when taking the microphone after 'Tumbling Dice' and the introduction of the band - before playing 'Slipping Away' - mentioned something like 'It feels great to finally be back again (referring to the beginning of the European leg of the tour). Even though I had expected him to play 'Happy' (which he will maybe do in the Olympiastadium on Friday) - Keith played an awsome version of 'Before They Make Me Run' (LOVED it!!!).

Then - after 'Start Me Up' - another highlight: 'Can't You Hear Me Knocking' (which left me speechless!). Then - the always amazing 'Honky Tonk Woman' and 'Jumping Jack Flash'!!!

What followed was the absolute highlight in my long career as a hardcore Stones fan!!! I had seen 'The Boys' a few dozen times already - from all angles and perspectives (including several times in the front row - center stage, as well as front row - B-stage) - but never the way I saw them that night, from the front row of the B-stage!!! Not just that I briefly shook hands with Mick (!) - but the selection of the songs they played up there right in front of me, that was just the best thing that ever happened to me during a Stones concert! They started with an awsome version of 'Mannish Boy', followed by 'Neighbours' (an ABSOLUTE KILLER!!! - I agree Chris), and 'Brown Sugar' (WOW!!!). The guy next to me cought a water bottle that Ronnie had thrown out to the crowd - which obviously left him rather amazed!

Then, the band left - only to return for the encore: SATISFACTION (bloody awsome!).

The concert ended at around 11:35 p.m. - after 2 hours of pure magic!!! Gosh - IMAGINE if they started already in that way, what there will be to follow on the next gigs on The Continent!!! Can't wait for the next concerts to come - especially 'The Olympia' in Paris!

To all you folks out there who will be joining The Stones on tour - LOOK FORWARD TO IT, YOU HAVE ALL THE REASONS TO DO SO!!

Just one downside: As is usual in Germany, beer (the REAL one!) was served during the concert all over the place. Therefore, several of the people in the stadium were completely drunk. Some of them continued repeatedly to throw things on stage (mainly empty - or still half-filled cups of beer). During the performance on the B-stage, one of those cups seems to have hit Charlie (or his drums - couldn't see it properly!). After 'Mannish Boy' - Mick turned to Charlie, most likely in order to ask him whether he was alright...

Apart from that - an absolutely BRILLIANT and AMAZING performance that - for me personally - will go down in history as one of the 'Pearls' in my memories!
---
Reviwew by Dirk Schwantes "München, ihr seid krass."
What Mick said to the Munich audience can really be translated but is an expression that can describe what happened last night. It was "krass", for sure. "Krass" in German is slang and is used to describe unbelievable, incerdible, wonderful things. And I must say it was all that, "krass".
It was my 8th Stones show in 13 years but my first show in such a small venue. I was with my brother and after we waited for long hours in the super hot Munich sun (Krone tix for 400 were offered), we finally made it to the front on Keiths side. The sound wasn't too good over there but I guess it was better for those in the middle. The Cranberries were nervous, they couldn't hide that. They did a great job and played all their famous songs. (Zombie, Salvation...)
The Stones came on at 21:33 and were rocking from the first moment on. First hightlight was Hearbreaker. Of course, many fans were talking about the things that were rehearsed the day before so we suspected DooDooDoo to show up on the set list. The video clips for that one were pretty cool, very artsy. The crowd was wild and sweaty by then.
Second highlight (and my personal that night): Love in Vain. By then everyone was ready for a break and the lights went down and Ronnie sat down and threw himself a cig in his mouth. Keith brought out the accoustic guitar and then the train left the station. Slowly. The song filled the hall and it felt like we were all back in the 70ies and Ronnie was Mick Taylor. At least he did an amazing solo.
Then Midnight Rambler was the next highlight and maybe the climax. Mick said: "Everybody say Auuuu." And we did. But he suddendly froze and looked at us, Was that all? And then he challenged us again and this time we all blew him away. A great interaction on that one.
Slipping Away was another pause. But what a great pause, Keith seemed really happy and the song felt like we were all at the beach at night or something. Oh, before that, band introdution. And guess what, everybody cheered for Charlie. A Classic.
Cant you hear me knocking. Now we understand why everybody wanted that song so bad during the US leg of the tour. It was a trip. In between it sounded like a trance song, like some hip dj was spinning or sth. They all had their solos and it went on forever. Great.
Manish Boy wasn't too good. A surprise for sure. But the Love you Live beat is better. Then Neighbours. From the front it sounded like we were back in the 80ies. Really trashy but rocking/punking. When they came out for Satisfaction a huge air pump with red paper thingies was started and the hall was a big red shower. Mick was last to leave the stage with a bow and we fans were done. Sweaty, red, lucky.
HAPPY.
Thanks a lot.
PS: I took pictures with my one-way camera, the security guy in front of Keiths stage did not really mind. And they couldn't find it when we got it because we were all pushing, running, screaming. The security were scarred at first. But I saw one security guy jumping for a camera....
---
Please send your reviews to

[email protected]

. Thanks!
---
News links
For more news links and general press reports see the separate IORR Munich pages!

Thanks to Josef Massinger for the great photo of Lisa, Mick and Darryl!
Thanks to Othmar Kayser, Arve Michelsen, Björn Kassman, Wolfgang Morscher, Høgne Midjord, Thomas Rapp, Thomas Burton and Jarkko Väisänen for news links!
---
This page will change over the next few days, as you and other fans send reviews, set lists and reports. Please send your e-mail to IORR. Thanks! For details and great photos from the Rolling Stones and their World Tour get the IORR magazines.




It's Only Rock'n Roll 2003 -
© The Rolling Stones Fan Club Of Europe