---
These are the latest Rolling Stones news and updates for you! IORR is a non profit fan club run by fans for fans. All parts of the It's Only Rock'n Roll web site is copyright of The Rolling Stones Fan Club. When using information from this site, please include a reference to IORR and the main web address www.iorr.org.
---
---
The Rolling Stones
United Center, Chicago, USA
Tuesday Sept. 10, 2002
Review by Rich and Karen Kaczmarek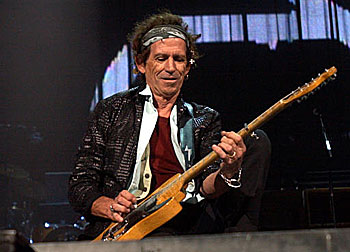 The Pretenders were on stage from 7:40 to 8:35. They delivered a jam-packed set of music. The Pretenders are what an opening act should be: solid, exciting, and they did have the crowd's attention. Chrissy Hynde commented on the Stones' influence on their rock 'n' roll lifestyle and dedicated a reggae tune to the Stones.

The Stones opened the show at 9:10. Here's the setlist:
Street Fighting Man
It's Only Rock and Roll
If You Can't Rock Me
Don't Stop
All Down the Line
Stray Cat Blues
Far Away Eyes
Shattered
When the Whip Comes Down
Tumblin' Dice
--- Introductions
The Worst (Keith)
Happy (Keith)
I Can't Turn You Loose
Miss You
Can't You Hear Me Knocking
Honky Tonk Woman
Satisfaction
Mannish Boy (Center Stage)
You Got Me Rocking (Center Stage)
Brown Sugar (Center Stage)
Sympathy For the Devil (encore)
Jumping Jack Flash (encore)
End time 11:15 PS. They Exit Center State to the rear and re-enter main stage from the front
The stage is remarkably simple. The Stones filled up all the space like no other band can fill a stage. Their presence, their musicianship, and their abilities to entertain is second to none.
Street Fighting Man was a great opener. It's hard to top this song, but the show got better and better all night. If You Can't Rock Me was great to hear live. Don't Stop is still growing on the audience; a little more air play and maybe they'll get hooked.
Stray Cat Blues and Far Away Eyes were awesome. Mick preceded Stray Cat Blues by saying they don't play it very often, but it sure sounded tight. It was fun to watch Mick's facial expressions during Far Away Eyes. The crowd seemed a little stunned with I Can't Turn You Loose. It's a very fun song and it had people's interest.
The absolute highlight of the show was Can't You Hear Me Knocking. The song just grew and grew and Ron showed he can really jam. The band was so tight. A song like this is what makes going to a concert so special.
The Stones continue to set the standard for concerts. They should never retire as they continue to get better and better with each tour. The scaled-down stage shows that the Stones don't need any gimmicks to entertain and please all. Anyone who attended this show would have to dig deep to find a complaint.
Can't wait for Friday's Comiskey Park show!
---
Review by Robert Bagel
What an unqualified pleasure tonight! The Rolling Stones were razor sharp, running through an amazing variety of songs, making the usually comatose United Center crowd lively and rocking. There were no problems with sound, timing, or show production, making it difficult to compare with other shows. Phoenix 1997, Madison Square Garden 1998, Pittsburgh or Wembley 1999-- tonight's show was certainly of that quality. At points it was simply unbelievable to be seeing some songs done live, let alone done so amazingly well. Stray Cat Blues was the best example of this, from Ron and Keith starting the song with just their two guitars through Mick's ambitious vocals. Sure this is a blues song, but a historic one that pushed the style from classic Chicago blues to a song that permanently blurred the line between blues and rock'n'roll. Tonight's version captured every aspect of this, complete with Chicago's very own Darryl Jones' bass being featured prominently.

Can't You Hear Me Knocking was equally astounding, from being able to watch Keith fire off the opening chords, to Bobby Key's graceful sax, Mick's harmonica, and Ron's lead at the end which should end 27 years of questions in relation to Mick Taylor. As all could see tonight, Ron Wood is a phenomenal guitar player when given the opportunity to show it, and to see him shoulder the entire band during Can't You Hear Me Knocking was simply great. Tonight's set had a definite Some Girls flavor, with Far Away Eyes, Shattered, When the Whip Comes Down, and Miss You being performed. Miss You was extremely pleasurable by being tight and to the point. I don't fully understand why consensus seems to dislike Miss You, as when it is done without protracted audience participation segments it is as good as any Stones song. When Keith did The Worst as part of his set, it was the perfect compliment to Far Away Eyes: the United Center was officially transformed into a middle American honky tonk. Satisfaction's placement in the set was exquisite, between Keith's songs and the middle stage. It was neither an opener nor an encore, just a kick ass song to be enjoyed as part of the set. I Can't Turn You Loose, the Otis Redding song, was even more powerful than it was at Gillette stadium.

The Pretenders opened with a wonderful set, and had the United Center as full of people as I have ever seen for an opening act. When the Stones came on, Chrissie Hynde was in the audience stage right, cheering on and singing along with the Stones with the rest of us. That just added to the magic of the evening, to see such an amazing songwriter/ guitar player rocking to Stones as a fan. If Sheryl Crow joined the Stones for a song in 1999, it would make even more sense now for Chrissie Hynde to play with-rather than just cheer for-a band that clearly means the world to her.

On the small stage, the Stones did Mannish Boy, You Got Me Rocking, and Brown Sugar. Mannish Boy was perfectly Chicago, making the United Center seem like a South Side blues bar. You Got Me Rocking was wonderfully sloppy with the song close to falling apart until Keith came in with the signature lick for the song, much like the Voodoo Lounge tour version. In 1999 this song was tightened up considerably, but it is back to the ragged jam version like when we first heard it live.

The Stones returned to the main stage for Sympathy for the Devil and Jumping Jack Flash, finishing with the same energy level that prevailed throughout the evening. As a friend remarked to me, the entire show was like one big encore. When it came time for the four Stones to take their bow, Keith was missing; this was emphasized by Mick bowing with his arm in the air as if around an imaginary band member. Finally Keith ran back out, one arm in a blue terry cloth robe, and took his bows with the rest of the Stones. This was truly a magical night, superior to any Stones show this town has seen going back to the Soldier Field gig in 1978. If the bigness of Comiskey can be conquered, and the inherent charm of the Aragon can be tapped, Chicago's fast start to hosting the Stones has no reason to slow down at all.
---
Review by Barry M., Chicago
It was wonderful seeing the boys again. They're still at the top of their game, and still the best.

This was my sixth Stones concert in Chicago, going back to 1972 at the International Amphitheater, (with Stevie Wonder as the opening act!).

I thought Mick had more energy, particularly in the first half of the show, than in the last tour, and was delivering the songs with more conviction than he has in a long time. His harp playing remains great, nuanced, and effective.

Keith was enjoying himself tremendously, and playing very well. I liked "The Worst" a lot, but this was the sloppiest "Happy" I've heard. (I brought a 1st timer to the concert, and she viewed Keith's singing as an acquired taste, which she did not share.)

Darryl was looser and more involved in the action than in the past, singing clear harmony on the small stage.

Ron was more active and playing better than last time. On the last tour, he seemed to be going through the motions, and struck me as striking poses that were a bit of a parody of a rock star. This time, he was more integral to the action. The "weave" was working perfectly, as the two traded leads and rhythm. Ron's slide and pedal steal playing was very good, but he did hit a few clunkers (particularly on "Happy"). I think he's still not quite back to where he was. (Respectfully, I disagree with the suggestion that he equals Mick Taylor. Mick Taylor was here in '72. His playing was breathtaking. His lead on YCAGWYW still rings in my ears 30 years later. Ron is great with the Stones, has been there a very long time, holds his own with Keith, but is no Mick Taylor.)

Charlie is rock-steady, and playing everything perfectly. Unlike the others, however, Charlie is noticeably aging. He was frail. I was seated slightly behind the stage (to Keith's side). Charlie needed help getting jackets on, and getting to the walkway to the small stage. The most touching moment was after the last encore, when Keith came behind the stage and helped Charlie put a jacket on, then, with obvious affection, helped Charlie out to the front to take their bow.

Bobby Keys played well, but he also had trouble with the stairs, and wasn't moving well.

As to the songs: the highlight for me was Can't You Hear Me Knocking. They nailed it, with great harp work by Mick and very good lead from Ronnie. It was hard to believe they'd kept it hidden for 30 years. Mannish Boy (a good song for Chicago), Stray Cat Blues, Far Away Eyes (a guilty favorite of mine), and Shattered (not one of my favorites, but it was great) were particularly well played, along with Satisfaction (THE RIFF was very well done) and JJF.

Seeing the setlist varied from the jukebox standards was wonderful. The emphasis on Some Girls, Exiles, and Sticky Fingers tunes was great, and the more obscure choices were appreciated. I Can't Turn You Loose, with its "Blues Brothers" horns, was also a good pick.

I'm with those who thinks "Miss You" needs a rest. This was a jazzier version than recent tours, which helped, but it's too cliched. I also thought "You Got Me Rockin'" and "Brown Sugar" didn't work well on the small stage.

The Pretenders are a great band and a great opener, but they were like a minor league team playing before the All-Stars. Ms. Hynde's comment was that we all had to thank the Stones for their influence on "our looks, our hair, and our drug habits." Given her musical and style debts to Mick and Keith, she's a great pick to open. They ought to invite her up for a song.

Finally, the sound was terrible for the Pretenders, varying widely within almost every song. It was very good for the Stones, although Ron's volume seemed slightly down in the mix. (That may just have been because we were seated on Keith's side.)

In sum, while they don't have the air of menace they had 30 years ago, they're still the best. I hope I get a chance to see them again, soon. (Shame I don't have any tickets to the Aragon.)
---
Review by Flynn Welles
UNITED CENTER - Sept. 10, 2002
The tongue was lickin' the boys were kickin', here are highlights of the show!
Here I am back in ILLINOIS, my home State! Got into Chi-town from Boston in the "Lick" of time too, just in time for the show, (in my quest to see as many North American shows as I can, on this tour). Let me tell ya, the STONES don't give ya much time to get from one State to the other, sometimes. *~/;)
I like the stage, (simple) because the screen, with the lips and tongue lickin' and cartoon lady, etc., is a great idea, instead of the "bells and whistles" from the past tours.
Street Fighting Man is good but not my choice for an opener, rather have RIP THIS JOINT, (sometimes).
I really enjoyed FAR AWAY EYES and ALL DOWN THE LINE. I think DON'T STOP is a "catchy tune" and should become a favorite, it's one of mine already. Keith sang HAPPY, (always glad to hear this gem) and THE WORST was the best, loved it, thanks a bunch for pulling that one out Keef! MANNISH BOY, great to hear! The show ended with really good choices BROWN SUGAR, SYMPATHY FOR THE DEVIL and my all time favorite "JUMPIN' JACK FLASH!"
Woulda liked to hear ANGIE last night, maybe they'll do it again, like the other night!
Ronnie kicked ass. Of course I never have a problem with Ronnie, he's a true STONE, (the only reason he didn't join the Stones earlier was because he was with the FACES, and as Keith once said, "they didn't want to break up that band, (the Faces) by takin' Ronnie away!" Glad he finally climbed on board though! Only one complaint, I think they need to GIVE RONNIE A SONG TO SING! I think I'll start pluggin' this at the shows!
The boys get better with each tour. I don't normally like the United Center, but the show was good this time around, with the sound and all. Bobby and the horns section kicked butt! Way to go! Backups were really fabulous! Don't get me wrong, I love Bernard, Lisa, Blondie, and Chuck, but this tour, the backup band is more like a "backup," (this is how it should be). Have to say the show ran smoothly and hats off to the crew for that! Takin' care of our boys and all! Thanks!
Thanks for a great show STONES! Friday, 9-13-02 >>>> Comiskey Park show!
---
Press reports
Thanks to Axel Schumacher, Germany and Barry M., Chicago for supplying news links!
---
This page will feature all reviews, comments, photos, set lists and more as supplied by loyal and die hard fans of The Rolling Stones.
If you have visited this page recently please update your browser by refresh, update, or similar functions in case your browser or your computer connection is still keeping and old version of this page. This page will change continously over the next few days.
To help supply all the great reviews and setlists to fans all over the world, and to preserve them here, as well as the best parts in the IORR magazines, please send your e-mail to IORR. Thanks!
---
For details and great photos from the Rolling Stones and their World Tour get IORR 45 due out by mid September 2002.




It's Only Rock'n Roll 2002 -
© The Rolling Stones Fan Club Of Europe