---
These are the latest Rolling Stones news and updates for you! IORR is a non profit fan club run by fans for fans. All parts of the It's Only Rock'n Roll web site is copyright of The Rolling Stones Fan Club. When using information from this site, please include a reference to IORR and the main web address www.iorr.org.
---
---
The Rolling Stones
Gillette Stadium, Boston, USA
Thursday Sept. 5, 2002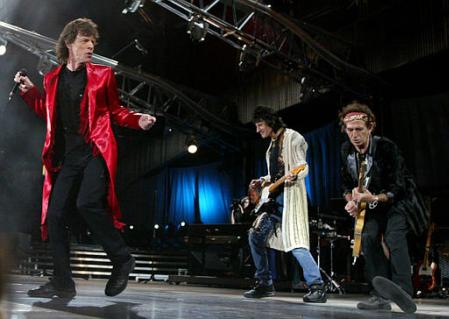 The Stones left almost two hours earlier for the show tonight, even if the drive to Foxboro is just like 30 minutes, that is by car, not by train today...
7.05 -  7.50 pm : Pretenders
8:55 - 11:15 pm : The Rolling Stones

The set list:
Brown Sugar
Start Me Up
It's Only Rock'n Roll
Don't Stop
Honky Tonk Women
Rock and a Hard Place
Angie
You Can't Always Get What You Want
Monkey Man
I Can't Turn You Loose
Gimme Shelter
--- Introductions
Slipping Away (Keith)
Before They Make Me Run (Keith)
Sympathy for the Devil
Shattered (B-stage)
Beast of Burden (B-stage)
Miss You (B-stage)
Midnight Rambler
You Got Me Rocking
Tumbling Dice
Street Fighting Man
Jumping Jack Flash
Satisfaction
Review by Bob Formont
September 5, 2002 – Foxboro, MA USA – We had a day off here in the Boston area between shows. Charlie, Chris and I spent the afternoon downtown seeing the sights. Meeting Stones fans over breakfast we learned of Newbury Comics selling re-masters cheaply. Together we walked out of there with probably 40 new CD's. Great little neighborhood of shops, lots of people milling in the streets. Some where even whispering Stones songs to themselves as they walked by. A beautiful New England day. One of the most interesting things about traveling to see the Stones, especially with a day off in-between shows is meeting so many Stones fans from around the world. We talked with people from Chicago, akissaway plans 20 shows this year. Steve from London told us not only did he see EVERY No Security show he saw the sound check before the opener and passed his notes along to Bjornulf, also here in town. Had an interesting chat with Klaus from Heidelberg, not about the band but about the world's current events, 9/11, and war with Iraq. Every place we stopped we talked with other Stones fans excited about the Opener.

Dinner last night we stopped in the famous Legal Seafood's. The waiter recognized our shirts and began asking about the shows, ended up telling the Glimmer Twins themselves had been seated right over there a couple nights ago. I was skeptical until he sent the waitress that had served them over to speak with us. She had quite the story… From my shirt she picked out Jagger, Richards, and Ronnie but said Charlie was not there. At the end of the evening she had the courage to ask for some tickets to the show. Mr. Jagger apparently obliged, after making a call his response to her was "my 10 year old daughter just booked your tickets." The waitress is pretty excited knowing soon she will walk over to the Four Seasons and pick up her tickets to the show.

Off to the show we went… Took the train out of South Station heading to Foxboro. After a very long trip through the woods Gillette Stadium appears in the clearing. Finally the lights went down and the drum roll began. Keith cranked up the first chord and the band hit the stage with a stripped down, blistering, 70's version of Brown Sugar, Sir Mick dressed in black with a long royale red coat, looking great. Plenty of energy, Mick has more room to work tonight and is strutting from one side of the stadium to the other. Start Me Up comes before the new single, Sounding pretty good. Looks like it will be a War Horses show but the band is really delivering tonight. The video is still uncensored for Honky Tonk. They slow it down for a great version of Angie, acoustic guitars. Cherry Red is not forgotten, You Can't Always Get What You Want follows. By now we are quite concerned with the sound quality. The band is doing well but the sound is actually terrible. The volume keeps changing, Ronnie can not be heard at all, Keith sometimes – even Mick's vocals are dropping out. And when he speaks between songs it is completely incomprehensible.

Monkey Man starts pretty well but with poor sound doesn't have much punch. Pretty much the same for Shelter.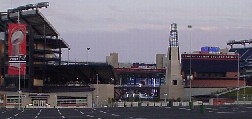 Keith was great on Slipping Away. Almost immediately he stripped off his guitar and managed to sing without it. Jagger returns with Sympathy and some pretty cool display of fire above the stage soaked in red. Kind of evil actually.
Out to the B-stage for the Some Girls set, including Shattered, Beast of Burden and Miss You, which by the way the best Miss You – is no Miss You. We have heard this so many times, difference was Jagger on harp. Tonight they follow the ramp from the B back to the main and crank on Midnight Rambler. Jagger is hooded and portraying possibly the Boston Strangler.
The war horses round out the entire show, clocking in at 2 hours 20 minutes tonight. Began to wonder if they were just going to play the whole set and not have an encore but they saved Satisfaction for that. They band was right on tonight, everyone looked great and Jagger commanded the stage as always. Fireworks and we were off to the train.
Now the train is a story in itself – a two hour story. For some unknown reason we were stuck on the tracks and the Mass transit authority took hours to get us back into the city – it was miserable. But lets not let that ruin what has been a great few days in Boston with the Rolling Stones. My opinion of Boston is somewhat better than before and I really enjoyed the opening of the 2002/3 tours. Had a great time with the McCormick's and Mr. Tresper. Saw a lot of sights, met a few fans and even caught my favorite band a couple nights, one in an arena and the next at the stadium. A couple lucky thousand are staying through the weekend for the theatre show, us on the other hand are heading home in the morning… Looking forward to getting home with the kids… See you guys again soon!
---
Review by Peter Lacres, Belgium
New Stadium, Different Set Li(ck)st
On Thursday, the greatest rock 'n roll band on earth moved to the new 68000 seat Gillette Stadium in Foxboro for the second concert of their Licks Tour in Boston.

As I arrived at the stadium, the Stones were still rehearsing some songs such as Miss You and Shattered, so I knew that the set list was going to change a little bit compared to Tuesday… But more important, the fans could see the new stage. But at first point, you couldn't see a lot of the possibilities with it.

Again the Pretenders zipped through a greatest hits set that included Stand By Me and Don't Get Me Wrong.

Around 9.00 pm the Stones opened their first big stadium show with Brown Sugar where Keith missed the first riff of the song but it rocked just like the next one, Start Me Up. Nice one. Some other surprises were Rock 'n Hard Place and You Can't Always Get What You Want but you can because Lisa was splendid during Gimme Shelter. Monkey Man with a certain Sir Jagger jumping around was a shot of adrenaline and showed clearly that the set list did change over the opening day what you couldn't say about the Bridges to Babylon or Voodoo Shows.

Even Keef changed Happy through Before The Make Me Run just after the introduction of the whole band. Much to my surprise, Lisa made a sign to Mick that she left the stage so he didn't even mention her name. Charlie on the other hand was in shape and even showed his red socks in a peeing dog position. If you pay over 350 bucks and are quite near the front stage, you are luckily able to see this. One disadvantage, I couldn't see a lot of the little stage way back where Shattered, Beast Of Burden and Miss You were played, the sound was not so good but the walking stage where you could see the band close made it up.

Midnight Rambler was played but I was impressed by Sympathy when huge flames exploded as soon as Mick sung the lines, Pleased to meet you… You Got Me Rocking was from my point of view, the surprise of the evening because the 2002 version was longer and heavier in guitars. JJF was followed by Satisfaction and yes, I was even considering the fact that the tickets are expensive. And thanks to the giant videoscreens that move around from one side to the other, I personally think that the cheap seat tickets enjoyed the show as well!
---
Review by Robert Maleski
I got there early enough to hear the B stage sound check of the three numbers from the Some Girls album, and a last minute sound check by Bernard and Lisa of their backing vocals for Tumbling Dice.

I had a nose bleed seat for this one, and I have to say it was a mistake. I see that others have reviewed the sound, but I spent the last third of the show walking around the stadium, and my perception is that the speakers were just not designed to anticipate such a high altitude of seats as in the 300 sections. The sound was terrible up high, but fantastic down low.

The Stones were fantastic as well, but not so for the middle-aged American audience. Since I couldn't hear well for much of the show I decided to pay attention to the big picture. It is as though there were two parallel universes existing at the same time. On the floor and in the lower sections closest to the stage everyone was rocking with the Stones, and as you got progressively further from the stage in all directions (up and back), you gravitated into another world, where fans made up to ten beer trips out of the rows, spent time talking about everything and not paying attention at all to the show. I even saw a fight which resulted in no less than twenty fans permanently leaving their seats.

The stadium set up basically closed out from sale what looked like 25% or more of the seats, but obviously much of this was made up by the floor seats. There were lots of empty seats in the upper sections. Hundreds, if not thousands, of "fans" started streaming out towards the parking lot with several songs to go, and the closer it got to the end the larger the stream of people who were leaving.

The Stones' performance was incredible. It was better than I have ever seen, and I have rated their performances as very high since I have been attending shows in 1994. When Keith came out to start Brown Sugar he must have forgotten to turn on his guitar, because he made a mighty gesture and ended up with silence. No problem ... he recovered nicely and off they went.

Highlights of the show for me: Mick Jagger's vocals were very powerful throughout. He put a great effort into every song. I expected to not like Don't Stop and I Can't Turn You Loose, but loved them both. Ronnie didn't have as much prominence as he apparently had at the Fleet Center, but he played very well, and I was amazed at the loud applause and acknowledgement he got several times, including at the introductions. He was great, and nailed everything he aimed for. Another highlight was Keith's numbers. I was amazed. Normally he has trouble even singing into the microphone, but last night he belted out the vocals with an incredible degree of confidence. He even pushed his guitar aside for most of his performance. Baoth of his numbers were fantastic.

A couple of other observations: Monkey Man was unusual, because I kept waiting for Lisa to appear. The version was closer to the record, and unfortunately it was one of those I couldn't hear well. I thought it was very unusual that Chuck Leavel seemed to be so prominent on vocals. I, like other fans, was not excited about hearing Miss You again, but the version they did is the one I had been saying they should do .... short, sweet, no bull shit to extend the song.
---
Review by Ron Blank
After a wait of three years and three months since my last fix of the Rolling Stones, I could hardly wait for the first stadium show of the Licks tour. It was well worth the wait!

It may be hard to believe but I think the new stage is minimalist compared to the previous 3 stadium tours in terms of over-the-top grandeur and elegance. Others have already talked about it, but I think it refocuses our attention on THE BAND! There are far less visual interruptions and I found it much easier to watch only the band.

I was seated exactly in the centre 38 rows back. When Keith trick started Brown Sugar (or perhaps unintentionally) I thought it was like he did to Start Me Up on the last tour. And the song rocked! They did exactly what I wanted - they kept to the riffs and the licks and the guitars were fantastic. Throughout this number, then in Start Me Up and It's Only Rock & Roll, Keith spent a lot of the time bent over in front of Charlie with his back to the audience. That has always been a good sign in the past and tonite was to be no exception. He concentrated a lot on his guitar playing throughout the show and it showed. We were treated to an uncustomarily strong human riff and we enjoyed it!

The sound in the stadium was wishy washy to begin with, but after the first 30 minutes they finally fixed it. The stereo separation was great where I was sitting, and Ronnie's guitar was clear and strong too. As the night went on, the volume kept creeping up and it was great.

The new song Don't Stop was played extremely strongly as a 3-guitar attack. Mick played a Stratocaster along with Ronnie and Keith. They jammed right through the ending and I can tell this is going to be a lot stronger as time goes on than the single on the radio. The crowd around me at least loved it.

Honkey Tonk Women was played to the accompaniment of a very lewd cartoon. The topless lady in it was doing some awfully hard-core tongue riding throughout it. But the thing I liked about the song was Keith didn't play the piano! I kept waiting for him to go pound on the keys with his foot but it didn't happen. It was just a very strong version of the song with Keith's solo being particularly great.

Angie and You Can't Always Get What You Want really got the crowd into the songs. They were exceptionally strong and here the video effects really played well for the mood they established. I felt like YCAGWYW was where the concert really took off. It turned into a fabulous sing-along and everyone was singing with exuberance and Mick really appeared to enjoy it. He was grinning from ear to ear at its conclusion.

Gimme Shelter has been definitely slowed down this tour. It starts off like a blues number but then Keith's picking out of the melody immediately catches everyone's attention. Lisa has also changed her solo parts and the stadium loved it. She keeps getting better and better just like the band.

After the introductions, Keith's two numbers were fabulous from my point of view. Before They Make Me Run was a powerful guitar version and Ronnie could really be seen here to be stronger than in the recent past. Keith's thanks to him appeared to be very sincere. Right after it finished, Sympathy for the Devil began. The stage turned dark red, fire began spurting from the tops of different points on the stage and the rhythm began once again. Keith's guitar solo was fantastic, and also, everytime Mick began the chorus brighter and bigger flames would shoot out of the columns on the ends. It really got the cheers going.

The band then came down the ramp to the B-stage. This is where my seat right beside the ramp came into play. I immediately grabbed my camera and went to a place along the fence. I could feel so many others pressing into me that it was getting oppressive but I was determined to get my shots. I took at least 10 pictures as the band filed by, but the most impressive part was that I got to exchange a hand slap with Mick! He bent over right in front of me, and I stuck my hand higher. He slapped it and then turned quickly away. I was in heaven! When they all finally got down to the new B-stage (more lights, more speakers and a big raised platform in front of it for fans to line up on to see) they started right away with Shattered. I thought it was great, even though it was a little hard to see even though I was only 8 rows away. There were so many people standing on their seats and screaming away that it was hard to even hear the band! But it got a little better as they went on, and by the time they started Beast of Burden it was fine. Mick kept going all the way around the stage to see everyone, while Ronnie and Keith made less frequent trips. It was funny to see Charlie's red socks as he beat on his bass drum!

Miss You completed the Some Girls mini-set and Mick's harmonica was a nice touch. The song may not be everyone's favourite but there is no disputing the fact that it was no 1 for a long time in 1978 and if they are going to do mini-sets you have to expect it will be featured on this album's choices.

Then it was back to the main stage for an incredibly wonderful Midnight Rambler. The sound was fixed perfectly by this point from my vantage point and I was amazed by how solid the band played it. There has to be some bootlegs soon to hear this one repeated.

You Got Me Rocking from Voodoo Lounge was a very surprising next song. But it worked great and the crowd really liked singing along. Then it was right into Tumbling Dice. Mick was really working the stage, back and forth from left to right, ensuring everyone was standing and singing. Keith too went out to the end of the stage for this number getting everyone jumping and going.

Street Fighting Man was next and it was incredible. What guitar playing! Blondie was playing an acoustic guitar with the original beat we remembered from the record, while Ronnie and Keith played the pounding riffs. Mick was wailing away just like apparently at the Fleet Centre on Tuesday and I was transported back to 1968 and the summer of revolution. The final number before the encore was Jumping Jack Flash. Here again, the previous reviewers are bang-on. The frills have been forgotten this time. There are no horns and it is just the main players, plus Chuck and Darryl. Keith went out to both wings still hammering the riffs while Mick kept running back and forth in true 1968 fashion. Ronnie's high lead fill-in was clear and strong. Charlie's drums were pounding and pounding and never let up.

We had a short break before the encore. But after a few minutes, we could see them come back out. Keith strode out to the front of the stage and started the intro to Satisfaction. Just like the opening to the Bridges to Babylon tour, but this time as the closer, and the crowd loved it. Red paper petals came floating down from the sky covering us. It is the Stones most popular song and whatever crowd is there never fails to get completely involved with it. Huge fireworks spewed out of the stage towards us, more went skyward and the gas flames went up to the stratosphere at the conclusion. By the time the end came around finally, and the 13 members of the band and their accompanying musicians had taken a bow, there were only the four Stones left standing.

Taking their final customary bow, they waved as we shouted our hoarse lungs out for more. But we knew there would be no more music on this hot fall evening. The Stones had come back, had conquered our hearts yet again, and left us feeling drained but still wanting more. We'll have to go to more shows to keep the magic going!

This has to rank as one of my most satisfying concert experiences ever by the band. No one can make me believe they are interested in retiring anytime soon. The Licks tour is an affirmation of their legacy and their strength that shows no sign of abating soon. On this night, they were indeed once again "The Greatest Rock and Roll Band in the World." I expect to see this fact repeated many more times in the next year and probably in those following in the future. I can't wait!
---
Review by Robert Bagel
After hearing great reports from Tuesday at the Fleet Center, I headed out to Foxboro extremely curious and anxious, which can be expected for the beginning of a Stones tour. This seemed different than previous tours, as the extensive coverage of what happened nearly a year ago begged the question, "What does this band mean in a post September 11 world?" U2 immediately addressed that question with a tour, and Springsteen recently with an album. This question was answered fairly early in the set, after a razor sharp opening Brown Sugar, Start Me Up, and It's Only Rock'n'Roll: I realized this night was not going to be about tributes, heroes, world health initiatives, or drop-the-debt. We were going to be entertained by songs about our own personal terrors and triumphs, about love, lust, and heartbreak; the familiar themes that have made--and continue to make--the Stones the world's most relatable band. This point came through loud and clear on the new song Don't Stop, which is even better live than on the radio. The only regret here is that when seeing the Stones so gleefully attack new material, we do not have a full album of new songs. Hopefully we will be treated to the other three new ones from 40 Licks.

When the band did Otis Redding's "I Can't Turn You Loose", the crowd and the band were both reveling in the new experience. Mick's vocals seemed downright Otis-like through much of the refrains. A very unplugged Angie (with both Ron and Keith playing acoustic guitars), and Daryl Jones' bass solo on Rock and a Hard place were unexpected highlights.

The sartorial highlight of the night came when Charlie was introduced, as he lifted and kicked out his leg in a move more appropriate for Keith. Then we saw that Charlie was proudly showing off socks that matched his bright red shirt. Baseball fans may argue a Boston Red Sox connection, a subtlety that would be equaled only by Keith's casual "It's a close shave" remark before he played his songs tonight at Gillette stadium.

On the subject of Keith's songs, I thought it was extraordinary tonight when Keith actually took off his guitar for the first part of Slippin' Away. He rested it on the stage floor, holding it upright with his left hand as he sang. This made him seem more like a front man than ever before, even surpassing his days leading the X-pensive Winos. At that point it was not a stretch to imagine him crooning in front of a big band.

The only negative of the night was when the Stones moved to the small middle stage and the volume just dropped off. It was shocking how quiet Shattered sounded, like if you were listening to your living room stereo at volume level 9, and then before the next song it was suddenly turned down to 4. Hopefully this can be remedied for future stadium shows, as there will be center stage gems that need to be LOUD for all to enjoy!

Tonight was a fantastic start, with the band sounding amazingly tight for so early in the tour. There are many good things happening on the Licks tour, from ambitious set lists to old war-horses like Brown Sugar and Start Me Up sounding fresh with their new positions in the set. The stage is something with its ever changing video screens and texture of fabric strips, but it all comes back to the music and its meaning: check the rest of the world at the door, this show is about the Stones, their music, and how YOU relate to it.
---
review by nick
i never thought i'd be giving the stones a mixed review. this was my 6th show (1st one was in 1994) and i had loved all of the other ones. but this one just wasn't as much fun as the rest. nonetheless, it was a great rock band that sounded as fresh as ever and still packed a lot of energy and had the crowd dancing.

as i'm reviewing the whole show, my first impressions came when they announced ticket prices. what are they thinking? most of the world has to work for a living and mick doesn't need any more cash. i'd rather save $10 than see fireworks at the end of the show. and the $25 for parking added to my impression that greed is becoming more and more of a factor at these shows. still, i didn't let it ruin my evening.

the stones blasted onto the stage with brown sugar and they didn't let the back up singers or horn section join them this time. great, driving version. (i won't comment on every song.) it's only rock n' roll was great-- good leads from ronnie. fun strutting. people singing along. i wish it had gone on longer. as for don't stop, i can't say i like it. and there began my next complaint: the non-hits were not good choices.

why play don't stop when you could play saint of me? why play rock and a hard place when you could play sad sad sad? why play angie when you could play wild horses? monkey man was a good choice but not a good version. i've heard much better on boots from 94. why play slipping away when you could play the worst? why play miss you when you could play respectable? and lastly, we've all heard you've got me rockin' 8 million times. play love is strong. please! the hits mostly sounded good, especially honky tonk, YCAGWYW, and JJF. i wasn't that impressed with the leads from the night. i was looking forward to some excellent leads as i'd heard that the solos at the fleetcenter were as good as ever. i felt like they hadn't quite hit their strides in the tour yet. and there were mistakes. keith missed a cue to solo once. ronnie played the end lick to you got me rockin' twice in the middle and looked confused for part of the song. mick sang the same "driving in my car" verse to satisfaction twice.

the highlights of the show were awesome though. i never get tired of the big hits but certain songs did stand out: HTW, Can't Turn You Loose, Before They Make ME Run, but most of all MIDNIGHT RAMBLER. they nailed it. could've been longer but otherwise fantastic. great timing and timing is key on that one. great vocals. everyone into it. gritty harmonica playing from mick that i LOVED. WOW..... keep this one in the set list, boys. INCREDIBLE. another complaint: the sound quality at the B-stage. i was in section 141 and we heard all echo. we had no speakers facing us. and we couldn't see because the section on the floor behind the B-stage was blocking our view. and they had shut off the cameras. very disappointing. still, if there were 3 songs to miss, it was those as i think some girls is an overrated album. (i know i am in the minority here on that one.)

overall, i had a great time but i also felt like the show wasn't as good as the others i'd seen from the stones. then again, my standards for their shows are higher than for most so i'll definitely give them another chance. i wish i had orpheum tickets but then again, don't we all... one last thing-- the smile on keith's face when he hit a chord. priceless. he still finds such joy in the music.
---
A Bigger Better Slice Of The Tumbling Dice
by Olafur Helgi Kjartansson, Iceland
There was excitement in the air yesterday when people crowded into Gillette Stadium in Foxboro, an audience of 53000. This was certainly a bigger event counting the listeners than Fleet Center Tuesday night. The parking lot opened at 4 pm and then the tailgate parties started with people barbecuing among another things while waiting for the big show to roll on. The Pretenders warmed up again to crowd gathering in, starting at 19:02 and ending their 11 song set at19:47. Chrissie Hynde really likes the Stones and mentioned their influence and their reggae inspiration on her while dedicating her song Complex Person to Mick and Keith.

The stage was similar to the one in Fleet Center but had wings on both sides and now there is no hydraulic bridge to the small stage like on BTB. Just like in the arena now and on the No Security Tour a plain walkway through the floor seating gives the floor audience a chance to follow the Stones closely on their way to the B stage. It can be said that this is an indication of the emphasis on their music above all. That is of course the main thing and came to show. Behind the stage the new Jeff Koons design made up the background and parts of the big video screens were on the sides.

Tension built up when waiting for The Rolling Stones to come on stage. About an hour later it all started with a rocking Brown Sugar with Bobby Keys on saxophone and it was off to a 2 hour and 20 minutes show with the band playing full force throughout. Then it was Start Me Up sounding great and Mick could be heard very clear singing the words "You Make a Dead Man Come" The audience was receptive and then they drove into It's Only Rock and Roll which sounds better now than ever. v The new song Don't Stop is great and the single will be out soon. Not to be missed. Keith's guitar is sounding great on this one. He looked a little different from former tours. Probably he was just nervous and excited like all of us about how the first Stadium show would turn out to be. The crowd pleaser, Honky Tonk Women, was next and now the video screen was to full use again for the animated version of the said woman. It is amazing how they always come up with something new to go with this highlight tune. The brass section was now thundering "smoothly" and they kicked into Steel Wheels age with Rock And Hard Place, sounding very well with Jagger freezing his movements at the and, very exact. His movements are very well timed, he is not running as much as some times before. Then it was Goats Head Soup with the classic Angie perfectly performed. It is strange to think that many of the diehard fans in 1973 thought this one was off the hook. Angie is the Stones song that most likely hooked most fans onto their bandwagon at one moment.

You Can't Always Get What You Want is always a thrilling song and the audience was surely not disappointed. They got what they wanted. Everything and everyone was in their right place on stage. Monkey Man is one of my favourites, a strong song. Next was the late Otis Redding soul cover Can't Turn You Loose. And soulful it sounded. The brass section was on full throttle. So was the whole group. This one makes one hope for Soul Survivor somewhere along the future line. Simply a great dare that worked fully, showing the strength of the Rolling Stones. Next it was back to Let It Bleed era with the wonderful and strong Gimmie Shelter with Lisa Fisher proving her worth once again. "Ooh the storm is ready." Mick introduced the band and left

Then Keith had the floor to him self and like in Fleet Center went into Slipping Away and eased up. He seemed to get a full grip on the Stadium show now. He sang Before They Make Me Run next, always a great song to listen to. He handled both beautifully Keithish. And then the very well known intro of Sympathy For The Devil took over. Mick all rejuvenated after Keith's regime rocked with the whole group following. This tale of Mr. D's ill tales never fails. Next hey hit the B stage with a powerful version of Shattered. The sound seemed a little muddy at the start but did not disturb the cheering audience. This gave them a garage band sound and look. But the Rolling Stones force was there. They were all extremely energetic. Having hoped for this gem from Some Girls, the more the pleasure was when Beast Of Burden started. There was no actual album theme like at Fleet, but this did it. Miss You was great and the sound improved or maybe the hearing was adjusted.

Back on large stage Boston could not be deprived of Midnight Rambler. "You heard about the Boston Strangler" and the audience was on their feet with cheer. This one was truly enthralling. The rest was rock at it's best like only the Rolling Stones can do it. You Got Me Rocking surely got the more than a half a hundred thousand warmed up people into the right rock gear. Tumbling Dice took us higher. If this was betting by rolling the dice, everyone was a winner. The two 1968 anthems, Street Fighting Man and Jumping Jack Flash had the singer in a great mood. Everything had been working, guitars, vocals and Charlie was certainly good tonight. Mick did not have to ask. Charlie was appreciated during introductions.

The encore was Satisfaction, a powerful ending of an excellent show with 23 songs performed, proving they still reign the stadiums like no one else can. The throne is theirs. They took a bow and left stage and the fireworks went off. Great show was over. Judging those two shows with a total number of 35 songs it is clear that the band is going to turn more "stones" this time than ever before by digging into their great catalog of songs. Another outstanding factor is that they rearrange the set list between stadium and arena. That way these two are completely different shows even though approximately half of the show is comprised of the same songs. The feeling is they sound different in each setting.
---
Press and photos
Thanks to Arno Klünter, Germany for links information.
---
This page will feature all reviews, comments, photos, set lists and more as supplied by loyal and die hard fans of The Rolling Stones.
If you have visited this page recently please update your browser by refresh, update, or similar functions in case your browser or your computer connection is still keeping and old version of this page. This page will change continously over the next few days.
To help supply all the great reviews and setlists to fans all over the world, and to preserve them here, as well as the best parts in the IORR magazines, please send your e-mail to IORR. Thanks!
---
For details and great photos from the Rolling Stones and their World Tour get IORR 45 due out by mid September 2002, just after the first 3 shows in Boston!




It's Only Rock'n Roll 2002 -
© The Rolling Stones Fan Club Of Europe