POST: Complement to the Maidenlane series: 1987.07.03 - Lone Star Cafe (2nd show)
COMPLEMENTS
To The Maidenlane Recordings SERIES
As a supplement to the Maidenlane recordings series, I offer you some reworked concert versions of shows that were 'already in circulation'.
These shows came to mind while comparing them to the Maidenlane recordings. We are grateful to the original tapers who recorded and shared them with us and I also would like to thank nzb for his help (his advice, judgements and expertise have been invaluable to me).
……………………………………….
27. February 1988
NYC
Lone Star Cafe
(2nd show)
(2 sources merged)
3rd July 1987: New York City, Lone Star Cafe (1st show)
Line-up: MT (gtr, voc)/Max Middleton (keyb)/Wayne Hammond (bass, voc)/Mike Cullen (dr)
Note: The unidentified song is a new composition by Wayne Hammond.
(left channel: 1st source / right channel 2nd source)
01 - intro & tuning (solely source #1 except mix for the 19 last seconds)
02 - Tusks
03 - Giddy Up
04 - Baby What You Want Me To Do #1
05 - unidentified slow song
06 - Goin' South (rebuilt see*)
07 - Blues In The Morning
08 - encore break (solely source #1)
09 - Baby What You Want Me To Do #2 (encore)
Bonus
10 - Goin' South (rebuilt mixed version)
For this show we have two recordings. The 'source #1' coming from nzb is the more complete one but it is saturated in the right channel. The other one ('source #2') has a good sound.
I decided to make a mix from both sources: the merged version using the left channel from source #1 to give the best possible result (it has the saturated right channel deleted).
The tape flip from both recordings were in "Goin' South" but not in the same place so I rebuilt this track using patches to complete it: now we have the complete show.
Here the details:
From 00'00 to 12'58: both sources
From 12'58 to 13'35: solely source #1
From 13'35 to 14'09: both sources
From 14'09 to 14'23: solely source #2
From 14'23 to 14'33: both sources.
As I explained the merged version is the more interesting presentation but for "Goin' South", because of the puzzling patches, perhaps it's not matching so well: I added the mixed version as bonus.
All sources are edited, declicked, channels equilibrated and speed synchronized.
In the 2nd version I upgraded some sound intensity fluctuations in 'Tusks' and in the unidentified song.
Note that the 1st version of 'Baby What You Want Me To Do' is sung by Wayne Hammond when the 2nd version is sung by Mick Taylor.
As usual I used a lot the infos taken from The Mick Taylor Complete Works Database by Nico Zentgraf: [
www.nzentgraf.de
]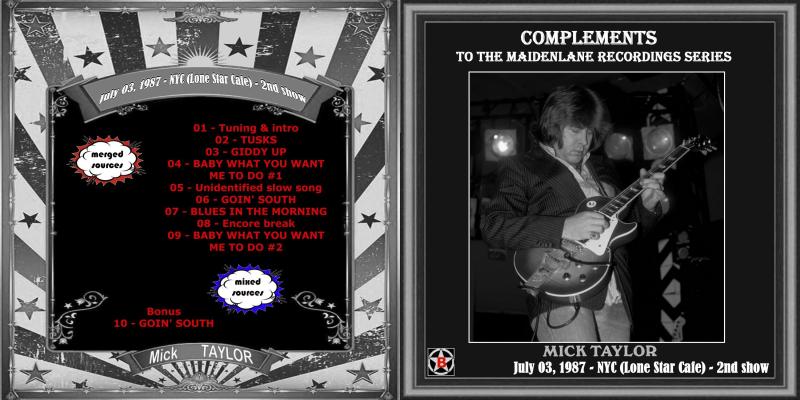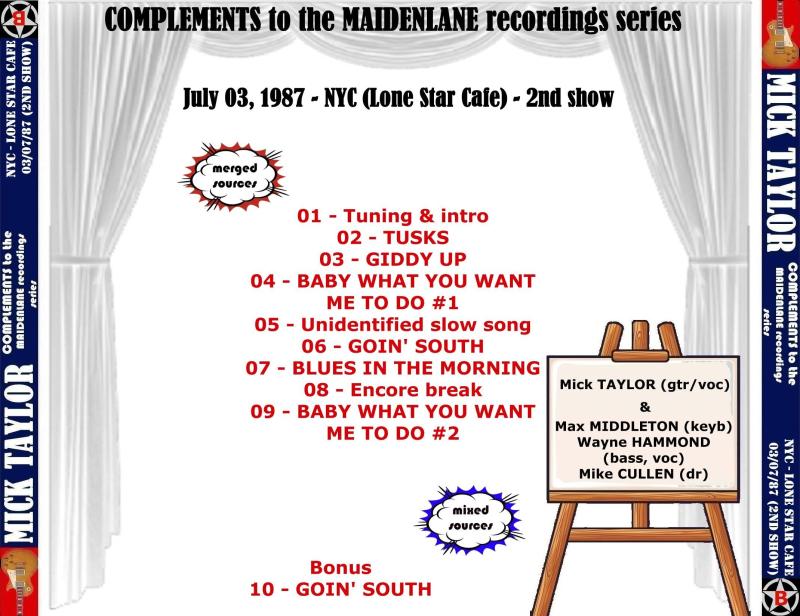 Posted in 2023 by StonyRoad on IORR: [
iorr.org
]
link valid until 19/09/23
[
we.tl
]
Enjoy this great show, next will be ALTS VOl 16 on Thursday
Norbert
email:
stonyroad58@gmail.com