POST: Mick TAYLOR with Wentus Blues Band - Series Vol 03 - 12 March 2005 (Helsinki)
MICK TAYLOR with
WENTUS BLUES BAND.
2003-2006 Scandinavian tours
This is a series dedicated to Mick Taylor's shows with Wentus Blues Band in Sweden and Finland from 2003 to 2006.
A big thank you to all the people who recorded these shows and who shared them and to my two accomplices nzb and Jaap (Stonesmuziekfan) who gave me the benefit of their versions of these shows and their advice and support ... and therefore without whom this project would not have been possible.
VOLUME 03
12th March 2005
HELSINKI
"Rock'n'Roll Station"
12th March 2005: Helsinki, Finland, Rock´n´Roll Station, 'Helsinki Bluesfestival'
Line-up: MT (voc, gtr)/Niko Riippa (gtr)/Mikael Axelqvist (dr)/Robban Hagnäs (bass)/Juho Kinaret (perc, voc)/Pekka Gröhn (keyb)
CD1:
01 - intro and band introduction
02 - unknown (without MT)
03 - Cry For Me Baby (without MT)
04 - Stop Breakin' Down Blues
05 - Fed Up With The Blues (incl. 'Tore Down')
06 - Losing My Faith
07 - Alabama
08 - Boogie Man
09 - You Gotta Move
CD2:
01- Ventilator Blues
02 - Blind Willie McTell (incl. 'Layla' and 'All Along The Watchtower')
03 - Can't You Hear Me Knocking
04 - Shake Your Hips
Our versions for this show were identical, coming from a recording with a very saturated sound: warning this one is for the completists only!
I only reworked the transitions between the tracks that now start with the song and I upgrad-ed the beginning and the end for the cd-rs.
As usual all the infos are taken from The Mick Taylor Complete Works Database by Nico Zentgraf: [
www.nzentgraf.de
]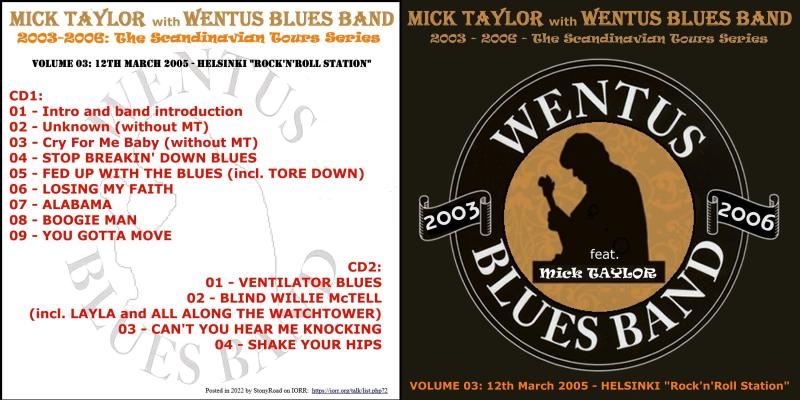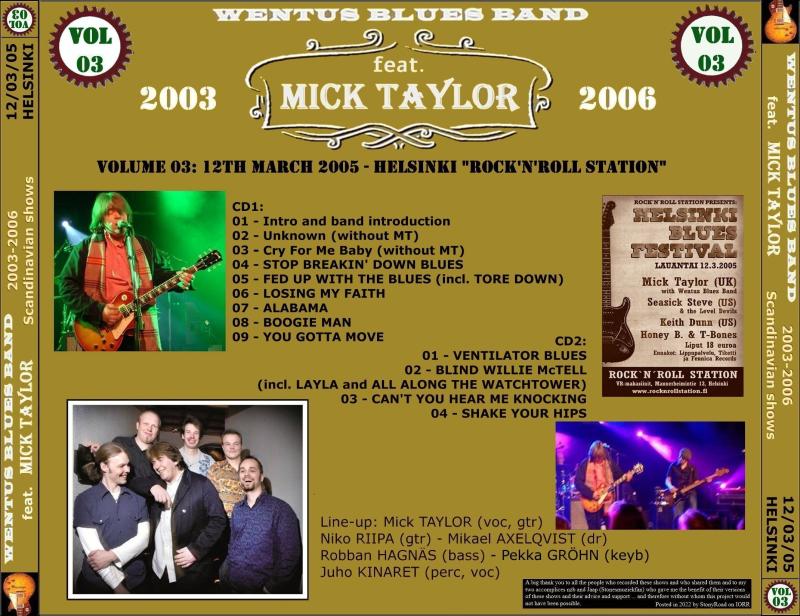 Posted in 2022 by StonyRoad on IORR: [
iorr.org
]
link valid until 12/06/22
[
we.tl
]
next on Wednesday
Norbert
email:
stonyroad58@gmail.com