POST: 1999-02-11. Anaheim, California, Arrowhead Pond (Falo Matrix) [ALD+AUD]
A friend of mine was looking for the song Shine A Light live from this tour, and since the link is active, I decided to share it here too... it's the Falo Matrix with an ALD and AUD source. (not Soundboard!).
I have
Blessed Poison VGP-293
,
Shine A Light RS 083/084
,
Shine A Light TCDRS-2-1,2
,
Anaheim 1999
, but this
Anaheim Feb 11 1999 - FALO MATRIX
, is by far, the best one I have.
As usual, nothing was modified, includes original md5 checksum, artwork and info file from falo's torrent uploaded on DIME in 2008.Many thanks Falo!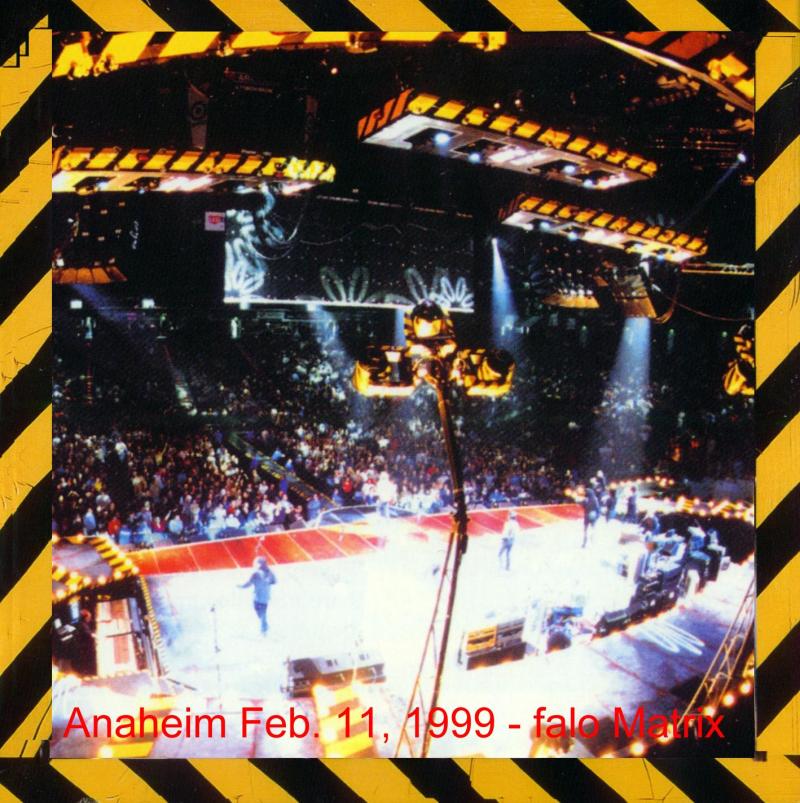 Torrent #198448 Rolling Stones - Anaheim 1999-02-11 (MATRIX)
THE ROLLING STONES
ANAHEIM, ARROWHEAD POND, FEBRUARY 11, 1999falo Matrix
I LIKE TO DEDICATE THIS MATRIX TO CARL JANSEN WHO DIED LAST YEAR.
THIS SHOW TOOK PLACE IN HIS BACKYARD.
Artwork included
sources:
special thanks to midnrambler for uploading the original source files,
especially the AUD source which was an upgrade to the recording I had.
[
www.dimeadozen.org
]
SBD Very good ALD Soundboard recording (unfortunately not really a great one...)
from BLESSED POISON (VGP-293)
Original golden CDs -> EAC (secure) -> FLAC Frontend -> Dime
AUD Very good audience recording
CDRs -> EAC (secure) -> FLAC Frontend -> Dime
CD 1
Intro
Jumping Jack Flash
Live With Me
Respectable
You Got Me Rocking
Honky Tonk Women
Memory Motel
Shine A Light
Some Girls
Saint Of Me
Paint It Black
Band introduction
You Got The Silver
You Don't Have To Mean It
Out Of Control
CD 2
Route 66
When The Whip Comes Down
Midnight Rambler
Tumbling Dice
It's Only Rock'n Roll
Start Me Up
Brown Sugar
Sympathy For The Devil
[
www.dbboots.com
]
Download link valid for 7 days:
[
we.tl
]
Upped by falo
Added Tue 27th May, 2008 10:32 GMT
[
www.dimeadozen.org
]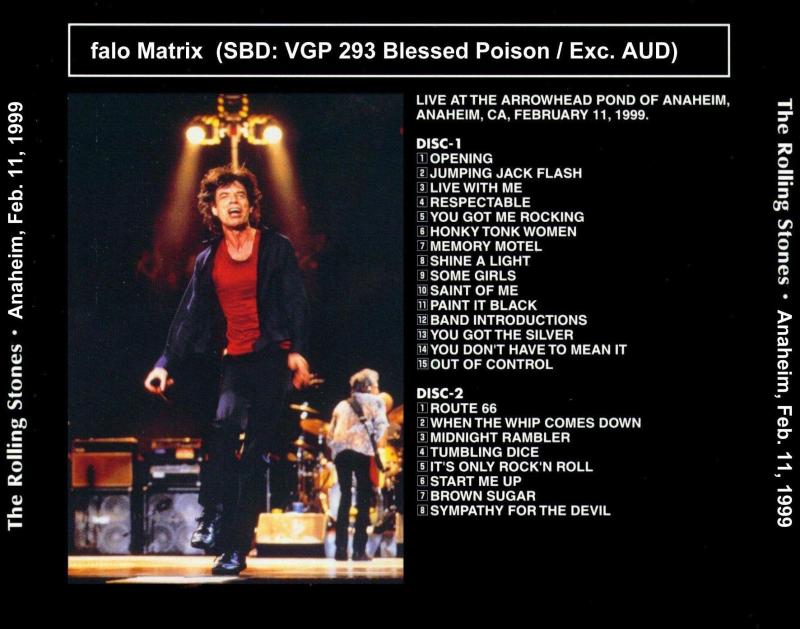 990211A 11th February: Anaheim, California, Arrowhead Pond
(Jumping Jack Flash/Live With Me/Respectable/You Got Me Rocking/
Honky Tonk Women/Memory Motel/Shine A Light/Some Girls/Saint Of Me/
Paint It Black/Band introduction/You Got The Silver/You Don't Have To
Mean It/Out Of Control/Route 66/When The Whip Comes Down/Midnight
Rambler/Tumbling Dice/It's Only Rock'n Roll/Start Me Up/Brown Sugar/
Sympathy For The Devil)
Note: Soundboard recording was made.
25th January - 20th April: No Security North American Tour.
Line-up: MJ (voc, gtr, harm)/KR (gtr, voc)/RW (gtr, p)/CW (dr)/Darryl Jones
(bass, bvoc)/Bobby Keys (tsax)/Chuck Leavell (keyb, bvoc)/Lisa
Fischer and Bernard Fowler (bvoc, perc)/Blondie Chaplin (bvoc,
perc, gtr)/The New West Horns [Tim Ries (sax)/Michael Davis
(tb)/Kent Smith (tp)](brass)/Leah Wood (bvoc; some KR-songs)
Note: Every gig started with an opening film, directed by Dick Carruthers,
filmed probably in San Francisco in mid-January 1999.
[
www.nzentgraf.de
]
Enjoy,
Gonzalo
EDIT
PS: Does anybody have a better source than this one?

"I got nasty habits; I take tea at three."
Edited 2 time(s). Last edit at 2020-11-23 08:29 by gonzalo76.