what makes those in particular the "main solos"??
sure Ronnie plays lead sometimes, and Keith plays lead other times - that's how it's always been,
and there's nothing "secondary" about the way Keith holds down that rhythm.
The band is built around a two-guitar sound, itself an extension of Richards' own uniqueness. He helped blur forever the line between lead and rhythm guitar, substituting a riffing technique in which melodic embellishments are grafted onto a rigorous rhythmic treatment of chords, partial chords and low-register lines. Keith's most obvious influence is Chuck Berry. The original Carol is a textbook of Berry's double-string licks and was covered on The Rolling Stones, the debut album. Keith has had a taste for Berry flavoring ever since ... Chuck Berry adapted boogie-woogie piano techniques for the guitar's lower register, and this distinctive two-string rhythm pattern became another Stones staple. Richards made his mark on its development by sometimes slowing it down, piledriving the downbeat, and stoking up the tone to a grand raunch: a-ronk, a-ronk, a-ronk.
- Tom Wheeler, music critic, Guitar Player Magazine
from [
www.timeisonourside.com
] (which you might want to read, Sender)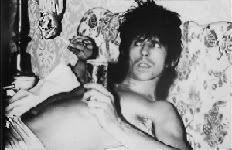 "What do you want - what?!"
- Keith
Edited 1 time(s). Last edit at 2006-07-01 07:25 by with sssoul.