Hello,
This show was unlike any other that I've seen:not a guitar or cymbal or speaker in sight!
To start with,the choice of venue was right up The 'Werk's strasse,as I am told that Ralf Hutter has a fascination with cycling (not unlike myself,hah-hah,although I only did 35 miles yesterday but it was warm...very warm...come on,think about
sponsoring the old boy
),which led to the band commemorating the centenary year in 2003 of the Tour de France by releasing an album about the lunacy of the event.
The Velodrome event staff were among the most polite ever,handing out free programs and 3D glasses-in fact you were almost niced to death before the opening act kicked-off.They were New York ensemble Bang On A Can,and their 20 minute set was in three movements and written by the celebrated composer Steve Reich.
So celebrated that this ignoramus had never heard of the bloke.But to be fair,I read in an interview that Reichy had never heard Kraftwerk's music until about three weeks ago.Apparently the 72-year-old American is hailed by the New York Times as being America's greatest living composer. So we'll call that a draw,then.
I didn't really dig what SR via Bang On A Can were doing,but 20 minutes or so after they were done,it was time for the main event.I don't even know how many of the original members of Kraftwerk were onstage last night,nor do I have any of their music-you could say I was there as a complete tourist.In fact,I was lucky to be there at all as it was a sell-out and it was only because I rang the box-office a ton of times that I got lucky when a few so-called VIP terrace standing tickets were released.
VIP my arse!I didn't see one ex-soap star,heh-heh!This area was right at the back of the velodrome,miles away from the stage so I was on the verge of a tantrum (nah,not really) until the show started:the advantage then bacame obvious with the full impact of the 3D projections and the clear sound.
During the two-hour show they played songs from each of their albums,which the 5000 punters appreciated more and more.During the 'Tour de France' segment the Olympic GB Men's Track team rode laps generating a lot of applause.Tell you what,how steep is that banking?Unreal.
At one stage the band took a break and I-Robot style machines took their place,before the quartet reappeared to give it some 'Tron' for the finale:all quite unlike anything I'd ever seen or heard.Glad I went.Oh,and they played 'The Model'!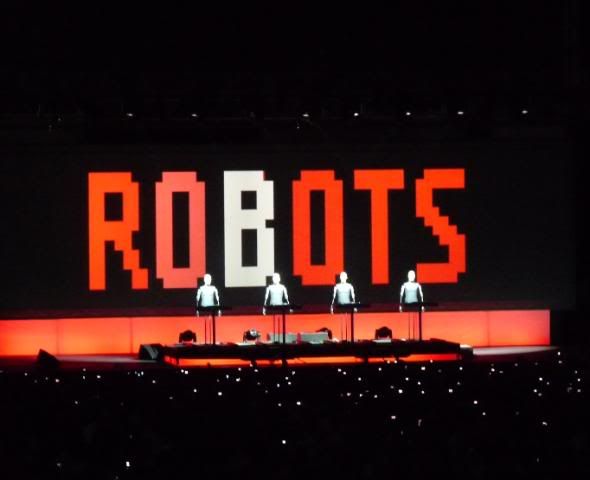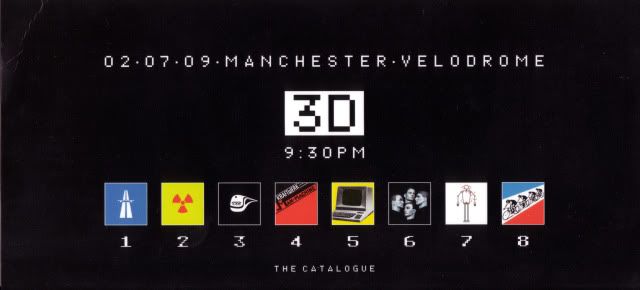 Cheers,
Si.
nicholl.simon@gmail.com