Ronnie Wood & Friends
Live at Theatre Royal Drury Lane, London, UK
March 13, 2005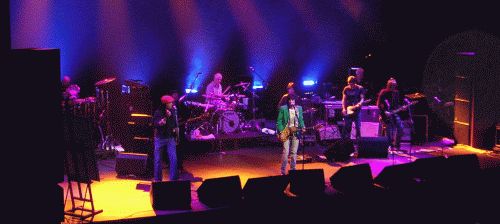 Pre-show info
The show was announced less than 3 weeks ago, on Tuesday Feb. 16, and tickets went on sale the day after. It sold out fast. And it is no printing error. "Fiends" is the correct term Ronnie used for the guys he brought on stage for the night.

Stones fans starving for live music. Ronnie fans. London fans who always appreciate a great rock show. They all grabbed the tickets as soon as the word was out. Fans booked tickets from outside London. Even from outside UK. Even from outside Europe. Expectations...
Show day
Ronnie and some of his "Fiends" arrived around 3pm. Some 20-30 hard core fans waited outside by the back door to say hello to Ronnie, who did not expect any fans there at all at that time. It was supposed to be just an informal fun show. But fans are fans, always ready, always there to get every single moment of the show. And for the hard core fan the show is on as the star enters the back door for rehearsals...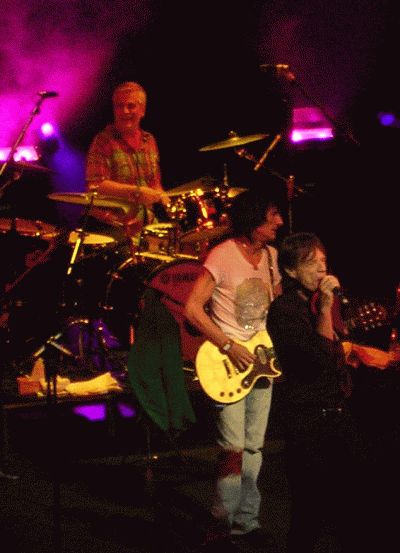 Theatre Royal is a beautiful building. Very beautiful inside. It does not have any facilities or space for all the equipment the Stones bring in for their club events, but for this scaled down event with a minimum of security and no special needs for recordings, it was perfect. On the sides many smaller private style balconies, with space for 5-6 people or so. Then three levels of main balconies.
I have to say I have never seen so many peple in the bar area while the warm-up was on. People were here for Ronnie, not for the warm-up. That is for sure. But they sounded ok from what I could tell by just hearing.
Ronnie started off on his own. With a solid band including Stones backing mates Darryl Jones and Bernard Fowler he felt safe and sharp. Did not have any drings or cigarettes at all through out the show. Just water, which is great news. At one point he said "this is f... hard work you know", as it seems he spend a lot of energy on running his own show, especially in the beginning. Then Andrea Corr came along, and with her help plus also Bernard on vocals Ronnie seemed to relax a bit more.
The theatre with 3 large upper balconies stacked above the floor, giving space for around 1600 people, all in chairs. The concert feel on the floor was on from the first song, as everybody on the floor stood up and also crowded the isles. Security cared for nothing except real security, plus preventing people from smoking.
Many great songs. Reviews to come. The highlight of the night came when Ronnie started up DANCE. I said to myself: Who is going to sing on this song? And before my mind could thing of any alternatives, out from the last night left Darryl side jumps no others than Mick Jagger himself. Smiling, singing, jumping, and driving the song just as he does with the Stones. Excellent. I think even Mick seemed more relaxed than normal, because this was a no security no expectations just have fun and enjoy as much as you like show. Andrea Corr was on stage too, but even if she is declared the worlds most sexy woman I must say I did not put my eyes on her for a split second during that song. Still she looked great.
Mick disappeared just as fast as he showed up. Then Ronnie said something like "he surprised the shit out of me", smiled and played on.
Set list:
Mystifies Me
Am I grooving you
seven days
testify
whadda ya think
if i dont have you (reggae)
If you want me to stay
plynth
oh la la
little wing
breathe on me
piece of my heart
black limo
dance (with mick!)
flying (kenney jones)
stay with me (encore)
More later...

Bjornulf Vik/IORR, March 14, 2005
---
---
Review by Ronald Blank
London town rocked last night as Ronnie and the best pickup band that I have ever witnessed provided a musical surprise. Yes, I jumped at the chance to buy a ticket and go to London but I also had kept my expectations low because I did not know what to expect. Then on Thursday before the show, we got news about the players who were expected to perform. When I saw that Darryl Jones was added, I started to get excited. Maybe Ronnie was really serious about this?

The warm-up act were decidedly low-key and I retreated to the saloon for another libation. It also gave me another opportunity to look again at all of Ronnie's art that was on display. The new painting called "Forty Licks" with the four Stones on-stage ready to take a bow was outstanding. I can imagine how much they are asking for it!

Finally, at 08:30'ish, the houselights went down. The crowd got very loud. Nothing happened. About 30 seconds later, Ronnie finally entered by himself from the right, dressed in a green jacket with a sequined shirt underneath. He strode out to the centre mike, and played "Mystify Me" all by himself. I could tell right away that it was going to be good because of his concentration. It was great. The rest of the band started straggling in behind him, in the shadows while he played it and by the time it was completed, it was time to move on to another 'oldie but goodie' as he likes to say. "Am I Grooving You" has to be my second favourite song from his early LP and it lit up the theatre last night. Ray Cooper was doing his usual maniacal percussion routine, Darryl and Bernard were the very familiar backups, and Mac on the keyboards was amazing.

This segued into Dylan's "Seven Days" where Woody's vocals really shone. He has a unique voice, aged by decades of smoking and drinking, and it can tell a story all by itself. But I really listened to the words last night and I was blown away by the enthusiasm and energy that he put into it.

The guest vocalist songs were really nice tonight too. Bernard's "If I Don't Have You", Andrea Corr's "Oh La La" and "Little Wing" as well as Beverely Knight in her skintight Licks-adorned black dress belting out "Piece of My Heart" were all outstanding and fine entertainment.

Then it was into "Black Limousine" and the 12-bar blues in it filled the place with such boundless enthusiasm that you could have sworn it was a Stones concert. Little could I have guessed, but it was almost to happen next. Ronnie said something or other about "learning to dance from this next guy", and before we could blink, Mick came running on from the left-side. I jumped up and for the next 6 minutes or so, my eyes were glued on the human dance machine that only Mick can be. He taunted, he flirted, he sang the words with a familiarity unbecoming to Dance Pt 1 since they never do it for real, but all the time, his crazy ear-to-ear grin never left his face. What can you say, except another mesmerizing performance from Mick Jagger. Ronnie truly appreciated it too, as he was reveling in the glare and the accolades. By the time it was finished and the two of them hugged, the night had reached the pinnacle we all had hoped for, but probably never said out loud before the night began.

The final two songs featured Kenny Jones on drums, taking over from the highly capable Andy Newwark. We were treated to the exquisite "Flying" and the encore "Stay with Me" Even though the night ended after just 85 minutes, I was immensely pleased. Ronnie never smoked or drank alcohol, directed a tight band and group of singers through a rigorous workout, and played a mean guitar to boot.

There were two professional video cameras setup on the ledges left and right on the Grand Circle where I was seated. Hopefully, this will mean a DVD could possibly be coming out. I sure hope so. On this night, Ronnie Wood and his Fiends put on a magnificent display for a crowd of friends and fans. Bring it on Ronnie!
---
Review by Lorenz Loidl
I first thought that I have to catch some sleep before writing my review of the show, but I'm still feeling good so I can as well write it now. First of all, I would like to thank Gazza and his friend very much for giving me their spare ticket!

Ronnie played everything from harp, to wah-wah, to bass, to slide, to acoustic. The band sounded really tight, very well rehearsed. They sometimes had four guitar players on stage (Jesse, guy from Charlatans, some other guy, Ronnie), but Ronnie's guitar was always the most prominent in the mix, he dominated the sound, the others provided a great basis. Ronnie didn't have any problems at all remembering the chords or whatever; he was very concentrated and always knew what he was playing. He played some great solos, nothing like he did on "You Can't Always Get What You Want" from Live Licks, he is indeed in a good shape at the moment.

Ronnie shared the microphone with Bernard on a couple of song, on other songs Bernard would be the singer. On a couple of songs Ronnie sang together with the guy from the Stereophonics. Even if Ronnie's voice is not really good, his singing was great on "Seven Days" – well, he sounds like Dylan a bit, Bernard did a great job on the Faces song s. I'm not sure but I think that they originally didn't plan with Darryl on bass because it seemed as if he was reading from sheet music placed in front of him. Well, not that this is a problem for Darryl.

They started the show off with "Mystifies Me" featuring Ronnie on the acoustic and on vocals. Very cool to see Ronnie standing there, really self confident and obviously in a great mood!

"Am I Grooving You" was next, very tight performance, Ronnie on vocals and harp (and guitar of course ;-)) So good to see Ronnie on stage, really focused on his playing!

"Testify" was rocking really hard, two drummers, four guitar players (Ronnie played wah-wah guitar). They got it all right there. Ian McLagan was just excellent, very prominent in the mix but just right and the man knows what to play! Background singers were great as well. I was rather sure now that they rehearsed well, the band sounded tight and great.

"Seven Days" Again a very convincing performance, Ronnie even sounds a bit like Dylan! What can I say without repeating myself over and over? Good performance!

"Whadda ya think", from the No Beginners Album, featuring the violin player who's name I forgot. Very nice performance again, sounded just liked on the album, meaning a bit sloppy but good 

Next was a great Reggae song, "If I Don't Have You", very relaxed, great vocals from Bernard and Ronnie definitely knows how to play Reggae!

"If you want me to stay" was great, very funky, Ronnie did a nice solo on there – unfortunately I couldn't really enjoy this particular song as there was a fight just a few meters from my seat. There was now security, but the situation calmed down after five or six guys finally managed to kick some crazy "fan" out of the venue. The band didn't notice anything and just kept on playing, however you can hear the people fight on my recording. The audience was quite mixed, by the way, there were really a lot of young guys where I was seated. Most of them really enjoyed the show, even if I had to explain the guy next to me how Ian McLagan was.

Ronnie then played bass on "Plynth" – a song from the Jeff Beck Group. The song really rocked hard, the people enjoyed it and Ronnie obviously had great fun. Great drum breaks there! The percussionist (Ray Cooper) and the drummers ( did a great job throughout the whole show. Listening to it again now the song seemed a bit chaotic, though.

"Ooh la la" marked the beginning of a couple of slower songs. I think this is one of the songs Ronnie really knows by heart, he probably can't do anything really wrong there. Great sing along from the whole audience throughout the whole song! The violin fitted very well on this song, in my opinion!

"Little wing" featured beautiful Andrea Corr on flute and vocals, it was a nice song, Ronnie played some nice licks there and a very sensitive solo! Damn, I can't tell you how happy I was to see Ronnie playing so well, he never seemed lost, he always knew exactly what he was doing and it was great most of the time – it was a pleasure to hear and see him play this night!

"Breathe on me" – Ronnie shared the mic with Bernard on this one, good decision, in my opinion! Great song, without a doubt – sounded just like with the New Barbarians, Ronnie played a quite, well, basic solo there, but it fit the song and I never had the impression that he doesn't know what to do, the song had a very nice groove!

The next song, "Piece Of My Heart" was one of the highlights of the show for me. Beverley Knight – wow, what a woman, what a powerful voice!

"Black Limousine" was next, Ronnie on slide and vocals of course – delivering a blistering performance! That song rocked! Most of the people around me were finally standing and shaking!

And then "Dance", without a doubt the highlight of the show – Ronnie started the song and suddenly Mick jumped in from the left – the audience went completely nuts, the guy next to me screamed so loud, I couldn't believe it. It was great, everybody was dancing and singing and Mick really seemed to enjoy it!

"Flying" featured Kenney Jones on drums and Bernard on vocals, great song, great performance.

Ronnie then came back to do one encore, namely "Stay With Me", also with Kenny Jones – the show ended as it started, with Ronnie Wood in great mood and shape!

I stayed in London not even for 24 hours, but the 80 minutes and the drinking with all the great Stones fans was definitely worth it – hopefully we will see an official release of this show! And I'm actually very relieved after this show, because it convinced me that Ronnie is still capable of delivering a great performance. Sure, it's not like in the 70ies anymore, but he still played great!
---
Other reports:
Thanks to Hugo Nieuwenhuijs and Bjorn Kassman for photos!
Please send your reviews, comments and photos to IORR. Thanks!
---
Other Ronnie Wood reports on IORR:




It's Only Rock'n Roll 2000 - 2005
© The Rolling Stones Fan Club Of Europe