Ronnie Wood live 2001
Updated Dec. 17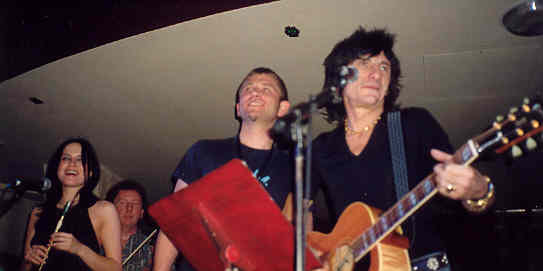 This page is dedicated to Ronnie Wood and his solo activities. Please send all your reviews, comments, feelings and thoughs about Ronnie Wood, his new album and his shows in Dublin and London by e-mail to IORR. This page will be updated several times today, as reports and photos are coming in, and some parts of the comments and reviews will be printed in IORR 43, due out next month.
Photos on this page from the CC Club London. Photo on the news pages from Vicar Street Dublin. Photos by Bjørnulf Vik/IORR. More great photos to show up in IORR 43. If you have great photos, please tell.
---
Ronnie Wood gig Dec. 8th at Dublin Vicar Street
by Wendy Mullen
Ronnie took the stage at 9 pm and began with Rock nRoll Star. He looked great. Was ever so slightly tipsy. drank only a half bottle of red wine during the two plus hour show: set list:
r nr star
Mystifies me
Leaving Here
This Little Heart
Breathe On Me
What do You Think . . . (again not sure) I wrote this all down during the second song, reading upside down from the set list taped to the floor at ronnie's feet. yes I was that close!!
Oooo La La (crowd luuuved it)
Testify (incredibly hard rocking)
I'm Groovin' You (ditto) Wayside with the Weitzzer board (sxp?) incredible on ronni'es part.
Flying
Hey Negrita!!!! (he must have been reading SOR the day I said this was my favorite song)
Take a Look at This Guy
Little Red Rooster
Paradise City
Miss You
....then ronnie teared up and said this one was for George:
Far East Man
. . . .this one is for John
Jealous Guy!!!!
Crotch Music (incredbile)
IORR
encore: Gasoline Alley intro into, yes, you guessed it folks:
Stay With Me
Details:
Jesse (Ronnie's eldest) played rhythm and was absolutely thrilled to be there. SOOOO cute. He actually went over and puckered up and kissed his dad on the lips. And Jesse is probably 8 inches taller than ronnie. Jesse did calm down after a while, but when my eyes wandered from ronnie he was so happy, so proud, so excited. That's me Dad!! And I'm here!!!! and you all are screaming!! Leah was on backup voclas and was very very very nervous when she started her little solo on This Little Heart. But she also calmed down and got a handle on herself and her singing.
Ronnie had a music stand for the words. He couldn't remember them. Almost never. Chuch kept coming on and turning pages and stuff. Ronnie tried to start Rock'n'Roll Star, did the voice over and then looked to the stand for the words and couldn't find them. He tried to fake it for a while, and then got frustrated and stepped back from the mike. Chuch ran out (the band and Ronnie kept playing) and flipped the pile of music on the stand over. It was as it had been at the end of the sound check. It was quite funny really. Ronnie was mortified, but when gamely back to singing. He apologized at the end of the song and said things would get better. They did.
Throughout the night, he was busy cueing the band and making sure they followed him. They did. During Miss You Ronnie lost his words again during the second verse and stopped playing. he was really fed up. He was looking to Leah and Vinnie. He even stopped playing guitar. Then Chuch rushed out and found his spot in the papers and ronnie tried to sing the song. But first he came back in playing the guitar. Pow!! It was like lightening striking. Incredibly powerful (did I just use the adjective incredible?) Anyway, he got the audience to sing "what's the matter with you boy" part. . . and the OOOOooooo. Which was great. He gave up on the words, and said, all right you all know your part, come on now. But he couldn't do those falsetto ooooohs, at all, no matter we all happily ooooooed, while Ronnie ripped up the guitar. Oh my gosh. Probably the best I've ever heard him play. Brilliant. To me he proved Mick obsolete. The early errors were forgotten and Slash and Ronnie just played beautifully.
Slash from GunsN Roses came on for Tesify and stayed for the rest of the numbers. He was great. Sensitive soulful guitar player from the well, I never once saw his face the whole time. . . his ash grew to two inches long, he spit them down on the stage or us. . . but I forgive him. He was wonderful.
Overall, the sound was absolute mush. This definitely ranks as one of the 3 loudest concerts I've ever been to. The whole thing was a rhymic, deafening pounding. However the concert was saved from disaster as Ronnie's and Slash's guitars floated on top of it all. Or rather, I should say this is how it sounded to me. I was actually hearing Slash and Ronnie from their monitors and the rest of the players (I think) through their speakers. So in an odd sort of way, I liked it. Also a highlight was Frankie Gavin, the renowned fiddle player, who played on the acoustic numbers and a couple of others.
---
Ronnie Wood gig Dec. 11th at Shepherds Bush Empire
by Wendy Mullen
Sheperd's Bush last night was two or three times better than Dublin for two reasons: the first is that the sound was way way way better. Much less mushy, but I could still hear Ronnie's guitar clearly (which is of course what I'm listening for). It wasn't as painfully loud either. The second reason is that because they were filming it, Ronnie was giving it his 100% most professional. Gone was the music stand (replaced by a teleprompter -- took me a while to figure this out) and any vocal mistakes he made were very professionally masked (okay, he lost himself in the same damn place in Miss You, and if I hadn't seen him blow there (while staring in my eyes) in Dublin, I would not really have known this. . . I would have merely thought his articulation had gone to pot). He was on, on, on. Absolutely beaming through the whole thing. . . .
There was an opening band about whom the less said the better. P.P. Falon introduced him as the band was playing Hey Negrita!! I cannot say enough good things about Martin Wright on drums and Mark Wells on bass. Martin shown on "Leaving Here." Mark did some fancy bass playing and laid back the rhythm for Ronnie all night long. Brilliant. Both of them. Jesse also has learned his Dad's thumping rhythmic strum which is the essence of the Stones. . . back to the set. Ronnie started with his black telecaster and Jesse on 12-string acoustic. Burned right into RnR Star. . . Ronnie went to the strat. The song rocks. 3. Frankie Gaven (sp?) came on for the fiddle on "This Little Heart." He is a beautiful fiddle player and a sweetheart to boot. Leah did not show her nerves as much and her first line came out much stronger than in Dublin and she was rewarded by a huge cheer from the crowd; she smiled and blushed. Very becoming. Her face was on the big screen behind the stage for a long time as she sang. How she looks like her Dad!! Very beautiful.
Oh, yeah, I forgot to say, they had a big screen at the back of the deep stage, and as the muscic began ronnie's drawings and quotes started rolling across the screen. Then photos, and then finally, in the middle of This Little Heart it went to the usual close-up-of the musicians for most of the rest of the show. . . Ronnie's solo on this one was beautiful. 4. Out comes the gibson acoustic. Jesse on 12 string for "What do you think?" 5. Oooooh La La. Andrea Corr of the Corrs came out and sang (Frankie still there). Ronnie got to lean his head on her shoulder and sing. Both in black. Martin sang lead with Ronnie again. Martin has a great voice--the best of a the lot by far. A big crowd pleaser. Oh yeah, ronnie had black patch work leather pants on and a black rugby-t (is that right? where the arms are colored and the center is a different color?) in this case, the arms were black and the center white with a photo of a young Native American chief I did not recognize BAck to the strat. Ronnie tested it with a couple of whacks and then screamed "Fuck! Are you sure?" and then " Chuch, it's whacking up a bit" (Ronnie was not pleased. This was not a good night for Chuch who got yelled at repeatedly during the show) Finally. . . .
6. Testify. Slash appeared. This song just rocks. Big time. This is what Ronnie is really good at. 7. Groovin You. Ronnie started to play. It sounded odd. Ronnie muttered something like "Fuck, are you sure?" and stopped. Chuch swapped the look-alike strats. They started again. Just as good as Testify. EEEEOW!! Chuch apologizes to Ronnie as he swaps the strats back. Ronnie says something like "it's nice to see you all here" and then Jesse stepped up to Vinnie's mike and said "and it's nice to see Dad here as well!" to a huge burst of applause and a blush from RW. Ronnie says, who's going to sing this one then? (I almost yelled "I will!" but chicked out.) The keyboard player sang (whose name I never quite got) sang. He was credible, but neither he nor Vinnie can sing as well as Martin or Bernard Fowler.
8. Flying. Jesse on Telecaster. Slash played a beautiful solo. This is a beautiful moving song. 9. Far East Man "something George & I wrote". Jesse on Les Paul. Ronnie on Slide and what a slide. Gorgeous. the wine and wine glass and stand appeared at the corner of the drum set. Ronnie hardly drank at all this night. And was definitely not drunk. I don't know why someone might think that. 10. Jealous Guy. strat & telecaster (r&j) and fiddle. beautiful and Ronnie's Slide. at his best. just thrilling. 11. Leaving Here!!!! AWESOME!!! Rocks. 12. Take a Look at This Guy. Jesse stood out here on rhythm and Ronnie!! brilliant!! It just rocked. And I do not say this easily. 13/ Mystifies Me. Jesse on Les Paul (I think that's what this note means). SLASH!! he is actually quite the sensitive guitar player. Great technique.
14. Miss You. Jesse telecaster. Ronnie strat. Vinnie covered ronnie's vocal errors though he was way down in the mix. Ronnie didn't cue the audience but they ooooooohed along anyway. With Leah. Again, just like Dublin, this struck me as Ronnie's best guitar playing of the night; or perhaps it's just reveals my taste in what I like best to hear him play. But it's that don't-play-everything-not-showing-off in-and-out poignant ronnie-half of the weaving that it so unique to R & K and which to my ears is to utterly thrilling and moving and, yes, even profound. Slash stepped up the standard fairly well, and on his solo bits played well. . .but Ronnie made him look good. He's good at that, is Ronnie. . .
15. Little Red Rooster. Both Slash and Ronnie on slide. Ronnie on the Weitzer Board (sp?) He was great. . .he moved the slide board to bring it closer to the mic so he could sing and then intersperse his playing more easily. he swapped to the zemaitis in the middle (and every other audience member whipped out his or her ilicit camera) and played harp toward the end. This song was extraordinary. Blues as only Ronnie can play it. Robert Johnson eat your heart out. The slide was great. Slash was terrific.
16. Paradise Together (Slash's song). This time I was really impressed with Ronnie swapping constantly between the rhythm riff and lead fills behind Slash (again just really making Slash look good). jesse did an excellent job holding down the rhythm with Mark Wells on bass just ripping it up. A tough part and brilliantly executed. Let's keep track of this guy. right into: 17. Crotch Music This did not sound so good. I am pretty sure that Slash was playing in the wrong key for quite a while. Ronnie and Jesse were making eye contact and fussing about. Finally the song settled down and they blew through the riff all together. great. They took their solos on this one. . .AGain Mark Wells, wow. And Jesse this time, I think, played something ronnie had never heard. . .it was more rhythmic and fingery and Leah was just grinning up a storm and ronnie wide-eyed (all in two measures).
Ronnie was worried about finishing by 11, mentioning it several times, and that they'd fine everyone if not done by then. So he burned into IORR saying "no time to change guitars" It rocked as usual. Andrea came back (oh yeah, she was there quite a few times) and Ronnie led the audience from "I Know It's Only Rock n Roll" into the "but I Like It". . . very cool. They left, sort of, and Ronnie came back with the Zemaitis for a shortened version of Gasoline Alley and into Stay with Me. Needless to say, they rocked the house down. Thank you Ronnie. You are a brilliant star in my life.
Wendy
---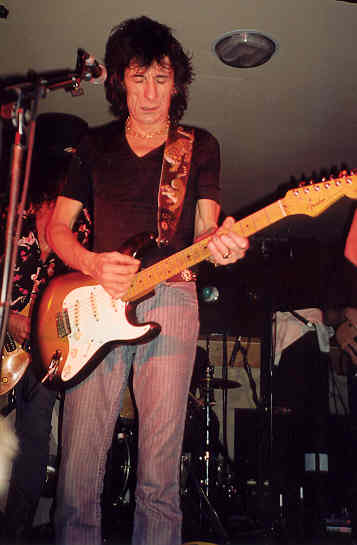 Ronnie Wood gig Dec. 11th at Shepherds Bush Empire
by Alwyn Welch
After a mediocre set from Glen Matlock (why him as a support???), a slow start from Ronnie which rapidly accelerated into an excellent night's entertainment. Much material from "I've got my own album to do" - Am I Groovin' You, Crotch Music, Take a Look At the Guy, Far East Man (with tribute to George Harrison), Mystifys Me - plus Little Red Rooster, Miss You, Hey Negrita, It's Only Rock'n'Roll. Other songs included Testify, Rock & Roll Star, and old Birds song from '65, Jealous Guy, Flyin' (early Faces song). Great rendition of Stay with Me as an encore. A real party atmosphere.
---
Ronnie Wood gig Dec. 11th at Shepherds Bush Empire
by Robin Bryson
Just read Alwyn?s review and he must have been at a different gig from me.
The show was an absolute disaster. Ronnie was drunk, stoned or both and forgot most of the words, and indeed the music, to most of the set. I felt sure we were watching a first rehearsal rather than a major London showcase.
Even from my distant viewpoint (subsequently confirmed by others) it was crystal clear that the poor musos on stage really had no idea where their leader was heading next.
Revelation of the evening was Slash. The show did catch fire while he was on. Pretty much note perfect solos and bags of energy
All in all a disgrace. The only minor saving grace being (as Alwyn mentions) a pretty fair rendition of Stay With Me for an encore. Leaving Here, to be fair, was also o.k.
The gig was recorded for both vision and sound. Somehow I doubt any of that will ever see the light of day?
We all know Ronnie can do better. Let's hope he cleans up his act (in both senses of the word!) soon and returns to show us what he?s really capable of.
---
Ronnie Wood Live at the CC Club, London Leicester Square, Dec 12th 2001
by Thomas Burton
Following Monday's Shepherds Bush show, Ronnie played a blistering set tonight with help from his daugher Leah on backing vocals, son Jesse on telecaster and special guests Slash and Andrea Corr at the CC Club, capacity 450 people with free bar!
The set list was as follows: Leaving Here, This Little Heart, What D'ya Think, Ooh La La, Testify, Am I Grooving You, Flying, Take A Look At the Guy, Miss You, Little Red Rooster, Slash medley (incl. Paradise City), Crotch Music and It's Only Rock'n'Roll. Encore was Stay With Me. Far Eastern Guy was inserted as a tribute to George Harrison.
Slash was on for most of the set and Andrea Corr excelled on Ooh La La. Extensive vocal crowd participation on Miss You and It's Only R&R at Woody's encouragement.
The club show was followed by a party DJ'd by Boy George.
Tom Burton, Stones Fan
1:30 am, London, England
---
Links to Ronnie Wood reviews, articles etc:
---
Set Lists:
Dublin:

Rock & Roll Star
Mystify Me
Leaving Here
This Little Heart
Breathe on Me
What Do You Think
Ooh La La
Wayside
Testify
Groovin You
Flying
Hey Negrita
Take a Look at the Guy
Little Red Rooster
Slash # 2
Miss You
Far East Man
Jealous Guy
Crotch Music
Only Rock 'n' Roll
-----
Riff into
Stay with Me

Shepherds Bush Empire

Hey Negrita
Rock 'n' Roll Star
Little Heart
ACOUSTIC
What D'Ya Think
Oh La La
-----
Testify
Groovin You
Flying
Far East Man
Jealous Guy
Leavin' Here
Take A Look
Mystifies Me
Miss You
Rooster
Slash
Link Riff Into Crotch
Only Rock 'n' Roll
-----
Instrumental Into
Stay With Me

CC Club

Leaving Here
This Little Heart
What D'Ya Think
Ooh La La
Testify
Grooving You
Flying
Take A Look
Far East Man
Miss You
Red Rooster
Slash #
Crotch
Only Rock & Roll
-----
Stay With Me
---




It's Only Rock'n Roll 2001 -
© The Rolling Stones Fan Club Of Europe