---
---
Goddess in the Doorway
The Mick Jagger solo project 2001
Updated Nov. 11, 2001
This is information about the Mick Jagger 2001 solo project. If you do have corrections or additions please send email to IORR.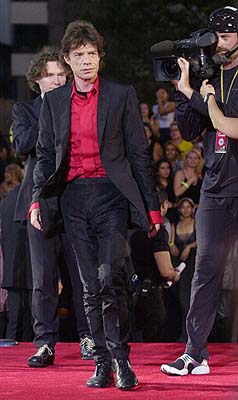 The new Mick Jagger solo album is called "Goddess in the Doorway". It was scheduled to be released on Nov. 5/6, but has been delayed by two weeks, and will now be out on Nov. 19 in Europe and the following day in USA. The album is released through a new contract with Virgin Records. Mick's last solo album, "Wandering Spirit", was released by Atlantic Records in 1993. It debuted at No. 11 on the U.S. pop album charts and was certified gold for shipments in excess of 500,000 copies. His previous two solo efforts were "She's The Boss" in 1985 and "Primitive Cool" in 1987. The working title of this album is said to have been "Visions of Paradise", taken from one of the tracks.
Mick Jagger is doing a few selected appearances, to promote his new solo album. This will happen during October, November and December this year, timed with the release, and before the Stones start working on their 2002 projects.
The album tracks are as follows:
Visions of Paradise ("very hopeful, romantic" - with Matchbox Twenty's Rob Thomas)
Joy ("It was just a gospel song really" with Bono of U2 on vocals)
Dancing in the Starlight (Matt Clifford wrote a lot of the music; Mick lyrics)
God Gave Me Everything (Mick wrote the lyrics in about 10 minutes - co-written with Lenny Kravitz)
Hideaway (with Wyclef Jean; "a slightly Caribbean vibe")
Don't Call Me Up (oldest on album, dating from end of Stones tour; "rather sad and poignant")
Goddess in the Doorway ("slightly Middle Eastern and slightly Gypsy")
Lucky Day ("half-and-half reggae song")
Everybody Getting High ("comedy rock song of observation", up-tempo)
Gun ("a very harsh song really" - with Pete Townshend)
Too Far Gone ("If you took away those drums, it would almost be a country song")
Brand New Set of Rules (Mick wrote it in bed; Lizzie and Georgia sing back up)
(Hidden track) (1:06) Mick doodling on piano with studio noise in background)
Recorded songs not on the standard album release:
Try To Forget You (working title of "Don't Call Me Up")
Blue (out on maxi-single in Europe)
If Things Had Been Different (out on Japanese album release)
The first single is with Lenny Kravitz, title track "God Gave Me Everything", and is released on Nov. 5 in selected markets in Europe.
Different releases:
---
GOD GAVE ME EVERYTHING cod. 7 2435-46067-2 (maxi-single)
Released in Italy, Germany, The Netherlands:
God gave me everything 3.34
Blue 5.38 (non-album track)
Goddess in the Doorway 4.56 (instrumental)
---
GOD GAVE ME EVERYTHING 72435-46065-26 Virgin (carton sleeve single)
Released in The Netherlands:
God gave me everything 3.34
Blue 5.38
---
Listen to a sample from the new Mick Jagger solo album, through a two minutes bit of God Gave Me Everything, as found on Beggars Banquet Music.
Pete Townshend: I played on three tracks. The best was GUN. I loved the tracks I heard. It is the best solo album he's done so far in my opinion'.
Mick Jagger about his solo project:
I don't believe in having bands for solo records. It's pointless. I mean, I've got a very good band in the other world.
It's a mixture of traditional things and more contemporary things. It's very much based on the actual songs themselves
I'd love to do some showcases for it. I'm not going to do a long-term, but I will play these tunes.
It can be more personal, and I think it's nice to have a change and work with other people. It's refreshing, and then you go back to the other thing (The Rolling Stones) in a slightly different frame of mind, which I think is good for both things.
If you have information, details, corrections or comments, please send email! Thanks!
Related links and press references:
For more news, details, photos etc. see IORR 42 - the new fan club magazine.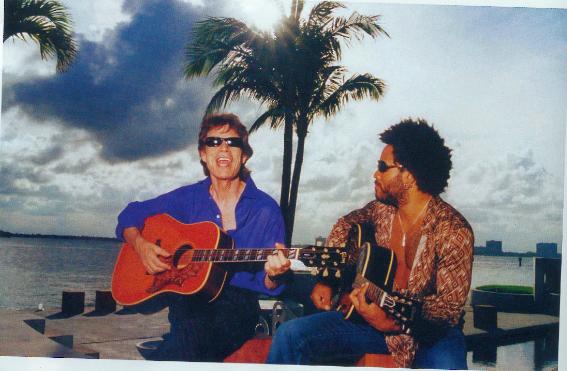 ---




It's Only Rock'n Roll 1999 -
© 2001 The Rolling Stones Fan Club Of Europe