---
---
Mick Jagger live at the El Rey Theater
Los Angeles, USA, Nov. 15, 2001
The Mick Jagger release party
by Bjørnulf Vik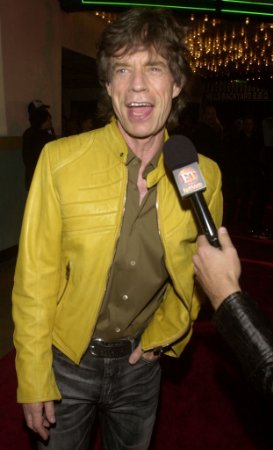 This was announced as the release party of the new Mick Jagger solo album Goddess in the Doorway. Also, it was the recording session of live songs to promote this album, to be part of the TV documentary "Being Mick" on ABC network in USA, a one-hour documentary showing behind-the-scenes footage from the making of Mick's new album, to screen on the ABC network in the U.S. on Thanksgiving night, Nov. 22, at 10 p.m. EST/PST.
The El Rey Theatre can hold may be 750 people, and that was the number of people invited, mostly Los Angeles celebrities and music inustry people, plus a handful of hard core fans.
They did some rehearsals before the doors opened, and as there was a red carpet outside for the press to shoot all the celebrities who arrived, Mick had to arrive as well once more. Mick arrived at 8:05pm, and looked great, wearing a light brown leather jacket.
Inside the theater was filling up slowly, and by 9:30 or so Mick entered the stage. The band was made up by the people who have been playing on Mick's new solo album. Matt Cliford was on keyboards, and Bernard Fowler was on backing vocals and percussions.
Mick crashed into a raw version of God Gave Me Everything. He was wearing a red/brown leather jacket and a red "liberty" shirt. Then Visions of Paradise . Mick is throwing water into the crowd. The next one is Lucky Day . Mick is doing some harmonica, also some typical falsetto. Then may be the best rocker of the night - Everybody Getting High . Having a floor of local celebrities and models does take some extra energy to get things moving, but this song worked great. Lots of energy.
Then Mick said he would do an old song, as he brough a blue guitar in. He did Respectable. Then he did Miss You, a relatively short version. Both worked nicely, but the crown could have been wilder, and the band could have been the Rolling Stones...
The set list asked for another take of God Gave Me Everything. As Mick had thrown away his red/brown jacket, it was time to put it back on, as this was supposed to be the opening song. If you see bits of this song where Mick is more sweaty at times, it is simply because it's the 2nd take they are using. Buth takes worked fine.
It was a short show, and it was over within 30-45 minutes. Mick said this was the entire world tour, we had just seen his one and only show.
After the show Mick did some meetings with music industry people, and half an hour before minight, it was time to leave. I had been wearing my yellow stones tie for the evening, and that did catch the attention of Mick as he was on his way to the car. I managed to shake hands with a solid handshake by Mick, and the evening was closed up nicely.
A night to remember...
The set list:
God Gave Me Everything (Take 1)
Visions of Paradise
Lucky Day
Everybody Getting High
Respectable
Miss You
God Gave Me Everything (Take 2)
PS. This short report was written down at 1am in the morning following the show. Visit by in a few days time, and I will add some more details to it - as it was such a great show!
Show reports in the press:
PS. It seems like there is an embargo on the pictures from inside the show, as most of the press do use photos from Mick outside, from the red carpet. Also, some press is using photos of Mick from the recent New York performance at Madison Square Garden. Archive photos are ok, but when Mick is doing a solo show, and the press is showing a picture with Keith in the background on guitar, it is not good press...




It's Only Rock'n Roll 1999 -
© 2001 The Rolling Stones Fan Club Of Europe