Charlie Watts with Keith Richards and The Rolling Stones. Live at State Farm Stadium, Glendale (Phoenix) AZ USA, August 26, 2019. Photo by Geir Greni.

These pages are celebrating the music and memories of Charlie Watts, drummer of The Rolling Stones.

From Wikipedia: Charles Robert Watts (2 June 1941 – 24 August 2021) was an English musician who achieved international fame as the drummer of the Rolling Stones from 1963 until his death in 2021. One of the band's core members, Watts, alongside lead vocalist Mick Jagger and guitarist Keith Richards, were the only members of the band to perform on all of their studio albums.[1] Nicknamed "The Wembley Whammer" by Jagger, Watts cited jazz as a major influence on his drumming style.

There will be a lot more written here about Charlie Watts. Meanwhile, please take some time - see and listen - to one of the late great interviews Charlie Watts did with New Musical Expess (NME), originally published on February 28, 2018: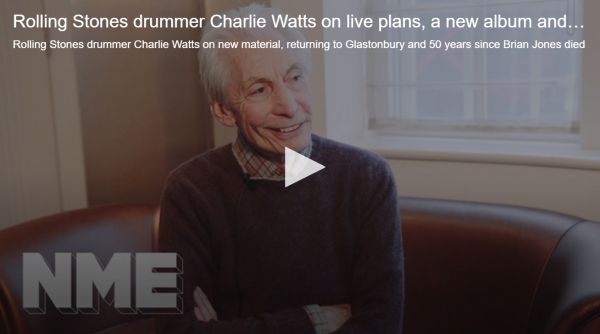 Charlie Watts NME Interview 2018
More to come soon here...
---
Links
Charlie Watts Dies at 80 (IORR.org)
Charlie Watts in the press (IORR.org)
Tim Ries article on NPR about Charlie (IORR.org)
Bernard Fowler & Tim Ries remember Charlie Watts - NJ Arts, September 10
Charlie Watts In Memory - by the fans (IORR.org)
Charlie Watts In Memory - Bjornulf Vik IORR/Stoneslife
If you have information, corrections, additions or comments, please send email. Thanks!




It's Only Rock'n Roll 1980 - 2021
© The Rolling Stones Fan Club IORR