Utrecht
The IORR Travel Guide
The Rolling Stones European Tour 2003
---
These are the latest Rolling Stones news and updates for you! IORR is a non profit fan club run by fans for fans. All parts of the It's Only Rock'n Roll web site is copyright of The Rolling Stones Fan Club. When using information from this site, please include a reference to IORR and the main web address www.iorr.org.
---
---
Introduction
These pages will supply information about the cities the Stones will be visiting this summer. To read about each individual city please select the actual city link in the IORR travel guide pages. If you have information for these pages please send e-mail to

[email protected]

.
Nearest big city
Utrecht
How to get to the city
Fly to Schiphol Airport Amsterdam. Then take the train from inside the airport to Utrecht via Duivendrecht - 40 minutes total travel time - every 15-20 minutes.

By train (see www.ns.nl) from Amsterdam or Rotterdam, takes less than 1 hour. By car from Amsterdam: you take the A2 takes around 45 minutes from Rotterdam: you take the A20 and then the A12 (=highway numbers), also around 45 minutes. From Germany take the A12 (which is the highway from Oberhausen - Arnhem - Utrecht - Den Haag )

For all is't the same just follow the signs to "CENTRUM' See also map: www.tte.nl
How to get to the venue
From the Centeral station in Utrecht probably 10 minutes walk. By car, park it behind the Centeral Station / Hoog Catharijne.
Travel information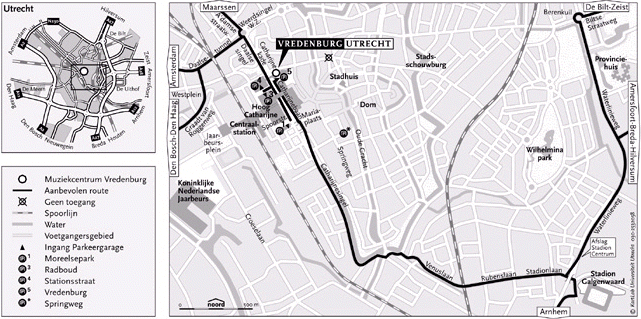 Venue maps
www.vredenburg.nl
www.vredenburg.nl - Virtual Tour
Recommended hotels
Best Western Amrâth (= really next to Vredenburg itself)
NH Utrecht Hotel, Jaarbeursplein 24, 5 min. walk.
NH Centre Utrecht Hotel, Janskerkhof 10, 5 min. walk
Park Plaza Utrecht, Westplein 50, 5 min.walk.
book-a-hotel-in-utrecht.com (= for general info / Hotels)
For those who want to go low budget:
Strowis, Boothstraat 8 www.strowis.nl
Hostel Utrecht, Lucasbolwerk 4 www.bolwerkhotel.nl
There's also a camping, located in a nice park at the east side of town, at the end of the Biltstraat (one of the mainstreets): De Berekuil, 030-2713870, 30 min. walk, 5-10 min. by bus.
There's a youth hostel a few kilometers out of town, beautiful located in the country: www.njhc.nl/bunnik. 15 min. bus ride to central station. Bus line 40 or 41.
Recommended bars/restaurants
Bar: Staiway to Heaven is owned by a famous Dutch DJ, and several Stones Day are held in this Cafe.

Location on the Mariaplaats. It has got a lot of rock memorabilities hanging on the walls, Guitars and for instance a golden record of Steel Wheels !

There are a lot of restaurants in centre Utrecht, different kitchens and nationalities. Many of them are at the canals (which begin just behind Vredenburg). The canals in Utrecht are unique because you can actually sit at water level, as opposed to Amsterdam and other cities. Nice in the summer.

A very good chinese restaurant, probably one of the best in the country, faces Vredenburg: Het Paradijs.
Meeting place for fans
Rockcafé Stairway to heaven. Near Vredenburg at the Mariaplaats (just ask for it).
City map
City map
Tourist links
De Dom: highest church tower in the Netherlands, symbol of Utrecht
Aboroginal Art Museum
Rietveld-Schröder huis: highlight of the early 20th century Dutch architecture van 'De Stijl' (same art group as the painter Piet Mondriaan).
Centraal Museum: Dutch (Utrecht) painters from the middle ages up to now.
Many bars, outdoor cafés ...
Other local events
General
Thanks
Thanks to Robert van Otterloo and G. V. for information!
---
For more Stones news see IORR 47 of May 2003!
---




It's Only Rock'n Roll 2003 -
© The Rolling Stones Fan Club Of Europe