Oberhausen
The IORR Travel Guide
The Rolling Stones European Tour 2003
---
These are the latest Rolling Stones news and updates for you! IORR is a non profit fan club run by fans for fans. All parts of the It's Only Rock'n Roll web site is copyright of The Rolling Stones Fan Club. When using information from this site, please include a reference to IORR and the main web address www.iorr.org.
---
---
Introduction
These pages will supply information about the cities the Stones will be visiting this summer. To read about each individual city please select the actual city link in the IORR travel guide pages. If you have information for these pages please send e-mail to

[email protected]

.
Nearest big city
Essen, Duisburg, Düsseldorf.

Oberhausen, right in the middle of the Ruhrgebiet, which is right in the middle of Germany, ranging from Duisburg to Dortmund.
How to get to the city
Düsseldorf Airport is about 25km from Oberhausen, Düsseldorf-city about 35km. Düsseldorf is nearest "bigger city" and has the nearest Airport and you can go directly by train from airport to Oberhausen.

Düsseldorf is linked by air with all major European cities. The airport is approximately 35km of the city Oberhausen. There are frequent S1 (Train) Düsseldorf (Airport) - Essen. Until Duisburg - than change the Train and go with the S2 direction Dortmund. Leave the train at Oberhausen Hauptbahnhof (Station)

Cologne-Airport is about 70km distance, cologne-city about 60km
How to get to the venue
Now you can take the Bus or the Tram - Station: Neue Mitte. Walk to the O-Vision-Park: 10 Min.

Using a car to the venue: Motorway A2/A3 At motorway interchange turn on A 516 direction Oberhausen. Then left on B 231 direction Oberhausen CentrO. Motorway A 42 Departure "Oberhausen /Neue Mitte". Heading "Oberhausen CentrO".

Motorway A 40 from Duisburg Departure Mülheim Dümpten. Twice left in direction Oberhausen, Follow the street till end and then left.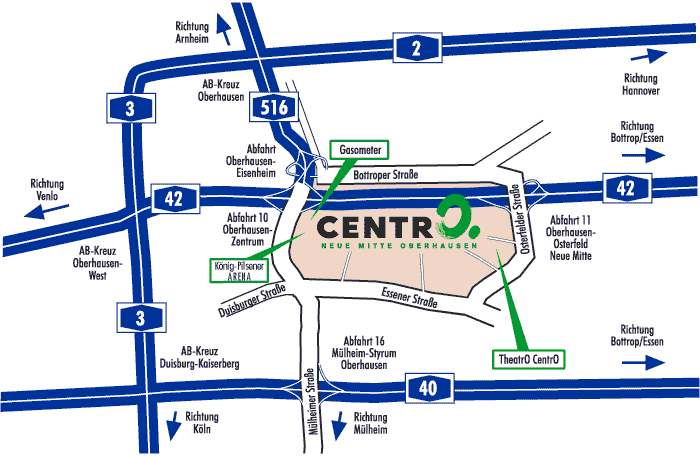 O-Vision-Zukunftspark: opposite the Osterfelder Str.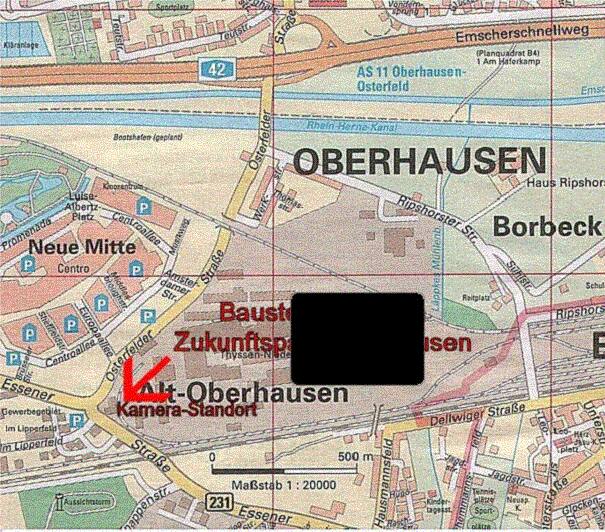 Travel information
http://www.stones-oberhausen.de/anfahrt/anfahrt-saint.pdf

The "venue" is a field near the "Neue Mitte" and "Centro" Shopping centre. Actually, it's more of a building site, so expect lots of mud, should it be raining on the day.
Venue maps
Recommended hotels
Backpacker hotel: in-hostel-veritas

Hotels: oberhausen-tourismus.de

apartments: oberhausen-tourismus.de

Motorhome/Camping: oberhausen-tourismus.de
Recommended bars/restaurants
30 or more - Shopping Mall: Centro centro

Link: Gastronomie - Link: Gastronomie nach Standorten - Link: Promenade Link: Apfelbaum - N - After-show: Cover-Band - possible
Meeting place for fans
Pre-Show-party: stones-oberhausen.de

with exhibition and the Rolling Stones Cover Band Voodoo-lounge The greatest Stones Party in the Ruhrarea
City map
Tourist links
CentrO - Neue Mitte Oberhausen
Other local events
General
Be prepared to go there early. About 80.000 tickets will be sold and there is a nearby shopping center, so there might be lots of traffic. You can park in the shopping center (hopefully) and you might be able to park near the site. This place is a building site, as they are building the O.Vision area there www.ovision.de. Hopefully that will not disturb the show and the arrival and departure in any way.
AC/DC! AC/DC
Thanks
Thanks to Peter Jötten, Dieter Heine, Robert van Otterloo and Johannes Delmere for information!
---
For more Stones news see IORR 47 of May 2003!
---




It's Only Rock'n Roll 2003 -
© The Rolling Stones Fan Club Of Europe