The new Rolling Stones album
Bridges To Babylon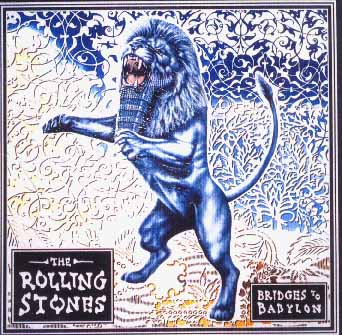 The new Stones album is titled Bridges To Babylon. The release date is set to Monday Sept. 29 in Europe, Tuesday Sept. 30 in America, and on Sept. 27 in Japan. The cover is built on a lion, see photo. Previous working titles of the album have been "Flip the Switch" and "Blessed Poison". There will be a limited release of five hundred thousand copies of Bridges To Babylon. These will be made up of an unique artwork, and once they are gone, they are gone. Also, there will be a picture disc release limited to 7.500 copies in UK.

Anybody Seen My Baby is the title of the new single. It's produced by Dust Brothers, a mid tempo with a chorus having a bigger radio station hit potential than for a long time. Release date is mid September. See more details, cover artwork etc. on a separate page dedicated to ASMB.

There will be at least two more single releases, and the follow-up singles may include non-album tracks, even if Anybody Seen My Baby has got ASMB mixes only...

Mick and Keith did some song writing in Barbados, and they also brought in old and new material. Recordings have taken place in Los Angeles, Hollywood area, at Ocean Way Recording Studio, on 6050 Sunset Boulevard, for most parts of April and May of 1997. The recordings had a short break in late March, when Don Was left to Europe for a week, to promote his new album. By April/May, they have been back in studio. Charlie Watts has been more involved in producing this album than ever before.

The album was finally mastered on August 11, and the final track listing was not finished until the very day of the press conference on August 18, according to Virgin. You will notice that Keith has got 3 songs on the new album!

This is the final track listing of the new album Bridges To Babylon:
| | | | |
| --- | --- | --- | --- |
| 1 | Flip The Switch | 3:28 | Fast rocker |
| 2 | Anybody Seen My Baby | 4:31 | Great ballad, great guitars |
| 3 | Lowdown | 4:26 | Mid tempo |
| 4 | Already Over Me | 5:24 | Live in studio - bluesy ballad |
| 5 | Gun Face | 5:02 | With Danny Saber |
| 6 | You Don't Have To Mean It | 3:44 | Keith vocals, great reggae track |
| 7 | Out Of Control | 4:43 | With Danny Saber - Fingerprint File of the ´90´s |
| 8 | Saint Of Me | 5:15 | The Dust Brothers, Mick - just great! |
| 9 | Might As Well Get Juiced | 5:23 | The Dust Brothers, Mick, harmonica |
| 10 | Always Suffering | 4:43 | Country ballad |
| 11 | Too Tight | 3:33 | Rocker |
| 12 | Thief In The Night | 4:56 | Keith vocals, almost gospel |
| 13 | How Can I Stop | 5:53 | Keith ballad, like Sleep Tonight |
Bridges To Babylon is bringing the great sounds and musical ideas of Sticky Fingers, Exile On Main Street, Goats Head Soup and Black And Blue into a new and strange sound, with brilliant mixes, clear guitars, and riffs that are close to parodies of their own, without really overdoing it. There is great slide and lead guitar like we had in the early 70's with Mick Taylor. Charlie's drums are more steady and driving in their simplicity, as ever. It takes time to get into this album. After 10 - 20 listenings, you will discover new licks, deeper meanings, unique Jagger vocals, and it will grow. And talking about Mick, there are some really great blues tracks here, with harmonica playing. For most of the album, I will save the surprises to you all, but I will just mention a very few of my favorites (they are all in fact):
Flip The Switch: Simply a great and fast rock'n roll track. Please play this one live!
Anybody Seen My Baby: What more can I say, except everyone seems to love it?
Out Of Control: This one has been rehearsed live, and already played at the Horseshoe club gig. It starts off as a nice and funky blues track, and explodes into a pure rocker later on. And further on, Mick is doing some great and bluesy harmonica! I can't wait to see this one live. Like "Flip The Switch", these are the rockers of BtB.
Saint Of Me, Might As Well Get Juiced, How Can I Stop ... yes... How can I stop??? they are all great!
---
Angie live bonus track in Japan:
The Japanese release version of Bridges To Babylon will include a bonus track: Angie live at the Tokyo Dome, March 6, 1995.
---
These tracks did not make it for the album, but may show up as bonus tracks on single releases: "Any Way You Look at It" and "Ever Changing World".
The first take of the ballad Already Over Me, as produced with Babyface was scrapped, because Mick did not like the way it was looped. But then they recorded the track live in the studio with Don Was.
Yes, indeed, it seems they have had a wonderful time in studio, Charlie and Keith have both been heavily involved, and it looks like we will get another masterpiece from the greatest rock'n'roll band in the world!
Q Magazine August issue is bringing some more details about the new Stones album and tour. The Dust Brothers produced three tracks. Also, they claim that the Babyface track may not make it to the album after all. We'll just wait and see...
See more details about the new album in LA Times Sunday of June 15!
NME with great Mick Jagger interview! The best and most detailed interview so far about the new Stones album Bridges to Babylon is to be found on the NME Web Site. Mick talks about working with the new album, Dust Brothers, why they scrapped the Babyface track "Already Over Me". At the moment, Mick is listening to DJ Kool. He say he likes the new Oasis single, having just seen it on the telly, and express his thoughts on Liam and Noel.
Also, read all about the new album and the 1997 tour in It's Only Rock'n Roll magazine issues IORR 28 out May 97, and IORR 29, out later this summer!
---




It's Only Rock'n Roll 1997 -
© The Rolling Stones Fan Club Of Europe