The Rolling Stones live club gig at
The Horseshoe Tavern
Toronto, Canada Thursday Sept. 4, 1997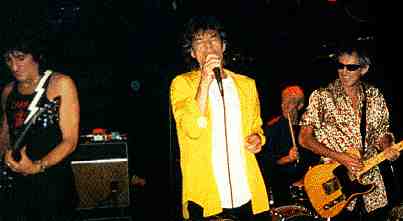 A lot of you were bored out of the MTV Music Award ceremony, and especially if you were up all night in Europe, seing the Stones talking, hanging around in a bar, not really playing live at all.

Well, in Toronto, some die hard Stones fans didn't care about the MTV and TV stuff, they wanted the real stuff, The Rolling Stones. So they were hanging around, queuing up, sticking around, and crawling their way into the rumoured place of the night, The Horseshoe Tavern, on Queen Street in Toronto.

At around 11 pm the Stones were on. The place was packed. There were hardly space for the band on stage. Lisa and Bernard were squeezed tight into a corner. Bobby had to squeeze in on the three tracks he played on (Honky Tonk Women, Miss You and Brown Sugar).

About 300 people were packed into the place. Lots more were unlucky, and had to stay outside.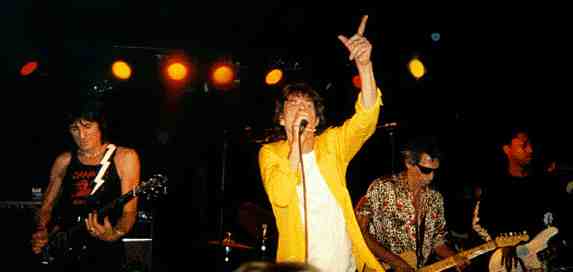 The set was about 70 minutes long. The songs they played:
Little Queenie

Honky Tonk Women

19th Nervous Breakdown

You Got Me Rocking

Under My Thumb

Little Red Rooster

Miss You

Out Of Control

The Last Time

Start Me Up

Jumping Jack Flash

Brown Sugar
More facts about the club concert will be added here, as the die hard Toronto fans wake up from their dream concert of their life, and report their details.
Also, see a reports in Canadian Online and The Toronto Star.
Mick Jagger about the club gig:
"It was pretty impromptu, yeah," said Jagger. "I just said the night before, 'Hey, we should play tomorrow.' But we hadn't planned it. It wasn't for publicity. We just wanted to do it. To get one little gig out of the way 'cause one gig's worth a week's rehearsal in my books."
Keith Richards' comments:
 "I said, 'Yeah, let's give 'em a smell of blood -- practice on the public. It was good fun and it does wonders for the band. One little shot like that. You notice it the next day back at rehearsals, everybody's like: 'Let me at 'em. Let me at 'em'."
Thanks to the Stones fans of Toronto who were lucky to get into the club gig, and were kind enough to submit material to the rest of us: Michael Seca (photos), Doug Holland, John Cormier (reports). More reports and photos wanted! Please send email to IORR. Thanks!
A complete review of the Horseshoe gig, including excellent photos, will be in IORR 30, out Oct. 15.
Read all about the new album and the 1997 tour in the It's Only Rock'n Roll magazine issues IORR 28 out May 97, and IORR 29, out Sept. 97.
---
It's Only Rock'n Roll 1997 -
© The Rolling Stones Fan Club Of Europe