---
These are the latest Rolling Stones news and updates for you! IORR is a non profit fan club run by fans for fans. All parts of the It's Only Rock'n Roll web site is copyright of The Rolling Stones Fan Club. When using information from this site, please include a reference to IORR and the main web address www.iorr.org.
---
---
The Rolling Stones
Gillette Stadium
Foxboro MA USA (near Boston)
Sunday July 7, 2019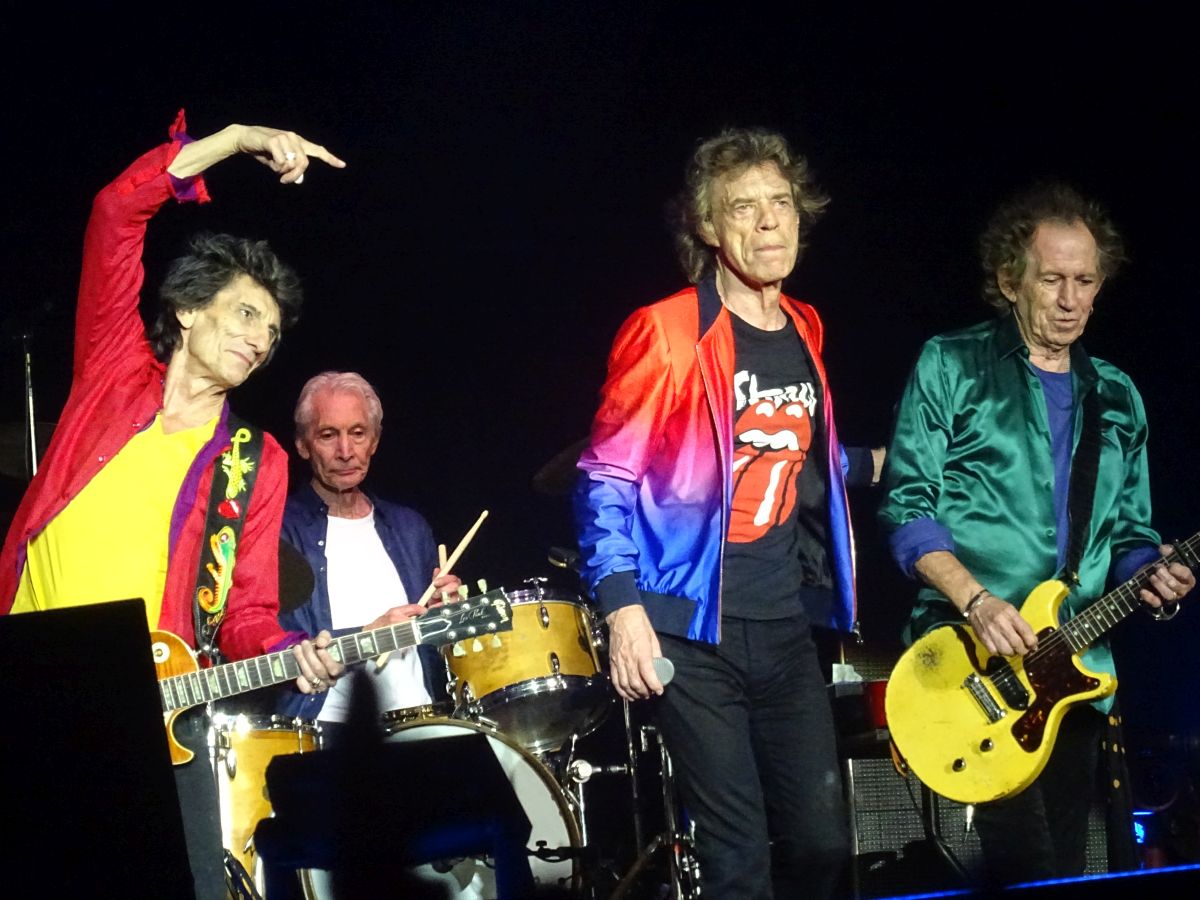 The Rolling Stones live at Gillette Stadium Foxboro/Boston USA, July 7, 2019 - Photo by Bjornulf Vik
The set list
Street Fighting Man
It's Only Rock'n'Roll
Tumbling Dice
She's So Cold (vote song)
Ride 'Em On Down (with Gary Clark Jr)
Play With Fire (B-stage acoustic)
Dead Flowers (B-stage acoustic)
Sympathy For The Devil
You Can't Always Get What You Want
Honky Tonk Women
--- Band introductions
Slipping Away (Keith)
Before They Make Me Run (Keith)
Miss You
Paint It Black
Midnight Rambler
Start Me Up
Jumping Jack Flash
Brown Sugar
--- Band off stage
Gimme Shelter
Satisfaction
---

Show start :  8:46pm
Show end   : 10:56pm

---
Pre-show info and live comments:
Foxboro/Boston show 7-July-2019 live updates
---
Reports please!!!
Please send your comments, reviews, links and more to:

[email protected]

IMPORTANT! Reports and pictures are welcome, but please send them as soon as possible after the show. Updates of these reports pages will mainly be done within 2-4 days after the show has been performed. After that it is on to the next show of the tour, and there will normally not be time for any more updates of older reports pages.
---
Review by Derek Fritz
What a FANTASTIC show.

This is the first time I've seen the Stones since 2005, and it would be an understatement to say a LOT has changed in the last 14 years. Of course I've followed the band religiously since then and have watched endless footage of their live shows, so I know full well about all the ups and downs, but there's nothing quite like seeing them live to form your own opinion.

What I can say without a doubt is that, in the year 2019, the Rolling Stones are a well-rehearsed, well-oiled, measured, and cautious rock'n'roll band. Everyone is locked in and playing REALLY well together, especially Keith and Ronnie.

Even last year, I found Keith's solos to often be a bit awkward and bordering on cringe-worthy, but tonight in Foxborough, just about everything he played was tasteful, clean, and on-point. We may never again get fast, furious, raucous licks from Keith, but I'll take that trade-off for him playing with a degree of precision, even if that means soloing in short, controlled bursts.

The most out-of-left-field moment of the evening occurred during Midnight Rambler just prior to Mick's "Well, you heard about the Boston..." line, when Keith bizarrely and inexplicably decided to re-start the intro riff at full tempo.

Charlie frowned and stared around the stage with a puzzled look on his face, which made me bust out laughing. Keith stopped after a couple of measures, and Mick quickly launched into his line to get the song back on track. Keith and Ronnie leaned in and had a good laugh between the two and all was forgiven, but it was definitely out of character for the more studious, concentrated Keith I witnessed tonight.

Mick? Well, what can be said at this point that hasn't been said hundreds of times over the last 30 years? The man is amazing. Still commanding the stage at 76, still swiveling his hips...he looked and sounded phenomenal. Not even the slightest hint that the man had significant surgery several months ago.

The setlist was largely predictable, but very satisfying. All the warhorses sounded great, with a special shout-out to Start Me Up. Now, if there was one song I'd vote for being "played out", it would be SMU, but damn if it didn't sound fresh last night. Keith's rhythm playing was really special, and Ronnie played a great little solo. I was super surprised at how much I enjoyed hearing this one.

The other standout was Gimme Shelter. Terrific guitar playing from Keith and Ronnie throughout, and Sasha stole the show during her vocal solo. She sings the song with more restraint than Lisa, but also brings back some of Merry Clayton's darkness that had been missing.

Aside from the old chestnuts, it was great to hear She's So Cold and Play With Fire, both of which the band nailed perfectly.

All in all, it was a great night. If this is indeed the last time I ever see the Rolling Stons, it will have been a great swansong.
---
Review by Dennis Hotston
Well, what a difference a week makes!

Okay, it's been 8 days since the Burl's Creek show, in Oro-Medonte, Ontario. We live near Toronto and near Boston throughout the year. We originally purchased tickets when Foxboro would have been first and wrapped up with Burl's Creek. With the new schedule, the shows got flipped around with Foxboro being the last bookend to our two Stones shows.

I think something happened when the Stones got to D.C. for the 4th show. It seems the band relaxed and just started to enjoy themselves. This looseness carried over into Foxboro last night. They just came out and as Keith is fond of saying: "You go out there and try to murder 'em!"

The Stones delivered last night. With Burl's Creek and the FB live of D.C. fresh in our minds, we had some shows to compare Foxboro to. First of all, a stadium is a better environment to see the band then a festival ground. The amenities are all there and Marybeth and I had a relaxing preshow dinner and a relatively easy exit to get home.

The band opened to the familiar opener, Street Fighting Man. The song is finding it's legs and the ending was reminiscent of how Keith performed the track in 1994. Keith and Ronnie just weaved back and forth with their guitars and the crowd loved it.

Next was IORR and it was a change from last week's LSTNT. It was a solid performance. This song is hit or miss for me and it was hit at the beginning but wandered into the miss category as the song went on. It was a crowd pleaser, though.

Tumbling Dice was up next and it was a repeat of Burl's Creek version. Great riffs by Keith, and excellent solo by Ronnie and Mick worked the crowd. I love this song and kudos to the sound crew. They know how to mix this song in a stadium setting.

The song vote, happily for us, was She's So Cold! One of my wife's favorite Stones tracks and the band delivered. Great guitar work but I think Ronnie and Keith missed Mick's first cue to end the song, or they ignored it. Only a seasoned concert goer would notice this hiccup.

Seeing Gary Clark Jr on Ride Em On Down was a real surprise. He gave the song a great bump in intensity with his playing. Ronnie and Keith got to shine as well when they took their turn to play a lead.

HTW? Like Keith is saying these days, "It's hard to get this one right, with the tempo and all that." Well, they nailed it last night. It's a song that 49,000 ticket holders need to hear and I was one of them.

The acoustic set is always a highlight for us and didn't disappoint. Play With Fire was the better of the two, in my opinion.

You Can't Always Get What You Want was again, done incredibly well. It's placement in the setlist seems wrong to me. I'm used to it at the end of the show and I do miss the choirs from previous tours.

Sympathy was like it always is woo, woo! from the crowd. Keith is surgical with his riffs and leads. It's always a highlight for me. Keith's two songs came up next.

What can one say? Slipping Away was just beautiful, Keith delivers a standout performance on this one. Before They Make Me Run is one of fav Keith songs. He did not flub the intro like at Burl's Creek and he brought it home. Keith no longer plays and sings at the same time. I'm not sure if this is from his head injury in 2006 but it's noticeable.

After Keith's set, came what has been the closeout songs for this show and all of the others played. I know what's coming so it takes some of the mystery or anticipation of "What's next?" away.

Miss You- Where I've just tolerated this song in previous tours, I look forward to it, now. The crowd erupted when the song started and Mick dances and prances his way through it. I think he's especially proud of this song. He wrote it in Toronto during Keith's drug bust and Miss You was the band's rebirth in 1978. Darryl's bass solo is just a joy to hear and behold. The band LOVES it and this where I think they make good use of the 4 video screens with the Studio 54 theme.

Paint It Black- I recorded this one on my phone for my wife as it's her favorite Stones track. I've been "meh" on this song since 1990 so I focused on recording it for her. Crowd went wild, though.

Midnight Rambler- I wish they would shorten this song a bit but I know it's sacred to a lot of you so I endure the middle of it. It starts off great and ends off the same. Ronnie was simply incredible on MR last night and I don't even think about Mick Taylor anymore during this song. Mick's harmonica playing is top notch and I love hearing it. Keith did try to shorten the song last night by trying to speed up the tempo too early. Charlie looked confused but the band shook it off and recovered and gave it the ending it deserved.

Start Me Up- this is probably my favorite Stones song! There, I said it! I just love the opening riff and how it takes the listener on a 4 minute ride. Ronnie gave a great lead solo and the crowd loved it. I listen to this track with a critical ear and I'm listening for the right intro, right tempo and that anthemic riff. I loved it last night. IMO the best SMU this tour. I'd ask for a refund if I didn't hear Start Me Up at a Stones show! ;-) JJF- Now, my wife thinks this song is (gasp!) pedestrian. Well, she got a lesson in how wrong she was. I LOVED how the Stones performed this track in 95 and the version we got with the recent Stripped releases. It was very similar to that and it brought back great memories.

Brown Sugar- Keith nailed the intro and got the tempo right. Nuff said...

We got the normal two song encore. I noticed an exodus towards the exits as people wanted to beat traffic. They missed some special versions last night.

Keith flubbed GS last week in Canada but he didn't disappoint last night. I think when the intro is right the rest of the band comes in properly and GS becomes the snarling, dangerous song it's meant to be. Thanks to the sound crew for finally turning Sasha up last night. Her vocals came out loud and clear. I still prefer Lisa but Sasha does the song justice.

Satisfaction- Keith was quoted recently as saying he and Darryl are working on making the song better each night. Based on the smiles I saw on the bands faces last night? Mission accomplished!

There were lots of moments where the band was enjoying each others playing or Micks singing. During JJF Mick and Keith faced off and performed for each other. It was great to see and hear.

Mick gaffed up introducing Chuck Leavell. He said he's on bass, which got a great laugh from everyone on stage. When Mick introduced Darryl as the correct bass player? Darryl came out and played a little "air piano!"

The show was played at Gillette Stadium, home of the NFL's New England Patriots. (My team) Mick mentioned all the 6 different Superbowl trophies on site.

Mick continues to keep up on current events. Mentioning that it's the July 4th weekend he commented on how the President made some remarks about how the US took over the airports in 1776! Mick lamented if "Britain could have hung on to the airports a bit longer" the outcome would have been different. It took a few seconds for everybody in the audience to get the joke, but it was awesome!

Well, this is most likely my last Stones show for this 2019 No Filter Tour, unless things change in my schedule. I'm also aware I may have seen my last two Stones concerts, EVER. While I hope this isn't the case, I can die a happy man if these are my last two concerts I see in person. I've seen this band over 40 times counting these two shows. Their songs have been the soundtrack to my life and heroin for my ears. Once the high wears off, you need more. Friends and family ask me: Why don't you get more diverse with your bands, there are other bands out there, maybe even better ones?

My answer? I like to paraphrase Keith: I ain't heard it yet! I'm grateful that my wife, Marybeth, gets it now, and we got to experience two shows, together, with each other.

Thanks to the Rolling Stones! Still, The World's ONLY Rock N Roll Band! (For me, anyways!)
---
Review by Lindsey Snow
I'm 18 and this was my first Rolling Stones concert. I was absolutely in shock. I've been listening and singing along to their songs ever since I was physically able to, but to finally see them in concert was truly amazing. The energy was crazy, something I've never experienced at a concert. Hopefully I'll be able to go to another one, but for now, that was one of the best nights of my life! Thank you!!!
---
Review by Sam Parady
My previous (and first) Stones concert was 12.15.12 in Newark, NJ. It was a good show, although the sound where I experienced it was rather thin and the guitars were pretty low in the mix. I also think Keith and Ron both played more cautiously 7 years ago, and since then the band sounds better than anytime since the 70s IMO, although Bobby Keys is missed (not dissing Karl). The show contained some amazing highlights- Mick Taylor on Midnight Rambler in a very well executed solo, for example (tho the best was in Düsseldorf if you can find it - I think it's been deleted on YouTube), but the plethora of guests (Lady Gaga, Bruce Springsteen, black keys, John Mayer) left me wanting more of a straight stones show. Gary Clark Jr seems to really fit in naturally with the band so I consider him guesting as within the natural vein of the music. The audience in Newark where I was didn't impress me at all. One girl looked like it was a chore to be there and she didn't like me standing, the guy next to me was eating a burger like at the start of the show, and the only time the entire arena (1/2 size of Gillette mind you) stood entirely on their feet was for Bruce (and this was at a stones 50th anni!) I should say that one special part was the one minute plus ovation for Keith and his impeccable rendering of Before They Make Me Run.

The parking lot was nice and sunny and hot, and despite the predictable Masshole yelling at me over parking where the attendant directed, it was nice walking around and drinking some hard cider before the show. After purchasing the No Filter Anarok, I heard She's So Cold coming from within the stadium. Going to the entrance to the field, I could see and hear the band doing their sound check. A nice fan from NY explained they started with Bitch. They did two versions of Ride Em On Down with Gary and Play With Fire.

When the show began, everyone was on their feet. I was ecstatic to hear the opening notes of Street Fighting Man and jumped up and down and danced around. It was a blur but very, very good. The sound was impeccable, Keith was nice and loud, Mick singing very, very well and Ronnie and Charlie letting the Glimmers warm up. Ronnie didn't seem to solo quite as much as say Amsterdam from what I saw on YouTube, but hey no harm no foul. It was a great version of the song and Mick wore kindof a 70s sci fi black, buff, white and yellow jacket.

I personally was hoping for Let's Spend the Night Together next, but they went into IORR. I am always leery of it because it tends to be a tad squeaky and this was no exception . I respect Keith for boldly going for it - his first solo was definitely out of tune and screechy but he got into it and his second and third takes on the riff were a little better. But hey it's only rock n roll.

Tumbling Dice was very good, I remember dancing and enjoying the whole thing, Ronnie doing a great job on his solo, keith sounding great on the riff. She's So Cold came next and that added to the momentum and sounded great. Again Ronnie really scoring and Keith was really on point and did an excellent solo at the end, too.

Ride Em on Down featured Gary Clark Jr which was great, he was actually turned up a little too loud at first, or struck the notes too hard I'm not sure of the technical details, but his playing was excellent. Ronnie did a flawless lead in and Micks vocals and harmonica were great. Keith did a great solo after Mick's harp and that was awesome.

They went down to the B stage next, and started Play With Fire in a rather shaky manner. This time I think it was Charlie and Keith together but Mick swooped in with really strong vocals that really sounded on pitch and everything. That got them through the rather short song and they followed with Dead Flowers which was beautiful. The whole thing had a jolly reggae bounce or something that was really sweet, I saw couples hugging etc. Ronnie's solo was excellent. Normally I don't complain about the brevity of acoustic sets but in this case for them to come all the way down I would have done one more acoustic number. The two songs were pretty short.

Sympathy came next which was good. No major flaws on Keith's behalf, and I think he sounded great on the booming chords. Visually it was spectacular. Keith kindof went into the noodling that I expect but it was fun. Mick sounded good. It wasn't a tour de force but I enjoyed it.

Can't Always Get is not one I particularly look forward to, but in this case it was a standout. Ronnie did his best solo of the night and it sounded great. He had really won the audiences favor at that point. Honky Tonk was steaming hot with Keith doing some great playing and Chuck having fun with the solo. He wasn't super high in the mix just in case any of the haters complain.

The audience didn't seem impressed with Keith's songs at all, many went to the bathroom. They were literally Slipping Away. His playing on the solos were beautiful tho. Warm and rich. Before they make me run was a bit of a mess. Happy would have been cool. It just seemed different than Newark that Ronnie was getting a huge response and Keith didnt seem to hold the crowd together for his set in the same way as before. I think it was the song selection- You Got the Silver and Happy for a stadium show. I managed to stay standing during Before They Make Me and didn't stop from dancing.

Miss You got everyone's attention and for good reason. It was awesome in every way. Paint It Black featured a great intro from Keith- i think this is one song that goes on a little long- a lot of uh-eh-uh-eh etc but it was still good. Midnight Rambler was on point until Keith kindof made a big flub in terms of the natural momentum of the audience and Charlie's face on the screen was like WTF. Ronnie tried to save it and Mick didn't flinch but it was hard to really regain the flow.

Fortunately Start Me Up was flawless, as was Jumpin Jack Flash. Keith was really trying to make up for it and I would say he did. Brown Sugar was decent, nothing crazy good and kindof got messy by the end but that's fun.

I was blown away by Keith's intro on Gimme Shelter, it was better than any version I've ever heard. The whole thing was like a studio recording, so that was really a standout for Keith and Sasha, who seemed to score big with her vocal additions. Satisfaction also sounded great and it was a fun closing to the show. Of course on the way out another Masshole rear ended me in the parking lot for no obvious reason, and it was just a little ding, but welcome to Foxborough that's why I don't live there!
---
Review by Forrest Orser, Fredericton, New Brunswick, Canada
Somewhere south of Portland, Maine, we ran into traffic congestion that was so bad that all three southbound lanes were often stopped. That continued until about the New Hampshire border. In Massachusetts we got thunder and lightning and the heaviest rain I've ever driven in. Sometimes whole lanes were blocked by deep puddles. We got to Foxborough about three hours later than we expected.

From Fredericton to Foxborough is 750 kilometres but it was worth every klick. The Stones were fantastic!

My only question is: why aren't there more shows in Canada this tour?
---
Review by Doug MacGunnigle, Providence RI
The Rolling Stones brought their No Filter tour to Gillette Stadium in Foxboro, MA on Sunday night, and vocalist Mick Jagger defiantly redefined what a 75 year old man (who astoundingly had just had heart surgery a few months ago) was capable of.

Jagger's stunning performance throughout the night was remarkable – gifted with the energy of a man 50 years his junior, he presided over the 2 hours of hits and fan favorites that were performed.

Guitarist Ron Wood has also stepped up his performance significantly in recent years, serving as the onstage foil for Keith Richards and delivering the majority of the night's guitar solos. Drummer Charlie Watts, at 78, provided the same swinging and solid backbeat that he's been known for over the past 5 decades.

This brings us to Keith Richards – a rock and roll icon if ever there was one. "The Human Riff" had moments of brilliance on Sunday – and a guitar tone that is the envy of anyone who's picked up a six string (or five string, often in his case.) There were a few slips and misfires, but the man delivered in spades throughout the evening.

After an opening set from Gary Clark Jr., whose Prince-infused blues rock was well received by early attendees, The Stones took the stage with "Street Fighting Man," anchored by Richards' ringing trademark 5-string Telecaster and Jagger bounding on stage with energy to spare, to the delight of the 50,000+ gathered in Foxborough.

Following solid performances of "It's Only Rock and Roll (But I Like It)" and "Tumbling Dice," the first surprise of the evening was the audience vote song – which was won that evening by 1980's "She's So Cold," delivered in a quick, almost punky arrangement.

Gary Clark Jr was invited back on stage to perform "an ancient blues," as Jagger called it – Bukka White's "Ride 'Em On Down," first recorded by him in 1937 and recently issued by the Stones on 2016's "Blue and Lonesome," a collection of blues standards recorded by the band. Clark's performance with the band was reminicent of the last time the Stones played the area – in 2013 he joined them for a performance of Freddie King's "Goin' Down." Clark was a great fit with the band – his vocals played well off of Jagger's and his solo, sandwiched between Wood's and Richards', was just about perfect.

The four 'official members' of the band then made their way down to a small setup at the end of the catwalk, where they performed acoustic versions (aided from the main stage by longtime keyboardist Chuck Leavell and bassist Darryl Jones) of "Play with Fire," which has been dusted off on this tour for the first time since 1990 and crowd-pleaser "Dead Flowers."

"Sympathy for the Devil" was next – complete with a wardrobe change for Jagger and sinister lighting and effects. "You Can't Always Get What You Want" followed, minus the live choirs that the band used the last time they were in town – it was a slow, stripped down version. Keyboardist Matt Clifford performed the french horn intro, as well as some ill-advised keyboard-trigged 'choir vocals' at the crescendo of the tune.

"Honky Tonk Women" was an expected crowd pleaser, complete with cowbell and fun on screen animations. The production on this tour is not as elaborate as some of the shows they've done in the past – the days of cherrypickers and larger than life inflatables are gone, leaving the music to be front and center. The stage consisted of 4 large vertical screens, perhaps echoing an iPhone (and the tie-in to the name of the tour – "No Filter.") The band dressed mostly in bright primary colors, making them a bit more visible in the cavernous football stadium.

Once Jagger introduced the band, which also included vocalists Bernard Fowler and Sasha Allen and horn players Karl Densen and Tim Ries, it was Richards' turn at the mic, for a cooled down take on 1989's "Slipping Away" and a high-energy "Before They Make Me Run."

Jagger returned for a long funky workout on "Miss You," featuring crowd participation and a tasty bass solo from the rock-solid Darryl Jones. One minor complaint about this rendition is the return of Clifford's cheesy synth-harmonica that had been exiled to the trash bin of history following the 1989-1990 World Tour. Luckily, it only made a brief appearance in the intro.

One of Richards' finest moments was his nailing of the intro to "Paint it Black," which had Watts pounding out the beat that had the crowd on its feet, shaking the foundations of Gillette Stadium.

"Midnight Rambler" is the highlight of any Rolling Stones show. The song defines the band and showcases Jagger's blues harp, Richards' riffing, and Wood's soloing. The version performed Sunday was no exception – with Richards playfully inserting the song's opening riff again during the blues breakdown to the visible surprise of the other members of the band.

After "Rambler" comes the section of the show that the diehards refer to as the "warhorses" – tunes that they have to play every night. These songs were performed expertly, as one would expect from a band that's likely played them over and over – "Start Me Up," a FANTASTIC "Jumpin' Jack Flash" that showcased Richards at the top of his powers, and a set-closing "Brown Sugar."

Vocalist Sasha Allen shined during her solo spot in the sinister "Gimme Shelter," as her wails of "Rape, murder, it's just a shot away" echoed through the stadium and into the surrounding area.

Of course, the last encore was "(I Can't Get No) Satisfaction." I would imagine if one told a 20-something Mick Jagger that he would be on stage 55 years later still singing this song for a near-sellout crowd of almost 60,000 in America, he'd have a hard time believing it.

It is amazing that the Rolling Stones are still with us. These guys perform at a level that men 1/3 of their age can't – and they continue to be the platinum standard for what rock and roll is all about.
---
Photos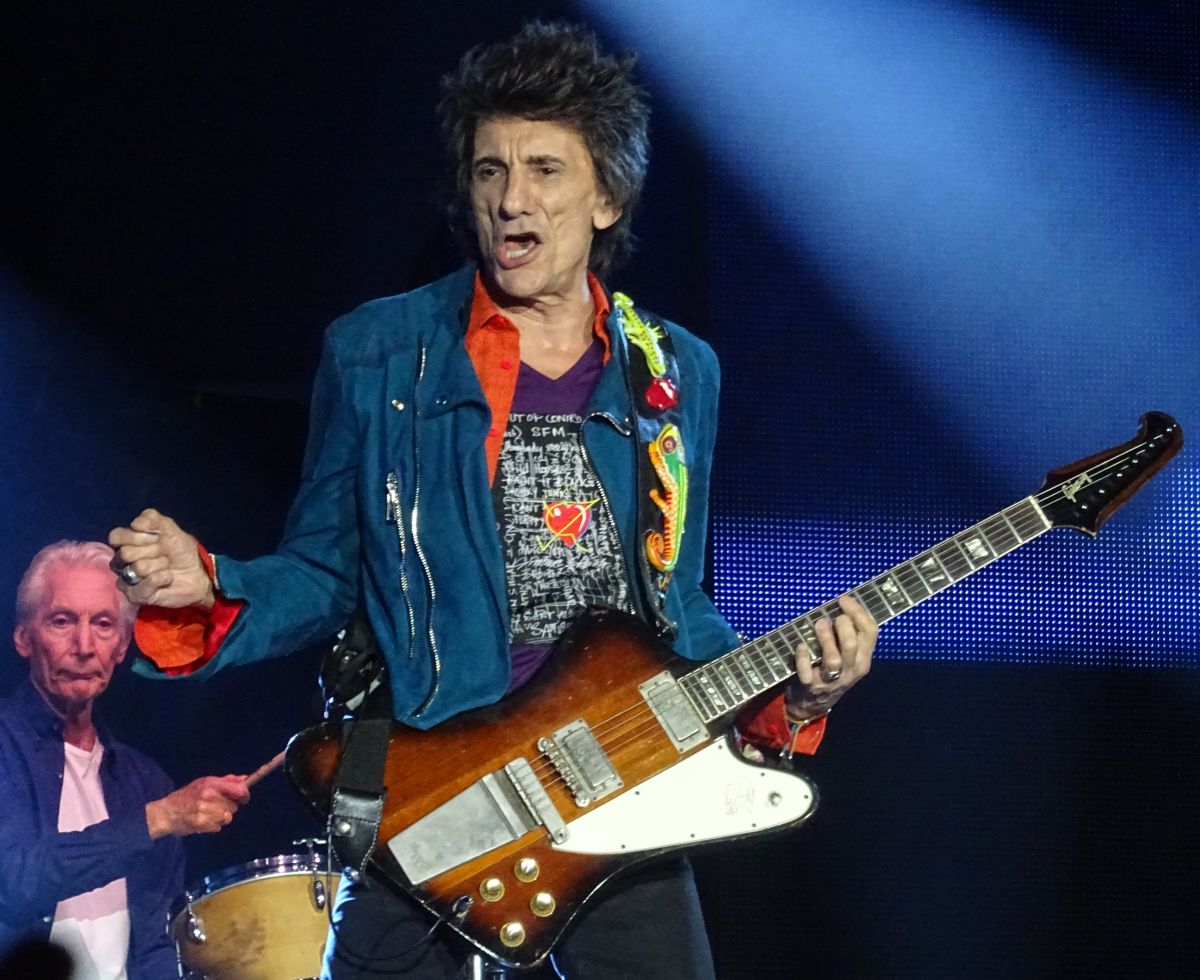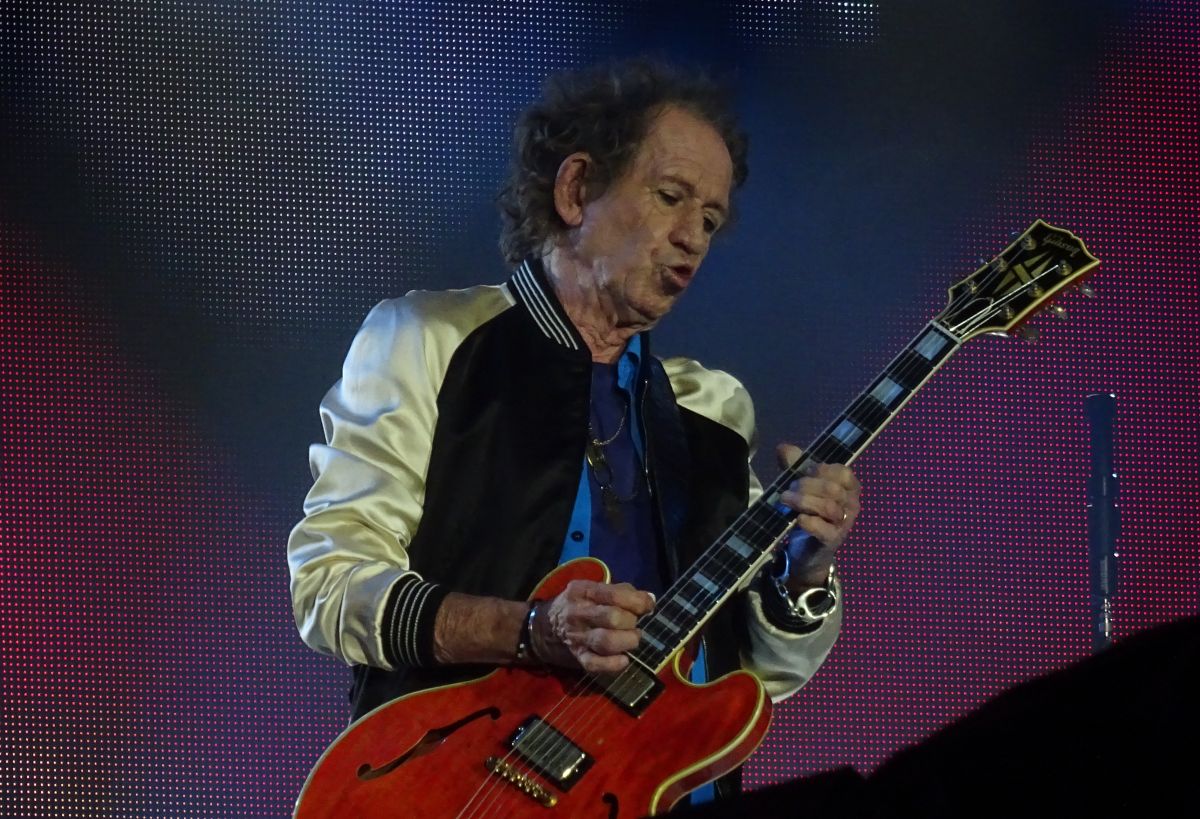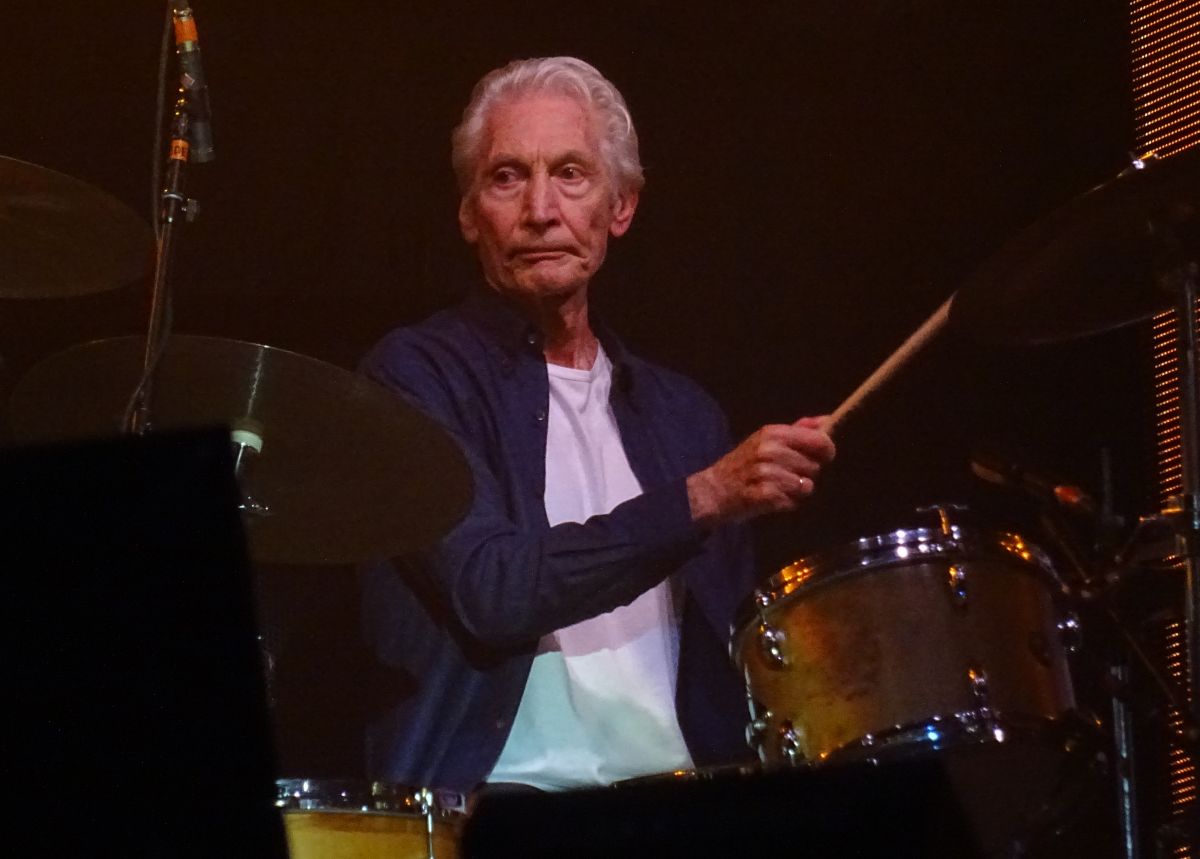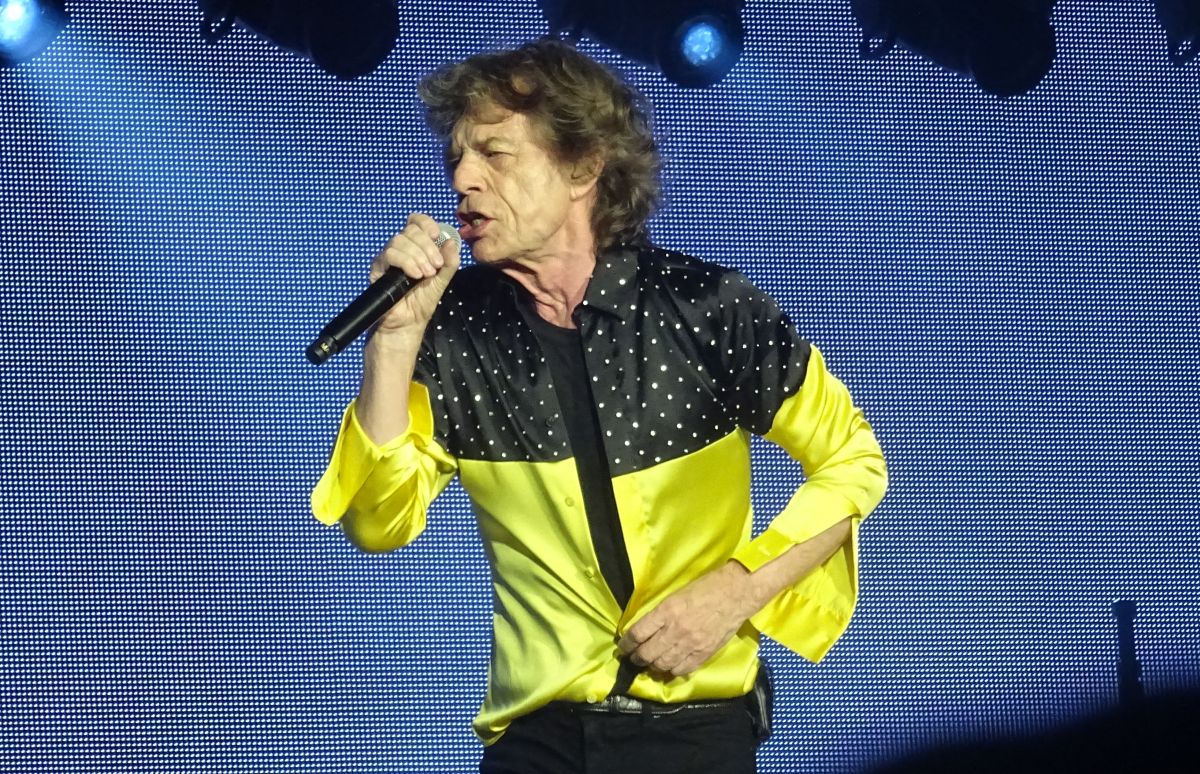 Photos by Bjornulf Vik
---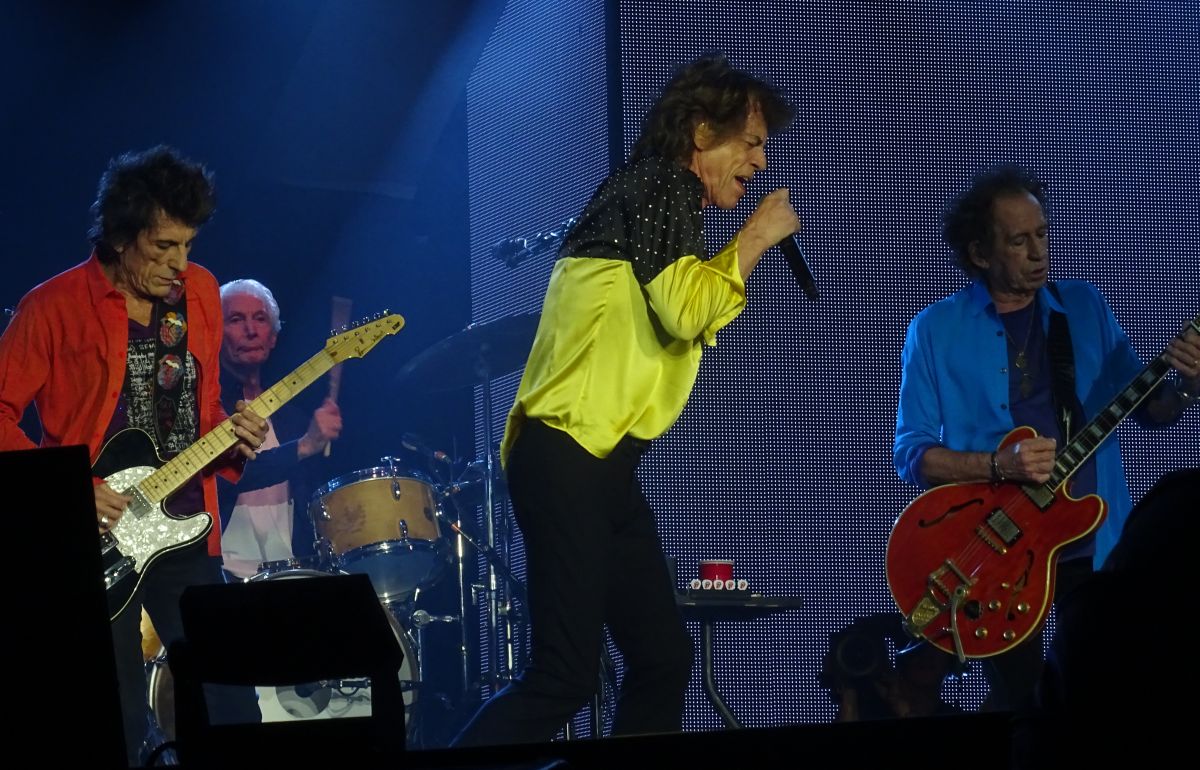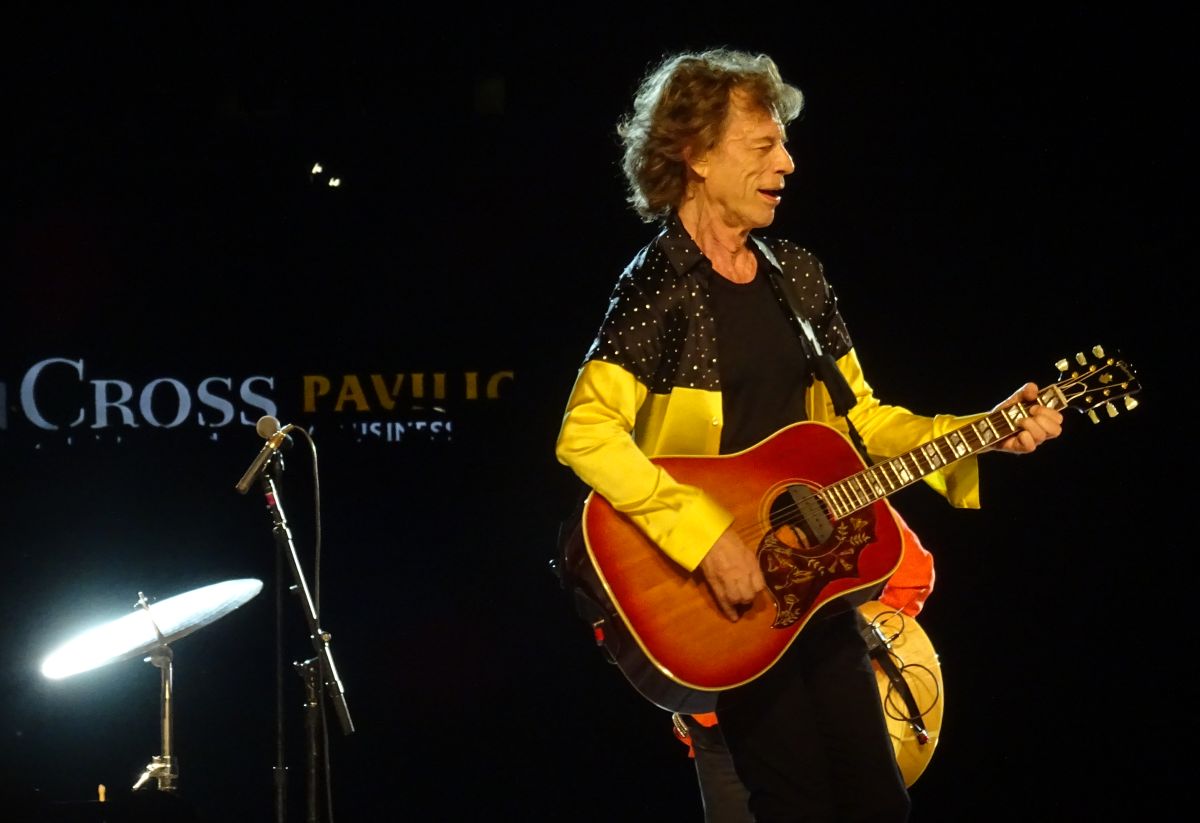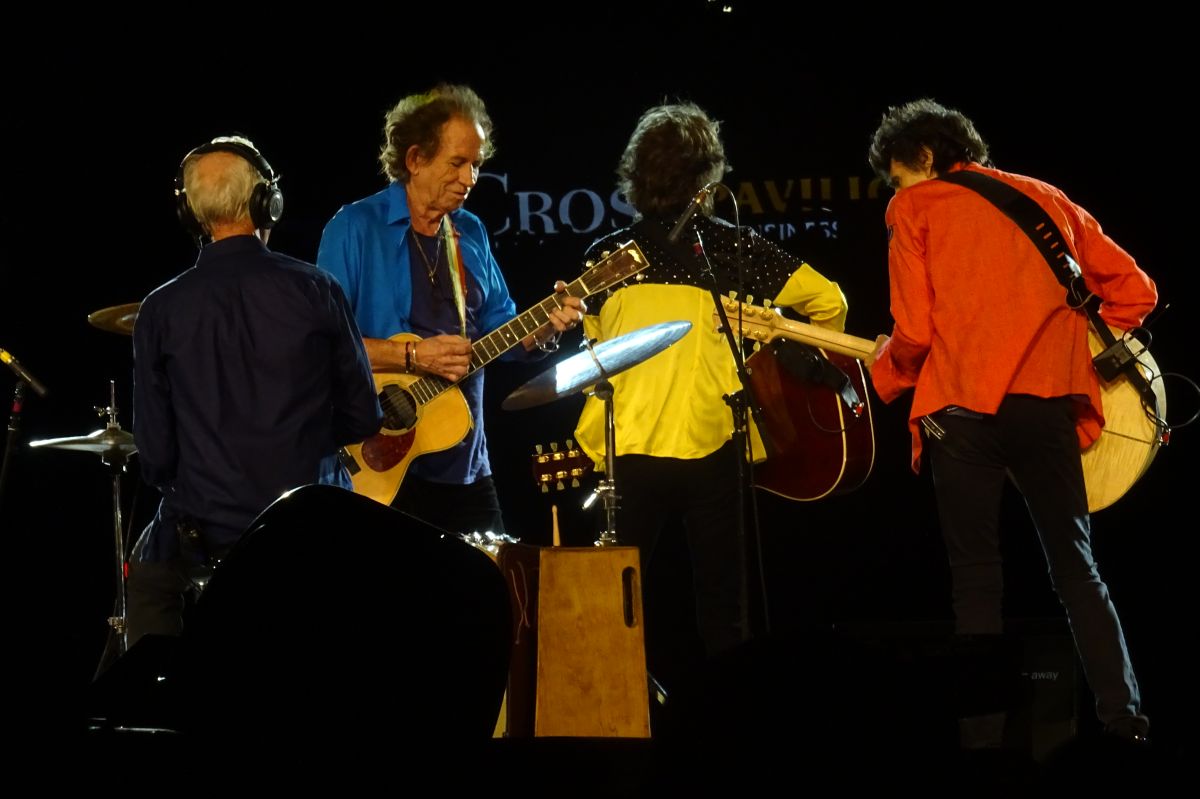 Photos by Bjornulf Vik
---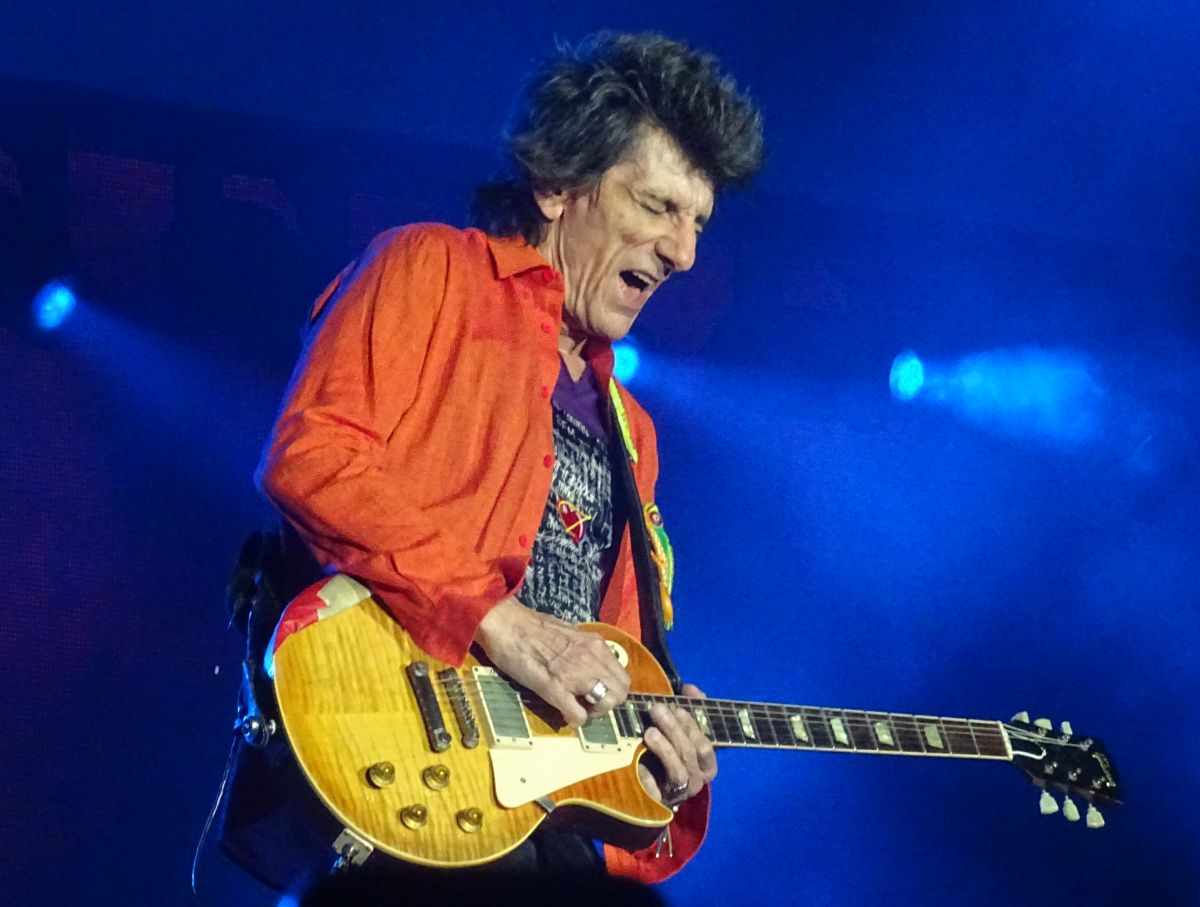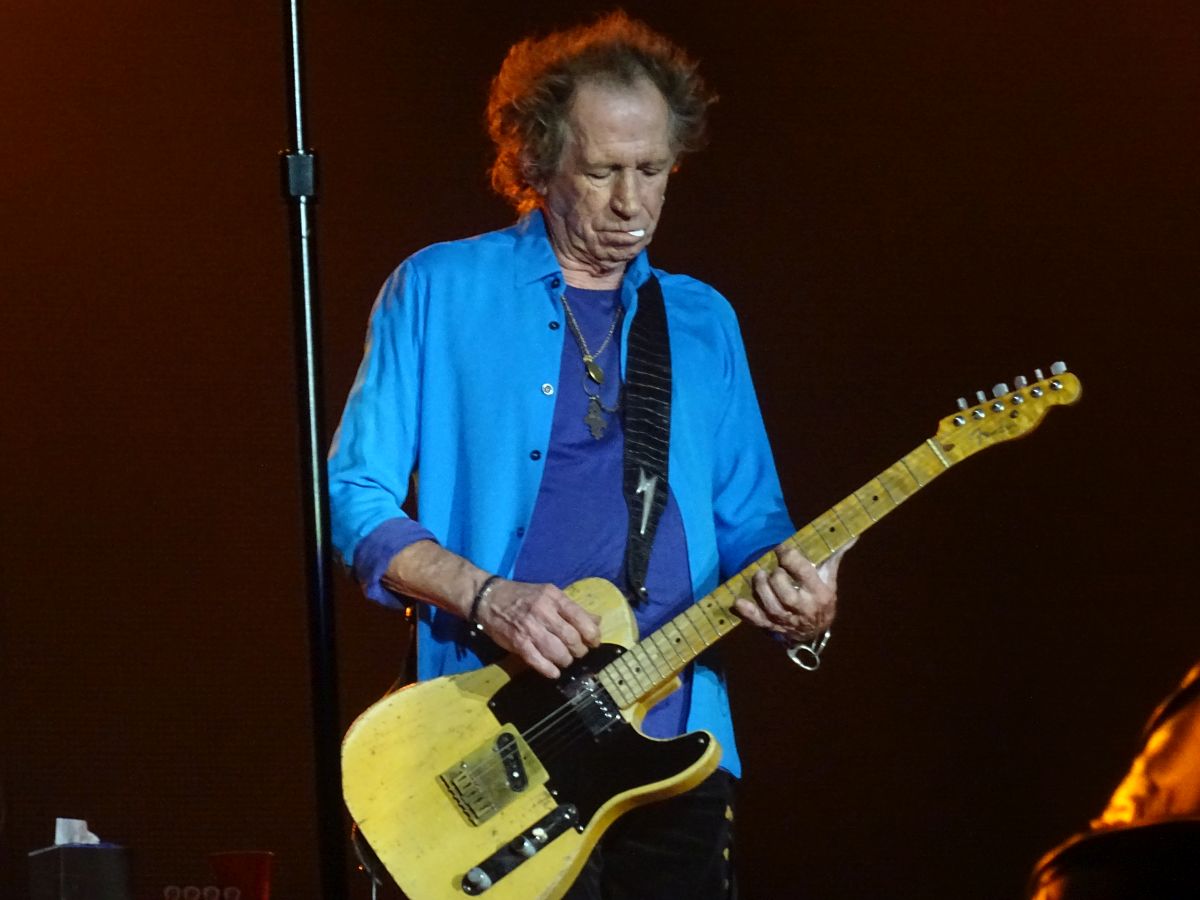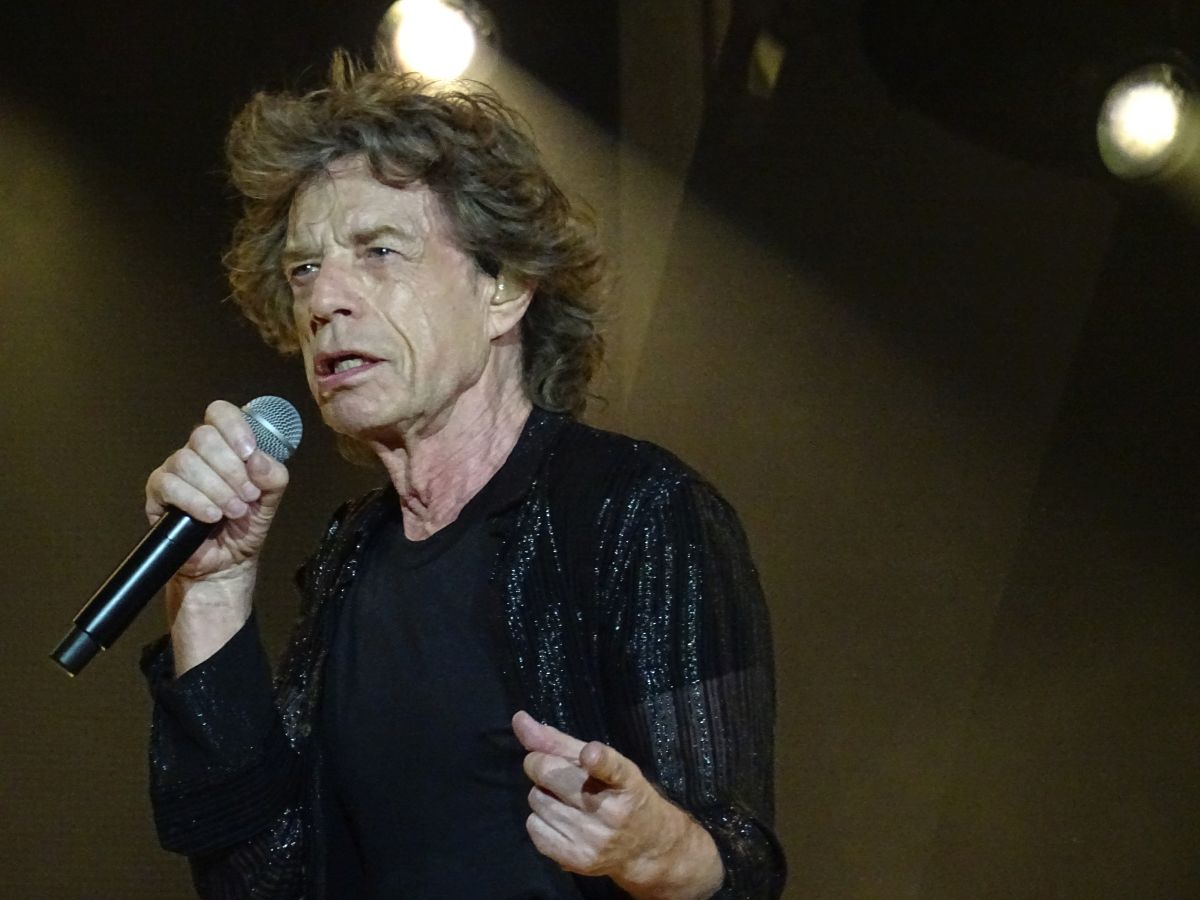 Photos by Bjornulf Vik
---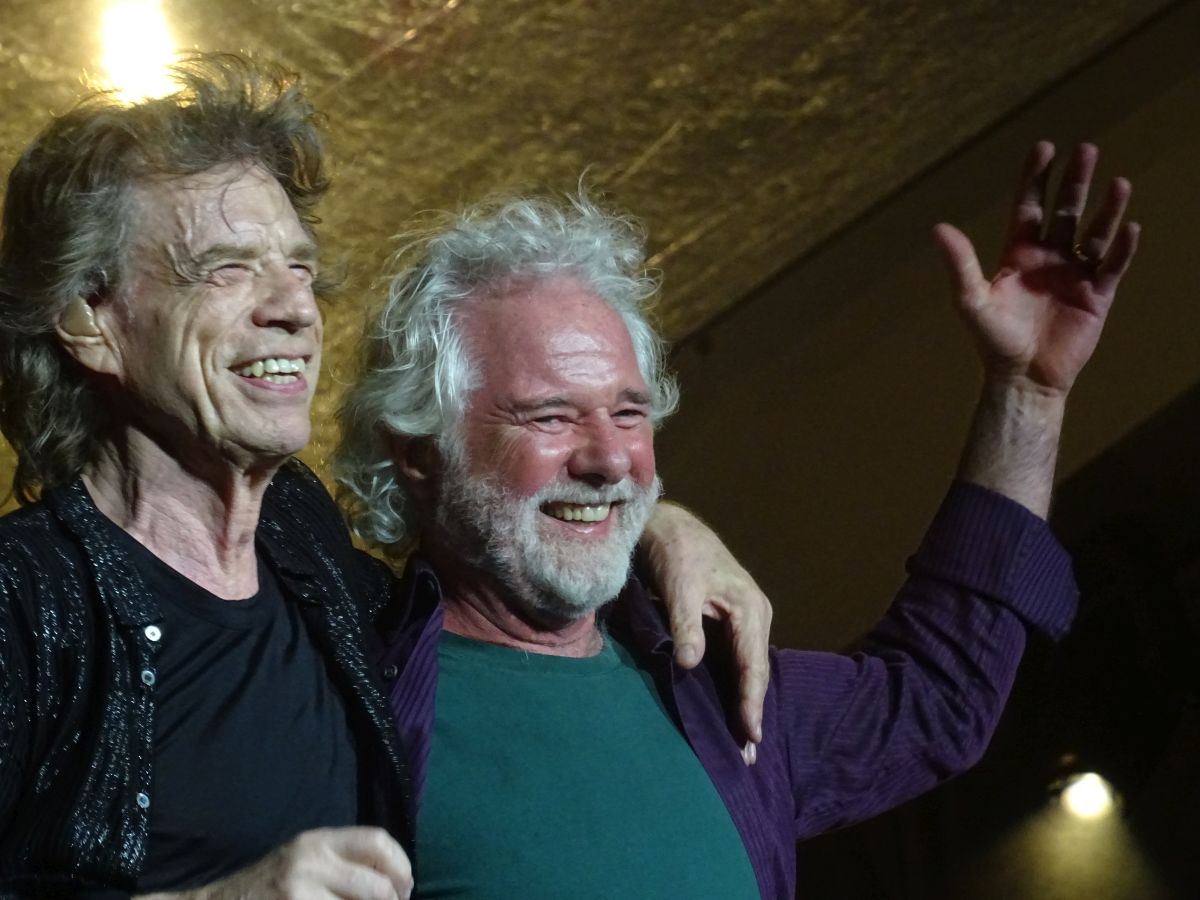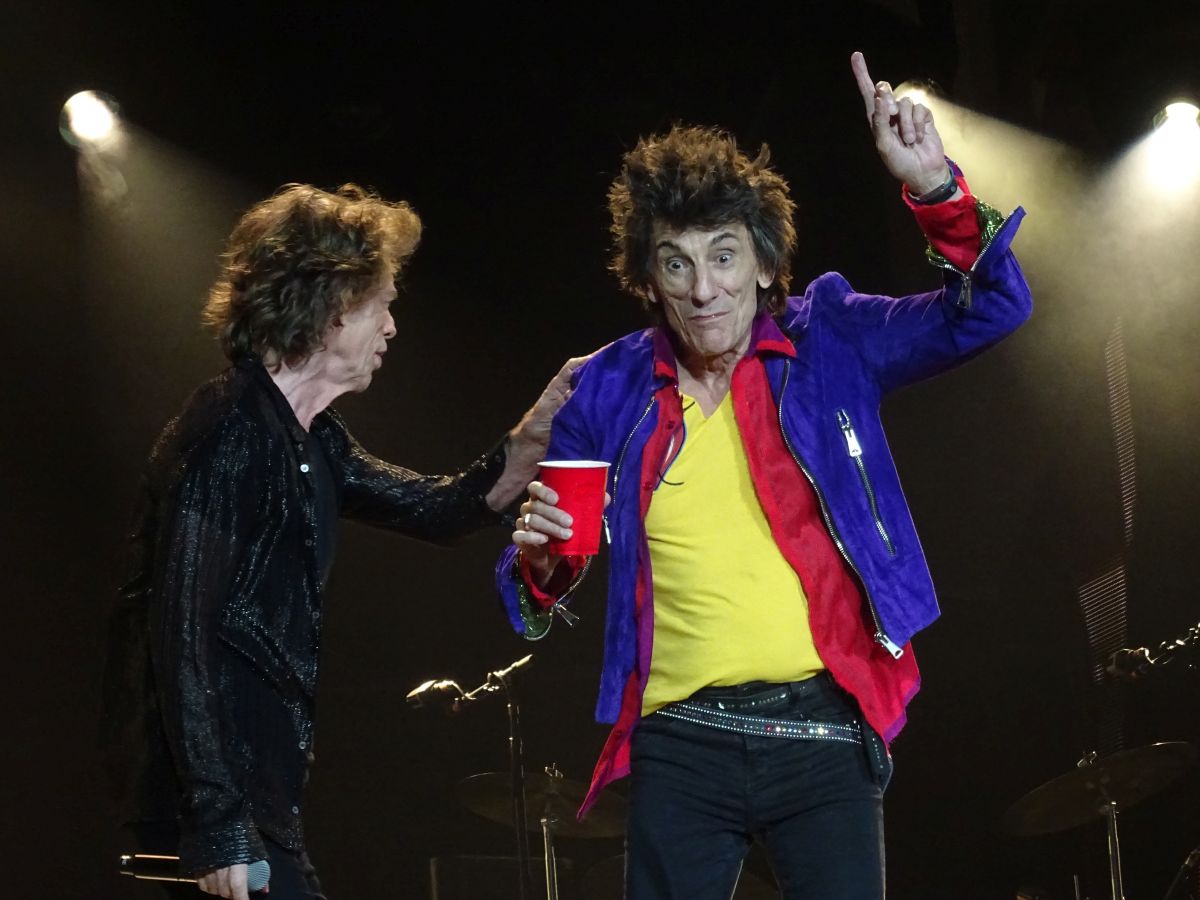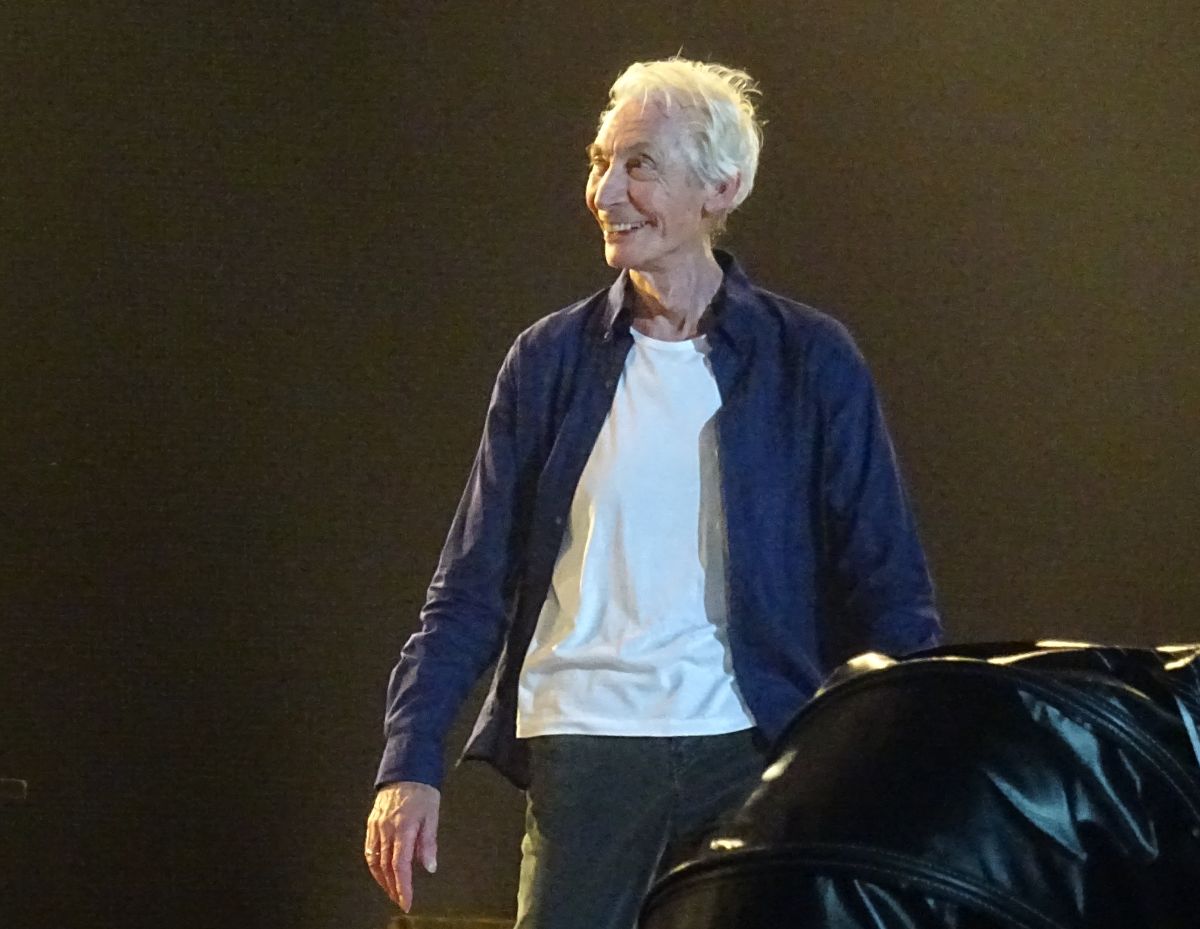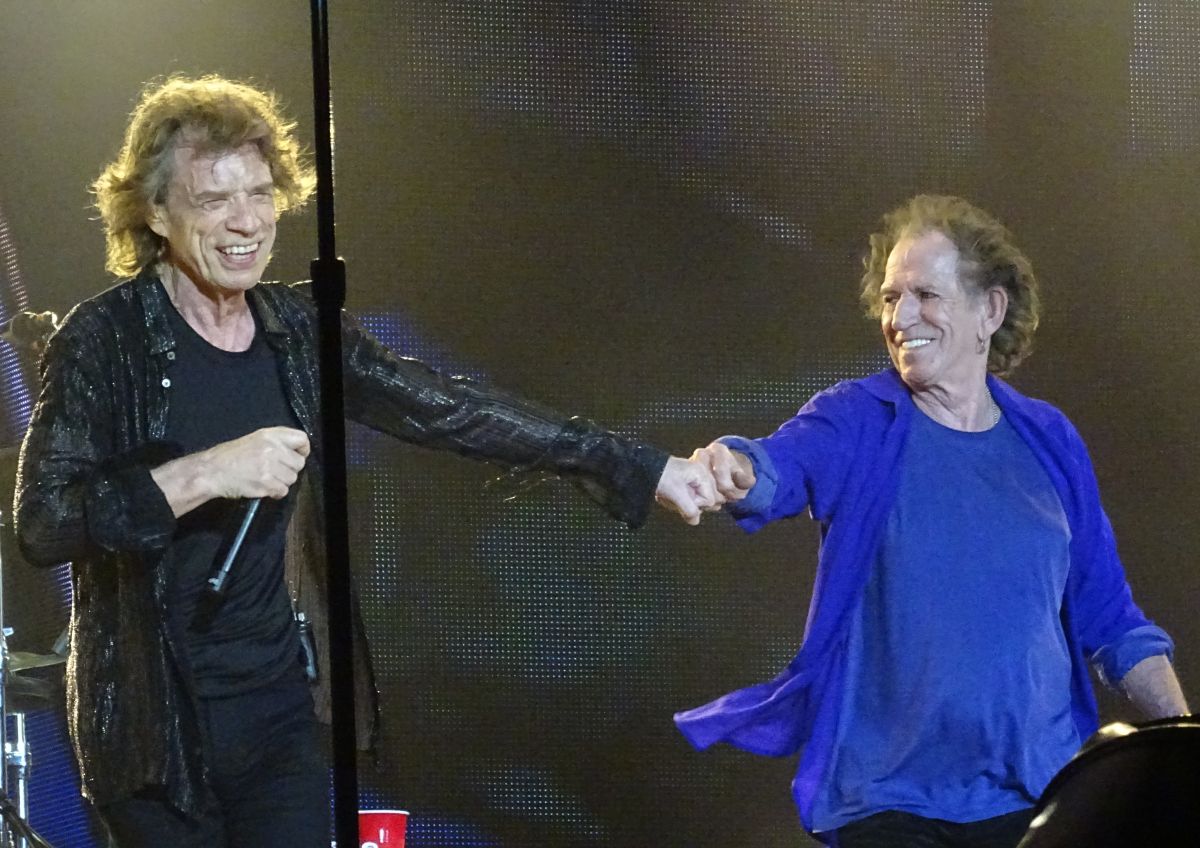 Photos by Bjornulf Vik
---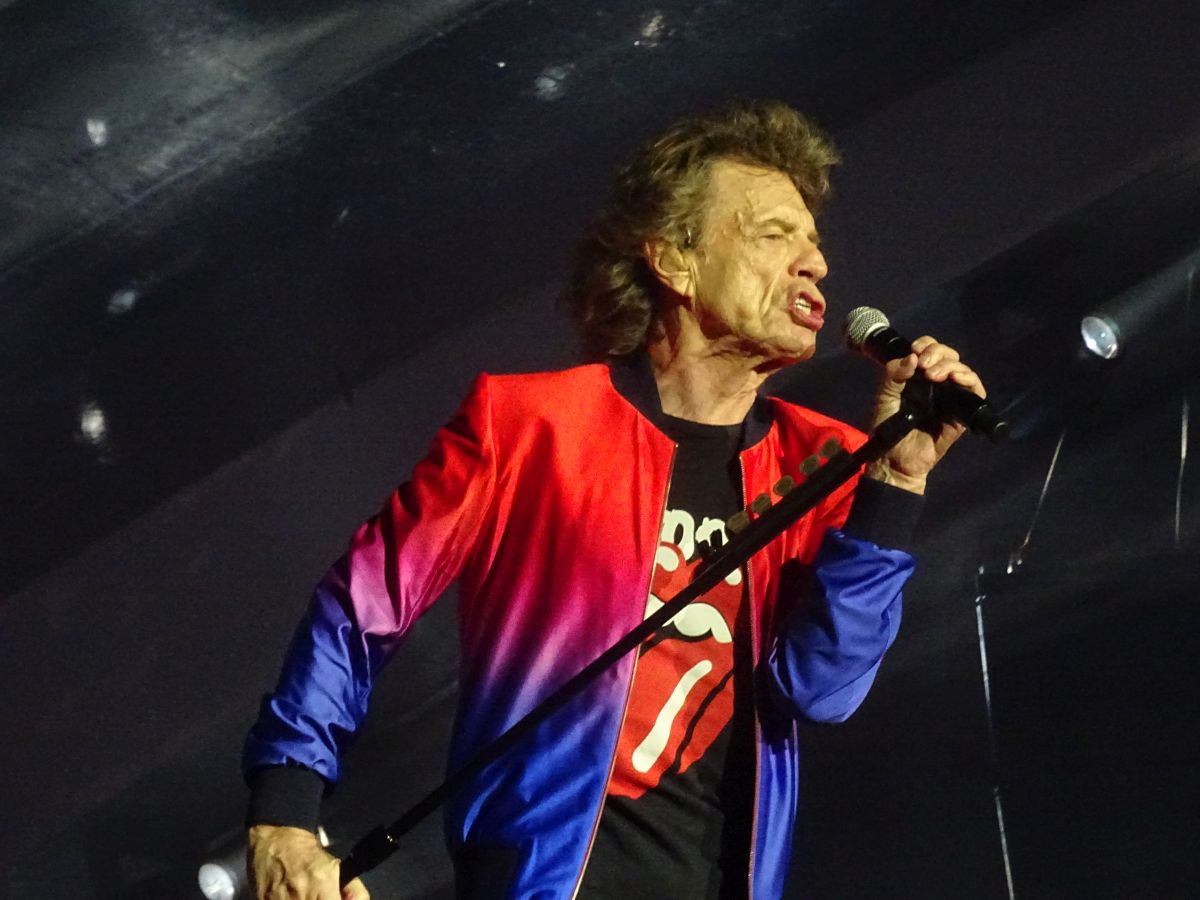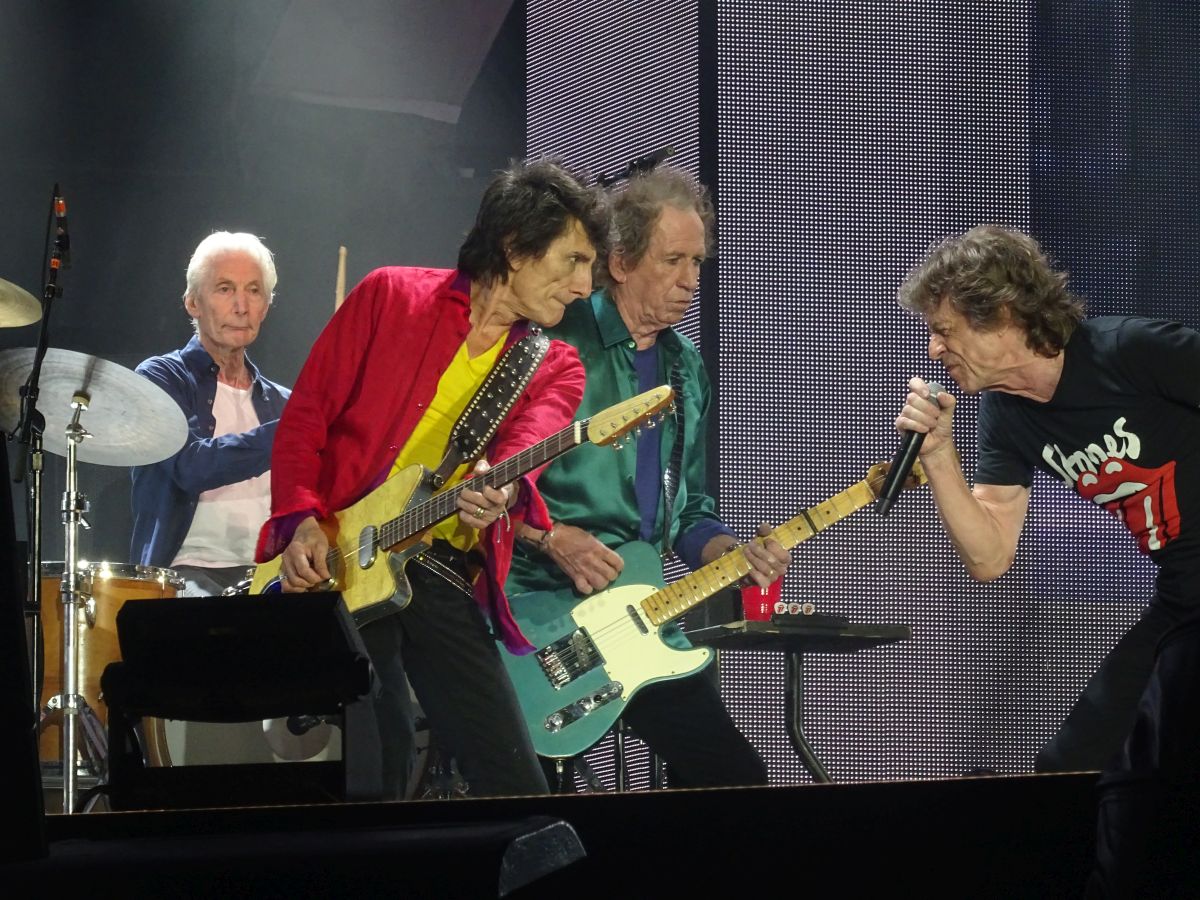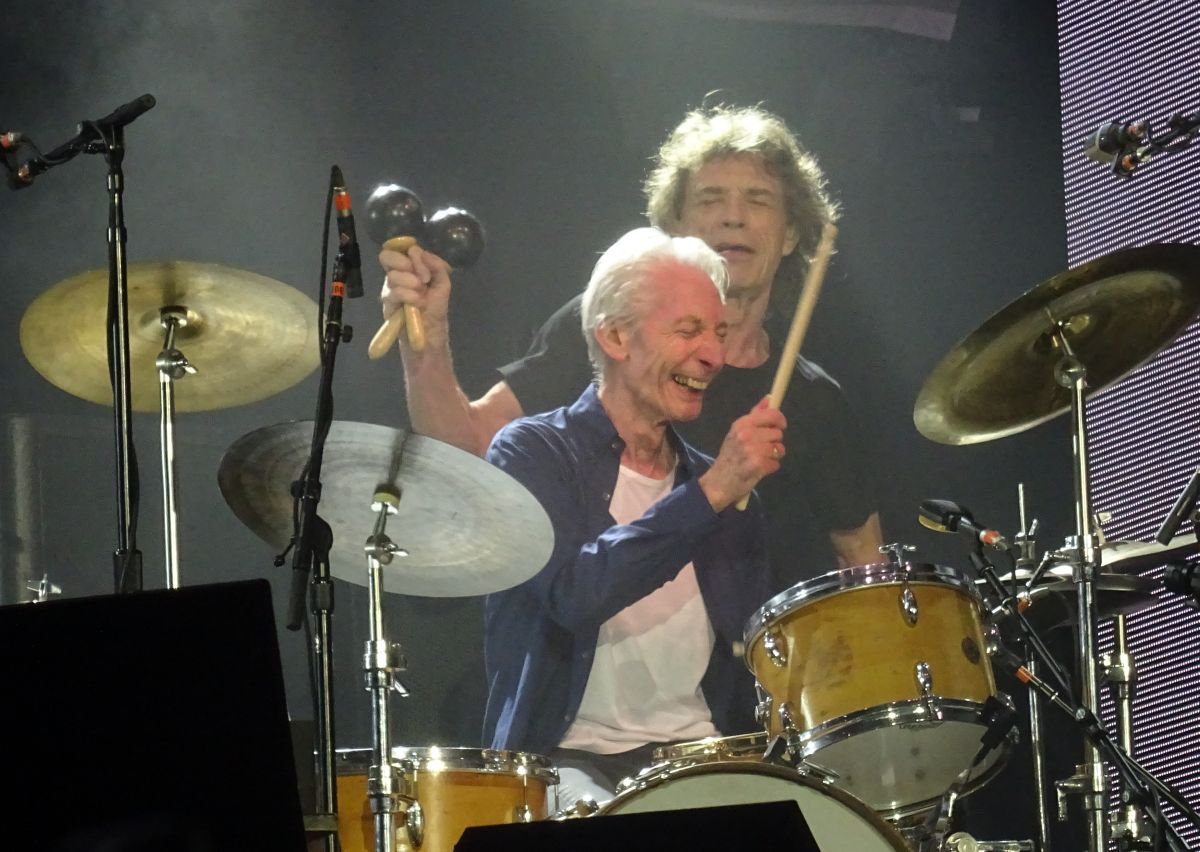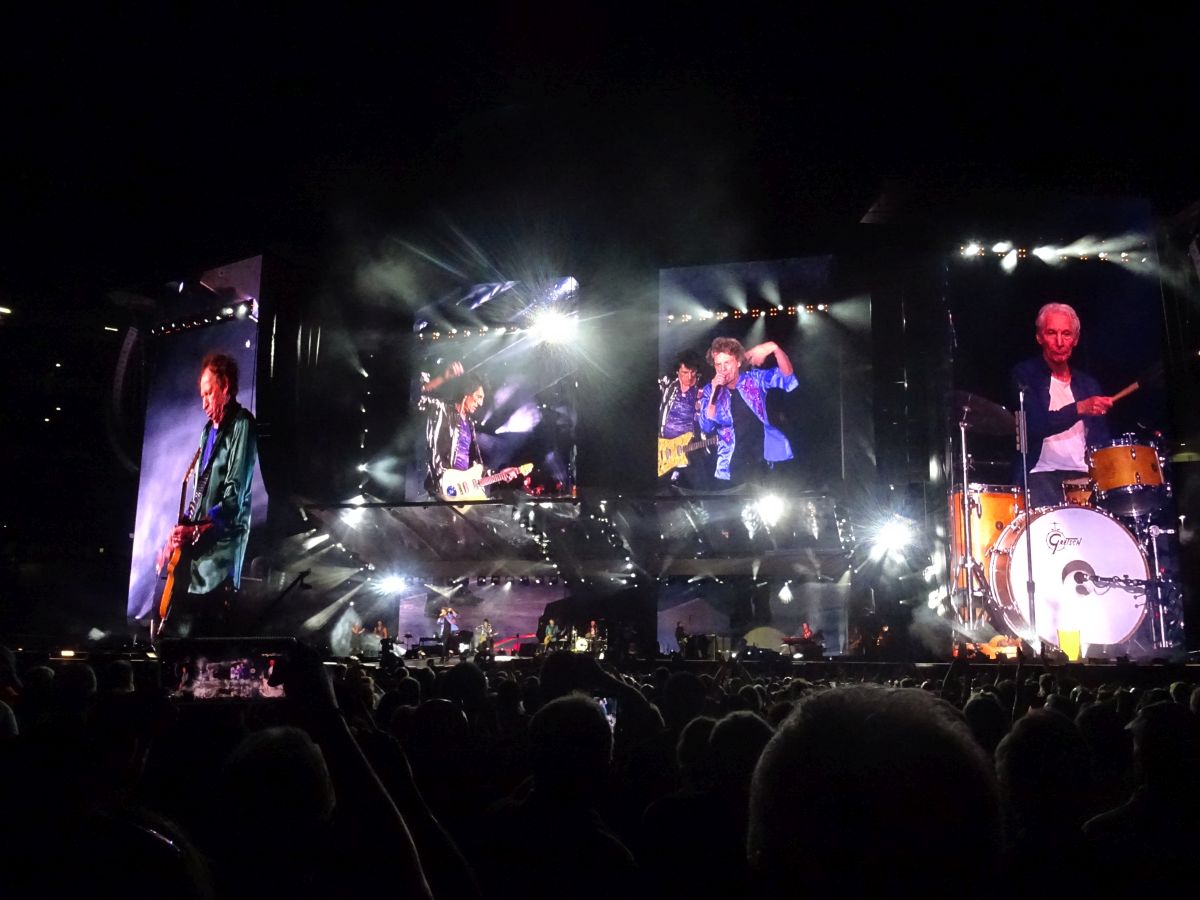 Photos by Bjornulf Vik
---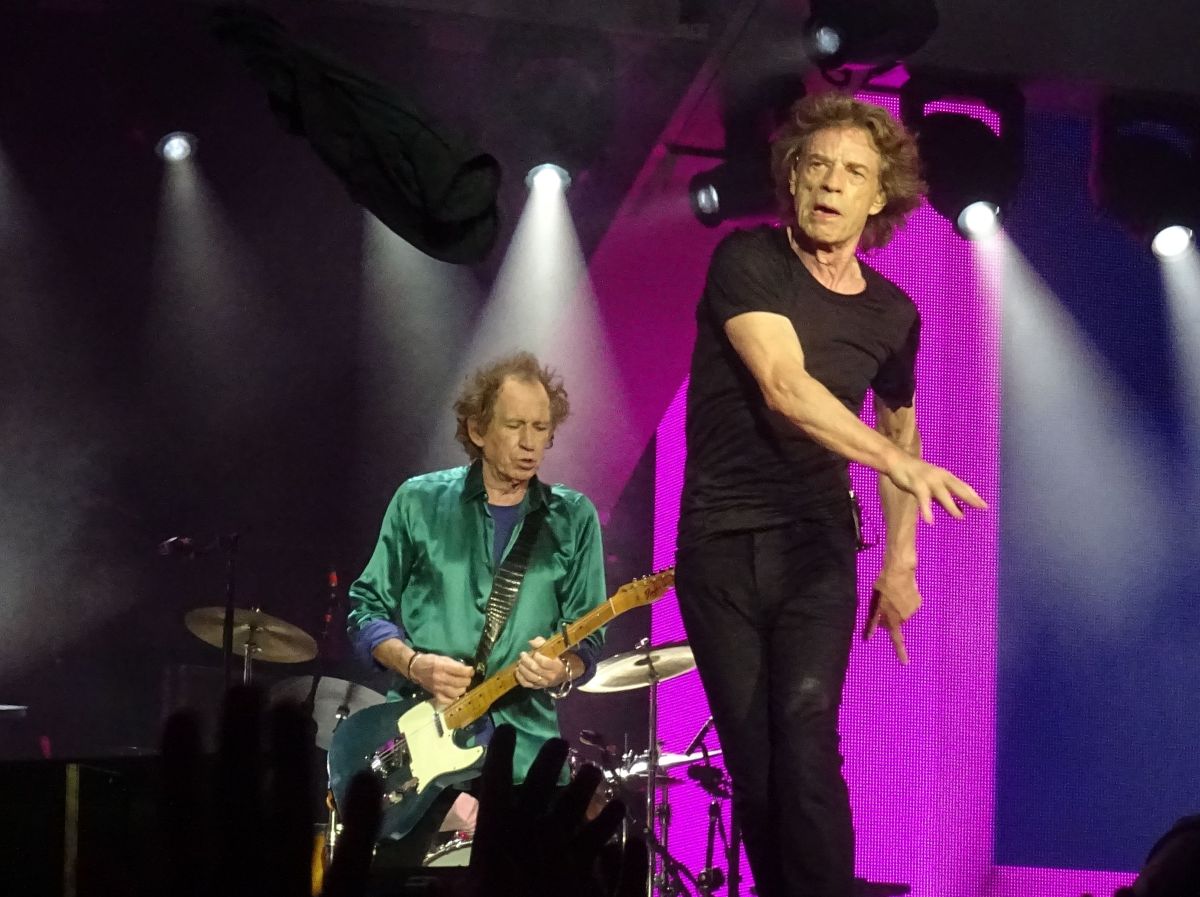 Mick throwing his shirt into the crowd "Ronnie side" - Photo by Bjornulf Vik
---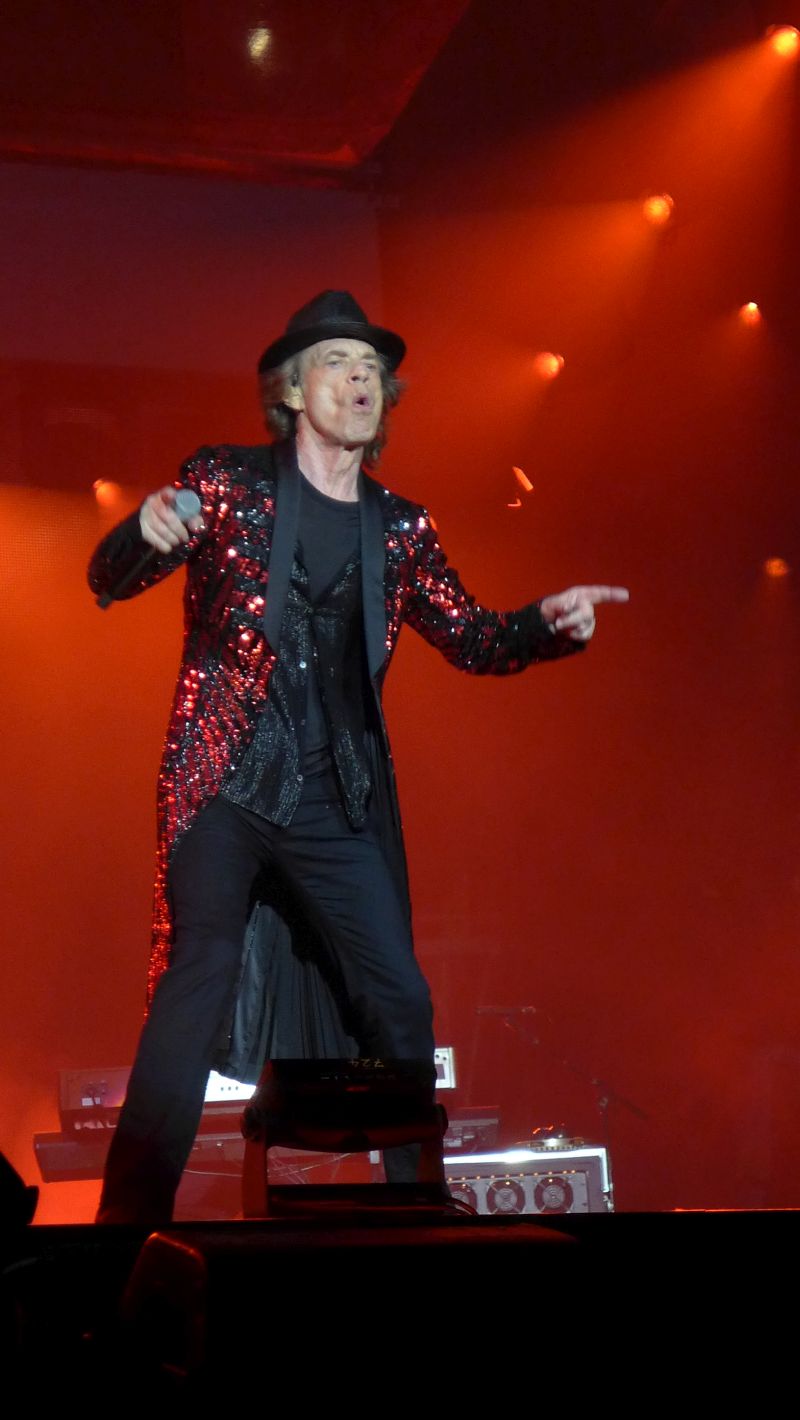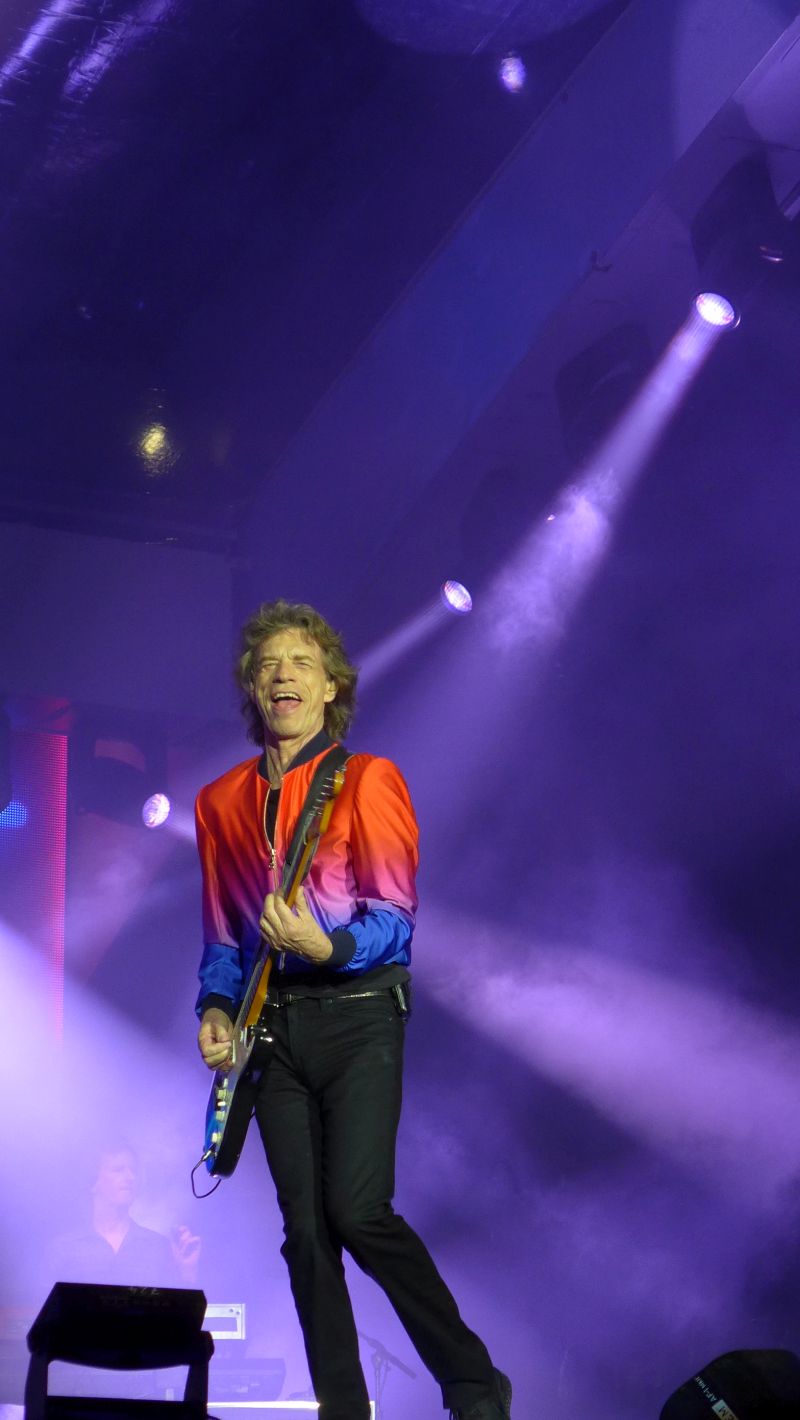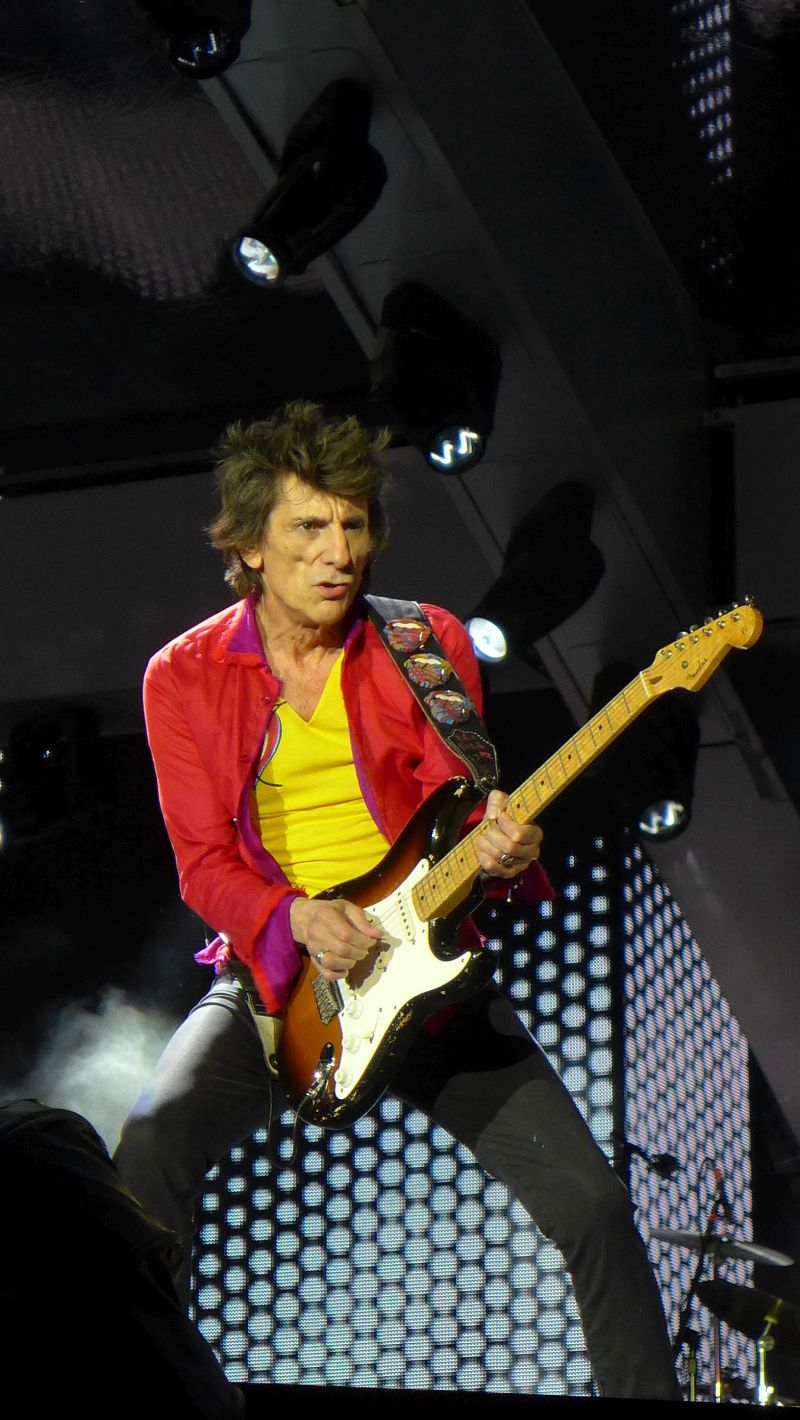 Photos by Victor Woods
---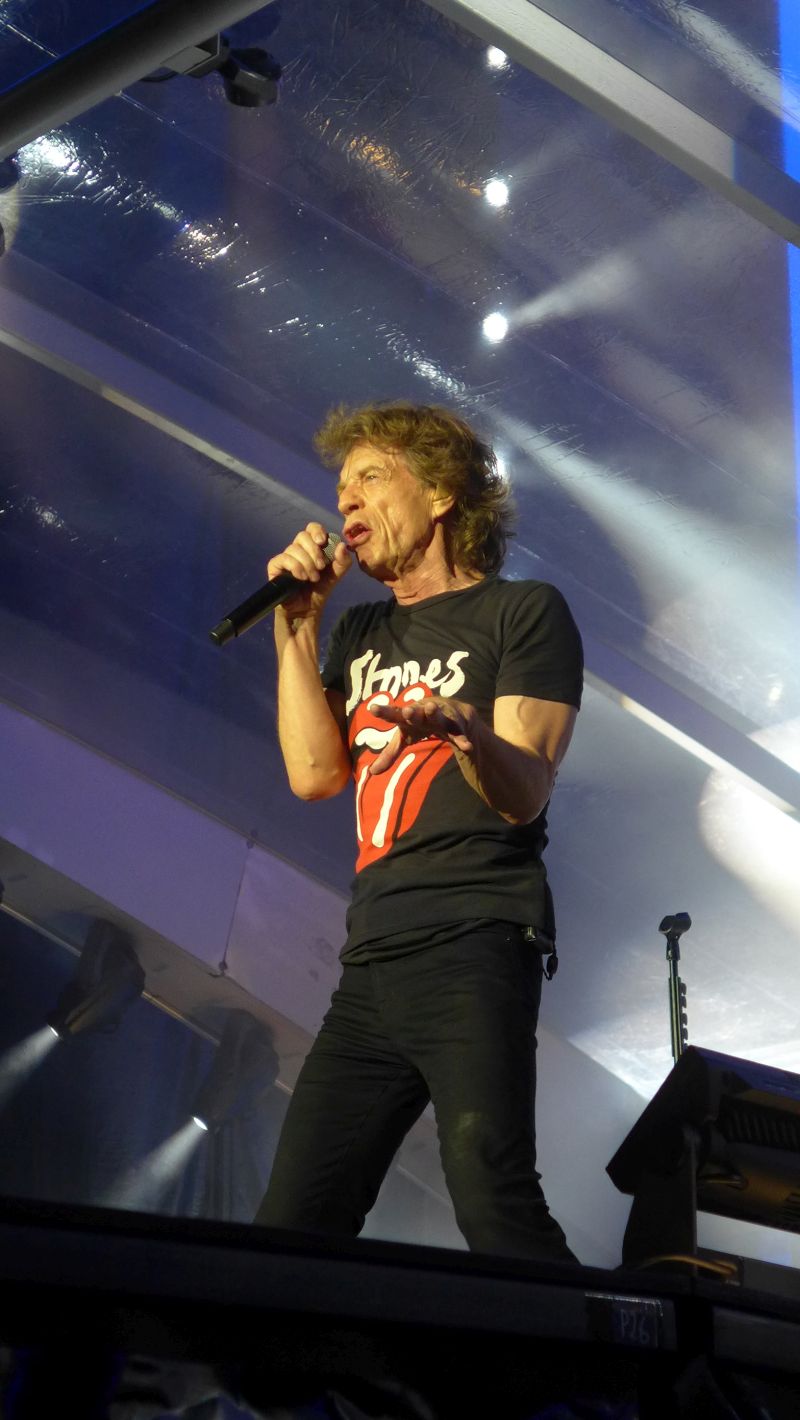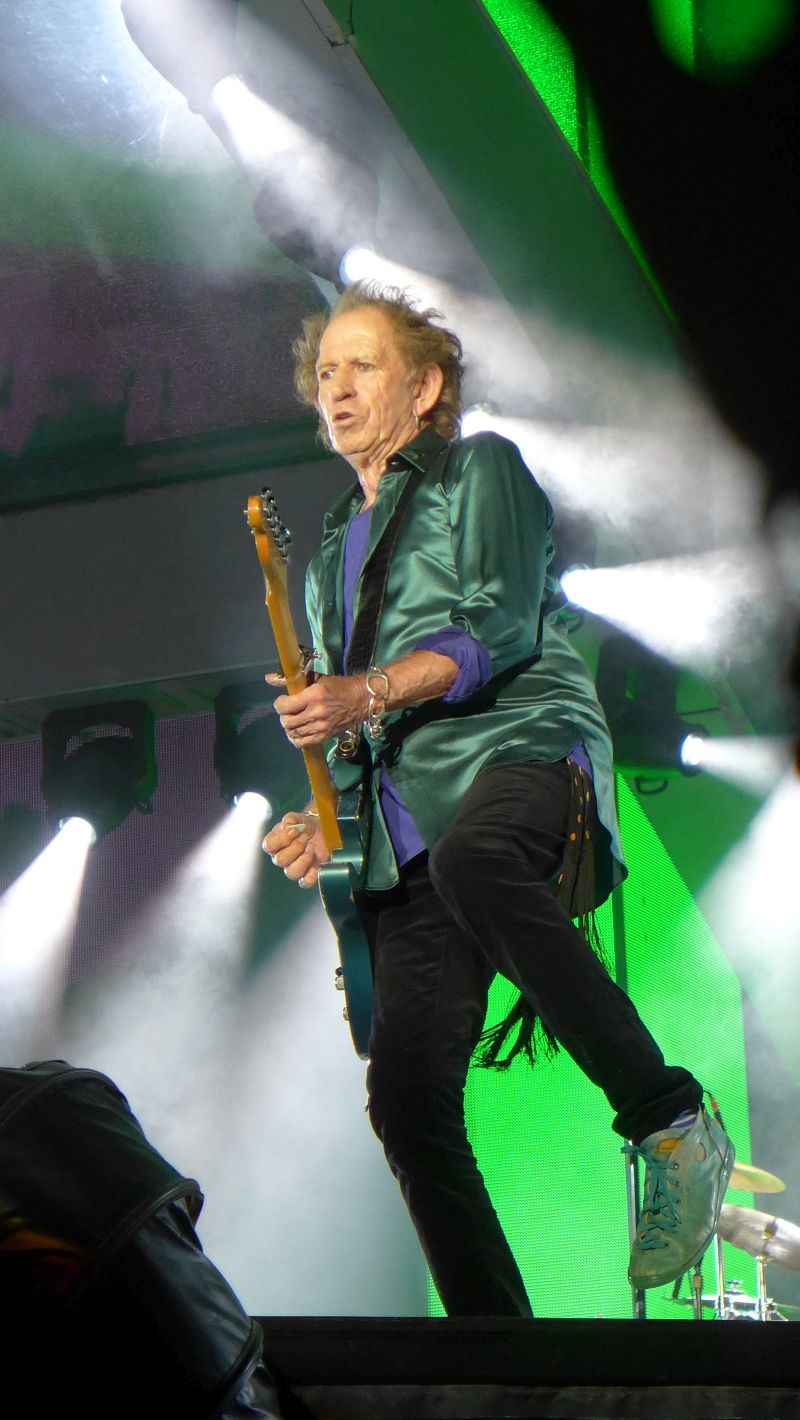 Photos by Victor Woods
---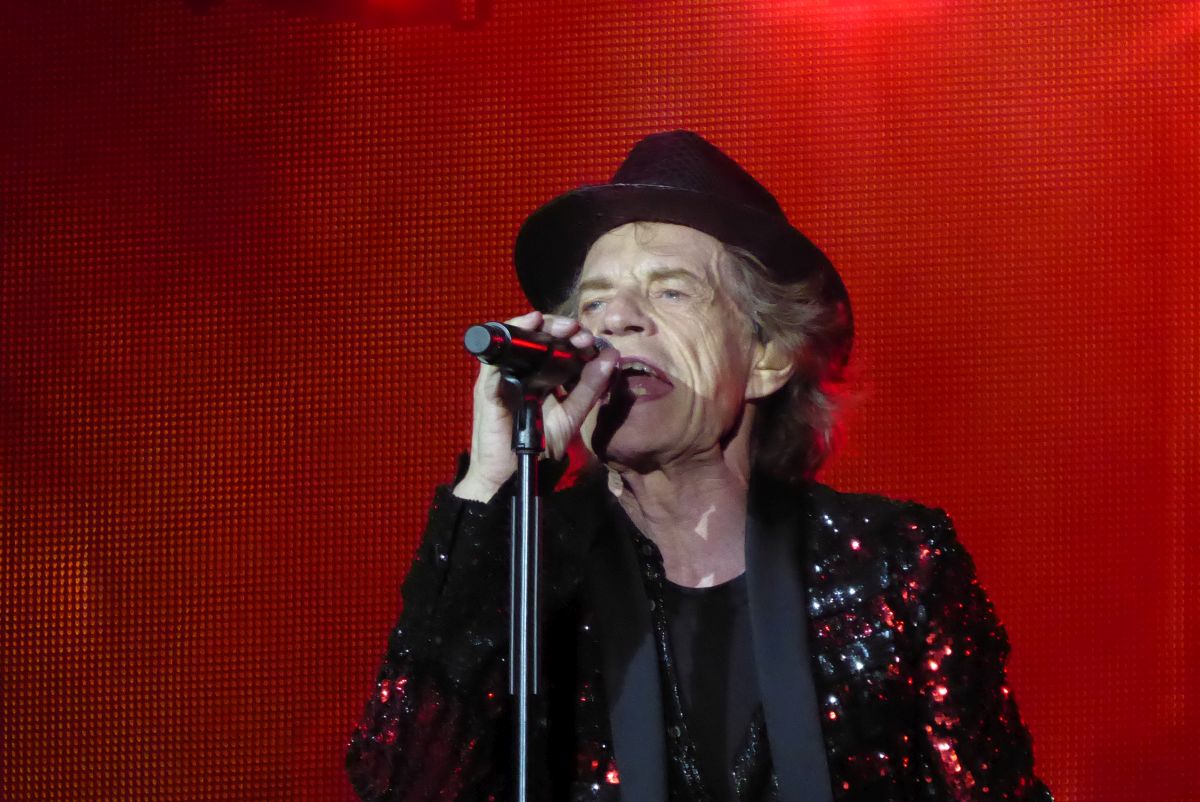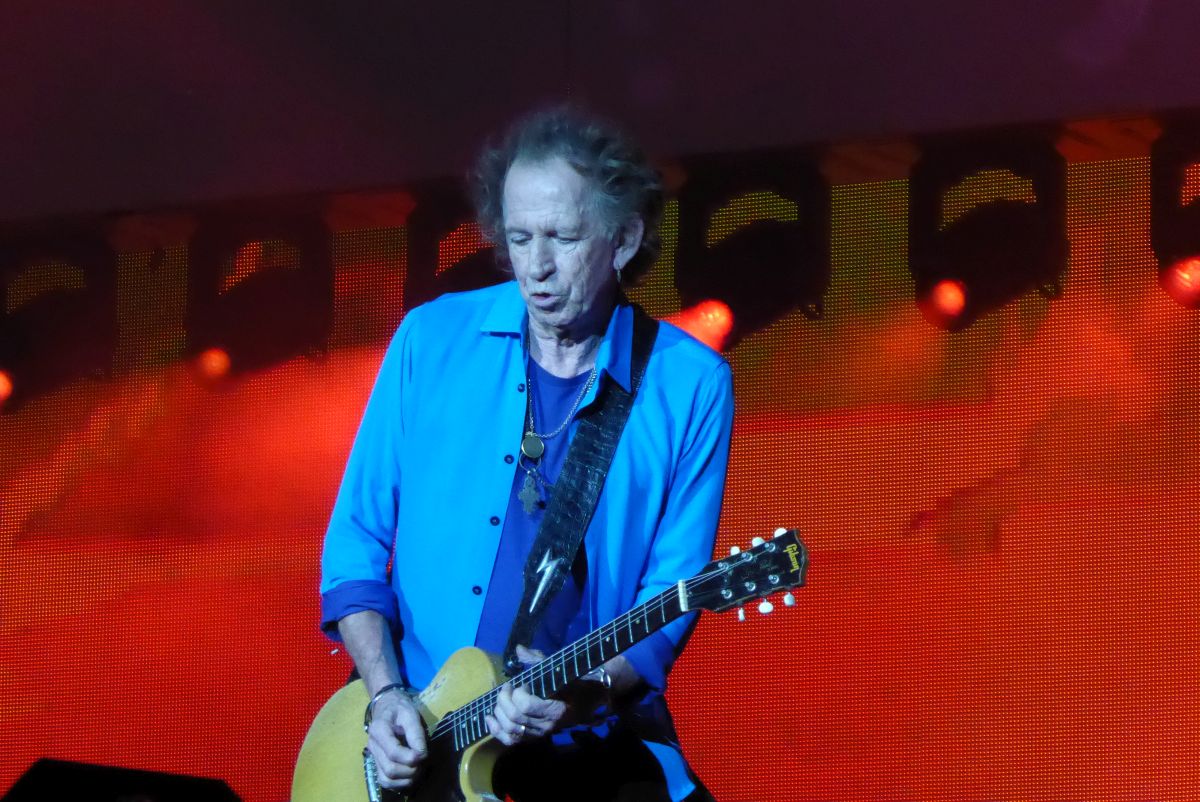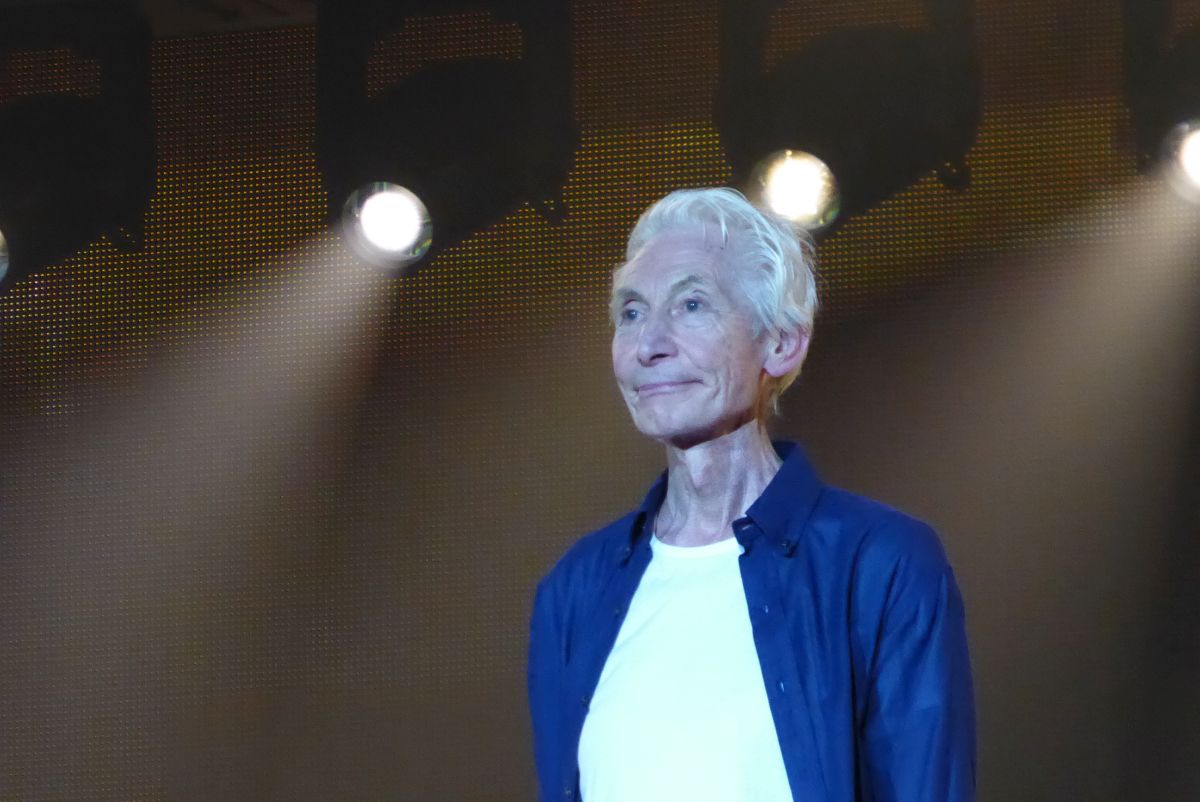 Photos by Jim Miller
---
Photos by Jim Miller
---
This page will change over the next few days, as you and other fans send reviews, set lists and reports. Please send your e-mail to IORR. Thanks! For details and great photos from the Rolling Stones and their World Tour get the IORR magazines.