---
These are the latest Rolling Stones news and updates for you! IORR is a non profit fan club run by fans for fans. All parts of the It's Only Rock'n Roll web site is copyright of The Rolling Stones Fan Club. When using information from this site, please include a reference to IORR and the main web address www.iorr.org.
---
---
The Rolling Stones
T-Mobile Arena
Las Vegas, NV, USA
Saturday October 22, 2016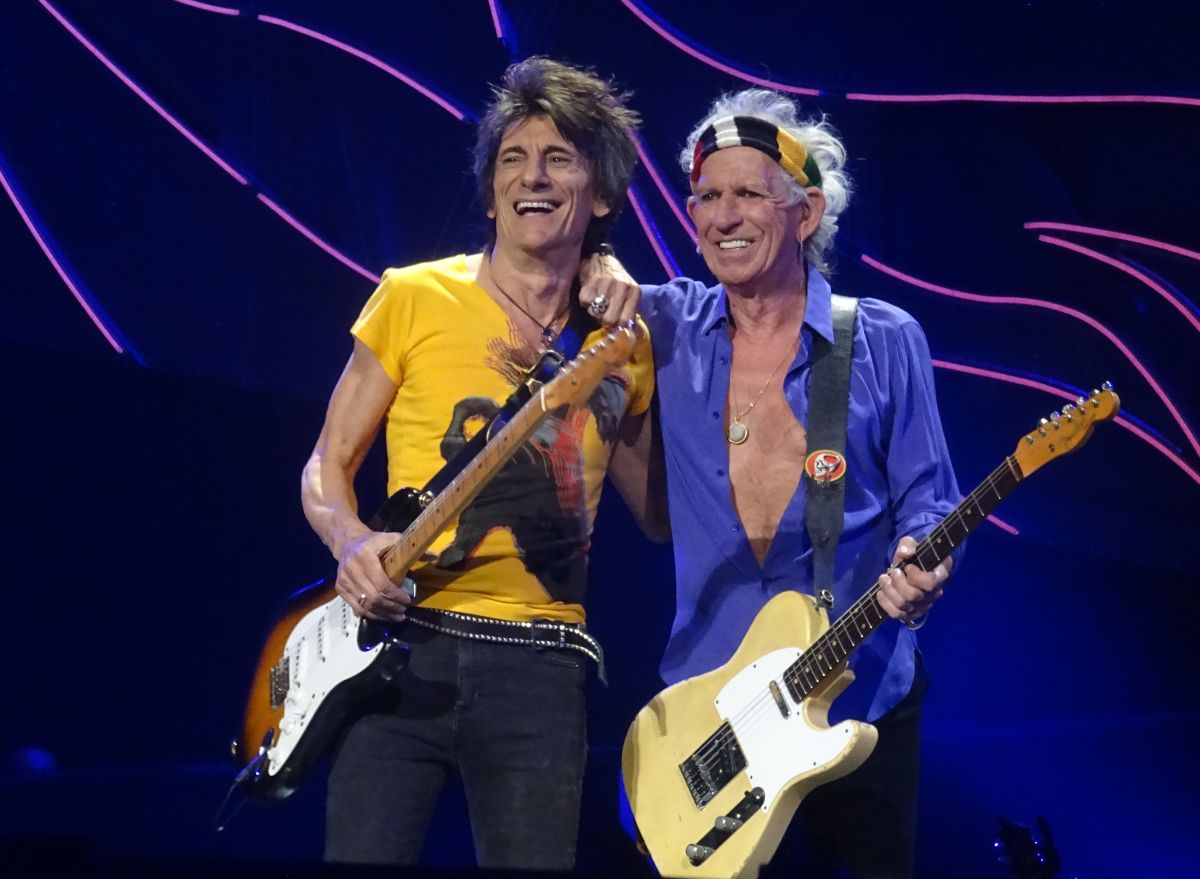 The Rolling Stones live in Las Vegas, NV, USA, Saturday Oct. 22, 2016 - Photo by Bjørnulf Vik
The set list
Jumping Jack Flash
Let's Spend The Night Together
It's Only Rock'n Roll
Tumbling Dice
Ride 'em On Down
Paint It Black
Honky Tonk Women
--- Band introductions
Slipping Away (Keith)
Little T & A (Keith)
Happy (Keith)
Midnight Rambler
Miss You
Gimme Shelter
Start Me Up
Sympathy For The Devil
Brown Sugar
--- Band off stage
You Can't Always Get What You Want (with choir)
Satisfaction
---

Show start :  8:32pm
Show end   : 10:34pm

---
Pre-show info and live comments:
The Rolling Stones Las Vegas show Saturday October 22 - Live show comments
---
Reports please!!!
Please send your comments, reviews, links and more to:

[email protected]
---
Review by Bjornulf Vik
It was an early show start at 8:32pm. With the cancelled show on Wednesday, I was more nervous than usual before shows. My stomack was in pain and my heartbeat was just like I was at the beginning of a race. Even after all these years and shows I never seem to get used to just relaxing before the show is on. I was early at my seat, and as the clock was ticking I just wished they would hit the stage. The local security guy next to me was very kind, he told me all about this new venue, the hockey team they will start here, and before we knew it, The Rolling Stones were on.

I could clearly hear that Mick's voice wasn't completely healed. It was dry and for the first half hour I was worried. After the Keith set he came out more powerful, the three songs Keith did probably did Mick great as a rest of his voice.

After "Tumbling Dice" Mick would like to apologize for the inconvenience because of the cancellation of the show on Wednesday. He also said he went to a David Copperfield show, and he made him disappear on Wednesday. Later on, Mick commented about the new hockey team they will announce soon here in Las Vegas. He had several suggestions for team names including "Las Vegas Hookers".

The lyrics of "Miss You" was changed. Mick changed the phrase "Puertorican girls" into "Argentinean girls". This song is where Keith an Ronnie join Mick during a quick trip out to the extended stage. The spotlights in the arena were lighting up the three of them as the crowd went nuts. Unlike most other shows I have seen with The Rolling Stones here in Las Vegas, this was a wild great show. The suit and tie some use to wear at shows here was left back in the hotel room or at home. The fans were dancing and singing all over, also in the upper decks of the arena.

Mick and Keith was close through the whole show. Often Mick came over to join Keith on a solo or a session, other times I could see Keith was following Mick with his eyes as Mick was out there on the extended stage. Many smiles in the band, sure everybody was happy about being on stage after the cancellation on Wednesday.

Keith took the stage after just seven songs. When they started "Honky Tonk Women" as song number seven I knew it would be an eighteen song set list. Keith said "Because of the situation in the band I will do two or may be even three songs". His daughers and family joined there right in front of me, watching Keith doing his three songs in a greast way, and they had a great time. During "Happy" my local security man, who had been watching the crowd so far with a pale face, went into a sudden smile, and he smiled for the rest of the show. He even managed to turn his head a few times, briefly, again with a smile, to see Keith and the rest of the band. I am sure he wished he was in the crowd tonight, the band was on fire.

While I was nervous before the show, I was all pumped up and excited after the show. I had seen the best show the Stones have performed for me in Las Vegas. There were so many friends from all over the world at this show, I was happy that we all got to see the show, knowing how close they were not to be able to perform this show at all, with the laryngitis problem Mick had. There was so much power and excitement in the band and in the crowd tonight. I will be smiling for a long time as I have this show in my mind...
---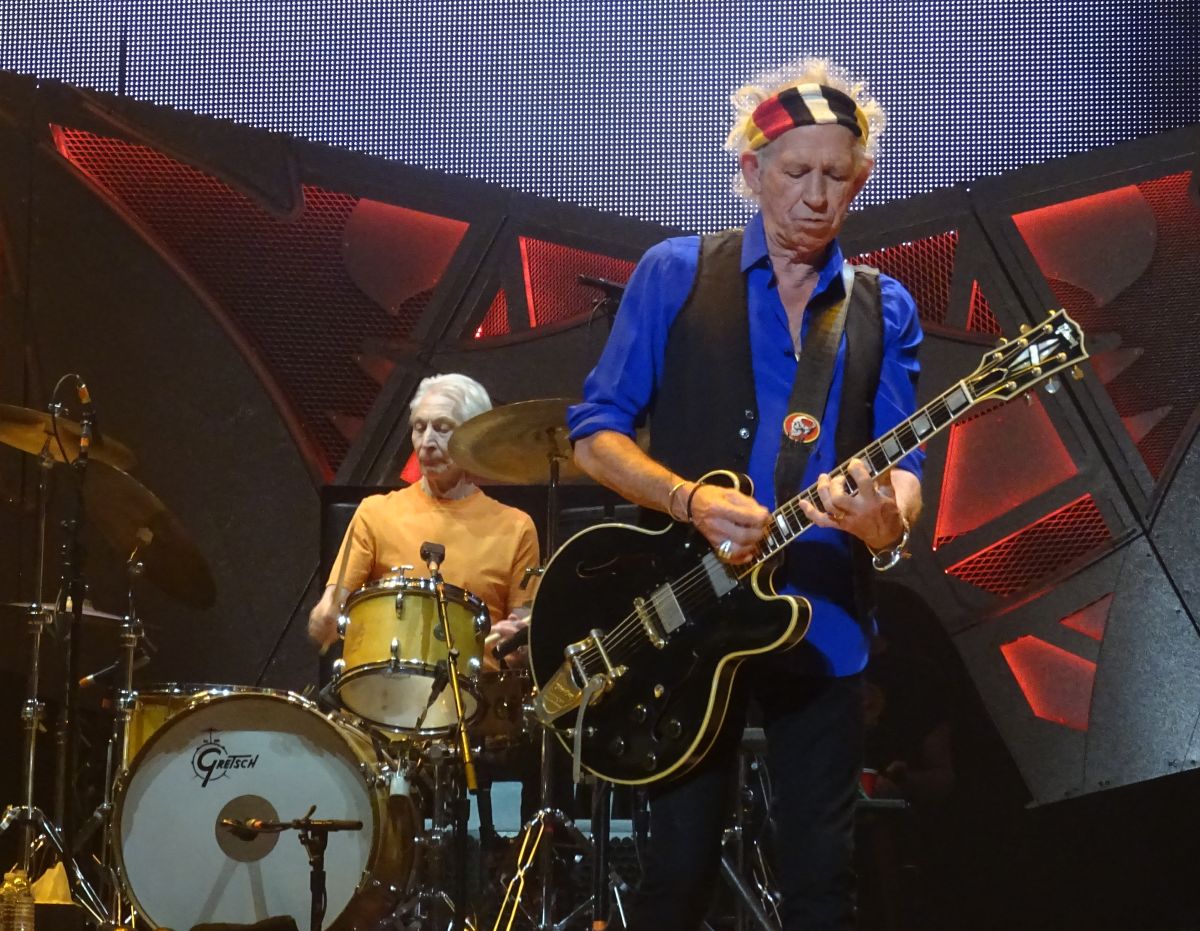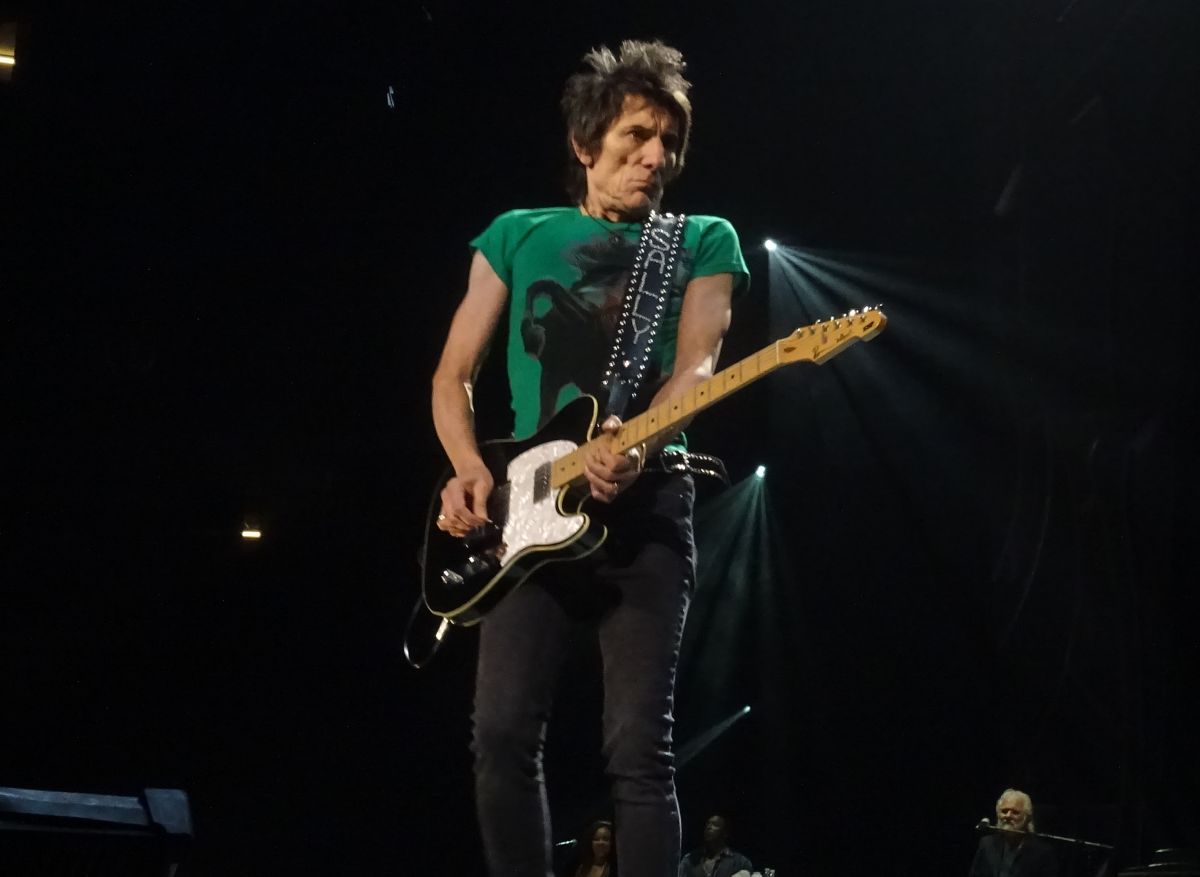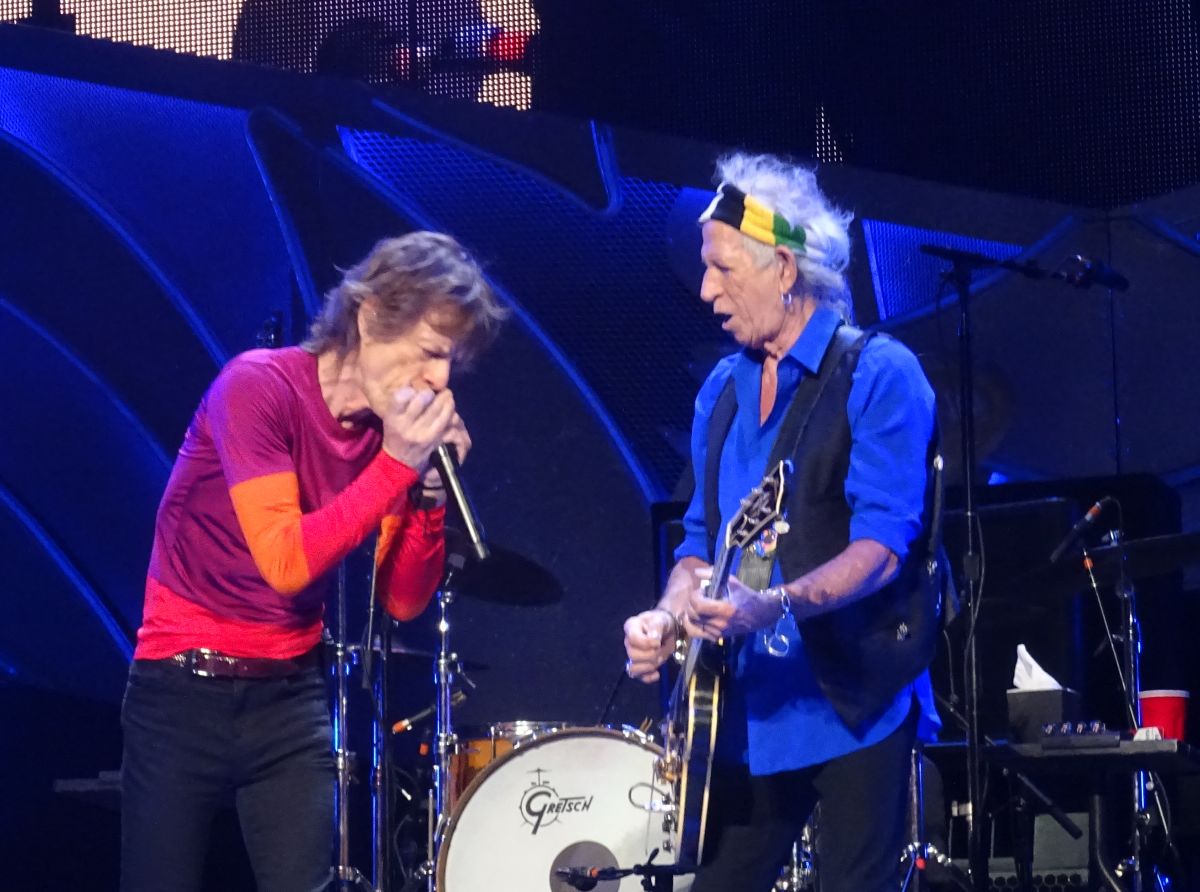 Photos by Bjørnulf Vik
---
Review by Eric Ward
Spent the day out at the Valley of Fire yesterday which is absolutely stunning. Only a one hour drive from the Strip, but seemingly a millions miles away from all the casinos, crowds, concrete, and chaos. We've been there several times in the past, but it's always beautiful and changes depending on what time of year it is. Temps were a pleasant 85F with clear blue skies, and it wasn't crowded which made it all the more pleasurable.

Made it back to Tropicana around 3:00 and started checking stubhub as I had a bit of interest in getting a pair of tix for my wife's birthday (it was either that or give her a large wad of cash to play at the blackjack tables). I ended up doing both as I was able to get a pair of rear floor seats for a very reasonable $266 each.

We stopped by the Beerhaus on our way to arena at about 7:00 but it was still really crowded and didn't recognize anyone, so made our way into the arena. Bought a couple of $12.00 draft beers, and settled in at our seats with an empty seat on either side of us. Seemed like quite a few empty seats in the house initially, but eventually all filled up...wonder if they were giving them away?

It was a fine show last night. Mick did profusely apologize for Wednesday's cancellation early in the show, and then later made a joke out of it - "David Copperfield made me disappear" or something like that. He also joked alot about a new team name for the arena, but I didn't even know Vegas is getting a new team...is it the NBA? I've heard the Raiders may move out here, but that would be stadium. Vocally, he seemed semi-subdued throughout with less whoo-whoo-ing during Sympathy and the ending pf Brown Sugar's, "I said yeah, yeah, yeah, whooo!", but his physical command of the stage and catwalk was as good as ever - perhaps making up for his lack of vocal strength. I was pleased to here 'Lets spend the Night Together' - a tune that was not played at either Desert Trips. Ride 'Em on Down was nice enough, but lacked the punch of the Desert Trip take on it - maybe the element of surprise was gone, but it seemed a bit generic - nice harp from Mick though. People around us started chatting, and several took off for beer or bathroom. It didn't go down very well with the casuals. I was happy to hear Happy, but Ronnie was a bit heavy handed on the slide - where it's nice and delicate on studio version, last night it was a but sloppy and grumpy. Absolute highlight for me was Midnight Rambler, while my wife loved Gimme Shelter and the 'new singer' whom she hadn't seen before. Both of us loved You Can't Always Get What You Want -great choir, and it ended in a joyous stomp. Suddenly ending with Satisfaction, it was hard to believe they wittled down the setlist to just 18 songs, but who was I to complain. And considering Micks situation, I suppose understandable.

It's bittersweet to think this may be the last time (for me) of ever seeing the Stones again, but I've had tons of fun seeing them multiple times in a variety of venues since 1981 (stadiums, arenas, theaters, and clubs). I've seen them on average once a year for every year of my life, and the last few weeks with these three shows would be an appropriate bookend to it all. I doubt I'd pay to see them again in a stadium, and probably not again in an arena (unless the prices were right), and I certainly won't be making any long distance travel plans to see them. But when all is said and one, there's been far more good times than bad times, and they've provided me with memories and a soundtrack that will last forever. With all that said, never say never...looking forward to new blues album and whatever the future holds for the Stones.
---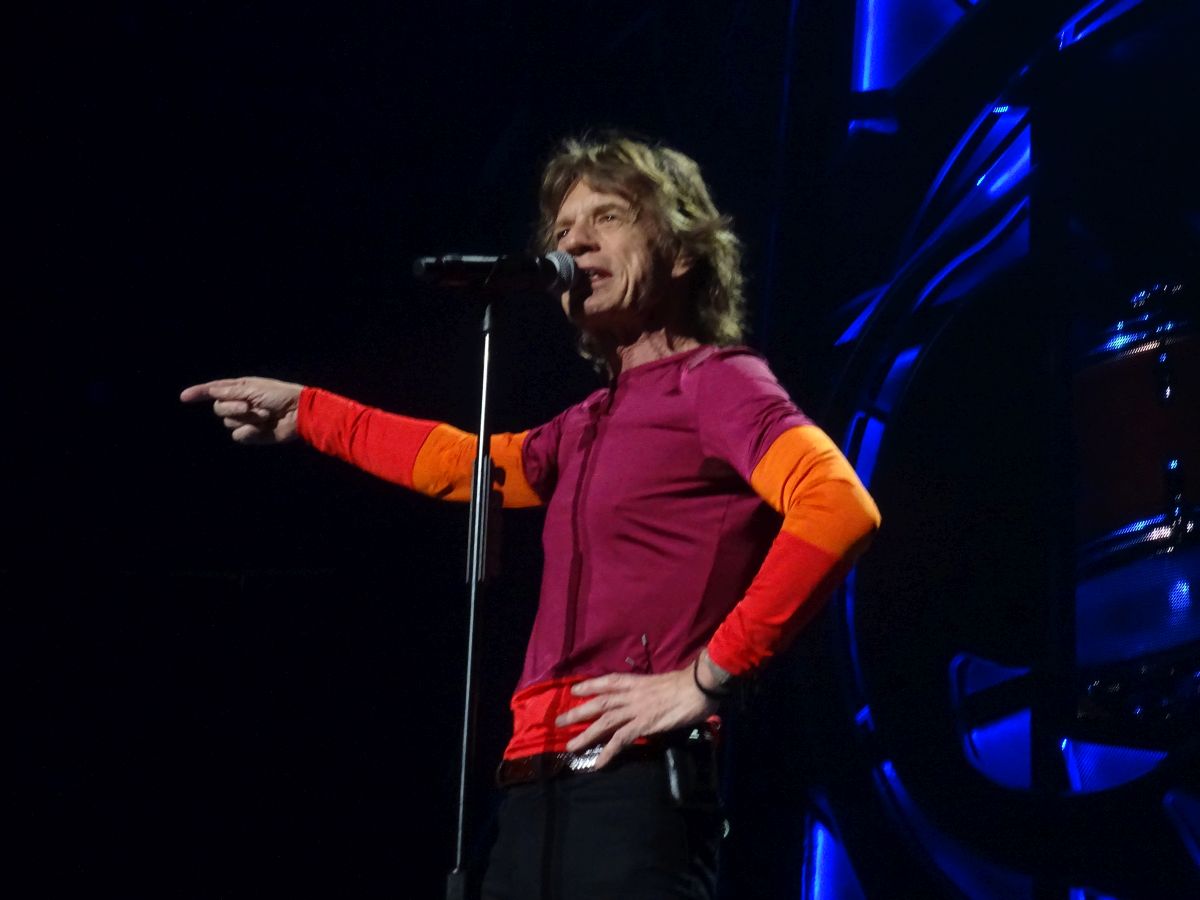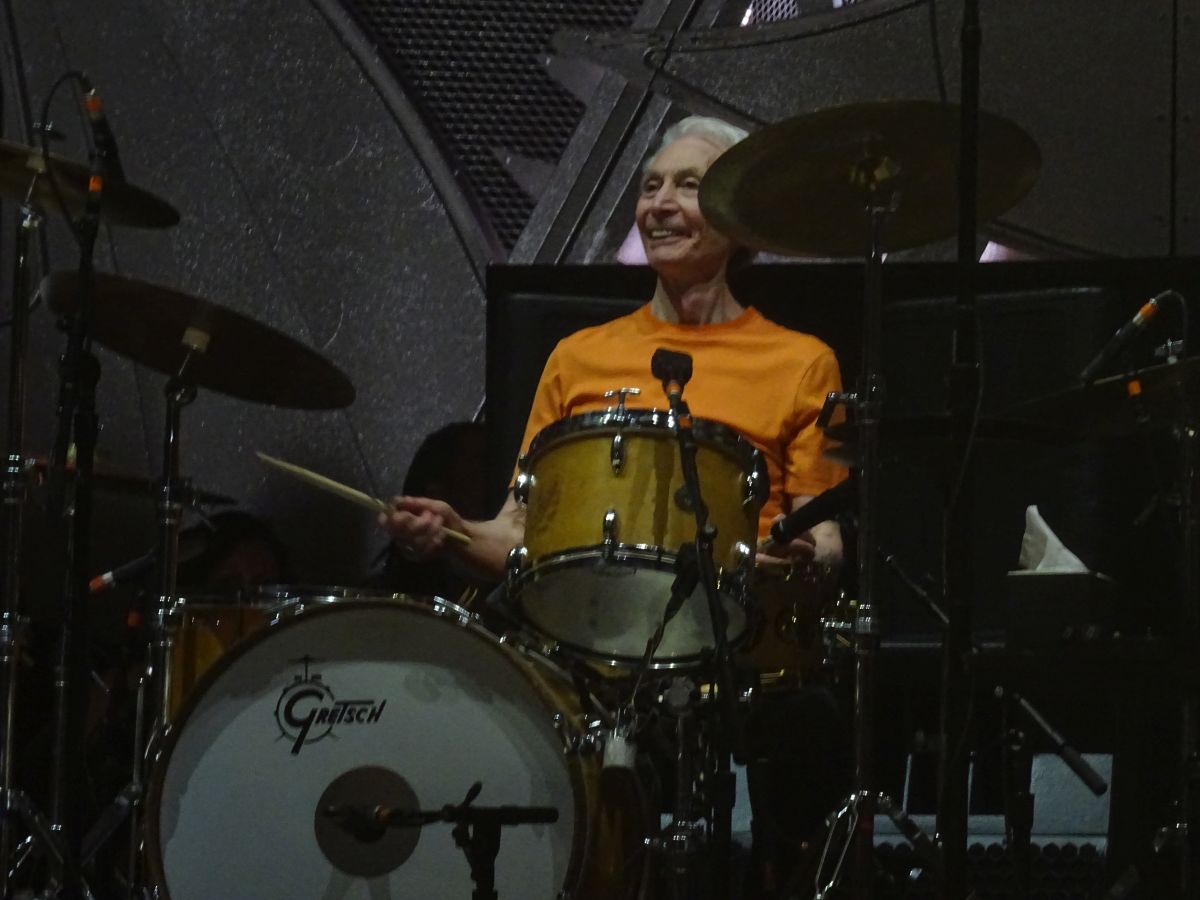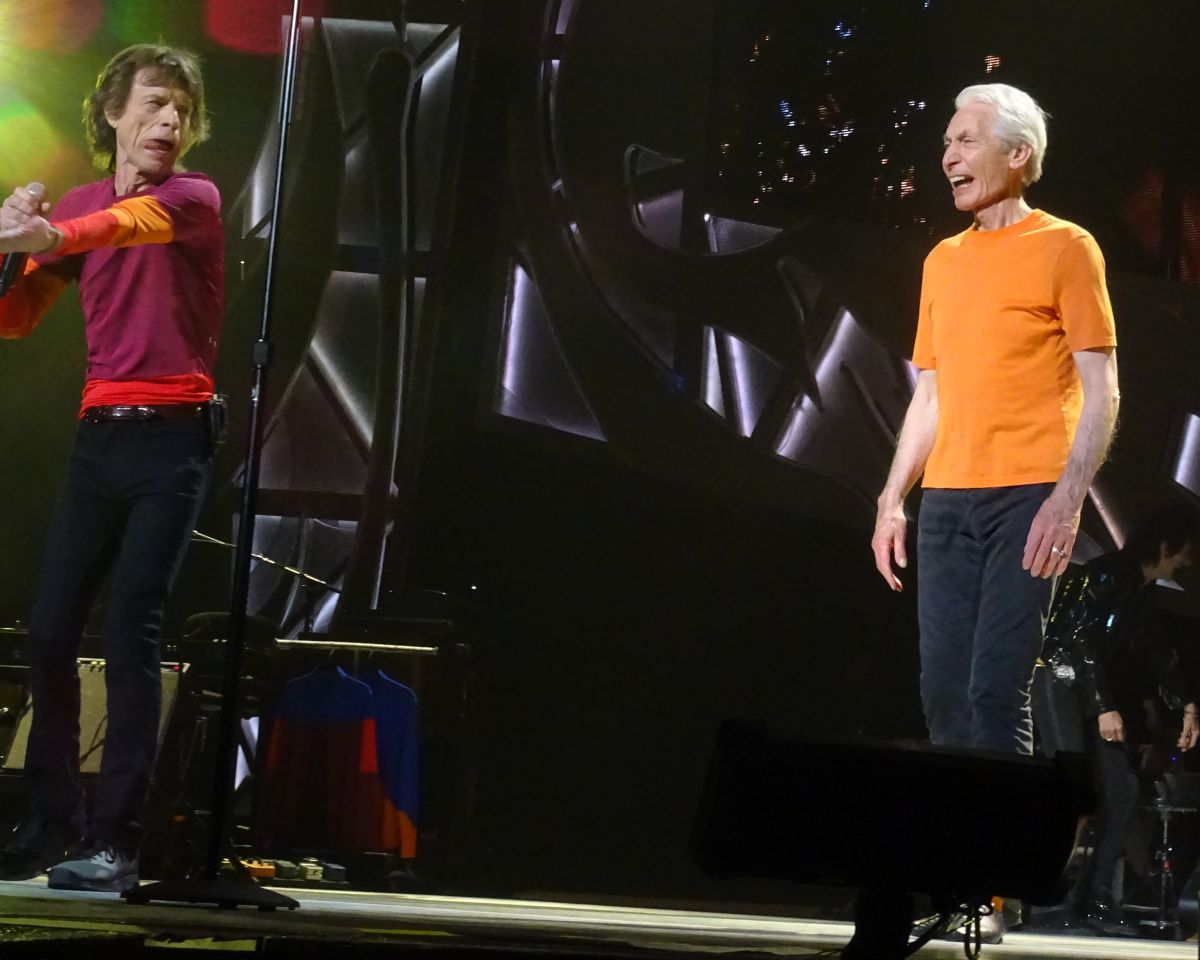 Photos by Bjørnulf Vik
---
Review by Mike from Riverside, Ca.
Desert trip 1 was great! Billy Idol was a lot of fun on 10/19/16 with a lot Stones fans. But last night at T Mobile arena was better than great! I was able to get a ticket (great view) from the box office at 2:00 pm for $172. It was very cool watching Bernard before the show talking with the fans outside the arena. This was a small show compared to the Desert Trip and Zip Code shows. It was great to see how Keith and Ronnie play so well together. The highlight for me was meeting fans from all over the world and an absolutely electrifying "Gimme Shelter". Yes the Jagg was not a 100% but it is still the greatest show on earth...... you can say I told you so!
---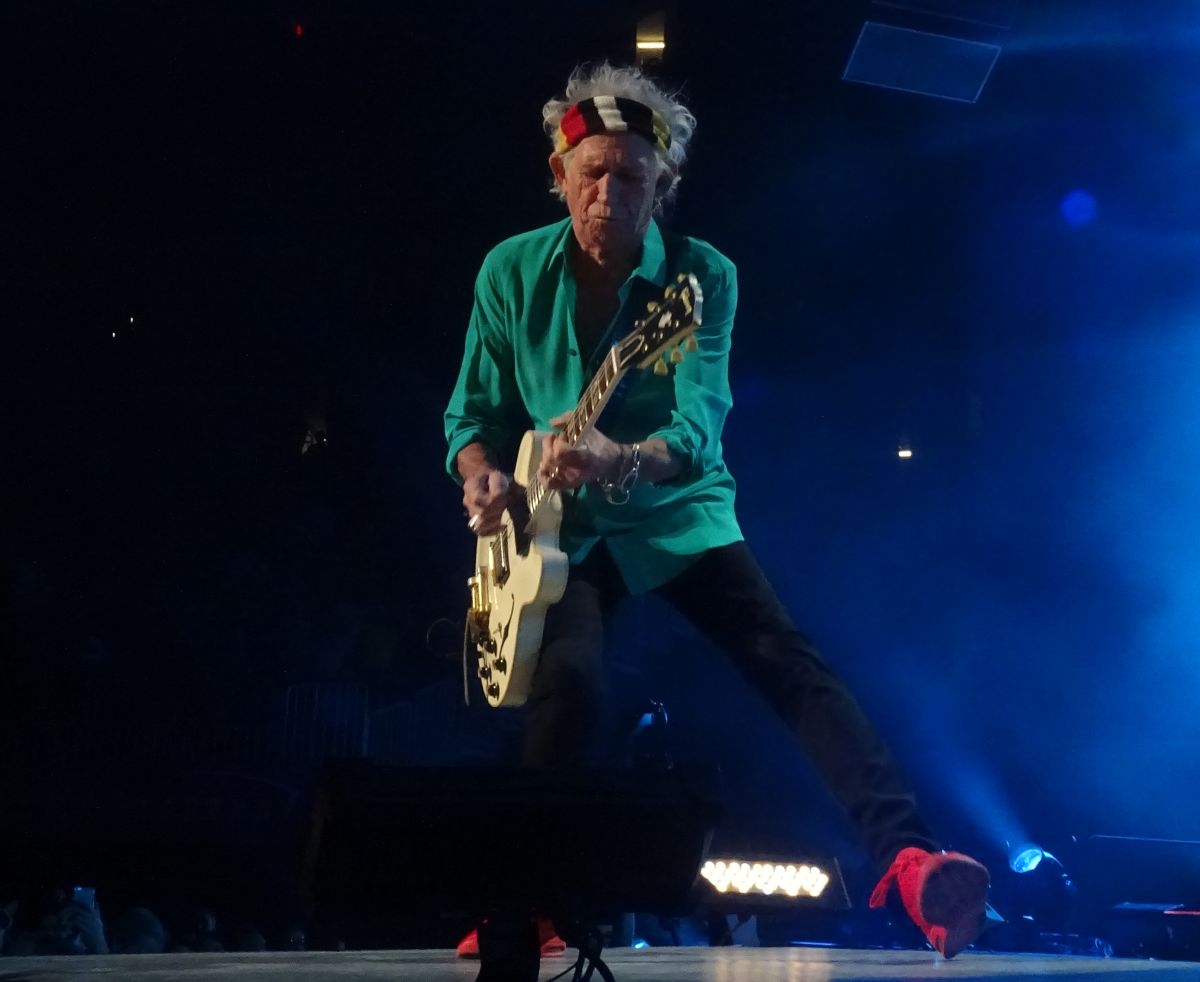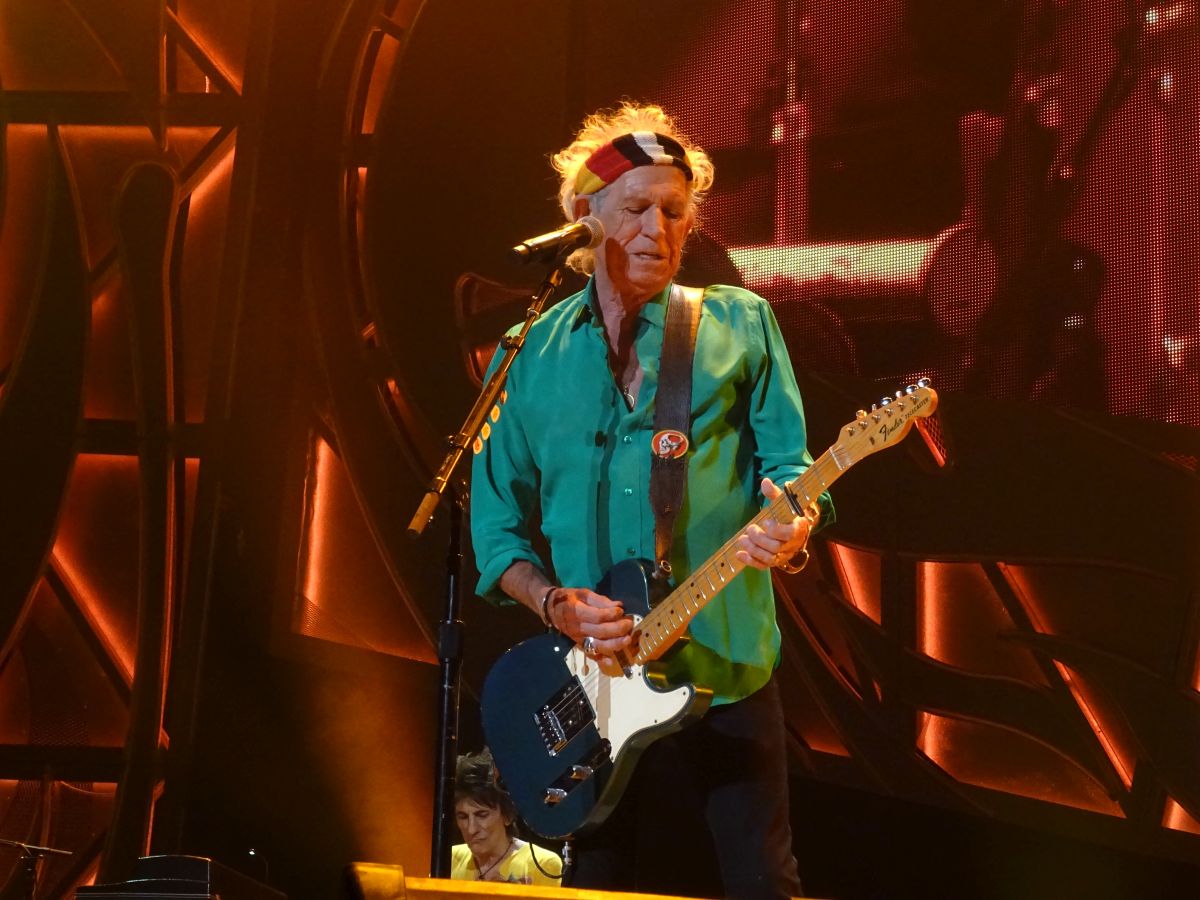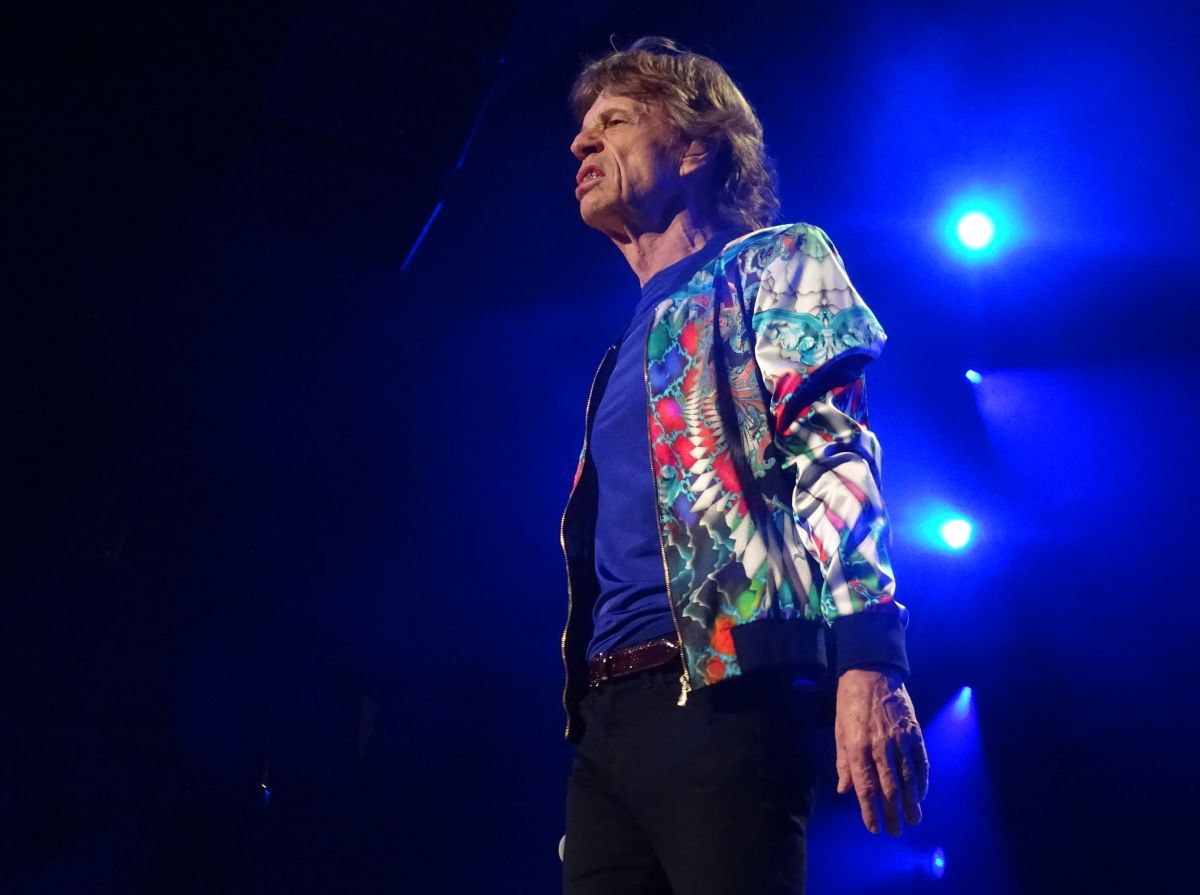 Photos by Bjørnulf Vik
---
Review by Sparkly Top
I don't think I have missed a show in Las Vegas for the last 18 years. I don't gamble and I only go to Vegas for Rolling Stone shows. I have an extreme fondness for the MGM Grand so it was with trepidation that I waited for the opening concert at T mobile. I loved the venue. The security and the ushers were great and I complimented more than one on the pink shirts! I have to say this was the best show I have seen in Vegas, albeit the predictable set list and shorten concert. The energy was off the charts!

I had the perfect spot in section 18 on the rail, slightly elevated, a few feet from Darrell and Keith and with a clear view to interact with the band all night. From half an hour before the concert began two large humidifiers were blowing clouds from the floor on Keith's side of the stage.

From the moment the boys hit the stage it was evident they had something to prove. The energy was palpable and the crowd responded in kind. The band was on fire and the interaction and smiles between them especially, as BV pointed out, between Keith and Mick, was just awesome. Charlie was erect and smiling most of the time and even Darryl had a few grins, while killing it on the bass. Mick's dancing and pirouetting was prolific - everyone was having fun and everyone was standing. Keith's three songs were just perfect in that imperfect way of Keith's perfection and Ronnie showed once again how beautifully the two weave in and out.

Highlights for me were Midnight Rambler, a surprisingly rousing Miss You, You Can't Always Get What You Want, and Satisfaction. I was thinking how this band has played to so many people in so many countries over so many years and how the power of music unites us in love and ecstasy. Thank You, Thank You Very Much. Here's hoping for Europe in the Summer and returning to my hometown, London, where unbelievably I have never seen them play. Can't okay wait to hunker down and listen to the blues this winter.
---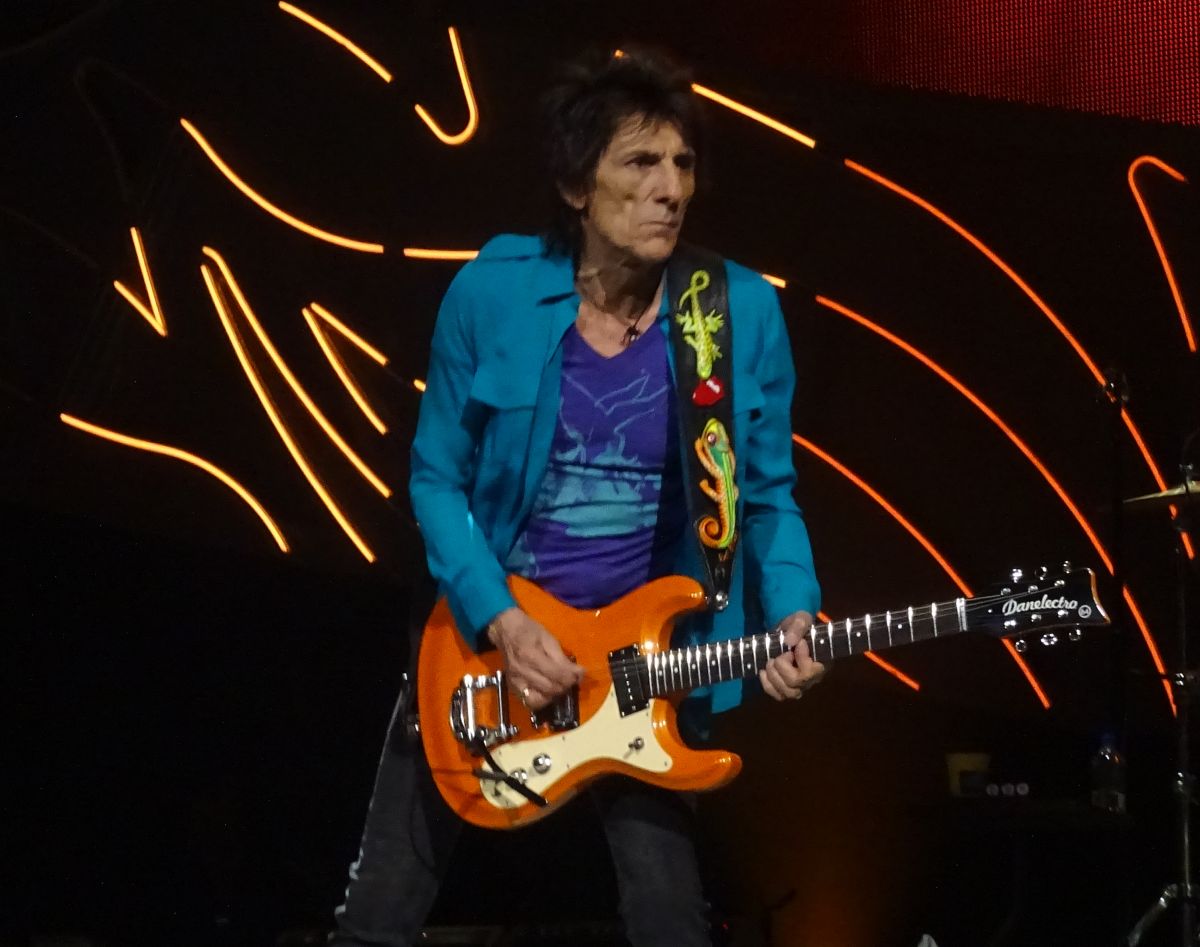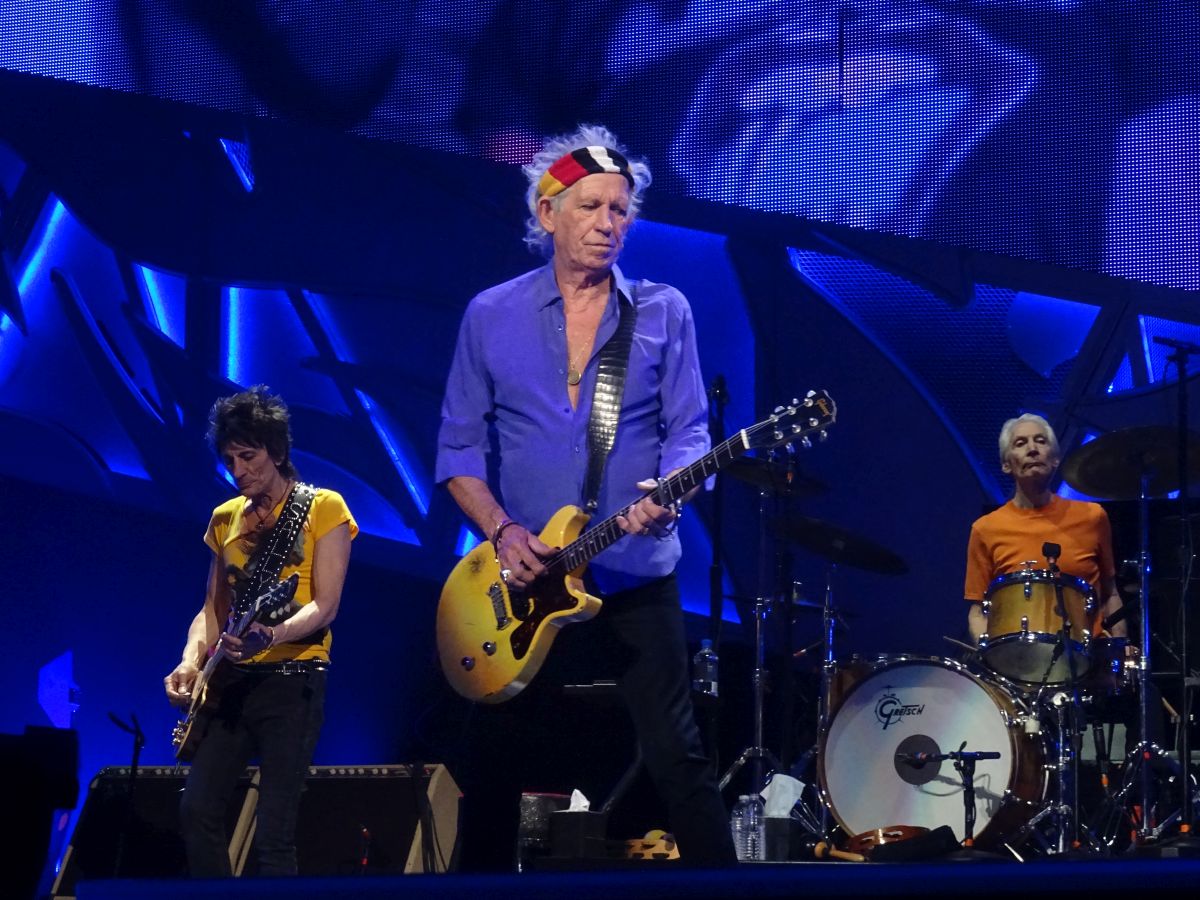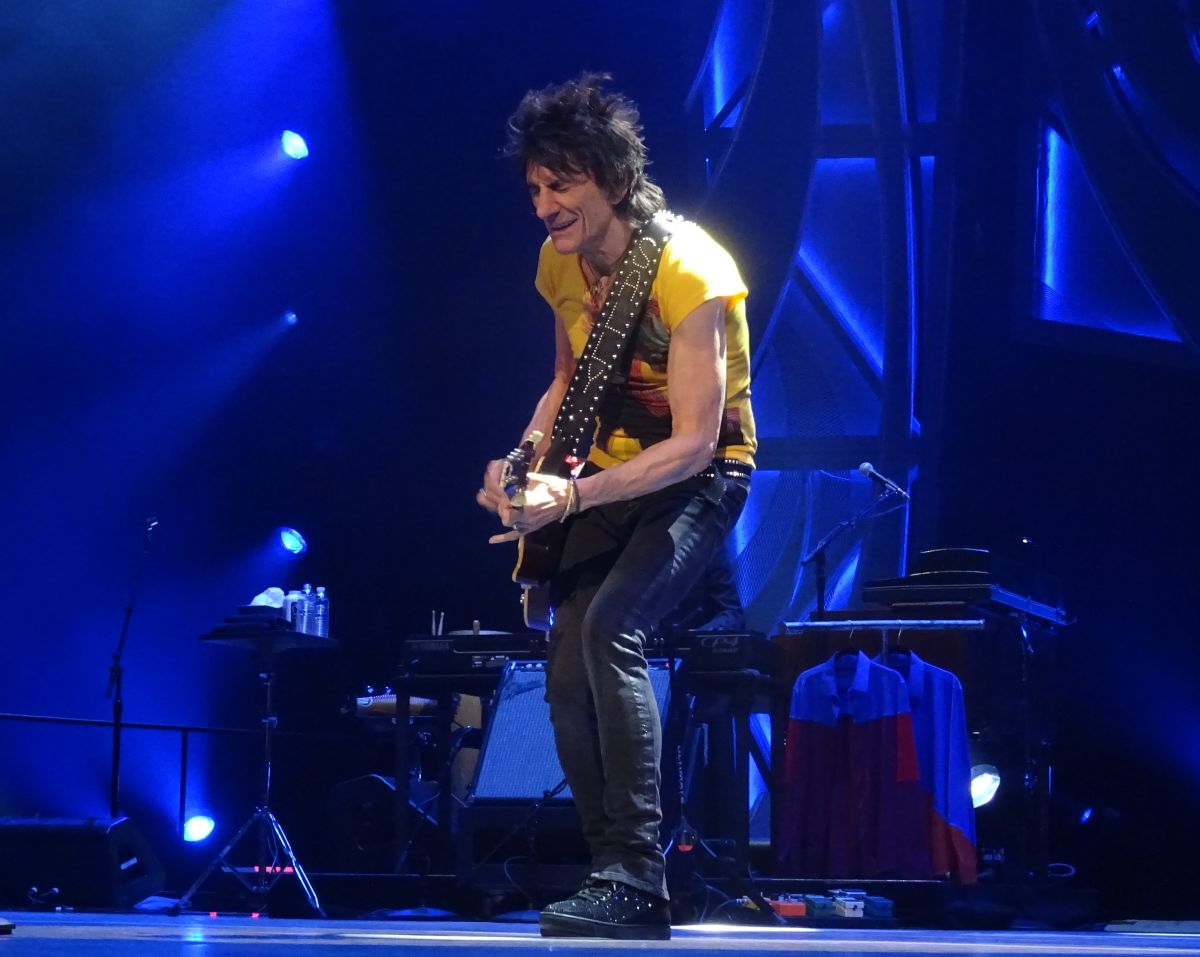 Photos by Bjørnulf Vik
---
Review by Alwyn Welch
What a week of Mixed Emotions – and the Stones didn't even play that song. The highs of arriving for 2 more gigs this year; the highs of meeting old and new friends from all over the world; the screwed up, sad and yet vibrant, world of Las Vegas; the lows of the cancelled gig on Wednesday; the highs of the show on Saturday. Exhausting and exhilarating.

Let's start with the cancellation. We were sitting in the hotel bar when the twitter, facebook and email messages started pouring-in. Make no mistake, most of the entourage heard about the cancellation minutes before we did. All of the band's entourage I spoke to talked about the dust and bad atmosphere in the desert; how it affected everyone and how they were so disappointed for the fans and how they had heard Mick was in a really bad way. This was confirmed to me at the gig by one of Mick's friends and family, who without me asking said he couldn't even speak earlier in the week. Mick made a very heartfelt apology for Wednesday: very sensitive and genuine I thought.

Forget the "can't sell enough tickets" conspiracy theorists. Wednesday was a sell-out and Saturday was very close to full. Not many people could change travel and shift dates – this is Las Vegas and most people at the gig travelled-in for it. It was amazing how Mick performed all things considered. More of that a bit later.

We went to Zabriskie Point, an overlook into Death Valley, during the week. As we walked-up we listened to You Got The Silver on an iPhone. Got a few strange looks – clearly few people now remember this great, if a little dated, Antonioni film now nor that the Stones were included in the soundtrack. We had to get away from Vegas – it is fantasy world; weird; very sad to see all the people feeding "money" into slot machines. They pump ozone into the casinos to keep you awake and spending/playing; they even give you free drinks. Well we didn't need that. We had the supercharged ozone of the fans and then the Stones themselves.

The Silver Dollar is a small blues bar off the Strip, in the real world. After a brief appearance the previous night Bernard and Tim joined the house band for a great show on the night of the cancelled gig. A real surprise to see Ivan Neville there, and an even bigger surprise to see Ben Waters over from the UK playing.

The Saturday gig was finally confirmed just over 24 hours before it started and given all we heard we were very nervous about whether that too would be off. The relief on the faces of the fans we saw was immense – I suspect only marginally less than the relief of the band, their management, their insurers, and all the touring party. But we still rolled-up to the very nice T-Mobile arena with some concerns. It was clear that Mick had been in a bad way and the show would be different in some ways.

First nice surprise: this arena feels small inside; we were close but I heard everyone had good views and the sound was good. On the floor it was excellent – thanks Dave N. There was a small walkway into the crowd and we had great seats, where we were in the middle of some really hard core fans and a lot of band friends and family. I did see some very oddly dressed people – guys in suits wearing ties! I think some of the high-roller, VIP experience, crowd thought they were headed to an Opera House. Well we got a great version of the Stones blues rock opera, called Midnight Rambler, so I suppose I shouldn't jest too much..

Suddenly lights were down; there was a very very simple screen; a glimpse of Charlie hiding behind the drums, Keith hovering at the side, guitar over the shoulder ready for action; and then the very powerful voice of Matt C announced The Rolling Stones.

Every time this sends shivers down the spine (a bit like in Little Queenie); you know the next 2 hours will pass-by in a flash; you are waiting for some surprises, to see some little pieces of magic, and also to yet again hear the warhorses. You have spent a lot of time and money, in our case travelling from the UK and New Zealand, to spend a few precious minutes in the awesome presence of your heroes. In my case it is 40 years since my first show (in H's it 50); this music, and the music the band inspired us to discover, remains a major backdrop to our lives.

From the start it was clear that Mick was still recovering. Bernard and Sasha supporting the vocals from back stage for the first few numbers; Chuck singing strongly all the time; Mick using every opportunity to get the crowd to sing the words we all knew. We had three Keith songs (with Mick patting him on the back in thanks behind the amps); we had some arrangements changed to give more instrumental breaks. Mick needed to pace himself, and did so early-on in the set: by the end you would not have noticed. In fact I think only a hard core fan would have noticed any of this – this guy is such a pro; has there ever been one better?

So during the first few numbers (JJF, Lets Spend the Night Together, IORR) the band seemed a little nervous as they got into the new mode of helping out Mick, but that nervousness soon disappeared. These guys are all pros; they are all friends; they worked together to make the issues of the previous few days disappear.

We got Ride 'Em On Down – I think this appears on Stu's setlist from their first Marquee gig. It sounded great; lovely guitar interplay; great harmonica. Can't wait for the new album now: this was a great taster. I loved the Keith count-in on Paint It Black and the improvised ending with Ronnie doing some Spanish-like twiddling and Mick with tambourine. They clearly dropped one number in the first half of the set, as band introductions came quickly. And then…

Keith did Slipping Away, Little T&A (not heard live by me since 1982), and Happy. They seemed to be stretching each of these out a bit, and the endings required Keith calling for the "kids" to bring it to a close. A super crowd reaction to Keith, despite the suited and booted sections. Some very powerful guitar jamming with Ronnie; full-on Sax.

Then the rest of the set seemed like usual service was resumed. Great versions of Rambler (Ronnie and Keith especially strong) and Shelter (by far the best we've heard Sasha on this). SMU was fresh and vibrant. Delightful solos from Darryl and Tim on Miss You. Gasps from the crowd when the choir started YCAGWYW – clearly not many read the show reviews…

Keith and Mick seemed very close throughout, interacting and jamming more than normal. Lovely to see the old mates like that. Charlie was grinning as ever, and Ronnie played very very strongly at times, solos like from years ago during his Faces time. Karl has fully assumed the Bobby K mantle in his own way. Chuck playing some great keyboards and singing more than normal in support. Tim also playing great "Hammond" on YCAGWYW, and this was mixed higher than normal so we could appreciate it. Bernard worked very hard last night – again much more than usual I think, and together with Sasha picking-up the choruses and chants on the fly when Mick pointed that he need more support. What a great band, and playing so well after only 4 gigs on this mini tour.

We did get some very dry comments from Mick, with that lively tip of the head and rolling eyes when it is not clear immediately that the audience understood the humour. How Copperfield made Mick disappear on Wednesday (all got that) and whether another show that day was comedy or tragedy (maybe the Clinton/Trump show is a bit too close to the bone for most of the audience). He even suggested some names for the Hockey team that will be arriving in Vegas shortly, Like Vegas Hookers (again a mixed reaction – no sense of humour some people!).

Then it was all over. We moved to the rear at the end of Satisfaction, and the sound was equally great. Another show over, sadly; another tour over, very short but a real bonus for a lot of people.

It will be 7 months before the show gets on the road again, if the rumours are to be believed, and if the band decides to hit the road again. That would make 2017 the 6th consecutive year with the band touring: from all the fans a big, big, thank you to the band and all the team that make it possible. We really do appreciate you continuing like this. Mick commented, as I've heard him do a lot, how they appreciated our continued support coming out to shows. That feeling is mutual Mick, and Keith, and Charlie, and Ronnie, and all the rest of you – you know who you are! We love you!!
---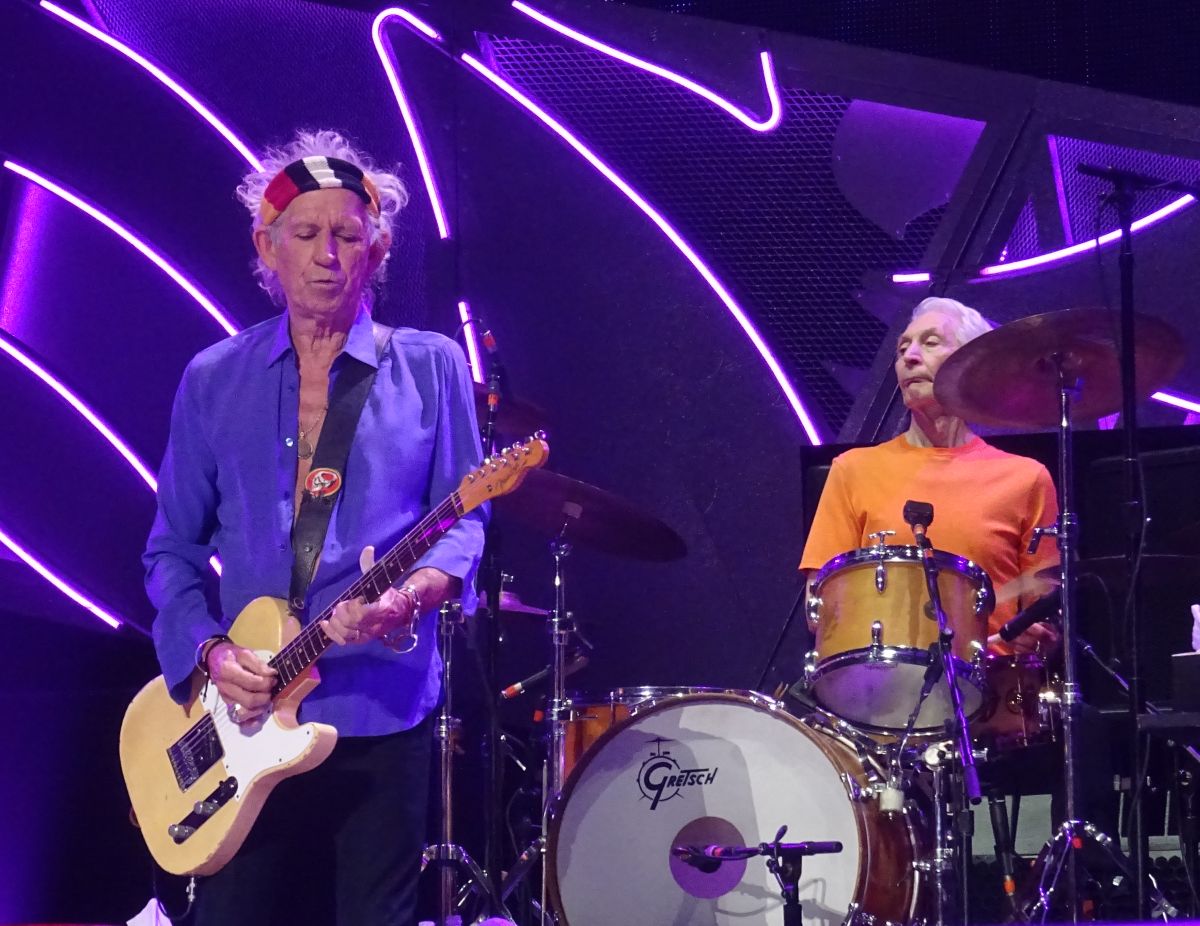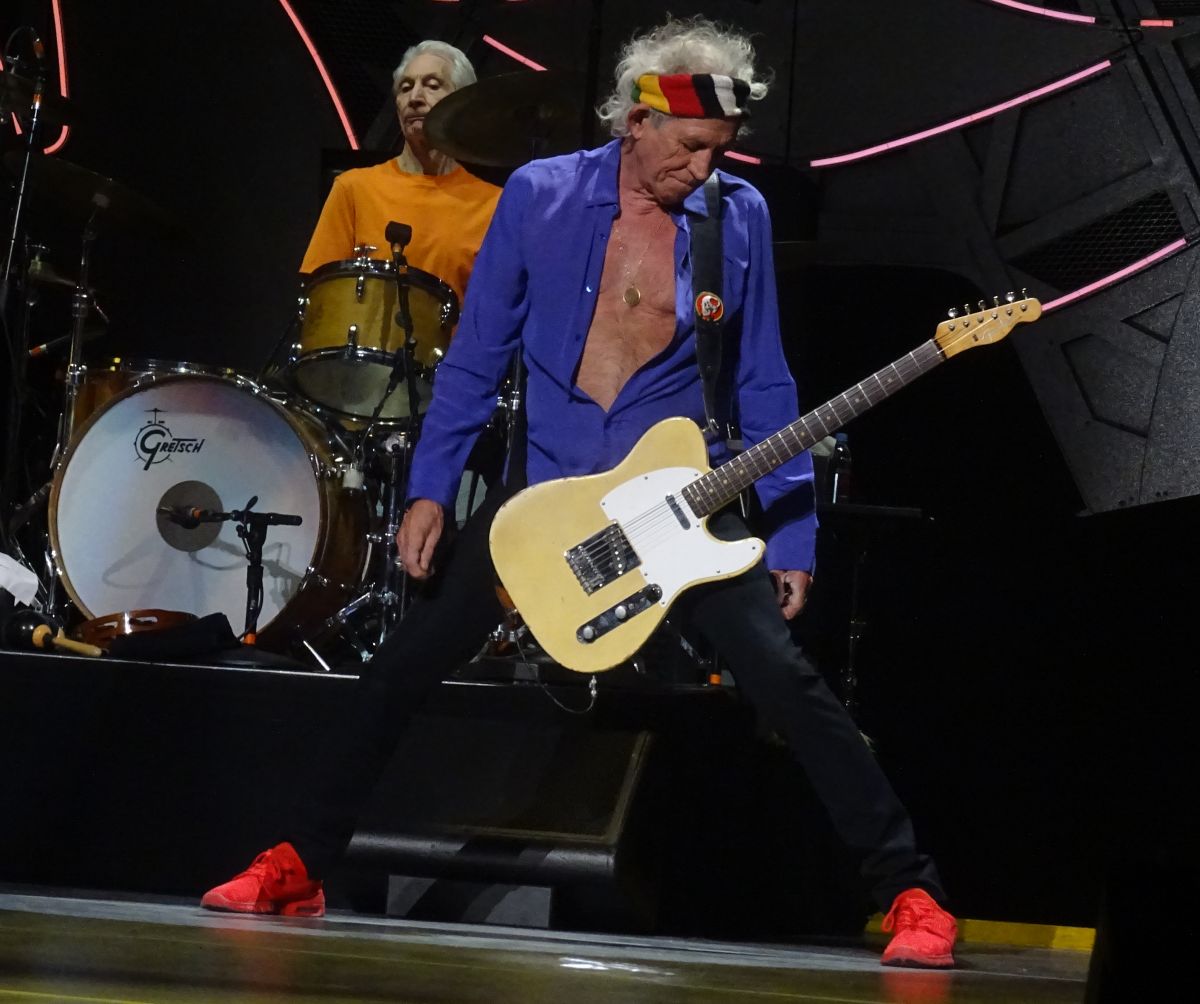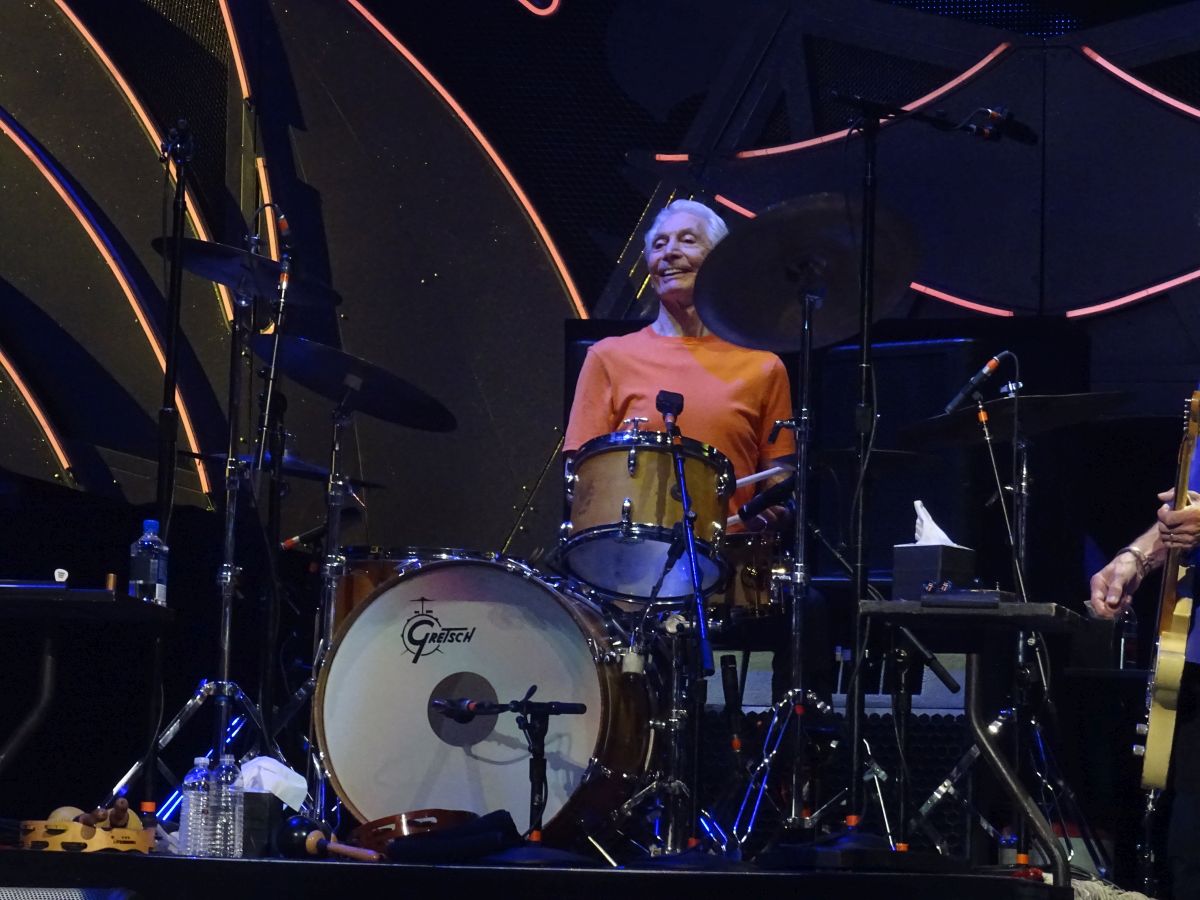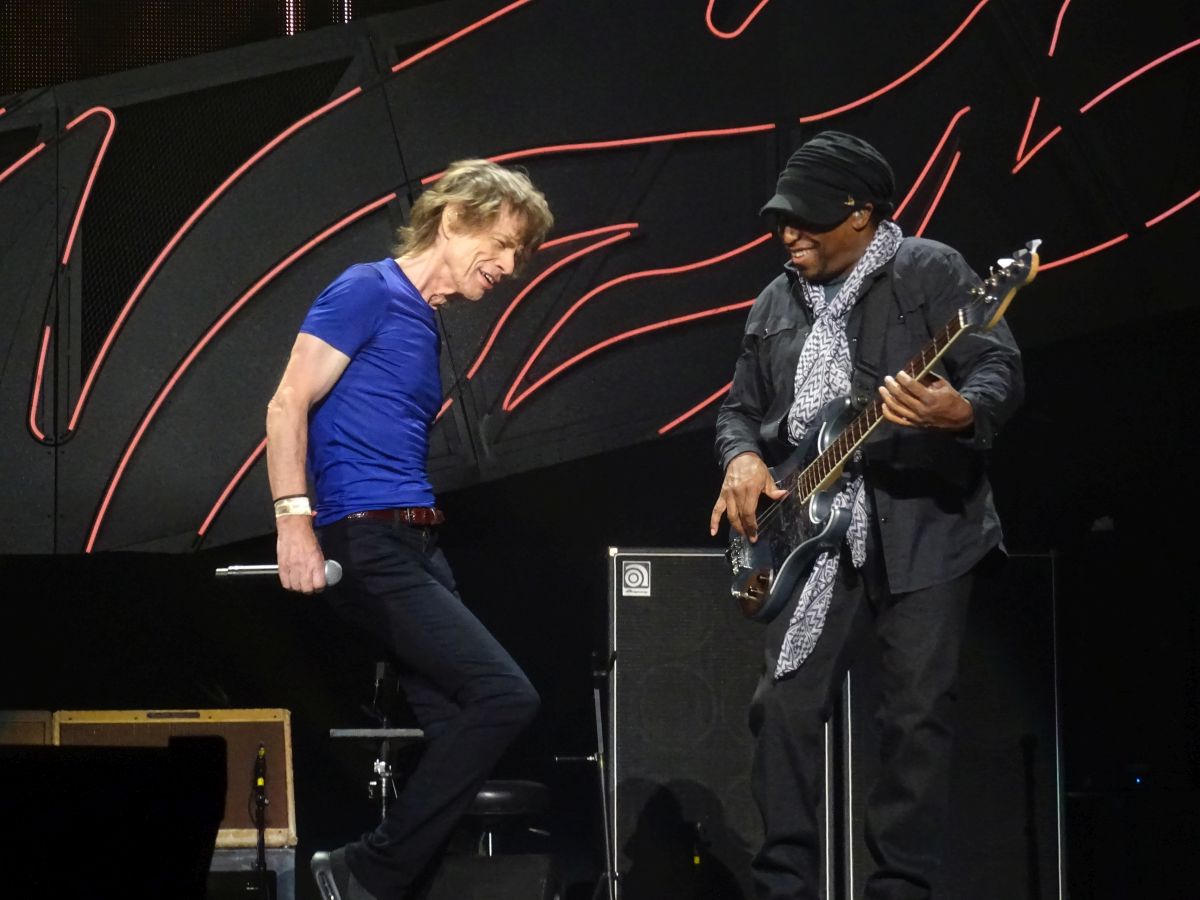 Photos by Bjørnulf Vik
---
Review by Sokolow-Jennis
The show at the T-mobile Arena was fabulous . The play between Keith and Ronnie was great . Mick sounded great and was helped by Sasha and Bernard who were more out front than usual . There were some really intense versions of familiar songs and the crowd loved it . What a great night . The people around me on the way out were asking me the same question I had : " How do they do it " ?
---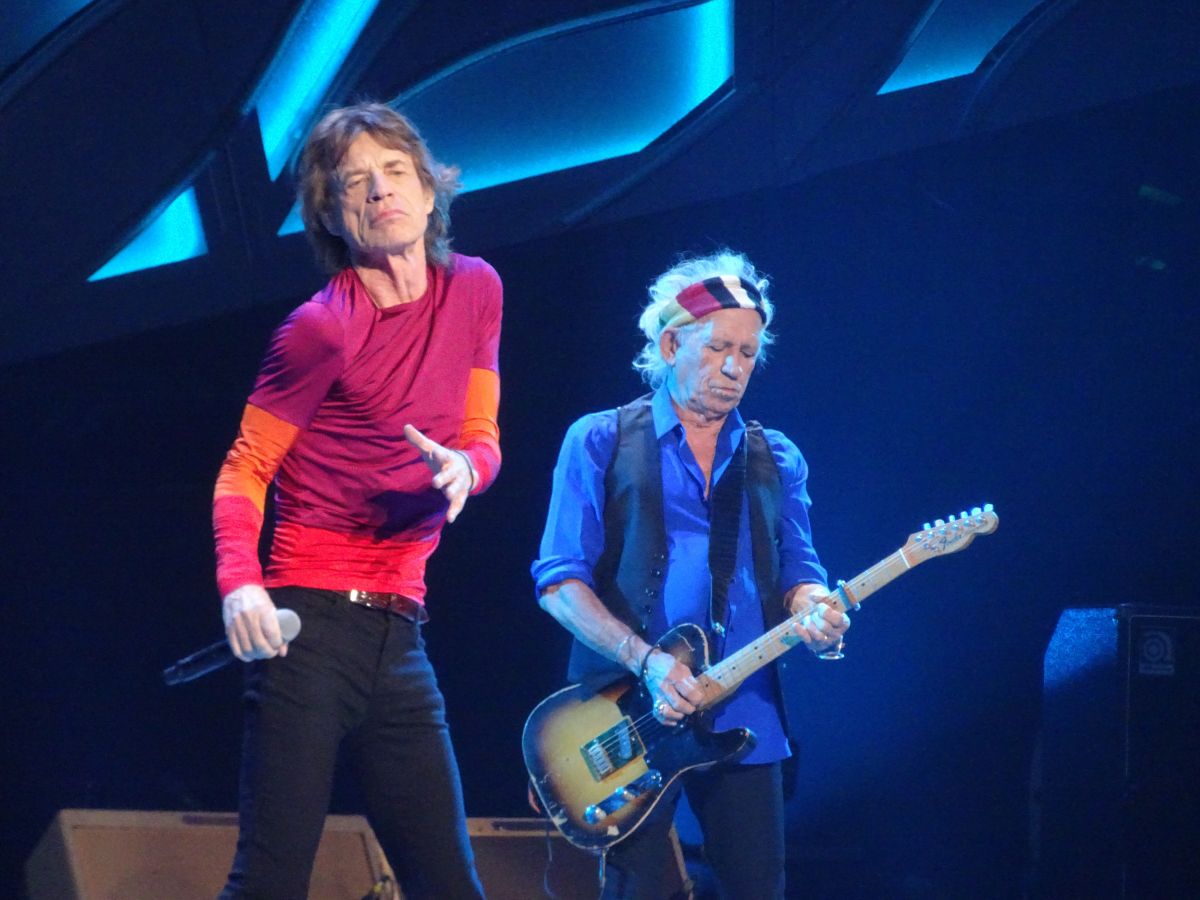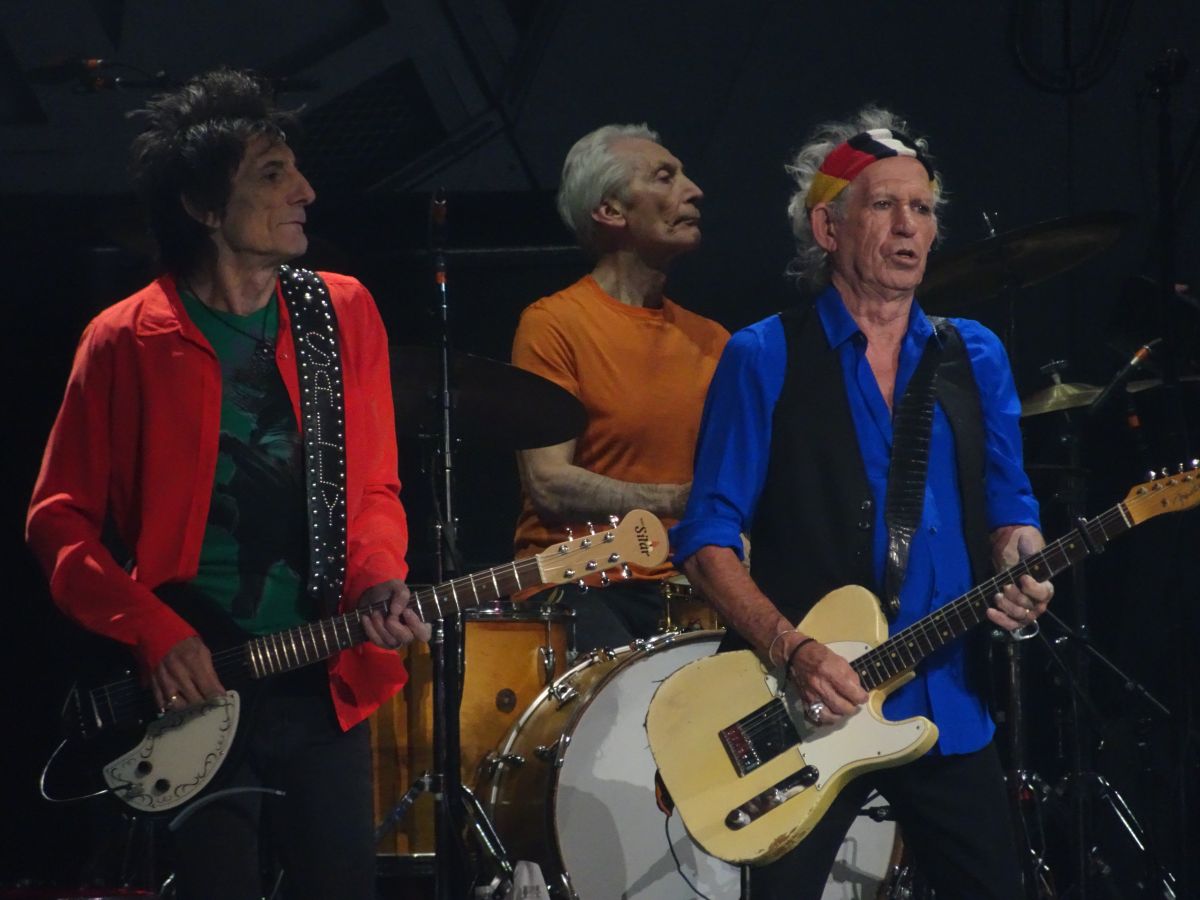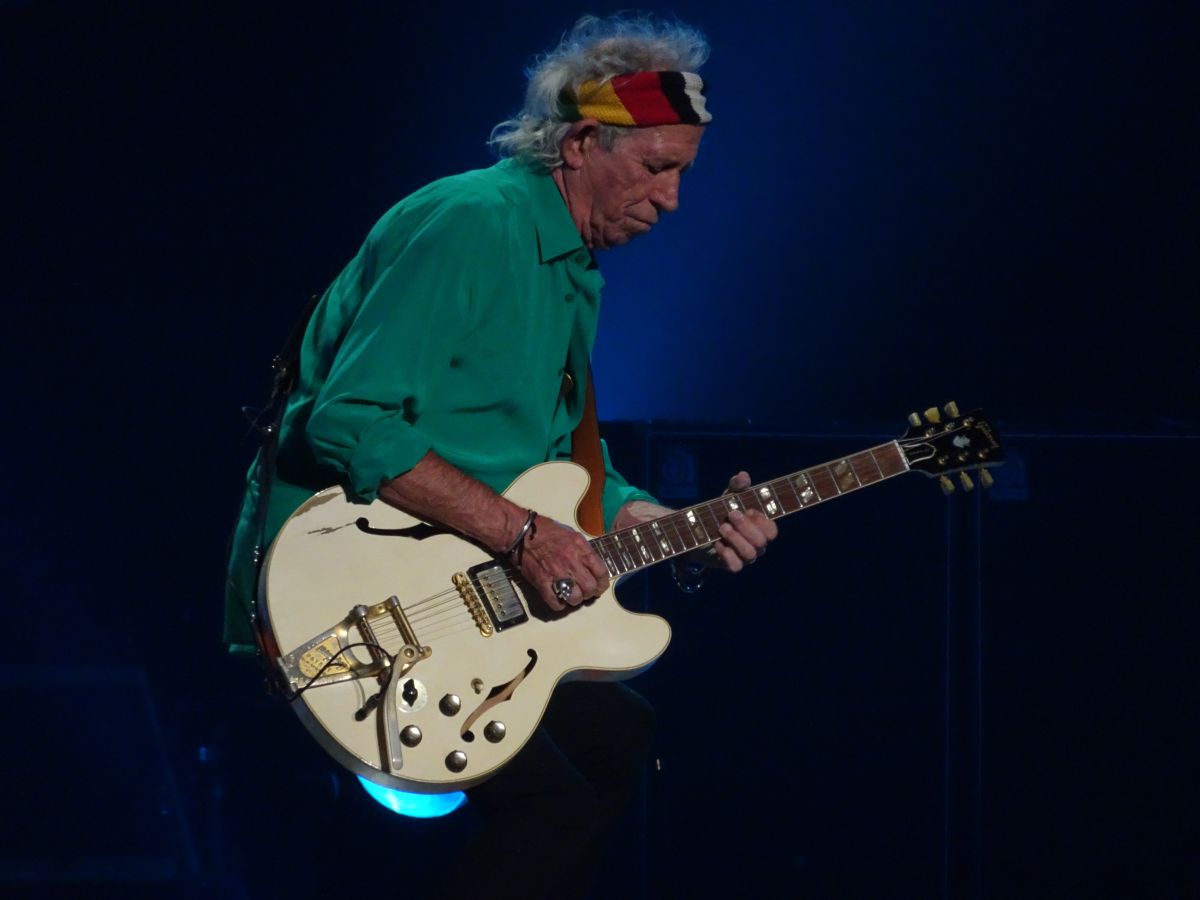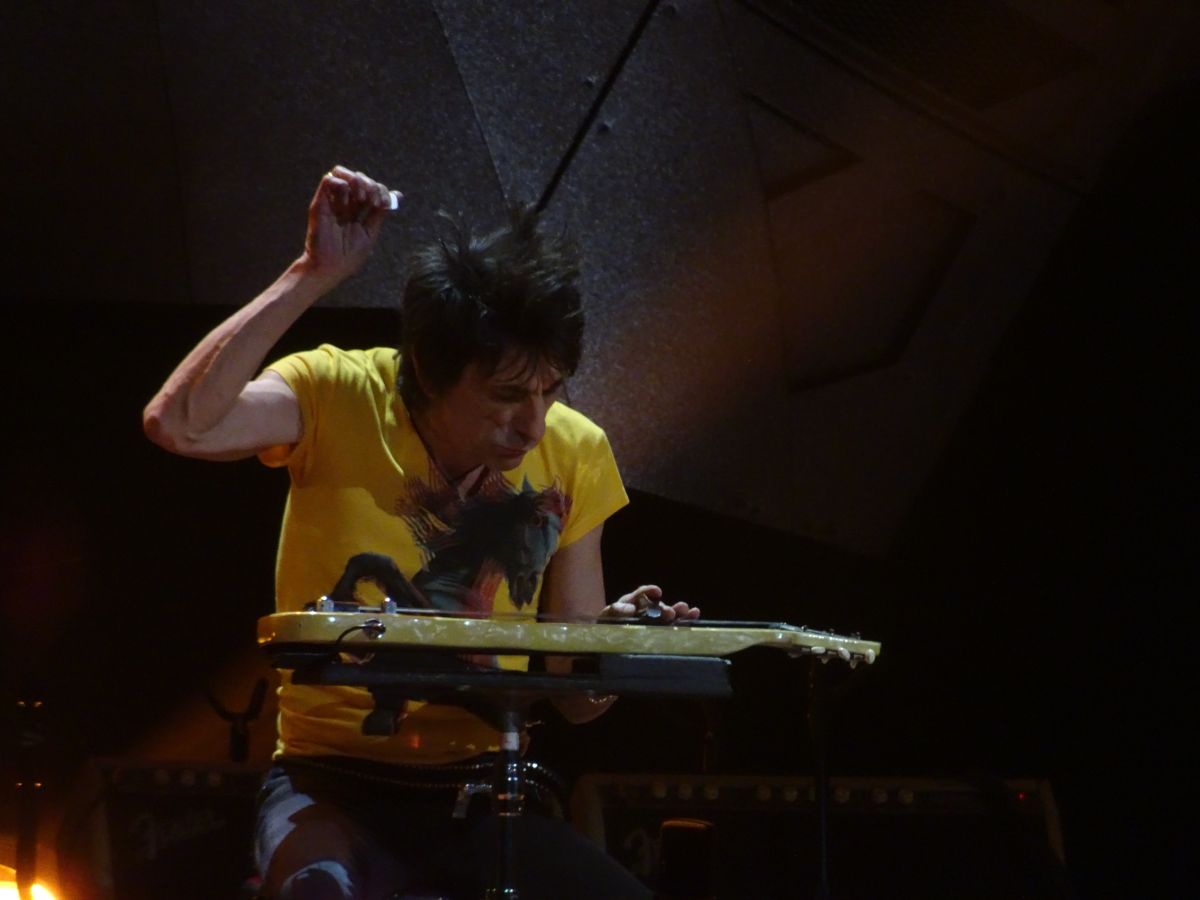 Photos by Hendrik Mulder
---
Review by Mark S
Had Lucky Dips for this one, ready to be up in the nosebleeds. Instead, I got lower level near the back of the building. Managed to upgrade to great lower level seats directly to side of the mini b-stage. I was surprised to see the spotlight guys go up just after 8. The Stones never go on before 9, but just after 8:30 I heard my favorite words... "Ladies and Gentlemen, The Rolling Stones,"

It's either SMU or JJFlash and for me it's got to be JJF. Ironically, when they start with Flash, the line from SMU, "make a grown man cry" comes true. I'm ecstatic and we're on our way. As usual, Keith tears it up, but it's clear that Jagger wants everyone to know that he's here and he's ready to go. Tonite it's a "play it safe" setlist of 18, with Keith getting 3, a sure sign that Mick is concerned about his voice. No subtle ballad like Angie or Wild Horses tonite is more proof.

On the plus side Jagger works the whole stage like a maniac. His voice may have been shut down for a while, but he was a demon up and down the catwalk with extra twirls and leaps. Loud guitars tonite. Yes, it's a guitar band as we were reminded tonite. Some standouts for me... It's Only Rock and Roll: Keith, Keith, Keith! Gimme Shelter: Strong start to finish (minus the little missed cue at the end). Guitars and Sasha were unreal. Rambler: Not a record long version, but strong and clean all the way. Brown Sugar: sometimes they seem to do this one on autopilot, but not tonite. Yeah, all warhorses, but it was that kind of a night. They played them and they nailed them.

As is the time I'm writing this (8AM the next morning), I have heard nothing about rescheduling the other LV show. All last night I had the eerie sense that this could be the last time. Of course, I've had that feeling since 1999, so who knows. But if this really was the last one for me, I'm so glad I was there and even happier to see it from my "Luckier Dips."
---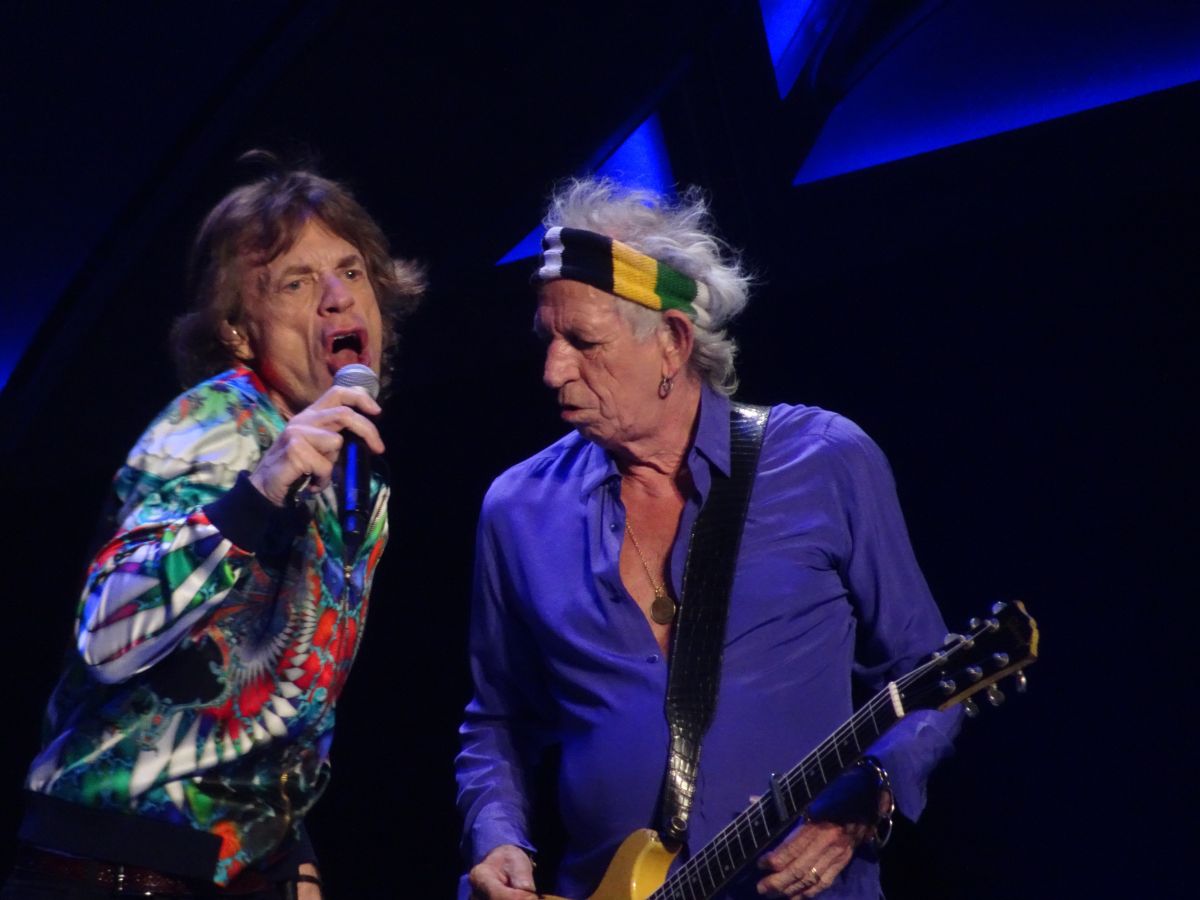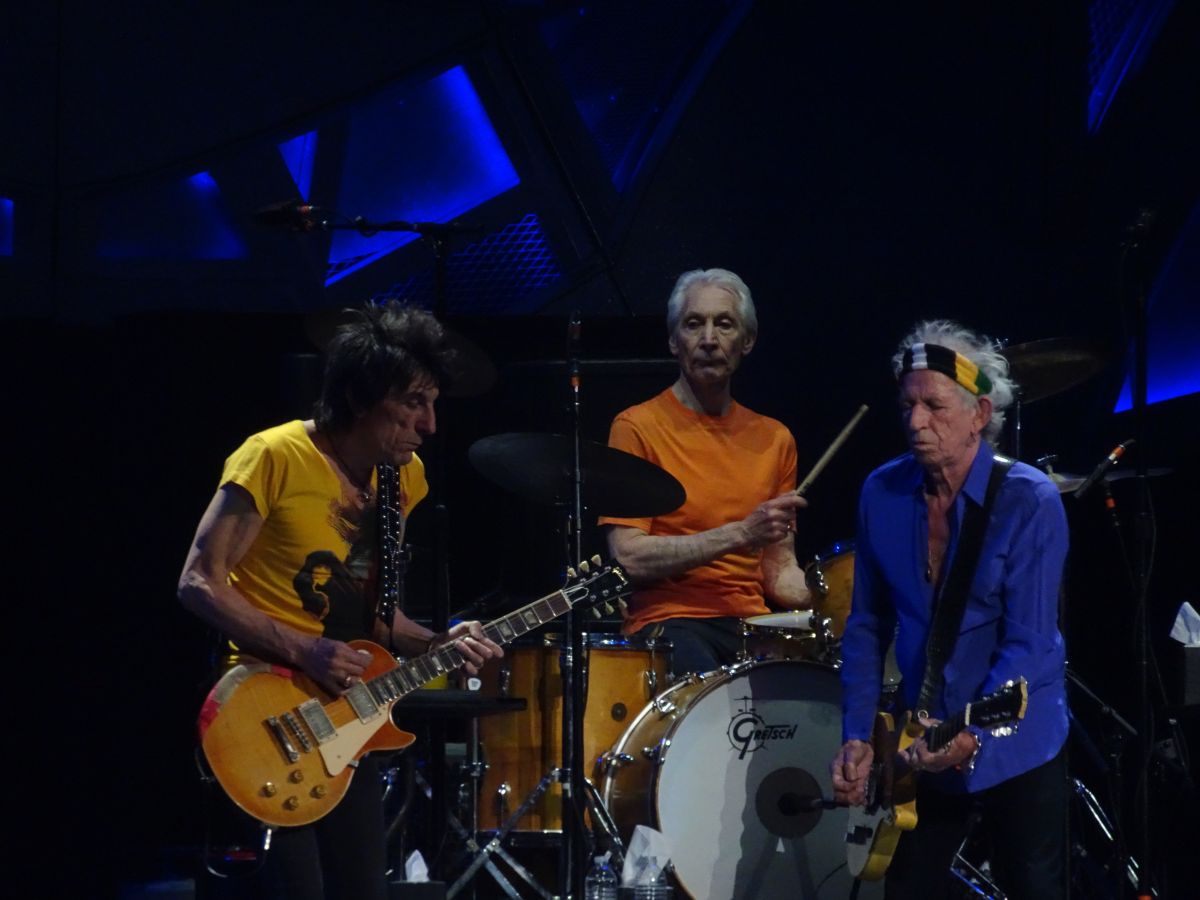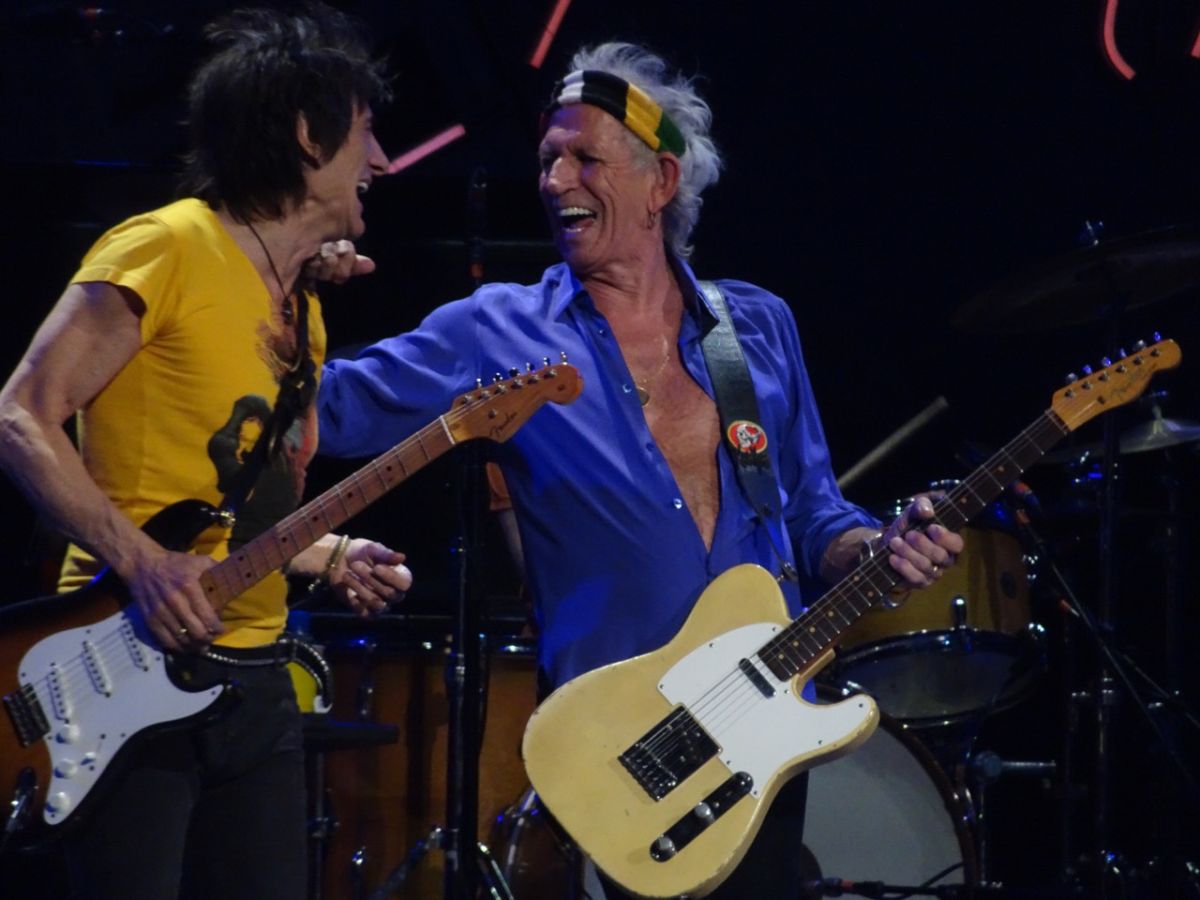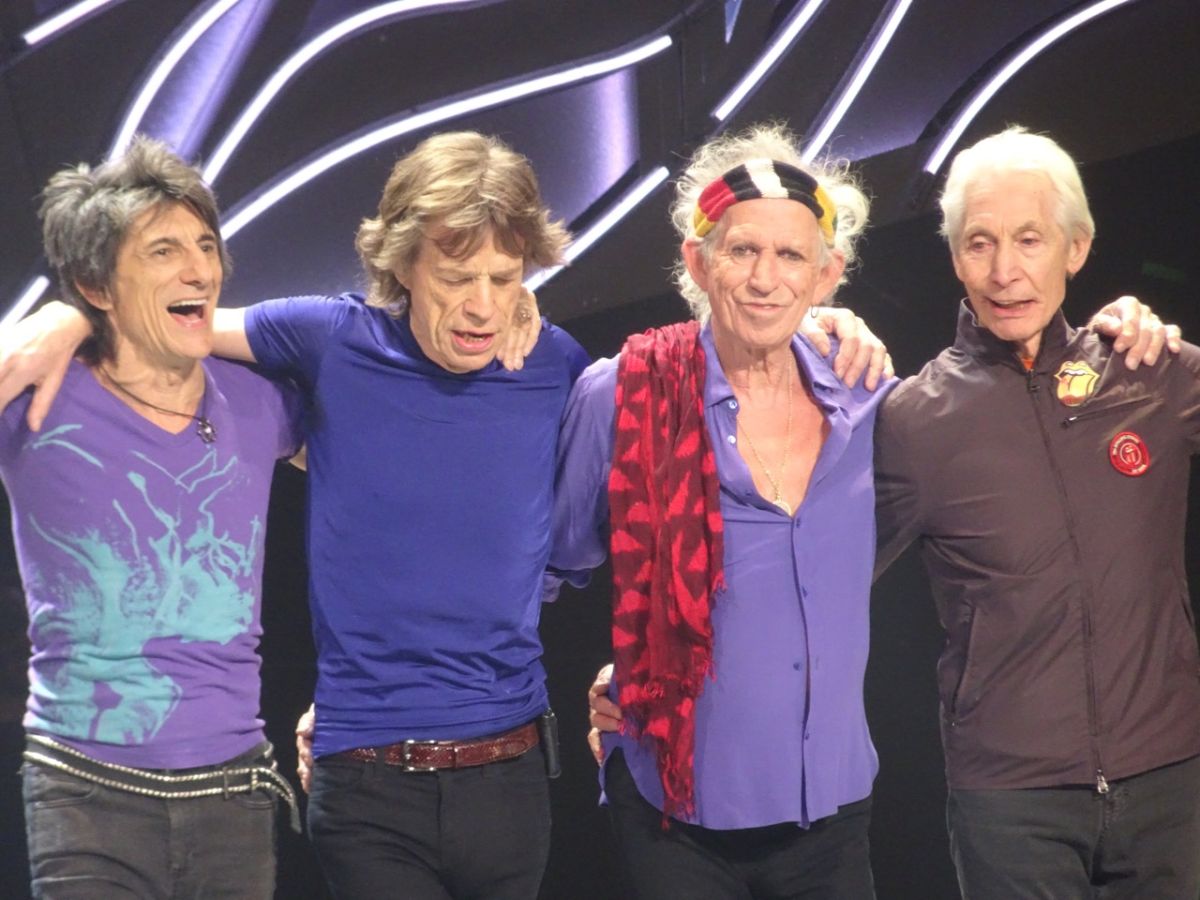 Photos by Hendrik Mulder
---
Road Trip Report pt 2 by Mike Doran, Seattle, WA
I packed up (from my Desert Trip tent) early Monday AM about 6 AM. I was very much looking forward to a hotel room and meeting my wife in Vegas where she was flying in for the (cancelled) Wednesday show... After a relatively short drive, I picked up my wife, Michelle, at the airport and made my way back to the room. We had a great time and was settling in for dinner on Tuesday night when the bad news came.. She was understandably disappointed as she, unlike myself, was unable to stay for Saturday's show. We had a blast in spite of the cancellation and decided to utilize Wednesday to drive to the Grand Canyon instead. It was fantastic!

I spent the remainder of the time join Vegas meeting up with old and new stones friends from around the world. Great people from all over..

For the second show I had split a pair of LD's with a fellow an from the boards and couldn't have been happier with the lower bowl seat. It was obvious that Mick was not completely over his throat troubles and it was very cool to see the whole band step up to help him out. Sasha came into her own on GS, and Keith and Ronnie's guitars sounded better than I had heard in a long time. Crunchy and loud!

I keft the arena after what was a somewhat shortened "warhorse" laden set, knowing that there would be a lot of criticism of the set. I enjoyed every second and it was just what I needed after the hot cramped pit experience. I purposely avoided the die hard fans afterwards as i didn't want to hear any setlist or performance complaints. I was thrilled with the concert as I am at every Rolling Stones concert and really didn't want to hear any of the inevitable set-list complaints. From passing strangers I heard nothing but "Best show ever" and "wow.. they were fantastic!". I walked back to my hotel on the strip with the same huge smile I always have after a Rolling Stones show.

If that was, as rumored, the last show Rolling Stones show in the US (hopefully not) I can honestly say I really did get me some Satisfaction.

PS. For the Road Trip pt 1 see the Desert Trip week two reports
---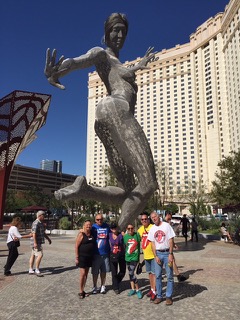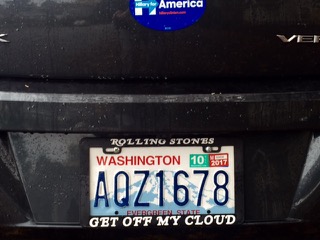 Photos by Mike Doran
---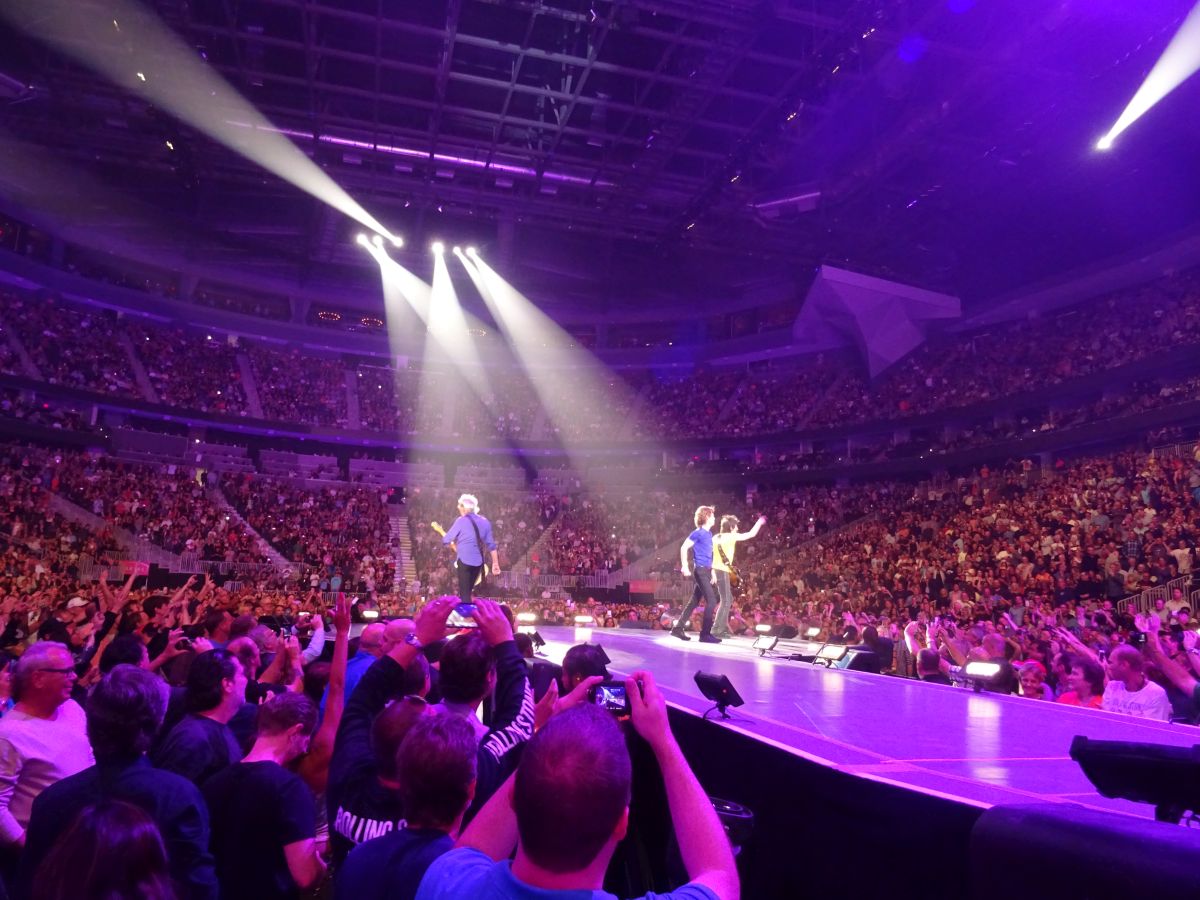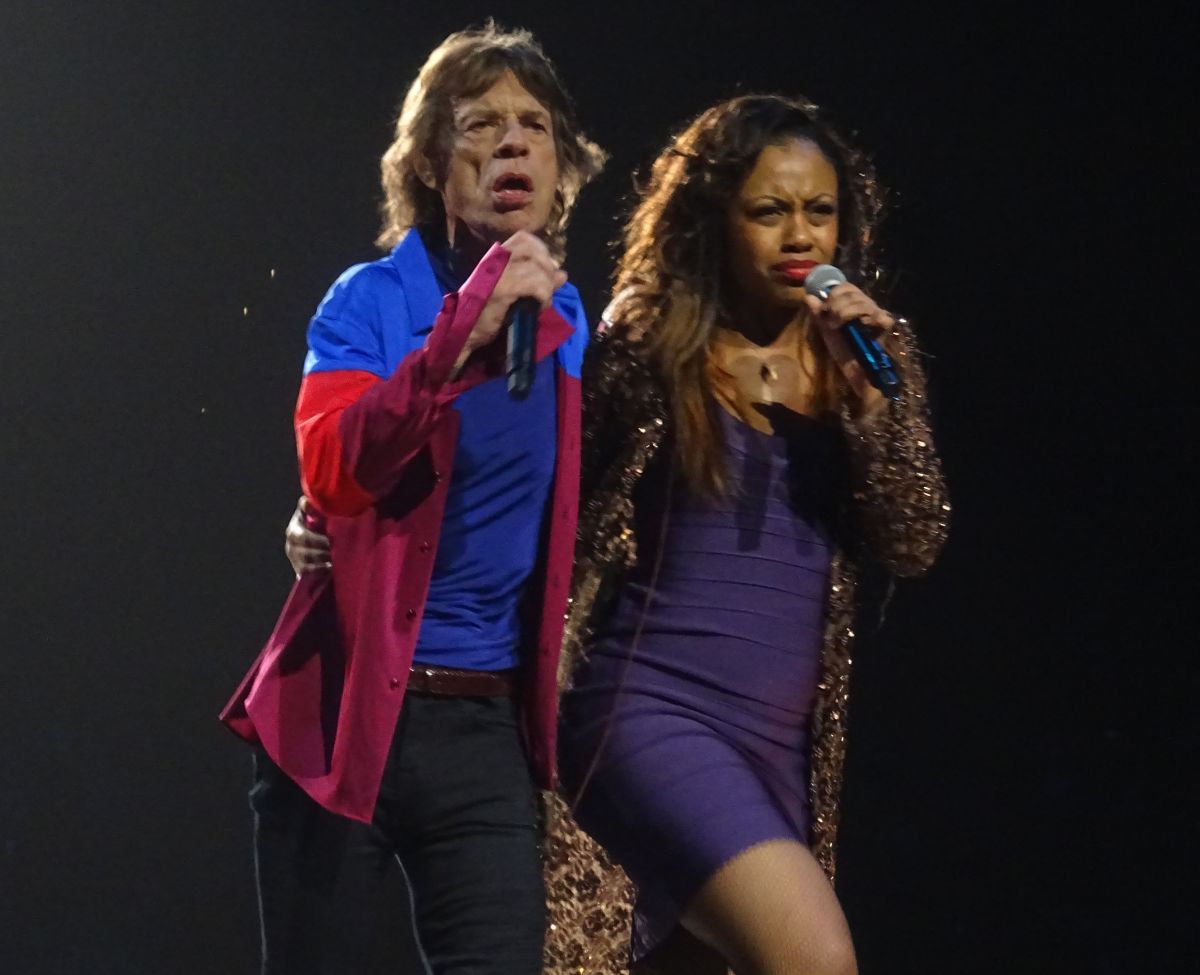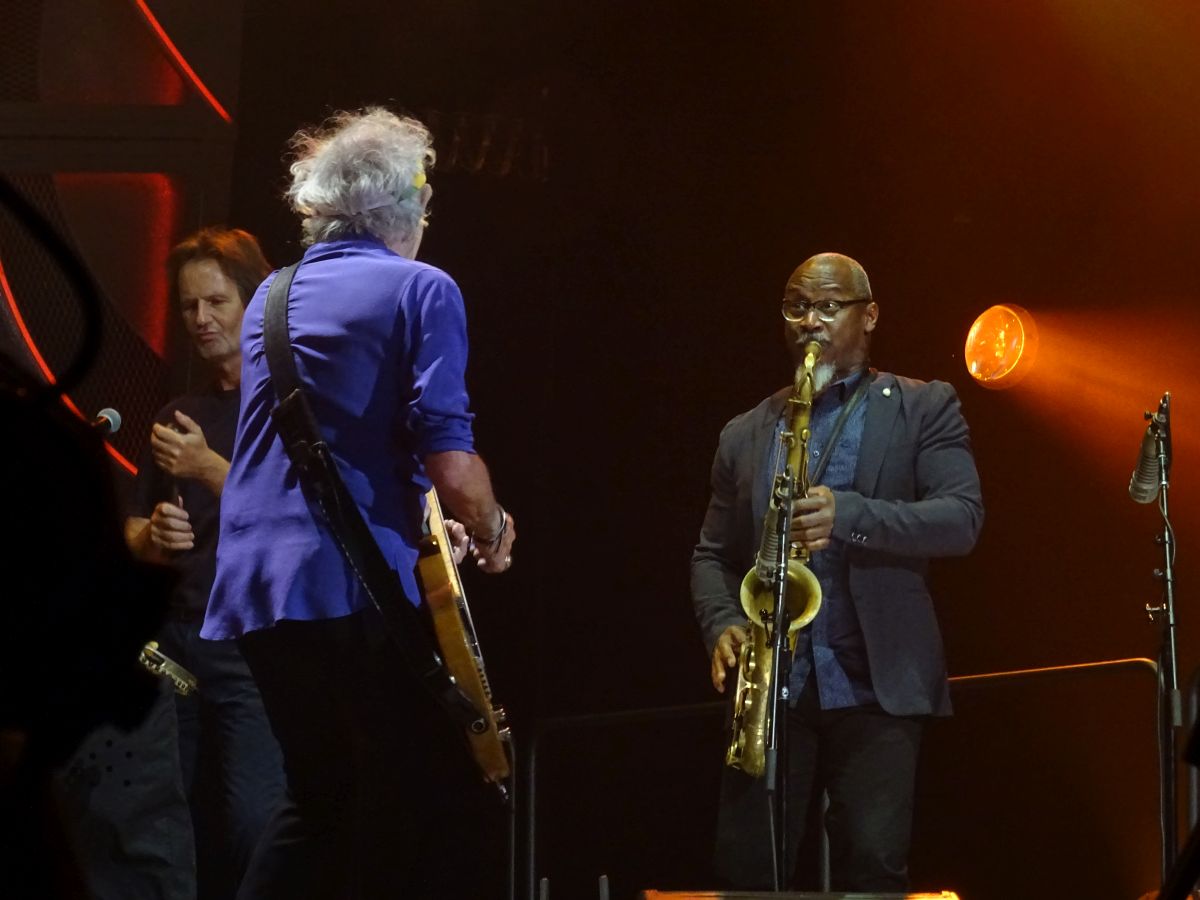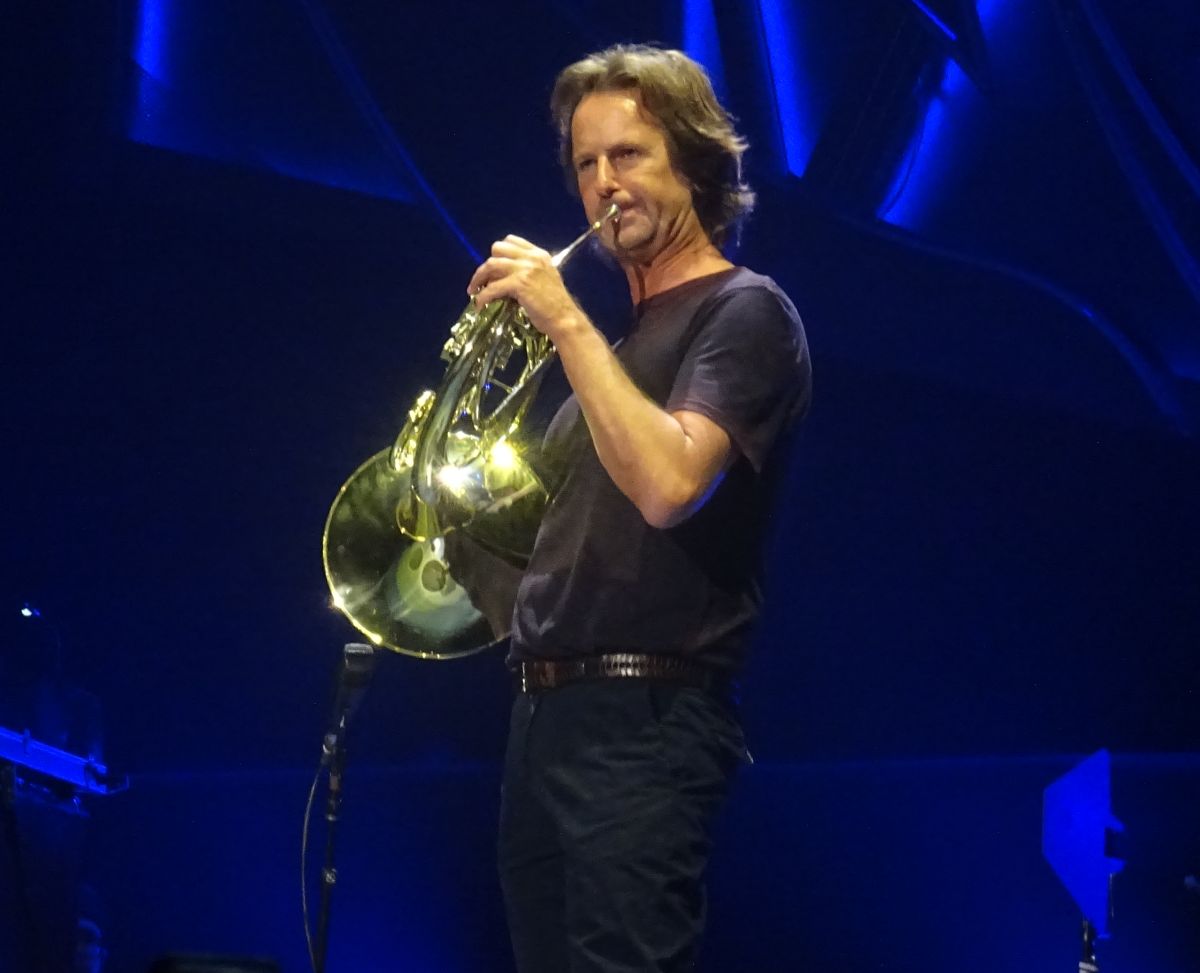 Photos by Bjørnulf Vik
---
Review by N. Cheechoo, Innisfil, Ontario
We knew when we boarded the plane in Toronto last Wednesday that the first show was cancelled but we were gambling that the Saturday show would somehow still go ahead. As it turns out it was the best bet we made in Las Vegas over the weekend. Not the worst place however, to have a cancelled if the second one did. We might have found something else to do but nothing as cool as seeing the Stones in Las Vegas on a Saturday night.

Walked out the door of the Monte Carlo Hotel and walked across the street up to the arena. Scored some great seats and there I was again. In my favorite setting. Sitting in the arena, with a cold beverage and a new T shirt waiting in anticipation for the lights to dim and the video montage to begin. Now I've written before that there's nothing quite like the anticipation and excitement of a Stones show especially on the day of the show but those last few seconds during the video montage are f*%$in amazing. The best part for me before the boys hit the stagehand the music actually starts is the public announcer intro. "Ladies and gentlemen..…The Rolling Stones!!! Can't beat it !!!

The setlist was predictable but as has been written before. No real surprises. The new song Ride em Down sounded great. The guitars were loud and raunchy all evening. Charlie was on fire. Mick stayed away from the Whoo Whoos and the Owws!! but Bernard and Sasha subbed in nicely. Was nice to see that Mick was in a humorous mood and tried out his Vegas standup routine a few times in between songs. I don't know if he has a future doing standup comedy in Las Vegas or anywhere but I got a few chuckles out of some of those lame jokes. Ya they were lame but for some reason still funny. Keith, however dropped the funniest line of the night when he said he was playing playing 3 songs but wasn't getting paid any more money for it.

Ronnie was Ronnie, fun to watch and cheer and provided us with some stellar guitar work. The entire band was bang on tonite. Sasha has a really loud powerful voice. It was my first time seeing her live in concert. She does a great job with Gimme Shelter. I love that it is a regular in the setlist over that last few years.

What a great night in Paradise. Ya if you want to get technical we were actually in Paradise NV, not Las Vegas. Seems fitting because the T Mobile arena was Stones Paradise Saturday night. Great vibe with the crowd, everyone in my section was dancing along, singing, waving arms, just having a blast. Thanks to the great Stones fans who gave us special stickers they make up for each show they got to. What an awesome night!! It goes without saying I can't wait for the next one!!
---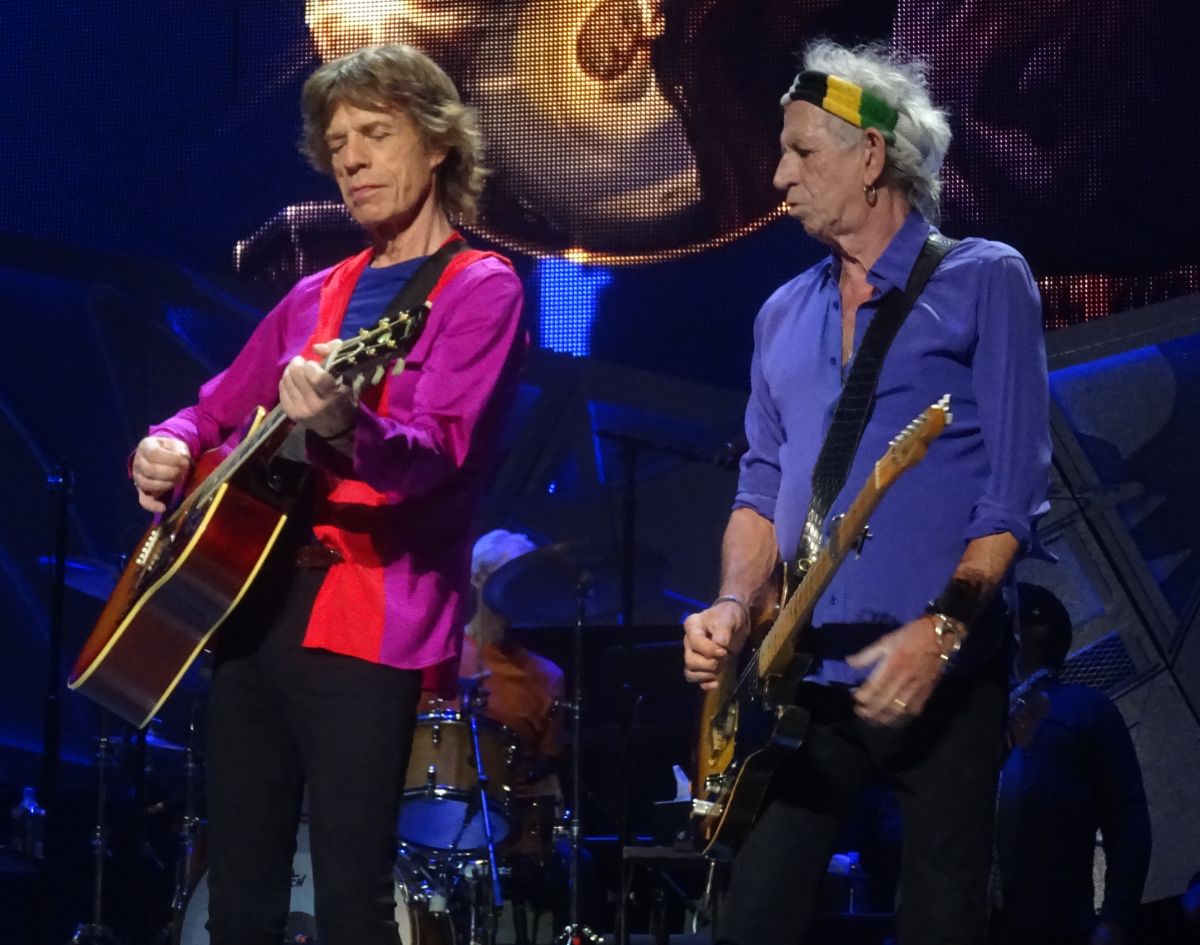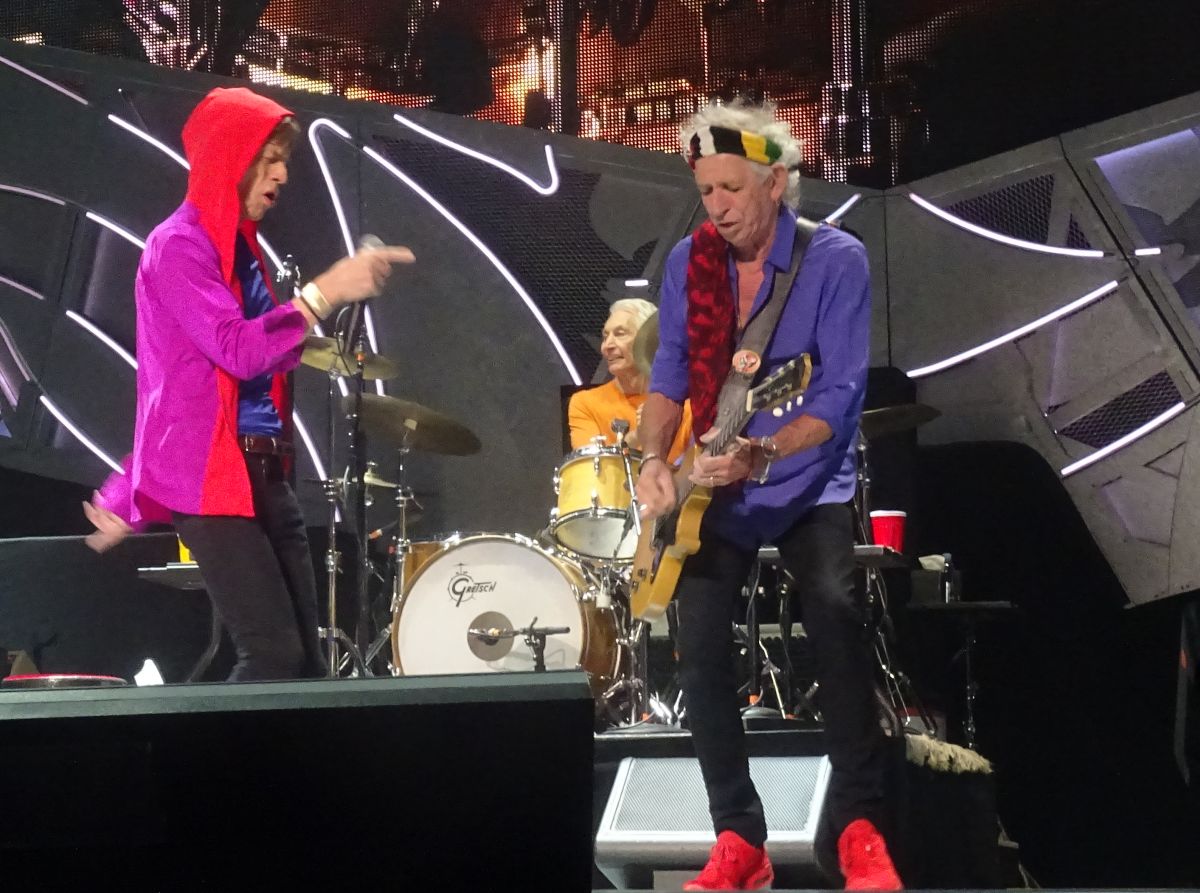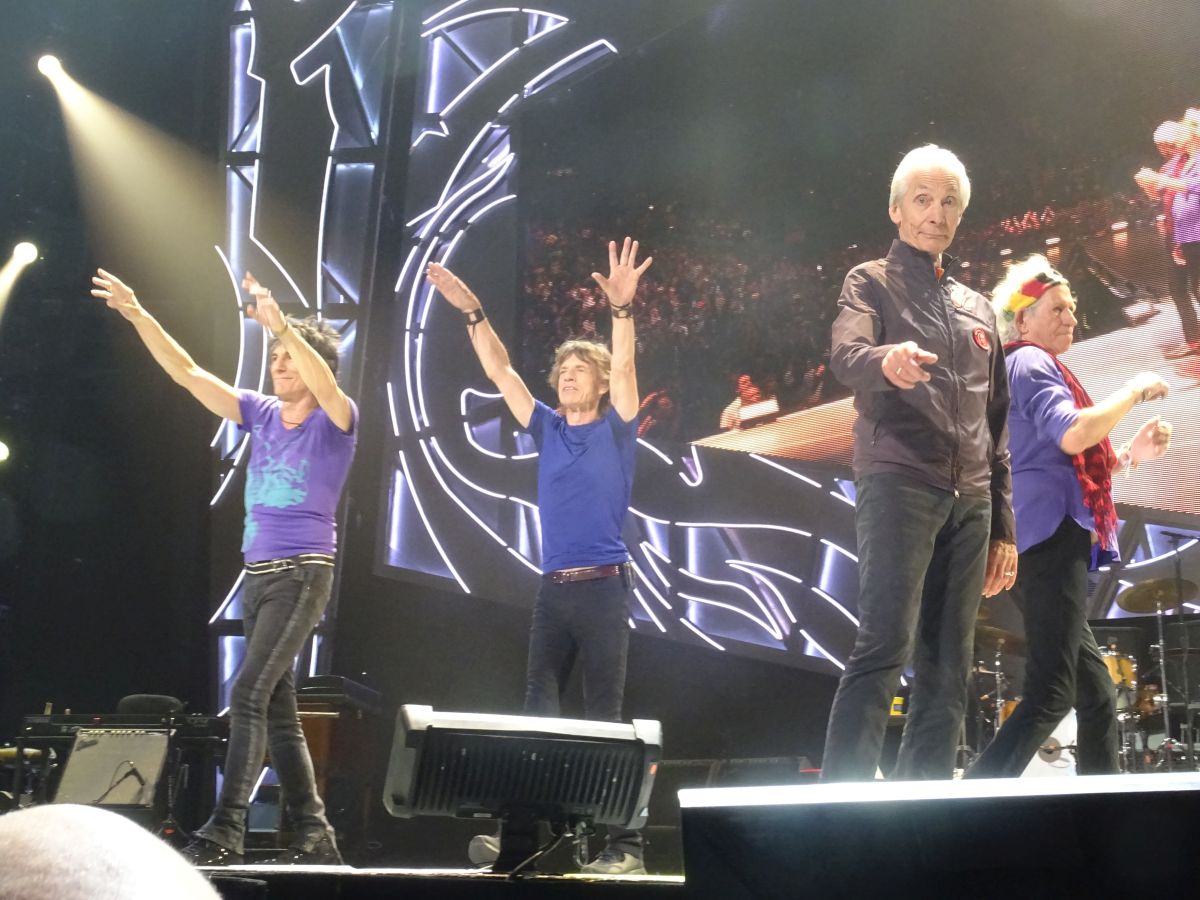 Photos by Bjørnulf Vik
---
Review by Terry Lieberman
You could feel the tension in the air leading up to Saturday nights show. After Wednesdays cancellation, for those who had travelled to Vegas to see the greatest band on earth — the thought that the show might not go on had left Sin City holding its collective breath until the email came — The Show Would Go On!!!

Early on Mick apologized for the cancellation on Wednesday — quipping that "We had gone to see David Copperfield and he had made them disappear". He recognized TMobile arena and how it was their first time playing there and that a new hockey team will be playing there. "Maybe we should call them the Las Vegas Hookers".. As new arenas go — TMobile came across as a bit cavernous, and sterile. A hockey team could easily get lost in there. The traffic was also a nightmare as they are still working on parking.

Micks voice was surprisingly strong from the outset. While he was certainly guarded — and the safe choice of "Let's Spend The Night Together" in the 2 spot allowed him to build some steam while not straining his voice.

While Mick was delivering his typical magical performance albeit it restrained — it was Keith who stepped up to make this night memorable. Vegas clearly belonged to Keith. His three - yes three song set was simply electric and built momentum for the entire rest of the show. Slipping Away is always such a treat and tonight was no exception —— the blues at the best. Little T & A was extended and powerful with Ronnies solos equally exploding. The set then continued with a searing Happy with Ronnies Slide and Keefs solos cutting through TMobile. Keith comment on "the situation with the band and his playing 3 songs" clearly elevating his performance and the bands on this special night. It was the best set I have ever seen from him —— hands down!!!!!

Mick also picked up on the momentum Keith had generated. His harmonica on Midnight Rambler pumped additional energy into the Las Vegas crowd.

The choir on You Cant Always Get What You Want was the best I had seen —— I heard they had performed before and were asked back and everyone there could see why.

In the end — Micks perseverance after illness stood out while it was Keith who stood above the rest, delivering his most memorable set to date.
---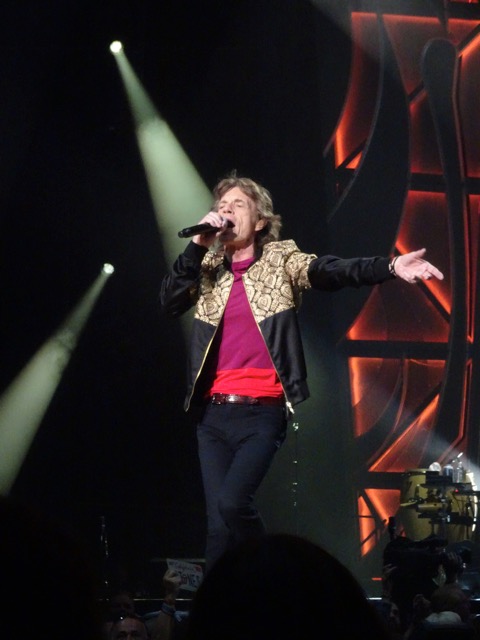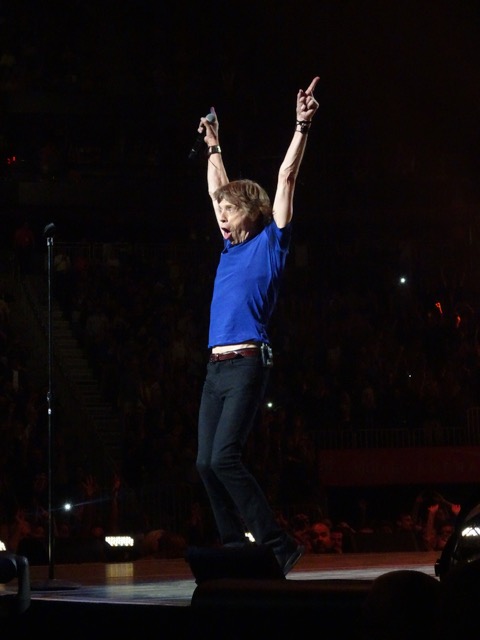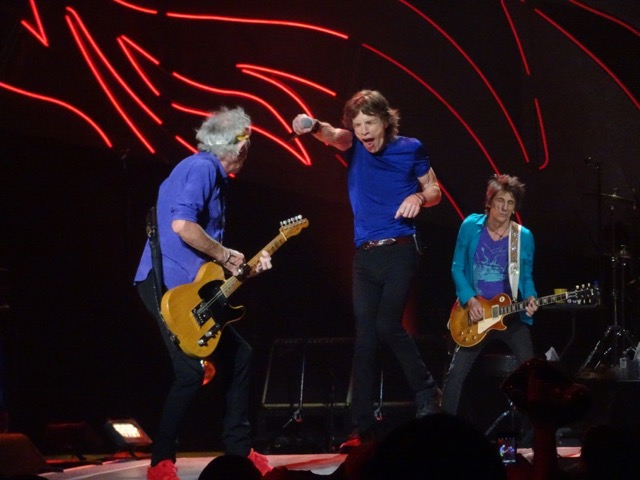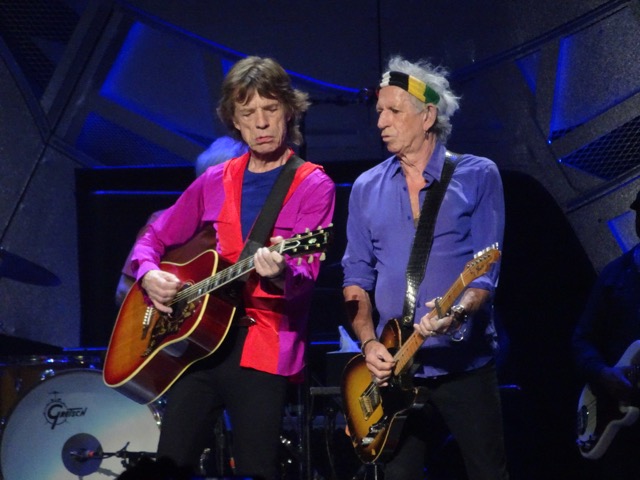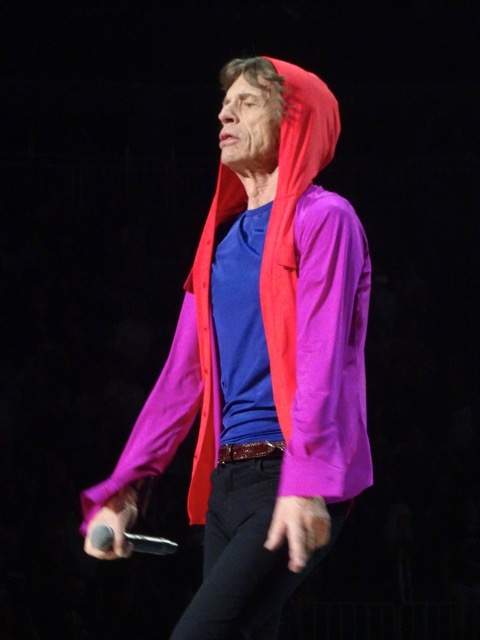 Photos by Klaus Lauterbach
---
This page will change over the next few days, as you and other fans send reviews, set lists and reports. Please send your e-mail to IORR. Thanks! For details and great photos from the Rolling Stones and their World Tour get the IORR magazines.