---
These are the latest Rolling Stones news and updates for you! IORR is a non profit fan club run by fans for fans. All parts of the It's Only Rock'n Roll web site is copyright of The Rolling Stones Fan Club. When using information from this site, please include a reference to IORR and the main web address www.iorr.org.
---
---
The Rolling Stones
Estadio Centenario
Montevideo, Uruguay
Tuesday February 16, 2016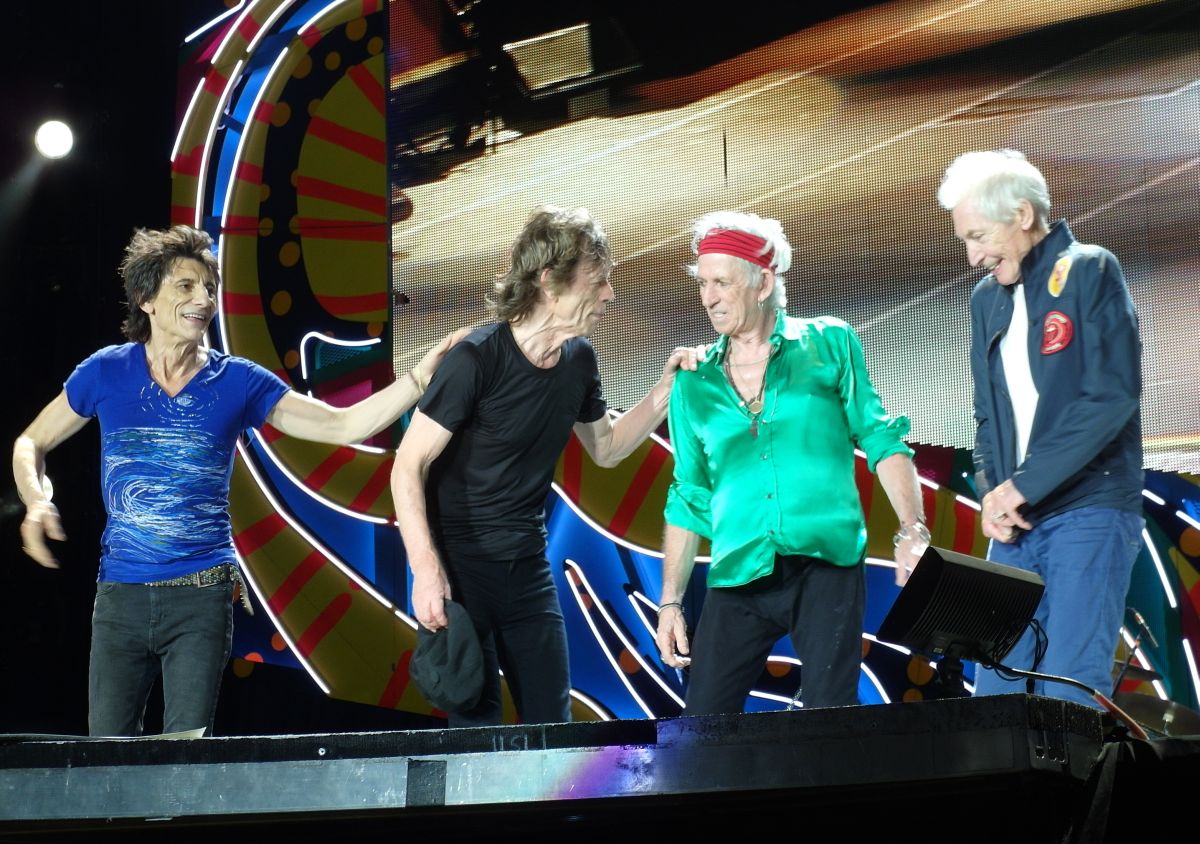 Photo by Bjornulf Vik, IORR
The set list
Start Me Up
It's Only Rock'n Roll
Tumbling Dice
Out Of Control
She's So Cold (by request)
Wild Horses
Paint It Black
Honky Tonk Women
--- Band introductions
Slipping Away (Keith)
Can't Be Seen (Keith)
Midnight Rambler
Miss You
Gimme Shelter
Brown Sugar
Sympathy For The Devil
Jumping Jack Flash
--- Band off stage
You Can't Always Get What You Want (with choir)
Satisfaction
---

Show start :  9:06pm
Show end   : 11:21pm

---
Reports please!!!
Please send your comments, reviews, links and more in English, Spanish or Portugese to:

[email protected]
---
Review by Bjornulf Vik
How was the show in Montevideo, Uruguay tonight? The picture from the final bow says it all. The Rolling Stones have just finished Satisfaction with an amazing power. Charlie is working with the zipper on his jacket, with a smile on his face. Ronnie is looking at Charlie, smiling. Mick and Keith are close together, eye to eye, Keith still high from the intense show, he could have kept on playing for a quite a while still. Mick looking into Keith's eyes with a satisfied smile, like saying this was a great show pal. And so it was...

The strongest part of this show was Keith and his great guitar works, especially from "Gimme Shelter" and on. I have followed the Stones for ages, but the mix and the sound and the intensity of Keith's riffs have never been stronger. Same with "Sympathy For The Devil", or "Satisfaction". Keith is on the left wing, he is on the right wing, he is out on the extended stage walkway, playing the guitar strong like it is the final song of the show for every number, but he does it on every song since mid-way in the show.

Mick is himself. All over at all times. I have to tell myself he is age 72 but that does not seems to bother him at all. At one point he is rushing back to Charlie, pointing his fingers, keeping up the pace, like saying "Go Charlie, Go, Go Go", then Mick is back up front stage. At one point he is right in front of us lifting his shirt, flashing his teenager like body bare brest, like only Mick can do it, then a smile with a grin, he is getting rid of his already open jacket, and is gone with a flash somewhere else.

Just one thing about the crowd that probably was not so populat with the band... Some in the crowd seemed to throw water from their bottles every time they went out for the B-stage. Especially Mick took quite a bit of water splashing, and I must say, he was brave never complaining, just on with the show. He was even running there at times; luckily the crew kept it dry, cleaning out the water between every trip Mick made out to the B-stage.

Great show? Indeed! Very different from the crowd wise intense shows in Argentina. Here in Montevideo it was much easier to keep focus on the band and the music. It was the first and probably the only Stones show in the history in Urugauay, but it was a great one, a show to remember, once more a power show!
---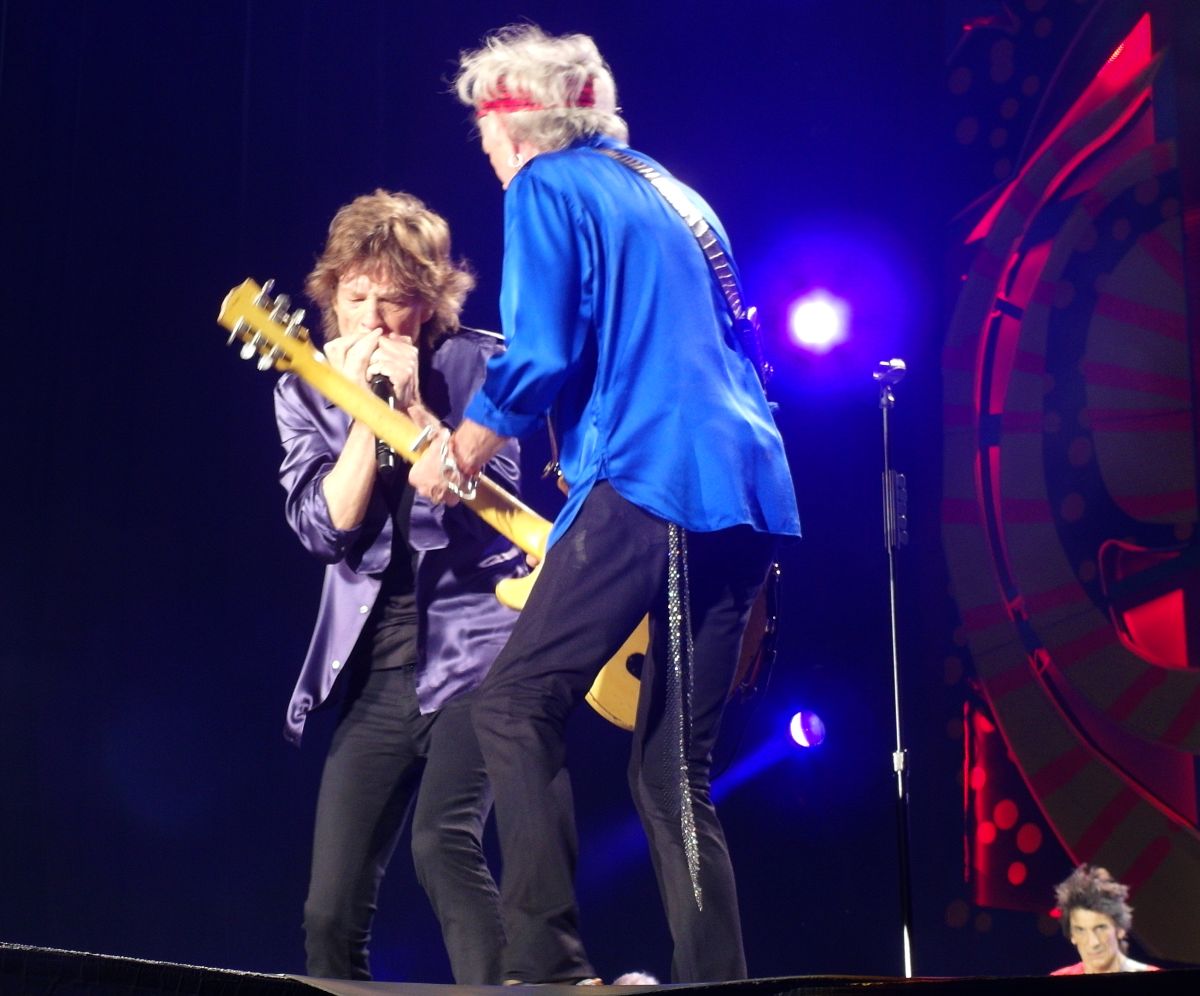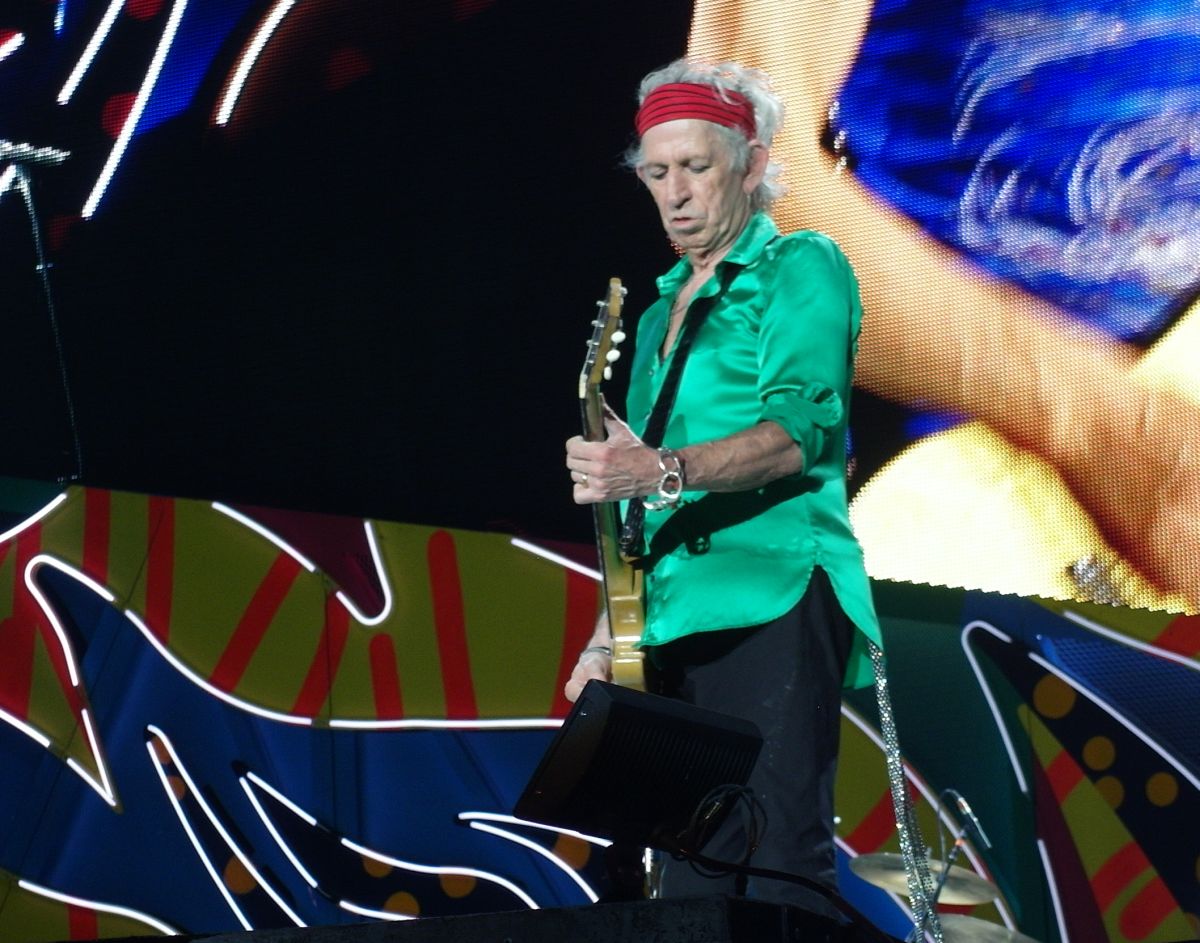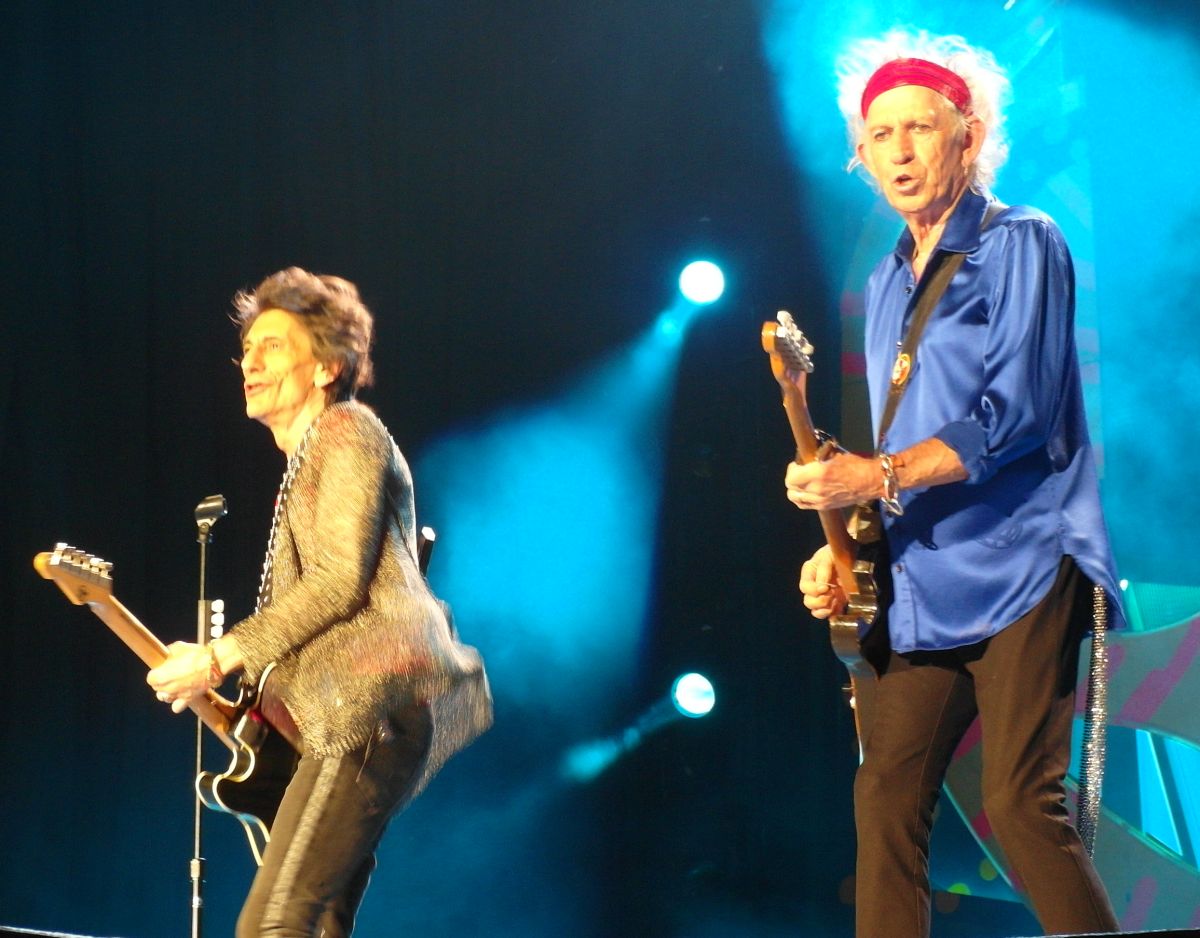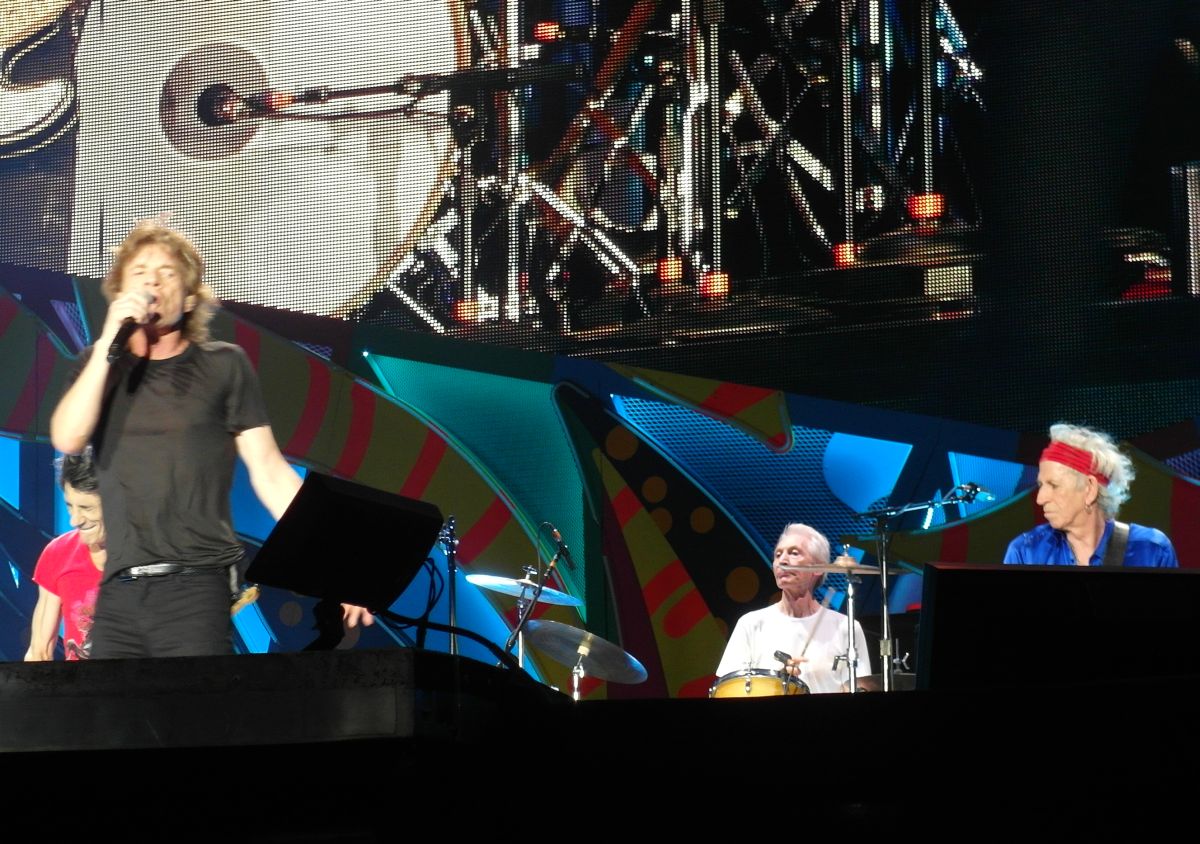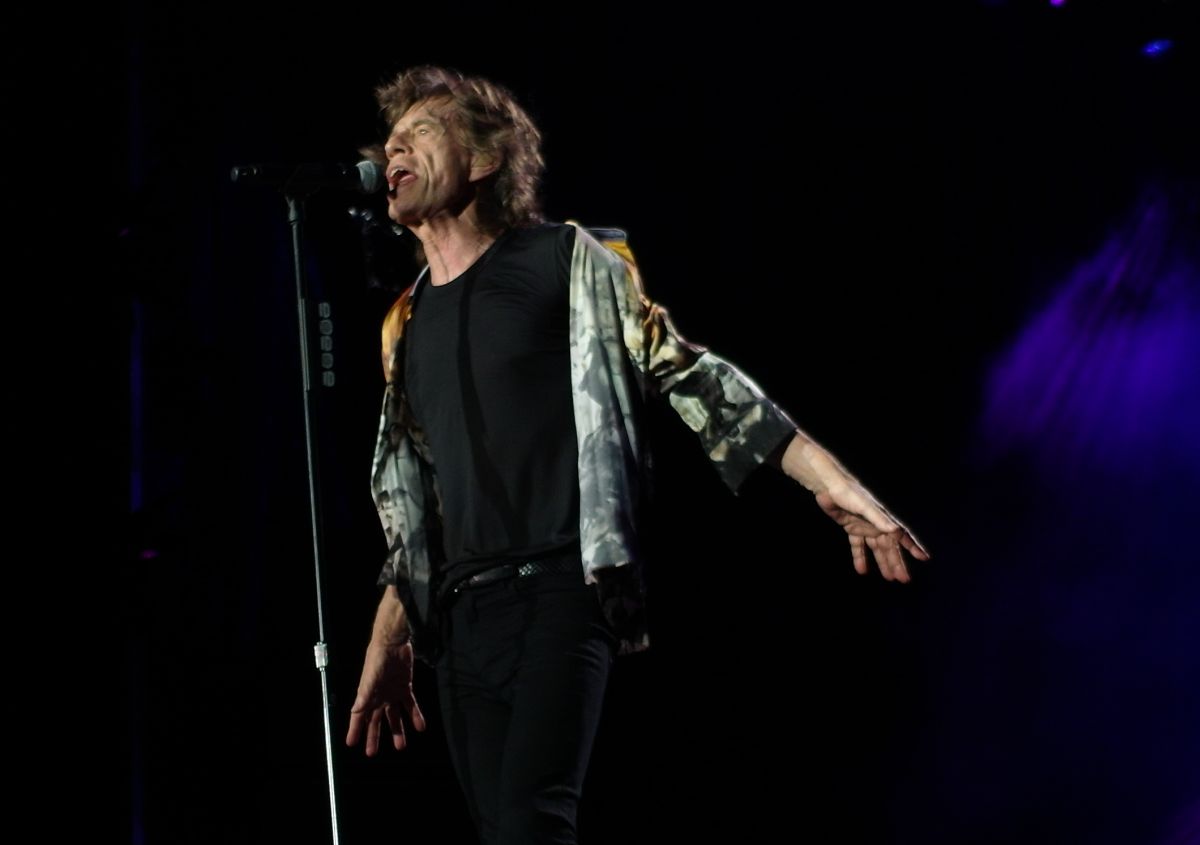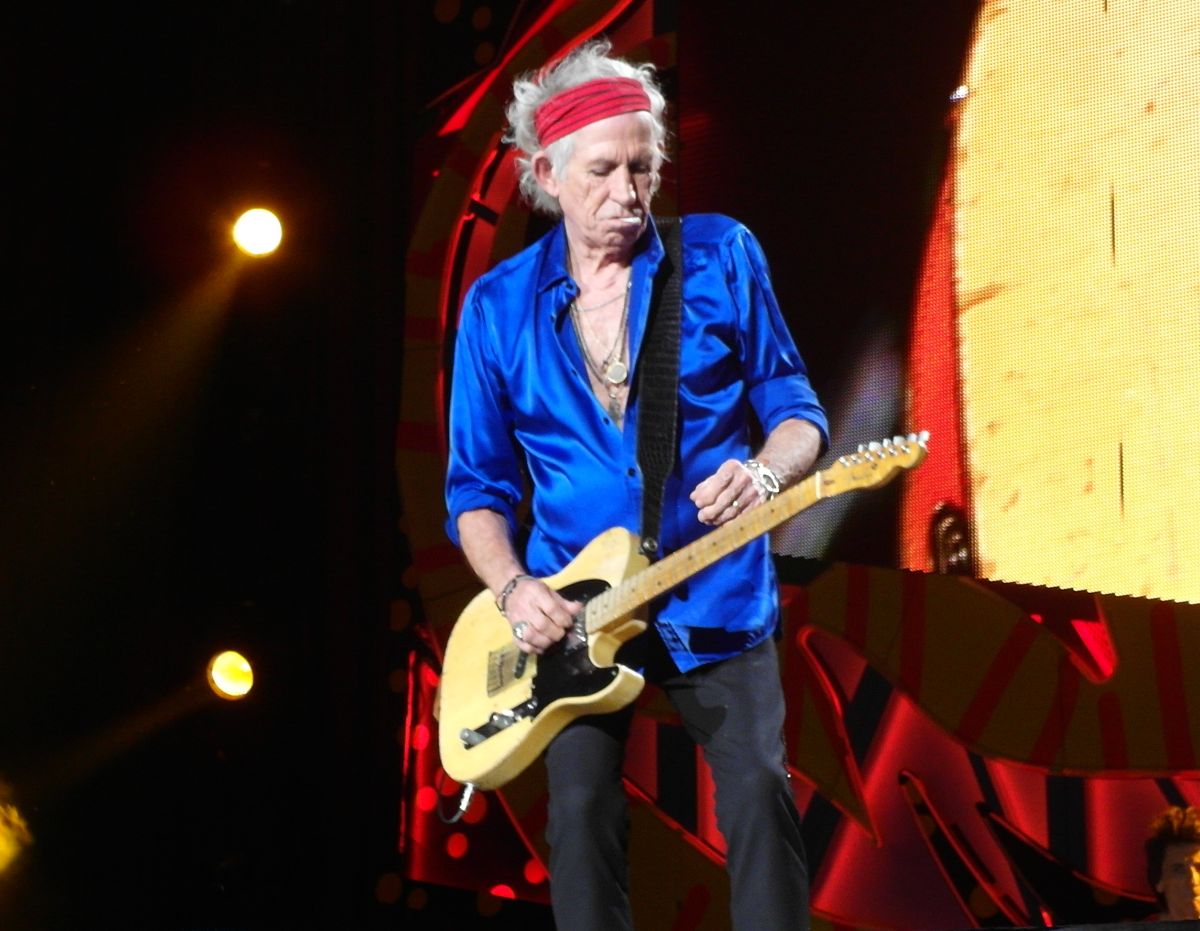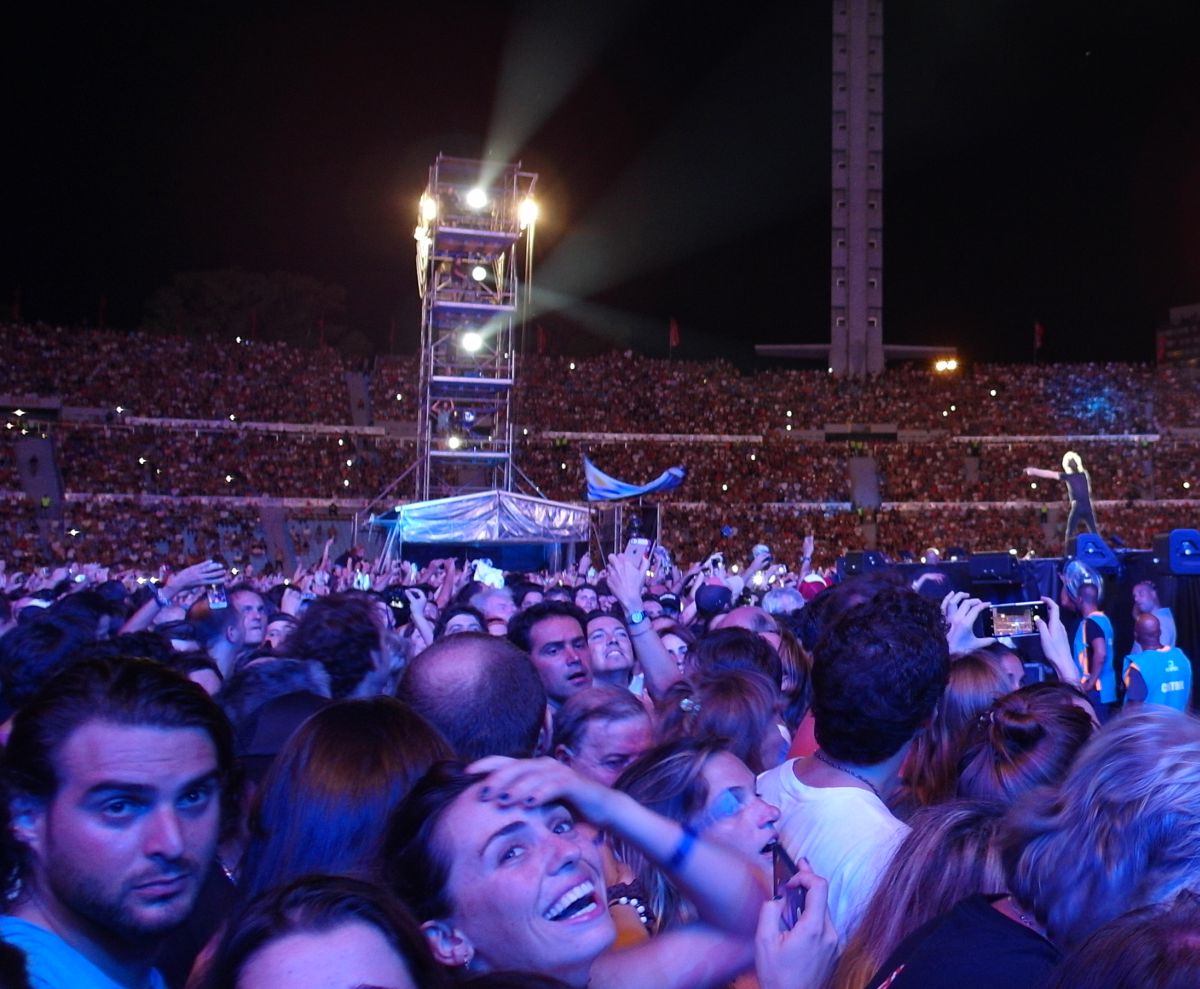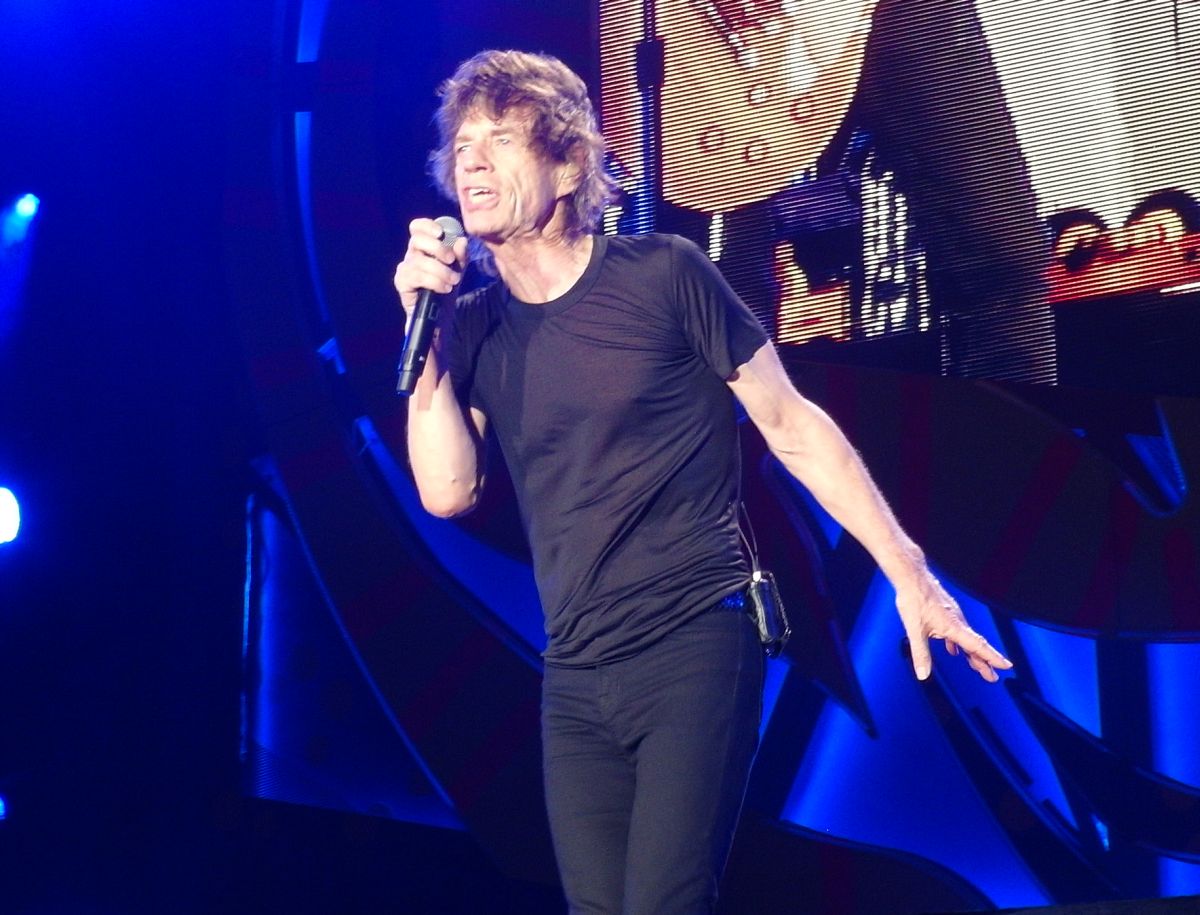 Photos by Bjornulf Vik
---
Review by Dean Goodman
The first truly historic show of the Rolling Stones' South American tour turned out to be a fairly unspectacular performance for the first-timers of Montevideo on Tuesday.

Everything seemed to go to plan, no one screwed up, "She's So Cold" went over OK in the balmy breeze. Indeed the wind whipped up during "Satisfaction" and almost knocked over one of Charlie's insanely warped cymbals.

Some patterns are developing. "Paint It, Black," "Jumpin' Jack Flash" and "Satisfaction" are clearly the big three, although the latter seemed to take the crowd just an extra second to recognize. Some dudes halfway back on the floor set off flares during "Satisfaction," and the Stones themselves supplied a better than usual fireworks display of their own. I'm not big on ballads, but "Wild Horses" was exquisite tonight. And Keith remains in good voice.

By contrast "Sympathy for the Devil" and "You Can't Always Get What You Want" really drag. The latter song proved troublesome for the (most attractive) choir since, like most people in Uruguay, their English was evidently rudimentary at best. Conversely Mick's Spanish drew some vexed looks on people around me. But everyone loved it when he held up a football jersey presented to him by Uruguayan striker Luis Suarez.

I stood (and occasionally slumped) at the back of my Platinum B section, not feeling too well. I noticed a greater range of ages. Some oldsters, and some families with young kids who probably wanted to be home watching Peppa Pig. Unlike the La Plata crowds, Montevideo seemed a tad more sedate, which I'm told is their usual style. They're not rabid like the folks on the other side of the Rio Plata, but they were still a boisterous bunch.

At any rate, the 86-year-old stadium was so vast that there wasn't much of a community feel. The people on the sides were miles away from the action. It's a pity Charlotte Watts didn't create a poster that acknowledged the stadium's significance as host of the first World Cup (won by Uruguay).
---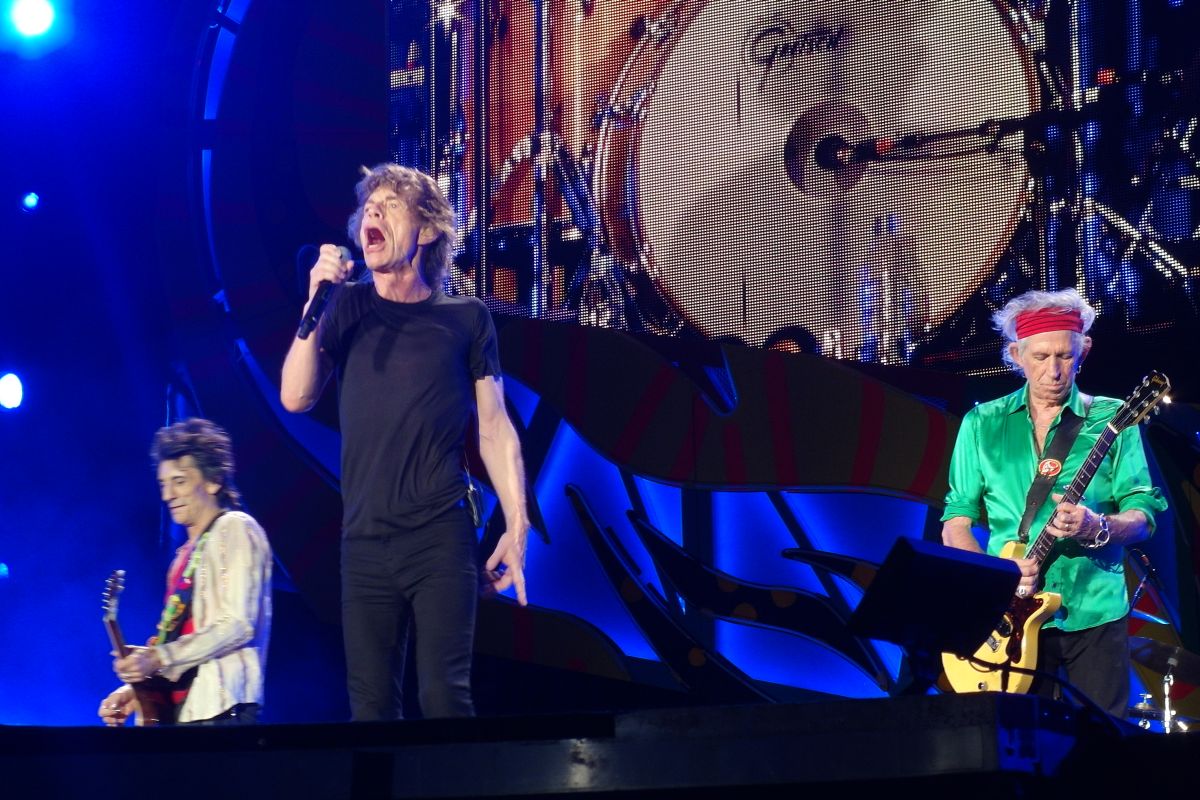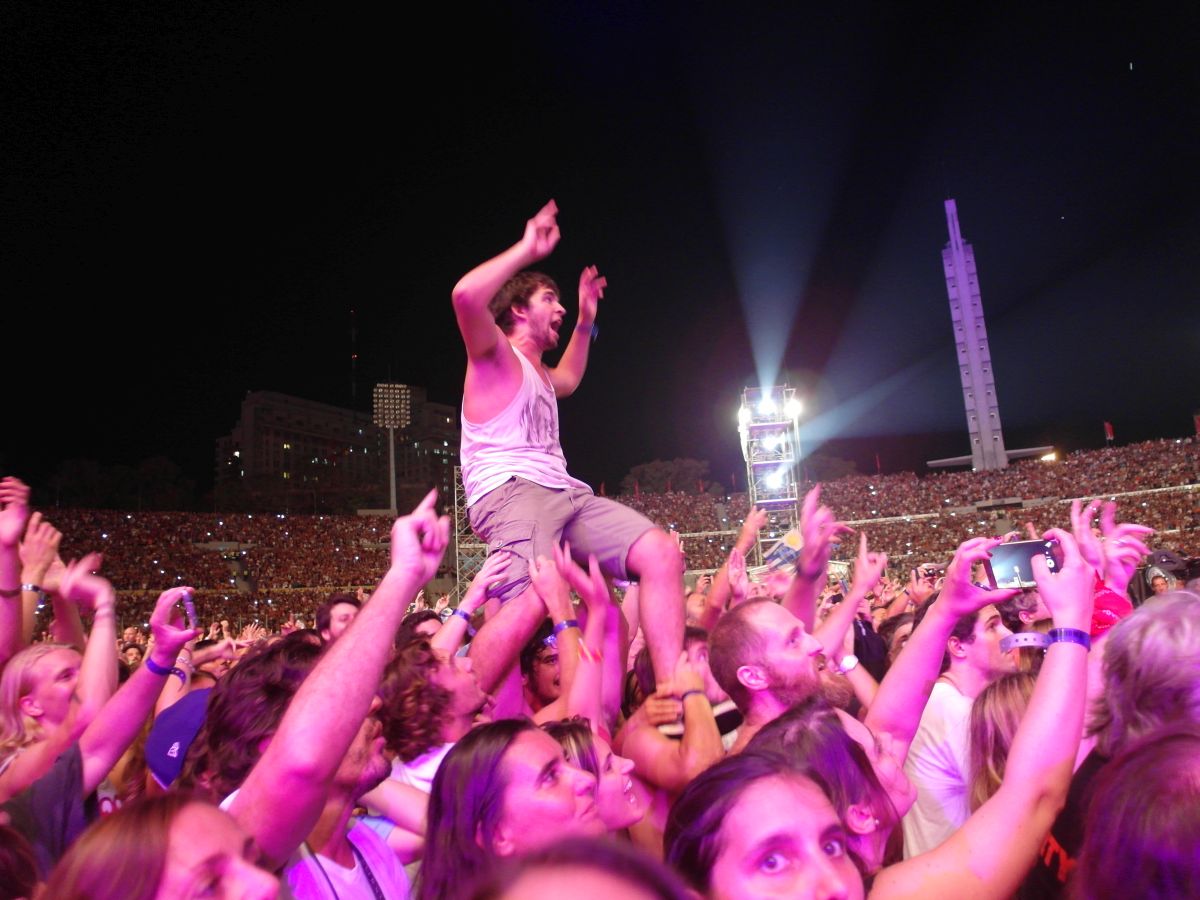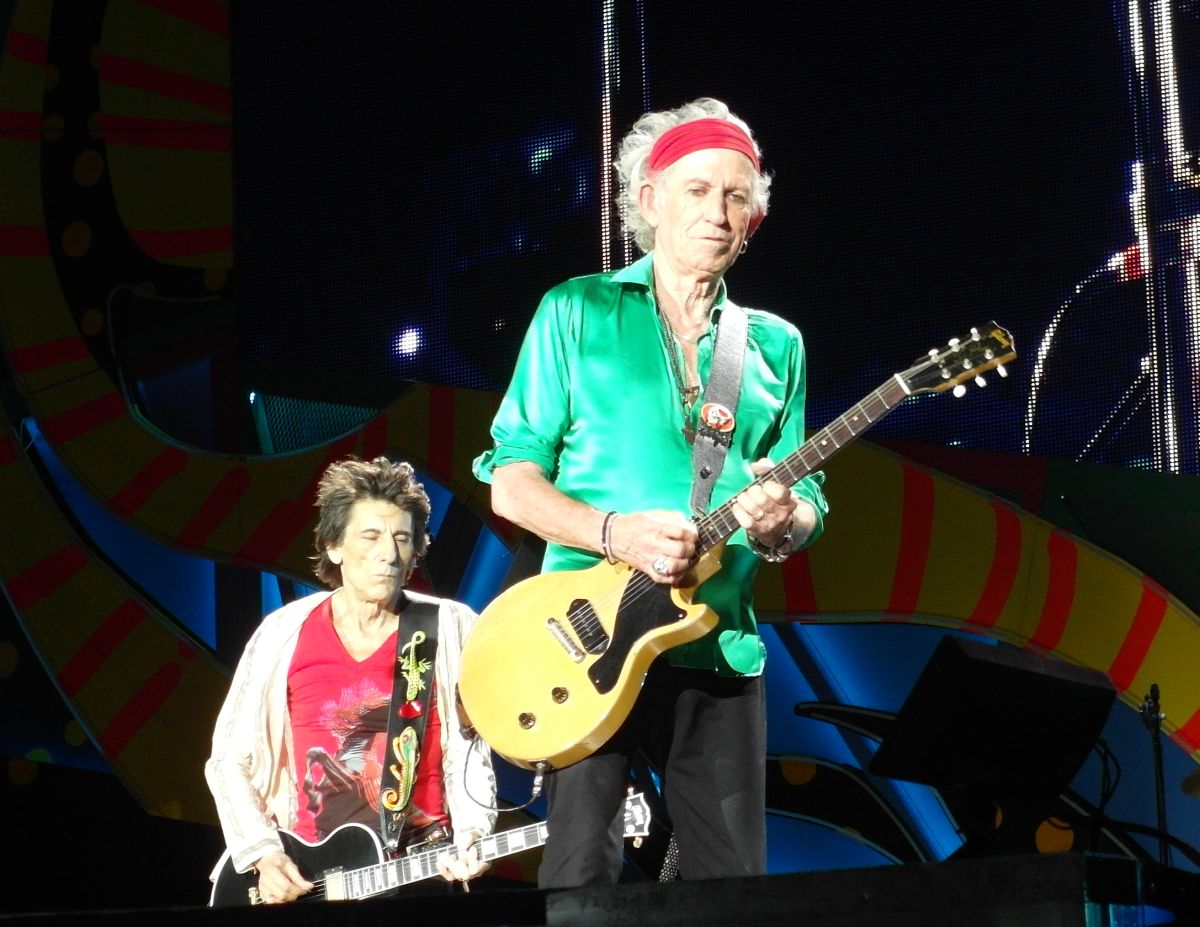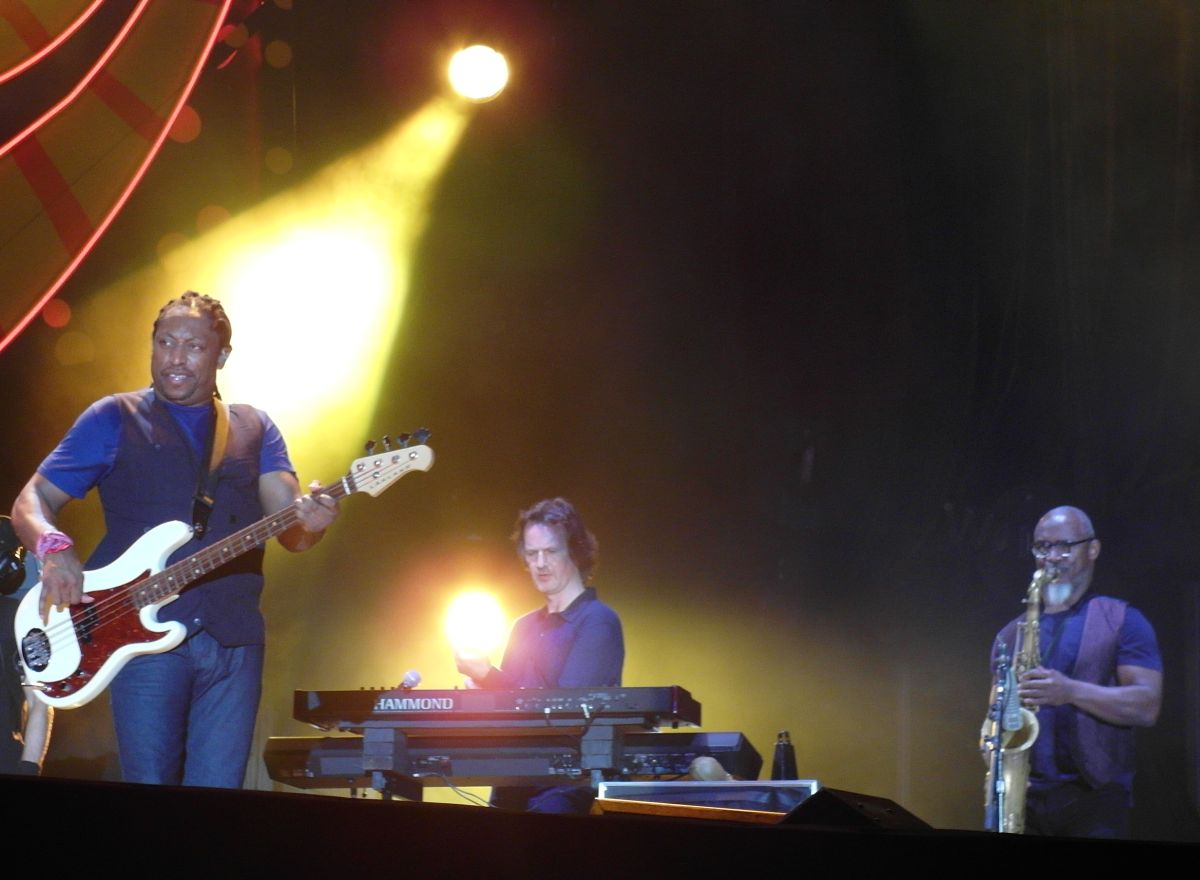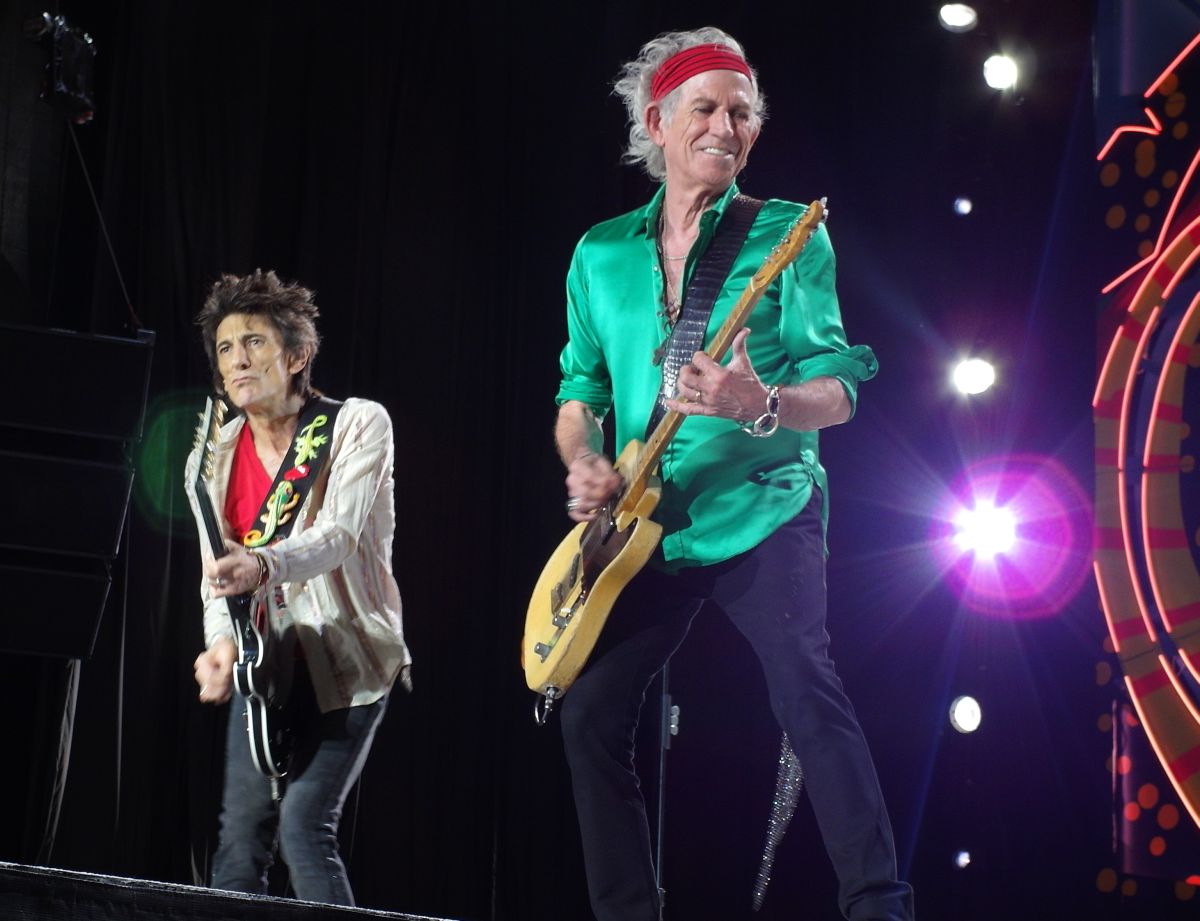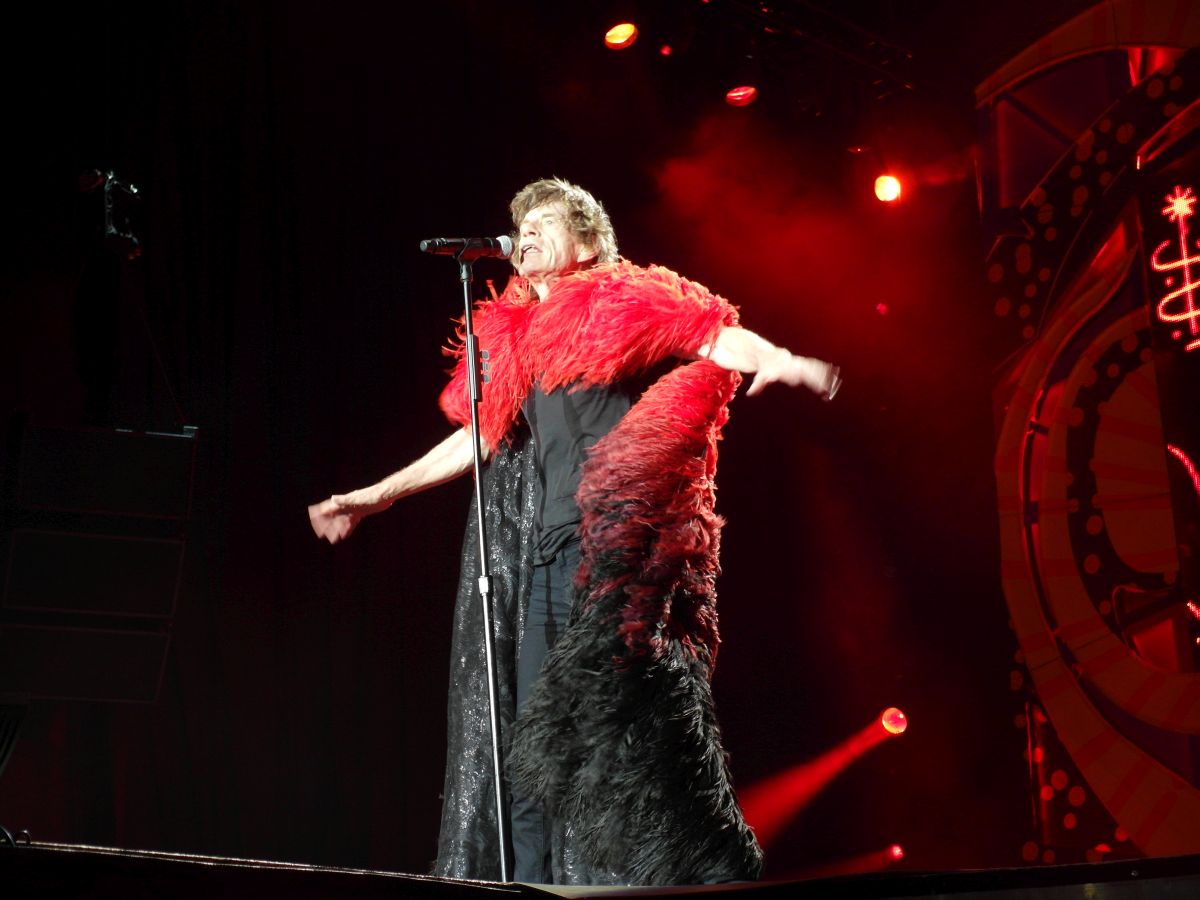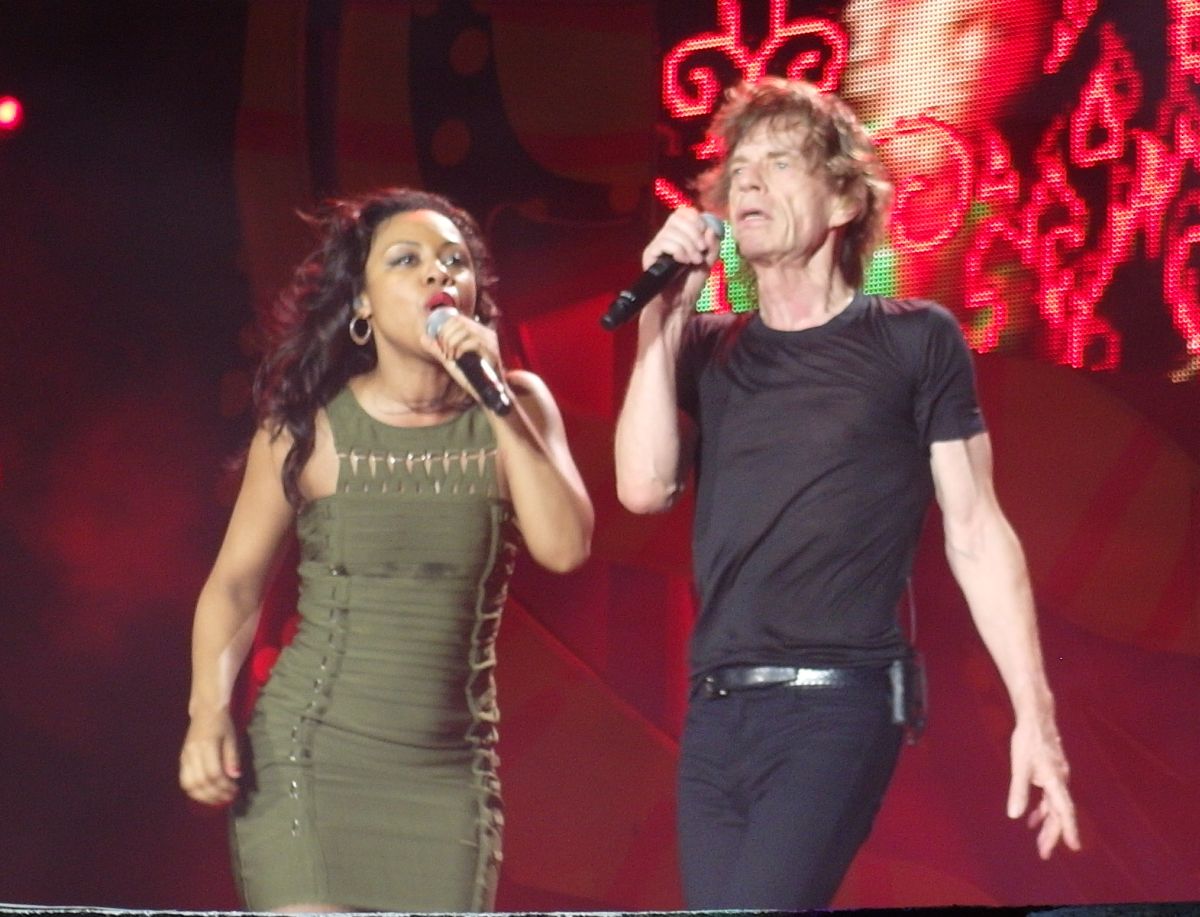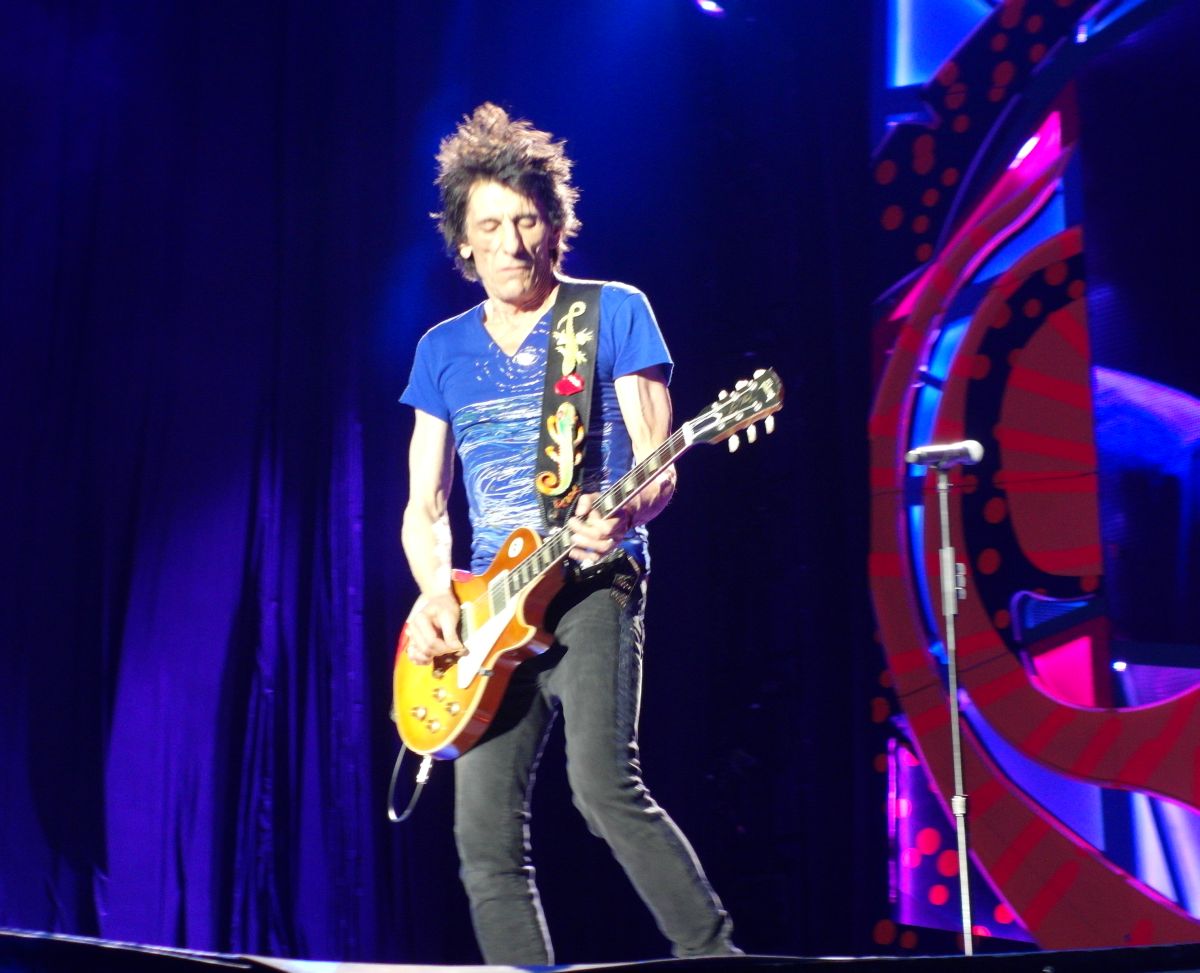 Photos by Bjornulf Vik
---
Review by Alwyn Welch
This was the Stones first visit to Uruguay, and mine also. We made the trip over from Buenos Aires on the Tasmanian-built fast ferry Francisco – 100 miles in just over 2 hours. Phew! The Stones took their rented LAN jet.

Uruguay has one of the highest GDP per head in South America and higher than countries such as Croatia, Mexico and China. Driving along the coastal road to our hotel, a road called the Rambla (yes Mick made a joke about that I think last night – it was in spanish), it looked at times like Cannes or the posher parts of Torquay. Apartments overlooking beautiful beaches, with beautiful people walking or jogging along. OK so the pavements (sidewalks for our US friends) need some serious renovation and windows have metal grills, but a great city and very friendly people.

Our honeymoon arrival stopped when we got to our hotel: with a confirmed Expedia reservation, the hotel denied all knowledge of us and were full. That is an old rip-off: we booked before the Stones visit was confirmed and they obviously wanted a better price. A late evening rush to find another room in a busy city followed. The point of mentioning this is that for Montevideo this event was massive: on the TV, newspapers, people coming in from all over Uruguay, from Argentina, from all sorts of other places ("and now they're in Montevideo…").

We passed-by the band hotel on the beach (no secrets here – it was on TV). It looked like Fort Knox or Stalag Luft 13 – barriers, armed police, security etc. etc. It was a very exposed location, clearly well advertised. Were they expecting trouble? I hope not, and I hope none came. Other intelligence suggests this was in part due to the hotel over-reacting and not being used to royalty visiting. We have found the city safe and friendly – although to be fair we have avoided the known "red spots". When you see 100 plus fans outside you realise why some people get concerned over security. Knowledge = no security.

Walking into the gig very few people wore Stones T-Shirts. I suspect less than 5% of the 75,000 people had ever seen the Stones live before: they knew all the songs, well most of them. They loved the band, the music, the culture/lifestyle that the Band has helped create over the past 53 years. Now they could meet them face-to-face. A very easy-going crowd, not as manic as Argentina, lining-up like Brits (politely) but partying like the French (enthusiastically).

Again some idiots set off a flare or two in the crowd at the end of the gig. A real mix of ages as well – kids well under 10 years to people of the Stones' vintage. A major event to be savoured for a long time. But seeing fans overcome by emotion when the Stones came on stage and played; fans who had heard them for all their life but never seen them; that was very very special – real lump in the throat stuff even for hardened fan-atics.

The stadium's history is classic – built for the first World Cup soccer finals in 1930, 100 years after Uruguay's independence. Just like Wembley, built a few years earlier, that means very shallow gradient stands set back from the football pitch and a surrounding running track. For a rock concert, it's a long long way to see the stage, and a massive field. They had 3 sections in the field – a small Pit (Premium), maybe 30 people deep, then a bigger one called Platinum (I'm guessing 50 deep), then the Field (aka Campo down here).

I wish, I wish, that they had this layout at every concert. You get the enthusiasm of the dense crowd, the passion and even madness. But you get more safety and can enjoy the gig – and as the audience gets older with the Band (getting old is better than the alternative as they say....) that format better meets the audience expectation (and what they paid to get in). The access to the Pit was a shambles – not the Band's fault, but a crush because the security was under-staffed that is not the best way to treat your highest paying customers.

I didn't expect a set-list of rarities: this is a virgin crowd, in virgin territory. That said, the band mixed it up a bit – and added-in She's So Cold (the best version I've ever heard live, equalling '82) and Wild Horses (some very close dancing from Sasha and Bernard – easy!). Of course there were a few slips, some riffs not quite like the LP/CD (who really cares or even notices?), but also some ad-libs and beautiful passages of music.

What stands out is that we did get some really ripping versions of Paint it Black, Rambler and Out of Control amongst other songs. The guitar work from Ronnie and Keith was truly excellent. Ronnie again fast and creative on solos, and playing some delightful counterpoint on Slipping Away. Keith powering away, with a renewed burst of energy towards the end of the gig: something got him really fired-up. Charlie bashing as ever, with a name call mentioning his Wembley origins – well we were in a "competitive" old soccer stadium. He seemed unusually bashful during his introduction: I really can't imagine why. Most of all they clearly had a ball – feeding off the energy and passion from the Crowd.

Keith chose Slipping Away and Can't Be Seen – that's 5 different Keith songs in 3 shows – he really rolls the dice on song selection. Interestingly, before the show, someone showed me a photo of Keith on his hotel balcony in Buenos Aires, acoustic guitar in hand practising You Got the Silver before that last gig in La Plata. A real pro, no question, make no mistake. Again a big chant for Keith from the crowd in Montevideo: such affection for the counter-culture hero of "our" generation.

Mick yet again dug deep for emotion and energy. The local papers had pictures of him out late the previous night with Bernard (and a few others) but he was on fire on the night of the gig. His moves on Control and Rambler – it is like watching someone give a dance class in 30 degree heat, whilst singing and managing the audience at the same time. Amazing. He conducted She's So Cold; he entertained and also played some truly excellent harp – he should be recognised (like Keith says) as one of the greats of that genre. Seeing him playing close to Keith during Rambler was rather moving.

Time seemed to fly-by at this one – suddenly we were at Band Introductions; then it was the encore; then the fireworks. They played several long versions of songs, at least it seemed like that. I'm not sure how to square that particular circle (fast show plus long versions of songs) – do Stones shows create a discontinuity in the space/time continuum Mr Spock?

I continue to be impressed by the sheer professionalism of the Band, their fellow musicians on stage, and the largely hidden crew who make this all happen. One of the big screen panels was playing-up 30 minutes before show time – it was fixed. Water gets thrown on the cat-walk – it is dried. The big speaker stacks are swaying 2 feet in the wind – they don't fall down on me. The speed and efficiency of changing equipment between bands, and of packing up the backline after Satisfaction – thank you Pierre and team.

You can easily forget that the crew from security to backline; from sound to light; from admin to management; from family to rigging: they all play their part in bringing the greatest rock show in the world to a city anywhere in the world.

The weather stays fair for the Stones, so far… there was thunder and rain on the morning after the Montevideo gig, and a much cooler day. We needed the break, especially as we are expecting even more heat and humidity, and maybe storms, in Rio.

Finally, on the wish list…. Can we shorten a couple of numbers and find space for 2 rarer songs? Think of it as educating the fans – giving them a Masters degree in Stones music. It would be hard to better the performances, allowing for the inevitable variation between individual days. So maybe mix it up a bit?
---
Review by Marcelo Sonaglioni
Oooh Montevideo! The heat had been unbearable all through the day and it looked like it was gonna be another hot night during the concert. And it sure was! It felt sticky all through the concert. But nothing stopped the Uruguayans to have what they had been waiting for decades: their first Stones' show in their country ever.

Unlike La Plata's stadium here in Buenos Aires (which was a drag to get to, the Stones should have launched a separate tour for that!), Centenario stadium in Montevideo, an historical landmark place concerning football history, is not longer than 1 km. from the downtown area of the city. Last time I'd been at the Centenario was on Oct. 3, 1990 (when Mick Taylor opened for Eric Clapton during his 'Journeyman' tour, the very same time he told me to "f**k off!" ... when I approached him...)

Back to the Wednesday show, you could see by the look on their faces the band was absolutely excited to be there, mostly by Mick's look on his face. He looked absolutely thrilled and he showed! We got the classic setlist we'd been going from the Santiago show onwards, while the song requested by the audience ended up being She's So Cold which, as far as I remember (I might be wrong as well), marked the first time they played it in South America ever (right, I would have liked Just My Imagination instead, but you know how it goes).

As usual, Mick came up with lots of jokes. He referred to Uruguayan football player Luiz Suárez (who's a big football star in Europe), said a couple of words in Uruguayan lingo, and said that he'd visited the "Midnight Rambla" (referring to the very "rambla", the long boardwalk that goes all along the city's riverside) Same as last show in La Plata, we got a song less, but who cares? The show in Montevideo was worth every seond of it. I've always been a Montevideo lover, as well as their people. I have lots of great friends there, so this was a plus (as well as as all the Stones' fans and friends from abroad who are following the Olé tour), so it turned out to be one of my fave Stones' shows ever! Next stop is Rio on Saturday. See you all around!
---
Review by Luis Rodríguez
This was my second Rolling Stones show. I had seen them before in Argentina in 1998 when i was seventeen years old. That was a hell of a show in terms of intensity and musicianship and for me it set the bar for every other show i have seen ever since.

This show was in Montevideo, my hometown. The venue was the Estadio Centenario, which is the stadium where the first FIFA World Cup final match was played, something we are mighty proud of.

The show started with "Start Me Up". Just seeing Keith Richards standing there, playing in this stadium, was an unbelievable thrill. They nailed it. "It's Only Rock N Roll" was a blast too, when Jagger said "Come on, Keith", and then Richards started to play the guitar solo, the crowd went nuts and Richards noticed it and smiled… i almost cried. They played "Tumbling Dice" in all its glory, with Bernard Fowler and Sasha Allen and the sax players making their first appearance. I am happy that they keep on playing "Out of Control", it was a great number in '98 and it still is. Jagger's vocals, harmonica playing and physical intensity were on full display; the song was brilliantly commanded by Darryl Jones; i missed the jazzy feel of the trumpet solo though.

"She's so Cold" was a particulary popular song back in the day in this country and so it made sense it was the song chosen by request, it was a moment of pure fun. "Wild Horses" was everything you want it to be and i smiled every time Keith sang the background vocals. "Paint It Black" got one of the strongest responses from the audience. "Honky Tonk Women" followed by band introductions and then Richards sang "Slipping Away". It took me by surprise, i wasn't expecting it. I must say it, Keith's playing is not what it used to be but the man KNOWS the feeling, it was one of my favourite moments of the night. It's truly moving to hear him singing those lyrics at this point in his life. "Can't be Seen" somehow lacked the intensity the song requires.

"Midnight Rambler" was cool with the interplay between Jagger and Ronnie, the darkness and the blues were there. Darryl Jones deserves a whole lot more of credit for his playing, and "Miss you" was one of his shining moments. I missed Bobby Keys, a lot in that song. I love Lisa Fisher, always have, always will, but i must say Sasha Allen raised to the occassion for "Gimme Shelter".

"Brown Sugar", "Sympathy for the Devil", i could not believe we were heading to the end of the show so fast. There is something about "Sympathy for the Devil", it had a strong impact on me the first time i hear it live, and it still has. "Jumpin' Jack Flash" sounded powerful, i missed Lisa Fisher in those background vocals. To see and hear the kids from the choir was moving and you got to love "You Can't Always Get What You Want". "Satisfaction" was the ultimate rock 'n roll moment, it could not get any better than that.

I haven't made any mention of Charlie Watts. I have saved that for last , Charlie was the Most Valuable Player, flawless, steady through and through and this is no shallow reverence, i mean it. If time has touch Jagger or Charlie, it simply doesn't show. All in all, it was a perfect night, a dream came true, something that will keep us happy.
---
Review by Simon Emmerson
I arrived early at this historic stadium and soaked up the sun and great atmosphere. It was nice to meet up with some old friends and make new ones from different corners of the globe. One joint passion, the greatest rock n roll band in the world.

Its not often you get told off for running, but we did as we sprinted to the rail at Keefs side. The Uruguayan fans and security were really friendly. Even got a few beers bought for us. After 50 years plus they were ready for the pensioners to play some kick ass rock n roll. They were singing football songs and waving flags. Support band Boomerang, a local band got a nice warm reception.

Shortly after 9 the boys came on to a crazy crowd as they belted out Start me up. There were no bum notes from Keith and it rocked. The high tempo continued with iorr, and Tumbling dice.

Out of control was quite amazing. High octane moves by Jagger and amazing harmonica playing. Then the internet choice was Shes so cold. Keith and Ronnie were banging out the chords, and Mick was snarling out the lyrics. Just like on the old official video.

Mick was speaking plenty of Spanish, and at one point was waving a signed Suarez shirt. The footy star had apparently sent it to Mick. My Uruquayan friend Flavio told me the next day Suarez had missed a penalty. They had heard of Jaggers luck or lack of luck at footy matches. They seem to think the missed penalty was down to Mick.

Wild Horses was as beautiful as ever. Wonderful back up vocals by Keef. Perfect song for a perfect evening.

Paint it Black lifted the tempo! And then into Honky Tonk Women.

The introductions came.And Keef seem to get the biggest applause. Its good to be here, on with the show he eventually says. The Riff Master did a lovely version of Slipping away with that big black guitar. And fluffed his lines numerous times, despite constantly looking at the teleprompter,during Cant be seen.

Midnight Rambler came next. Mick Talyor was out here a few years ago supporting Clapton, and nobody knew who he was. Shame he wasnt here tonight because they were denied a massive treat.

Miss you was cool, with some nice notes by Darryl. Plenty of smiles and eye contact with Keef and Ronnie during the performance.Mick was incredibly focused and almost aloof. He is still without doubt the greatest performer in the world.

Dam I kept missing those guitar picks.One touched my hand and was gone.

Gimme Shelter was always going to be interesting. Sasha is no Lisa. She can not hit the high notes and is rather wooden in her movements. And despite the fishnets and red lipstick, she don't get close to Lisa in her prime physique a decade or two ago.

The war horses are up next. Brown Sugar sounds so fresh and relevant. Sympathy for the devil is a big crowd pleaser with Mick with the red feathers. Keef is on fire during Jumping Jack Flash. Then the band are off stage briefly.

It's encore time. Both male and female members in the choir for You cant always get what you want. And the final number Satisfaction and the place goes crazy! Finally get a good view of Charlie who strolls over to our pit and tosses his drumstick in. It's close to me, but the frenzy of hands knocks it over the rail to the friendly Uruguayan security guy. He rather sheepishly tucks it into his trousers and keeps it. Well deserved after all the pictures he took of us. After the bows they are gone. My friend from Norway seem to leave at the same time! And as soon as the show is over they start to take the stage down. A final word, the Uruquayan fans were great, so warm and welcoming. A big thankyou to Flavio, and thanks for the Uruguayan copy of the Still life vinyl. Salud!!!
---
Review by Andrea Chelsoi
SPLENDOUR IN THE GRASS…or the ZEN ROCK'N'ROLL EXPERIENCE

I am writing this at 1am while traveling on a night bus from Montevideo to Porto Alegre. It's the budget way to transit between countries and flying after crossing the border.

I'm also about to complete a circle after leaving Rio – Iguazu - Buenos Aires – Montevideo – Porto Alegre – Rio.

Uruguay is a very interesting country, I arrived with the sun on my right side and big white fluffy clouds on one of the blues skies I've seen. Now I'm leaving with the moon on my left. Both trips were across very good quality roads and mostly across empty lands filled mostly with palm trees and a house every now and then.

I am also enjoying (on a bus of all places) the perks of a good internet connection which was mostly missing in Uruguay. Snoozing every now and then, listening to music and chatting to some of my overseas traveling buddies who are making sure things are ok and keeping me company.

Tony mentioned tonight that I am experiencing a journey that many people could not even think about. It's true, I feel it in every part of my body. Something fascinating is happening and it keeps building and building.

Yesterday was the first and probably only Rolling Stones concert in Uruguay. It was a big deal for them and I remember the feeling from the concert in Bucharest. These one time shows have a premises of turning out great.

After the concert in Argentina, after 3 hours of sleep I woke up and started putting together the bits filmed on the show day. There was a lot to work with as everyone pitched in with little parts of the story which put together produced probably my best video so far.

I posted the link and went for a tour of Buenos Aires with my friend Richard who I have finally attended a show with. I just realized the first time we met I was flying east and he was flying west towards Adelaide. This time I went west and he went east so with this I believe we've circled the world on a Stones adventure. The video became a hit, I went to bed that night when 200 people had watched it, woke up it was 500, at the end of the day it had reached 1000, now it's more than 2200. Mostly everywhere I go I meet people who've seen the videos, most of them back from 2014.

After all this high, surprisingly I found myself going to the concert in Montevideo alone. Everyone had other types of tickets. I did meet the Brazilians Cristiano and André before the show and we had a nice chat in one of those super old-school bars but kind of nice in a way bar.

I will admit at first I thought it was kind of ironic and a little sad. But I got over it very soon as this is a Stones concert we're talking about. It could not under any circumstances be sad or boring.

The concert was on Estadio Centenario, the stadium they built for the World Cup the year they won. Uruguay is big on football but for such a small concert the fact that they won the world cup is quite huge.

The stadium is particularly large and in an oval shape with the stage set against the long tribune with narrower space on the field.

I don't know how many people attended the show but there were a few kilometers of people waiting calmly to get into the show. I went in about 30 minutes before the show, I walked on the sideline until I reached the entrance to the are in front of the stage and there was this little patch of grass and some people were sitting there.

I said I could enjoy that relaxing spot and I actually laid down in the grass looking at the stars which could be seen very clearly. Even like that I had complete view over the screens. It was something completely different from Buenos Aires and a complete new experience for a Stones show.

I was enjoying this, there was some energy consumed up to that point so this moment was perfect to get some back. The galleries started making waves, chanting their "Vamos Stones" and applauding.

When it started I got up, with my shoes off and enjoyed the show dancing on the grass.

They opened with a nice intro video that included "Bienvenidos a Uruguay" which impresses me too, I bet it's heartwarming to montevideos (let's call them that) and when it Started Up there were fireworks behind the stage and over the stadium that seemed to be dancing in the air because of the… you know it… ocean breeze!

From that first song it had a completely different feel from Buenos Aires. People in Uruguay are so nice, I had a few people around me, they were all dancing, all allowing each other space and singing and jumping with the lyrics.

I liked this spot, I could see both stage and screens very well and was enjoying my zen setup. This time as it was just me I followed the action on stage more closely and my feeling was that everyone was relaxed – on stage, in front of the stage.

Everyone was having a good time and it looked like someone started a party, put on same good music and invited only nice people to attend.

And then IT HAPPENED. They started Tumbling Dice and as some sort of wizardry when I heard "Baby, I can't stay" I got an instant replay in my head about the past three years. Starting from the moment I decided to go to Australia, to the moment I did, to the moment it was cancelled, to the moment I met Richard and Sonoko, to the moment I went to Europe, all the people I met all the things that happened. In that moment I realized that what I had set out to do in 2014 I was achieving in that very moment. Seamlessly a huge dream became the reality and I was already living it.

I am a person who loves concerts, any in general but some in particular. I have three bands that I absolutely love and I've met two of them. I love to travel and to discover and to explore. But combining the two, concerts and traveling, rock and roll, the perspective of attending a tour and that tour being the Stones, which has the perfect spice in terms of concert energy, for me it's the best and most complete experience. Now doing this everything feels right, fells perfect, feels amazing.

I set out for it in Australia and it didn't happen. It was a great experience but of a different kind, and the people I met there like influenced the rest.

Then I sort of went for it in Europe but that was in little separate parts which had not even been organized in advance because of the fast turn of events at the time.

And then I waited and planned and skipped other temptations like Australia reloaded or US because I was waiting for this. And now it was happening.

Then they played Wild Horses which turned on another movie. It's the song that I remember I was listening to with my friend Andreea. We were roommates in collage and made a pact to one day see the Stones live, which we did in Bucharest and then again twice in London. She is dear to me and again has made such an important contribution to this amazing story I am now living.

When it was time for Keith's set he started with Slipping Away that I adored in Abu Dhabi. And I remembered the day I met them and my friends from work who were part of the reasons I went to Abu Dhabi then.

And then I thought for sure he couldn't play "Can't be seen" too which I loved in Oslo when I went with Andreea and Mari. And guess what, he did! And when I heard that I started applauding and jumping and cheering. And nobody looked at me weird.

This was a zen rock'n'roll experience as strange as that sound. It was a break from the rush to realize some things I already knew. The night went on with little jokes about the football, a little lyrics twists here and there and a general all field good groove, I think the hit for this concert in terms of audience was Miss You so that's why I chose it as a soundtrack for this video, and it fits well with the vibe of Montevideo.

Most people agree this was one of the best shows of the tour, I agree, and for me being alone at a Rolling Stones concert in Montevideo Uruguay was splendor in the grass. VIDEO: The Rolling Stones live in Montevideo by Andrea
---
Review by Valeria Vallarino
Yes it was an amazing show.

Our little city is still surviving the Stone's earthquake, although we never had one.

During dictatoriship (1973-1984) I was in Europe, in Niece, that was July 1982 and staying in the "Hotel Negresco". My brother finished his MBA degree, we are Uruguayans but he was studying in the States.

So we met in Niece and as a matter of chance, the Rolling were in the same hotel. I ask a maid, that spoke Spanish and she told me, "they ask the management to put the beds out of the room… so no beds there, I don't think they will stay here". So nobody really knew where they stayed. I didn't realize how big they were. My brother bought 2 tickets to the "Stade du Ray" and went early in the afternoon.

I was "a bit hippy" because, I admire things that were forbidden in my country. So I wear a jean (self made) mini-skirt, long hair (although punks were arising in Europe) and a light "indian chemise".

I speak German, French, Italian and of course Spanish. So I made me understand quite well. My brother and me sat on the floor (gras) and he started talking with a group of us-americans and I did same with some germans. Im blonde and green eyed and my brother the typical latin… so they thought we were couple. Both American and Germans invited my brother to smoke through a strange "pipe"… I asked him "WHATS THAT??" and he answered: "Is ok, is hash, try some". New question (I was 16): "whats that??". Answer: "trust me… try some". Well I did, and for the following… I don't know… because time is relative… eternity I couldn't move but was enjoying the movement so much… so suddenly the crowd started shouting: Ohhh… Ohhhh, very loud. Didn't understand that sound that was the only sound inside my brain. And a man on stage, started throwing us water. I got wet and reacted like "what's going on here!!" people around me said: "heyy… welcome to the world"… laughing. So… I asked why they were shouting that so much… and they said: "is water, water in French"… Ohhhh… you mean "eau" (pronounced ohh).

So show started, I was petite (still am) and suddenly a tall and big man behind me, watching my efforts to see the "real show" (the first time in my life I saw a concert, remember the dictatorship in my country and the first time I saw a giant screen) and put me on his shoulders. I felt we all were brothers, sisters… a big family enjoying a very special moment. I admit, I was scared when Mick started to jump and climb and dance high on a metal structure… I thought: "well, he's so old and so StoneD, he will fall for sure" AND DIDN'T.

Today I'm 50 and they still singing, jumping. I feel old and they never did. Their youth is in their hearts. So, they bring joy to my country, to my city to me. I learned that "you get old only if you want to".

Wish we had a more stable economy. I couldn't buy a ticket (they were sold out in October) and were too expensive for my budget now. I'm a single mother and although I live quite well, all the money I earn is for my son's education. But they made me dream, AGAIN.

So thanks guys… thanks for sharing your experience in my country Uruguay and wish they could return in some years and I could be part of the crowd again.

Pece, love and rock'n roll.
---
This page will change over the next few days, as you and other fans send reviews, set lists and reports. Please send your e-mail to IORR. Thanks! For details and great photos from the Rolling Stones and their World Tour get the IORR magazines.




It's Only Rock'n Roll 1980 - 2016
© The Rolling Stones Fan Club Of Europe