---
These are the latest Rolling Stones news and updates for you! IORR is a non profit fan club run by fans for fans. All parts of the It's Only Rock'n Roll web site is copyright of The Rolling Stones Fan Club. When using information from this site, please include a reference to IORR and the main web address www.iorr.org.
---
---
The Rolling Stones
Foro Sol
Mexico City, Mexico
Monday March 14, 2016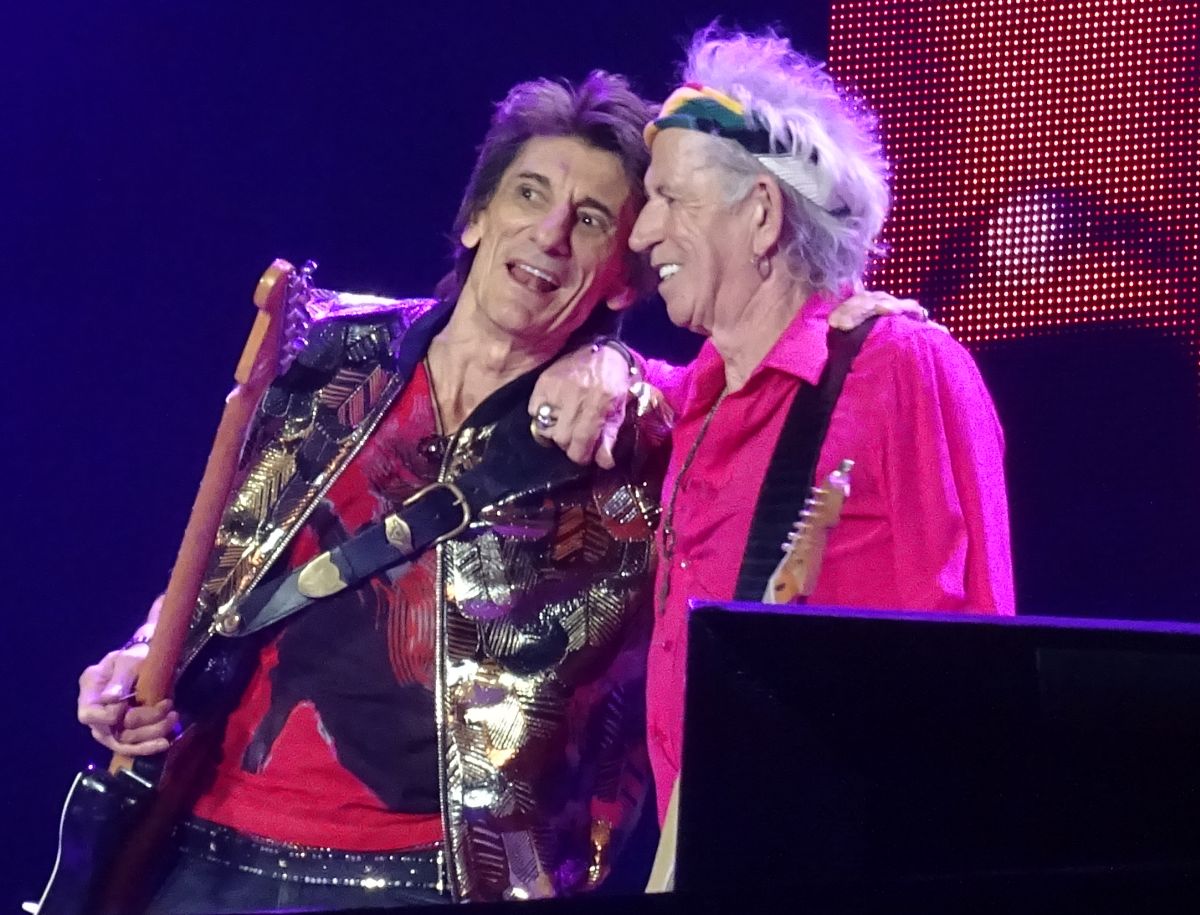 The Rolling Stones live in Mexico City, Mexico, 14-March-2016 - Photo by Bjornulf Vik, IORR
The set list
Start Me Up
It's Only Rock'n Roll
Tumbling Dice
Out Of Control
Street Fighting Man (by request)
Wild Horses
Paint It Black
Honky Tonk Women
--- Band introductions
You Got The Silver (Keith)
Before They Make Me Run (Keith)
Midnight Rambler
Miss You
Gimme Shelter
Jumping Jack Flash
Sympathy For The Devil
Brown Sugar
--- Band off stage
You Can't Always Get What You Want (with choir)
Satisfaction
---

Show start :  8:58pm
Show end   : 11:05pm

---
---
Reports please!!!
Please send your comments, reviews, links and more in English, Spanish or Portugese to:

[email protected]
---
Review by Dean Goodman
We're not in South America anymore. Monday's show in Mexico City, the Stones' first in a decade, felt like the first date of an unannounced U.S. tour.

The floor seating and the exorbitant ticket prices were an obvious clue, as were the ubiquitous American accents and lack of brown faces. Tragically when the Stones came out at 9:01 pm, they played to rows of empty seats up front. I could stretch out along a half-dozen empty seats in my row until they were claimed during "Miss You" by a group of pretty twenty-something boys and girls sporting "Family and Friends" laminates who then split before the encore.

Other spectators reflexively sat down during the slow songs, like "Wild Horses"; or the slow parts of songs, like "Midnight Rambler," and then rose for the fast bits before sitting down again. Why bother with the yo-yo act?

It was definitely a strange show from that perspective, though I could look behind me and see plenty of joyous locals. But I couldn't see anyone in the stands. Those people might just as well have not been there. The structure was so far away, and Mick had no chance of connecting with them, even after venturing to the wings where he was confronted by a vast nothingness. I've been to other venues like this and wonder why the Stones agree to play at such harsh, impersonal places. (Well yes, money, the answer to any Stones-related question.)

The real scene went on before the show in the lots packed with unofficial vendors. Everything was so well oranized with tents and lighting, professional displays, and a wide range of cheap and pretty nifty wares. It felt like a vast bazaar, and I rather enjoyed shopping and interacting with the sellers and fellow buyers. Then I got to the official tents where everything was priced as if we were back in the U.S.

Still, it was a pretty good show overall, starting with an aggressive version of "Start Me Up" in which Keith strode out on to the catwalk looking as if he wanted to kill someone (or maybe it was a pose for the press photographers). It was good to hear "Out of Control" again, after it was dropped in Bogotá.

It was no surprise that "Street Fighting Man" was the Internet choice - for the second time? - because it was coming through loud and crystal clear from the rehearsal as I stepped off the Metro a few blocks away just after 5 p.m. (I also heard them rehearse "You Can't Always Get What You Want").

Mick reminded us about the 10-year gap, joking that they drank tequila back then but now do mezcal. Later on he referred to Sean Penn's recent controversial interview with a drugs lord, saying (en Español, and accounts are slightly different in the papers) something along the lines of, "Sean Penn came to interview me at the hotel, but I got away. We went to the Zócalo, to the pyramids, but it was better when we went to the fights." But the generous laughter diminished as the joke kept going on, so he bowed out with an English-language admission, "That's my Spanish jokes."

Still, I appreciate his off-the-cuff wit, evidenced by a long pause before "Jumpin' Jack Flash" as Keith dealt with a guitar snafu. "It's one of those nights. Talk amongst yourselves," Mick said. "Maybe Ronnie might start it." At the end of the song, Mick and Keith had a good laugh because Keith's replacement guitar was plugged in, something he evidently forgot as he tried to walk onto the catwalk before the taut cable prevented the advance.

"Brown Sugar" also started late. I could be guessing wrong, but I wonder if Keith was going up to Pierre to ask, "Remind me again, how does this thing start?" A bit earlier you could tell he was concentrating super-intently as he led the cohesive intro to "Paint It, Black." At the end of that song, Mick noted, "I thought that'd cheer you up." Well yeah, maybe drop the ballad ("Wild Horses") that preceded it.

The loudest cheer during "Miss You" came towards the end when Mick picked up a Mexican flag from the catwalk and waved it a bit. He then carefully displayed it on the drum riser, but probably wished he hadn't because he had to choose: vertical red stripe on the left or right? He opted for the latter and was wrong. It was a tough call.

The show finished at 11:06 and I was at the Metro station by 11:16 for a speedy getaway on Mexico City's efficient public transport. Indeed, the whole Foro Sol experience was efficient - the knowledgable ushers, the security, the layout - all additional clues that we were back in civilization.
---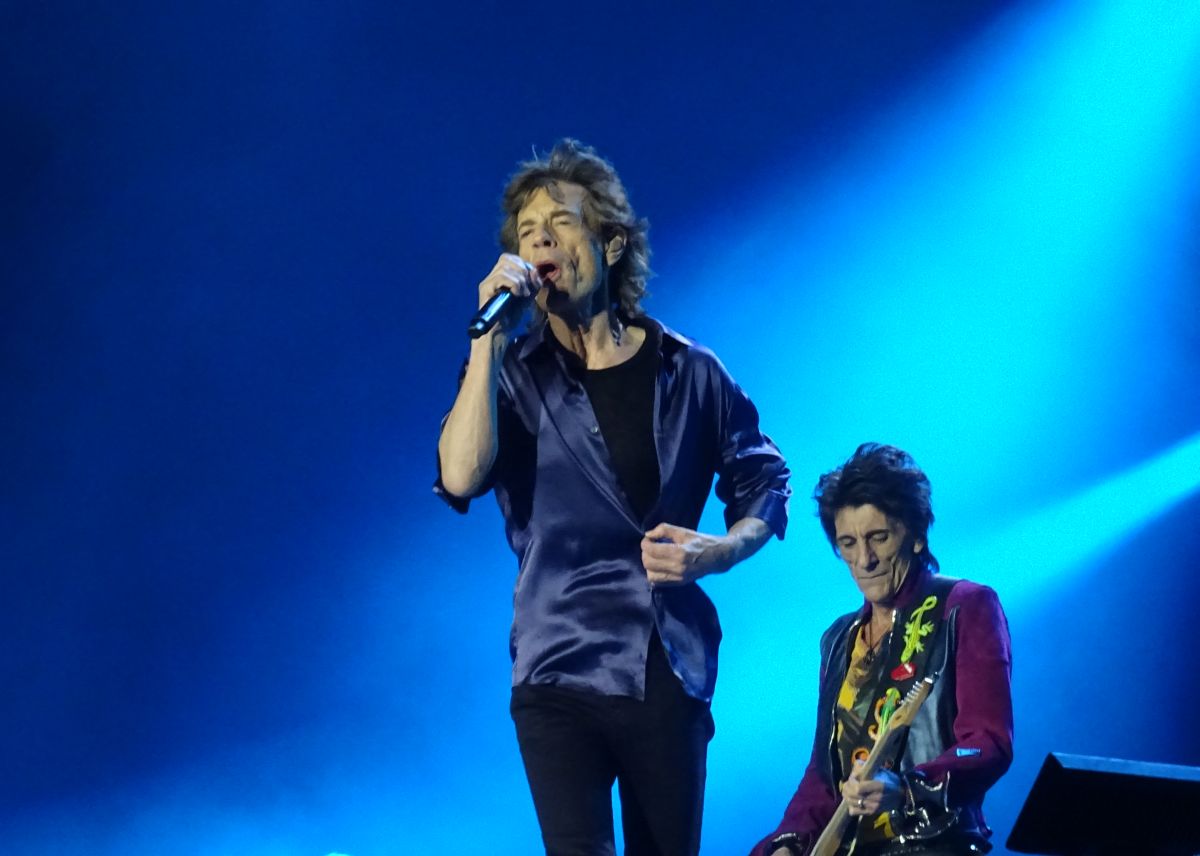 Photo by Bjørnulf Vik
---
Review by Bjornulf Vik
After walking around the Foro Sol for hours last night for planning my entrance tonight, I was sure I could walk directly into the right gate tonight. Not so. They pointed me to a large walkabout through a large parking lot, then a walking highway to the underground. To me it felt like a detour halfway through Mexico City. It took half an hour. May be more.

It was great to have "Out Of Control" back in the set. And next up was the request winner "Street Fighting Man". They turned up the power of the guitars to maximum, normally they don't do that until later in the show. Keith was strong, Ronnie ditto, such a great guitar riffs song.

"Paint It Black" is normally a great song, and I was prepared for the South America experience, crowd going wild, but this was all very different. The band was great, but the crowd was missing in the interaction. Later on I understood why.

When Mick picked up the Mexican flag we could hear a remote roar. Then I realized the noisy part of the crowd was far far away. I was in the first half of the venue, the seated one. As Mick placed tha flag on the stage in front of Charlie, I could hear "Mexico" "Mexico" "Mexico". From the same remote crowd.

"Jumping Jack Flash" took a while until they started it. "Problems?" Mick asked impatient, walking over to my side doing some extra "yeah yeah" ... Then Pierre plugged a cable into Keith's guitar, and Keith walked up front with the stretched cable, sounding powerful all through the song.

For the next song they had to get rid of the cable, so that Keith could walk the wings during "Sympathy For The Devil". It worked great, and Keith played to the remote fans over at the sides.

As I walked out of the show, I wanted to avoid the detour walk, so I begged my way into the second half of the field, to exit at the rear. Then I noticed that was the real field, the open admission packed crowd I heard singig during the show. Nobody seemed to be interested in leaving, they were still staying. It reminded me about the Spanish language review I got from a fan in Lima. He said they had a big laugh at the fans in the front who paid double price for the same show they saw at a lower price. May be it is true. People around me in the front were sitting down, I had catering people walking in selling beer and water dozens of times during the show. They say it's only rock'n'roll but it is also big business.
---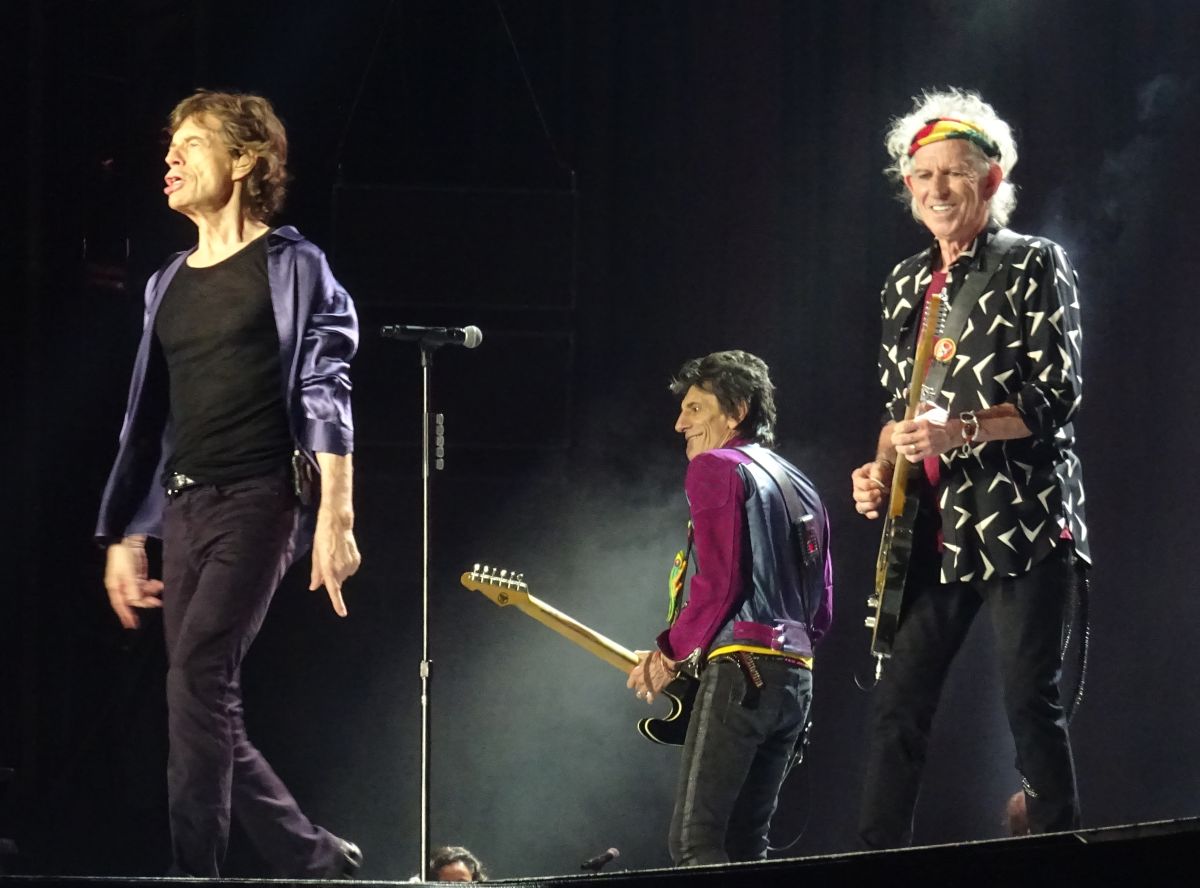 Photo by Bjørnulf Vik
---
Review by Shoiley
I am always hesitant to read reviews from others. I was in the first section Keith side and stood among several very jubilant Mexican fans. We enjoyed the show very much - dancing, singing and jumping, waving and Whoo Hooing. I even stood up and danced on my chair for a brief time and held up my jacket while Mick was prancing around on the catwalk. I like to believe he saw...

The guitars were loud, Keith owned his rifts, Ronnie tore up MR. Mick Jagger is an inspiration to us all. His voice is great and his body is the same. I liked the "romantica" song Wild Horses, that brought a tear to my eye. Jumping Jack Flash is fantastic. But reading my post, you may say "war horse"- but with the guitars cranked up and the energy that blew out from the stage - everything seemed fresh and new.

Call me sentimental, but I feel very honored to be here (to be anywhere) and to see my favorite band enjoying what they do best. Now on to Thursday. Hope to see you there.
---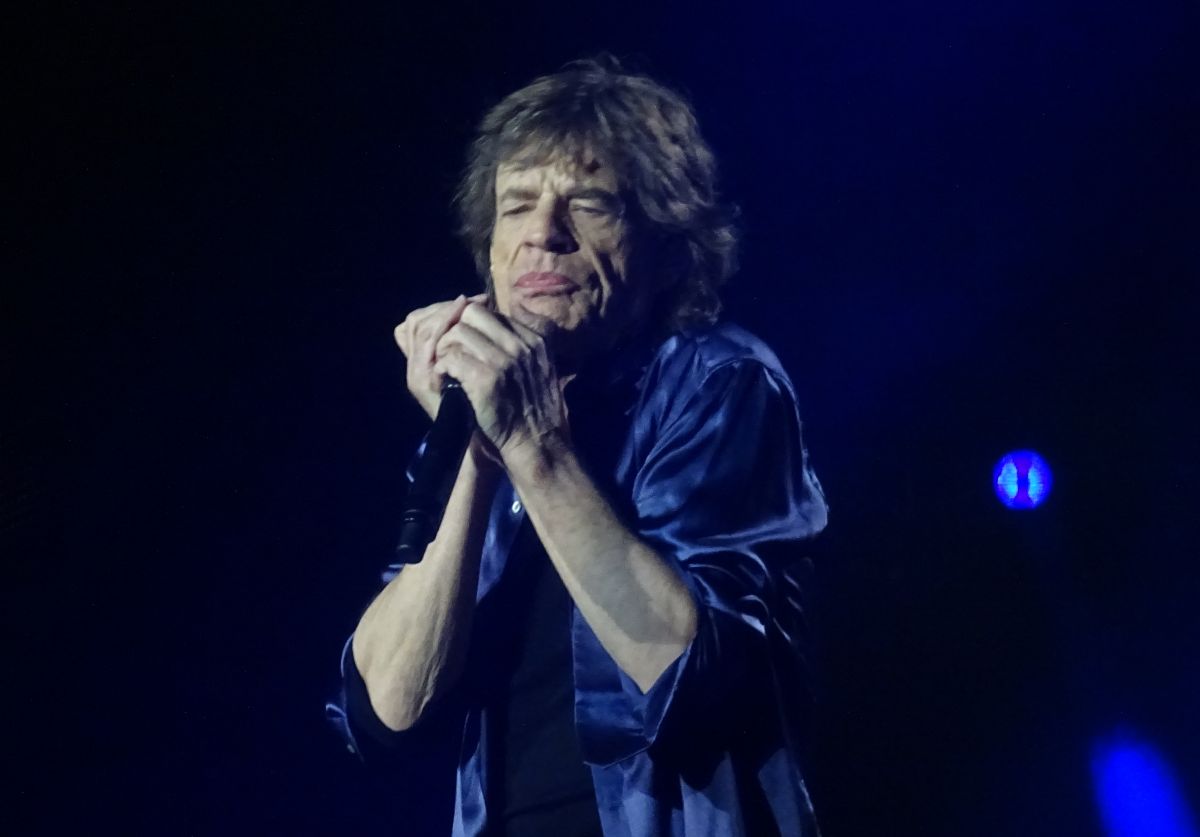 Photo by Bjørnulf Vik
---
Review by Julia Feliciano
I wanted to experience a Stones concert in Latin America, but family obligations limited me to just one concert, the first Mexico City show at Foro Sol. When you can only make it to one show, you of course really want everything to be as perfect as possible. Back in 2013, at one of the Anaheim shows, I met a fan from Mexico City. We kept in touch and were lucky enough to see the concert together in the 12th row of the first section on Ronnie's side. Great view of the stage, the catwalk and the B stage.

We were pumped. So were many other people, but a surprising number of people in our section were sitting and not that into the concert. My friend told me those were the wealthy Mexican elite who were only there because it was the thing to do, not because of the Stones. The real fans were back in the general admission section, way, way back. I was expecting the Latin American experience, but did not get it from the crowd around me. The Stones, however, did not disappoint me. They came out strong and I was thrilled that they played Out of Control. Mick's harp playing was superb.

Paint it Black was a lovely treat. Midnight Rambler was exceptionally delicious. Charlie was hot and Keith and Ronnie were on fire. Mick's dancing was in great form. The sound during the first three-quarters of the show was excellent, better than in San Diego and Milwaukee last year. The guitars, piano and horns were all so crisp and clear. Much to my surprise, because I've seen Keith perform it more times than I can count, the highlight of the concert for me was You Got the Silver. Keith and Ronnie's guitars meshed so heartbreakingly beautifully together. It was special.

Toward the end, they had some technical difficulties resulting in some feedback and buzz, and a few delays slowed their momentum a bit. Mick looked tired by the end of Brown Sugar. Since it was my only concert of the Olé tour, I was very pleased and happy and satisfied with the show. The Stones were great, the sound was great, the weather was great, my view was great. I just wish the crowd around me had been more into it. My friend and I were up on our feet the entire time and we had a blast.

Before and after the show, the hundreds of tents selling everything Stones-related imaginable was amazing! The variations of t-shirts, scarves, hats, jewelry, posters--was astounding. And very inexpensive. A lot of better designs than what was available as official merchandise. My quick trip to Mexico City was well worth it to see my favorite band again.
---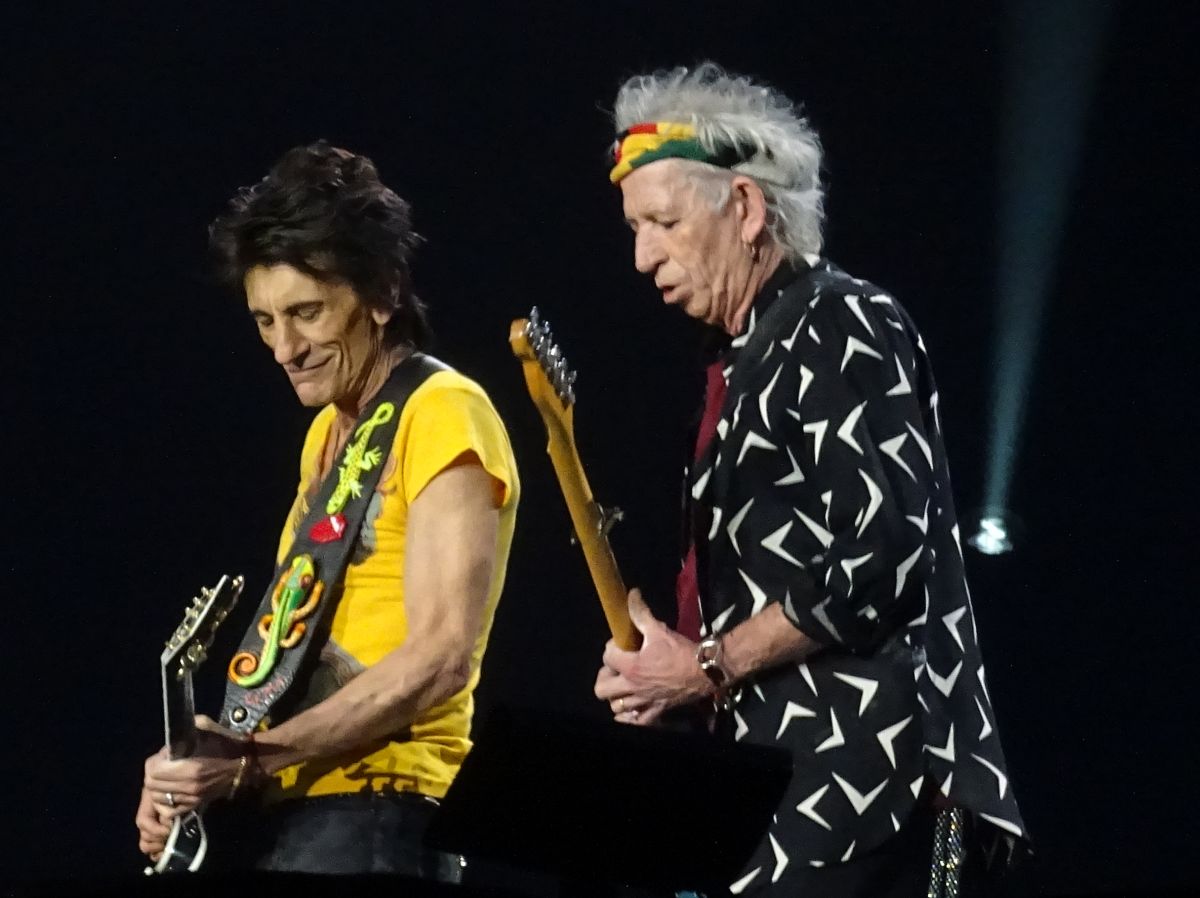 Photo by Bjørnulf Vik
---
Review by Guillermo Fernandez
Describing a Stones show is not easy, because despite the years they have been on the road, they maintain a level of power and energy that few bands possibly can.

The expectations generated by their visit to Mexico were enormous, as in the other countries of the Latin America Olé tour. And if there's any doubt about whether these 70-year-old guys are still able to give a first class show, last night they proved why they have been and still are THE GREATEST ROCK BAND IN THE WORLD.

With the punctuality that is characteristic of an English gentleman, the Foro Sol lights dimmed at 21:00 hrs. to give way to the video projected on 3 screens that were part of the scenery. This aroused the excitement and cheers of the crowd that gather to enjoy a night full of pure, total and absolute rock and roll. The video ended with the phrase "Welcome Mexico City," and then Keith appeared on stage and with the riff of Start me up, he lit the fuse of what would be a memorable night. It really turned us up. Mick, Ronnie and Charlie appeared and I felt as if it hadn't been 10 years since their last visit to our country. There, stood these stones that resist being worn by the time..."Time waits for no one" does not apply to them because "Time is on their side" really.

It's only Rock and roll and Tumbling dice followed, which confirmed that the Stones are a great rock band. Then, the classics from the Stone repertoire scattered over an audience that greeted them warmly and kept the complicity with that mythical character named Mick Jagger. He, with a little wag Spanish, joked about Sean Penn and even said the Stones had gone to see Lucha Libre and now they drink Mezcal instead of Tequila.

The highlight of the night was Street Fighting Man that was the song chosen by the Mexican audience and Keith played it with an incredible power on the guitar! Midnight Rambler was also great and reminded me why the Stones besides being a rock band are a band that grew up with the rhythm and blues. Mick's harmonica combined perfectly with Keith and Ronnie's guitars. This led us to kneel at the feet of their majesties.

Satisfaction was the perfect end to a historic night that will surely be repeated next Thursday and will certainly remain etched forever in the memory of all those attending this great show.

Long live the Stones and hopefully see you soon back in Mexico.
---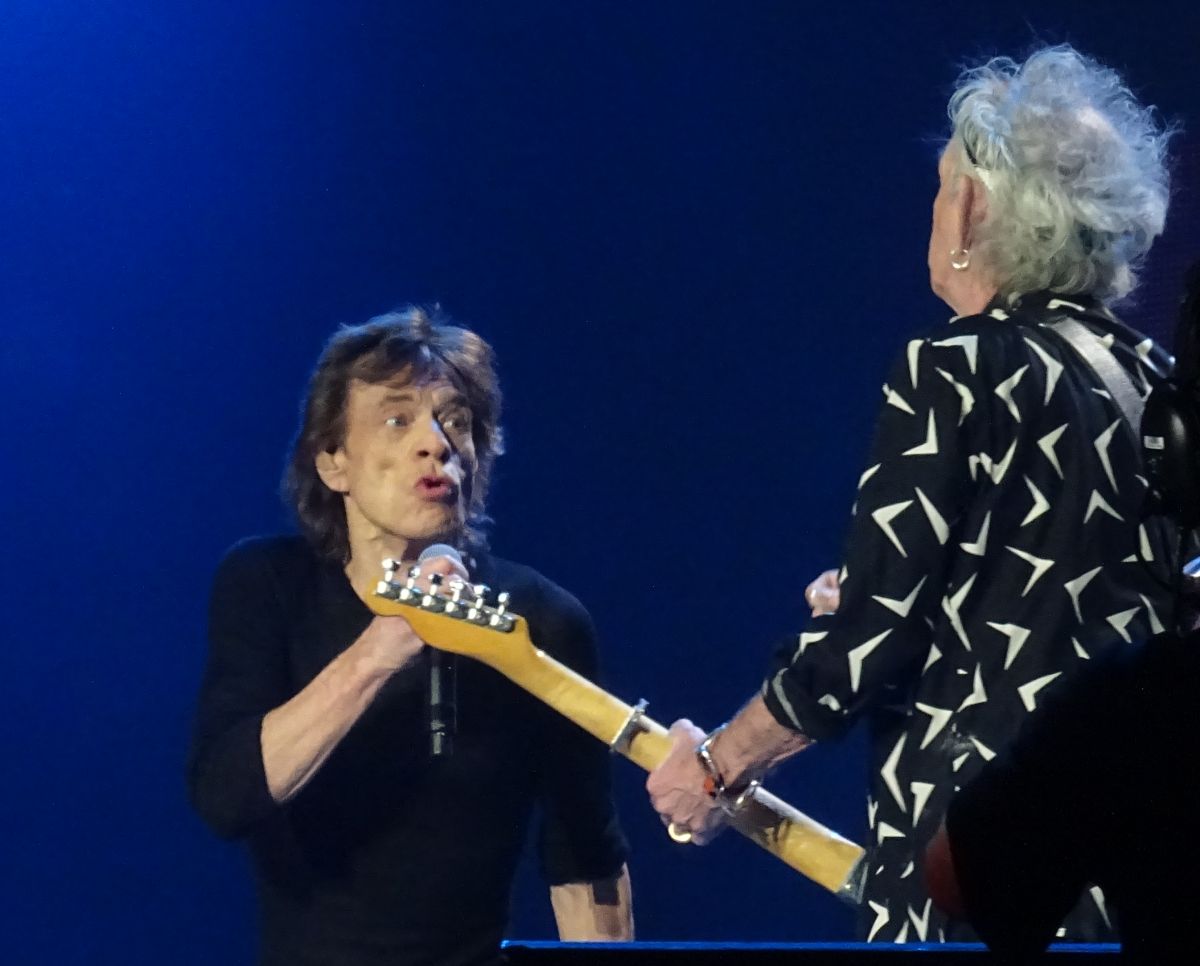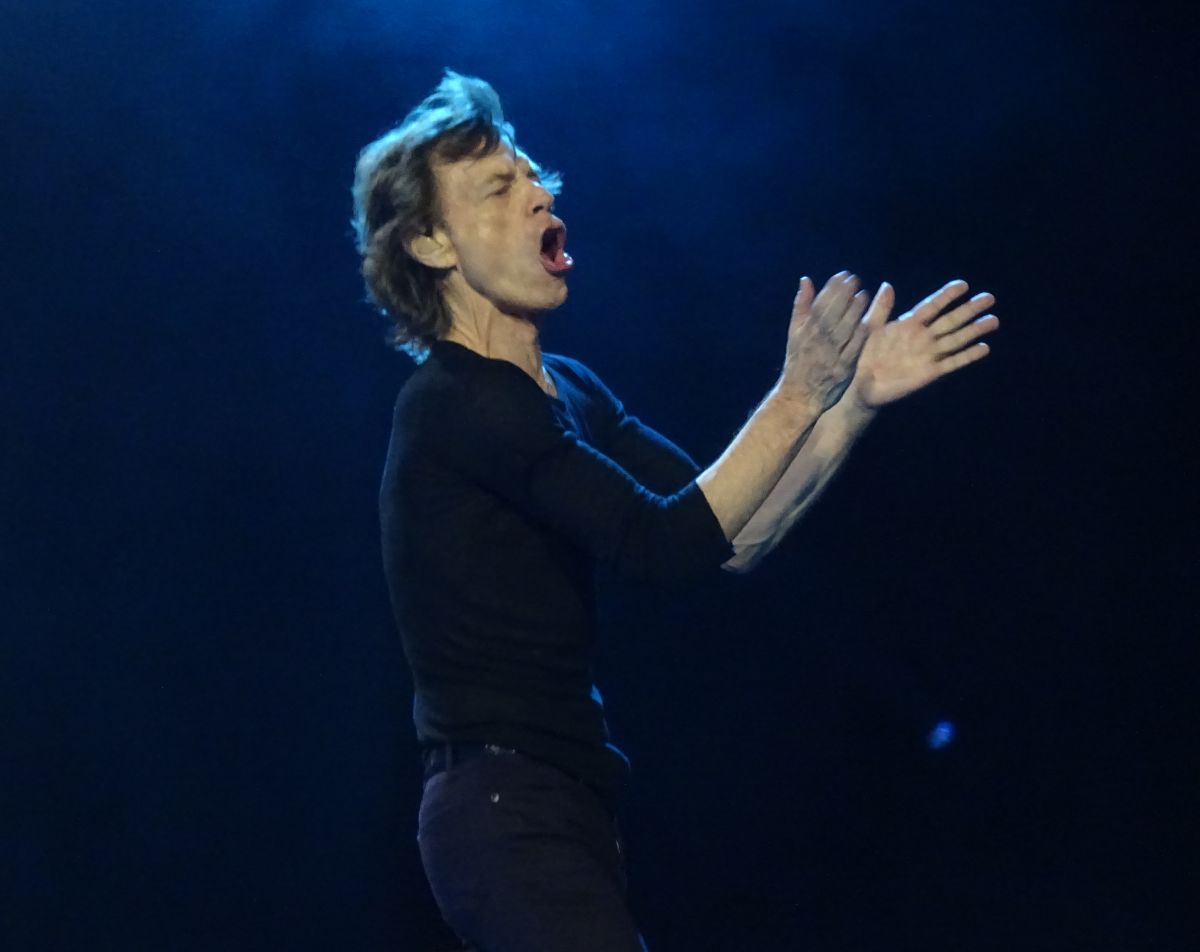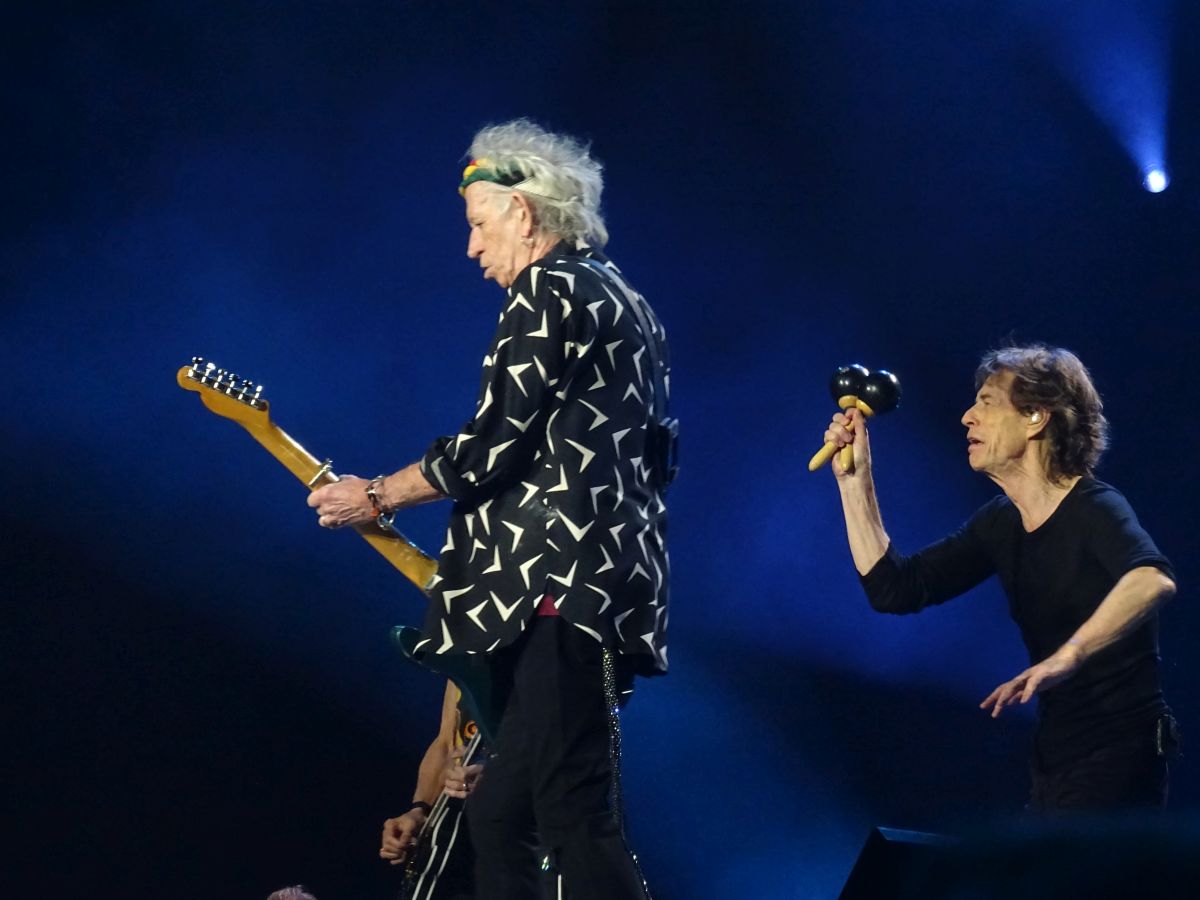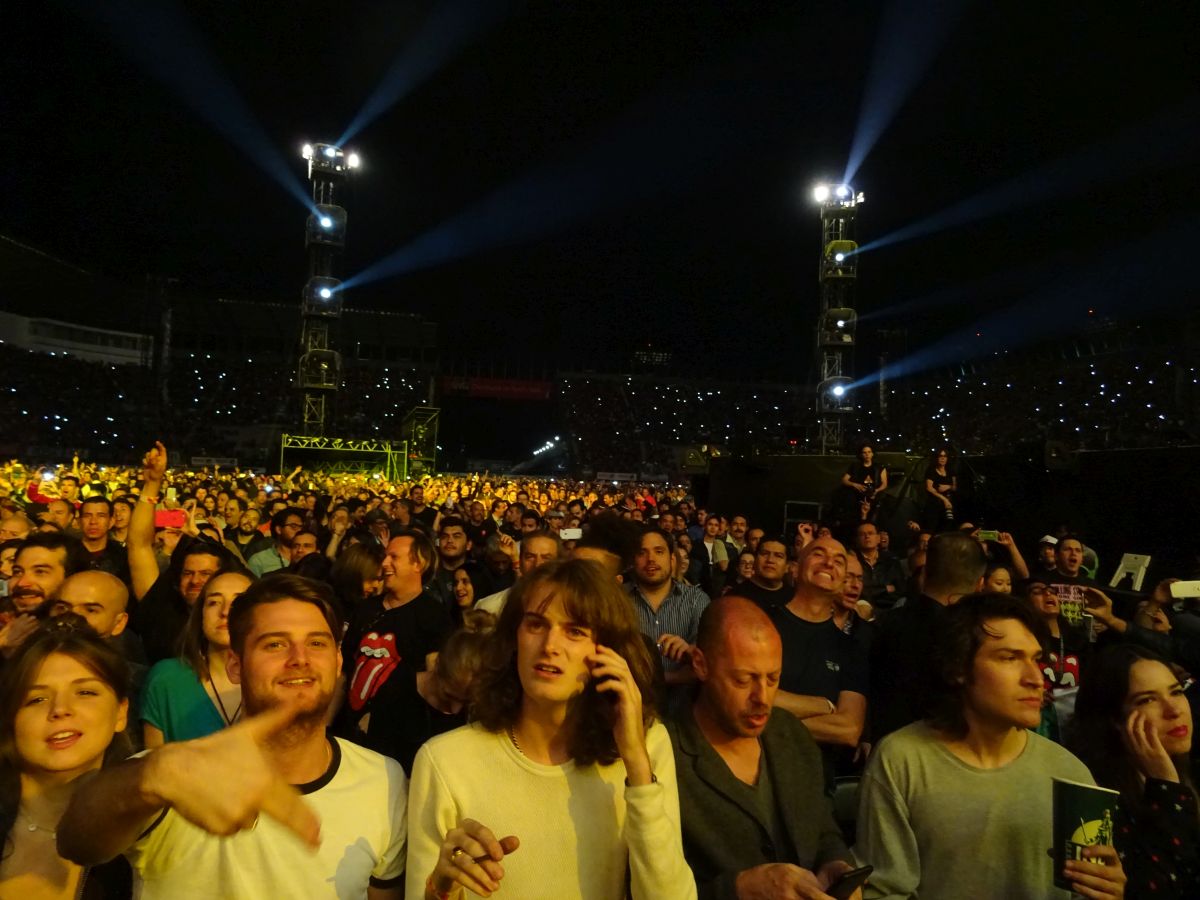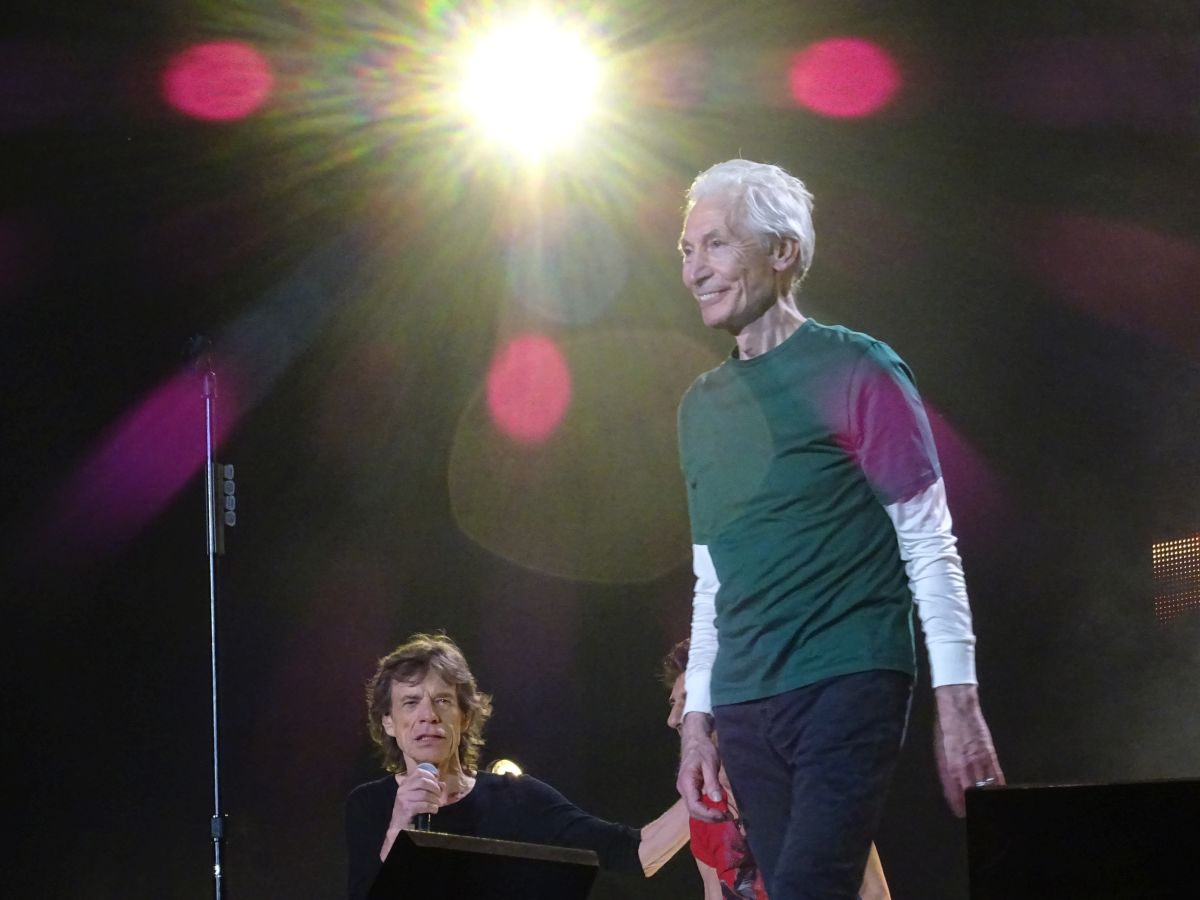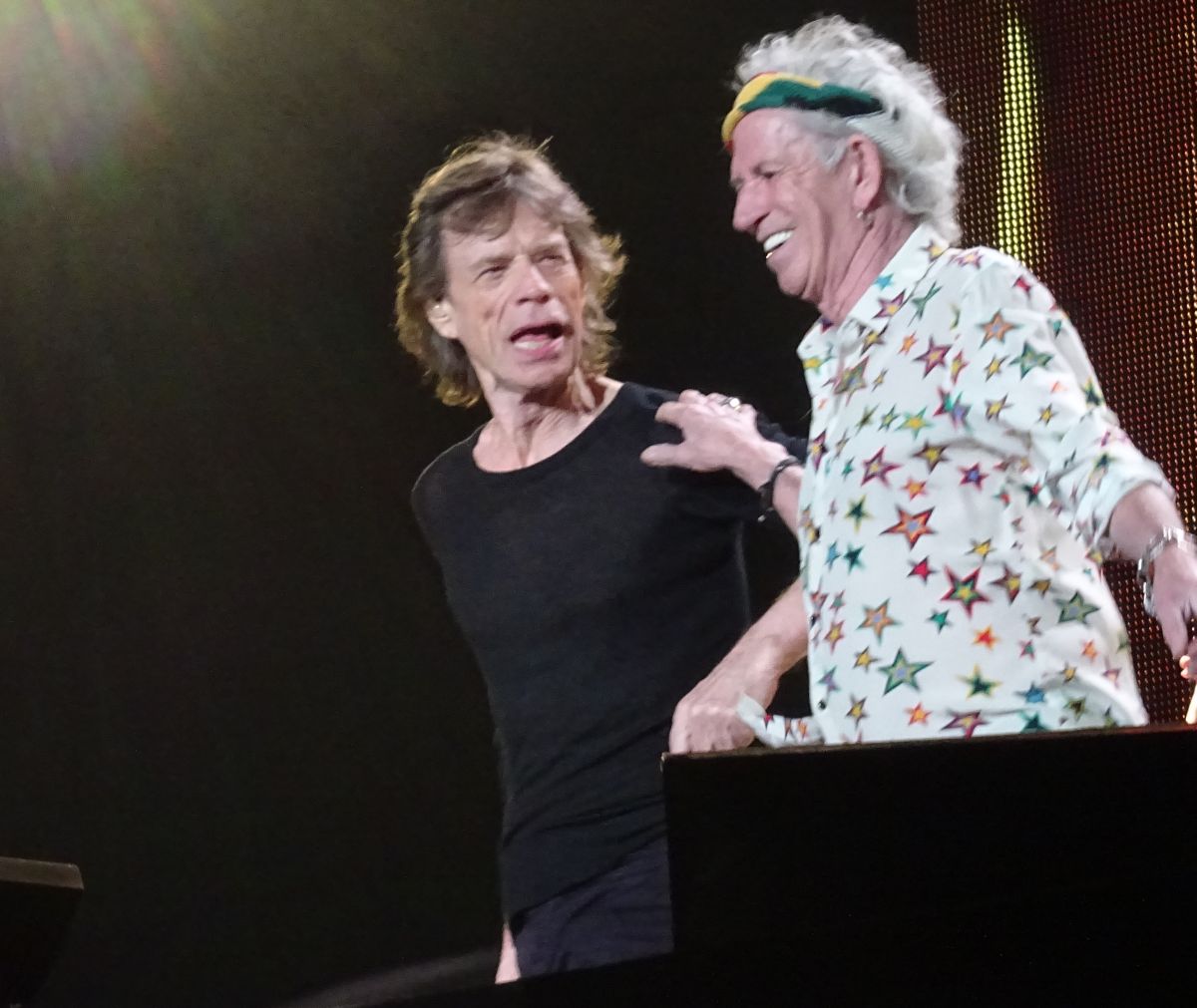 Photos by Bjørnulf Vik
---
Review by Carlos Paz, Panama
This was my first ever ROLLING STONES CONCERT and here's my story.

I live in Panama on a remote Caribbean beach and I love rock and roll. I am now forty and I still had not experienced a Rolling Stones show live. The backdoor area of my place is decorated with wallpaper depicting concert posters and advertisements from a long gone era: Muddy Waters, Howlin' Wolf, The Beatles, Ray Charles, Fats Domino, Jimi Hendrix, The Doors, Johnny Cash, The Ramones, and of course, The Rolling Stones live at the Reynolds Coliseum in NC. Admission: $2.50 - $3.00 $4.00 (circa 1965). Every time I go into my place through the back door, I see those posters and I realised all of those artists are no longer with us, except for the Rolling Stones. Now, Brian Jones as depicted in the poster passed away in 1969, and Bill Wyman walked away from the band in late 1992.

I was determined to do everything in my power to see my heroes. The Olé tour tickets in Argentina were gone before I could bat an eye, and it just didn't work out with my schedule for the other shows in South America. I did consider Uruguay and Brazil, but got serious about Mexico as my chances were starting to become slim. Finally I decided I would see them in Mexico City. I love Mexico, so I thought it would be the perfect place to catch their show. I went on the rollingstones.com site and was directed to Ticketmaster to purchase my ticket. I wanted the best ticket money could buy but I ended up not purchasing my ticket online because I was in Panama and Ticketmaster explained that I could purchase my ticket online, but then I would have to pick up said ticket 24 hours after the purchase and produce the credit card I used online at one of their outlets in.... wait for it...... MEXICO CITY... I went, WTF (what's the frequency) HELLO! I'm in Panama and I cannot just show up in Mexico City tomorrow just to pick up a ticket and then wait one or two weeks in Mexico for the show. So I resigned myself and thought: I'll just book my flight and get to Mexico City on Sunday, one day before the show and hope for the best. I was even mentally prepared not to be able to get a ticket and hence not allowed inside the venue, and experience the concert from the parking lot -- that's right, I was mentally prepared to get the crumbs from Ticketmaster's table.

A friend in Mexico City even offered to purchase the ticket for me after I wired the money via Western Union, but I thought it too much of a hassle, and I had not found a pet-sitter yet! I have three loving dogs, all stones fans of course!

On Sunday 13 March 2016 I boarded the plane that would take me from Panama City to Mexico City, one day before the big day, and I still had no ticket. I looked for my window seat on the left wing of the plane. There was a tall gentleman already sitting on the aisle seat, one seat apart from mine. He was very polite and courteous to the point that I was surprised with his manners. He spoke English with what I acknowledged as an Australian or Kiwi accent. We started talking and it turned out to be none other than fellow Stones fan Dean Goodman. I told him my story, and he assured me that I would be able to find a ticket if I was prepared to pay the price. He told me he had been following the Stones Olé tour and I was impressed. He also had with him a collection of newspaper articles, cut-outs, and pictures from the Stones' deeds in the Olé tour. I thought to myself, that is a brilliant idea, one that I would suggest any Stones fan to follow. I bought three different newspapers in Mexico City, before and after the show.

We landed in Mexico City and I paid my farewell to Dean, and hoped for the best. On Sunday night in Mexico City I still couldn't purchase my ticket online via the Ticketmaster website. Something was wrong, using Chrome and Safari browsers on the macbook did not help, nothing was working, however on my Mexican friend's smartphone (mobile web) the tickets would show but we still couldn't purchase them. It was like being teased by Ticketmaster. I went to bed and hoped for the best the next day.

Early on Monday morning I headed to the Ticketmaster outlet at the Liverpool shop, and was told outright that there were no more STONES tickets left. I went online and showed the Ticketmaster rep that there were tickets showing up ONLINE and then she said that she had a limited amount of tickets and that they were gone. She sent me directly to FORO SOL to try and get them there, but Mexico City is a big place and getting there would have probably taken one or two hours from my location. The rep finally gave in after I explained how important this event was for me. She sent me to another Ticketmaster outlet, but that of a competitor, and it was a stone's throw away -pun intended.

I went into the music shop called MIXUP and asked for a Rolling Stones ticket and there was one ticket left in the PLATINUM section, so I got it on the spot! It was a straightforward process, clean, slick, organised. I couldn't believe it! My first ever Stones show and I was almost in the front row!

I had contacted another Stones fan in Mexico City through a common friend. It turns out that Fedra, an Argentine girl studying in Mexico City, had bought her ticket through a scalper website: ticketbis.com.mx but somehow she felt there was something wrong even though the website looked pretty professional. We met up in the heart of Mexico City and via the metro we arrived at CIUDAD DEPORTIVA (the metro station closest to Foro Sol, the concert venue). After climbing down the stairs we found ourselves in a very organised bazaar chock-full of unauthorised Stones merchandise. I looked around and saw a lot of cool stuff. I was impressed with the organisation. Even the unauthorised street vendors had their covered stands, and were respectful, and cool. The merchandise was varied, although mostly it was T-Shirts, mugs, pins. I bought myself a key-chain made of acrylic.

Fedra, my Argentine companion met her friend Paula, also from Argentina and now we were three Stones fans. The girls had standing "entrada general" tickets, and I had a Platinum ticket, so we joked about the fact. We had a few beers outside the venue just before the show and made sure the police didn't see our beer tins. The coppers were everywhere, even women police officers with crowd shields.

We finally separated as it was time to file in. My ticket read "ACCESO A", so the girls took a different route to get in. As I waited at the "ACCESO A" section, I met other Stones fans: Mireille from France and Reinhardt from Germany. We had a lovely chat and then the sun began to set over Mexico City and directly over Foro Sol (it means Sun Forum in Spanish). It was a glorious sunset, and an omen for the upcoming show.

Mireille and Reinhardt had made the trip to Mexico to see the Stones too! We finally made it in, and I saw Paula again, with a very worried look. It turned out that Fedra's ticket was BOGUS, so she was not allowed inside and she was desperately trying to purchase a ticket, to no avail because the only tickets available were the PLATINUM ones at the box office and she just didn't have the funds available. According to her, she broke down outside the stadium with her BOGUS ticket in hand and started weeping inconsolably. She had three beer tins to console her. Two fellow Stones fans approached her as she weeped and simply asked her if she wanted a ticket. She thought they were scalpers trying to add insult to injury, and she said NO, I don't have any money. They explained that they had three tickets, but their buddy was unable to show up, and told her to have the ticket FREE!!! She could not believe how the tables had turned. They gave her a free ticket and she ran inside as the boys began playing "Wild Horses". Ironic how wild horses couldn't keep her away from the Stones! It's also one of her favourite songs. What a moment for Fedra! A show and a night to remember.

I went inside and was offered to purchase a Stones beer cup by TECATE, one of the sponsors. It was a nice and well made plastic cup, so I got it and had it filled with ice-cold beer. I was then immediately shown my actual seat by one of the ushers. I couldn't believe how close I was. The whole thing impressed me, the organisation, the service. I thought I was heading into a mad house, and it was anything but.

My seat was Platinum Row 14, Seat 2 which actually left me very close to LEFT STAGE, but I don't like staying put. I was moving around the whole Platinum section like I owned the place, so I got to the see the boys from all angles, and I did enjoy a couple of beers. It's a Stones show. I noticed non-Mexican folks especially along the Platinum section. Japanese folks who couldn't even speak English, and a few Mexicans from the "elite". That was all before 21:00 hours. From that point on my eyes were glued to the stage. Mick came running to the left wing and I was speechless as they were really close. I think I was about ten meters from him at that point. He was pretty amazing, and I had to laugh when he made the joke in Spanish. None of the papers got it right even though he said his words in an accented Spanish, and none of the other reviewers have written about the funniest part of the joke. Mick actually said at the end: "Fuimos a las luchas, y todo estaba chido hasta que Charlie decidió subir" which loosely translates to "we went to the Mexican wrestling matches and everything was cool until Charlie decided to get up there on stage" -- YEAH RIGHT, CHARLIE OF ALL PEOPLE!

The show began with START ME UP, and what a way to say HELLO!!! It blew me away and I started singing, jumping, and dancing from that moment on, and I forgot about everything else. Paint it Black completely blew my mind. An absolute highlight and the way Keith played just took me to another planet. He made a sign of respect at the end of the tune... it was what Mexicans do in church, you kneel with one knee on the ground.

Ronnie Wood was absolutely superb. What a way to play the guitar, and what sound. I think he really stood out, and Charlie, as usual the most underrated and unpretentious member of the band.

MISS YOU is one of my favourite tunes, and I intend to get a second MISS YOU experience in Havana, Cuba on 25 March 2016. I can't wait to see the boys again. The show at Foro Sol has been the best and most incredible rock and roll show I have ever seen, hands down.

I went absolutely off-the-wall bonkers when they played SATISFACTION. I climbed above my seat, but quickly jumped off, because I wanted to jump around. I don't care much what people around me think, I just do my own thing, so I have no clue what the other fans were doing, and didn't even pay attention, I was in my own world with the Stones and 50,000 fans. Now that I have read the other reviews, I guess I was one of the only folks in the PLATINUM section acting out of control -pun intended.

At the end of SATISFACTION I stayed put and cried ENCORE ENCORE - OTRA OTRA a million times, but to no avail. The boys were probably in their vans and heading back to the Four Seasons by that time.

I was ecstatic to have experienced my first show, and to have made my dream come true.

At the same time as I was in Mexico, a work of art was being painted on one of my home's walls.... The Stones tongue logo depicting the Cuban flag.

I would have liked to attend the second show in Mexico City, but I had to get back home to my three dogs, and prepare for second Stones experience in Havana, Cuba.

MUCHAS GRACIAS, CHARLIE, RONNIE, KEITH, MICK! y hasta la próxima en Cuba! (THANK YOU VERY MUCH, CHARLIE, RONNIE, KEITH, MICK! and see you next time in Cuba!)
---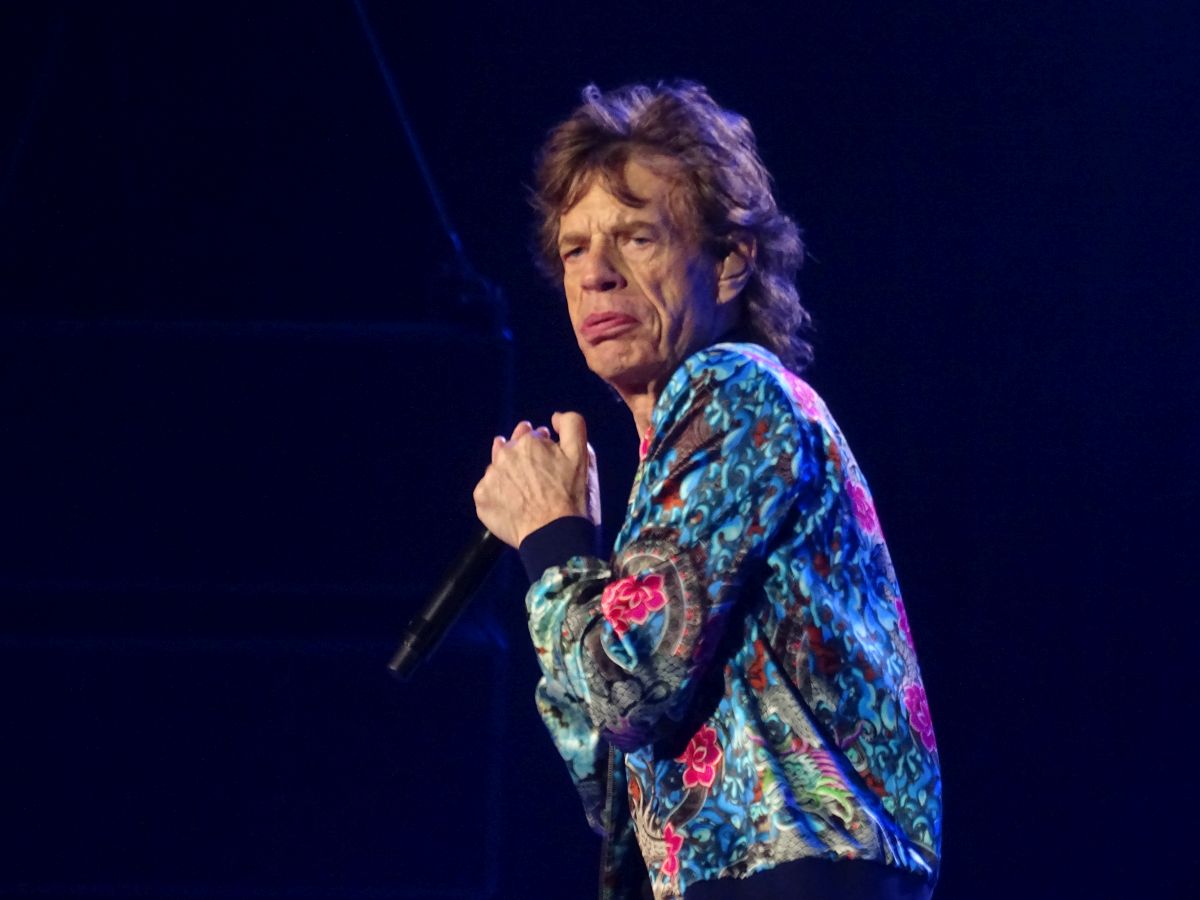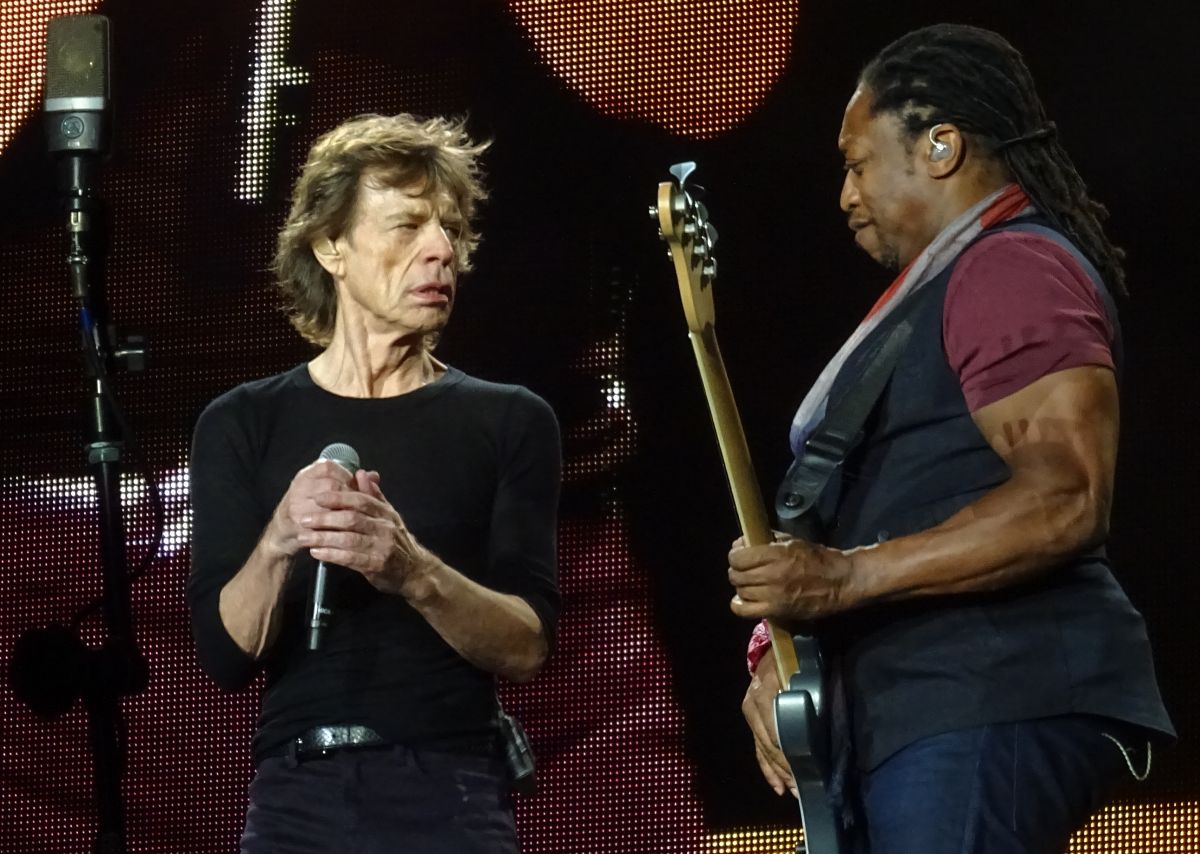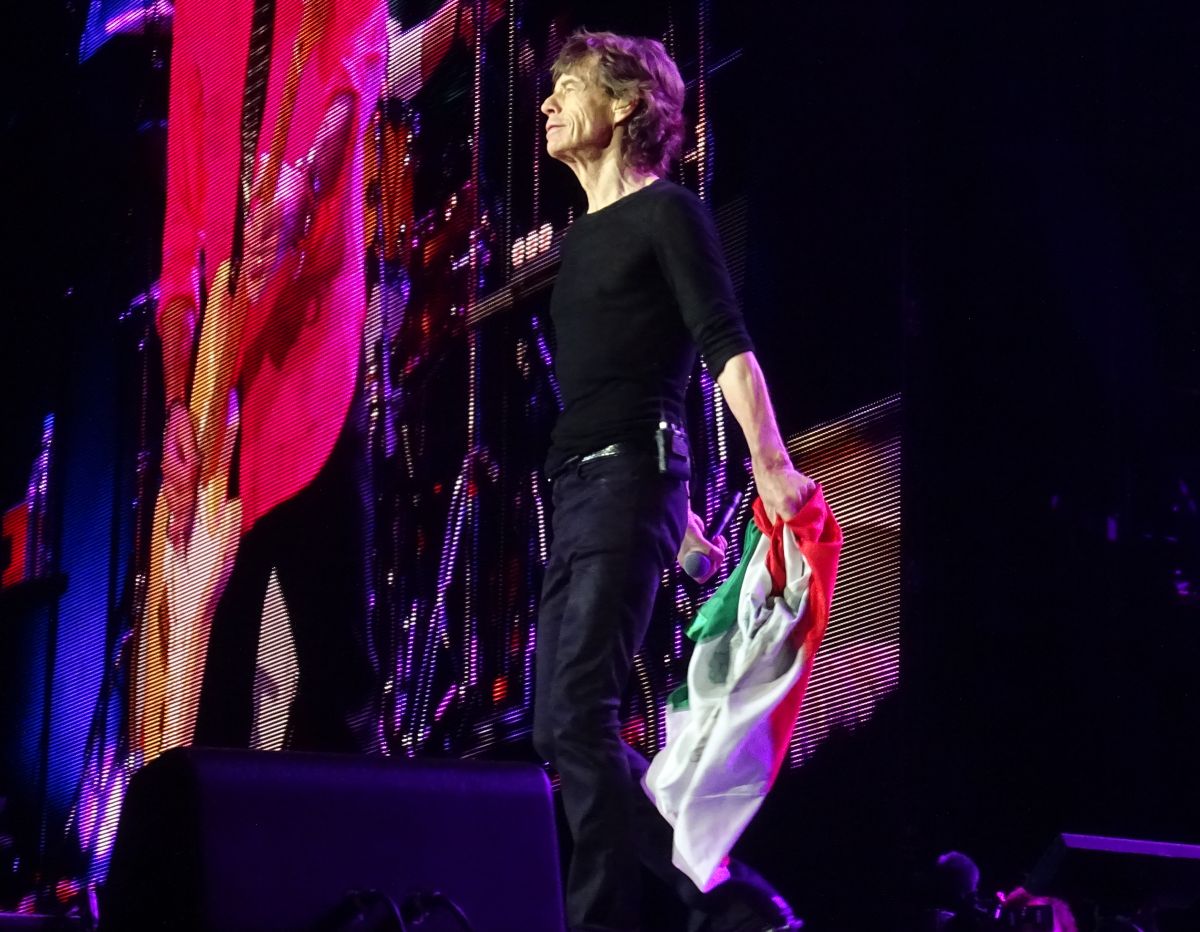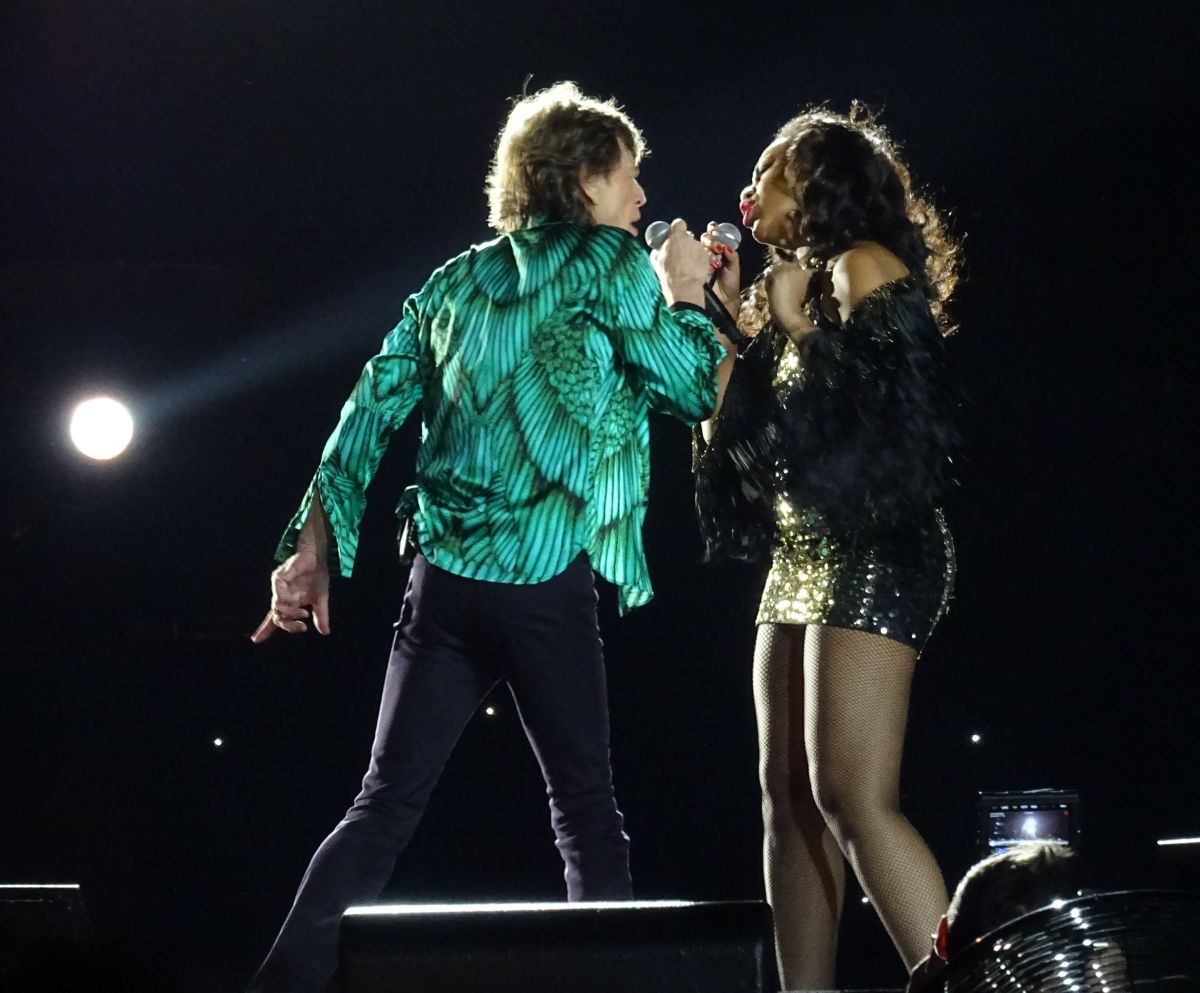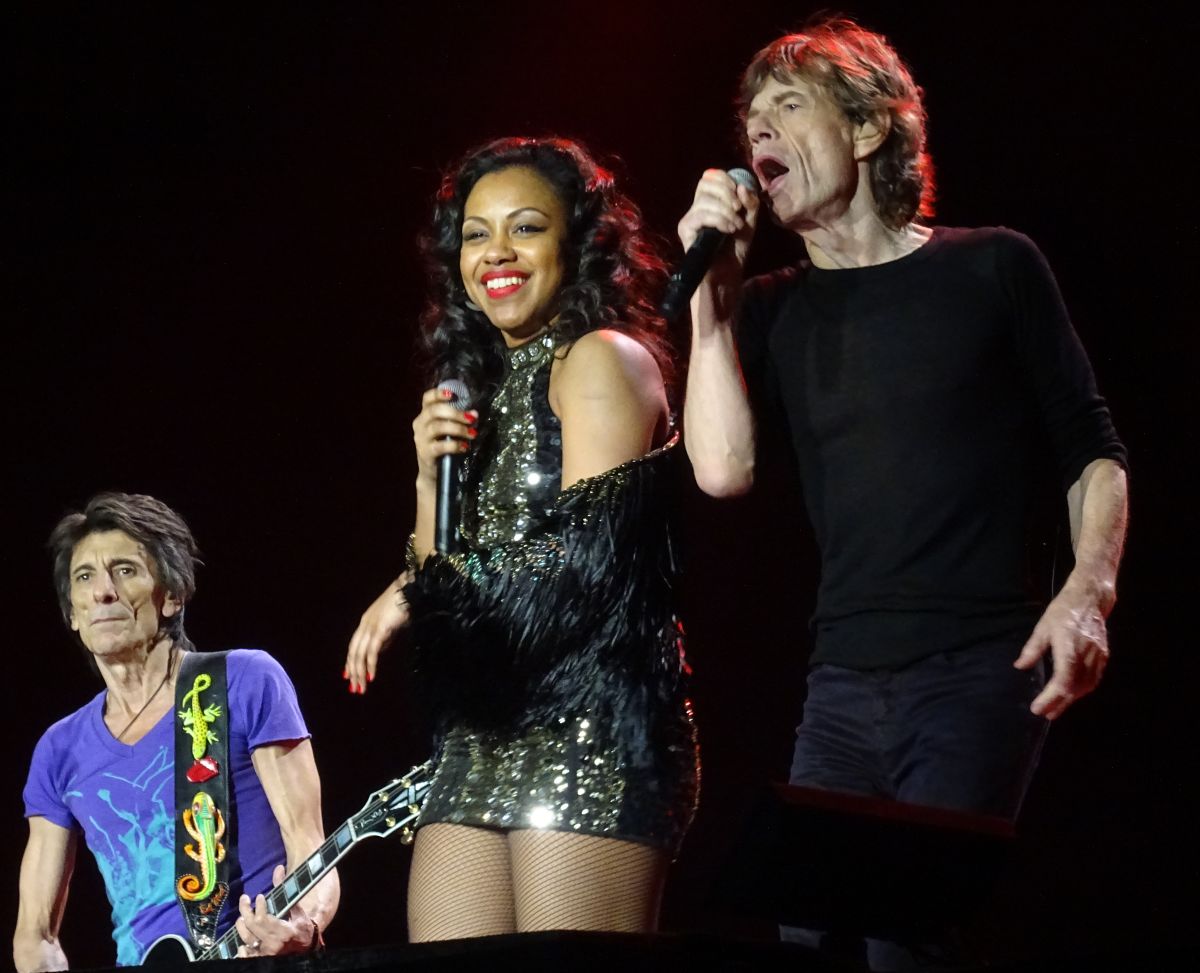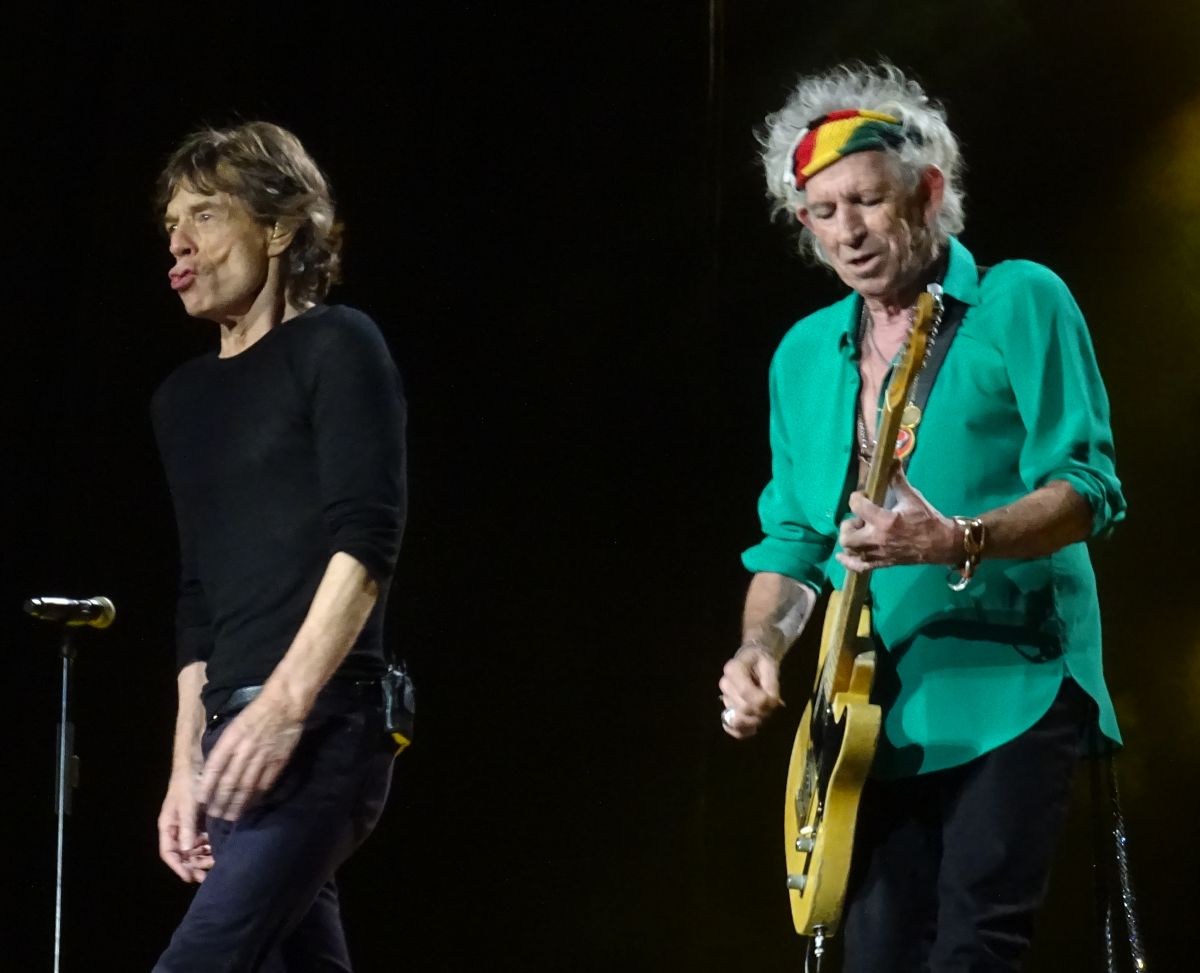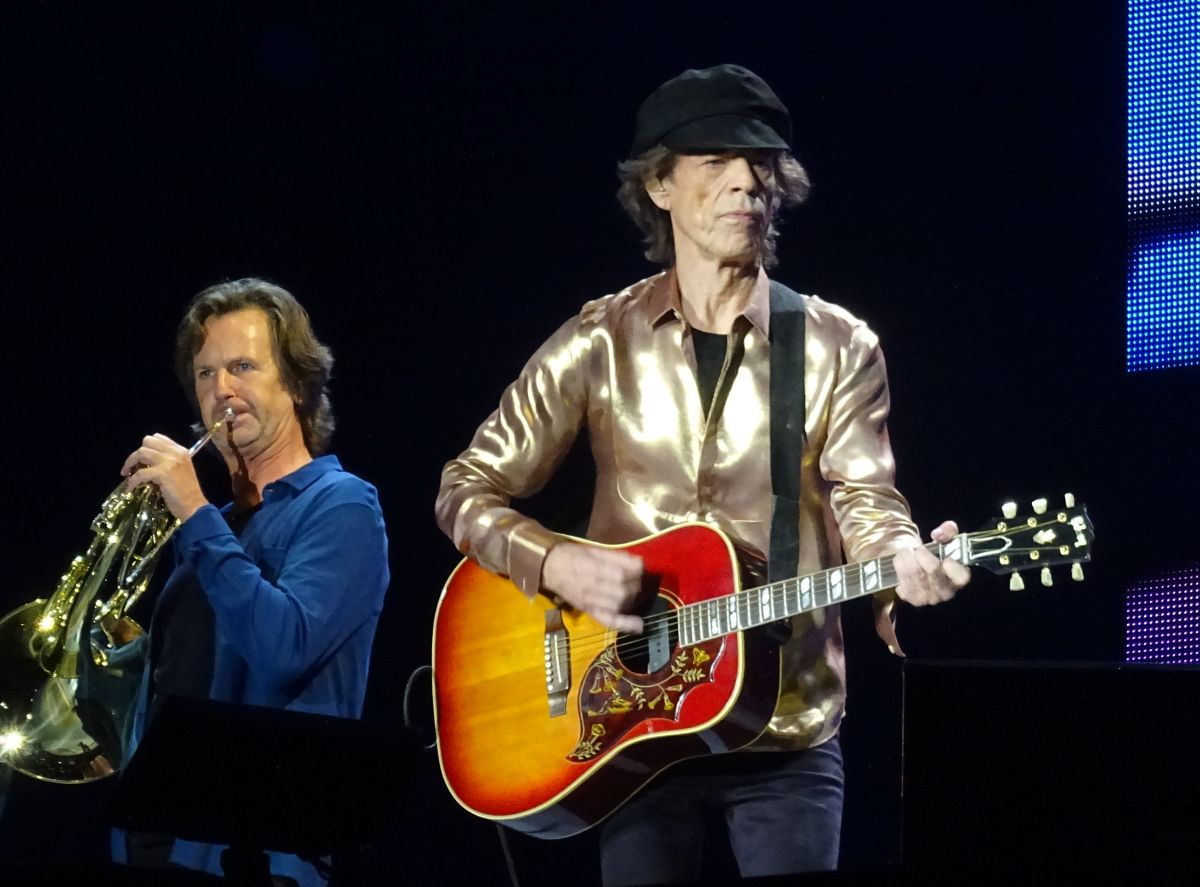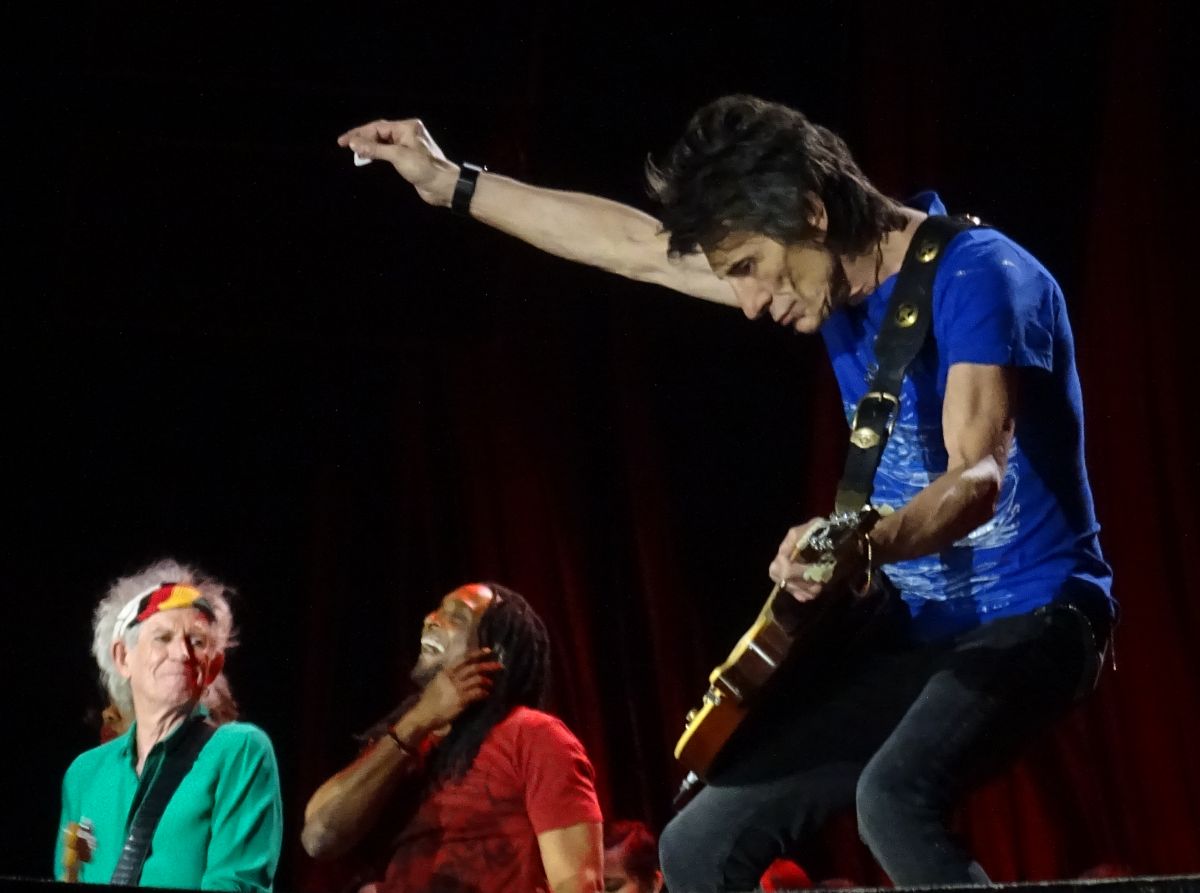 Photos by Bjørnulf Vik
---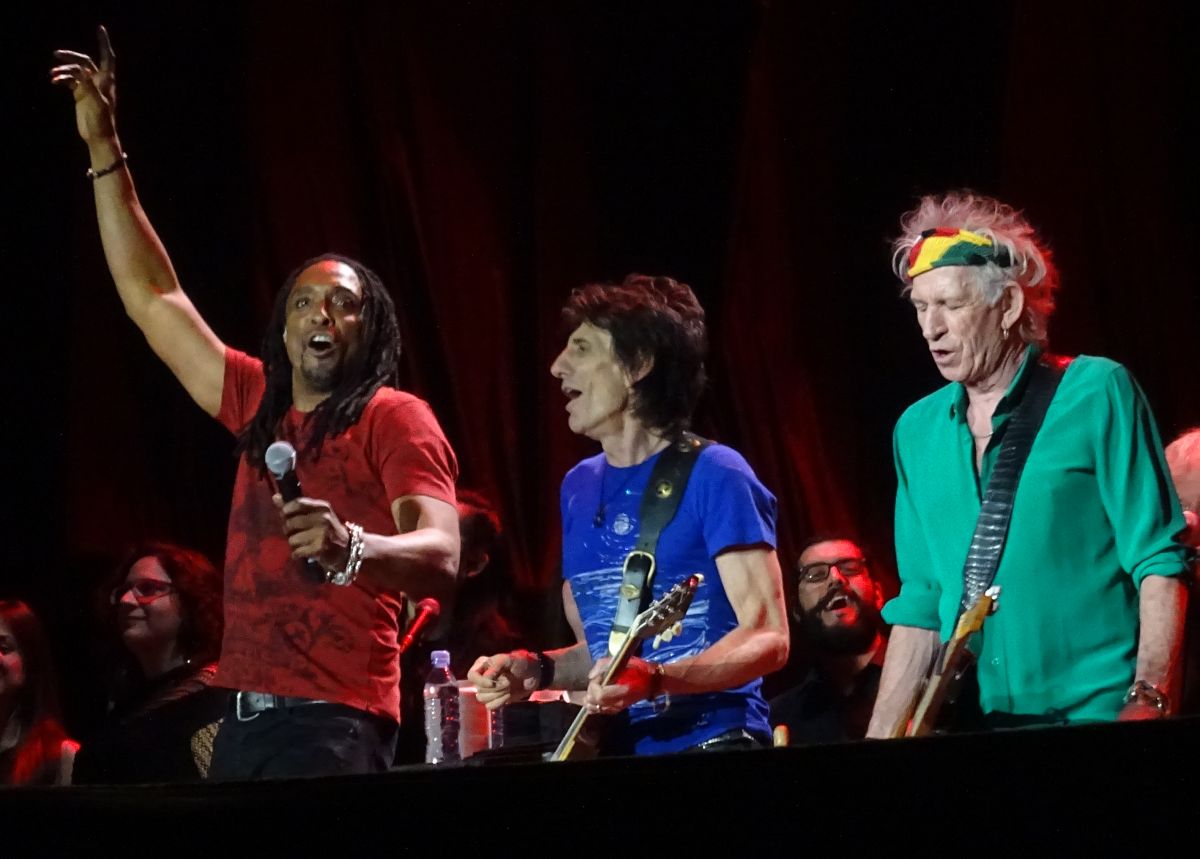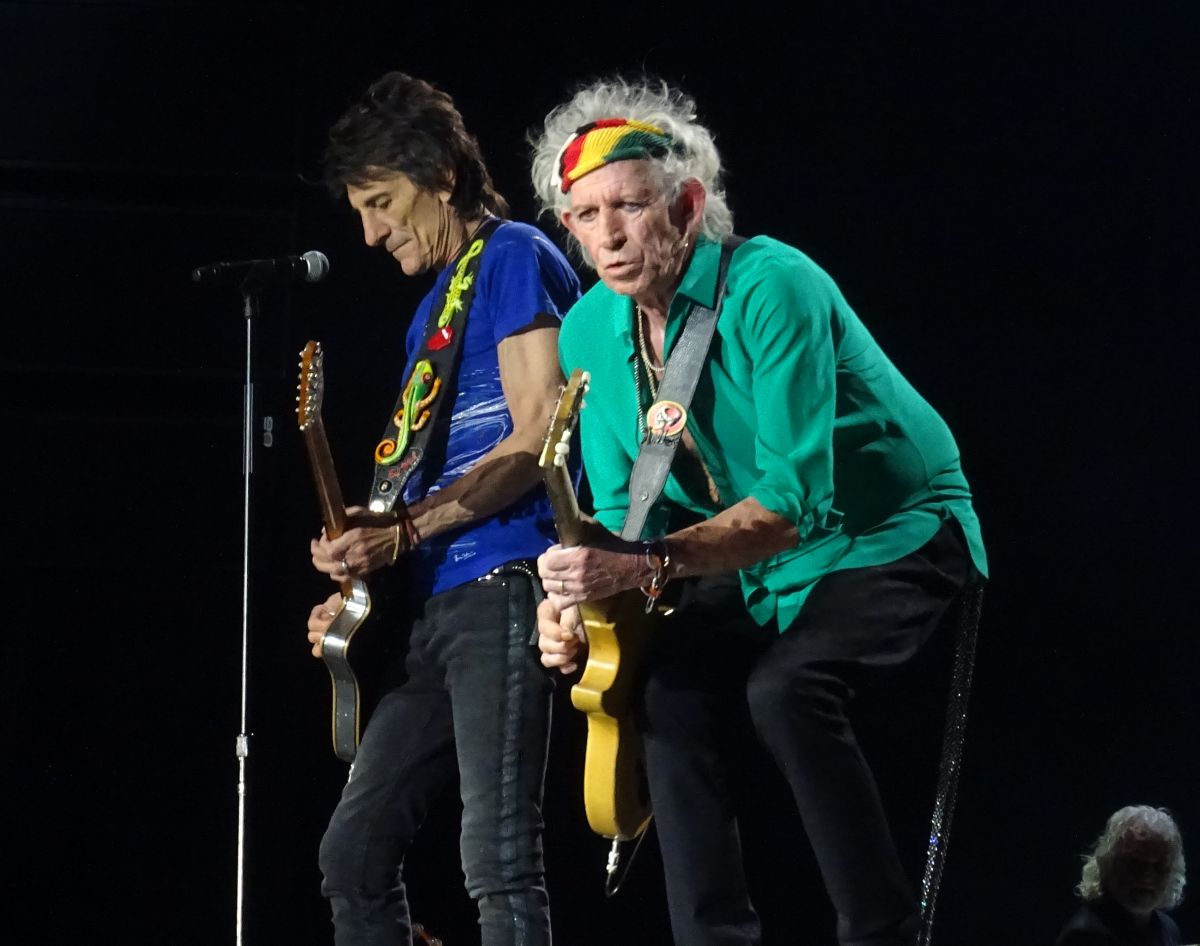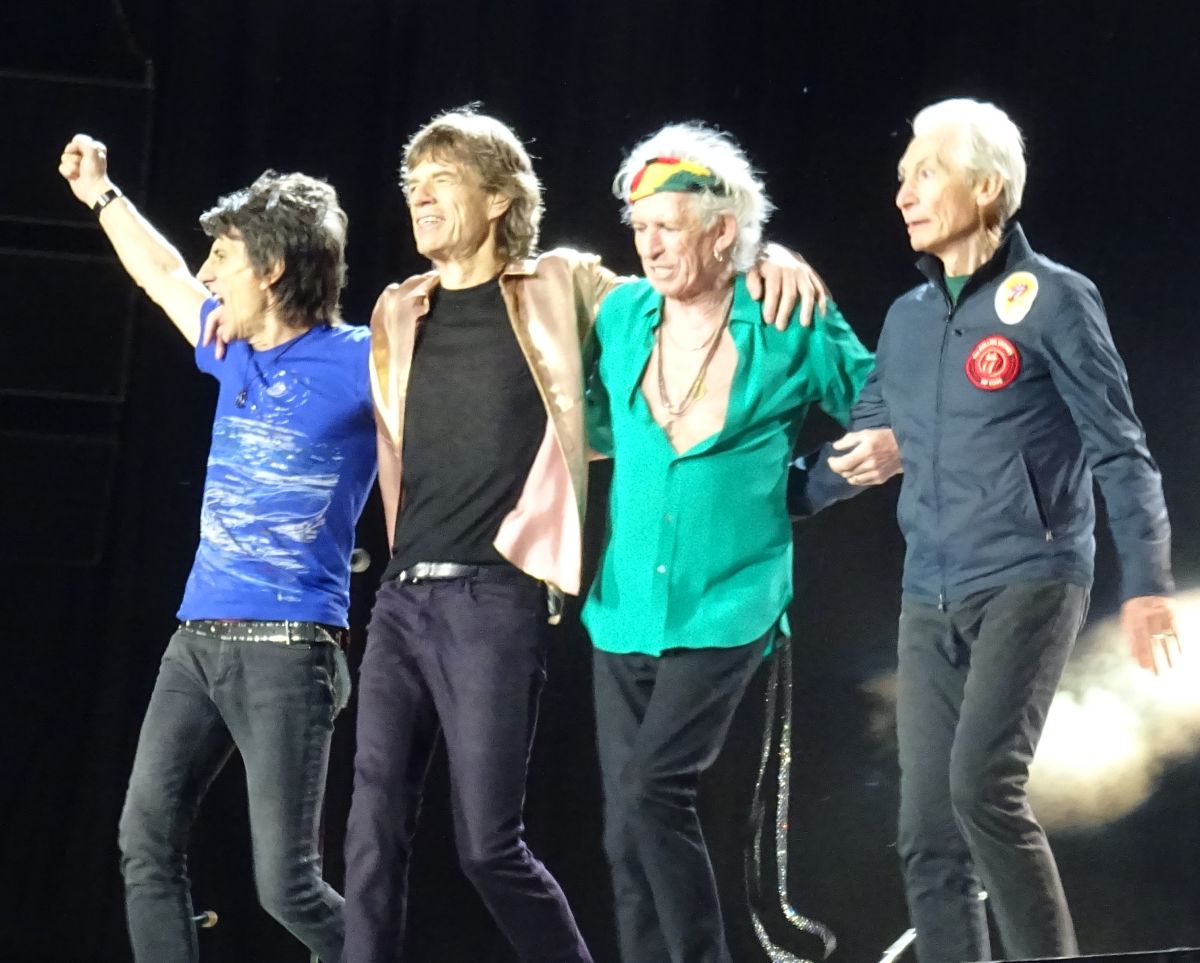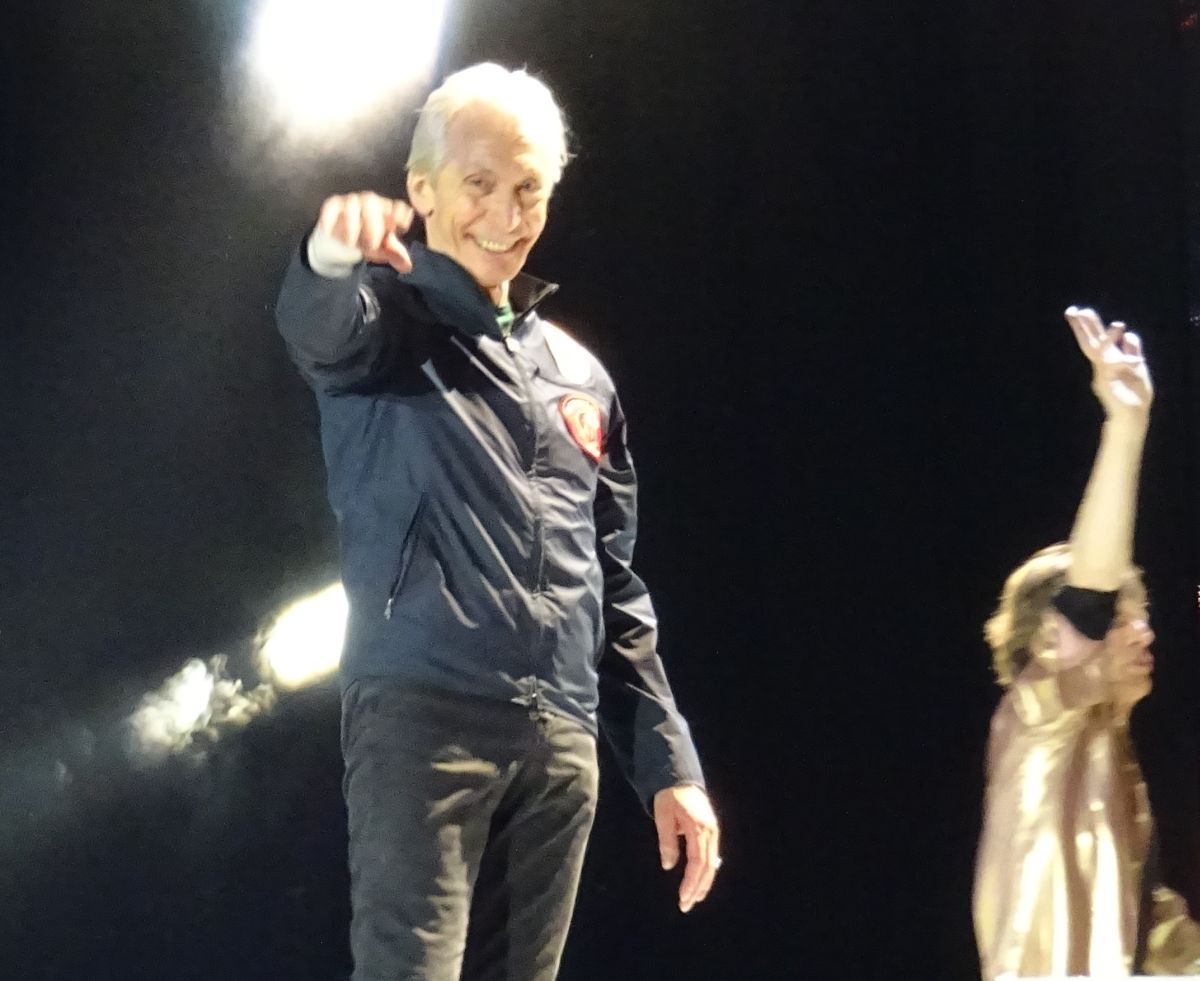 Photos by Bjørnulf Vik
---
This page will change over the next few days, as you and other fans send reviews, set lists and reports. Please send your e-mail to IORR. Thanks! For details and great photos from the Rolling Stones and their World Tour get the IORR magazines.