---
These are the latest Rolling Stones news and updates for you! IORR is a non profit fan club run by fans for fans. All parts of the It's Only Rock'n Roll web site is copyright of The Rolling Stones Fan Club. When using information from this site, please include a reference to IORR and the main web address www.iorr.org.
---
---
The Rolling Stones
Ciudad Deportiva de la Habana
Havana, Cuba
Friday March 25, 2016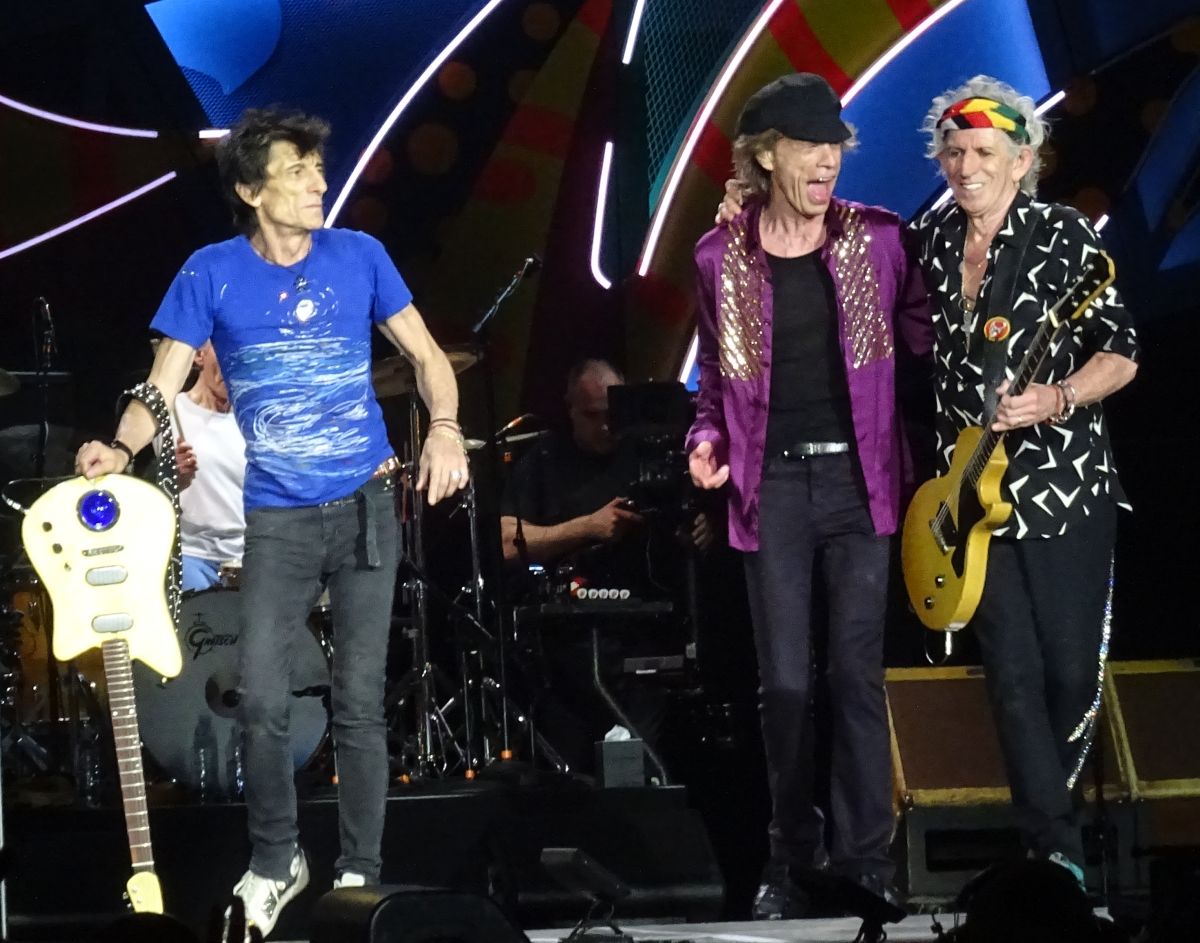 The Rolling Stones live in Havana, Cuba, 25-March-2016 - Photo by Bjornulf Vik, IORR
The set list
Jumping Jack Flash
It's Only Rock'n Roll
Tumbling Dice
Out Of Control
All Down The Line (by request)
Angie
Paint It Black
Honky Tonk Women
--- Band introductions
You Got The Silver (Keith)
Before They Make Me Run (Keith)
Midnight Rambler
Miss You
Gimme Shelter
Start Me Up
Sympathy For The Devil
Brown Sugar
--- Band off stage
You Can't Always Get What You Want (with choir)
Satisfaction
---

Show start :  8:34pm
Show end   : 10:48pm

---
---
Reports please!!!
Please send your comments, reviews, links and more in English, Spanish or Portugese to:

[email protected]
---
Review by Bjornulf Vik
I have seen every show of The Rolling Stones tour in Latin America. This was a new crowd, the Cuba crowd was a "virgin" crowd. The Rolling Stones have never been to Cuba. I expected the same kind of crowd we had in Montevideo Uruguay, Porto Alegre Brazil, Lima Peru and Bogota Colombia. The "new" crowds in South America were curious, pleasant, relaxed, and you had lots of space in the crowd. But I have been in Cuba a few times, I thought may be I should go early to the show. Friends asked me what my strategy was for Cuba. I did not have any strategy until the day before the show. Then I was in for a front row position.

It was the usual preparations for a show where you have to be on site without food, drinks or facilities for twelve hours. I had my pizza at 11:30, just before noon, drinks, and was in the taxi by 1pm. At the venue 15 minutes later, and by luck we ended up close to one of the entrances. They opened the "gate" at 1:55pm. It was a massive push, and things could have turned bad. Lucily I was in within two minutes, then I was running. Fast. Aiming for the B-stage, that was my plan, and I was right on the rail on the best part of the B-stage two minutes later. Catching my breath, I saw the hundreds and thousand fans flowing in behind me, filling up all the empty spaces. There were dust in the air, it was hot, dry, and I felt everyone wanted my position. I stayed at the rail standing until the end of the show, sitting down may be 15 minutes in total, but every time I sat down there were more people on my rail, so I kept standing. I could barely move my feet, it was tight, I had like one square meter of "personal space" available, and a local fan right on my back for ten hours.

After an hour or so they started the "warmup music". It was Stones videos, first "Harlem Shuffle", then many other of the 70's and 80's videos we now find silly, like "She Was Hot", "It's Only Rock'n Roll" and so on. This is the first time I have had The Rolling Stones as the warmup band - on tape - but it worked. Time went by. Hours by hours. I could see backstage bits from the tours in 2002-2003 and 2005-2007. Great memories. They played some AC/DC in-between, and the crowd was singing along. It felt great to be here in the crowd, and I was right on the B-stage, with a clear view to the main stage. Life is great in Cuba!

This was a film production, there will be a movie or some sort of DVD coming out of it. I have never seen so many cameras, crowd filming, on-stage action cameras, panning cameras etc. Even on the B-stage there was a camera panning Mick 360 degrees.

When the show started I realized this was a different crowd. Virgin crowd? Yes. Quiet and relaxed? No. They were crazy for the Stones, like my grandchildren opening the Christmas parcels. The first minutes of "Jumping Jack Flash" were wild. Everyone was screaming and pushing. I was fine but I saw fans next to me backing out, because the long wait had taken all their energy. The push was hard. Then it calmed down until the next song, then everybody was mad again every time Keith or Ronnie did a solo, or every time Mick went close by, which happened all the time.

Set list wise this was a show close to the 2nd show in Mexico City. We got "All Down The Line Today" as the request song, replacing "Let's Spend The Night Together" from Mexico City show number two, and Keith did "Before They Make Me Run" tonight instead of Happy". That was the only thing these two shows had in common; similar set lists. The Cuban crown was wild, and believe it or not, I liked it.

The fans in Cuba have been waiting for 50+ years to experience such an event. Like Keith said: "Havana. The Rolling Stones. Who could believe that!". Well I have been dreaming about this since my first visit to Havana Cuba April 2000, and tonight it was real. I loved the crowd, I loved the show, I did not mind all the cameras, and I am so proud I have been able to see this show.

There was nothing on sale at the venue. No merchandise, no T-shirts, no water, no beers. Just fans and security, and the security was great. No worries. At 3pm or so they came out with a couple of cardboard boxes with T-shirts. They threw out free T-shirts, may be fifty or so. I was lucky to get one, the one I like most, the white T-shirt with the 50's American car and the three Stones tongues as back lights. The day after the show I wear this T-shirt with pride, I am a proud Stones fan in Cuba, end everyone I meet ask me "Where did you get that shirt?". I say "at thew show". They don't understand. They were at the show, there was nothing on sale. My shirt is payback for two months on the road away from the family, for ten hours in the sun waiting. Thank you Stones you did a great performance in Cuba! After this I can say I have got everything. Nothing missing. The whole tour, all the great moments, and The Stones in Cuba. Time to go home now.

PS. The photos I picked to publish here are from the last three songs i.e. Brown Sugar, You Can't Always Get What You Want and Satisfaction. There was so much energy in these songs, and I started looking at my pictures from the last picture and "in reverse" in the early morning after the show. I have more, from the entire show, so may be there will be a few more pictures from the Cuba show coming up here soon. Please visit back, also for more reports. This is written in transit on Toronto Airport, on my way home.
---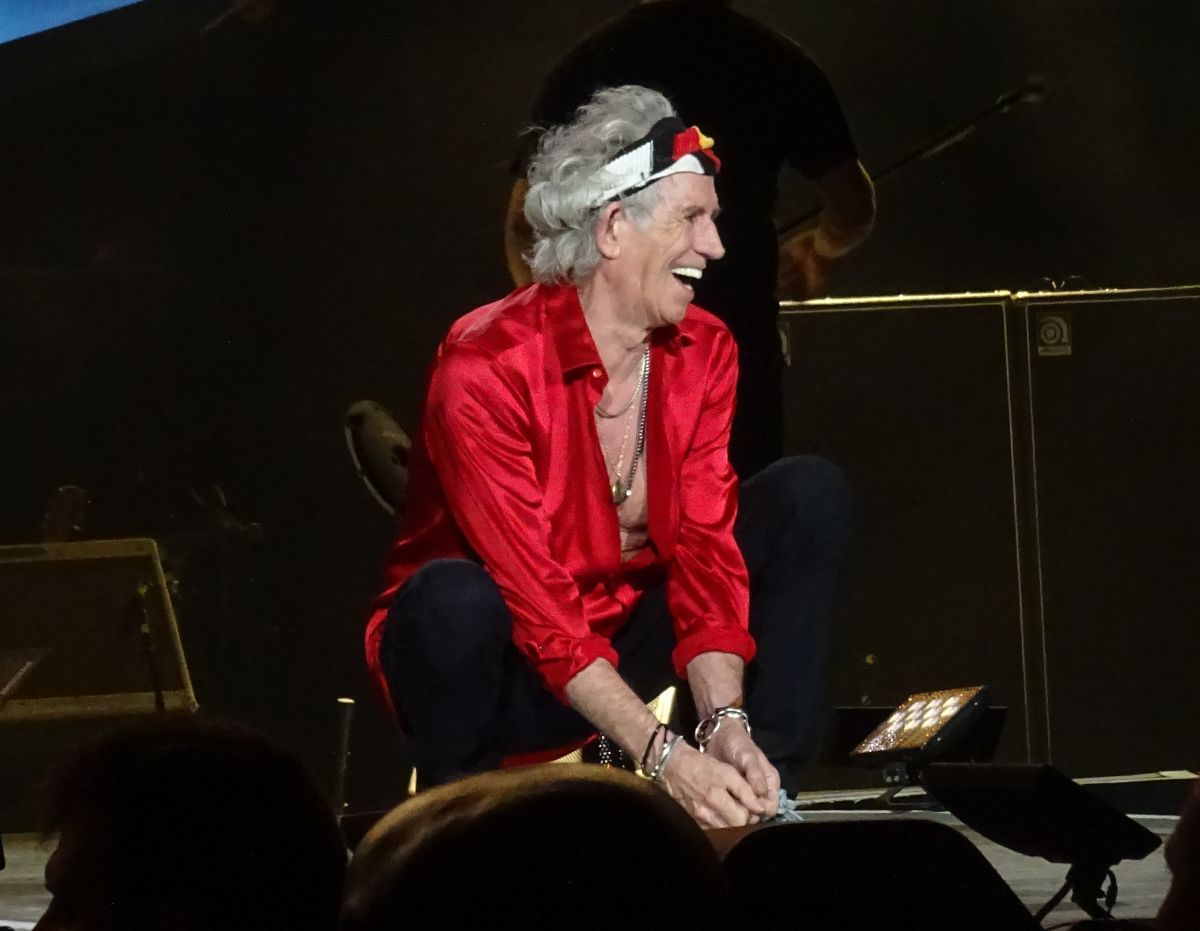 Photo by Bjørnulf Vik
---
Review by Sjoerd Olrichs
---
Originally I had no plans to go Havana to see the Rolling Stones give this free concert for the people of Cuba. But somehow I ended up in Havana and entered a world which in a way surfaced memories I have from as far back as the fifties. Amazingly old cars, busses, and tricycles. Some old parts of Havana looked like it was still recovering from war. The smell of gasoline was everywhere, streets were sometimes unhealthy for cars to drive on and traffic at times appeared to be chaotic, but there was also a kind of laid back atmosphere on the streets, a kind that I did not experience before. Friendliness was coming to me in many different ways. Off course there was also acmodern Havana, ready for an exiting future.
On the day Of the concert I woke up early to cover a distance of 12 kilometers from my hotel to the concert venue. There I joined a small number of people, Cubans, North Americans and Europeans. In the following well over five hours until two o'clock opening of the ten gates around the venue a few thousand people had gathered. When patience was gone at one gate suddenly all gates were pushed down and the few military policemen present at each gate had no chance stopping the fans from flooding in. Following the young people toward the buffer zone was amazing. In seconds they smashed down the fences and again the police present we helpless. And so in minutes I ended up some six meters from the front stage. A few hours later T-shirts were thrown into the audience. A dangerous exersice, because we were suddenly pushed forward. Packed like a sardine I was standing only two meters from the front stage, a spot I didn't leave until after the show was finished.
Oh yes, the show ..... well, without immediately going into details, the band during the whole concert delivered a highly professional tight performance. Apart from a guitar choice issue before the start of Paint It Black, each and every song was delivered with an as tight as possible precision. With thirteen shows in South America behind them, the icing on the cake was clearly for the people of Cuba. Ronnie and Keith interacted with Charlie, almost anonimously at the background, masterly controlling the pace. And Mick was very creative in many ways, playing the crowd with funny yells during Out of Control (his "becoming. mad" explosions were very impressive!), Midnight Rambler, Brown Sugar, Miss You (which the crowd loved and with a smashing solo from Daryll!) and You Can't Always Get What You Want. His voice was perfect, and he made sure it wouldn't lose its power by frequently drinking water, as we all did ... water, water, water! His noughty little games with Sasha were a pleasure for the eye.
You Got The Silver ... a beauty! Before They Make Me Run ... solid! Satisfaction ... crazy. Yes, for sure, Cuba got the icing on the cake! Hey, but one thing was missing! Fireworks at the end. Must have been a Cuban authority thing.
It's a shame to leave the warm Cuban sun and it's warm people behind, but I do it with warm expectations for a hot new Rolling Stones album. Thanks once again, guys!
---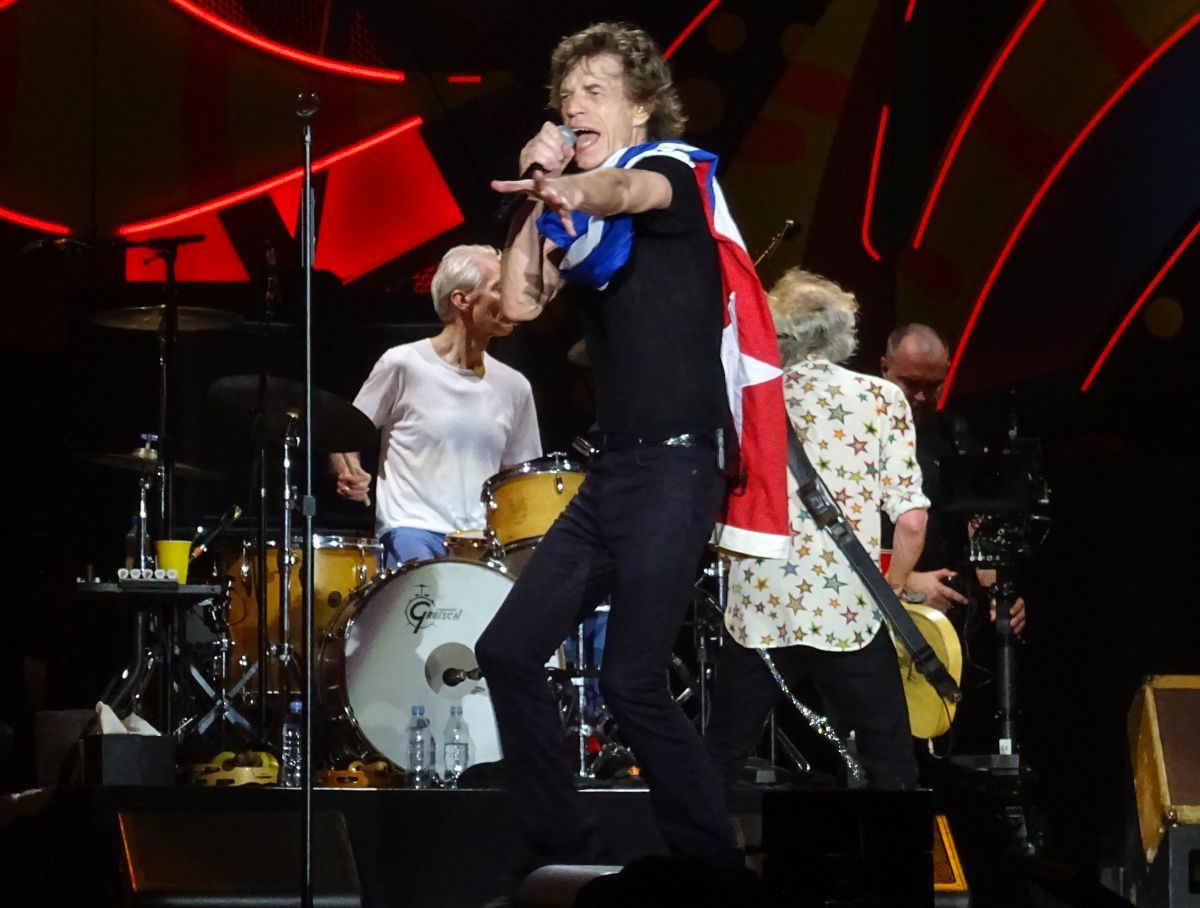 Photo by Bjørnulf Vik
---
Review by Simon Emmerson
The Tribune newspaper has the headline Rolling Habana and the Rebalda says Concierto historico. What a day it was ! I arrived at the venue at 9 am on show day and there were already 300 or so people camped out. There was a real excitement in the air. One banner in the crowd summed it up, it read Stones we have been waiting for you our whole life. There were fans from many corners of the globe with their respective flags, but today was for the Cuban fans. When the gates opened I decide not to go to the front, its their show. I am positioned in front of the lighting area, which has a small VIP area for Cuban celebrities such as the singer Carlos Varela and the model Rachel Valdez. The Stones crew are relaxed and chatting to us. There is a real sense of occasion, and the Stones dont disapoint.

Before their entrance we are treated to a video history of the band. Some unseen footage for me . There is no support. At 8.30 the greatest rock n ´roll band are belting out Jumping Jack Flash. The place is alive! Next up is iorr. Then we get some Spanish from Mick telling us how good it was to finally to be here. Infact he reads off a list of famous Cuban musicians, and Keef is rather impatient and already hits a riff. Its a pity we dont get a Cuban guest. Tumbling dice and then Out of control. Mick has so much energy despite the heat. The song choice was All down the line. Sounded gutsy and fresh.

Angie was wonderful. There was a bit of a technical hitch, and an embarassed looking Keef, who then served up a wonderful intro to Paint it Black. HTW goes down well with the audience.

And when Keef speaks he sounds really emotional at finally getting to play here. Cuba and the Rolling Stones he says, almost in disbelief. Then plays You got the silver , probably the best live version I have heard. Before they make me run, with Ron and Keef on fire. Ronnie didn´t smile much during the gig, maybe he is trhinking of matters back home, but he sounded great. Midnight rambler really rocked and seemed longer than usual. And somewhere during the gig we got Mick singing Cuba! Great bass on Miss u by Daryl. Gimme Shelter and some saucy moves from Mick with Sasha. Still need to get Lisa back! Start me up and the place goes wild. Still the best Stones rocker. Sympathy and the crowd are singing along. There are US and Cuban flags waved. Keef plays great .

The crowd seem to recognise Brown sugar and are swaying from side to side. You could see the happyness in the fans eyes. The choir on YCAGWUW were lovely.The best yet.

And finally we got satisfaction. I think the crowd wanted more ! The Stones rocked Cuba. It was an event and I am just glad I was part of the history. The music was important, but the Stones were a vehicle for bringing people together and bridging cultural and political divides. Well done boys.

And a final thought , I chatted to a middle aged Cuban fan, and he told me that when he was a teenager he was taken to the Police for having long hair and , listening to rock .
---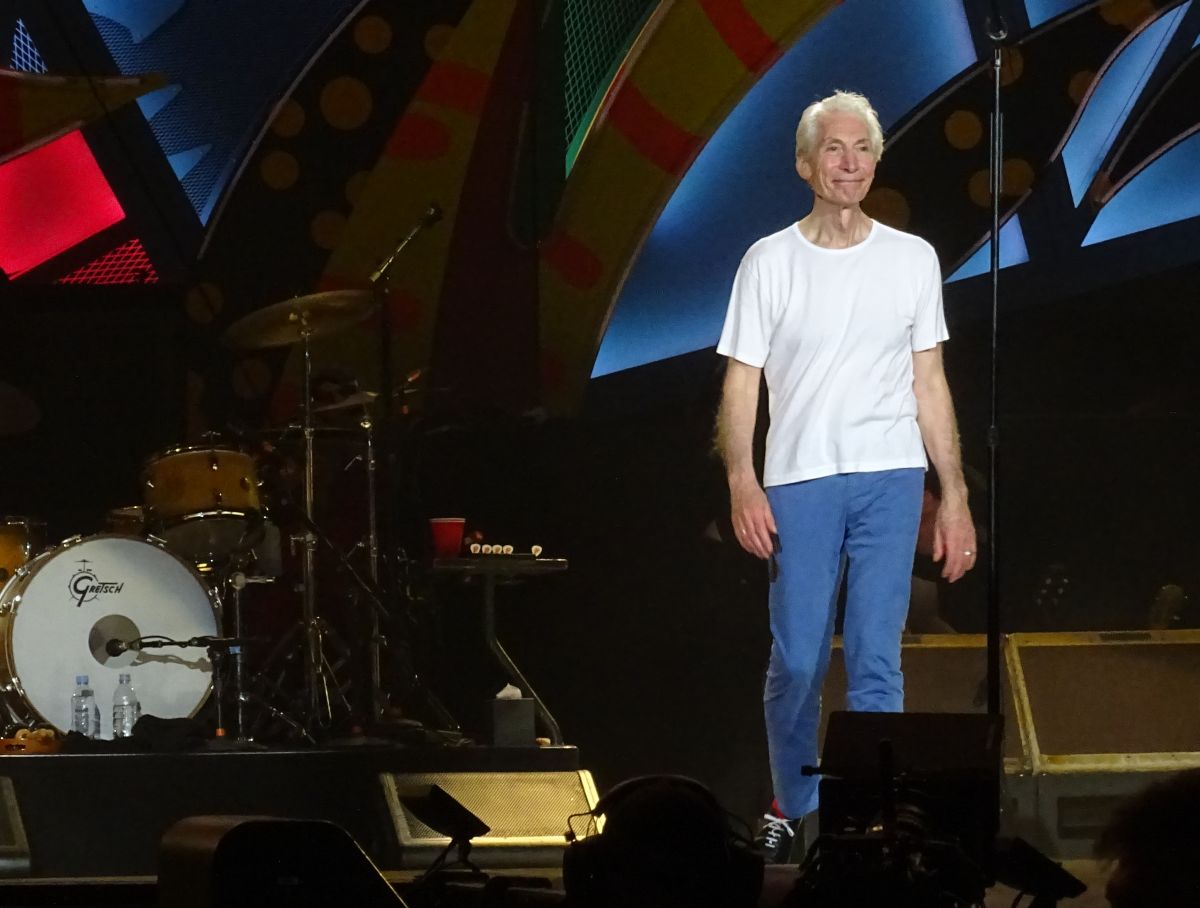 Photo by Bjørnulf Vik
---
Review by Dean Goodman
"Welcome to Cuba, now go home." That seemed to be the message to the Rolling Stones from Cuba's communist dictatorship, evidently the only people on the planet who think the seventy-something arch-capitalists still pose a threat to the establishment.

After months of tortuous negotiations, Mick Jagger and pals performed a free concert in Havana on Good Friday, but on condition that they fly in only the day before, and return to their temporary base in Florida on their chartered plane the following day.

The risk that Keith might light a Marlboro on the Malecón and accidentally ignite a revolution was possibly too much to bear. And maybe the Castro regime was right to be wary, especially days after the equally historic visit of U.S. President Barack Obama.

The Rolling Stones, a band only three years younger than the Cuban revolution but clearly in much better condition, gave about half a million Cubans of all ages a real-life taste of the democratic hopes and aspirations of rock 'n' roll, doing more for the cause of "Cuba Libre" in two hours than American presidents have done in almost 60 years. (In case there is debate about the attendance, a policeman told me that the venue, a decrepit sporting campus called the Ciudad Deportiva, held that figure. I surveyed the empty field the day before and it was way smaller than the seemingly endless Copacabana Beach.)

"I think that finally the times are changing," Mick said at one point, in respectable Spanish.

One fan, an arts teacher who rode seven hours on the bus with his son from the fiercely independent provincial city of Camagüey, told me before the show that he hoped the concert might in some small part start a snowball (not sure they have snow in Cuba, but that's what he said). He said the Castros need look no further than the former communist countries of Europe to see how rock music and disaffected youth can be a combustible mix.

(Indeed, listening to the Beatles or Stones in Cuba during the 60s and 70s could have meant a stint in a re-education camp. These days, fans exchange music via pin drives since the Internet - like most things in Cuba - is primitive.)

But of course the Stones are not a political band, and Mick is no Bono or Springsteen. They were in Cuba to entertain, not to start a revolution. In the last show of their 14-date Ole tour of Latin America, they stuck to the script by playing 18 classics in a circus environment. And in case some impressionable fans felt inspired to plot a Caribbean Spring, they needed to look no further than the message of the last two songs - "You Can't Always Get What You Want" and "(I Can't Get No) Satisfaction" - to reconsider their plans.

The concert, a giant undertaking involving top-level political negotiations, was funded by a charitable organization connected with a Curaçao money manager. The last big free show was a decade ago along Copacabana in Rio de Janeiro with a multitude of sponsors. There was no such commercialization this time, no advertising, not even t-shirts or refreshments for sale. And no entrepreneurial Cubans thought of selling food or drinks outside the venue.

The ushers had the best t-shirts, bright yellow with "Event Staff" on the back, and the Cuban flag on both sides. But they were reluctant to part with them afterwards, even when tempted with cash. One wanted 50 pesos, but that was greed even by Stones standards.

The last time the Stones organized a big free concert at short notice - this one was confirmed just a few weeks ago - disaster ensued: Altamont. There was no such disorganization this time, and the security presence was oddly limited. There were no bored riot police on hand, as we saw in Lima and Mexico City.

The gates opened at about 2 pm and people quickly filled up the field in orderly fashion. You needed an "Invitacion" card to get into the front section. I didn't have one, had no idea how they had been distributed, but paid a local 8 pesos ($8) for a pair. He initially asked for 20 pesos. The Stones, realizing that their music is probably not well known, helpfully played old videos such as "Harlem Shuffle" and "Hot Stuff" on the giant video screens. Judging by the music that was played on the PA, AC/DC are huge in Cuba. Pity they will never play here. The Beatles are almost as big, but do you really need to wave a banner reading, "RIP, George Martin"?

The Stones came on stage just after 8:30 pm, following the usual 2-minute animated clip sprinkled with bonus Cuban imagery. Memo to Mick: Castro banned gambling upon grabbing power. Keith appeared first on stage, allowing himself a brief moment to look into the crowd and consider the unpredictable absurdity of his fantastic life, before striking the first chords of "Jumpin' Jack Flash," and Mick assumed his role as the energetic Commandante. "It's going to be an unforgettable evening," he said (again in Spanish) between songs.

Even from my theoretically good position a few people away from the end of the short catwalk, it was difficult to see the action on stage because of the girls on shoulders, selfie sticks and outstretched arms. It seemed like a typical Stones concert on this tour with everyone going crazy.

I must admit to great skepticism about this thing beforehand, partly for political reasons, partly for personal reasons (PITA factor, cost), but mostly because it seemed like cultural imperialism. There is little rock 'n' roll tradition in Cuba, and the only thing the Stones and Cuba have in common is a celebration of July 26. It all seemed akin to Johnny Hallyday coming to Madison Square Garden and expecting New Yorkers to sell it out.

But in the end, rock 'n' roll is universal, or at least the roots of rock are. You will dance and have a good time. And that's what the locals did. They seemed genuinely thrilled to soak in the sound-and-light extravaganza, and the rock 'n' roll rebellion, whether it be real or imaginary. Of course it was virtually impossible to distinguish among die-hard fans, the curious, and those who were simply bored and had nothing else to do in this rather boring country. There were also a lot of foreigners on hand, including some rabid Argentineans who brought back sweet rugby-scrum memories of the Stones' three-night stand in La Plata last month. Perhaps the only person who wore a Che Guevara t-shirt was a Brazilian, badly miscalculating the apolitical mood.

Musically, there was little to differentiate this show from the others, apart from the addition of "All Down the Line" in the Internet vote. I would be shocked if anyone at the concert voted or even knew about the vote. Certainly, I didn't. Voting and Cuba don't go together. It would have been nice to hear "I'm Free" or " Street Fighting Man" or "Indian Girl" or "Undercover of the Night" - all for obvious reasons. But we've all been here long enough to know these were never going to happen. Everyone seemed to recognize the hits - my wife preferred the dreaded warhorses to the songs in the first half - and of course "Satisfaction" might just as well be Cuba's unofficial national anthem.

As usual, Mick peppered his performance with a few witticisms, recalling that, "We went to the British embassy where we drank whiskey and ate fish and chips, followed by rice and beans. But the best part was dancing Rumba Cubana at the Casa de Musica (a nearby music venue)." He added, in English, "It's all true. It's all true."

He introduced Ronnie as "the revolutionary Ronnie Wood" and Charlie as "Charlie 'Che' Watts." Later, he earned extra credit by decreeing that "Cuban music rules the world." No it doesn't; it's horrible. Keith, as he announced in Mexico City (and elsewhere on recent tours), said he might live in Cuba. Errrrr. I guess his brain damage is worse than expected.

While the Cuban government had expressly decreed that VIPs should not get special treatment, the chorus of demands by the diplomatic corps. and other dignitaries was hard to ignore. And so they were herded from a marquee backstage along the interior of the catwalk to a viewing platform next to the sound-mixing tent. Raúl Castro, aged 84, was expected to be in attendance, although his presence could not be immediately confirmed.
---
Review by Leah and Honora O'Neill
I read the other reviews and wanted to add some additional comments. My daughter and I attended, travelling from Ireland via Paris just to attend the conference.

It was a fantastic concert with huge energy, a lovely friendly, mainly Cuban audience, at least where we were standing on the left of stage. We were invited to enter the VIP area, a real bonus, and really enjoyed the buzz of the crowd and the incredible performance by the greatest ever rock-n-roll band.

I have to say it was hot, and with no water or facilities, it took great resilience, but we were ready and willing. I felt badly for a Canadian couple who travelled for the concert, left at 8 am to cue up for admittance, ended up at the front of the stage but then had to leave before the concert due to need for water and facilities. But we were willing to stick it out, and what a great performance by the lads.

What memories, what a night!..
---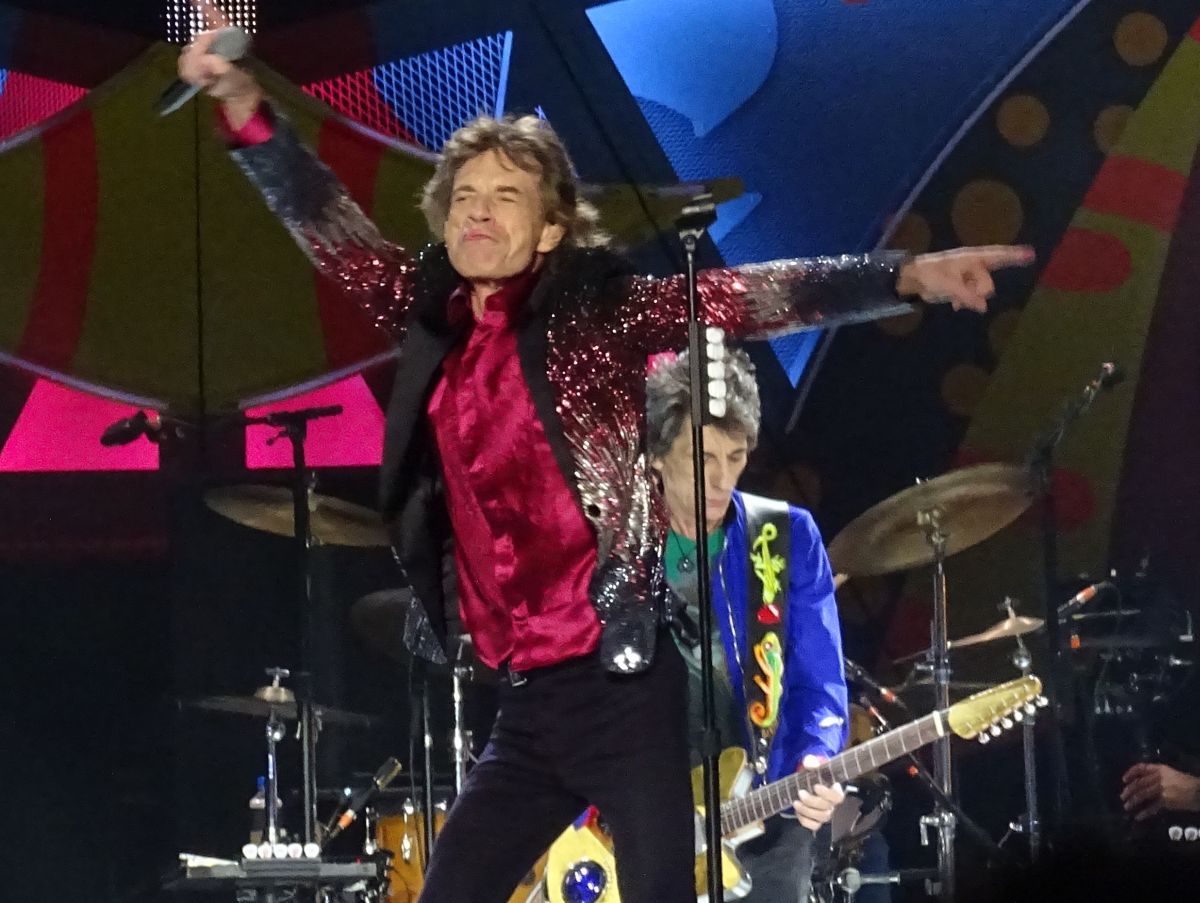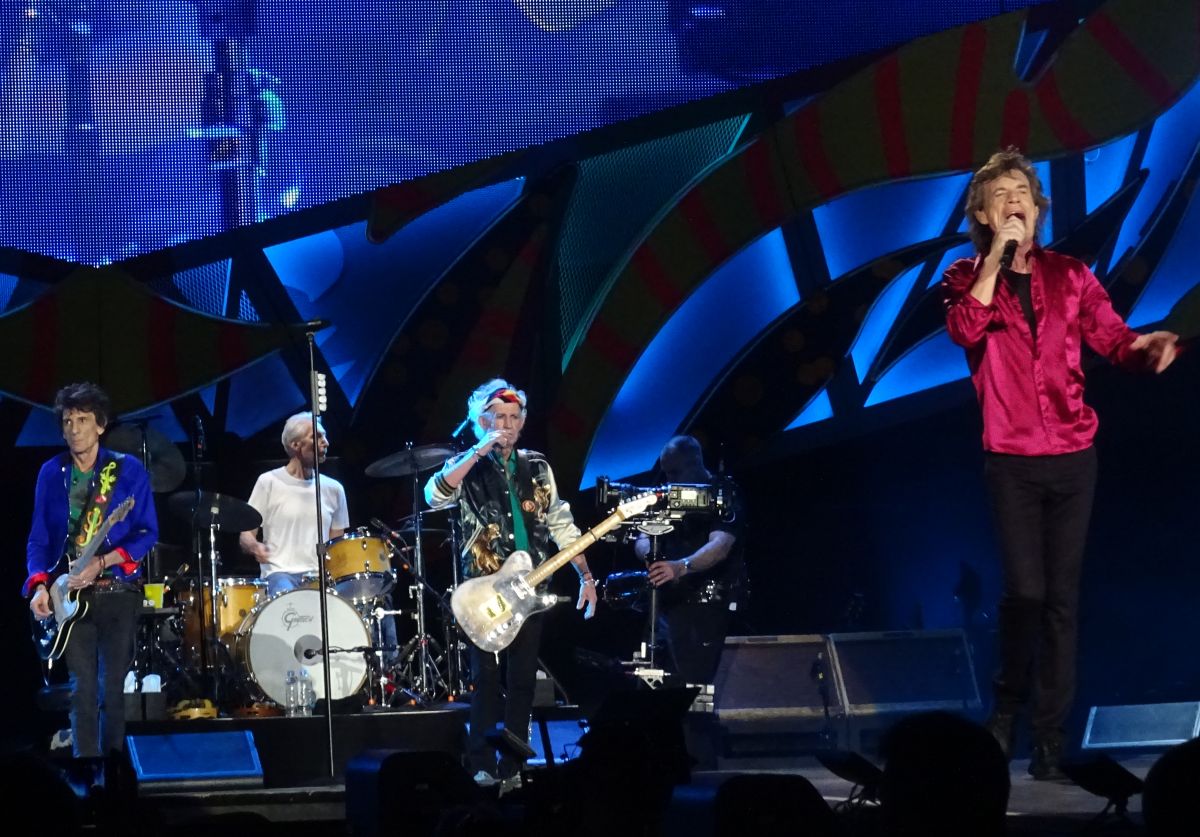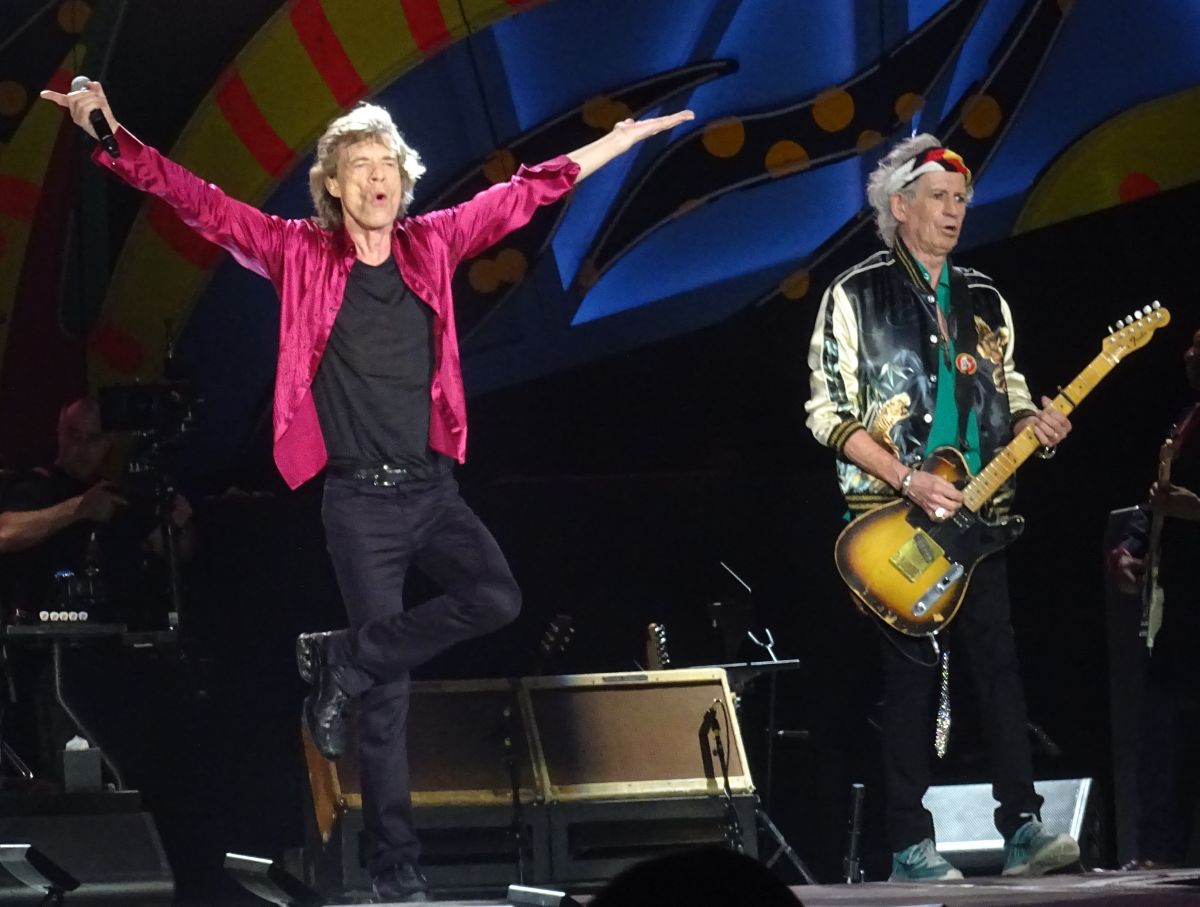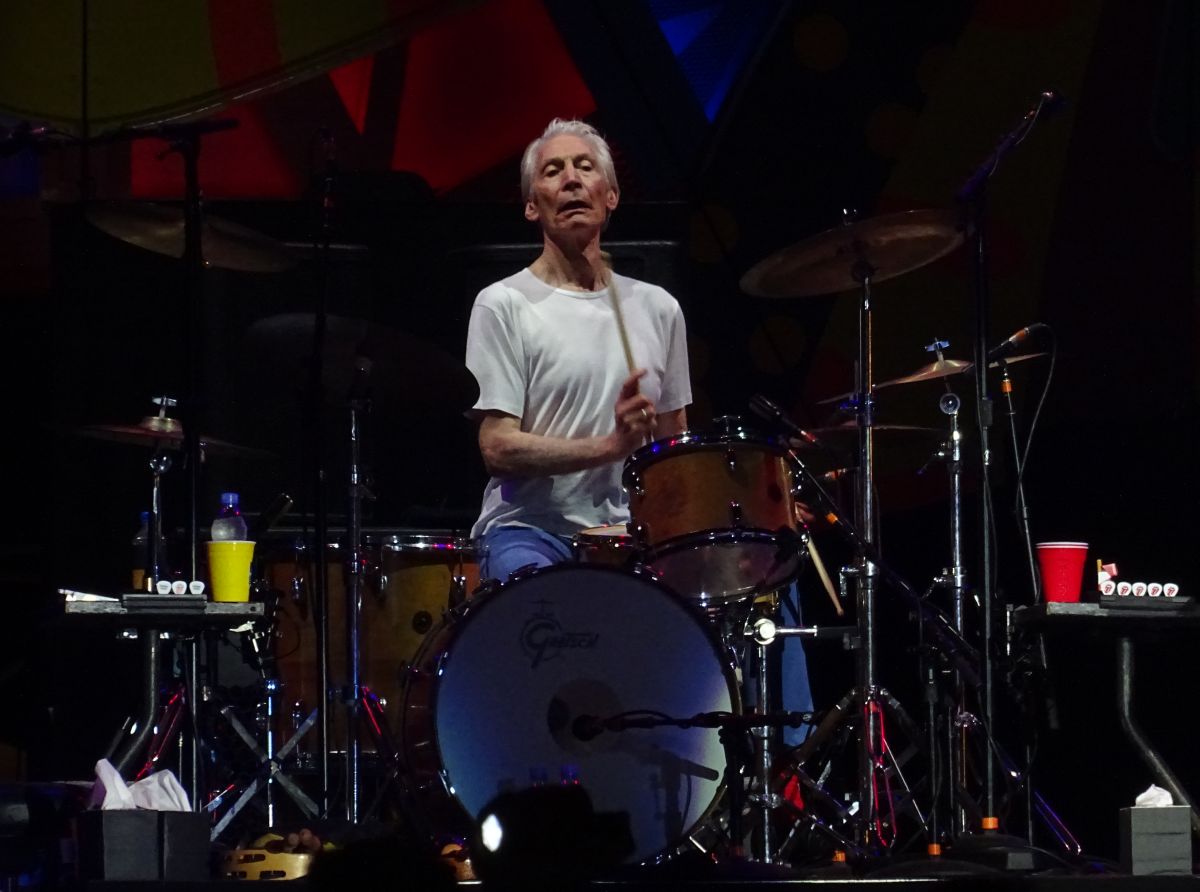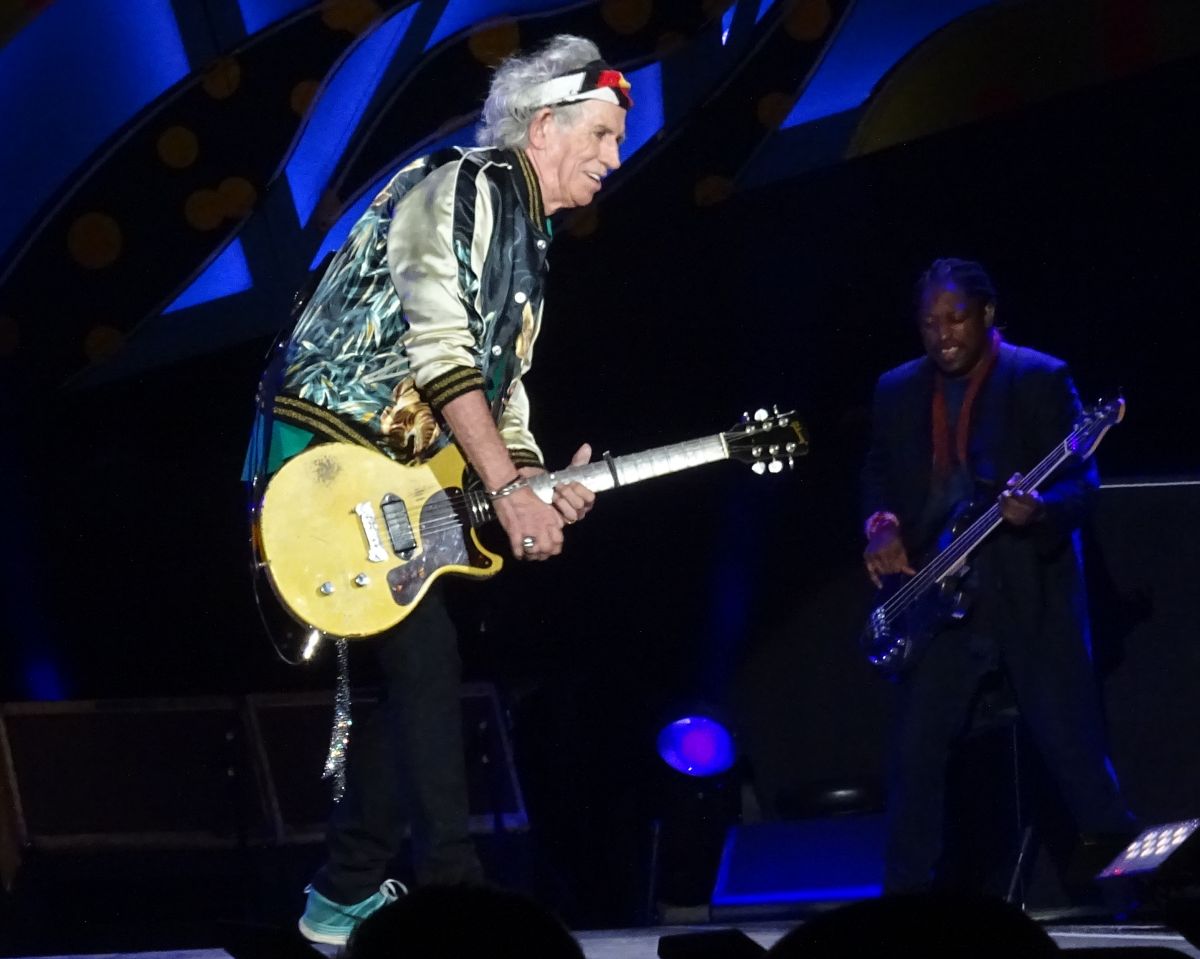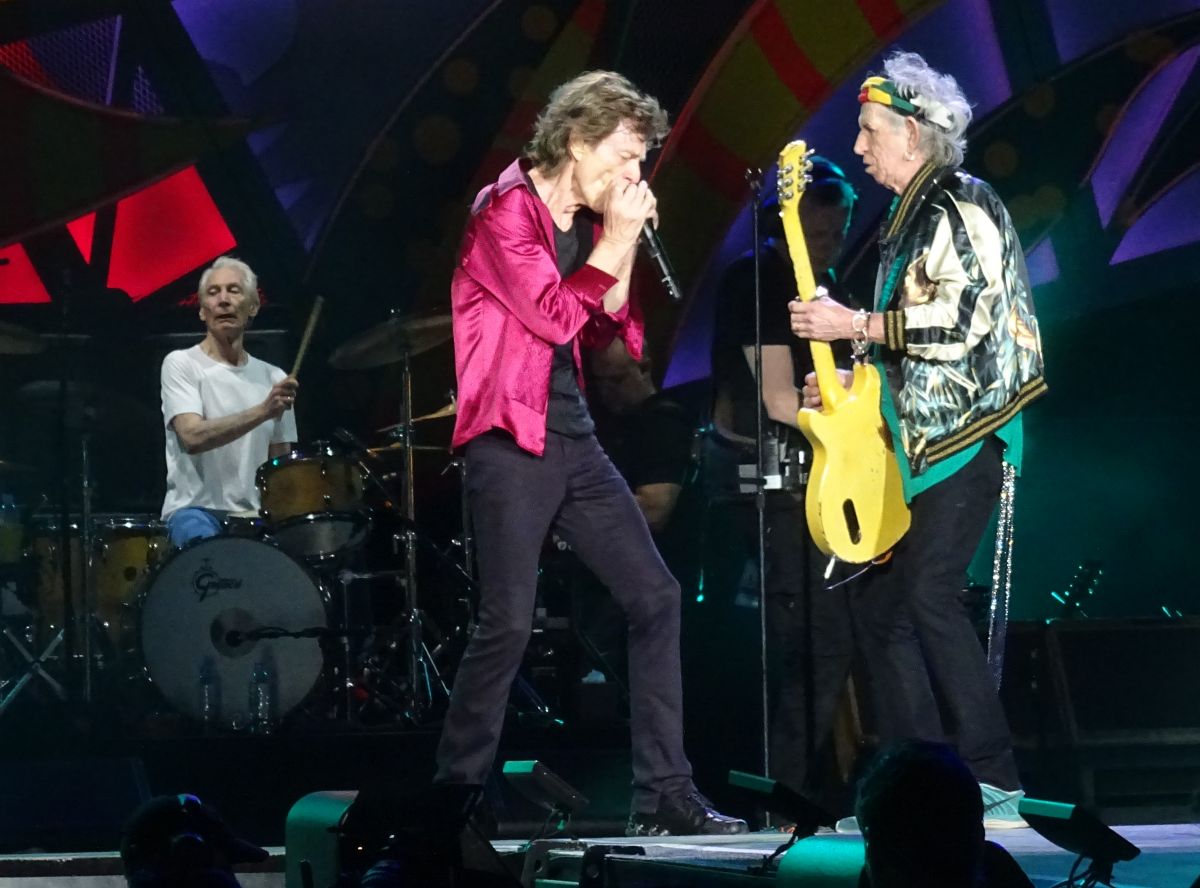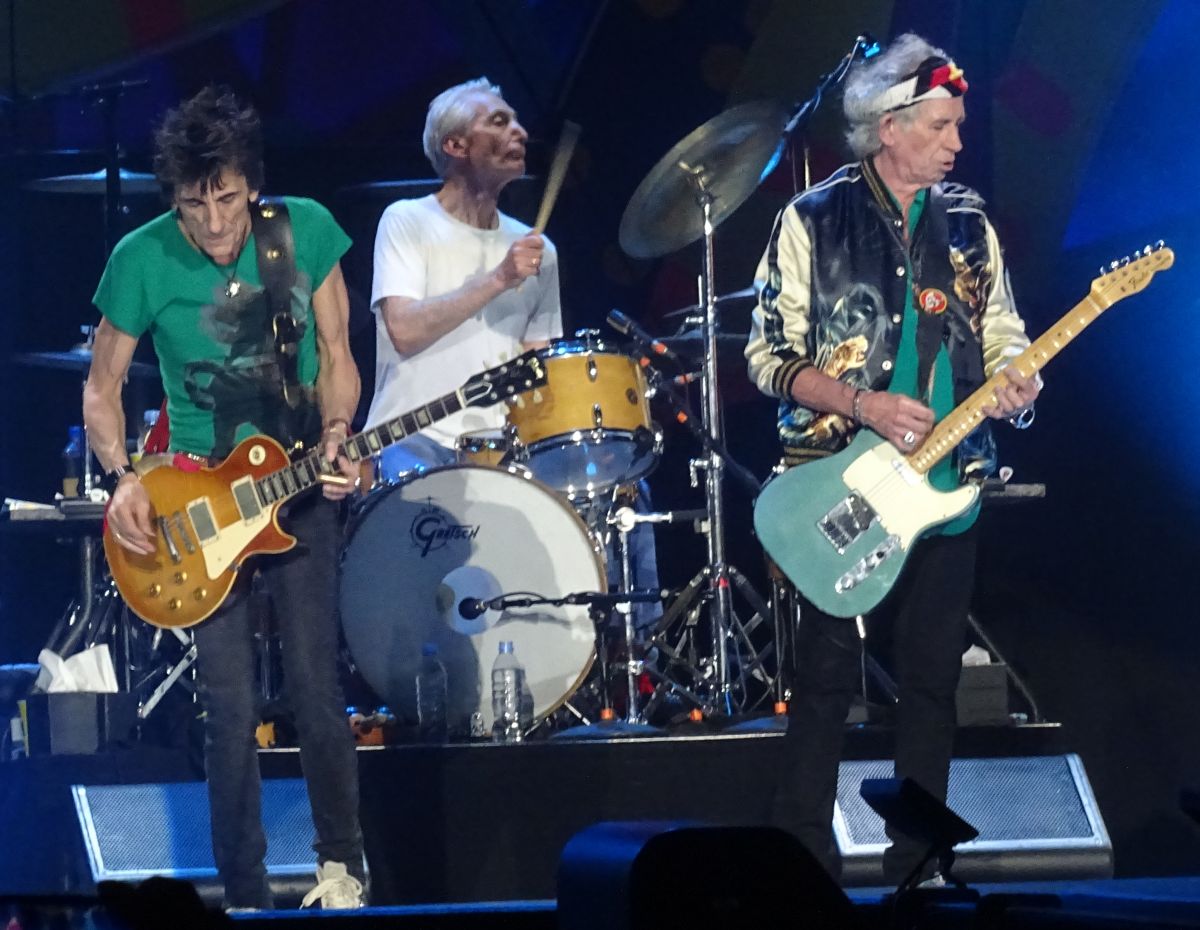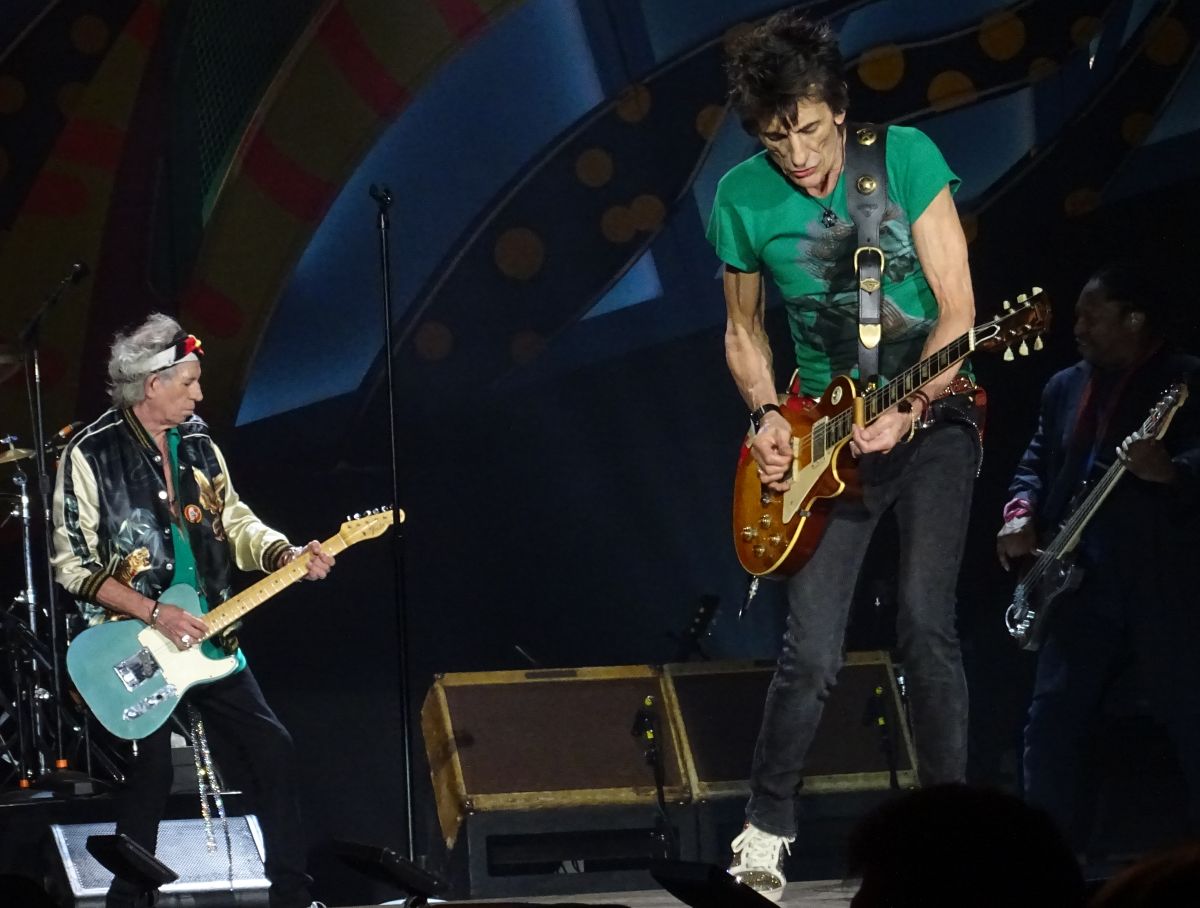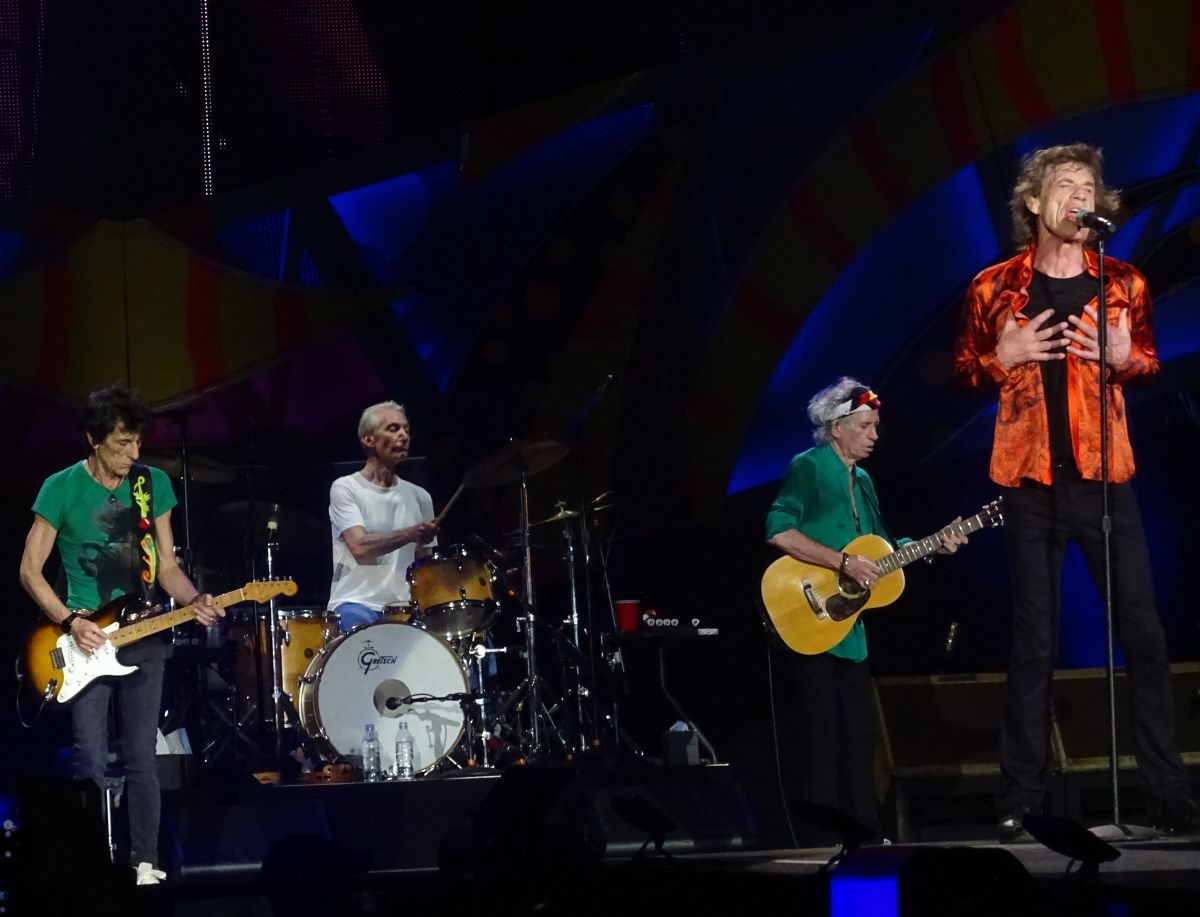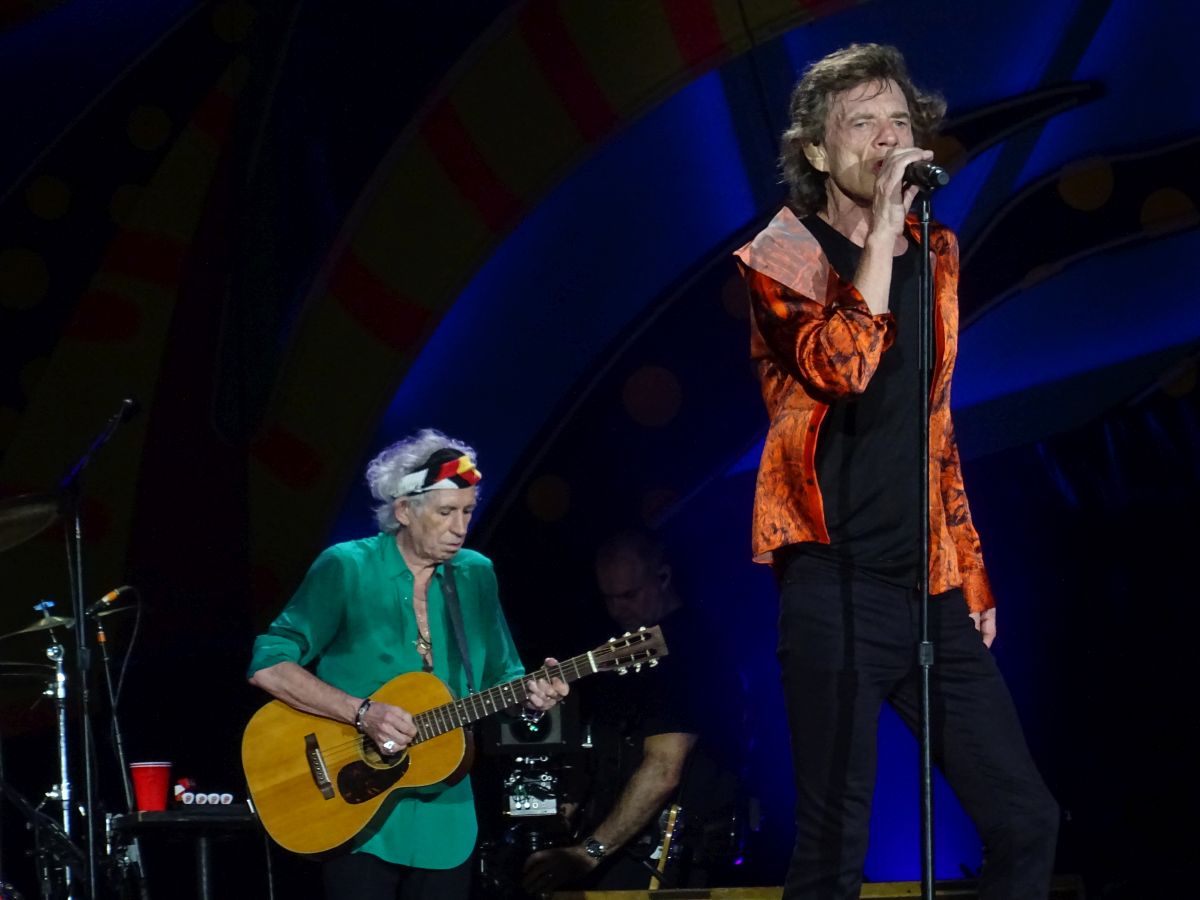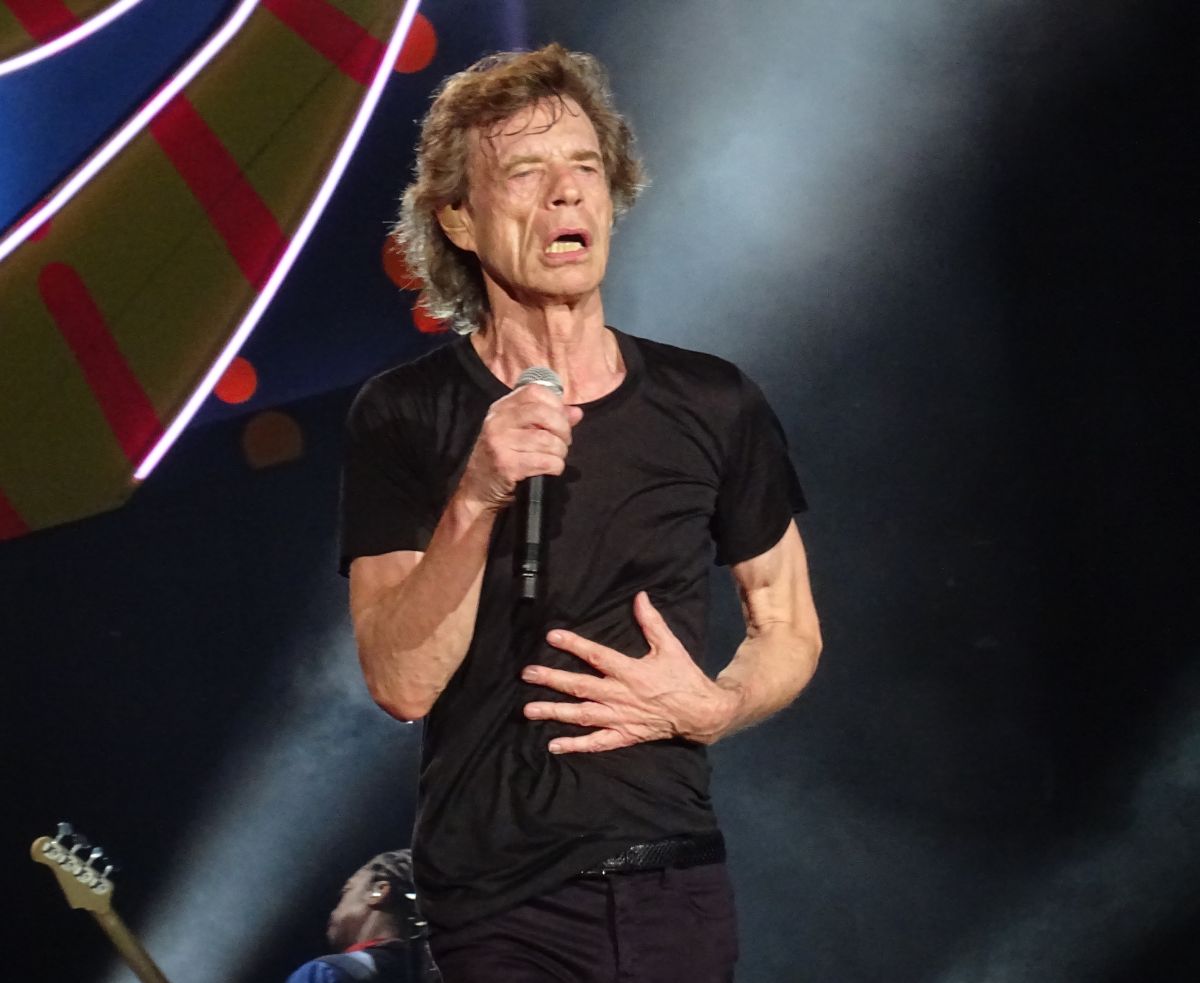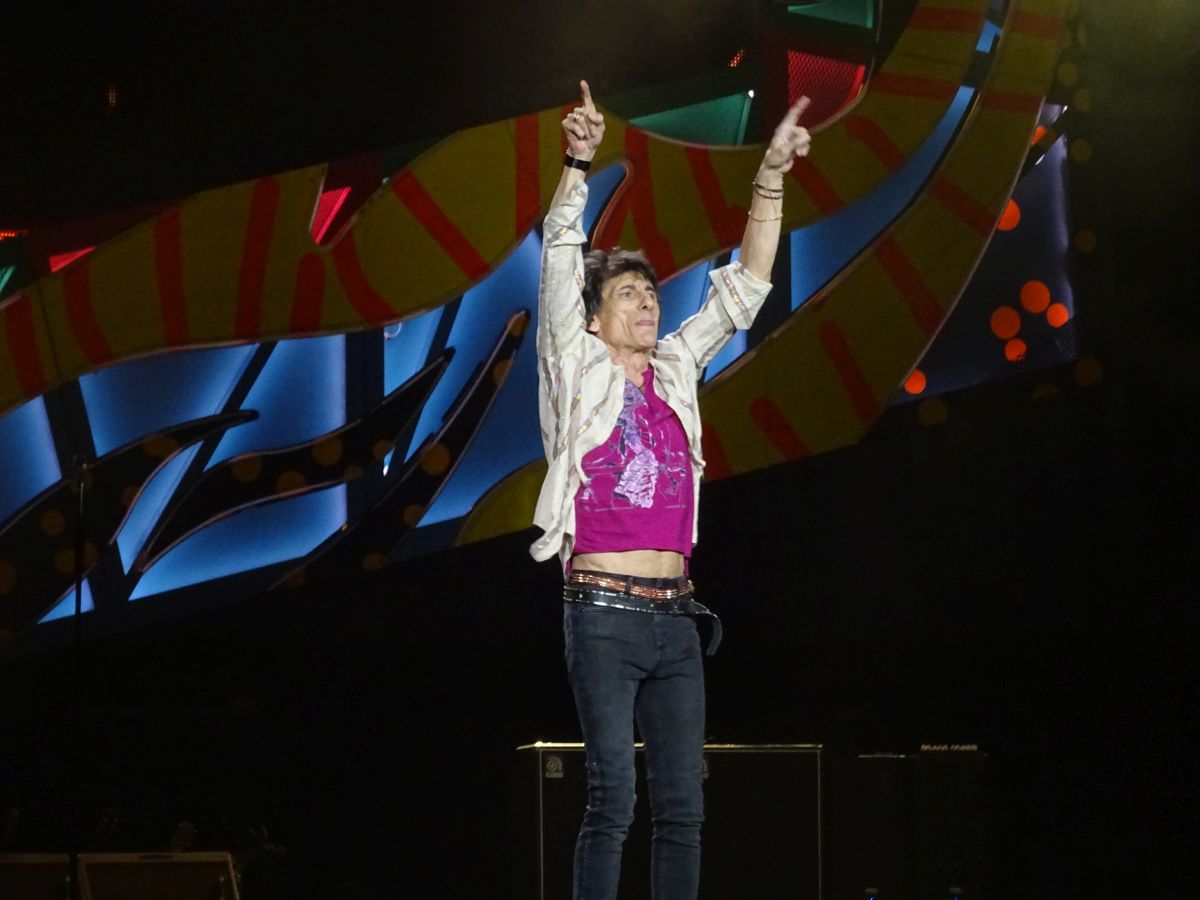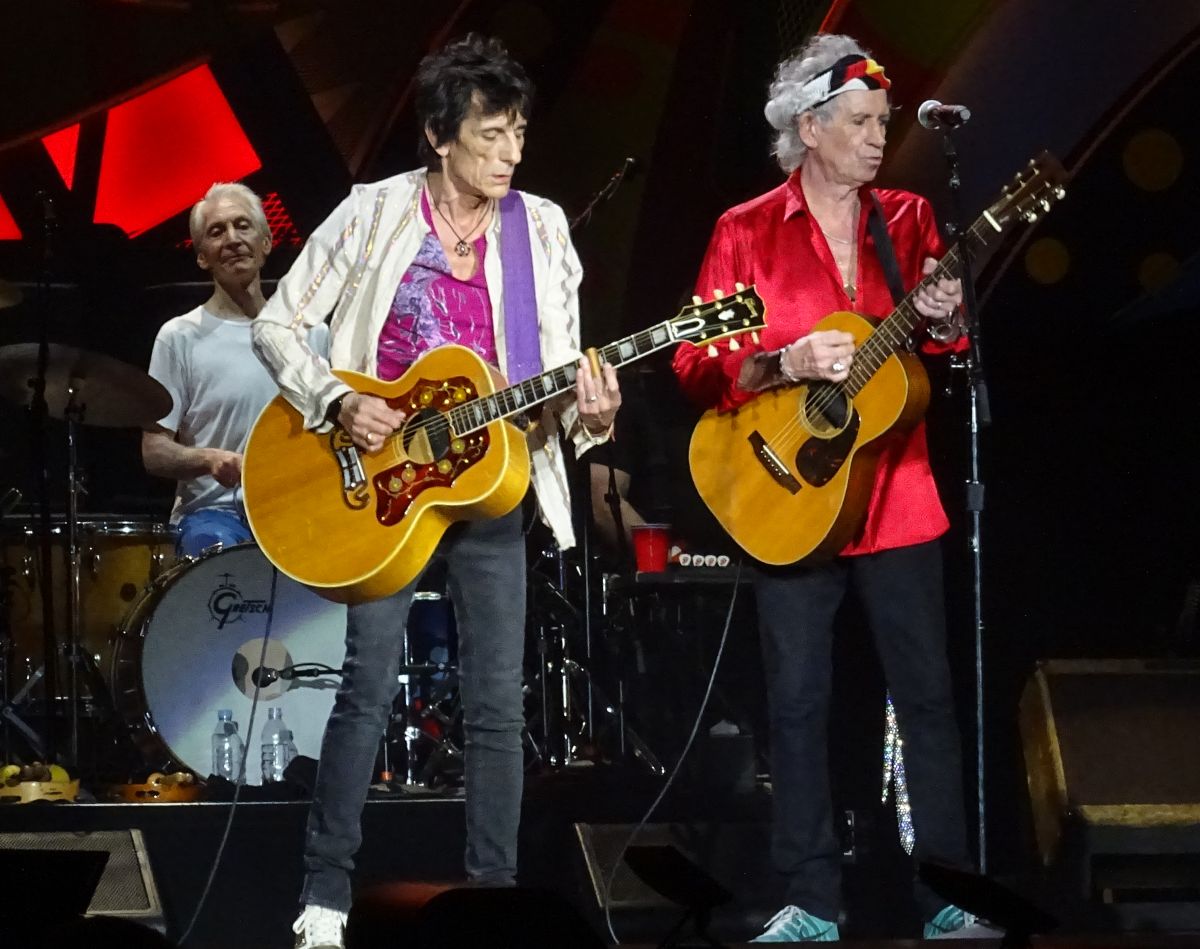 Photos by Bjørnulf Vik
---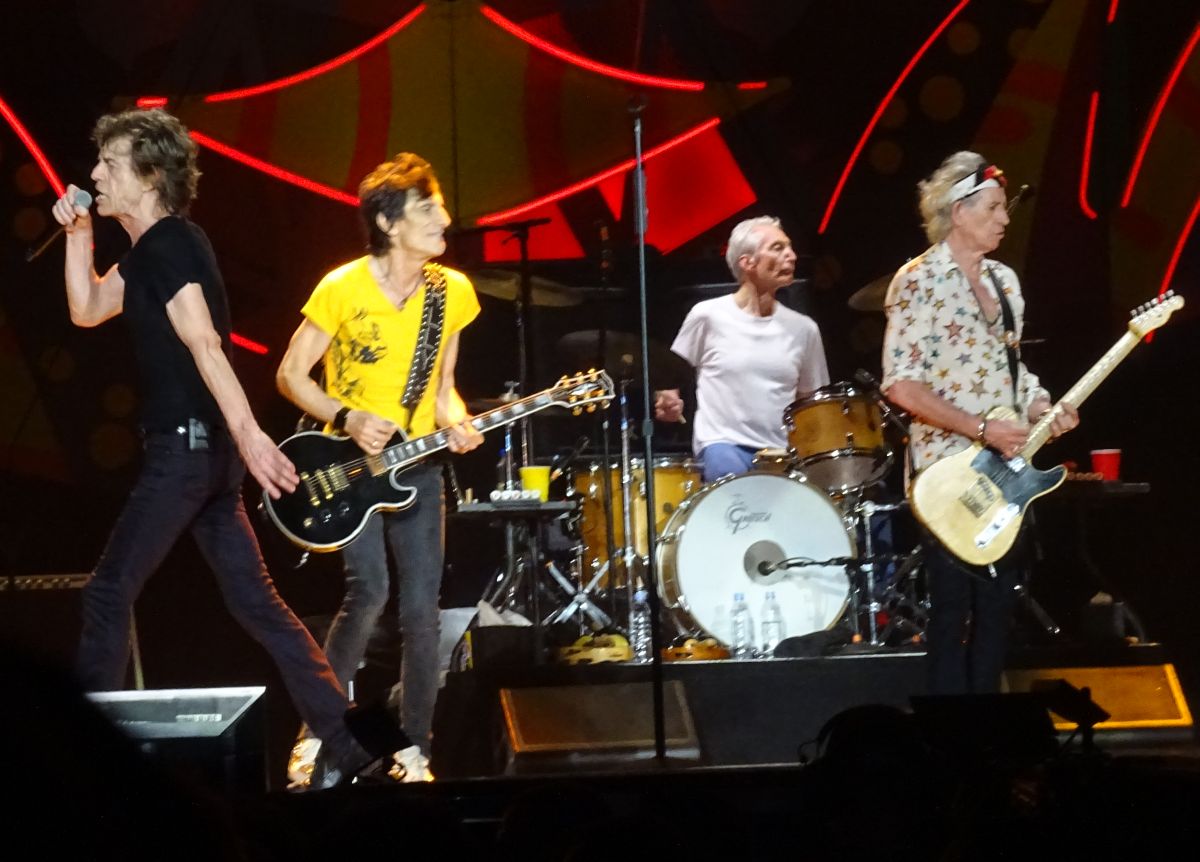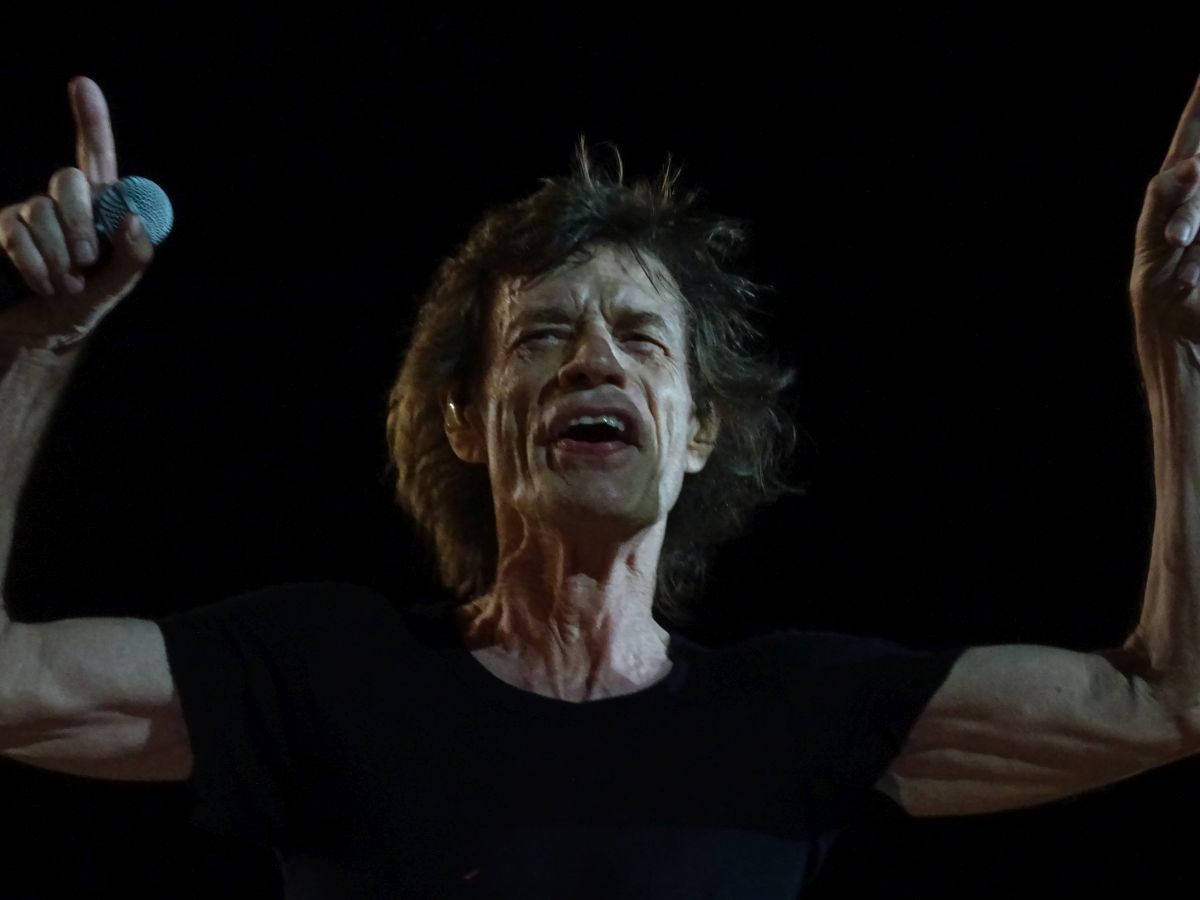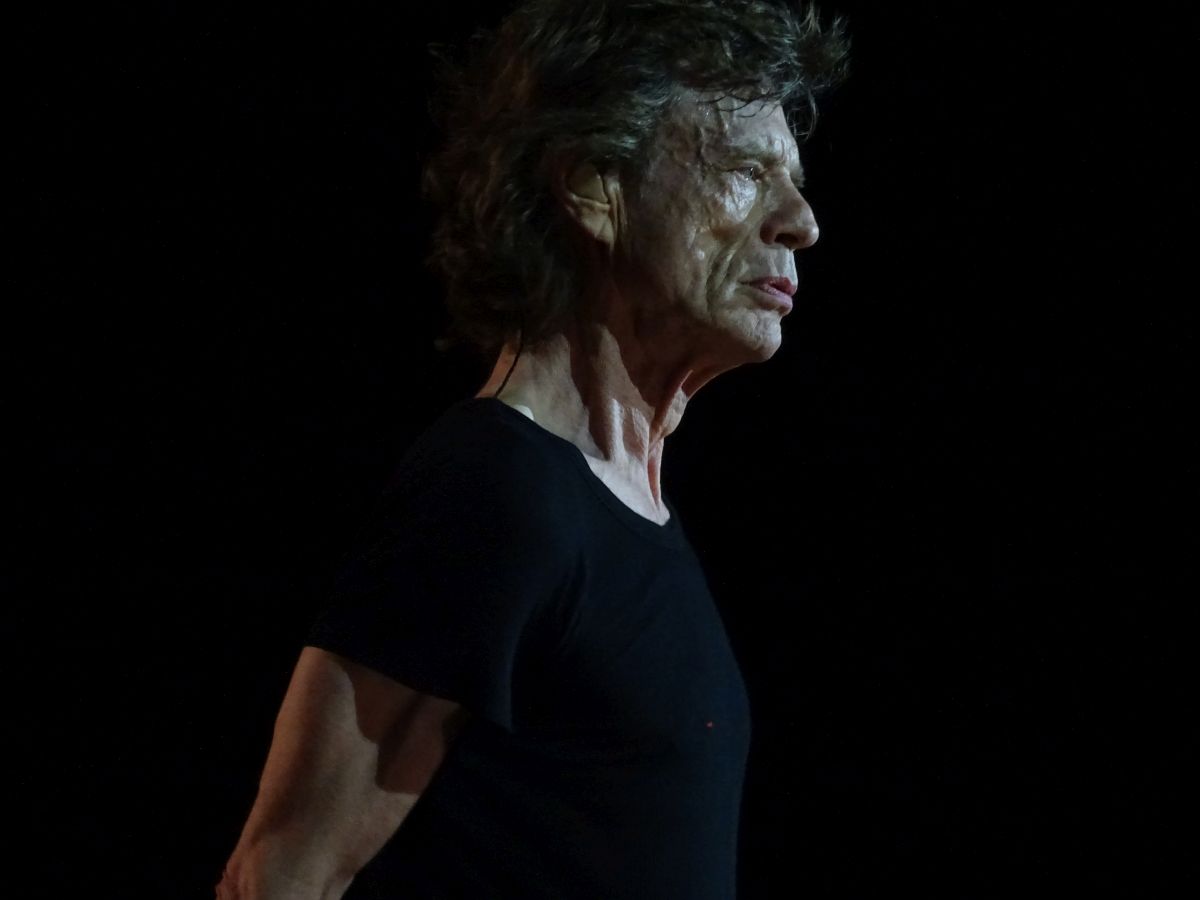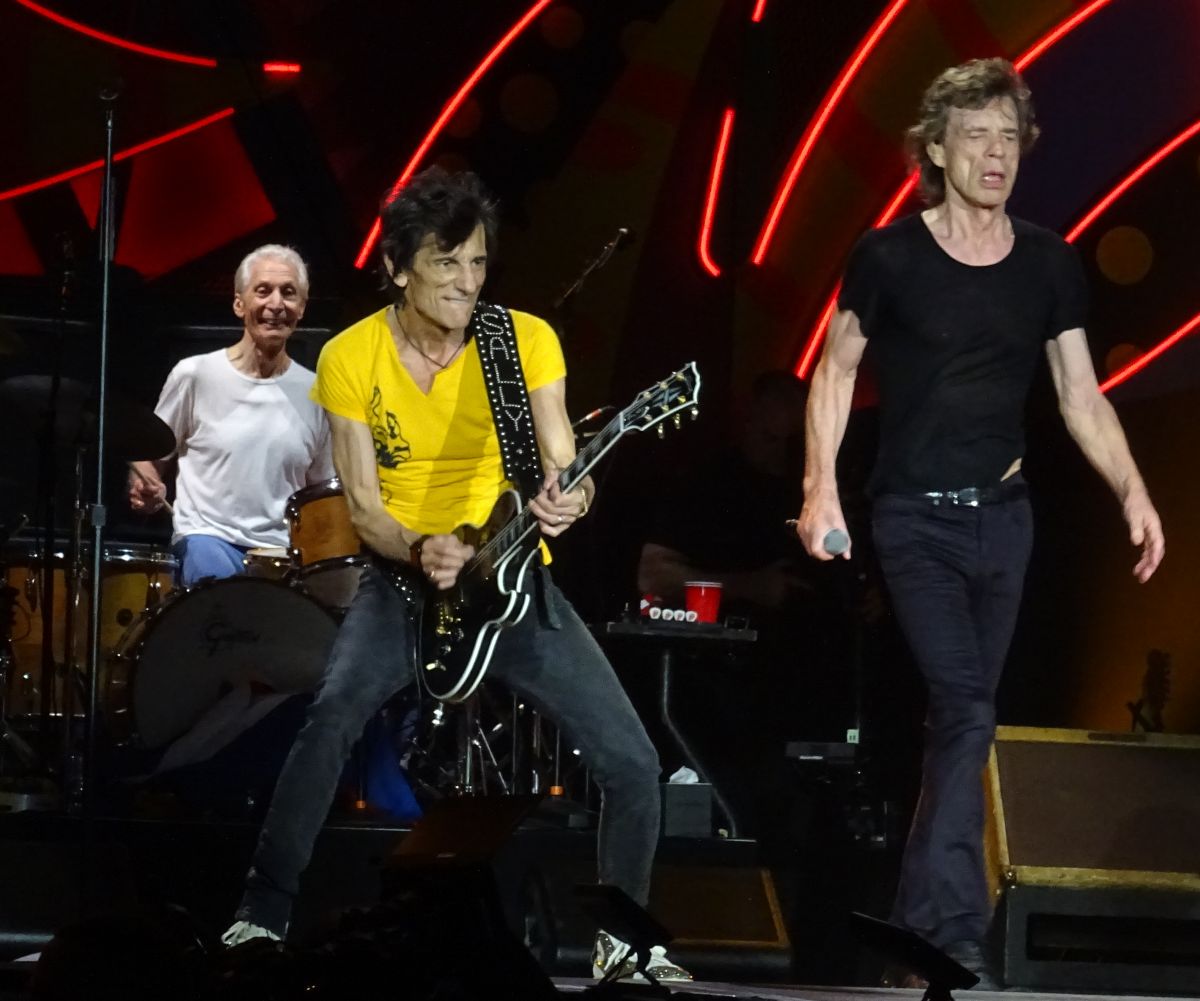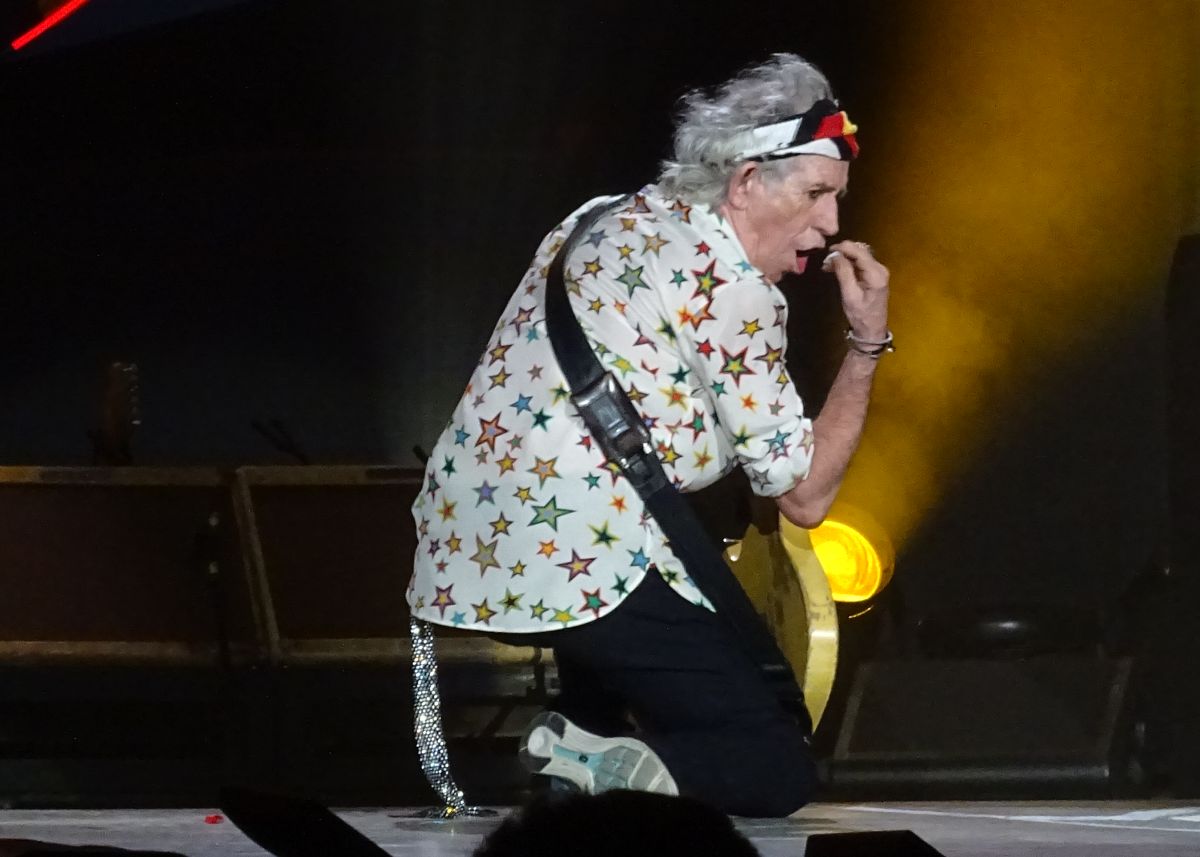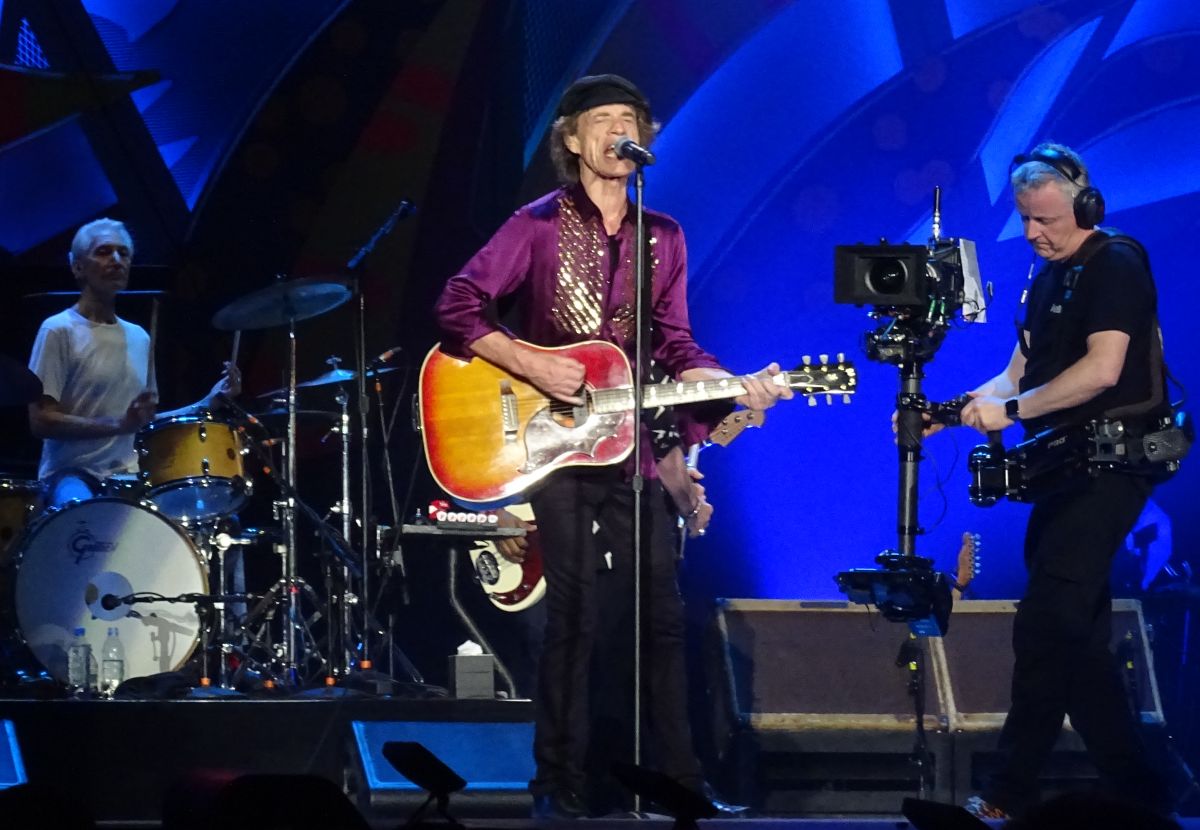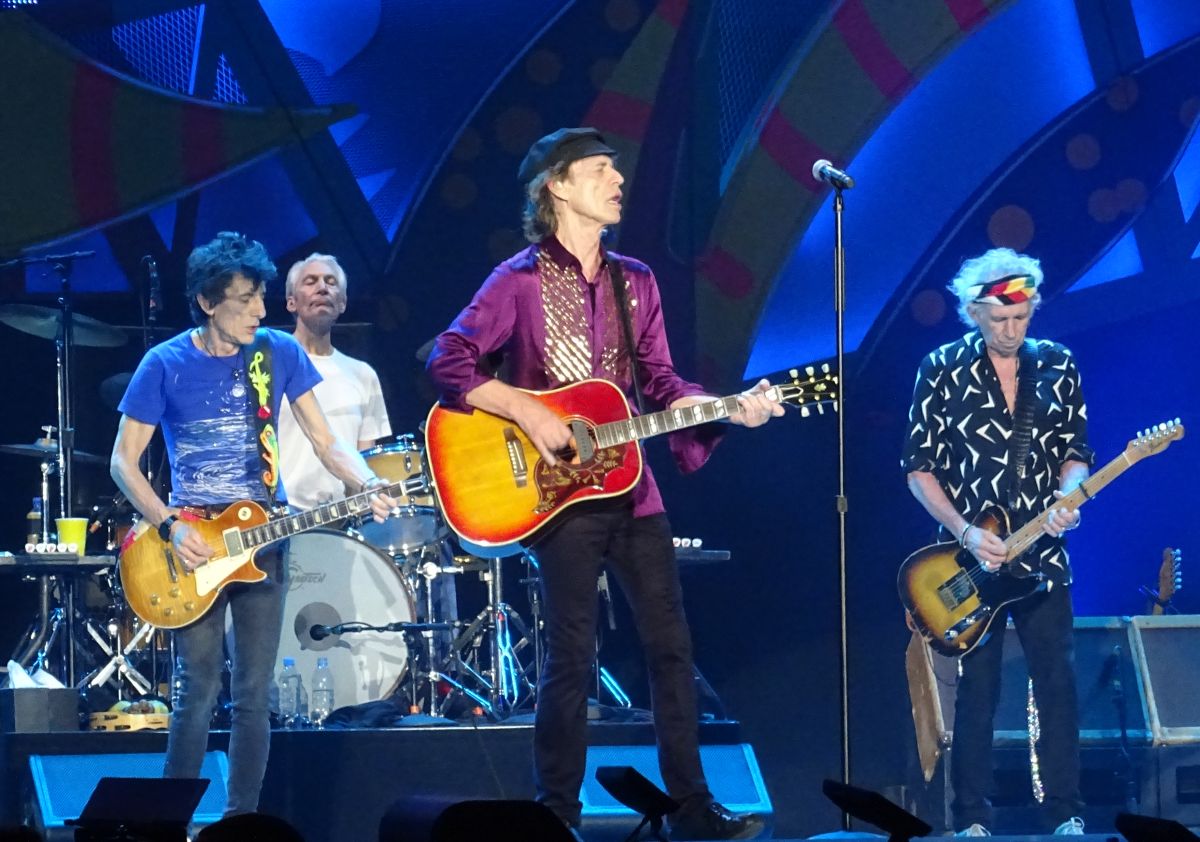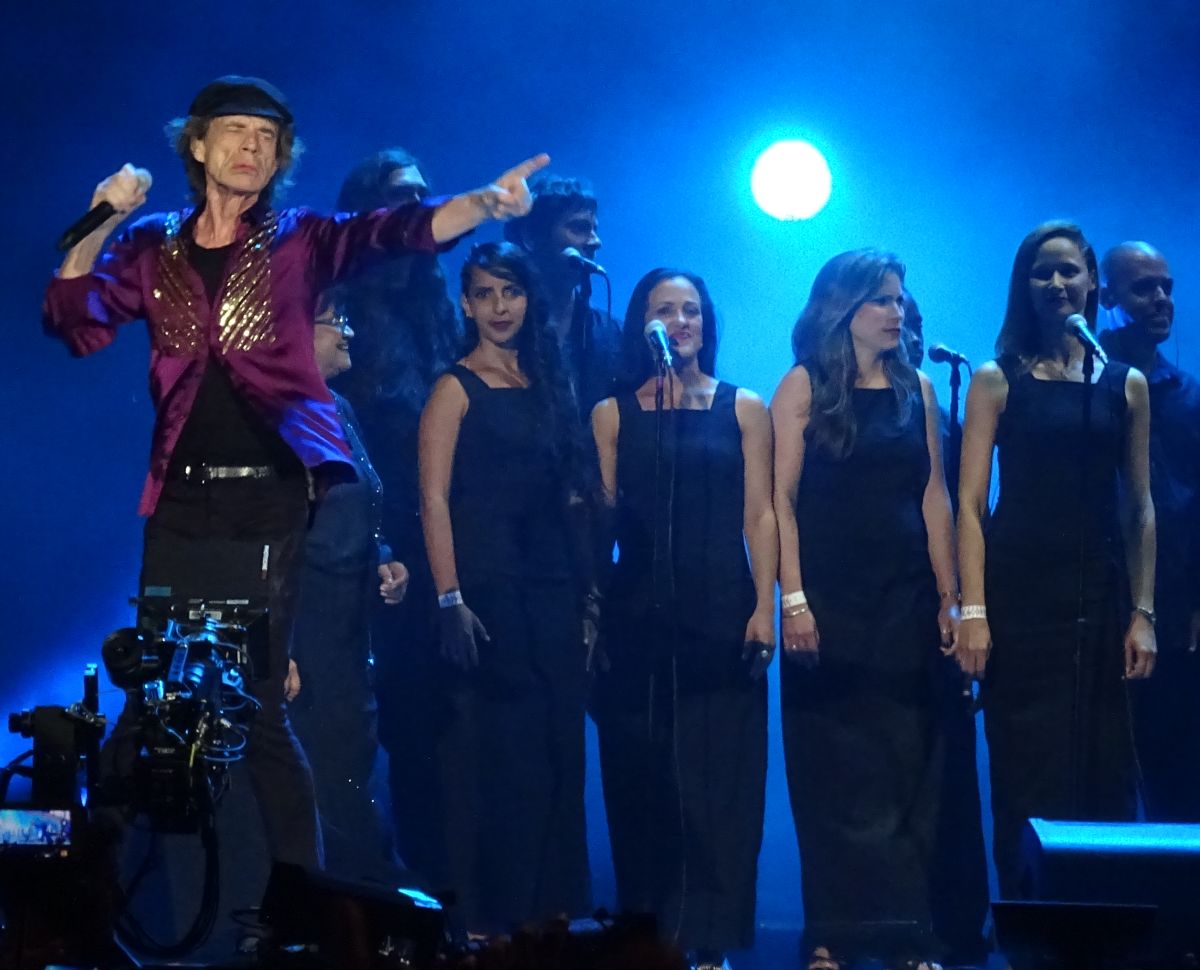 Photos by Bjørnulf Vik
---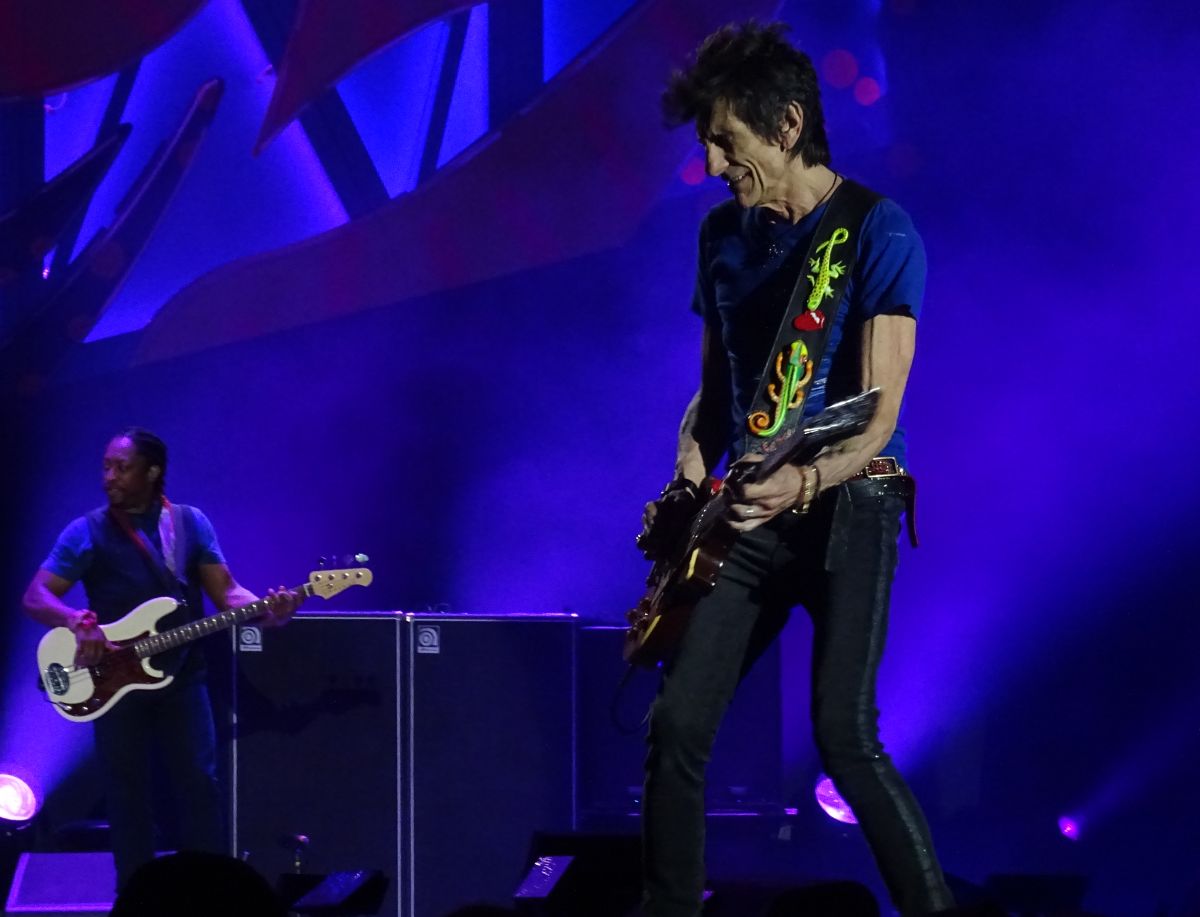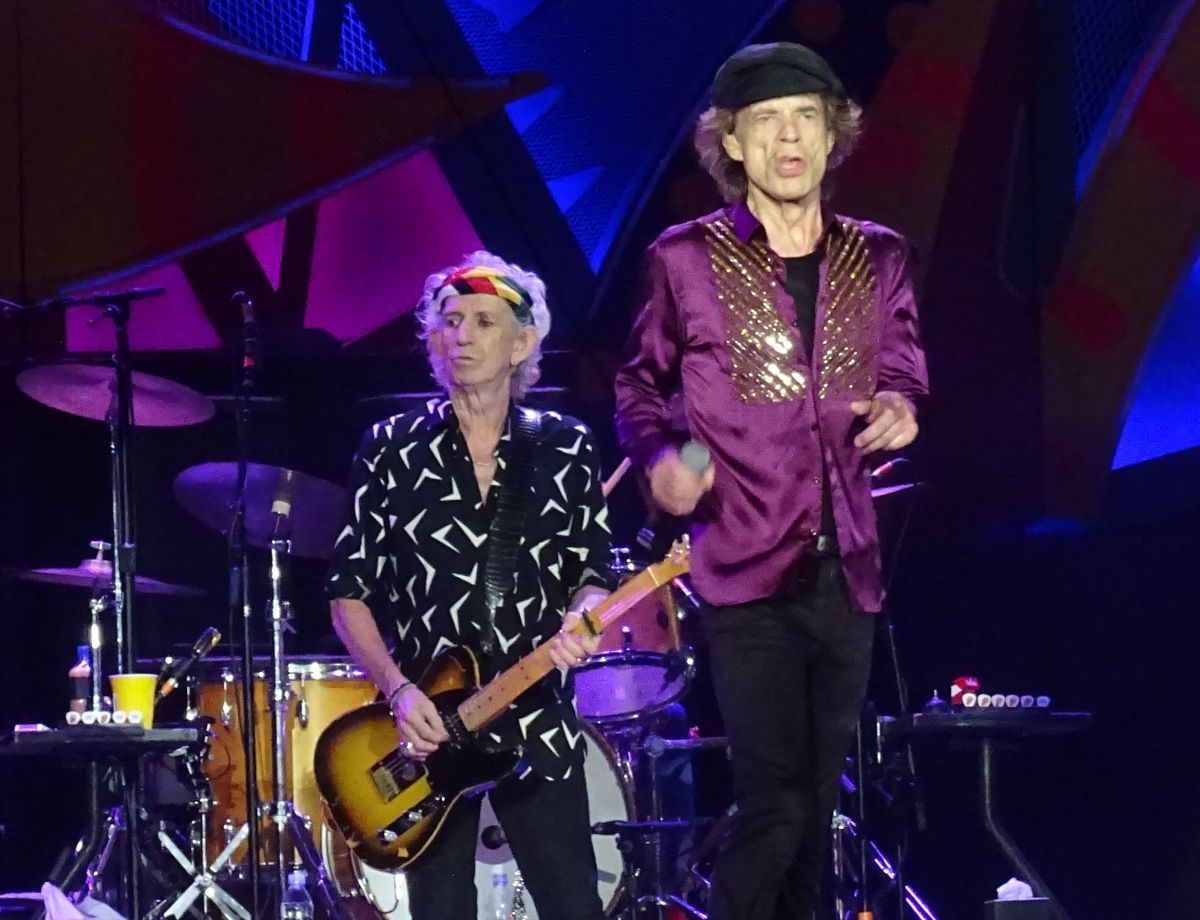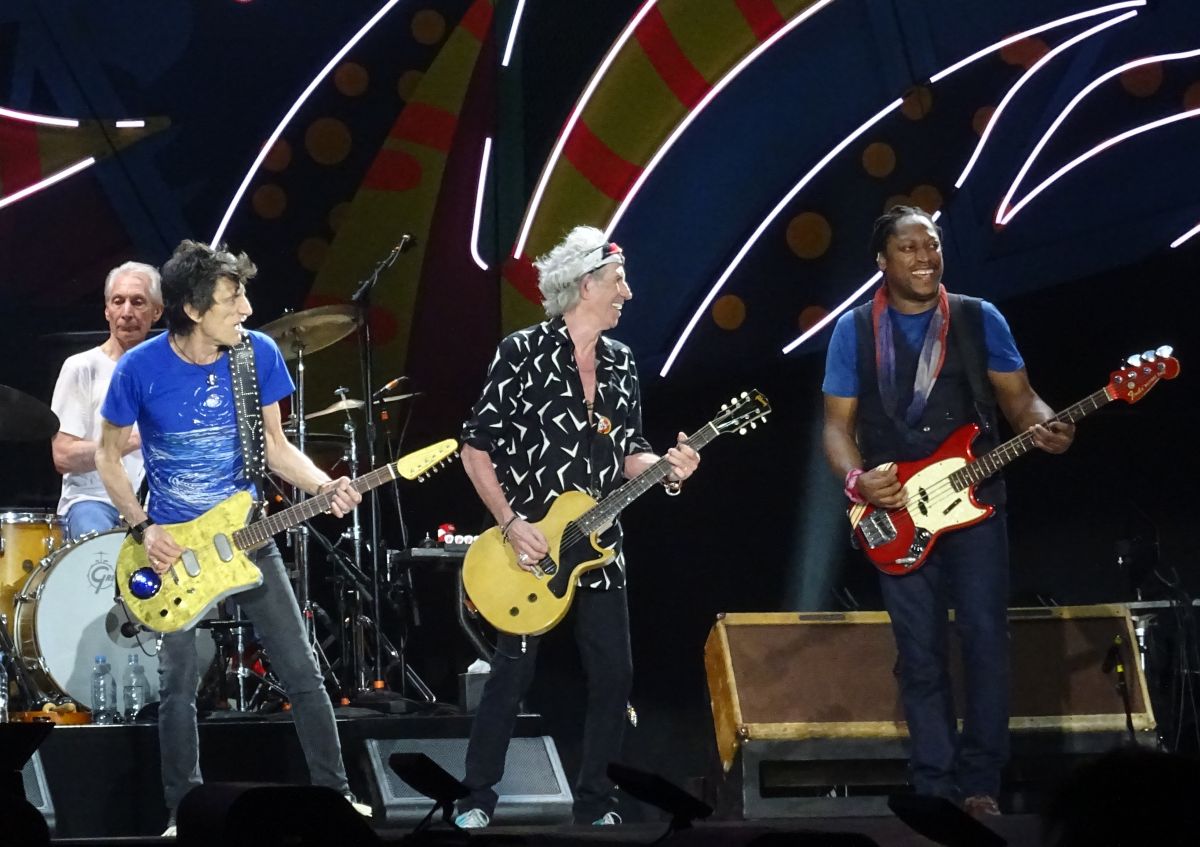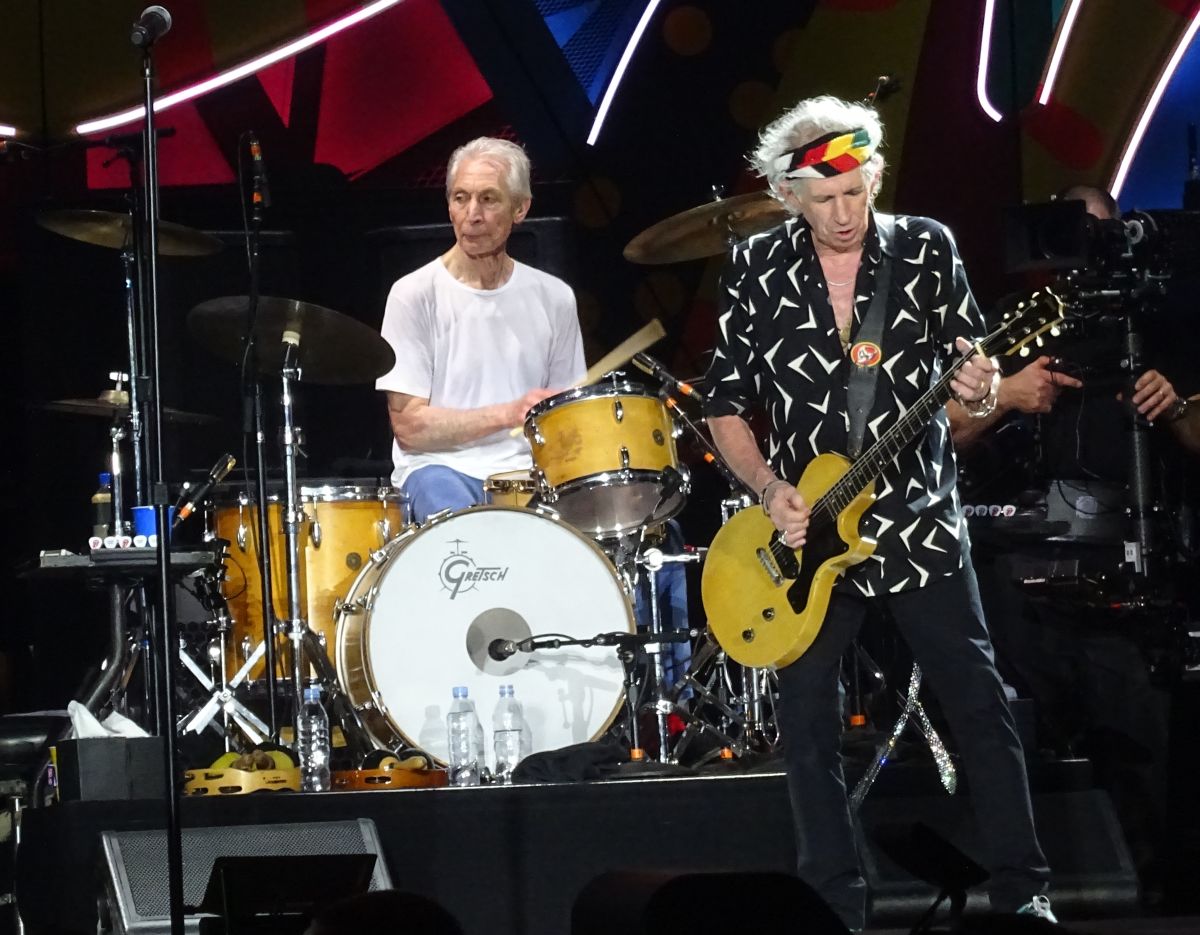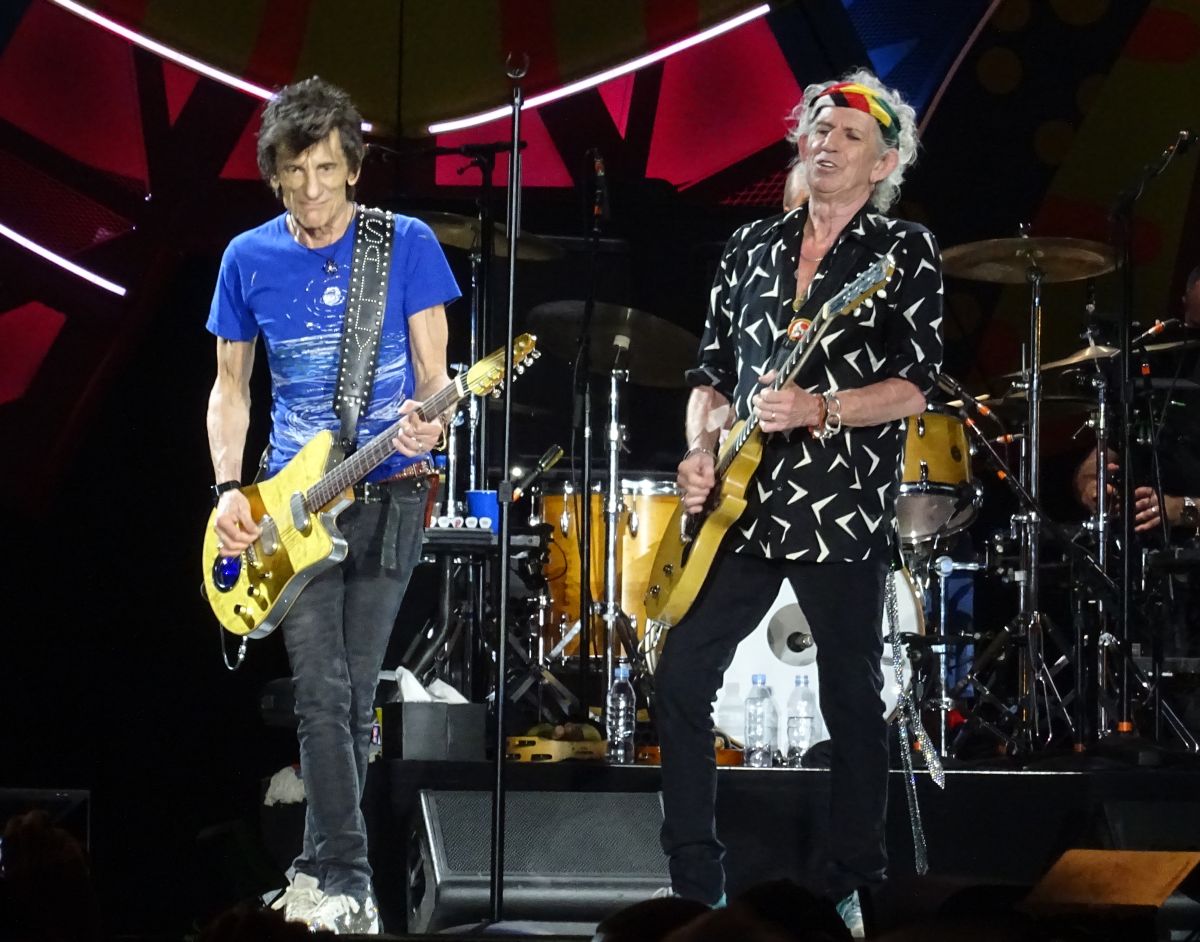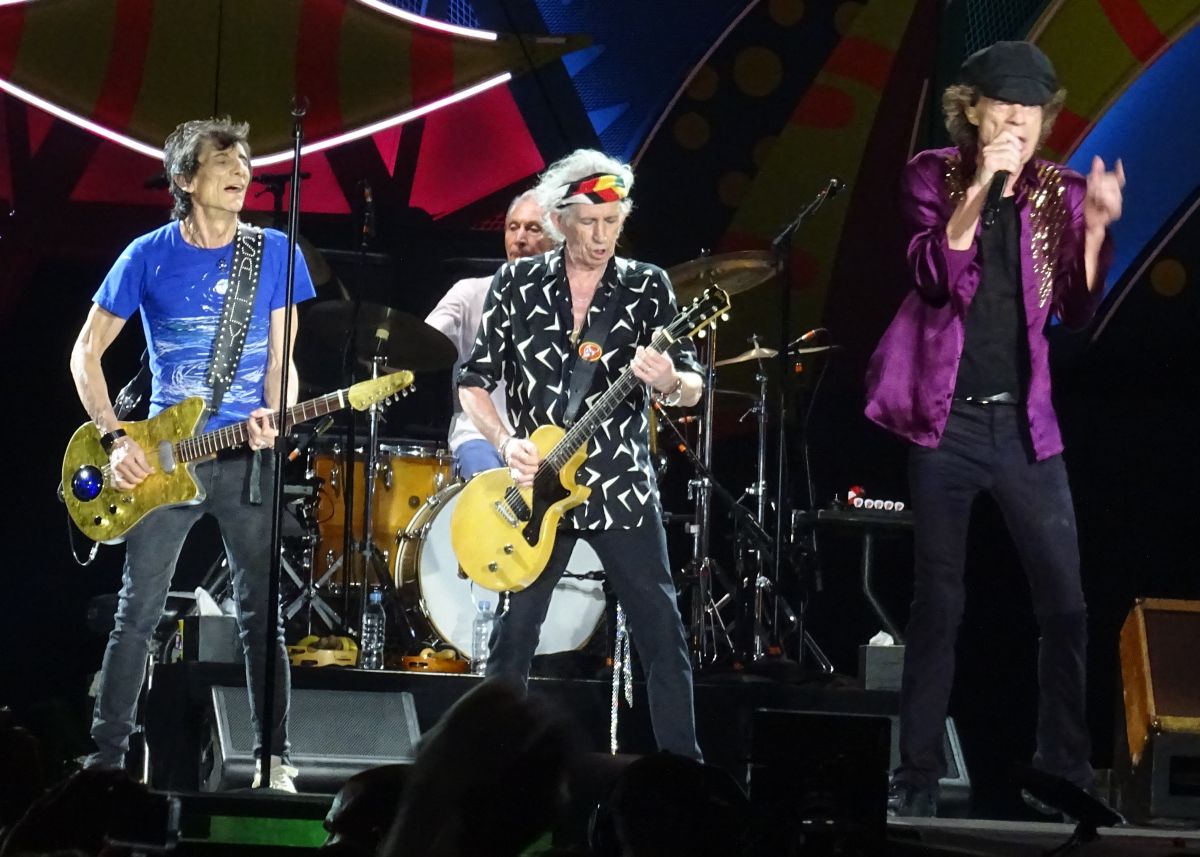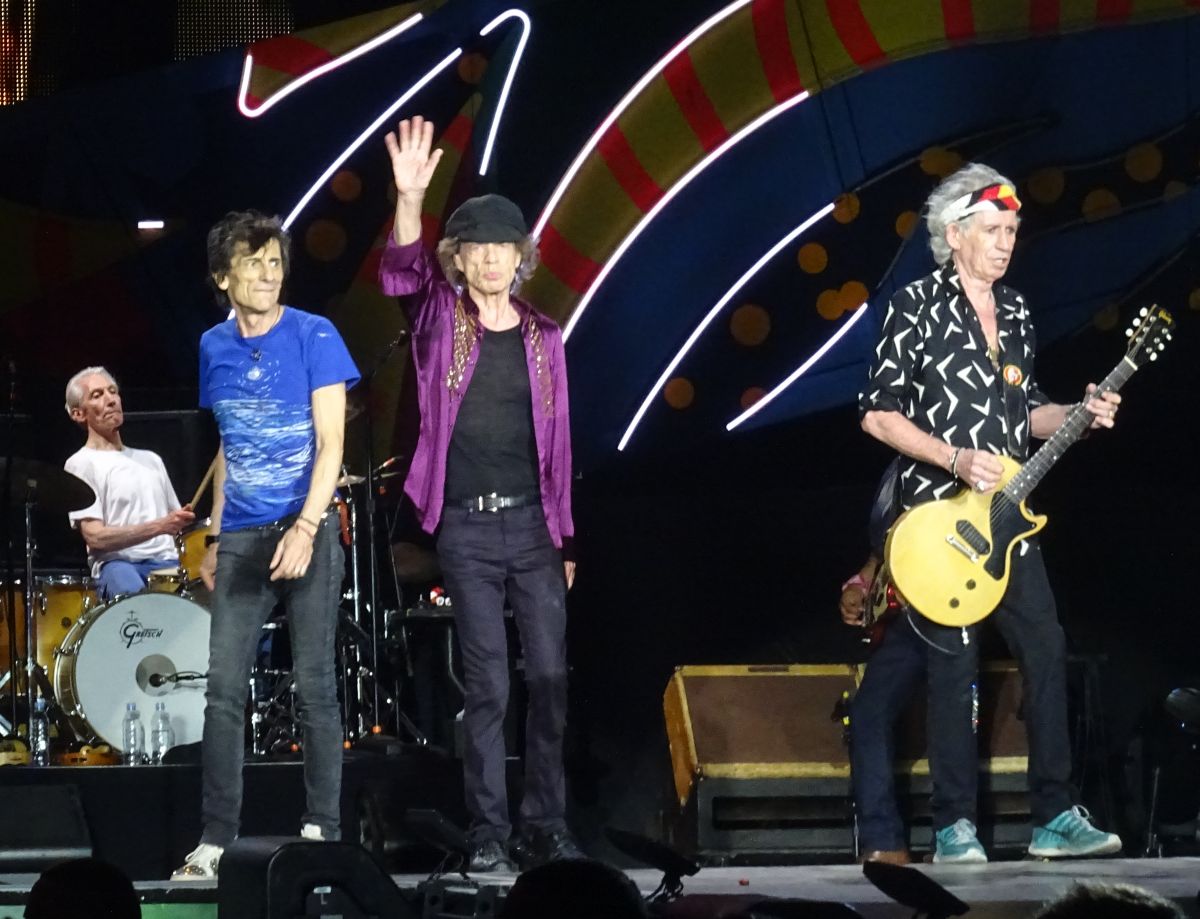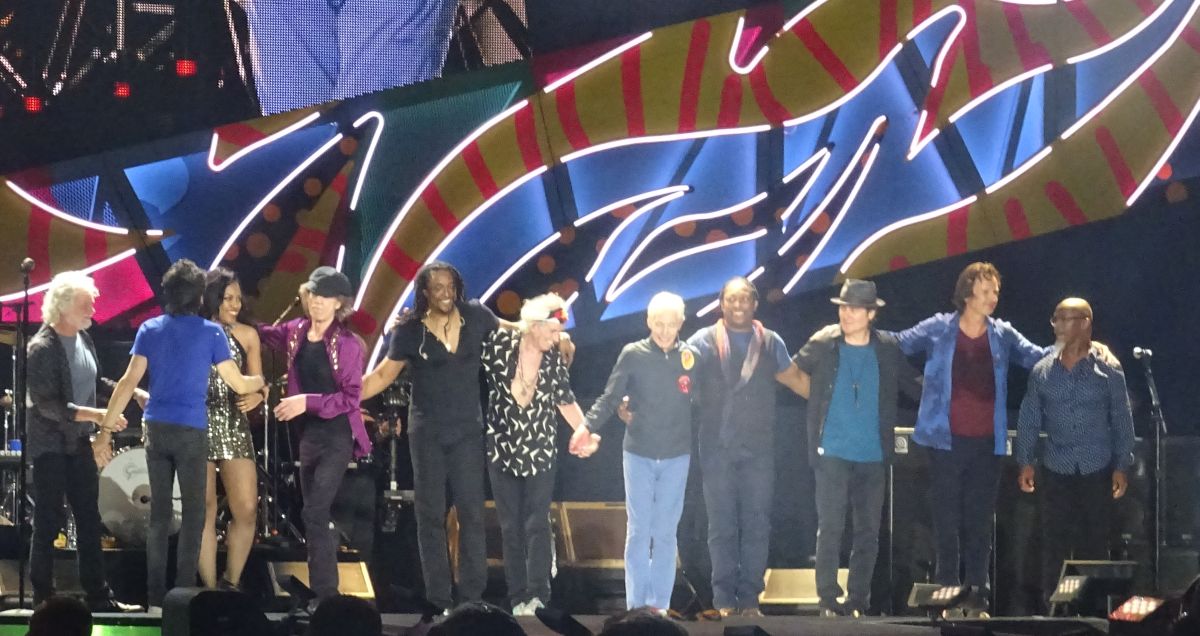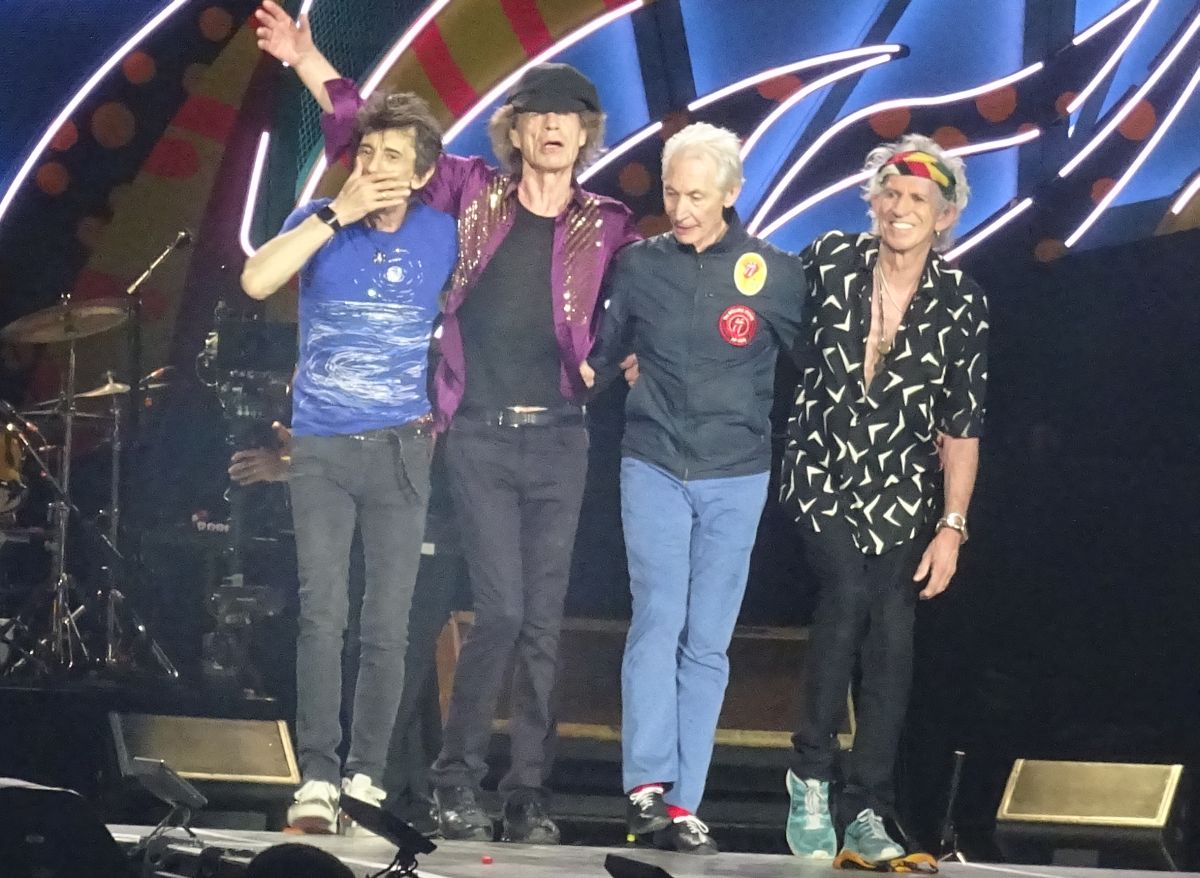 Photos by Bjørnulf Vik
---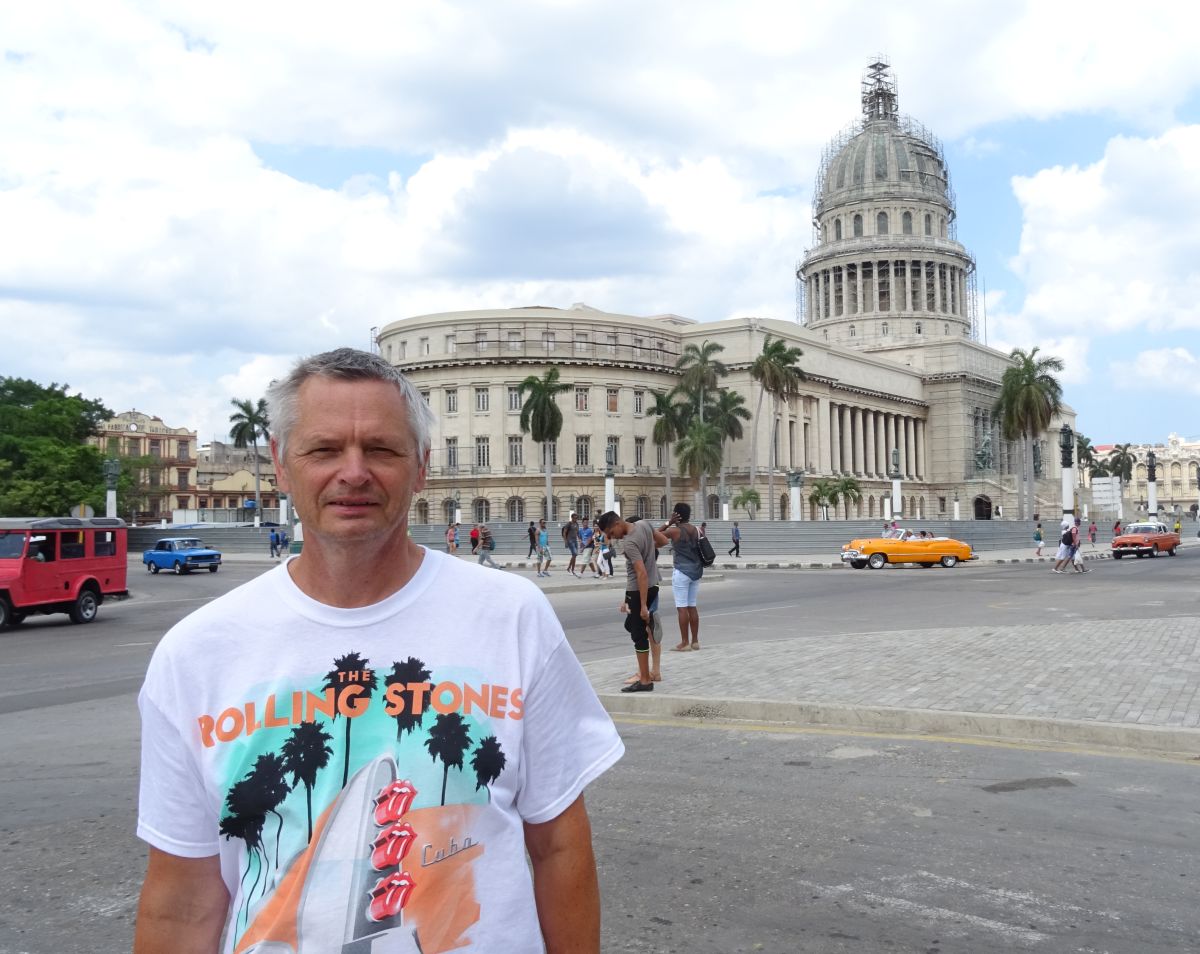 Photos by Bjørnulf Vik
---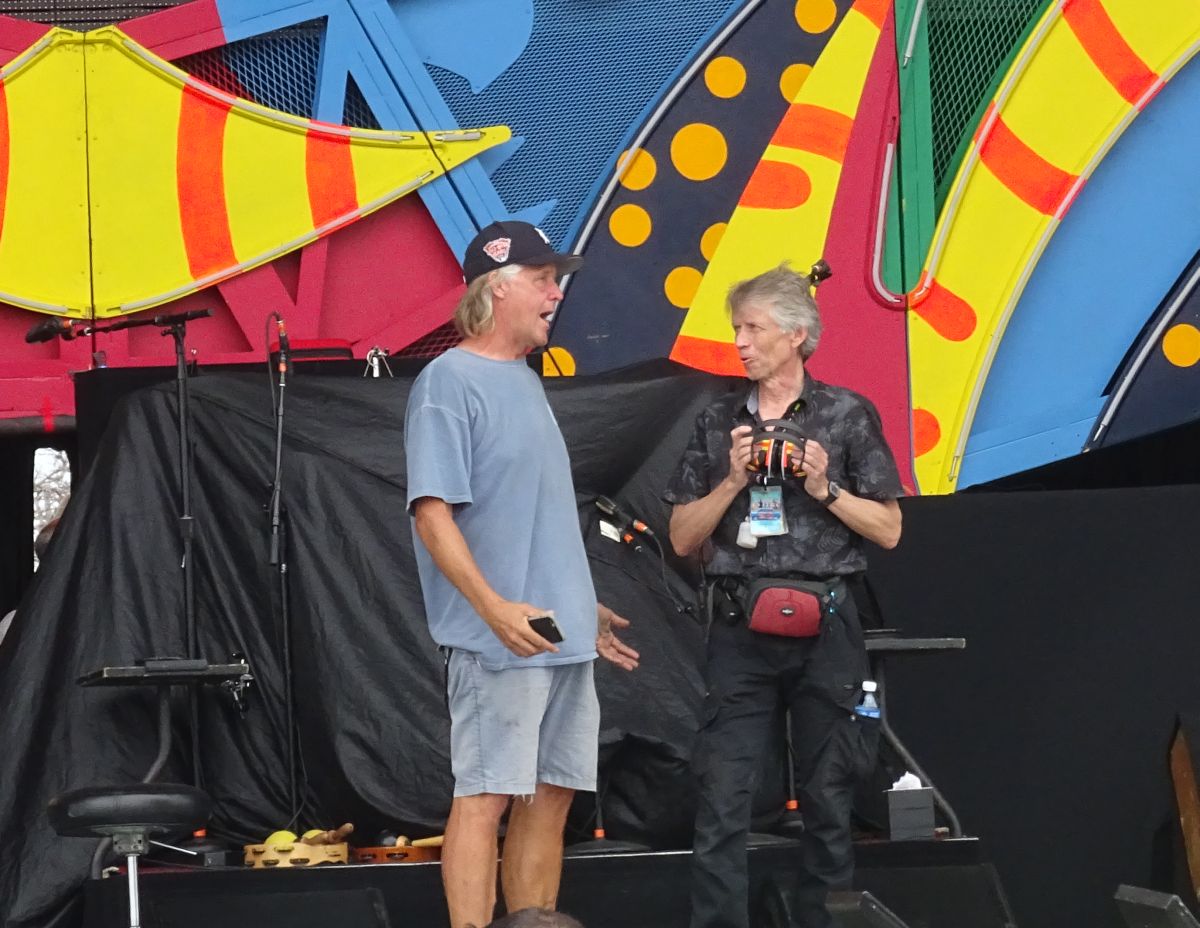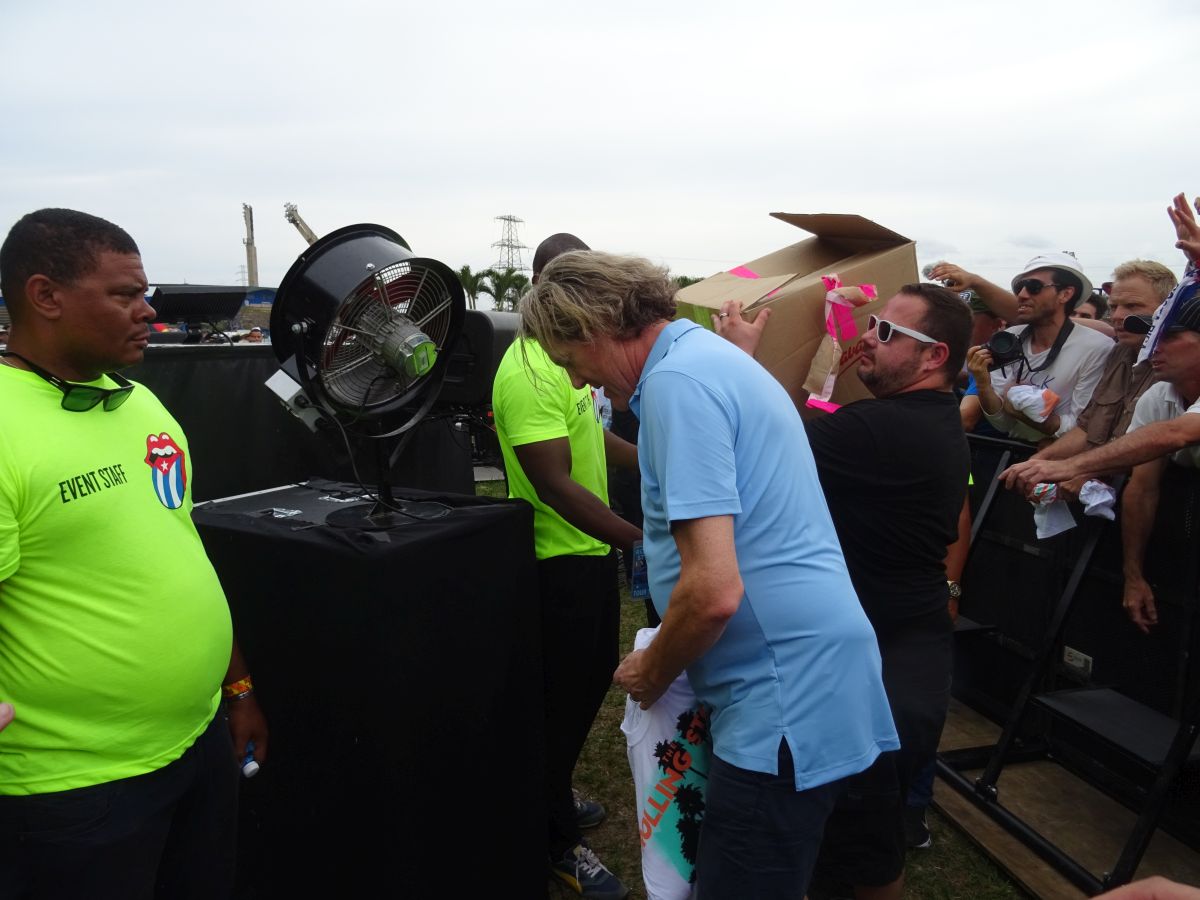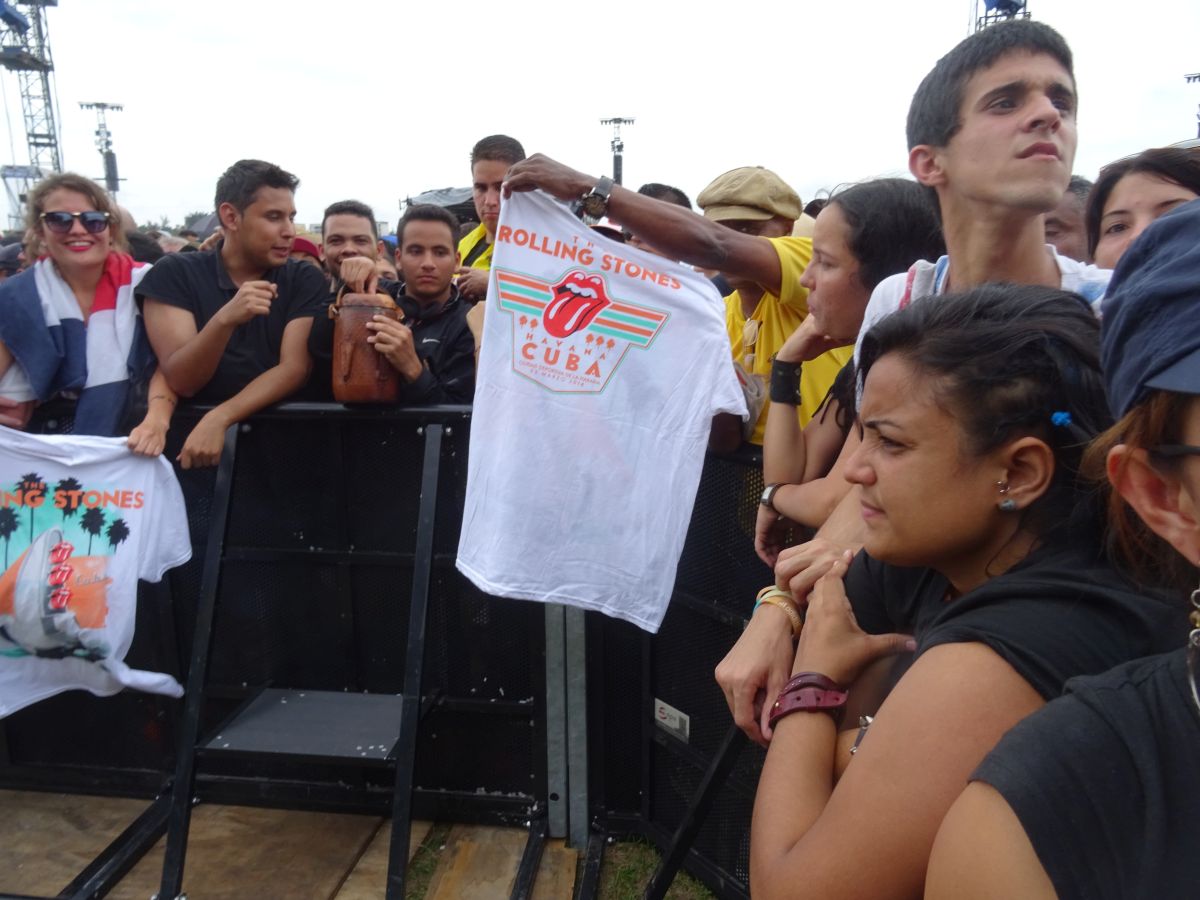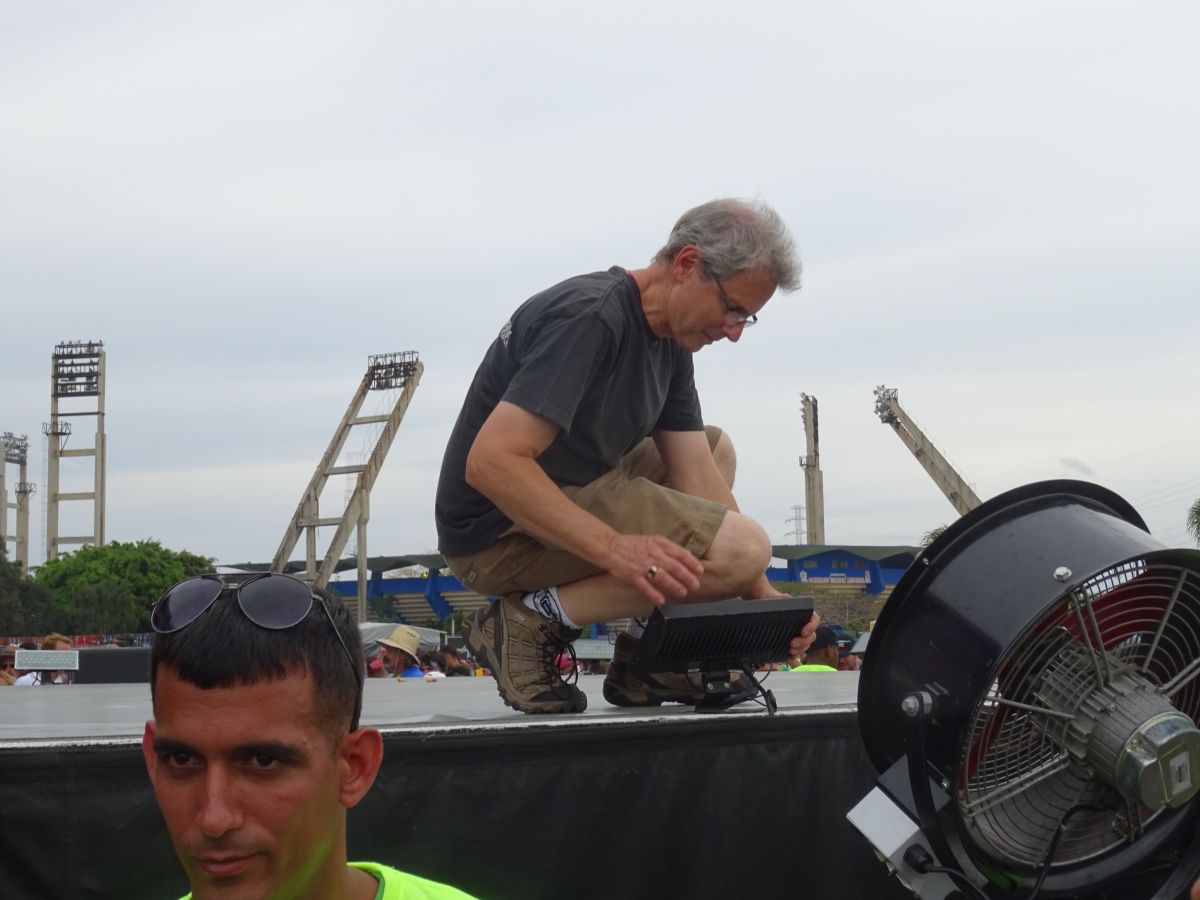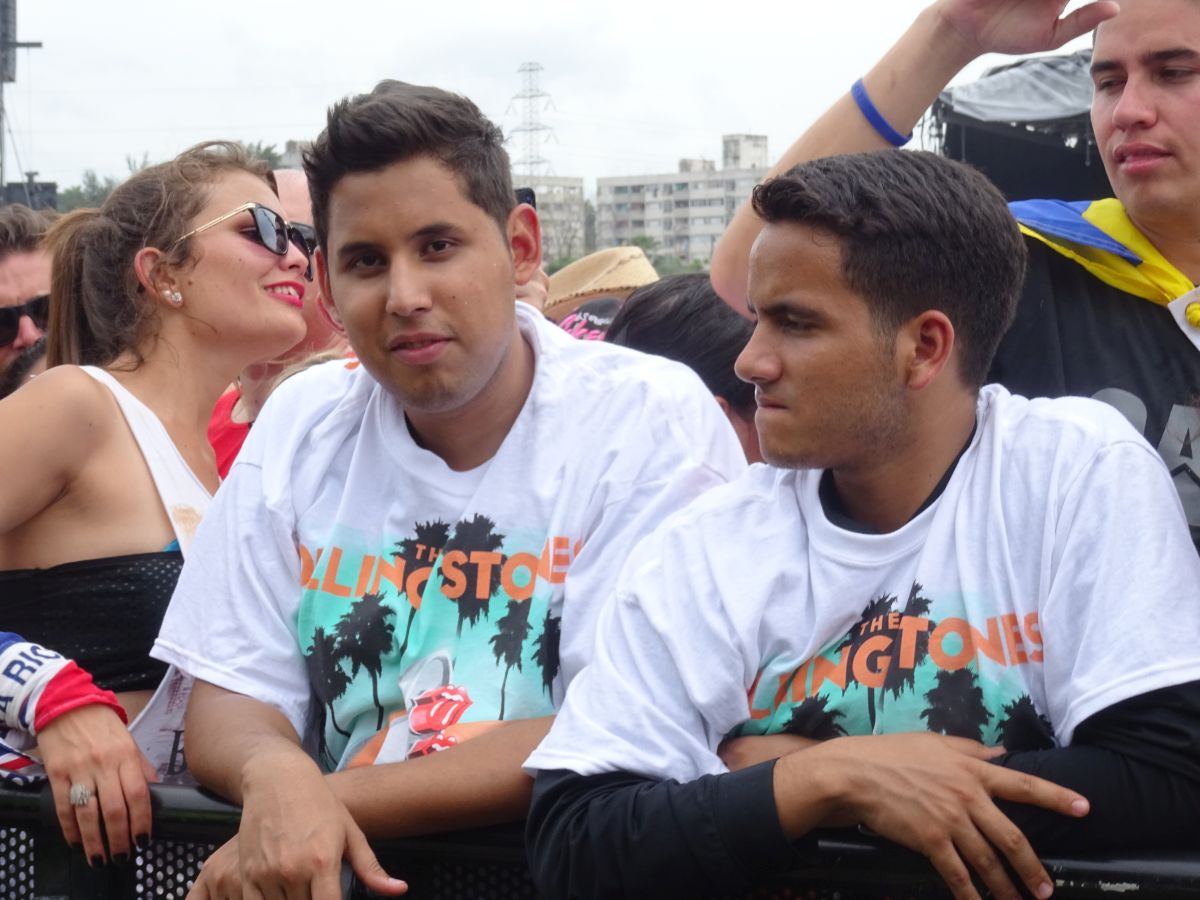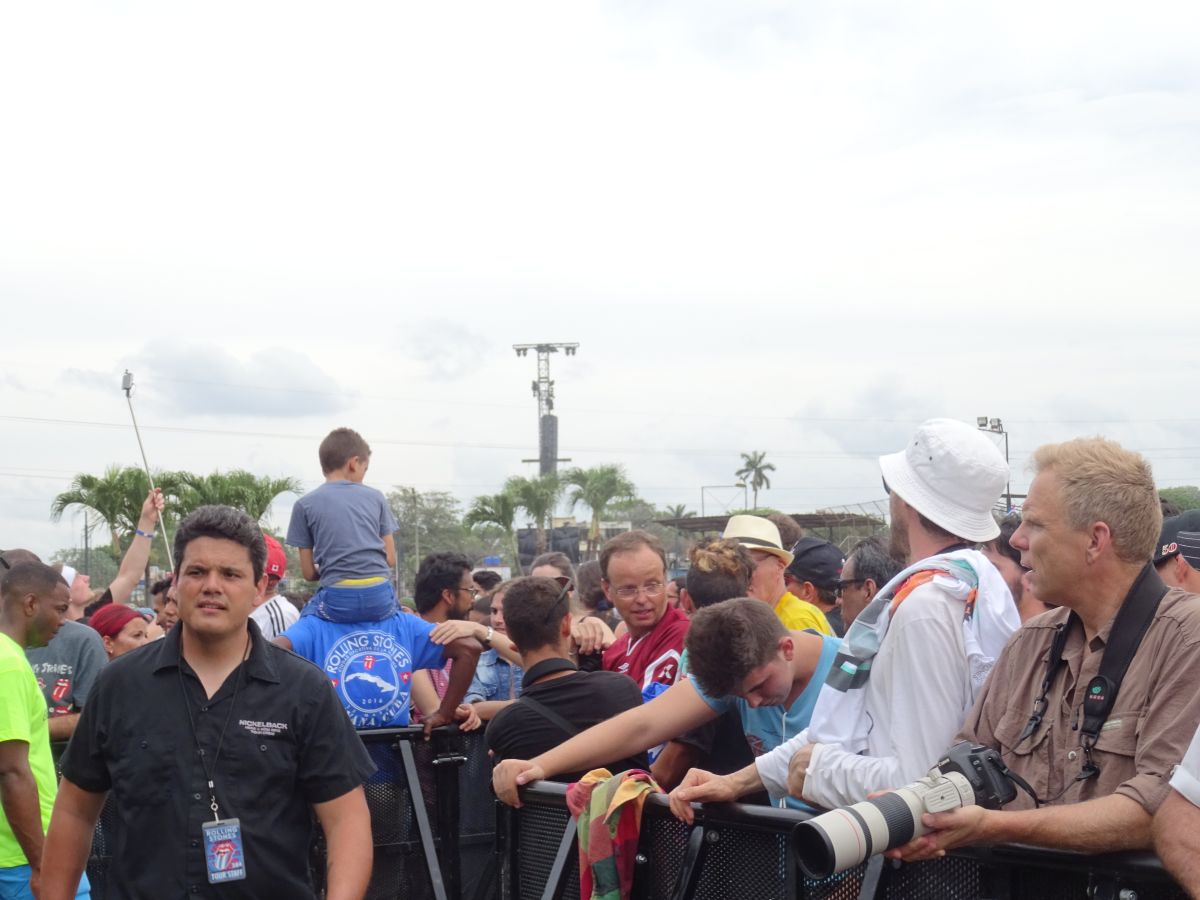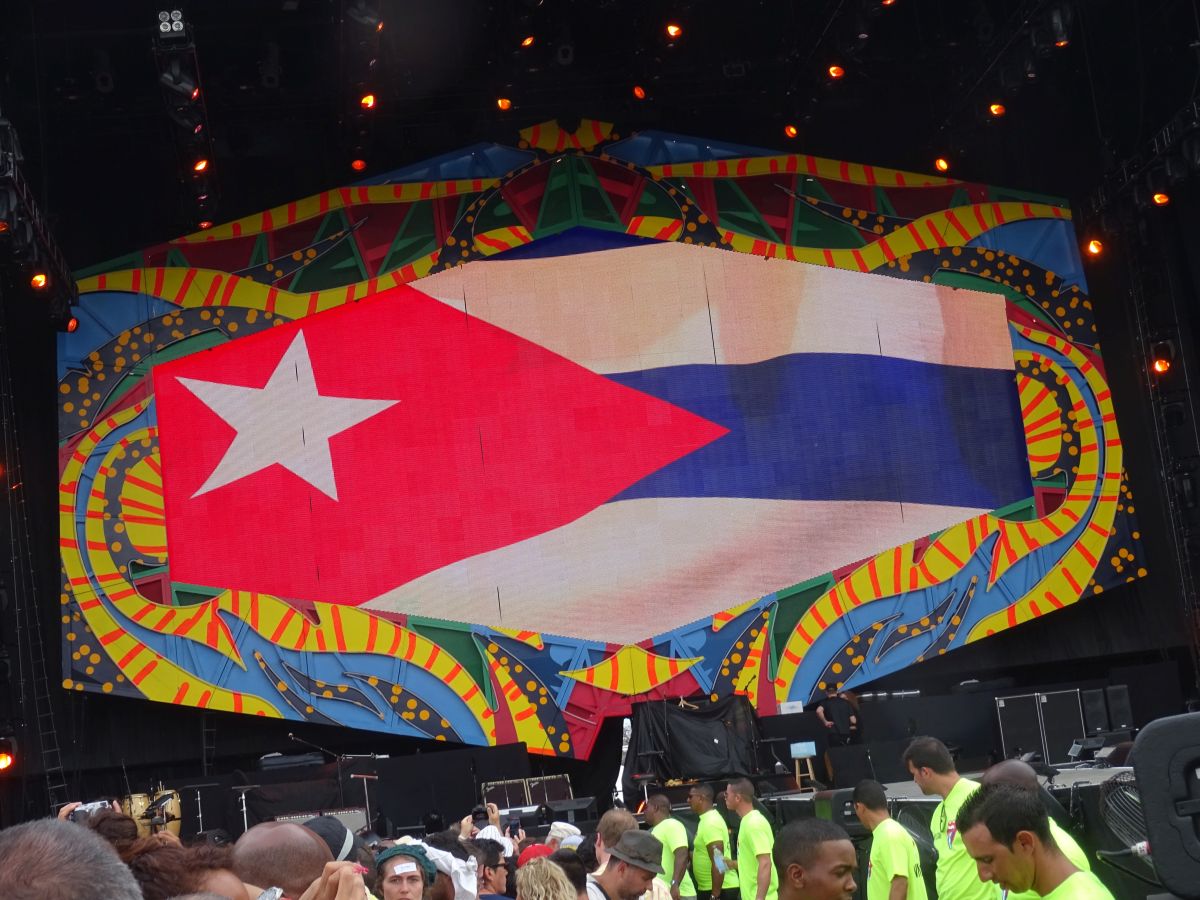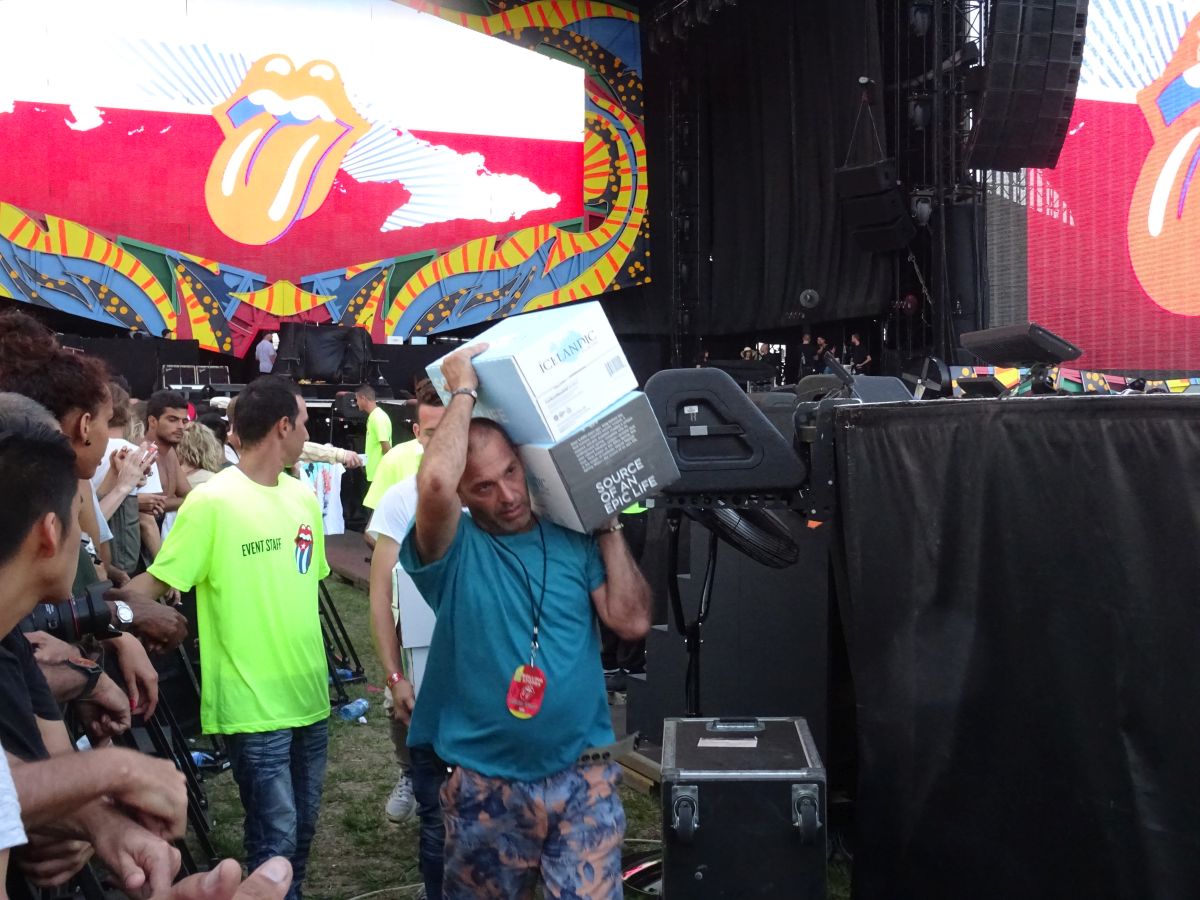 Photos by Bjørnulf Vik
---
Links
---
This page will change over the next few days, as you and other fans send reviews, set lists and reports. Please send your e-mail to IORR. Thanks! For details and great photos from the Rolling Stones and their World Tour get the IORR magazines.