---
These are the latest Rolling Stones news and updates for you! IORR is a non profit fan club run by fans for fans. All parts of the It's Only Rock'n Roll web site is copyright of The Rolling Stones Fan Club. When using information from this site, please include a reference to IORR and the main web address www.iorr.org.
---
---
The Rolling Stones
Petco Park
San Diego, CA, USA
Sunday, May 24, 2015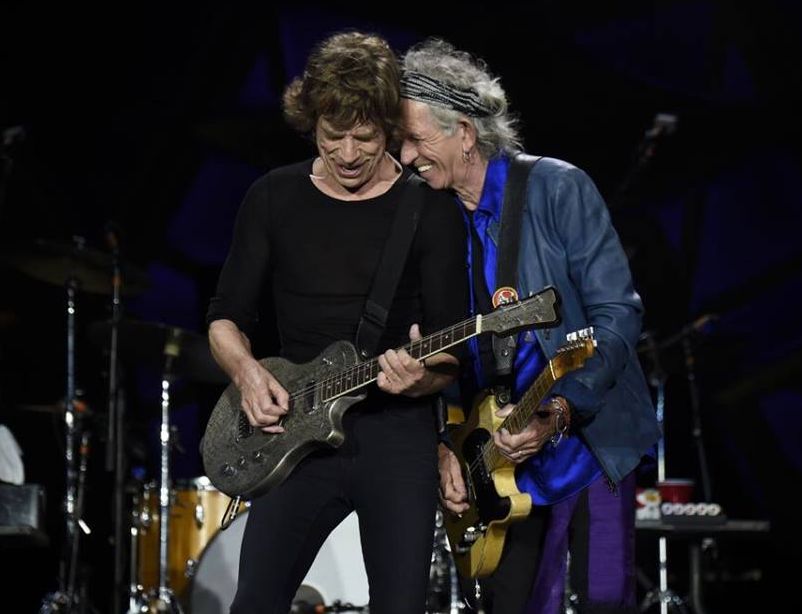 The Rolling Stones at San Diego Petco Park May 24, 2015
---
The set list
Jumping Jack Flash
It's Only Rock'n Roll
All Down The Line
Tumbling Dice
Doom & Gloom
Bitch (with Gary Clarke Jr)
Moonlight Mile
Can't You Hear Me Knocking
Street Fighing Man (by request)
Honky Tonk Women
--- Band introductions
Slipping Away (Keith)
Before They Make Me Run (Keith)
Midnight Rambler
Miss You
Gimme Shelter
Start Me Up
Sympathy For The Devil
Brown Sugar
--- Band off stage
You Can't Always Get What You Want (with choir)
Satisfaction
---

Show start :  9:32pm
Show end   : 11:47pm

---
---
Review by Bjornulf Vik
The city of San Diego was packed with Rolling Stones fans all day. This was the only major Rolling Stones show on the US west coast on this tour. Fans came from as far as from Seattle, even Vancouver Canada, and from all over California. It was the most sold out of the tour, the best seats in the house on the floor was sold for 800 - 1,000 US dollars on the black market. Having a meal or a bewer near the venue Petco Park in the afternoon was a challenge, waiting lines and patience was needed.

The Rolling Stones had an extended soundcheck. First we could hear the choir loud and clear around 4pm, without the Stones. I was sitting outside at a nearby bar, and runshed through my food and drink to get closer to the vcenue for the Stones souncheck to start. At 4:50pm we could hear some blues notes, just checking the guitars, and by 4:55pm they were doing "All Down The Line". Then they did "Can't You Hear Me Knocking", "Moonlight Mile", "Doom & Gloom", "Bitch", a short bit of "Sympathy For The Devil", and finally "You Can't Always Get What You Want". Doors were supposed to open by 6pm, they finished just in time. Most of the fans in the area did not really make a notice of the sounds from the venue, they were busy with their foods, drinks, talks, while the hard core fans were on rooftops and other large buildings in the area. You may see some great pictures from when the band arrived at the stadium, and how they walked onto the B-stage in the first few pages of the IORR San Diego show live comments thread.

I wanted to see Gary Clarke Jr waring up for the band. He was on stage from 7:50pm to 8:50pm. Then I was working my way through queues all over the arena. Making it to the toilets was like making it too the moon, make sure you have half an hour to spare. Making it from the catering areas or through these was similar, take your time. I spend an hour or more trying to figure out what was in and out, access to the floor (there ewere only two, and they were truley bottlenecks). Craft beer at 14 dollar was funny prices to see, but the regular Bud cost just 12 dollars. At this stage, knowing how the queues were working, I stayed away from any sorts of drinks. It felt like I was the only one not carrying at least two beers and some taco.

The stage design was the same as they used for the 14 on Fire shows in Europe , the Far East and Down Under last year. The visuals were new, a great upgrade, I have tried to show some of the visuals in the pictures in this report. Thanks to all the queuing the wait for thew show start was short. I was told they would bne on by 9:30pm, the warmup finished at 8:50pm so that made sense. I was by my seat around 9:15pm, and the show started at 9:32pm. A brand new video with the band members placed in solme weired visual scenes started the show. Then we got "Jumping Jack Flash". I had an isle seat and the isle was crowded. As security tried to clear the isle constantly throughout the show, I had 2-3 people claiming my position i.e. seat place at all times. Not that it bothered me, I like it hot, and I am tall, but the San Diegans (like Mick says) could have some better crowd control at the Petco Park for sure. But it was a party, I had beer and taco smell coming in with the great sound of the Stones, you know you are at a Stones show! And next - "It's Only Rock'n Roll".

After three more songs including "All Down The Line", Mick announced they would do parts of "Sticky Fingers". The first one was "Bitch", featuring Gary Clarke Jr guest playing guitar and singing with Mick up front. Usually I think guest spots are wasting the song, but Gary Clarke Jr is an exception. I do love great guitar playing, and he sure added an extra dimension to "Bitch". One of my real highligts of the show tonight.

"Moonlight Mile" was next. It is a great song, but unfortunately it does not work that well in the stadium. I was in the front Ronnie sise section, and even there people started to talk, some sat down, and the beer was consumed well. But there is no reason to complain. A lot in the stadium were here to have a party, and it was a party. Then those of us who are chasing the rarely played songs got our share as well now. At the end of the song Keith and Mick had a big hug, so they were pleased, like me. "Can't You Hear Me Knocking" was not the masterwork it used to be with Mick Taylor on stage recently, I remember this song from massive playing by Ronnie in places like the Garden in NYC. May be it is me, it was just different.

The request song was "Street Fighting Man". It was strong, but not as strong as they do it during the final part of the show. I know I am getting greedy at this stage. I could take a 20 minutes version of my favorite song, but I am still happy to have it in there shortløy after the "STicky Fingers" set.

Keith did "Slipping Away", great to see him on this song where he is in the lead for the entire song. Then he said he would do "I Can''t Be Seen", but Ronnie came to his rescue and said it was "Before They Make Me Run", we would not mess up the show and the visuals at this stage... So we got B4...

A shorter version of "Midnight Rambler" I think, then "Miss You" with new visuals, as you can see from one of the pictures below. "Gimme shelter". Grrrreat!

The best part of the show - for me - was the final part. That is when they let the wild animals out. It is like the final race of "Tour de France", or a hockey game on overtime. The only difference is that there is no exhaustion to be seen in the band still. Quite the opposite. May be Keith is saving energy for the last bit. On "Start Me Up" he is out there walking, smiling widely, his guitar is tuned up to the painful level, well almost, no need for guest guitarists now, Keith is ruling the rest of the show. "Sympathy For The Devil". Probably the best song of the show. Again Keith the master, while Mick is working the crowd and taking care of his bits, the vocals. Ronnie and Charlie are there, but really, it is Keith and Mick front stage now. "Brown Sugar". Keith! Keith! Keith! "You Cant't Always Get What You Want". Mick up front with the acoustic. Singing great. A nice break from the final race. Then "Satisfaction".

Final bow ten minutes before midnight. Nobody wants to leave. No rush. Everybody is standing, waiting for more. Eventually they turn on the lights, start playing other music on the PA, the Stones are gone. They started these new tours late 2012. Three and a half year later they show no sign of fatique. Quite the opposite. It might be the biggest hits shows they are performing, basically, but that has been the Rollinmg Stones for as long as I have loved them, for 44 years now. The day they stop doing Satisfaction, Brown Sugar, Sympathy and Start Me Up, they will tear down the Colosseo in Rome, the Brooklyn Brigde, our Viking Ships, these songs are monuments, they are the Stones, that is why I love them.

Postludium: Walking "home" after the show, listening to what people say around you, sure makes many comments for writing up a report. Some said "Her singing was so great" - Lisa... Others said "Very good" ... "well worth the travel". I bet they had come by car for hours. I was not the only happy fan tonight. During the afternoon I was having a meal next to two ladies, they said they were going to see the Stones. I asked them when they last time saw the band. One of them had never seen them, the other only one time, in Cleveland Ohio, 1972. The Rolling Stones do have a special way of connection with their fans. And next up... yes ... Ohio!
---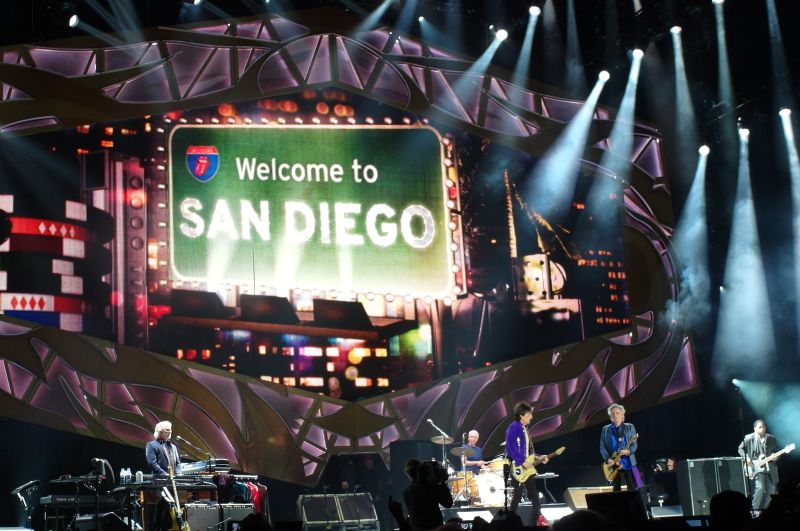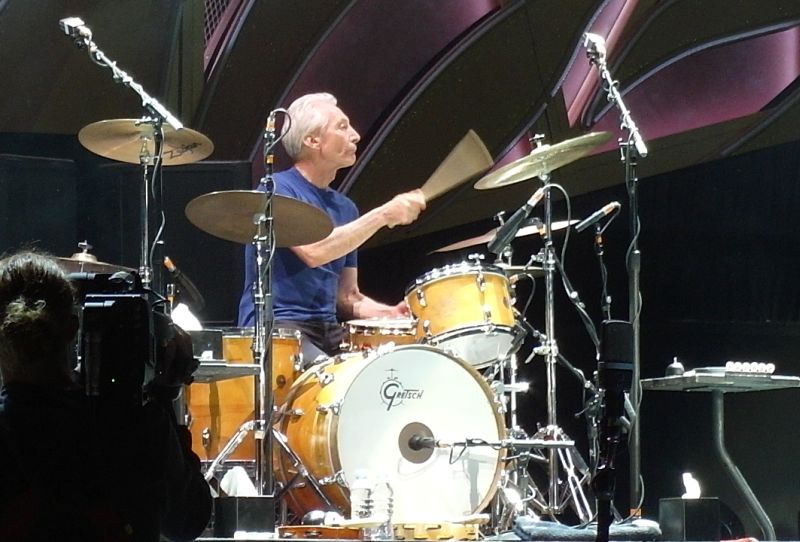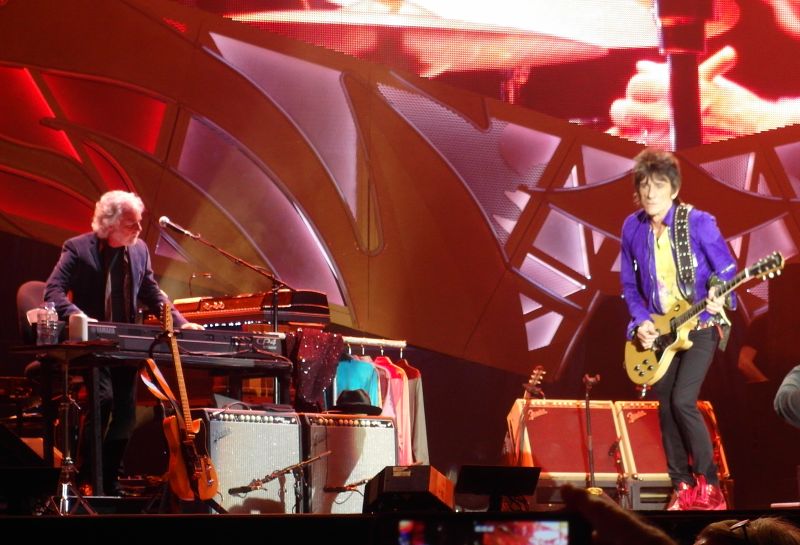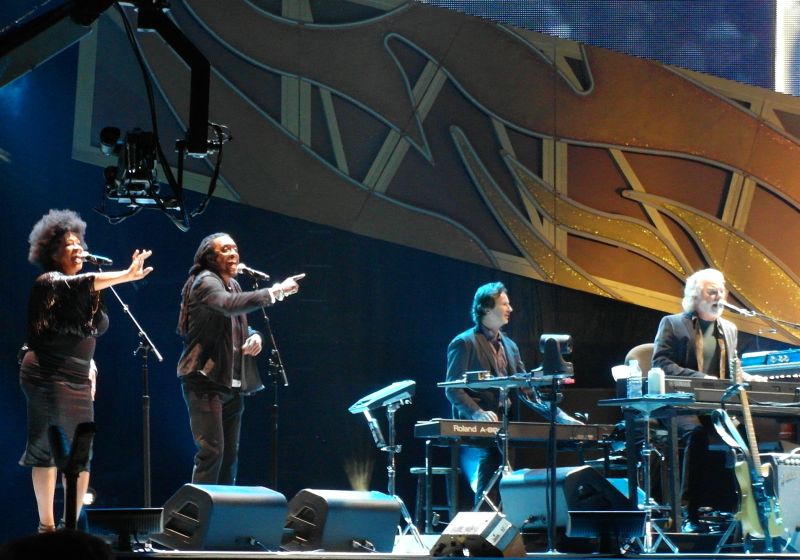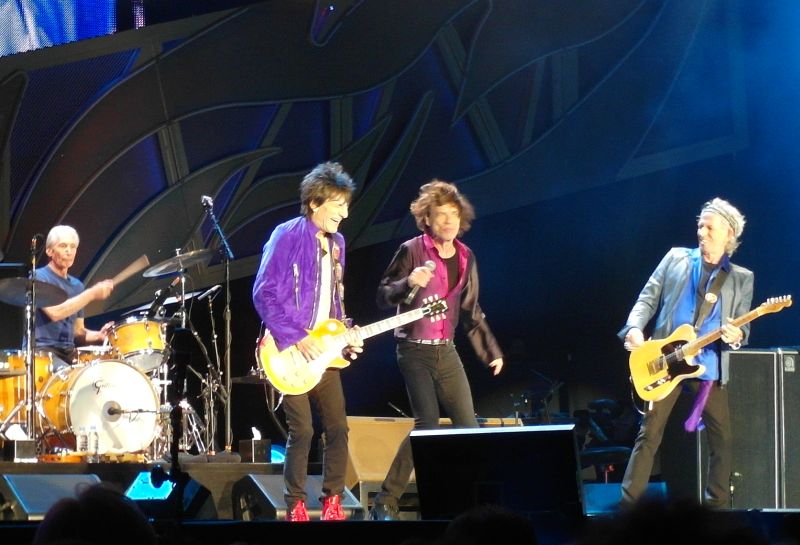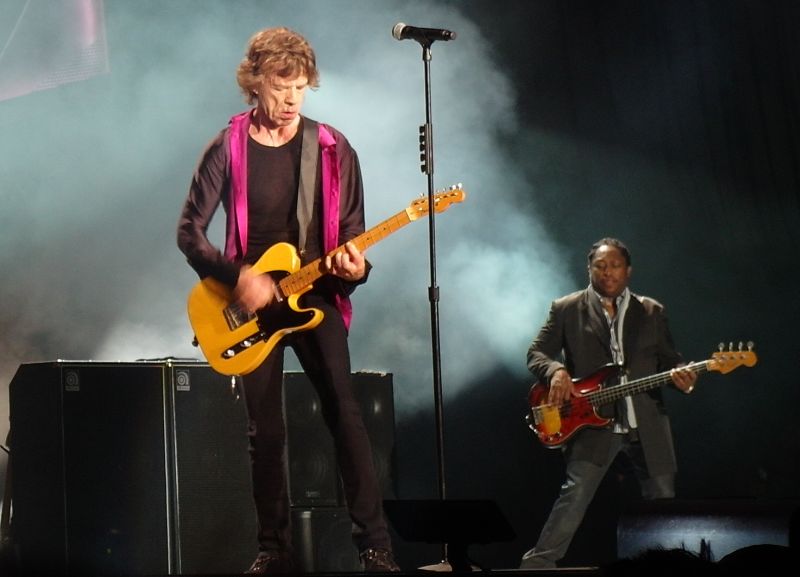 Photos by Bjornulf Vik
---
Review by Dean Goodman
They should call this the No Surprises tour. There really is nothing to say that hasn't been said before. Is it worth upwards of $400? Absolutely not. Should you attend? Possibly.

The folks in the cheap seats tonight can take some comfort from knowing that the big spenders on the floor were crammed in like sardines. It was probably the most uncomfortable Stones show I have ever attended in the USA. The only song I really looked forward to, "Street Fighting Man," was ruined for me when my drunken neighbor went all Putin on me, thought I was Latvia and tried to annex me.

The good bits. Mick is perfection, just gets better every show. "Moonlight Mile" went over well, and hopefully he will add "I Got the Blues" to the set list. His self-deprecating humor was out in force, although a joke about the Petco hospitality - including a tin of chicken and venison - didn't really seem to work. In mentioning the Sticky Fingers set at the Fonda, he said, "I think we got away with it." He claimed that Charlie had "been surfing for days down here."

A lot of the stupid video tricks have been dropped - the tacky gorilla showdown during "Honky Tonk Women," the totally OT montage of musical heroes during "All Down The Line." And "Miss You" is made almost tolerable by a cool, new thermal-imaging video. Gary Clark, Jr. was a fun addition on "Bitch."

Keith provided some accidental levity by announcing that the next song would be "Can't Be Seen With You," then corrected himself. He and Mick bonded heartily during "Moonlight Mile" and "Can't You Hear Me Knocking." Keith also attempted to waltz with Ronnie at the start of "Sympathy for the Devil," and much hilarity ensued.

The Bad. Why on earth are they still playing "Doom and Gloom"? Is it the millennium's version of "You Got Me Rocking"? "Can't You Hear Me Knocking" was truncated, just as it was at the Fonda, with no Mick harp solo. God knows what Karl Denson was doing in his solo. He reminded me of Elaine's "hot and heavy" boyfriend in the "Seinfeld" episode when he fails his big jazz showcase. Denson's spotlight in "Brown Sugar" was similarly anemic.

"Midnight Rambler" barely clocked in at 11-12 minutes. Where have you gone Mick Taylor? The Stones nation turns its lonely eyes to you. "Gimme Shelter": I could swing my cat by the tail over a flame and it would sound better than Lisa, who almost managed to turn "You Can't Always Get What You Want" into a shrieky solo song. The choir was from Cal State Long Beach. A bit surprising they didn't use a local combo. Maybe Matt Clifford couldn't be bothered driving all the way down to SD to work with one. I noticed he played keyboards on maybe half a dozen songs tonight, which Chuck might find irksome.

Well, I'm returning to the real world until the "intimate" gig in Milwaukee. If you didn't get tickets for this tour, don't beat yourself up too badly. The real fun will happen in South America.
---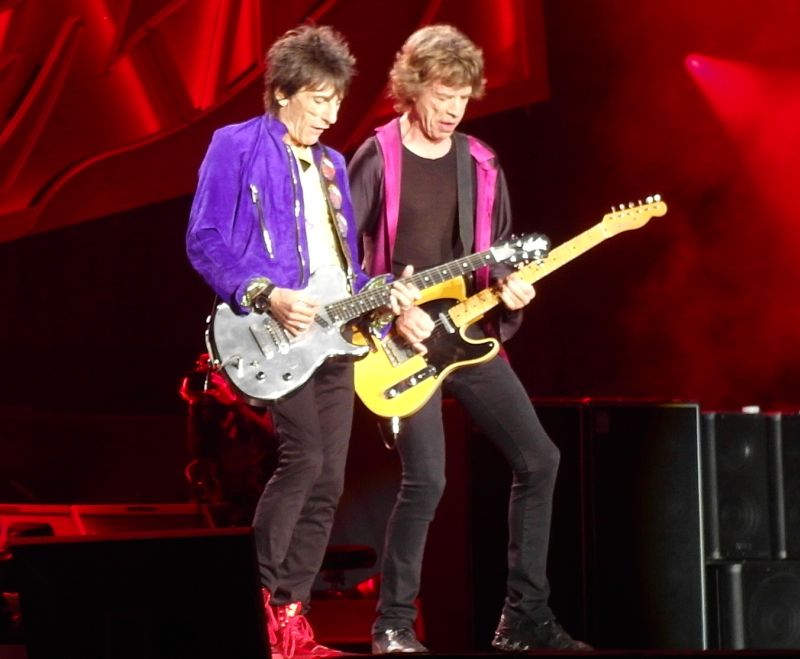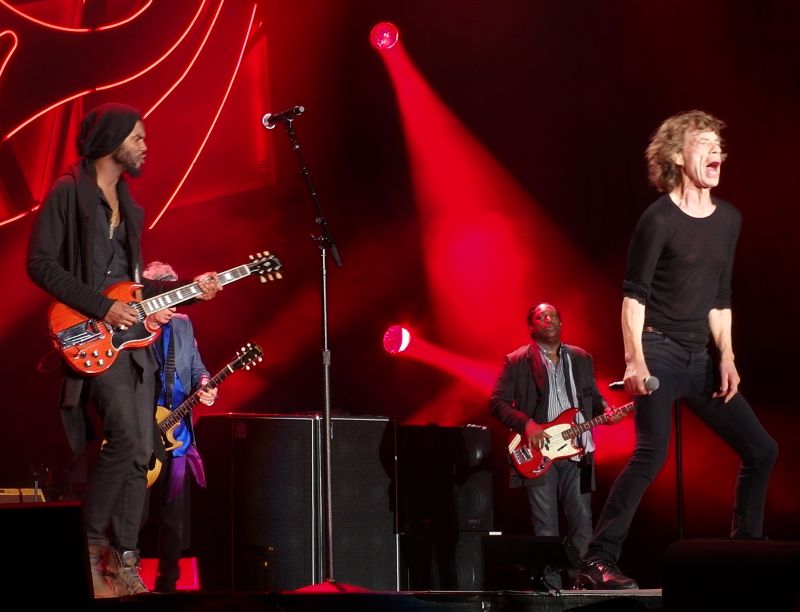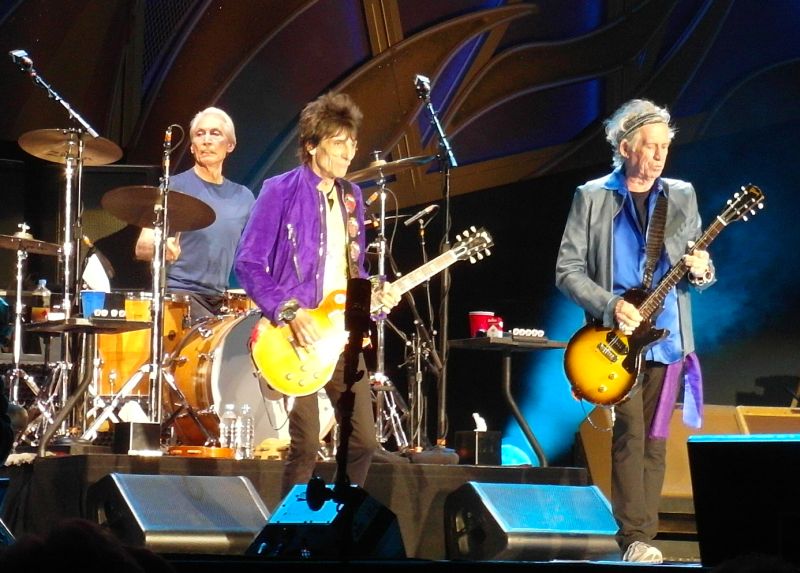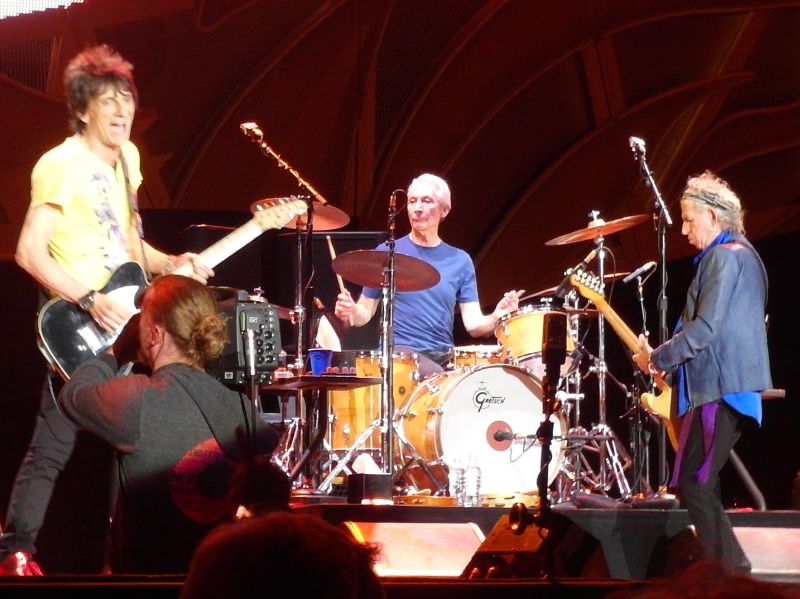 Photos by Bjornulf Vik
---
Review by Franchise H
20th show for me, and I came into San Diego with this mindset: to celebrate their legacy, as perhaps this will be the last time, pun intended. This morning I am without speech as to how great they were last night and how current they still are. This is no nostalgia act, this is a current band firing on all cylinders! Wow, they were great last night! So great, that I can't stop at 20, and will now find a way to see #21 sometime these next two months!

Highlights for me were:
Blistering JJF to open the show. Always liked this one as an opener!
All Down The Line - thank you thank you thank you Stones for keeping this one in the live set, as I need a shot of salvation once in awhile!
Sticky Fingers trifecta of Bitch (nice help from Gary Clark Jr), Moonlight Mile and Can't You Hear Me Knocking. All three just incredible!
Honky Tonk Woman was magnificent
Keith's set - Slipping Away was lovely. Then Keith's confusion turned to a win for me: he introduces the next song as Can't Be Seen, but we get my favorite Keith tune, Before They Make Me Run. Loved it, but what was all the confusion Keith?
Midnight Rambler was just incredible!!!
Brown Sugar sounded extra great. I don't know, maybe it's the Sticky Fingers focus, but was one of my favorite versions.
The encores: local choir and You Can't Always Get What You Want, sounded so fabulous; and Satisfaction was a perfect end to the evening.
Minor quibbles? Always at a Stones show. Mine were: I was really hoping for You Gotta Move. Thought that would be perfect for a stadium show and Gary Clark Jr helping out. Some lucky zip code tour audience will get that number. Two songs I'm tired of: Miss You and Gimme Shelter. I'll take any number off Some Girls over Miss You at this point (Beast of Burden or Shattered for instance). And sorry Lisa, but you ruin Gimme Shelter, for me anyways. You sing like a parody of your live self singing this 15-20 years ago.
People, what a gift we have that the Stones are still able to do what they do. If you are on the fence, well, get off it, it's creasing your butt as Mick sings in Mixed Emotions. Go see them and I guarantee that you'll have a great time with a band still on top of their game!
---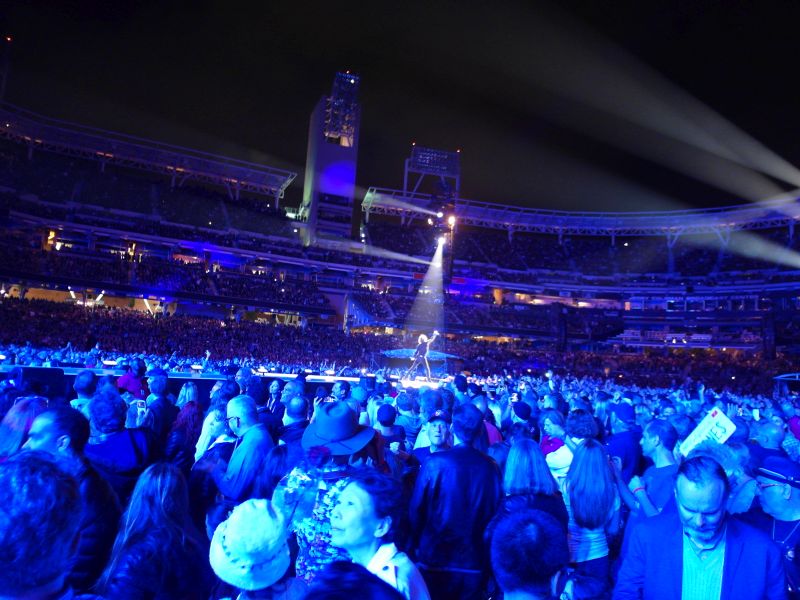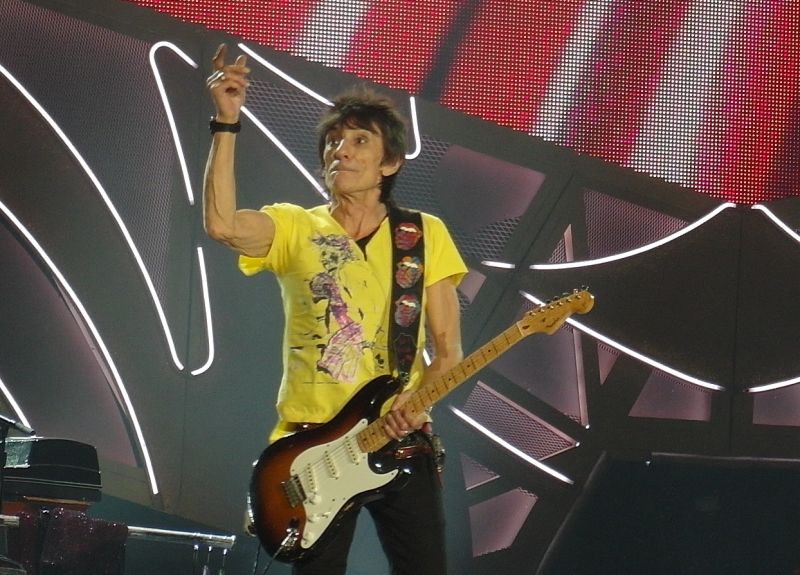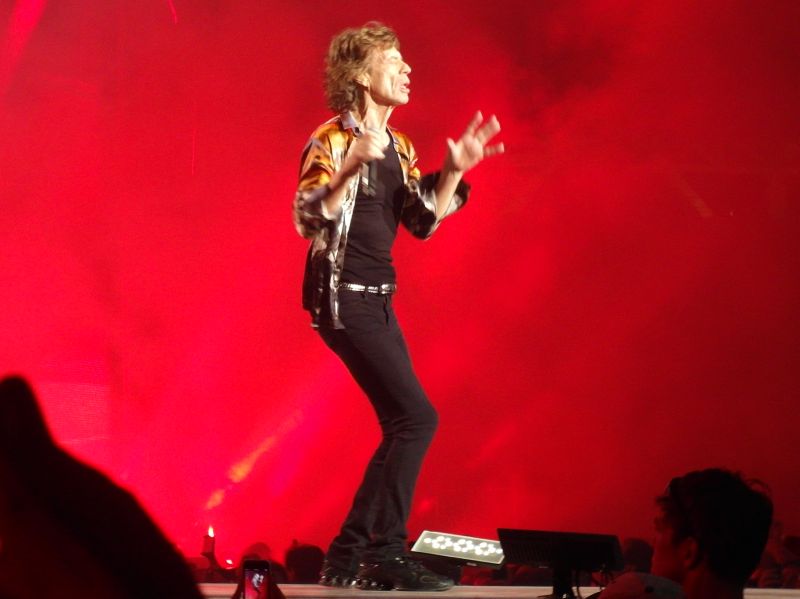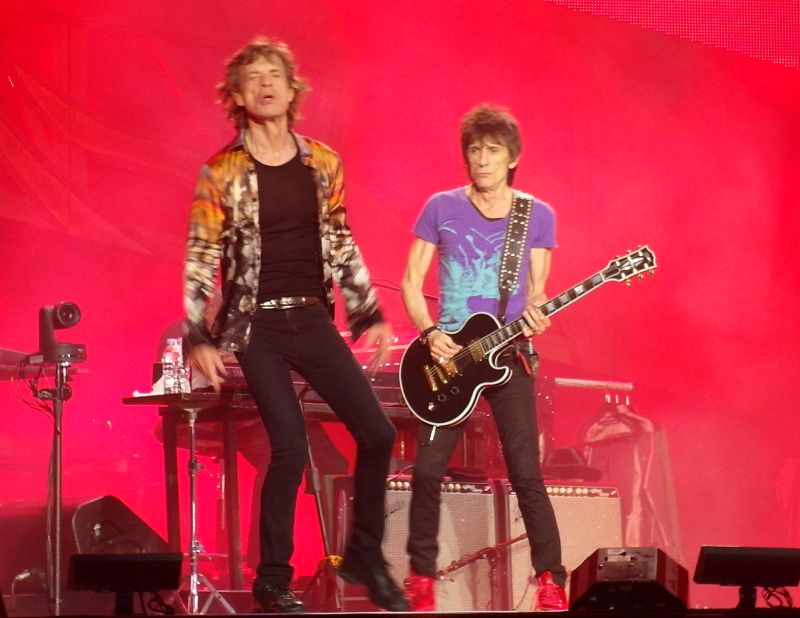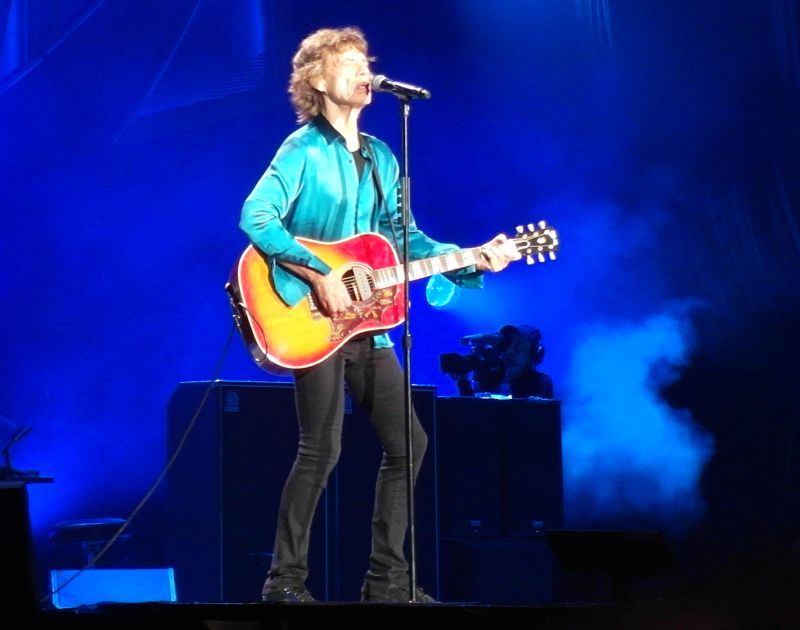 Photos by Bjornulf Vik
---
Review by Jeff Kopp
We had great seats - 14 rows from the front of the stage on Keith's side, 7 seats to the right of the extended runway.

I've probably seen them almost 20 times since 1975 and the one common theme I have noticed on all of the GREAT Stones shows is that the difference between a good Stones Show and a GREAT Stones show is Keith. When he dominates and drives the band is when they are truly great to see in concert.

Tonight was one of those nights. The sound quality was spectacular where we were sitting — my lifelong best friend the Wildman and I who first saw them in 1975 at The old Chicago Stadium.

We could clearly hear the separation between Keith and Ronnie's guitars and the guitar sounds dominated the overall mix. Keith was NOT laying back tonight.

JJF opened the show, followed by IORR and then ADTL. Keith pushing it — dropping tasty licks and riffs throughout these three songs and especially during the solo on IORR. The Stones always start out with three fast numbers in quick succession. These ones did not disappoint. Ronnie's solo on ADTL was blistering.

Then a "Ballad" as Mick joked and it Was Tumbling Dice. Propelled by Charlie's solid great drumming.

D&G was next. I guess they have to play a "New Song" and this one keeps coming up. Okay but not a favorite. Mick starting it off on Open G guitar. Wonder where he picked that up from?

Now three in a row from Sticky Fingers. Mick said they played the whole album in L.A. but that they weren't going to do that again. Bitch with Gary Clark was good. Again Keith drove it. Then Moonlight Mile. As great as this song is it just didn't build quite the same way it does on record. Keith joked with Mick at one point in the song. Probably reminding him that this was a song that Keith never played a note for on the original recording. Then CYHMK. Really Solid. The sax solo was outstanding and Ronnie's solo was rock solid. Sorry all of you MT fans but this one stood up to his versions quite well.

The request song was SFM. MJ joked that "...the band has no idea what the song is until it is revealed on the video screen...If you believe that!" Again, Keith front and center.

HTW was fantastic and Keith's solo was spot on. Great to see him go from finger picking to plectrum picking throughout the song.

The Band Intros appeared to have a new twist wherein all the band members except Mick went backstage and then came out as MJ intro's them one by one. Nice Touch. Especially when MJ joked that Charlie had spent the week surfing in San Diego.

Now it's KR time and out comes Slipping Away. Beautifully sung and as usual time for most audience members to take a break. Then out comes Keith's 1953 Blonde Fender Open G guitar — Macawber. I turned to the guy next to me and said "Before They Make Me Run". Keith then played the first two notes of BTMR and stopped : "This next one is Can't be Seen With You". Ronnie ran up to him. 'Oops, I mean "Before They Make Me Run". And then bam. "Gonna Walk Before They Make Me Run!"

Midnight Rambler came and quickly got into a deep and powerful groove and stayed there. Keith's riffing and then dropping little licks in was great and Ronnie's solo was powerful. MJ's Harp skills are quite underrated. He is one of the best.

Miss You with Darry's solo is always fun. The crowd always get into it. MJ and Ronnie and Keith went to the end of the runway and smoked it in.

Gimme Shelter with Keith playing the intro perfectly and cleanly before the segue into the monster chords. At one point as Lisa was singing her solo, MJ's In ears mix was too loud and he could be seen turning the volume down on his little battery pack as he raced to the front of the stage extension to sing with her.

Start Me Up and now it's the home stretch. A particularly red and smoky version of SFTD and Keith disappeared a few times into the swirling red smoke on stage left as he rambled over during his solo. reminded me of the scene in Apocalypse Now when they came up the river onto Kurtz' compound...

Brown Sugar — Keith just wouldn't let go of those monster chords and then "Good Night".

Encore was YCAGWYW. The choir was from Long Beach and had a great layered intro. This time we had a live french horn which was nice and then Keith's intro. Always a Great song.

Satisfaction closed it — yes I know broken record — but Keith drove it and dominated it.

The lights did not come up for a while...a second encore? No way. Then finally they came up and that was it.

The first concert on this tour sounded like that they had been playing for months which only means those of you all down the line are going to see some amazing shows.

Get ready America!
---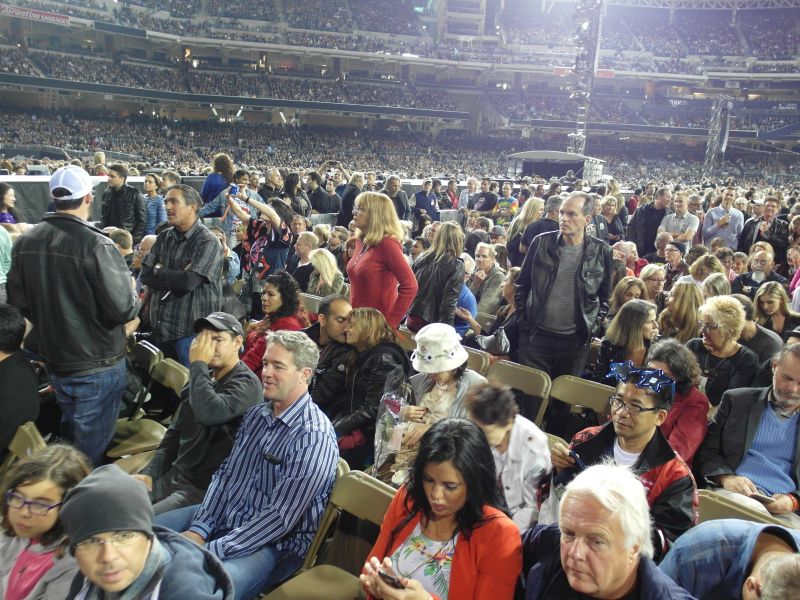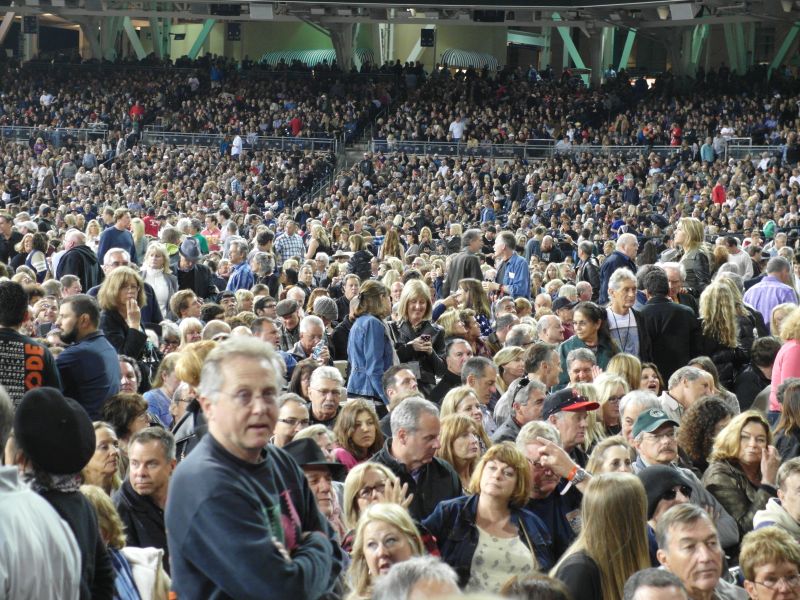 Photos by Bjornulf Vik
---
Review by Brad Craig
Great show last night at Petco Park. As a Stones fan for over 40 years of which I spent the last 34 years watching them live; I could tend to be critical but I won't. If I put myself in the shoes of the two young 20 something fans that I sat next to, the show was amazing.

Mick Jagger has always commanded the stage and last night was no different then the 2000 other shows they have done. For any human being to do what Mick does on stage for 2 hours or so is remarkable, the fact that he is going to be 72 in two months is amazing. Charlie Watts keeps a beat like nobody's business and he appears to do it effortlessly. Ronnie Woods played like I haven't seen him play since 1981. Probably because Ronnie is the youngest at 68.

What do you say about Keith Richards that has been said? As Keith says "its good to be here, if you're me it is good to be anywhere!" His joy to be on stage last night in San Diego was evident every time he smiled; it light up the stadium. He is Keith Richards, he has been punched in the face by Chuck Berry, electrocuted on stage, overdosed on hereon and fallen out of coconut trees. Something was off with Keith last night. He was working extraordinarily hard to play his guitar. He spent most of the night standing in one place watching his fingers on the frets like someone who just learned a new song and wanted to make sure they played it right. It just made me wonder. It looks like he is losing command of his fingers due to arthritis. Whatever the reason the effort was worth it.

They absolutely tore the house down with their final three numbers: Brown Sugar, You Can't Always Get What You Want and Satisfaction. Don't let that last song fool you. Every living breathing person in that stadium found some satisfaction last night; especially the last four men standing on the stage...
---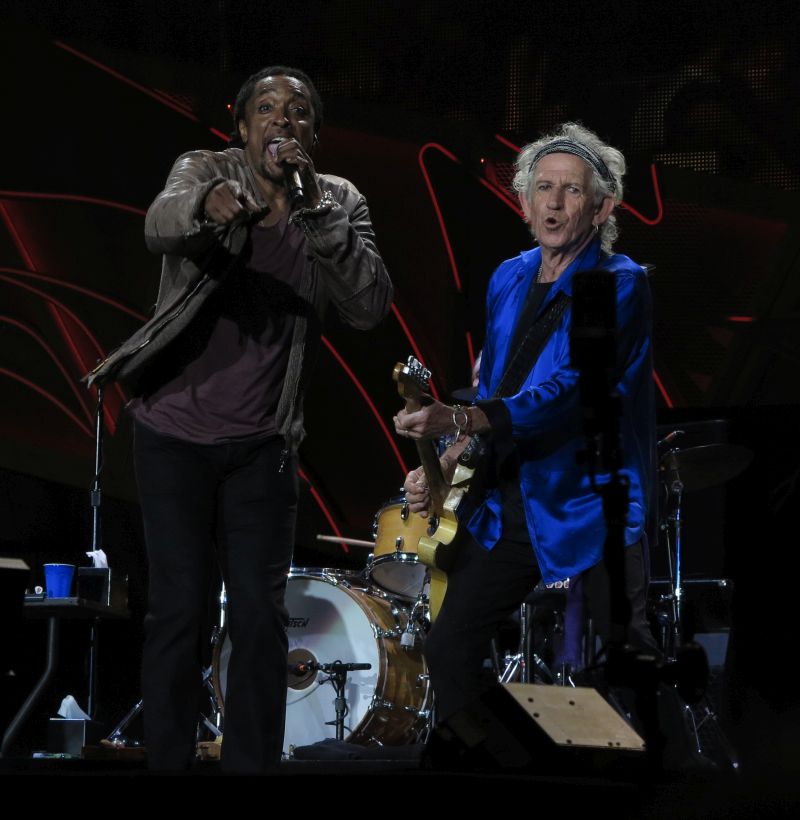 Photo by Jim Pietryga
---
Review by Sarah Reuben
A large, heartfelt thank you to BV/IORR. You helped make a 35 year old dream come true.

Seeing a Rolling Stones concert for the first time, after falling in deep infatuation with them at the age of 13, was not an item on my bucket list, it WAS my bucket list.

My husband and I were fortunate enough to buy tickets through the Amex pre-sale, and obtained 13th row seating on the floor, center stage. The Universe had finally aligned, the Gods deeming me ready.

The entire San Diego trip was magical. Standing in line at the merchandise trailer the day before the show, sun is shining, I'm with my people, and 'Time Waits For No One' comes through the sound system. That alone was a spiritual experience,

but while resting in our hotel room located next to the stadium the next day before the concert, what do I hear serenading me? Mick Jagger and the Rolling Stones belting out a rehearsal before the show! Not a sound check, no, but full on songs! I had never heard Mick Jagger 'live' 'real' 'in person' in my 35 years of learning and loving their work and music. The chill that ran up through me and under my skin hearing him for the first time like that, while I'm hanging out my hotel window, I'll never forget.

My floor seats were spectacular. I couldn't take my eyes off. I moved, I grooved, my soul mixed. It was perfect. Thrilling. Set list blew my mind.
---
Review by Tim Fisher
Wow! That was an absolutely incredible, amazing show! I honestly think they were better on Sunday night than they were in the 2013 Hyde Park DVD.

It was amazing and magical when Keith stepped on stage for those opening chords in Jumping Jack Flash. He looked like he was having a ball the whole time. I was really surprised when they did Moonlight Mile, I figured it was a treat only for the people at the LA show. Mick's vocals were spot on! Same with Can't You Hear Me Knocking, I was so amazed when I heard the opening riff. I was really happy they did Street Fighting Man (it was the one I voted for), and it sounded perfect! I thought Keith's vocals and guitar playing was perfect during Slipping Away and Before They Make Me Run (and I thought it was so humble of him to just smile and laugh when he accidentally said he was doing Can't Be Seen). Gimme Shelter was awesome, with Keith's guitar work and Mick's duet with Lisa Fischer.

Sympathy For the Devil was amazing! I was just waiting for that magic moment when Keith walked down the stage, playing an incredible solo. I loved just watching him do his thing, not making any mistakes! It was so cool getting to be in the same stadium as Keith, and getting to watch all of them show other musicians how it's done.

Even if I never get to see them again, I'll always be so happy, grateful, mind-blown, and amazed that I got to see THE Rolling Stones live! I'll always keep and treasure the ticket stubs and poster (in fact, I'm getting them framed tomorrow, I think).

As soon as my dad and I got back to the hotel, I carefully locked the poster, program, and T-Shirt into the hotel room safe. It was an incredible show, from Jumping Jack Flash to Satisfaction!

I truly had the Stones Concert experience (complete with walking into the bathroom to find vomit leaking out the sides of the stall!). I made an awesome memory with my dad (although I'm far, far more the fan than he is). I couldn't ask for a more amazing birthday, and I hope everyone else was as blown away as I was!

Any fans going to the Ohio show and beyond, you're in for an unforgettable night! Thanks everyone for reading my review Thank you Keith, Mick, Ronnie, and Charlie!! I'll never forget Sunday, May 24th.
---
Review by Rogerriffin, Mexico
Arriving at the stadium i was listening to the soundcheck, what a nice feeling to hear the Stones play pre-testing, they played Doom & gloom, Bitch, sympathy for the Devil, you can't always get, and the new introduction of the show, which by the way, is very good!

To enter the stadium i saw Bernard Fowler came on fast and one of vigilance, an old women, from nightsticks a couple of meters to pass the metal detector, which was funny, she didn't know that was the backing vocals of the main band! Lol

There were some stickers stuck all over the stadium with the Rolling Stones Zip Code logo and the tongue and lips, i took a pair of them, i think put it in the rear window of my car soon so that they are transparent and the glue is extremely strong.

Gary Clark Jr, it sounded excellent, did not know him his work, only the stakes prior in the White House in 2012, and the duets with the stones in the last tour, but solo has very good material and very nice touch to the guitar, is the new exponents of rock and blues in these days, i would like to see it again.

They started the show with Jumping Jack Flash and Its Only Rock'n Roll, with an impressive energy they looked very happy and excited to begin already in form the new concept of tour that had been planned, All Down The Line, finally, after 7 times to see them, it is always a wait but always had played a show before that which I witnessed, was already the travel paid, it sounded excellent, a perfect volume and the implementation very good.

Tumbling Dice and Doom and gloom, without novelty, then it is seen that put an additional microphone, most high, in fact Mick jokes trying to put his mouth to the height and that we saw him smile, as expected, Gary Clark Jr of invited, but we were not expecting the three songs which came, a very good Bitch followed by the majestic Moonlight Mile, which was worth the cost of the trip, perfect, very well done, all coordinated and up to the final sounds of the song, this time there was no Ruby Tuesday or Wild Horses or Angie, everything was perfect!

Can't You Hear Me Knocking, good, to dry, they stuck a few choirs that do not fit in with the live version, yet the mere pleasure of staying here and enjoy it live made good, wait until the only of Ronnie and enjoying the end of the sax of Karl Denson was different, or Karl is not Bobby or Ronnie is not Mick Taylor, but at least they are there.

To close the deal with the stones, had been the result of the vote, was dying by Street Fighting Man, that just as I had never touched, and finally, the night was perfect, imagining all the dvds where i see Keith attack with these riffs by end was in front of me and see how Mick makes their gestures to synchronize the time of entry into the song, a luxury!

Slipping Away was good but i was left with the version that i lived in Twickenham 9 years ago, that was with more feeling, then Keith said that he will play Can't Be Seen, but the night was too perfect by get this song, so he was wrong, he was going to start to play Before They Make Me Run and stop everything, until Charlie made his emoticon face, Lol, apologized saying: Old habits die hard...

Midnight Rambler, powerful, excellently executed, a very good version, i think the best i've seen, except the two with Mick Taylor that I have touched, obvious, but people were hot and Ronnie also, it is well worth viewing on YouTube again.

Miss You i didn't think it would be to make, since they had two "long", but if the statements were made and what it is worth a lot is the only of Darryl Jones, different from the one made in 2012 and 2013.

Then came all the hits, not devalue in the absolute, by the simple fact that they have in front of me, full of life and continue to enjoy to playing.

Start Me Up was very good as well, nothing of errors very clean and strong. You can't always get, gave me another surprise, I wasn't expecting the continued with choir, sounds great!

It was very good show, as i had experienced in 2013, it is well worth going to the opening night, is a different vibration, a different setlist, if you don't tap a premiere, at least songs that had not touched in years, in my 2012 show they played Around and Around, in 2013 Emotional Rescue and Factory Girl, now All Down the Line, Moonlight Mile, Can't you hear me Knocking? And Street Fighting man made their own and continue to dive in this blessed vice, the more expensive, but the most satisfactory and the least harmful i think.

I reached at the show 8 of my life, I wanted to do, 8 times they have played in Mexico, I've only been to 3 and i didn't want to be left behind, fortunately 10 years ago I got into the head to go look for them and not wait to come, life gave me the opportunities, i could take advantage of, I am more than grateful and satisfied.

Now the only thing that i would like to they come to Mexico is for my wife and my son to see live, it would be a different satisfaction, I hope it will be...
---
Reports please!!!
Please send your comments, reviews, links and more to:

[email protected]
---
Links
---
This page will change over the next few days, as you and other fans send reviews, set lists and reports. Please send your e-mail to IORR. Thanks! For details and great photos from the Rolling Stones and their World Tour get the IORR magazines.




It's Only Rock'n Roll 1980 - 2015
© The Rolling Stones Fan Club Of Europe