---
These are the latest Rolling Stones news and updates for you! IORR is a non profit fan club run by fans for fans. All parts of the It's Only Rock'n Roll web site is copyright of The Rolling Stones Fan Club. When using information from this site, please include a reference to IORR and the main web address www.iorr.org.
---
---
The Rolling Stones
Park Hayarkon
Tel Aviv, Israel
Wednesday June 4, 2014
---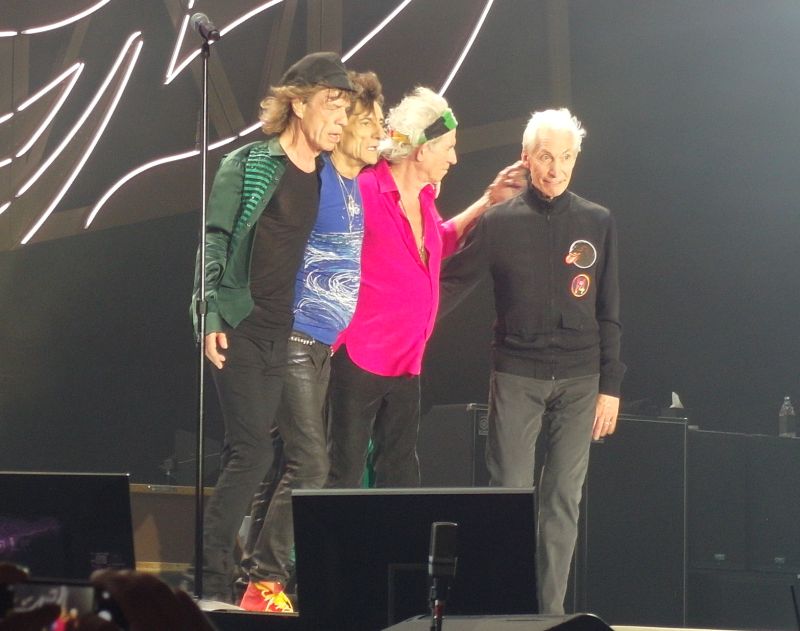 Photo by Bjornulf Vik
---
---
The set list
Start Me Up
You Got Me Rocking
It's Only Rock'n Roll
Tumbling Dice
Angie
Doom & Gloom
Get Off Of My Cloud (by request)
Paint It Black
Honky Tonk Women
--- Band introductions
You Got The Silver (Keith)
Can't Be Seen (Keith)
Midnight Rambler (with Mick Taylor)
Miss You
Gimme Shelter
Jumping Jack Flash
Sympathy For The Devil
Brown Sugar
--- Band off stage
You Can't Always Get What You Want (with choir)
Satisfaction (with Mick Taylor)
---
Show start :  9:15pm
Show end   : 11:15pm

---
Report by Bjornulf Vik
The Rolling Stones on virgin territory... Just like the first ever show in the United Arab Emirates and Abu Dhabi earlier this year, tonight was the first ever Rolling Stones show in Israel. It is always great to see how a crowd is welcoming the Stones for the first time ever, and tonight was exceptional.

As we were outside the actual park and venue, it was quiet. Before the warmup band was on shortly before 8pm, you could virtually hear the drop of a needle. Once inside, a big, big surprise. A large record crowd of may be 70,000 people - it is hard to say. A local fan said it might be 50,000 but for sure this crowd and the park was massive. And quiet. So far so good. I was worried about the show, but no worries. I was in the front, and they were sitting down in the front ten minutes before the Stones hit the stage. But all of that changed by 9:16pm sharp. The red lights and the thunders made a wake-up call, a big roar in the crowd, and they were dancing and singing and hands in the air for the next two hours. Great crowd. They had been waiting for years as it seems, a mix of many young as well as older aged fans too.

The set list was basically the same as in Zurich, but they changed three songs: "Angie", "Get Off Of My Cloud" and "Paint It Black". All great choices and very popular among the crowd.

The daytime temperature today had been mid 40's Celcius degrees, and as we drove back from the show by midnight, the taxi driver told us it was 34 degrees C. It was hot! I finished two bottles of water and coke as I walked out of the venue, and I noticed Charlie, Mick and the others were drinking a lot throughout the show. With all the running Mick did today, he must have been drinking liters of water during the show.

No pushing in the crowd, everybody was very friendly, and all I could see was smiles. An elevated ramp just in front of the B-stage as seen from the crowd made that spot great for those with golden circle tickets, but the cheaper tickets having this ramp in the view to the main stage did probably not see much because of this ramp, but they could choose their own position of course.

When I had a walk last night in Old Jaffa, I had this strange feeling of Eastern music, as they were smoking water pipes and playing oriental sounds. It reminded me of the 1998 Istanbul feeling, when I saw the Stones there, and I though Paint It Black would fit in perfectly on show day. So it did. It was a hit. It sounded great, and Tim Ries was sitting in on keyboards with Chuck Leavell, just like he did on Angie.

Keith did the perfect start on "Brown Sugar". He just steppped forward and nailed it, sharp and clear. And he owned Brown Sugar until he finished it off on his knee in the front of the stage. Best song of the show I think. And during that song Mick was on the B-stage making the fans crazy, then he came back, and he asked, "Do you want more?" ... Yes! and the band and the crowd was ready for more... so he took the ramp once more and then after more great Sugar riffs Keith eventually finished it off. Perfect. Also, during Brown Sugar Mick did his usual cross-stage race, running all through from one side to the other.

Satisfaction is ending a great night, we walk into the park and everything is smooth, still no pushing, lots of buses with names I don't understand, but after 10 minutes or so we grab a taxi and we are safely home in half an hour or so. Great night, great show. Thank you Stones. Thank you to all the local fans!
---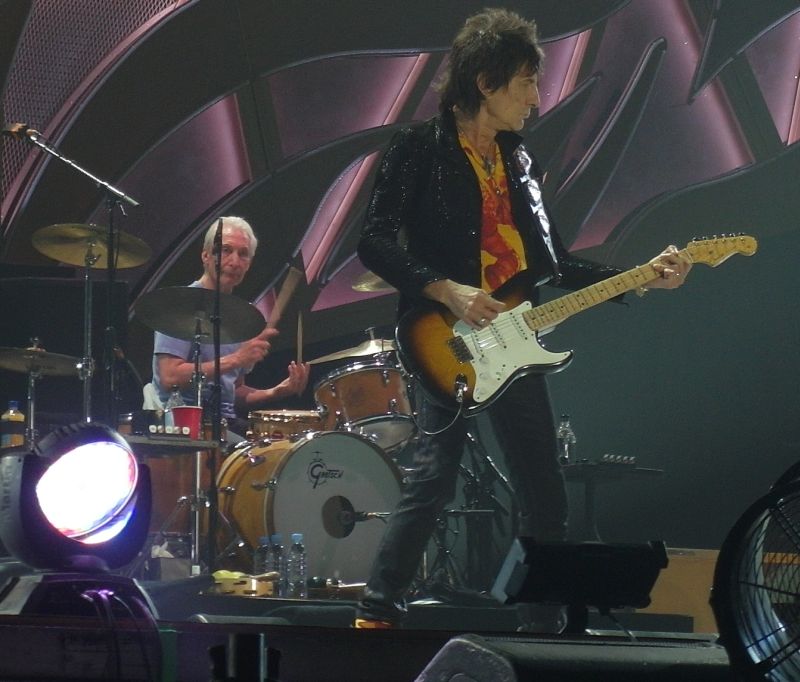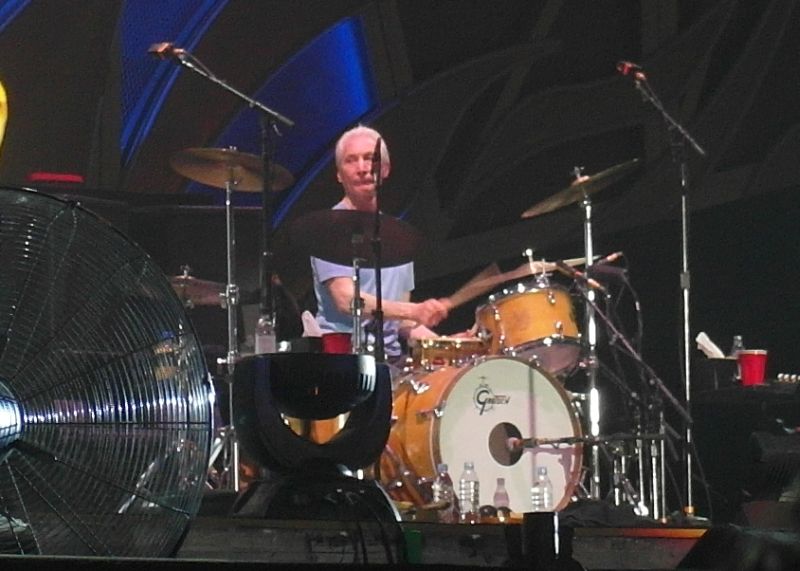 Photos by Bjornulf Vik
---
Review by Dean Goodman
After 200+ shows, it's a refreshing change to watch the Rolling Stones through the eyes of tens of thousands of people seeing the greatest show on Earth for the first time. I actually shocked myself by clapping and cheering as the Stones did "You Got Me Rocking" and "Miss You," because - what the hell? - it was a fun, shared experience with ecstatic Israelis.

And what a great crowd they were. The vibe in the pit was super mellow and respectful. Israelis do not fit the macho stereotype. There was a lot of room to move about, nobody smoked, and the cameras were largely put away after the first few songs. A boisterous guy behind me, attending his first rock concert ever at the age of 41 and unaware of who Mick Taylor was, sang along to "Angie" really badly in every way so I let him in front of me and he got to torture a bunch of different people.

The Stones unveiled "Angie," "Get Off of My Cloud" and "Paint It, Black" for the first time on the tour. "Get Off of My Cloud," allegedly the Internet choice, was wrongly displayed on the screen as "Get Off My Cloud." "We'll try and remember that one from 1960-something," Mick said. The presentation was much better than the cheesy b-stage version of years past, though the lighting guys took a tea break during the song, prompting Mick to ask afterwards, "Got the lights back on, Ethan?" The darkness might have been better suited for "Paint It, Black," which was a crowd favorite.

As usual, "Doom and Gloom" went over well with the kids, who cheered loudly when Mick introduced it. Maybe the similarly themed "Highwire" would have been a better choice for Middle East commentary.

Mick and Keith did a fist-bump during the introductions, and Keith actually ran from the far side of the stage back to the center following his "Satisfaction" solo. Not sure how I feel about that given his history of unfortunate accidents. His solo set went off OK. He told the crowd, "OK, now you're in for it ... Always amazing to be somewhere new. It's an amazing feeling after all these years." And a slight variation on his motto, "It's good to be here BUT (my emphasis) it's good to be anywhere."

What else? Mick has started saying "and it hurts" at the end of "Midnight Rambler," which is important to me. We got two separate rounds of the "Woo, Woo, Woo, Yeah!" singalong on "Brown Sugar" because Keith appeared to miss his cue to wind down the sing after Mick said, "Take it home to mama." The less said about Lisa Fischer the better. It is painfully obvious that she is not pulling her weight on "Gimme Shelter," and it will be interesting to see if the 55-year-old makes it Down Under. On the other hand, I saw Darryl Jones close up beforehand. He has lost a lot of weight and looks good, so gold rings on him!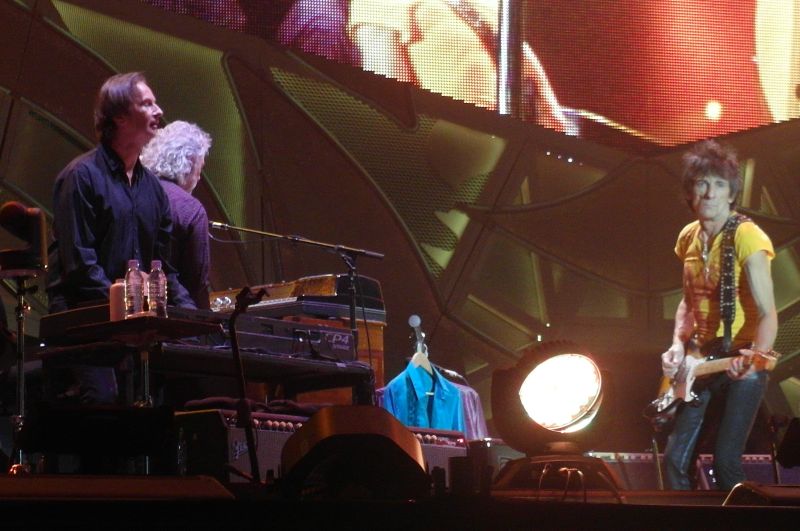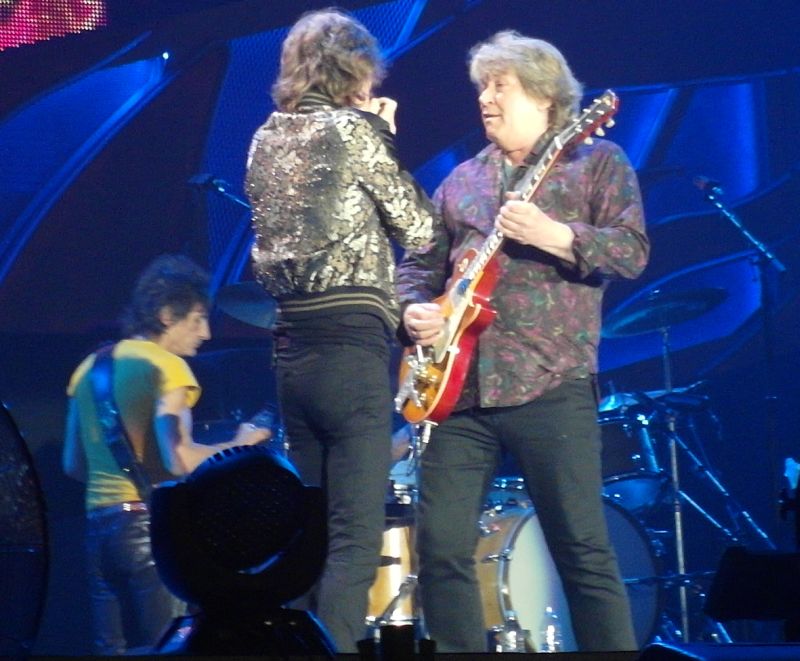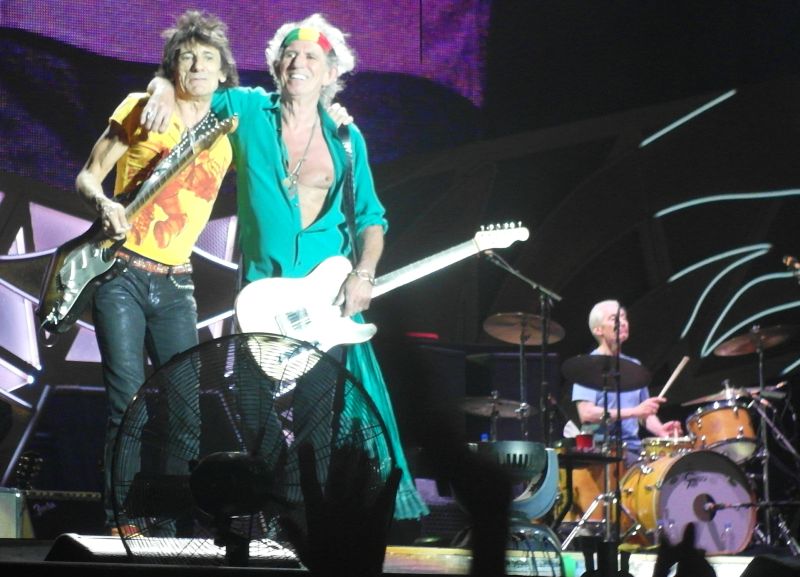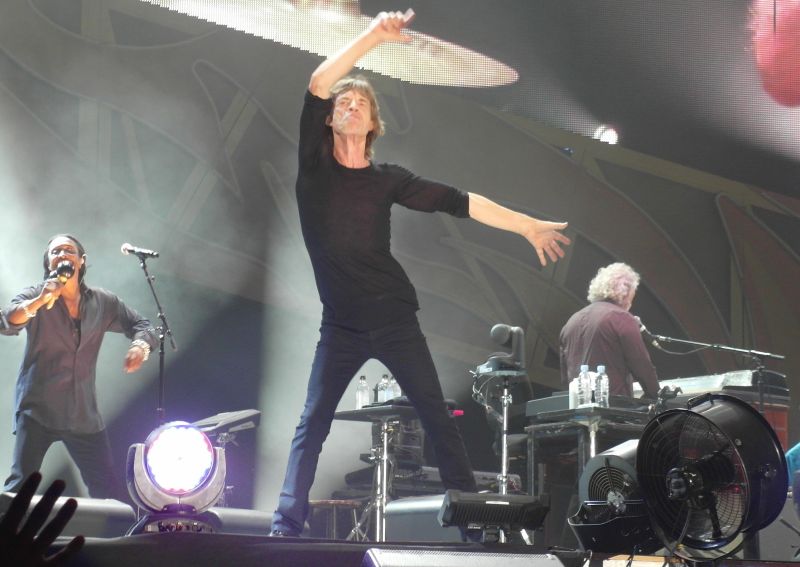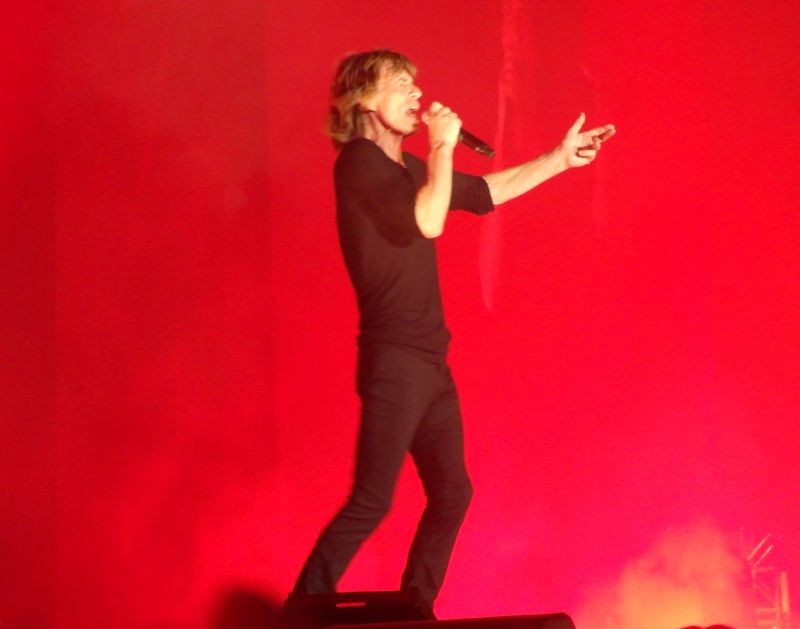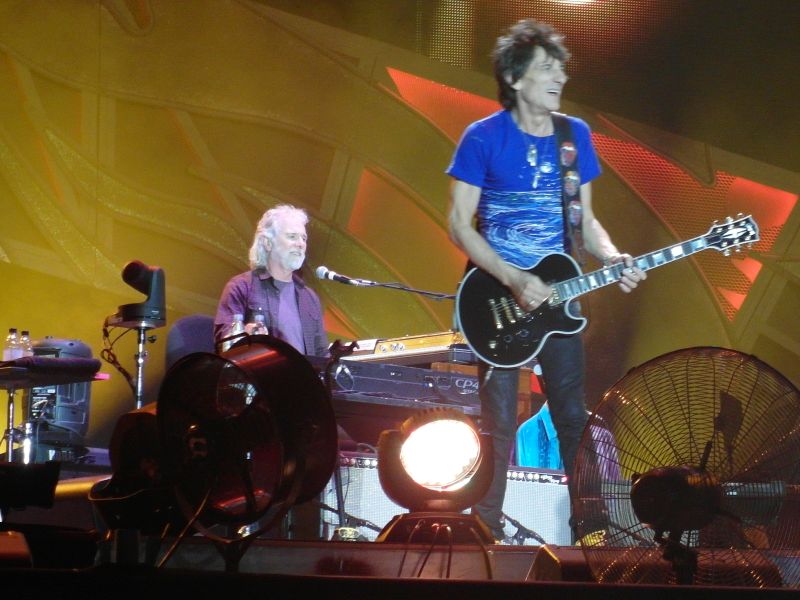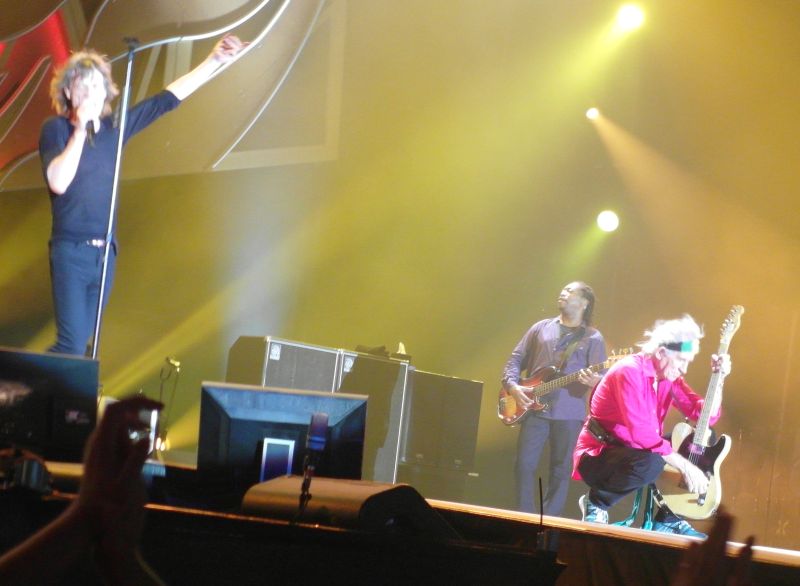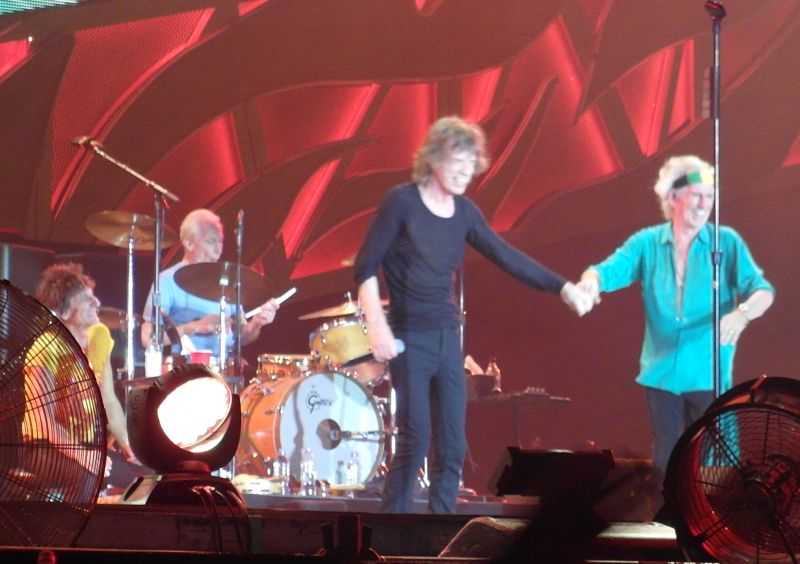 Photos by Bjornulf Vik
---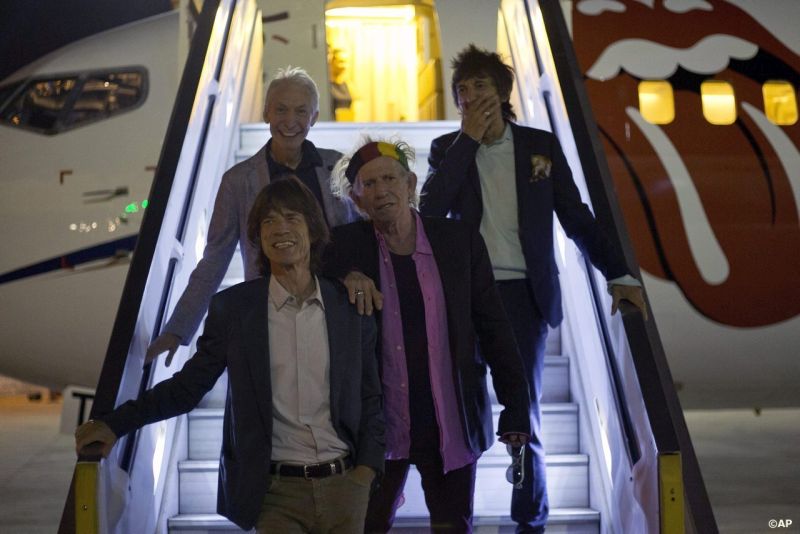 The Rolling Stones arriving into Tel Aviv Monday evening June 2, 2014
---
Review by Paul Strachowski
Back in Jerusalem after the Tel-Aviv show.

I'm writing this little review with the benefit of having read right through the IORR live thead of the Tel Aviv show, in which I noticed a couple of comments that I must refer to.

Firstly, latvianexile noted that in his opinion this was the best show of those he's seen to date on this tour. Secondly, BV was talking about numbers in attendance. And thirdly, someone noted that they lost their way in the middle of Jumpin' Jack Flash.

For me personally, this show was "a family affair". My 2nd cousins in Israel have long known about my love of this band, so when the opportunity arose to see the Stones in their country together with them, it was absolutely not to be missed. I bought general admission tickets for the lot of them, we were seven in total, myself and six family members. My immediate cousins (late 40s and early 50s), their kids (mid 20s) and one of the girls' boyfriend (mid 30s).

The venue was ideally suited to an outdoor event, because the ground sloped gently downwards towards a flat area where the golden circle was and the stage itself. We parked ourselves just at the "break of slope", so in other words where the ground starting rising at a gentle gradient. This was great, because although quite far back, it offered a fantastic overall view.

The band hit the stage at 21:15 sharp, and my immediate observation was that where we were, the sound was absolutely tremendous in terms of mix - but simply not quite loud enough. I never realised quite how key to the overall projection of a band like the Stones actually is unless the volume is evenly distributed around the venue. Maybe I've been very lucky over the years, but I've never really had much to complain about whenever I've seen them on the "volume" front !! Anyway, it kind of seemed to come in waves a bit, sometimes I was thinking "turn it up a little", and at other times it seemed ideal. But the mix was superb. That Telecaster "clang" and Jagger's crystal clear vocals just cut through that hot sweaty Tel-Aviv night air like a razor.

As for the performance, I would describe it as mesmerizingly energetic, gloriously ragged in terms of the mistakes made, and a setlist SO perfectly pitched at the Israeli audience - it beggared belief.

This show was Mick Jagger's. He charmed them with his Hebrew, he worked them like I've never seen him work a crowd, he staggered them with the display of energy, he essentially pulled out all the stops - and there is very little that I could say that hasn't already been stated by the reviews in the Jerusalem Post and the Times of Israel. He won the audience over lock, stock, and two smoking barrels.

It was a diabolically hot day in Tel-Aviv. As my cousins and I were driving down the long and winding highway from Jerusalem to Tel-Aviv, the outside temperature as we approached Tel-Aviv was 38 degrees C. In ANYONE'S language that is ........... yowch, very hot ! Consequently, it made the energy levels on display during that performance even more extraordinary. The fact that it had been SO hot during the day might have accounted for the fact that they came on at 21:15 and played till 23:15, it had cooled off slightly by the time the show started.

I spent a fair bit of time absorbing the reactions of not only my dear cousins, but of the crowd around us. In saying this, I am mindful of the fact that not only they, but a lot of the people around us too, were not particularly au fait with the Stones catalogue, and this is why in my opinion the setlist was so perfectly pitched at that audience. The ONLY songs for example that my cousins between them were unfamiliar with were YGMR and Keith's two songs. These are people that have no particular interest in the Stones, no great passion for them, have none of their records or CDs, have never seen them, but that knew all the songs in the setlist bar perhaps three.

The song that first got people really rocking and singing along was Dice. That was a benchmark song , and following it by Angie was a triumph. Because if TD got the crowd's full attention, then introducing a dynamic step change with Angie was a stroke of genius. They went from an extended gloriously rocky singalong/clapalong song to a ballad that absolutely everyone knew. Brilliant.

Doom and Gloom probably served no particular purpose in the setlist at this point really, it was delivered perfectly well, but didn't really provoke any particular reaction from either the family or those around us.

But from then on, the Rolling Stones gave Tel-Aviv what it wanted, starting with Cloud, followed by Paint It Black, followed by Honky Tonk Women. The most extraordinary part of the remainder of the set from this point onwards, which was still about 50 percent of it, was how unbelievably good Keith's renditions of Silver and Can't Be Seen were. The former song I adore, and I have to say that this version in Tel-Aviv was sung by Keith superbly. I don't know whether he's been doing some voice training or something, but that version stood out for me as THE best by a huge margin. Again, referring to family and crowd reaction, they were pretty much awestruck. Ronnie's slide was divine, and it struck a major major chord with those in my part of the venue. The place lit up with a sea of smartphones, an awesome spectacle when you're looking at about 50,000 of the bloody things right in front of you.

The blast through the rest of the set, starting with Rambler, was just SO perfectly pitched at the audience in terms of being songs that everyone knew, that it left a lot of people round my neck of the woods looking physically exhausted. In terms of audience reaction and "singalong/clapalong", the songs that really made their mark were Miss You, Shelter, Sympathy, and Satisfaction. The songs that left people muttering words like "incredible" and "unbelievable" to one another were Shelter and Brown Sugar in particular.

Mistakes ? Oh yes, it wouldn't really have been a Rolling Stones concert without plenty of those, now would it ? THE most glaring, and it was kind of hilarious to witness, was the extent to which they lost (would you believe) the middle of Jumpin' Jack flash !! I swear to god that what I heard was half the band struggling to play a new verse, whilst elsewhere there was someone still thinking they were in the chorus. It was lost to a lot of the crowd I suspect, but for diehards .......... just an absolutely classic Stones balls-up. It didn't detract from the overall performance one jot, not one.

Towards the end of the show, the song that really got a strong reaction from the audience was YCAGWYW. I think a lot of people were simply gobsmacked to see a choir on stage. A lot of people knew the song, there was an awful lot of singing along around me, not only the well known chorus but the verses as well, but it seemed as if people were really shocked to see a choir on stage, pleasantly shocked I hasten to add.

Satisfaction was special for me personally. Why ? Because a day earlier my 2nd cousin had shown me a video clip on her smartphone of her 9 year old dancing with the rest of his class in school to his favourite song that their music teacher has recently introduced them to ........... a song called Satisfaction by a well known English group called the Rolling Stones. So you can imagine, EVERY smartphone in the family was focused on those screens, and guess what his elder sisters are going to be showing him on their smartphones later today on the beach in Tel-Aviv ??

To summarise, I'll just say that in the car on the way back to Jerusalem, my cousins commented that the Stones' performance was SO good, that even if you had gone to that show without knowing a single Rolling Stones song, you would have been thunderstruck and you would have had a blast.

As for latvianexile's comment elsewhere earlier in this thread that this was "the best show" of those he's seen to date on this tour, all I would say is that for myself by comparison - it is very difficult to make judgements like that. What makes a "best show" ? It's a very personal thing, because quite often it's dependent not only on what they play and what you hear, but on all sorts of other parameters as well. But I'll say one thing, in order to comment and to comment with some slight modicum of impartiality, you really DO have to be there. Not in your armchair at home, but THERE. Get out and SEE this band, they are not going to be around for ever and ever and ever, so raid the piggy bank and get out there and see them. They remain a truly awesome spectacle in concert, and at this point in time, they once in a while put on a truly gobsmacking performance. Tel-Aviv on 4th June 2014 was one such, the energy levels displayed by Jagger were extraordinary. I heard kids around me asking their parents "how old did you say Mick Jagger is" ?

And finally, back to BV's observation about it being packed. Well no doubt BV was in his usual spot down near the stage somewhere, whereas I was in GA about 50 yards back from the end of the catwalk. Yes it was packed, all the way back behind me to the entrance/exit gates. SERIOUSLY bloody packed. I wouldn't care to guess how many were there, but I would not be in the least bit surprised if it was much more than the supposed 45,000, which was the number of tickets that had apparently been sold up to 3rd June. I don't know for sure how many were there, but it looked like a hell of a lot more than 45,000. My cousins, whose kids have been to loads of outdoor shows at Hayarkon Park, reckoned that by the look of it, about 70,000.

The Rolling Stones in Tel-Aviv on 4th June 2014.

Simply f***ing great it was !
---
Review by Jeff Seidel
As a huge fan of the Rolling Stones since catching them in Chicago in 1972, it was awesome to welcome them to Israel for their first show. The buzz for the show built up for weeks, and the day before the show we got a chance to hang with Ronnie Wood and Charlie Watts, and Chuck Leavell when they visited the Western Wall in Jerusalem.

We jetted out for Hayarkon Park as soon as the Jewish holiday of Shavuot ended. It was amazing to see Mick rocking out his moves just like back in the day, and when Paint it Black came on, the place really got cranking. The crowd also really rocked out to Miss You and Jumping Jack Flash, and the show hit a rousing conclusion with Satisfaction as we danced off into the night.

Afterwards we hit up the Stones hotel in Tel Aviv and got to chill with Daryl Jones, Bernard Fowler, Lisa Fischer, Bobby Keys, and Tim Ries. Just when we thought the party was over, Mick Jagger made a last minute visit to the Western Wall the next day before heading off to the airport and we got to thank him for an awesome show. I got my album signed by all of them except Keith Richards (i think he spent most of his time hanging by the pool), so well have to catch up with him soon along the way. We thank the Rolling Stones for coming to Israel -- you were awesome!!!
---
Review by Mick Tinkelman
Was incredibly hot! And show was incredibly hot!

At last Start Me Up sounds not only purely, but also is powerful (!), also as well as You Got Me Rocking - in general the excellent song with excellent the introduction and solo. IORR - is hot and one of the best (!) solo Keith! After Lisbon they began to play Tumbling Dice with new breath: Keith had very bright intro, and even that Jagger not always was in time - not important. Angie - speed for it was fast, and it obviously undertook under Jagger to relieve it of long lingering singing therefore the introduction though was pure, sounded fussy, and Ronnie passed a square for solo, having played it with 2 attempts. But Angie always miracle!

Doom And Gloom aggressively as well as is necessary! Get Off My Cloud was strong, but Paint It Black...yes, Keith was mistaken, but why Ronnie didn't help out in time (?) Charlie's thanks - he rescued everything, and then they finished the song on OK! Honky Tonk Woman - at Keith became solo stronger than at Chuck. You Got The Silver - the fine sincere blues intermezzo which is ideally suited under the middle of show. Can't Be Seen - this song Keith's continuous improvisation, it only rock'n'roll, but I like it, very much!

Midnight Rambler and Miss You the best choice for this purpose that Jagger proved to be as the best lead singer, excellent job a section rhythm, fine mutual understanding between Jagger and Richards, strong solo Mick Taylor in MR, as well as in MY, and in it remarkable solo Bobby Keys and Darryl Jones. Gimme Shelter - is delightful and though Keith and Lisa's advances led to reduction solo Keith, wouldn't tell that it is incorrect as a reef structure of a song it allows. JJF as always pure drive! Sympathy For The Devil - while the best execution and the best solo for the European part of tour! Brown Sugar - the Keith improved), is pure also good speed (at the last concerts they played it somehow more slowly).

YCAGWYW - chorus is fine, but it is better for Keith to play to one intro, so they with Jagger are arranged the friend under the friend and it diminishes intro brightness, but the song is magnificent when they play it - they and crowd a whole! Satisfaction - fast speed, all at height, excellent game, excellent solo, the powerful final! In my opinion the strongest moments of evening is Start Me Up and Sympathy For The Devil.

Thanks of the Rolling Stones for a magnificent concert, thanks to crowd for magnificent reception!!!

PS. Listening to fantastic You got me rocking and Doom and gloom, missing One more shot and Out off control (smartly played in Lisbon and Zurich) it would be very desirable that they wrote down a new album!
---
Review by Sjouke Hoving
It was a short night after the gig in Zürich, with lots of traffic before getting home and a very early flight on Monday morning from Basel to Tel Aviv. We had a few days to spend in Israel before the concert, so we had time to visit the Old City in Jerusalem and meet with some friends in Tel Aviv. But Wednesday was the day we were all waiting for: the Rolling Stones for the first time in their career in Israel. Due to a Jewish holiday (Yom Ha Shavuot) from Tuesday evening until Wednesday lot of places were closed and the show would start only at 21.15 so all people would be able to travel to the park in time. First of all, Wednesday was hot, really hot, there was this terrible "khamsin" and temperatures were very high. A good opportunity to spend some time on the beach and in the water. Close to 18.00 we arrived at the Ha Yarkon Park and we just followed the people towards the venue. There were no directions in English, only in Hebrew. The gates were still closed. But soon the gates opened and people were entering the field. There was not so much choice in merchandising. They only had a handful of the 14onFire T-shirts, one Tel Aviv specific one, but nothing with Hebrew text on it. Also the choice of food and drinks was very limited compared to other European venues. It was a long wait in the heat until the support act started. I don't remember his name but he is very popular in Israel and the public reacted very enthusiastically. But we were all waiting for the Rolling Stones first appearance of course. Around 21.15 the lights went off, the drum beat started and the show was on! It was already completely dark from the beginning.

They started off with a blistering sharp Start Me Up followed by You Got Me Rocking again, just like in Zürich. It was clear from the beginning that Keith was on fire and playing much better than in Zürich. Next was IORR and Tumbling Dice, both with nice video captures and also the public was completely giving their best. Mick Jagger was actually talking a lot in Hebrew, to the pleasure of the audience. Then first change of the show and it was expected as first show in Israel to get more Hot Rocks than usual: Angie was played, was it the first time this tour? It was a great version anyway, followed by the "new" song Doom And Gloom, which was largely picked up by the audience. The web request was Get Off Of My Cloud followed by the next surprise Paint It, Black. Somehow I expected this song to be in the list because of its oriental vibe and it worked well. From this point the show was song wise the same as in Zürich, but somehow qualitative much better.

The Keith songs were more focused this time and both You Got The Silver and Can't Be Seen sounded much better. Midnight Rambler is the highlight of the show every time. The song is brought to another level by Mick Taylor and the public loved it. Then it was time for the real Hot Rocks… all the big hits, we know these songs so well, but they were played good and it was pure enjoyment in the audience. On paper these same songs might look boring, but when being there they are not and they are simply one of the best classic rock songs ever. So we got Miss You with a lot of singing from the audience, Gimme Shelter with a great Lisa Fisher, Jumping Jack Flash, Sympathy For The Devil and Brown Sugar (with a good intro this time).

The encore YCAGGWYW with a local choir and Satisfaction finished this historic show for Israel and the Rolling Stones. We were all hot, tired, sweated and half de-hydrated, but got one of the greatest shows ever. It was relative easy to get out of the park and with a taxi we were within 20 minutes back in Tel Aviv center for some well-deserved cold beers to enjoy this great night in Tel Aviv. Again a short night, since we have an early flight to Basel… next stop for me is Düsseldorf.
---
Review by Leah Lublin
I got to the gate at 5:00 pm. The heat was sweltering. They let us through the first gate at 5:45 to the security check gate. This awful woman tried to push me aside to get ahead of me saying she'd been there since 3:00 that afternoon. Tough shit. That's no way to act and I actually had a better place than she had. I was at the corner of the stage and ramp (Keith's side this time), right behind 3 Germans who thankfully weren't that tall. We chatted with everyone around us for 4 hours. One of the German guys looked like a younger, very tattoo'd Keith :-) but he was the tallest of the lot and I was glad I wasn't behind him, even though I enjoyed looking at him. It was so hot and humid and I was dying for a beer or two or three but didn't want to leave my spot to have to pee so I passed on it and chugged water instead.

Right before the show, another young woman tried to tell me "this is my spot" and I was like "hell, it is so MY spot" - don't go there with me, sweet pea. I'm not moving. I glared at her, pretty much like my cat does when she doesn't like something, and the woman moved behind the tall German guy. I think the stage was lower here than it was in Groningen in 1999 (?).

Right before the Stones came on, the entire audience were singing the Woo Hoos to get things going. And then Start Me Up came on. The last time I remember screaming like this was when I was 8 and the Beatles were on TV for the first time in 1964 on the Ed Sullivan Show.

I loved Mick's purple sequined jacket.

My voice was hoarse mid-concert from all my screaming and singing!

I voted for Get Off My Cloud, and was thrilled it got chosen. I don't think I've ever heard it live before.

Angie? Not my favorite song but ok, I won't kvetch.

Loved Mick's Hebrew and the woman next to me screamed "Mick, it's ok. We understand your English!" Then everyone sang the Hebrew version of happy birthday to Charlie, the traditional way they sing it when children celebrate their birthdays.

During YCAGWYW - it was fun to watch the pretty young choir girls all staring in Mick's direction, wherever he was on the stage, all smiling at him the entire time. They weren't watching their conductor, but could you blame them? At one point, he smiled back.

I thought perhaps there was an issue with the lighting during one song, as the stage seemed dark for a minute or two and then things started working again, but no sound glitches that I noticed. I was too close to the stage and didn't see the pyrotechnics, but I'm certainly not complaining.

Thankfully, where I was, other than that one (or two) horrid person, no one pushed ahead during the concert and we weren't scrunched up against the railing. The security in the pit handed out cups of water continuously throughout the concert so no one would die. It was that hot... and very appropriate to hear Sympathy for the Devil with the red background. I thought about the heat and the background and the song, but I was too high in heaven to be thinking about a hell scenario despite sweat pouring off all of us.

My worried son, sitting at home, heard on the news that 150 people required medical attention and thought I was one of those. He has no idea how tough his mama is.

I can't believe it's all over already but it was a wonderful two hour orgasm of a concert. No way else to describe it.
---
Reports please!!!
Please send your comments, reviews, links and more to:

[email protected]
---
This page will change over the next few days, as you and other fans send reviews, set lists and reports. Please send your e-mail to IORR. Thanks! For details and great photos from the Rolling Stones and their World Tour get the IORR magazines.




It's Only Rock'n Roll 1980 - 2014
© The Rolling Stones Fan Club Of Europe