---
These are the latest Rolling Stones news and updates for you! IORR is a non profit fan club run by fans for fans. All parts of the It's Only Rock'n Roll web site is copyright of The Rolling Stones Fan Club. When using information from this site, please include a reference to IORR and the main web address www.iorr.org.
---
---
The Rolling Stones rehearsals
Oslo, Norway May 2014
---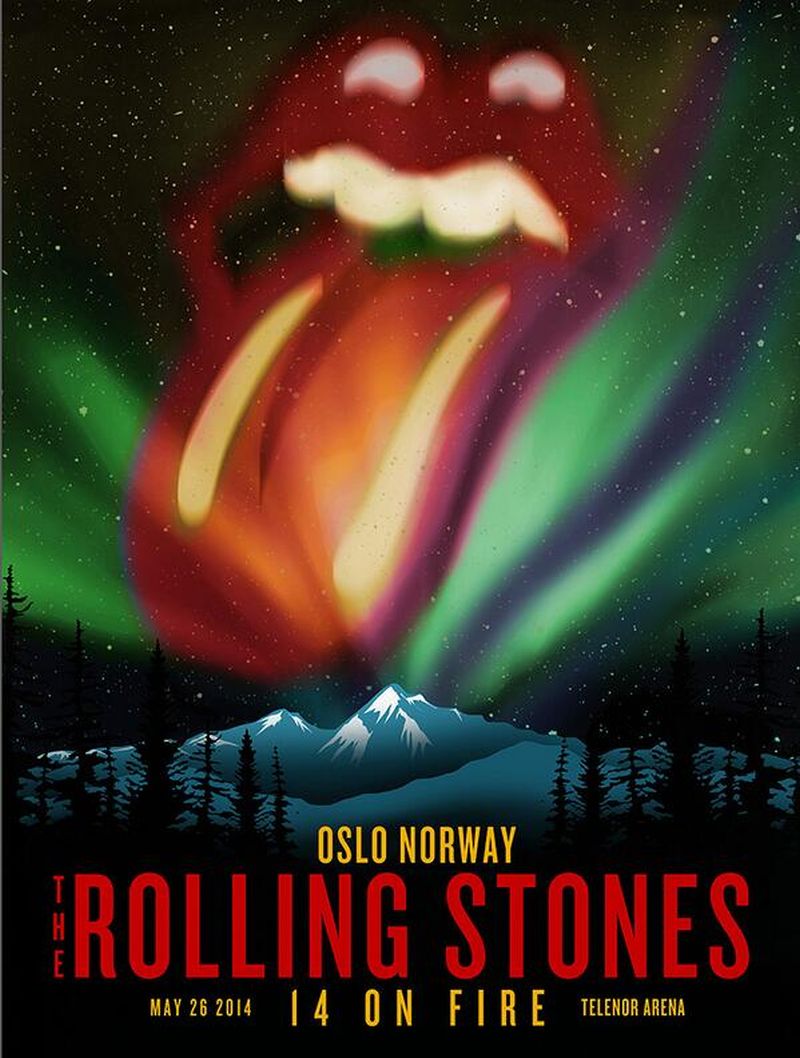 ---
WARNING: Please do not read these pages if you want the Oslo show set list to be a big surprise. This page will tell you about songs they have been rehearsing lately, and they might end up in the set list in Oslo Monday May 26 and/or later on during the Europen Tour 2014...
---
Telenor Arena Oslo 2014 rehearsals
---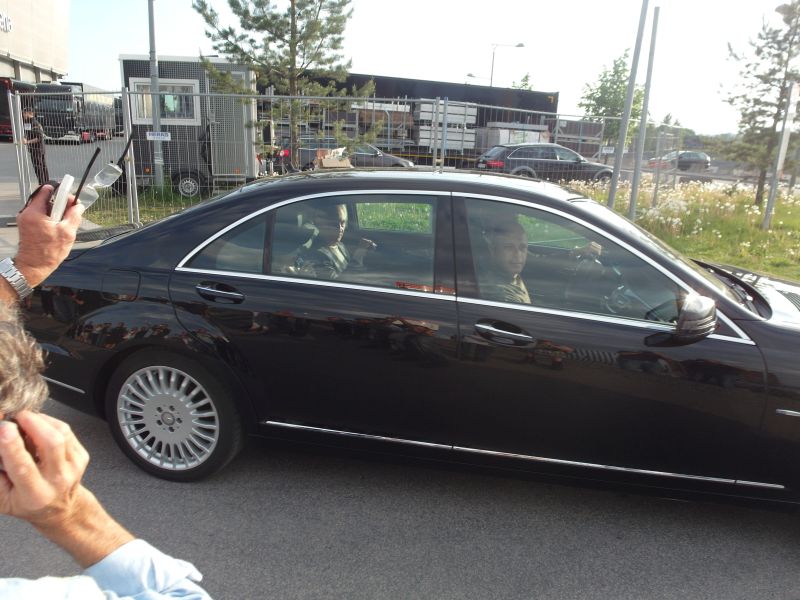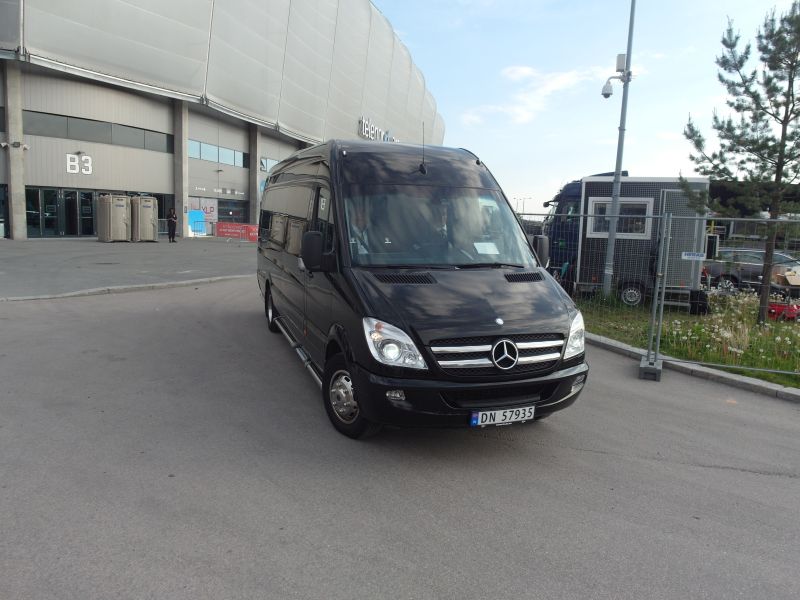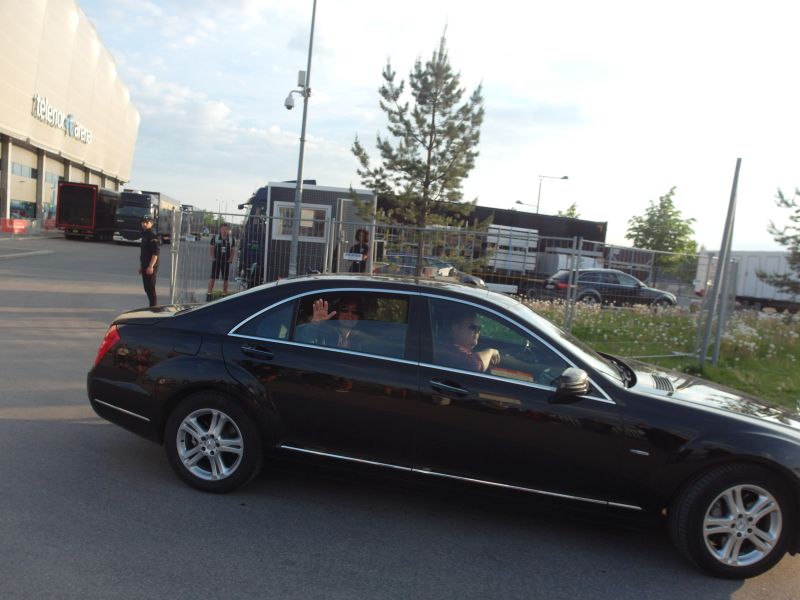 Photos by Bjornulf Vik
---
Telenor Arena rehearsals Friday May 23
Report by Bjornulf Vik Mick was the last one to leave from the extended rehearsals at the Telenor Arena Friday night. And he was the only one to roll down the car window. We were few, and he gave us a big and wide smile. I could read he was ready and he was enjoying being on the road again soon.
Today they did SWAY with Mick Taylor. Before they were ready to do that song Mick Taylor was playing with his guitar. So what happens then? First it was his "Midnight Rambler" intro, then he moved into "You Gotta Move". A great blues improvisation by a great blues guitar player. Then they were all ready and they did SWAY...
We got Worried about you with Mick on the piano. We got a strong and loud and dirty "Street Fighting Man". They did "Dead Flower" because they know Norway must have a country song.
And they did "Can't You Hear Me Knocking". Of course. With Mick Taylor. Of course.
Keith did "You Got The Silver" and "Can't Be Seen". So there will be changes in his set too.
All in all 24 songs with 3 takes of Out Of Control. Including the Mick Taylor blues special.
We were four fans as Mick arrived, and the small group had grown into some 17 fans as they left. Some left for the Peter Gabriel show in Spektrum. I hope Gabriel was good. Personally I biked around Telenor Arena a dozen or two times. And as they had all left, I biked home with a big big smile. I had seen Mick, he was happy, he gave us a great smile, and it is great to be a Stones fan when the band give such great feedback to us, after a long evening of great songs.
By the way, the first fans from abroad started to arrive today, friends from UK and Japan among others. Tomorrow Saturday will be busy.
---
European Tour 2014 rehearsals lists pt. 1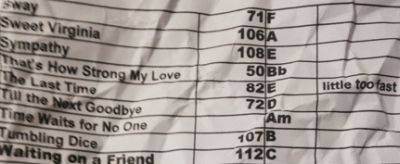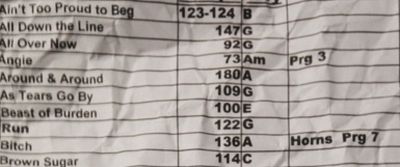 ---
Telenor Arena rehearsals Saturday May 24
Report by Bjornulf Vik The dress rehearsals...
Jumping Jack Flash What a starter! So quick and over almost before it started. At the end of the shows JJF is massive and they can perform it like 10 minutes, but as a starter it simply is a wake-up call. Hey are you still not sure what this is+ It's The Rolling Stones! Then immediately int:
It's Only Rock'n Roll When The Rolling Stones perform in the capital city of IORR i.e. Oslo Norway it is nice they play our signature song, because that's what it is all about. IORR. By that song everybody outside the Telenor Arena - we were around 20 - had move to the best spot outside the house, perfect sound.
Tumbling Dice The show is on!
All Down The Line Say no more.
Worried About You. With Mick on the piano. Not played often. But we say thank you very muck this is the pearl of the show.
Doom And Gloom The brand new song recorded ca August 2012 for the 50 and Counting Tour. It is a hit and everybody loves it. The companion of "One More Shot", but even if "Shot" is now out of the set we get D&G at every show, which is great.
Emotional Rescue Just want and see how the crowd is reacting. Darryl Jones bass groove with Mick Jagger swinging and dancing and the rest of the band rocking along. You might think it is boring but watch it live and you wish it never ends.
Let's Spend The Night Together A classic!
Honky Tonk Women Upgraded to the first part of the set...
You Got The Silver Keith. A great song from this tour.
Can't Be Seen Keith. Last performed during the Steel Wheels 1989/1990 tour, but it seems like it is back now. It was a long wait of 24 years, but it works Grrrreat!
Midnight Rambler Mick Taylor opening the show, and playing duet with Mick on harmonica, also solo. Don't talk to your partner or don't go for beer or don't make a phone call when they play this one. Just keep your eyers and ears open and try to follow every bande member as the song is progressing and it will take the roof of the areha higher and higher, and Mick will ask the other Mick Taylor to keep going and Keith will just smile and be proud of his old band mate and Ronnie will wrap it up in the end so that in case somebody wonder where he was he is still around and making the perfect wraap-up.
Miss You Nobody dance like Jagger, noboly playsd the bass like Darryl Jones, and expect the band to move into the crowd by now.
Gimme Shelter Lisa Lisa Lisa. Be ready for something that might be even bigger than Rambler. Yes. The roar in the crowd will start as Lisa is out there hitting the high tones, and it will keep going until they close the show...
Start Me Up If somebody is still sitting in the house then by now they are up dancing hands in the air.
Sympathy For The Devil Magic.
Brown Sugar I thought it had a different start but I am probably wrong.
You Can't Always Get What You Want Without the choir tonight, but they will be on the stage on Monday. No reason to leave the show early because we are still at the best part.
Satisfaction Yes you can get some satisfaction, and sadly it is now all over. But with two hours of Stones music you have a memory of lifetime, ande if you want more, there will be 13 more shows in Europe, with a TAP flight leaving for Lisbon Tuesday afternoon, the next show after Oslo...
They will do 19 or so songs, which means there will be one more song or so on Monday. There will be a voted song, i.e. the vote on theinternet by fans, and they mightr do a last minute change, but this is a great set list for an opening show!
Little Steven was guest at the rehearsals, and left first. He is often in Norway due to the "Lillyhammer" series, and he says he understand less of us Norwegians every time he comes here. With a big smile always. Charliew was next out. Then Keith, and after a long wait, Mick, smiling and waving to us with an open windoiw tonight too. I am so happy to see he is ready for us, the show on Monday is nexdt for us now. Great Oslo days in IORR home land.
By the way, enjoy the Northern Lights Stones Oslo 2014 poster. It is the sky at night in the North of Norway during winter, with a mountain decoration, and some of our numerous Norwegian spruce trees. A beauty of a poster.
---
European Tour 2014 rehearsals lists pt. 2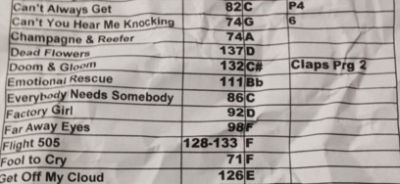 ---
Links
---
Reports please!!!
Please send your comments, reviews, links and more to:

[email protected]
---
This page will change over the next few days, as you and other fans send reviews, set lists and reports. Please send your e-mail to IORR. Thanks! For details and great photos from the Rolling Stones and their World Tour get the IORR magazines.




It's Only Rock'n Roll 1980 - 2014
© The Rolling Stones Fan Club Of Europe