---
These are the latest Rolling Stones news and updates for you! IORR is a non profit fan club run by fans for fans. All parts of the It's Only Rock'n Roll web site is copyright of The Rolling Stones Fan Club. When using information from this site, please include a reference to IORR and the main web address www.iorr.org.
---
---
The Rolling Stones
Air Canada Centre
Toronto, ONT, Canada
Saturday May 25, 2013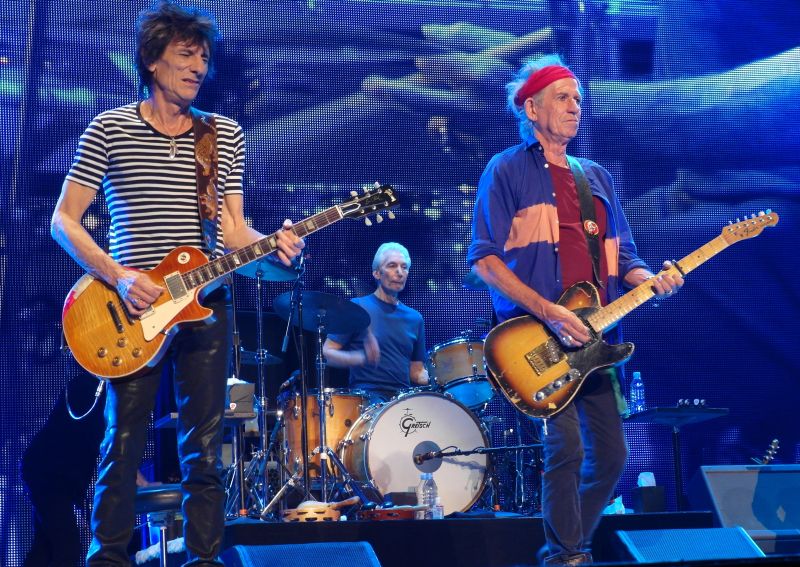 Photo by Bjornulf Vik IORR
---
The set list
Get Off Of My Cloud
You Got Me Rocking
Paint It Black
Gimme Shelter
Angie
Street Fighting Man
Emotional Rescue
It's Only Rock'n Roll (with Carrie Underwood)
Doom And Gloom
One More Shot
Honky Tonk Women
--- Band presentation
You Got The Silver (Keith)
Happy (Keith)
Midnight Rambler (with Mick Taylor)
Miss You
Start Me Up
Tumbling Dice
Brown Sugar
Sympathy For The Devil
--- Band off stage
You Can't Always Get What You Want
Jumping Jack Flash
Satisfaction (with Mick Taylor)
---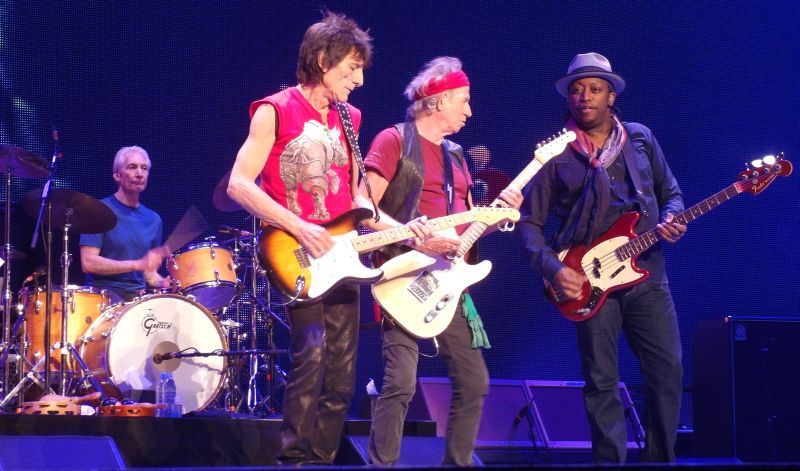 All photos by Bjornulf Vik IORR
---
Review by Bjornulf Vik
I spent weeks in Toronto during the summer of 2005, when the Rolling Stones did the tour rehearsals, so Toronto is sort of my 2nd Stones home. Walking the city on show day you know the Stones are in town all over. Fans with Stones T-shirts in every bar, fans who will not be at the show, but they have been to the El Mocambo and Sarsstock the Oshawa CNIB benefits in 1979 and you name it. Toronto is Stonestown for sure. I met a guy in a bar after the show. He did not go to the show, but he had seen the Stones many times. He wanted so badly to see them do "Happy". I showed him the set list and I could see he felt badly. The guy next to me at the show wanted badly to hear "Angie". So when it came he was really happy. This was a day to be Happy!

The crowd was wild long time before the show started. I have been at shows in Toronto before, where the crowd has been quiet, so this was a big surprise. They were nuts! Big noise. When they hit the stage five minutes before nine the whole Air Canada Centre went bananas. Crowd wise this must have been a show at the Echoplex club show level really. Mick was fueled by the crowd energy so the show went easy for him, and the rest of the band did their job. Charlie with a sudden smile when you don't expect it. Ronnie with not so many joking around side trips at this show thank you, he was concentrated. Keith very focused. And I really like the new version of "You Got The Silver". Two guys in the front, cabeled acoustic guitars, no gimmicks, just "Silver" with Keith &amp& Ronnie...

When they did "Emotional Rescue" I followed Keith closely. I noticed he was focused, in his own world of playing, and then he smiled for himself, like he really enjoyed what he did and what the guitar did on this song. I always thought this was a Mick song but Keith really loved it. Mick was over the hills and far away then, working the crowd from the tongue area. Keith just did his job in his "home groud" close to Charlie.

Mick Taylor "owns" Rambler, that is for sure. He is on his knees. He is back to back with Mick. He is acting on stage like he never left the band. Keith is close to Mick Taylor several times during "Rambler" in a way that is warming the heart of a hard core Stones fan who wish the band well at all times.

It is hard to say what parts of the show that was the best parts, because it was great from start to finish. Normally I don't write many reviews these days, but this was a show I wanted to tell everybody about. Not an obscure set list. Not many fancy guests, in fact the one guest wan't impressing vocal wise. Carrie Underwood is probably a great singer, but it did not add anything magic to IORR. But the rest of the show, all the way up to the final bow fifteen minutes past eleven... Unforgettable!
---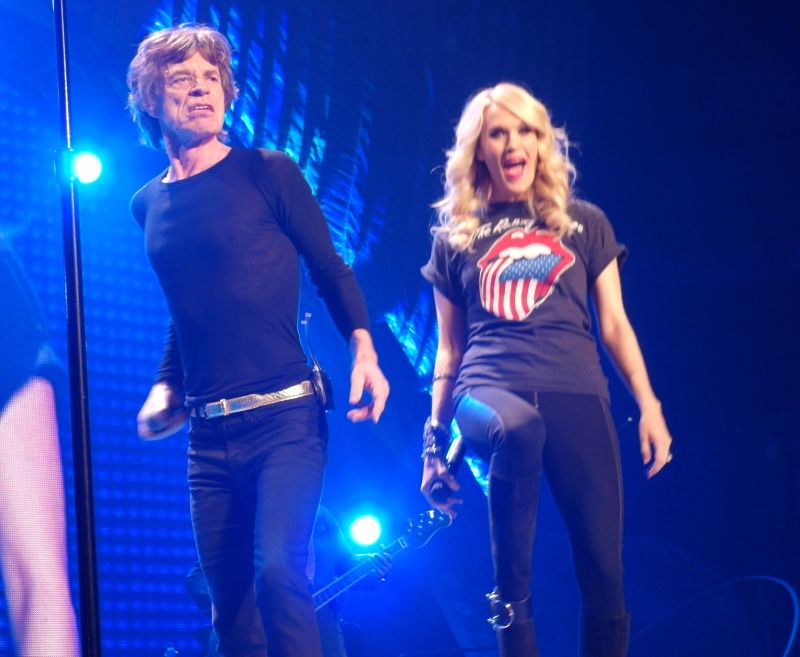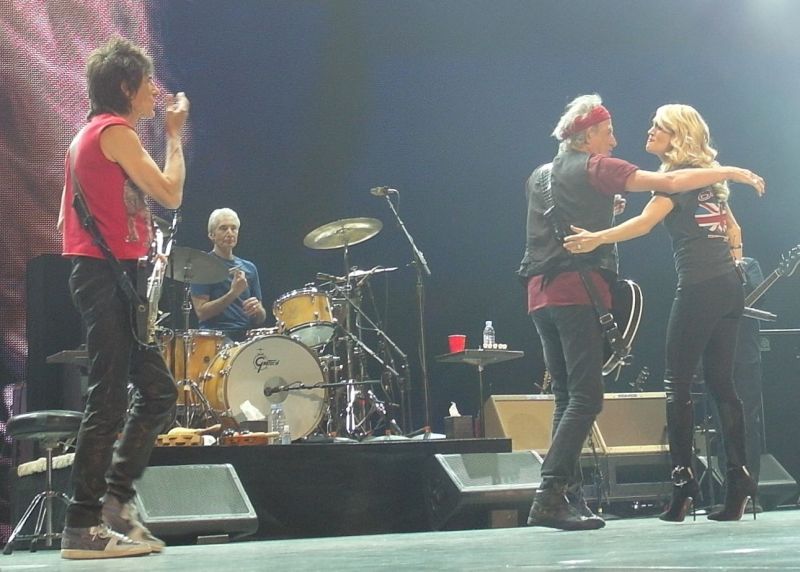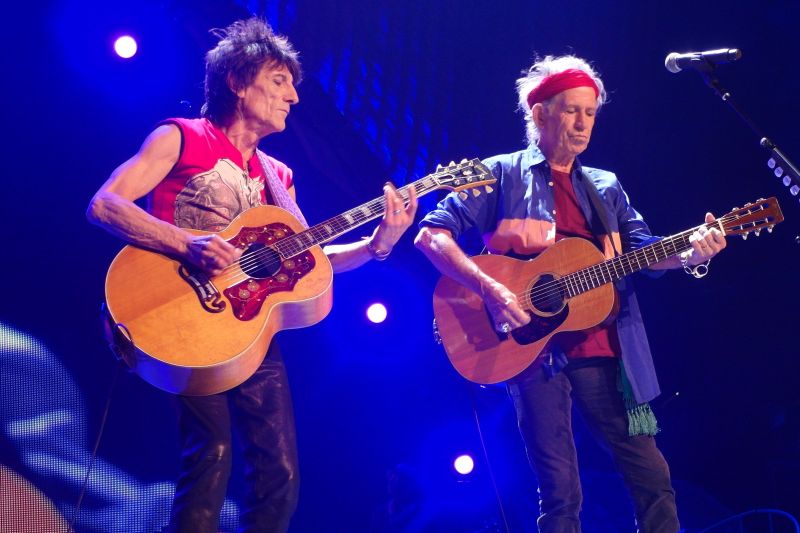 All photos by Bjornulf Vik IORR
---
Review by Karlo Berkovich, Kitchener, Ontario, Canada
A rambling review of the TERRIFIC Toronto show based on my Facebook posts to friends: Just got home, still coming down, though I want to stay 'up' from The Rolling Stones' fantastic show tonight at Toronto's ACC. Guitars were blazing, the band was 'on', crowd was major into it, particularly for a Toronto crowd, band was into it, and Mick Jagger's huge smile at the end of a rip-roaring version of Satisfaction really told the tale - a band knows when it's 'on' and the 'Greatest Rock and Roll Band in the World' was just that tonight. Was in the 300 section, 307, high up but great angle to the stage, great sound, Keef is just ripping it this tour, best he's played in years, Ronnie Wood is 'on' - great lap steel on Happy, super solo on You Can't Always Get What You Want, sorta sloppy on Tumbling Dice but sloppy is part of the Stones' charm, awesome Jumping Jack Flash and Street Fighting Man, Gimme Shelter, 15th Stones show for me and arguably the best ever. Sure they're old, sure the prices are high, but man, these guys, wow. Like 'em or not, worthy of admiration and respect. Rock on and yes I'm a major fan but, well, rock on. Now my dilemma is, do I go see them June 6 again at ACC or leave it at this fabulous show? Of course, that's what I said after seeing them on the A Bigger Bang tour and being front row at the small stage, I thought nothing would top that....have I said, 'rock on'? :-)

I've seen 8 Stones tours since 1978, and also the Concert For the Blind show in Oshawa 1979, missed only the 1981 tour as I was in northern Alberta, every tour other than that since 1978, multiple shows on some tours, saw them at the Super Bowl in 2006 (I covered the game as a journalist but really wanted the Super Bowl coverage gig so I could see the Stones) and tonight - 8 official tours outside of Oshawa and Super Bowl, 15 Stones' concerts overall and tonight was among the best - they were so ON, the guitars were blazing, the sound was fantastic, You Got The Silver with Ronnie and Keith on acoustics was fabulous, you could just tell the band knew they were on, the crowd was the most into it I've ever seen a Toronto crowd, standing virtually the whole show even in the nosebleeds…Jagger's smile when they finished Satisfaction (last song of the encore), love it when the band knows they are on and are having fun...no doubt media reports, as they usually do, will find flaws here and there and sure, there are, but man, people talk about these guys should pack it in and yes I'm a major fan, but arguably the best show I've ever seen them do. They rock!!! can you tell I LOVE this band?

And, I went with a friend, first Stones' show for him, a bucket list thing for him so I wanted the Stones to be good, my pal knows music, is a promoter, he loved the show and as a result I was so happy. And we sat beside this wonderful couple from Brazil, now four-year residents of Toronto, who lived in the south of Brazil so missed the famous Copacabana Beach 2 million people show on the Bigger Bang tour (they saw it on TV in Brazil) and it was their first live Stones' show. The wife said to us, "Hope it's OK if I really get into it" and it was like, of course, I'll get into it too; she did, standing, dancing the whole show, wonderful to see. When you've seen a band many times, and then go or at the show hook up with those who have not, you want 'your' band to be 'on' for them so they are not disappointed and tonight, The Rolling Stones, as they usually are but tonight especially, were really 'on' I thought and I've seen them enough times to know.

Highlights? Too many to count. Mick Taylor on Midnight Rambler of course. Mick Taylor sitting on Charlie's drum riser tapping his toes while playing on Satisfaction. All of it. But if nothing else, the guitars were filthy, dirty, turned up, dominating, like The Rolling Stones should sound. Pure, as my bucket list friend James said. And to him, Lisa Fischer on Gimme Shelter was a revelation as I knew she would be to he who had not heard her, a defining moment for my pal James, but of course we Stones aficionados worship Lisa as we should. And the band knew it, they knew they were 'on', they knew they were, as Keith has said over time, delivering. They did. Rock on, gents.
---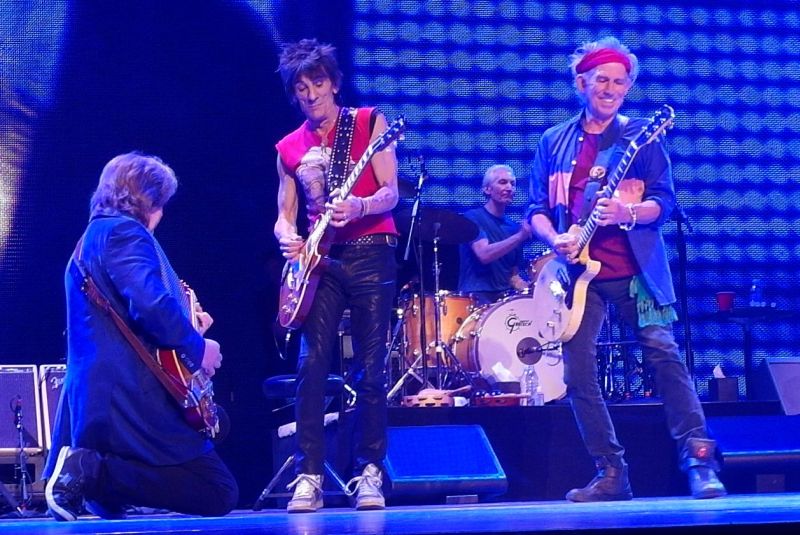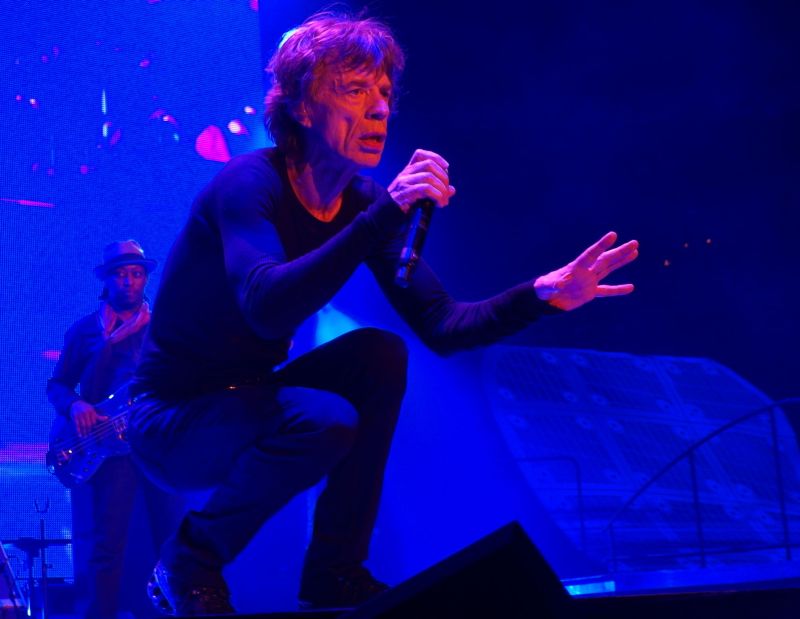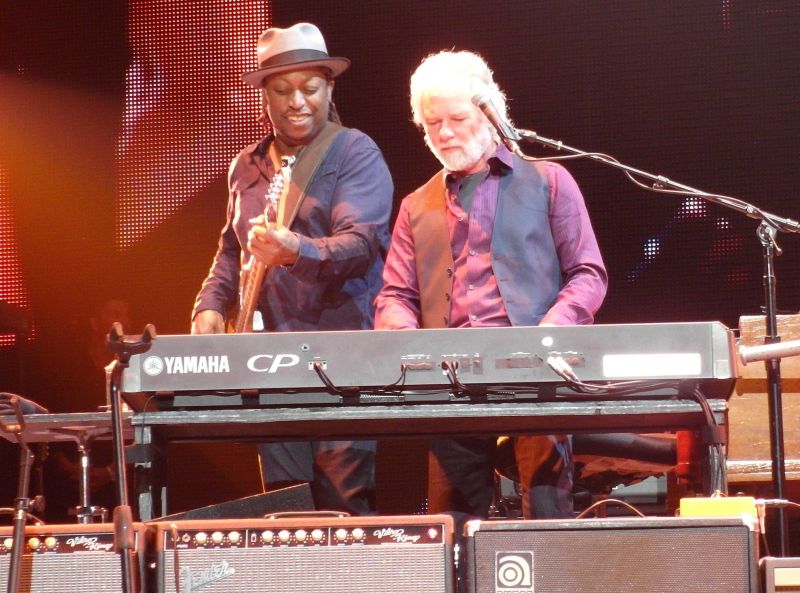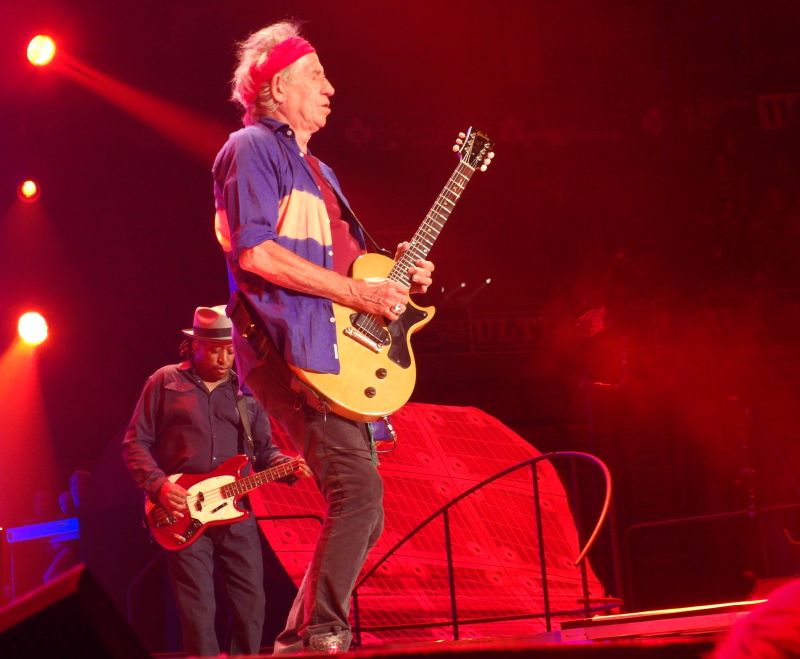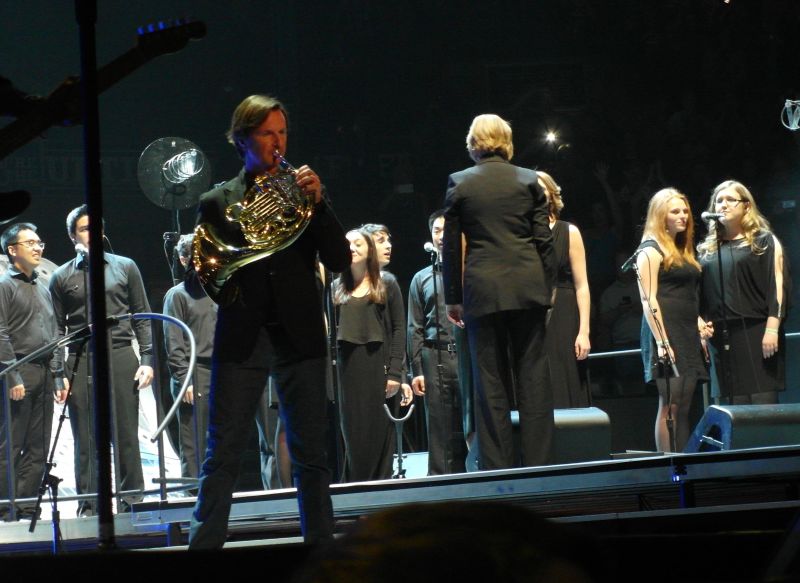 All photos by Bjornulf Vik IORR
---
Review by Richard Campbell
The opening song was one of my old favorites, Get Off of My Cloud. Seeing and hearing them, I realized that this was going to be a powerful show. They never let up. I was especially surprised at how strong Gimme Shelter was. Over the past couple of tours they've butchered it, turning it into a chunky, clunky pop song devoid of energy. This time they added fuel that was ready to explode. The guitars were monstrous and Lisa Fisher added her best vocals to the potent mix. I was in awe. The fan favorite vote was Street Fighting Man. I voted for that so I was happy. Soon enough came Emotional Rescue, a song they've never played live until this tour. It is bass driven with Darrel Jones getting some air time. I loved it.

The show featured a special guest - Carrie Underwood who joined them for It's Only Rock 'n Roll. I found that out yesterday afternoon. She's huge in the country music business after having won the 2005 American Idol competition. Mick Taylor is back to his two song guest routine. He did an incredible Midnight Rambler performance playing against Mick Jagger. It was great fun to watch. He also played in the Satisfaction finale. I had hoped that he'd get more show time but last night I realized something. They don't need him to raise the bar. I thought that would be the case. He adds to the power and I am so glad he's there. But I understand why he doesn't need to be out there the whole time. The Stones are Mick, Keith, Ronnie and Charlie. That works just fine. And they seemed to love being on stage together.

There were lots of smiles going around and I suspect they knew just how on they were. They love playing Toronto and we love them. It showed. While watching the concert I kept reminding myself that we will be back again in less than two weeks to see them. How can I stand it?
---
Photo by Bjornulf Vik IORR
---
Review by Cardiff Giant
The Stones hit another home run, ok, we weren't in the baseball stadium, but the hockey arena in Toronto. As Mick said to the crowd with a smirk, welcome to the Air Rogers Centre...er, Canada Centre.

Brought my wife to her first ever show, and she loved it. We were able to get a nice upgrade on our $85 seats in the nosebleeds, to a great spot on the floor. I'll leave it at that. Amazing!

The theme of the night was loud powerful guitars and a ton of energy as always from Mick Jagger. Simply incredible what this band does at each show.

Get Off of My Cloud gets it started, and then a change-up, with You Got Me Rocking in the #2 spot. Keith was in the groove, and threw in a nice slicing chord in one spot. It's one of those songs that Keith adds a different twist each time he plays it.

Paint It Black went extra long, mainly with Keith continuing to go on and on...Good for him. Mick controls the show, but on this night, Keith took the reins when he could, playing long, maybe getting Jagger mad, but it all seemed to work. Long versions of songs are always good, in my book. I've rarely heard guitars this loud at a Stones show. Thank you! Gimme Shelter, also long, and hot with great licks, and the awesome energy from Jagger, and Lisa Fischer was electric. Keith went over to give her a salute, face to face, at the end.

Angie slowed things down, and was played superbly. Then the fan-vote song, and it was Street Fighting Man....Great surprise! and keeping with the theme, of a loud, long song.....it was searing. Always one of their best songs live. Great to have it in the set.

Emotional Rescue was back in the show, and it sounded fantastic. For me, a Stones show has to have a funk/soul song, and this fit the bill perfectly. Mick ran the falsetto in several verses, in top form. Bobby Keys' sax solo was sweet. Another example, of how this band can play any style, and do it so well. So much credit to Charlie Watts for being the foundation for the groove, with Darryl Jones as well.

Special guest Carrie Underwood came out for It's Only Rock n' Roll, and despite being a bit lost and/or starstruck, she did nail one very memorable verse. The two new songs off the Grrr! compilation were next. Doom and Gloom and One More Shot. I like them both, and One More Shot reminds me of a Keith solo track with the Winos...His opening guitar lines, simple, but with a great feel. Honky Tonk Women wrapped up the first half of the show.

Keith gave us You Got the Silver and Happy. The first being a treat, the second being the classic we all love.

Then, the song that is always a big highlight for me. Midnight Rambler....13 minutes this time around. From the first riff by Keith into Mick's harmonica, they get into that pocket, and it's so good. Mick Taylor is effortless in his solos, always making it different each time, fast notes just rolling off his fingers. He would duel with Jagger....guitar and harmonica, coming together. Jagger fed off the crowd and the heat from the three-guitars. He did kicks, and spins, a mini-Karate Kid kick, so entertaining. He dropped the "hmmm mmm" lines real deep. Taylor filling those spots with little runs on guitar. The song is always so full and rich.

Miss You was in a groove...Mick played harp... Mick, Keith and Ronnie came out to the tip of the tongue. Then at the end, Keith went over to Lisa and Bernard to hang out, with big smiles..

Start Me Up, Tumbling Dice, Brown Sugar... powerful and fun, the crowd eating it up.

Sympathy for the Devil had Keith absolutely blasting, and he did a full lap on the tongue walkway. Can't say enough about the volume and power of the guitars all night.

The encore of You Can't Always Get What You Want had the great live choir, and Ronnie with a big solo with great control, it was a real treat. Jumping Jack Flash was full of Keith's guitar, and all the arm jerks and leg kicks. Then to end the night, Satisfaction had a wild start from Keith up and down the neck of the guitar and then into the opening riff. Later in the song, unique rhythm lines from Keith, out on the tongue, loud, and with the body movements, going to the rhythm. He would make eye contact with fans and let them know he was showing off in spots.

Final bows, and as they walked off, Keith and Charlie had a huge laugh... Very animated. Charlie with a big smile and bright eyes as he waved to the fans and said thank you.

There were times in the show, where Keith was just steamrolling through, blasting, and it was great to see, even if it made songs teeter on the edge of being a mess, they never fell apart. He was playing on feel, and also going all out on big powerful opens to songs. Smiling all night. He knew exactly what he was doing, and having a ball doing it. If anyone has a free pass to just hammer away, it's Keith Richards! Mick gave a heartfelt thank you to Toronto for coming to so many shows through the years and supporting the band in a city that has become a second home. 50 years in, and with ages near 70, or over, the Stones are simply brilliant as the true originals of rock. The style and schedule of this tour fits perfectly.... not being overworked, they are able to lay it all out there with each show. Physically, mentally and musically, they are marvels. All styles, all eras from their catalog of songs. It is a joy to watch and listen to them live. My ears just stopped ringing, 24 hours later. "Give me One More.....One More Shot.".... and another, and another.
---
Review by David Hart
It's been a full day now since I attended the Stones May 25th show at the Air Canada Centre and I've had time to digest/absorb it all. For the record this was my 30th show since 1975; having seen them in Toronto and Buffalo 1975, the infamous El Mocambo show March 5, 1977, the early show April 22, 1979 in Oshawa for the CNIB concert, Pontiac Silverdome in 81, 7 shows during Steel Wheels, 6 shows during Voodoo Lounge, 3 during Bridges 2 B, 3 shows for No Security, a great show in Amsterdam in 98, twice in 2002 and Ottawa in 2005.........

I attended with a long-time Stones mate and we were in the 310 section high up on Ronnie's side...quite different from the glory days when we were regularly in the front sections on the floor including one unforgettable night beside the stage in the El Mocambo.....

Nonetheless it was a surprising night.........I was afraid to set my expectations too high ....but from the opening moment with Get off of My Cloud I felt myself swept away...........You got me Rocking was a somewhat disappointing (for me) 2nd song but it was performed very well and Keith was on fire..........the guitar mix as mentioned in some of the other reports ....was fantastic.......gone was the 'orchestral approach' of recent tours....and replaced by stripped down arrangements based on the 1978 tour approach.....dirty and raw!!! ....as it should be......

Although Keith seemed to struggle with the opening of Gimme Shelter (arthritic hands and all) the band pulled it off with incredible power and Lisa stole the show......Jagger fed off her energy and the crowd went bananas!

Jagger did not miss the opportunity to poke fun at the political scandal involving the Mayor of Toronto ....that and his messing up the name of the Air Canada Centre (he called it the Air Rogers ....I mean Air Canada Centre)

I had high hopes Mick Taylor's presence on stage was on the 'up-swing' after his 4-song performance in LA but alas it was not to be................despite my 30 shows....this was actually the first time I had seen Mick Taylor live as a member of the Stones......it was quite a surreal moment for me.........I had seen Taylor up close in Ottawa in 1987 and 2003 and he actually used my Fender Twin amp on stage (and signed it) during the 2003 show when his own amplifier gave out.........his performance on Midnight Rambler in Toronto was spectacular and this version was one of the greatest I've ever heard................not quite as good as Ya Yas (69) or Bedspring Symphony (73) but "close".....

I thoroughly enjoyed You Got the Silver.....lovely, simple acoustic version reminiscent of Jagger and Richards on stage in Oshawa April 22, 1979 playing Prodigal Son......

It was cool also to see Jagger playing acoustic on the opening section of You Can't Always Get What You Want....loved the Cawthra High School choir .....great job guys!!

For some reason (maybe I was projecting my own frustration about the lack of Taylor's contribution?) I felt there was some 'tension' on stage between Taylor and Jagger.........it seemed to me that Jagger was upset by Taylor's sitting on the drum riser during Satisfaction.........anyone who saw the final bow with the 5 Stones couldn't miss how quickly Jagger pulled himself away from Taylor and walked away ..............anyone else notice this???

All in all, I was happy I attended................prior to the show I had fears that this might be the Last Time I see them and that it would be a big disappointment given all the great performances I've witnessed over the years.......

Here's to hoping the tour continues to build momentum and that they will find a way to be more inclusive (whether they think they need him or not....) with Mick Taylor.............so far (in my opinion) NONE of the so-called 'guests' at any of the shows so far...has added as much to the excitement of the show as Taylor has............what would be wrong with building in a 3 song "Taylor guest spot" each night and featuring him on tracks like - Sway, Winter, Can't You Hear Me Knocking, Moonlight Mile, Time Waits for No One, Silver Train, Ventilator Blues, Little Queenie .....I could go on and on......but you get the picture.......
---
Review by Denis Bussiere
My girlfriend and I were there last night in Toronto (May 25th), it was her first Rolling Stones concert and it was my 6th show. It was her BEST SHOW EVER regardless of the band and with me it's right up there with the 'Some Girls' show I saw in Buffalo in 1978. Yes, we were in the nose bleeds BUT everyone was standing and INTO IT for the greater part of the show. Great set list, I got to hear my favorite song STREET FIGHTING MAN (she didn't get her wish ROCKS OFF; they have SO MANY GREAT SONGS). Toronto crowd was great (we are from Gatineau, QC). I will be at the Montreal show, can't wait!
---
Review by Adam Kowalik, Akron NY
Honestly the best concert I had ever been to. Sound was very clear and the guitars were very loud.

Get Off Of My Cloud - Sound started a little low but everyone was digging it.

You Got Me Rocking - Surprised to hear this one second, but I actually love the live version of the song. Keith's solo was good and he hit the intro riff amazingly.

Paint It Black - Drums were very loud, you could feel the floor shake

Gimme Shelter - Lisa was amazing, Song sounded great

Angie - Biggest surprise of the night for me, did not expect it, I thought it was going to be Ruby Tuesday when I saw Keith's acoustic guitar.

Street Fighting Man - Request song, I voted for it because it was one I always wanted to hear them do. I knew we were going to get it before Mick announced it because I saw the capo on the 4th fret of Keith's guitar when it was handed to him.

Emotional Rescue - From the recordings I heard from previous shows I really wanted to hear it live and was glad they did it. Crowd all around me was singing and When Mick said "I Will be your knight in shining armor," the crowd laughed.

It's Only Rock N' Roll - Great version and I thought Carrie did a great job.

Doom And Gloom - Always exciting to hear a new song live

One More Shot - Fun to sing along.

Honky Tonk Women - Really got the crowd going crazy, bright lights lit up the whole arena.

Band Intros - Love how Mick pushed Charlie to the front of the stage.

You Got The Silver - Amazing, Loved hearing it. The first full song Keith sang on lead vocals with the Stones.

Happy - The Highlight of the night for me, I have wanted to hear the man sing his signature song in front of me since I first became a fan. Keith thanks for making me HAPPY

Midnight Rambler - epic with Mick Taylor, no words to describe how good it was

Miss You - got the whole arena singing, Nice harmonica solo by Mick and Sax solo by Bobby, Amazing solo by Mr. Jones.

Start Me Up - Very loud and the crowd went crazy.

Tumbling Dice - I thought it was the perfect tempo. Sound was great

Brown Sugar - Very clear version and spot on

Sympathy For The Devil - When Keith came in with the first chord it was so loud his band mates all jumped. Keith's solo was amazing all the way through. The Best version I have ever heard of this song.

You Can't Always Get What You Want - Really nice to have a choir join in and the band played it well light on the guitars and Mick came in strong.

Jumpin' Jack Flash - Extremely loud and mean just a rocking version.

(I Can't Get No) Satisfction - Loud and clear It actually could not have been more perfect.

The only time I heard Chuck was a little on Street Fighting Man, Angie and the solo on Honky Tonk Women. The Guitars dominatred tonight and the volume was perfect Mick, Keith, Charlie and Ronnie were all equaly as loud, one did not over power the other unless it was a guitar solo. everyone should see the Stones at least once in your life time, because part of your soul is missing if you don't. For me this was the second time.
---
Reports please!!!
Please send your comments, reviews, links and more to:

[email protected]
---
This page will change over the next few days, as you and other fans send reviews, set lists and reports. Please send your e-mail to IORR. Thanks! For details and great photos from the Rolling Stones and their World Tour get the IORR magazines.




It's Only Rock'n Roll 1980 - 2013
© The Rolling Stones Fan Club Of Europe