---
These are the latest Rolling Stones news and updates for you! IORR is a non profit fan club run by fans for fans. All parts of the It's Only Rock'n Roll web site is copyright of The Rolling Stones Fan Club. When using information from this site, please include a reference to IORR and the main web address www.iorr.org.
---
---
The Rolling Stones
Theatre Mogador
Paris, France
Monday October 29, 2012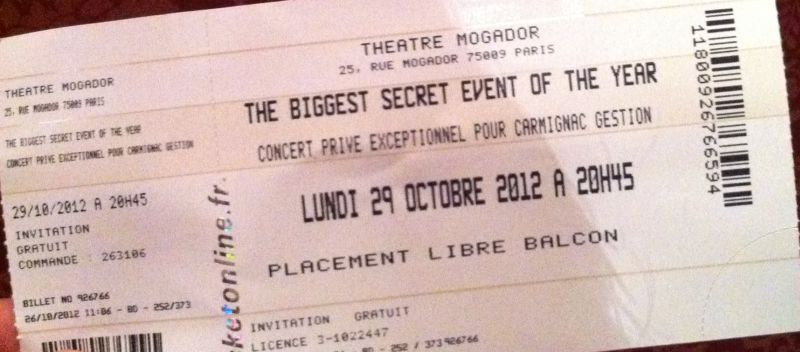 The set list
It's Only Rock'n Roll
All Down The Line
You Got Me Rocking
Tumbling Dice
Miss You
You Can't Always Get What You Want
Doom And Gloom
Midnight Rambler
Start Me Up
Honky Tonk Women
Jumping Jack Flash
Brown Sugar
Review by Tony Little
The Biggest Secret Event of the Year
The tour hasn't even started yet and I've seen them twice! I consider myself to be very lucky, having seen the Stones in Trabendo an now in Mogador. Two completely different experiences but for me two great shows.
This was a special night. The combination of a small venue and a private gig made me as determined to see it as the Deutsche Bank show did. The combination of confidence, sheer will power and luck enabled me to witness the show from within the theater.
A lot has been written about doing a show for bankers. I just feel sad that people expect musicians to be idealists who give away their art for free. Nobody wants to pay for their basic form of art - the music which used to be sold in tangible formats. Now the last bastion of their income - live performances - are under scrutiny from die hard fans who consider themselves to be representative for the general population (read my judgement through the lines). They are not the only ones doing it, in fact the entire industry thrives on private entities hiring artists for entertainment. In good German that is called the 'schnabbel circuit' and is the bread and butter of any artist. To me the discussion is useless. It's like discussing the price of an iPhone. We not living in communist countries so the market decides what is the right price - albeit the price of the ticket or the price of a private booking. An observation made earlier by someone born in the former Soviet Union. Spot on.
Anyway, on with the show. In Trabendo it was 'up close and personal' and in this show I got a bird's eye view of the show. Overview does give you the advantage of seeing and hearing everything in a coherent way. I am in no way capable to judge the quality of the Trabendo as a whole but the fact that I could touch Mick's shoes there all the time if I wanted says it all.
The only real noticeable difference I feel I can make, is the appearance of Keith. In Trabendo I was very worried by his fragility in on stage appearance and play. Last night he already looked more confident, was moving around a lot more, and at times was really hitting the guitar as hard as I can remember seeing him do since my first show on 26 may 1995. He needs a few more shows to reach a level of comfort enough to please his criticaster die hard fans, I'm sure.
The Stones in 2012 are different from the band I've seen before. The stripped down setup really forces them to work closer together, and musically this is great. Personally I have never cared about the setlist. It doesn't matter what they play, to me it matters how they play it. And the how was fantastic last night. I want to single out one song to illustrate this - Rambler. This song has always been a strong one in previous tours, but this tour it will be the star of the show, and they put all their souls into it. (also considering Keith's comments on this song in Crossfire Hurricane - this is the song he basically wants to be remembered for). Last night I must say for a couple of reasons this was the best performance of the song I've ever seen. Strong guitars from the beginning, Mick prancing and dancing all over stage to build suspence, looking as young and fit as ever (the only thing missing was the omega shirt - otherwise it could have been the 1969 Mick being teletransponded over). Then the slowed down bit. Real slow, and less guitar behind Mick's creeping lyrics and Charlie's 'bombs', and longer than ever pauses. Then the suspence building till the fast final of the song - all in perfect harmony. It is hard to express what is going on during this song as it is about feelings of magic. Hard to translate into words;-)
This setup does imply harder work for both Ronnie and Mick. Charlie is the reliable factor, Chuck and Darryl literally containing the band from left to right on stage, all in support of Keith. They are making the most of a delicate situation. Yes they are old, yes it is obvious that Keith especially is not the old Keith anymore, but I think this new set up works fine. They are building their confidence that this works for them and the crowd with a couple of small shows - so far nothing new during this tour.
YCAWGWYW was nice to hear in that respect, as the arrangement had to be changed. The stripped down version actually sounds great in my opinion. Here Bernard on backing vocals (and Chuck) delivered the right level of support to replace the choir, and Ronnie carrying the song with lead and solo, while Mick supports the rhythm with acoustic guitar in the early part of the show.
You can leave it up to Mick to build the atmosphere. He is the best front man in the world, capable of engaging the audience to ecstatic levels. Last night he worked on that part with energy reminiscent of the 1969 tour. Addressing a French crowd in France usually does the trick, but making jokes at the expense of socialists really does go down well in this crowd. You can think what you want of Mick doing this - but it works in loosening up the crowd and getting them engaged into the show, while singling out Mr Carmignac as the great benefactor to all invited. The people on the balcony and from what I could see on the floor, were standing and cheering most of the show. I have seen things very different in so called 'fan dominated' shows in MSG and O2 where sitting down during the show seems to be the norm - another sad prejudice by people judging a crowd they have not been part of. To illustrate that point further: the crowd at the Deutsche Bank show really rocked! Regardless of job or wealth level, people going to a Rolling Stones concert are excited as anyone to see them and will leave the venue thinking they have seen a great performance, have something to talk about with their friends and family, and move on with their lives. I suggest more people on this board do that too.
From where I was seated it looked like a full house. Reports about empty seats or that 200 seats were unfilled are not correct in my opinion but merely substracting the 1600 from 1800 (two capacity numbers reported out there). I was happy to see more familiar faces inside. Each of them probably having worked their asses off to make it, just like I did.
---
Reports on the IORR forum
Mogador secret club show reports
---
Did you send an e-mail to IORR that you did not get any reply to? One e-mail got lost y accident Friday morning so please send your e-mail one more time if you are missing a reply or respons. Thanks!
Reviews please
Please send your comments, reviews and more to: [email protected]
---
Press reports and links
---
This page will change over the next few days, as you and other fans send reviews, set lists and reports. Please send your e-mail to IORR. Thanks! For details and great photos from the Rolling Stones and their World Tour get the IORR magazines.




It's Only Rock'n Roll 1980 - 2012
© The Rolling Stones Fan Club Of Europe