---
These are the latest Rolling Stones news and updates for you! IORR is a non profit fan club run by fans for fans. All parts of the It's Only Rock'n Roll web site is copyright of The Rolling Stones Fan Club. When using information from this site, please include a reference to IORR and the main web address www.iorr.org.
---
---
The Rolling Stones
O2 Arena
London, UK
Thursday November 29, 2012
The set list
Get Off Of My Cloud
I Wanna Be Your Man
The Last Time
Paint It Black
Gimme Shelter (with Florence Welch)
Lady Jane
Champagne and Reefer (with Eric Clapton)
Live With Me
Miss You
One More Shot
Doom And Gloom
It's Only Rock'n Roll (with Bill Wyman)
Honky Tonk Women (with Bill Wyman)
--- Band presentations
Before They Make Me Run (Keith)
Happy (Keith)
Midnight Rambler (with Mick Taylor)
Start Me Up
Tumbling Dice
Brown Sugar
Sympathy For The Devil
--- Band off stage
You Can't Always Get What You Want
Jumping Jack Flash
Satisfaction
Show start  :  8:20pm
Show finish : 10:45pm

---
See the IORR Tell Me forum the live comments and pictures from the show here:
Show number 2: London O2 Arena Nov. 29 show updates
---
Report by Bjørnulf Vik
I am speechless! I was sitting on the tube. Watching all the smiles on the faces of the people around me. The Rolling Stones had just given me yet another great show. And I was just smiling! So did everyone else on the tube. I was thinking: "What is there to say about this show?" I am speechless...

The first show on Sunday was a bit rough, and they had breaks between the songs at times. They were running out of time, and they had to cut it short, by removing "Lady Jane" and "Satisfaction" from the set list. Today Mick promised us the complete set list, and we got it!

The first four early 60's songs are simply a joy listening to. It makes me warm and relaxed. Gimme Shelter I need a book to talk about that song so I will leave it to others. "Lady Jane" - beautiful, acoustic, touching, it's been a long time since we played that one said Mick. Play it again, it's just beautiful!

Eric Clapton so much better as a guest artist vs Jeff Beck on Sunday. Eric was respecting the band and played with greatness and pride. He did not need to overshadow any of the Stones to be great.

Bill Wyman and Mick Taylor. Like on Sunday they melted in like they never left the band. But when Darryl Jones is back to do his Miss You solo I understand the band has changed a lot since Bill did his final show Augsut 1990. And Keith is still above anyone as soon as he take the stage with his lead riffs.

It is impossible to compare shows, but there is a rule that is still valid... The 2nd show is always more relaxed, and the show tonight was just like that... Relaxed, great, ... I am speechless still...
---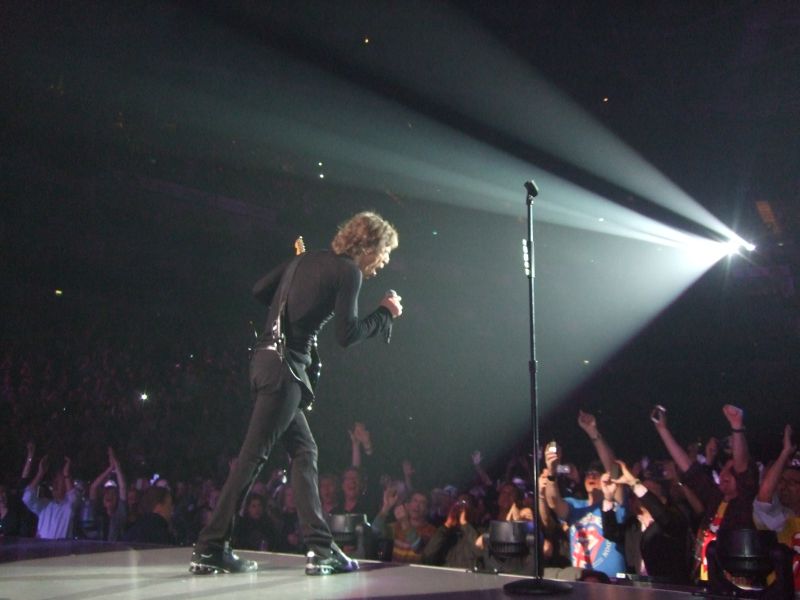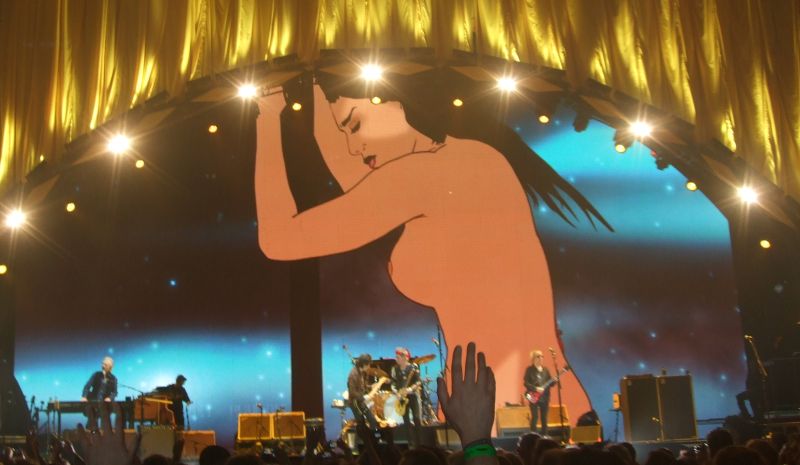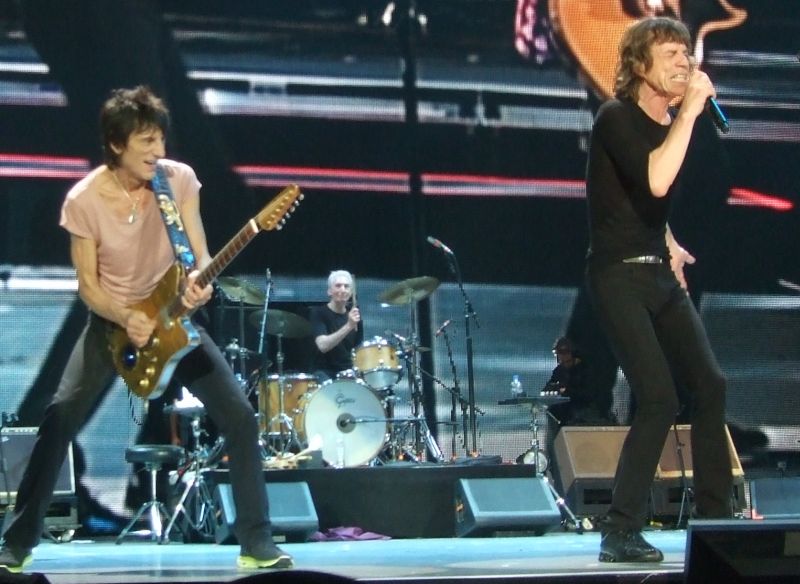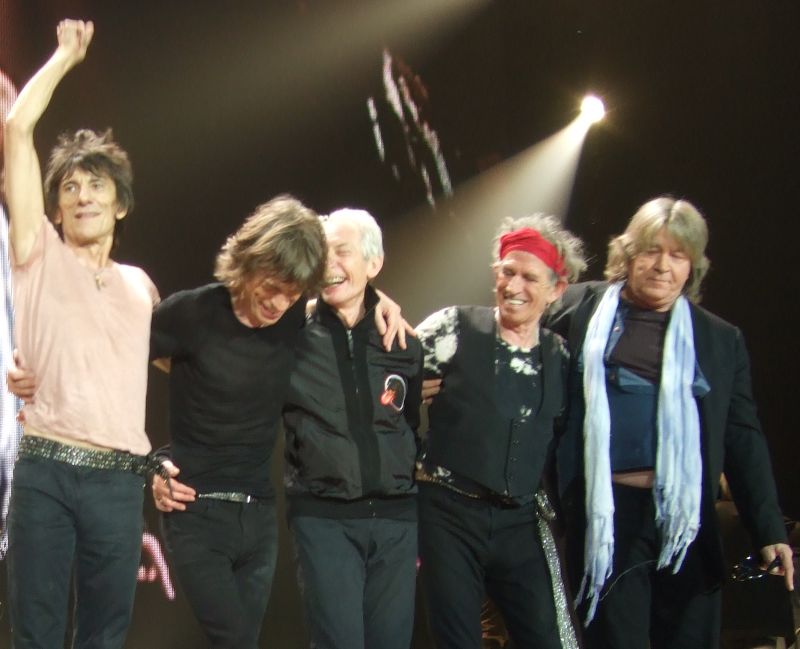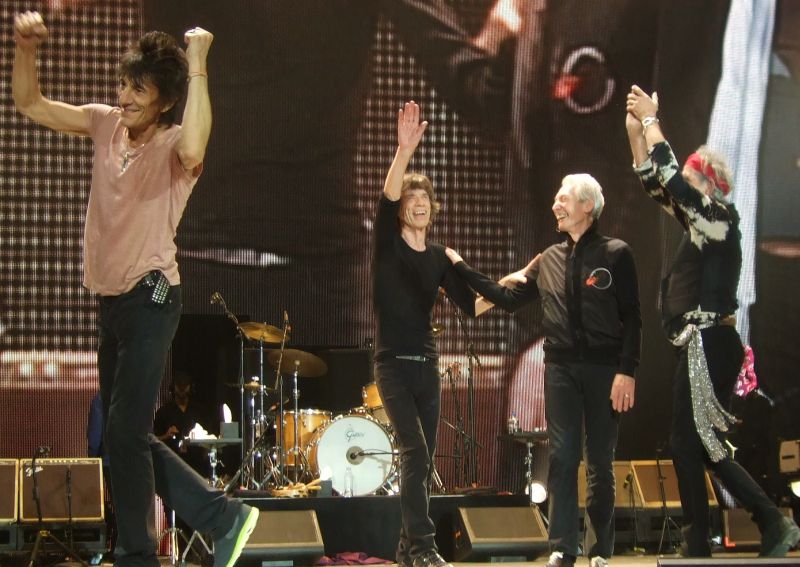 Photos above by Bjørnulf Vik.
---
Report by Gricha Safarian (Vietnam)
Going to a Stones gig is a process. It starts weeks before the show, with a tendency to replay all kinds of Stones track from early morning to dawn. It never miss, even after 50 years, one still find out a few details here and there that make all their recording a never ending discovery.

A few days before the show, the idea that you are going to be there gets in your mind. A mix of anxiety ("What if I don't like it this time, after all I've seen them so many times since 1973, will they disappoint me this time?"), excitement ("M'I really going to see the Stones again?") and plain pleasure with the process of discussing with others fans from around the world (Hello Mamiko!) who will and who won't be there?!!

Then comes the day of the trip. At this stage, you are already in the concert somehow, your blood and every cells of your body are STONED, the music continuously flow in the brain, the rest of the world can start collapsing now, I totally don't care, I'm going to see the Stones!!!

So I board my flight in Saigon, direction Hong Kong to pick up my connection to London. In Hong Kong, at the lounge I see a strange guy. It takes the time for him to leave the lounge and pick another flight to London before I realize it was Boy George. Hum, I forgot to ask him if he would be there tomorrow night @ O2.

Cut short to the show, it's all over now, I'm exiting O2 already and, I don't know, I don't dare to say it, it's unbelievable, they manage to surprise me again. I have just seen the Stones performing one of their best shows ever, so professional, at the top of their art, and still enjoying themselves so much. These guys are not human beings, no way!!!

They kept the band in minimalist setting. It's only them or mostly them and a few guests. The real thing. One lead singer, two guitars, a bass and a drum. This is pure Stones music. I love it.

The show did not take off immediately and at first, they went through the set list a bit slowly, some kind of natural energy was missing, stress was there, one could tell. That was until Florence Welsh join the stage for Gimme Shelter. Hum, Mick is not lacking energy after all. And then the concert really takes off and we go to such altitude that the landing won't be soft.

Comes Clapton, I don't really like him, too technical, but he gives a great performance. Clapton solo, Ron solo than, the first really big move of Keith. When his turn comes, he give us a few riffs with a face saying "OK he might be god but I'm Keith Richard! Here you are, take this!".

I will also give a special notice to Midnight Rambler with Mick Taylor. Of course every Stones fan as a benchmark here, the "Get your Ya-Yas" version. Well, you know what, they manage to do better!!! No kidding. In the middle, when they slow down, there was a real moment of perfectness in the tempo, a communion between the three guitars and Mick, one of the greatest moment of the show if you ask me.

Too much to say, I'll stick to this. Is it my best Stones gig ever? Might be after Brussels Affairs but then I'll have a few more chances to do a benchmark in New York.

Thanks Stones…. You changed the world, you changed society for the better and 50 years later you are still working hard. Respect.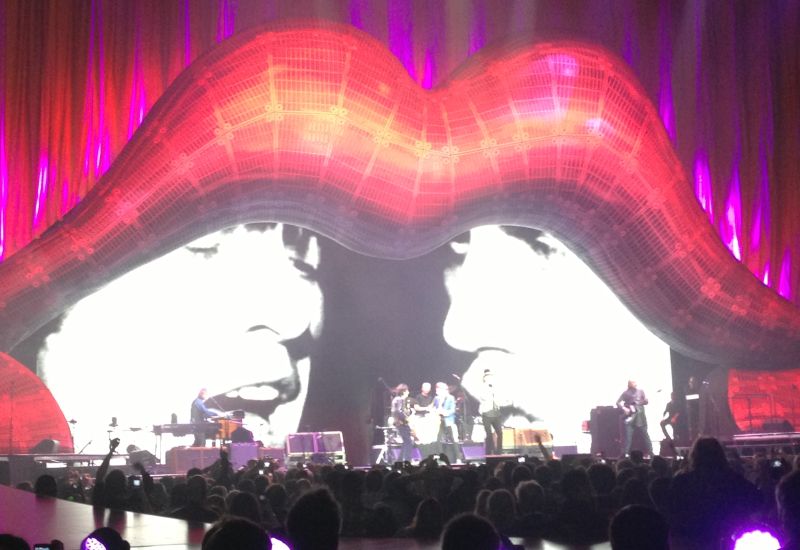 Photo above by Gricha Safarian
---
Review by Hendrik Mulder (Holland)
Just came back home after an amazing night with the Rolling Stones and my 15 year old daughter who has a smile on her face for the last 24 hours. We got our green wristbands just before 18.00; had to wait for a few minutes and then the gate went open. Some walking and running and a few minutes later we entered the pit, picked our spot, front row, exactly in the middle....

Everything was so unreal: within 2 hours the Stones would be in front of us and my daughter would experience something she will never ever forget: witnessing the greatest rock and roll band in the world..up close, alive and kicking!

The show was amazing, great setlist, unexpected opening song (Get Off Of My Cloud), Lady Jane, Clapton on Champagne & Reefer, Bill Wyman steady on bass, Taylor loud on a 12 minute version of Midnight Rambler, You Can't Always Get What you Want with choir and 3 encores.

Great to see that Keith and Ronnie played really well; obvious to see that they really want to put down a great show and they did! Jagger again referring to the expensive ticket prices: "we had to pay at 100.000 GBP fine......well, that's only 10 seats..." Yes, tickets were expensive but tonights show was a priceless experience and definitely worth every penny!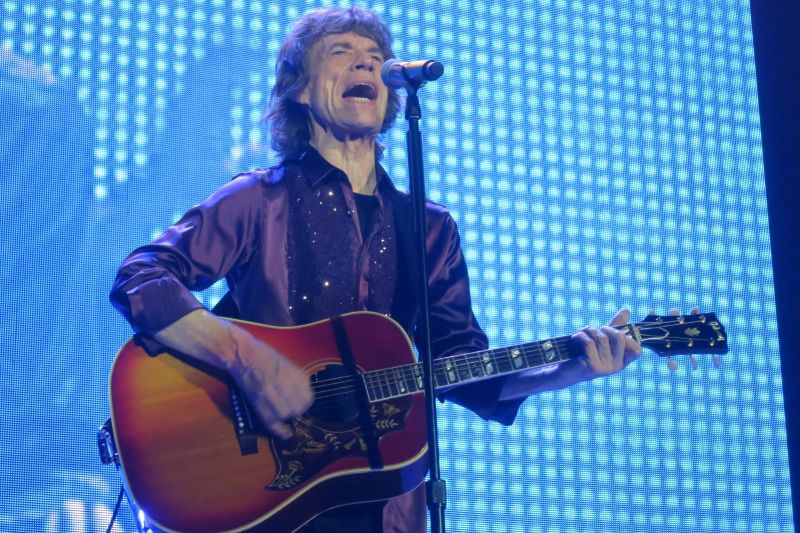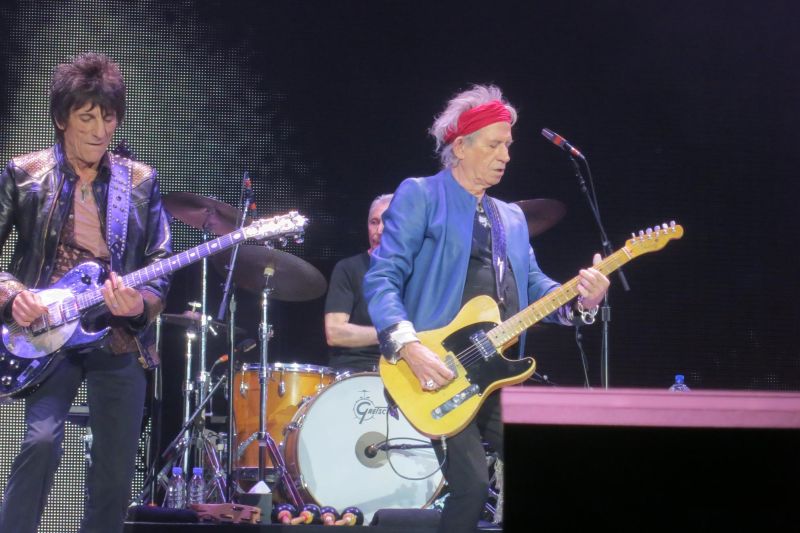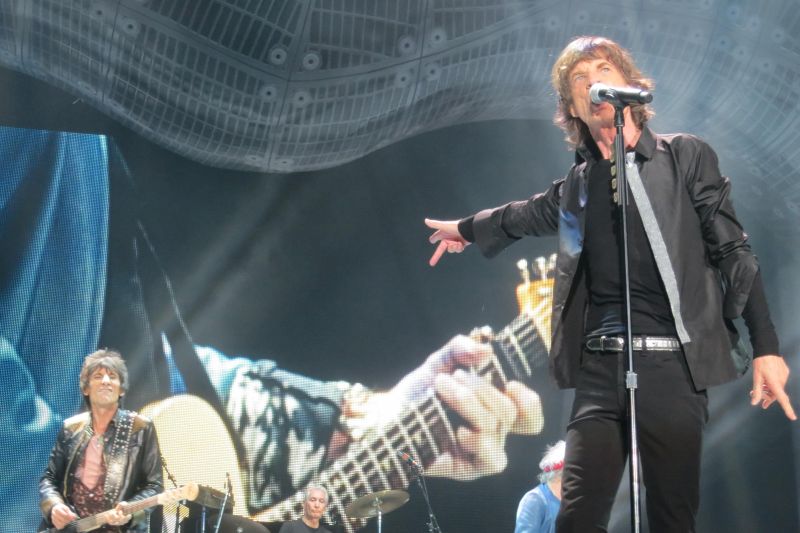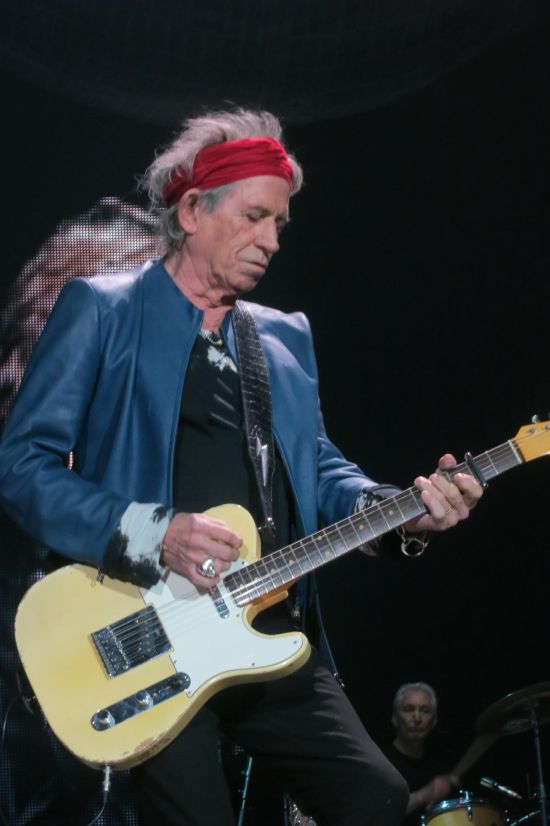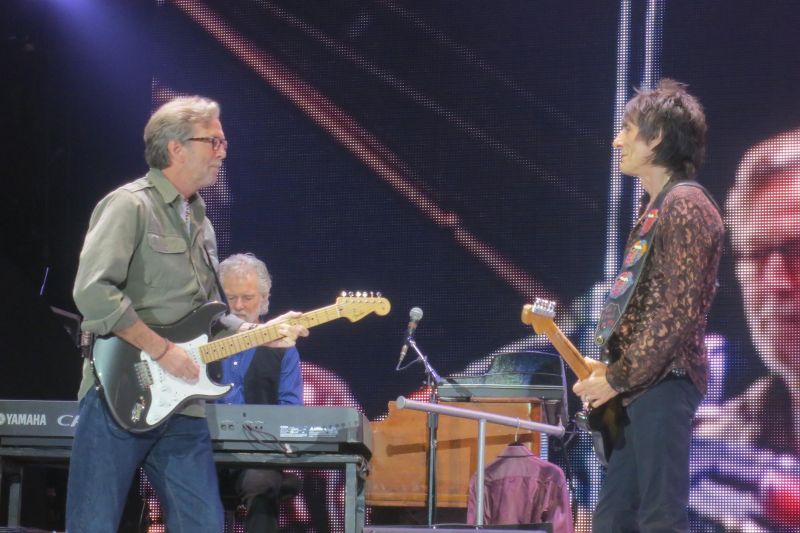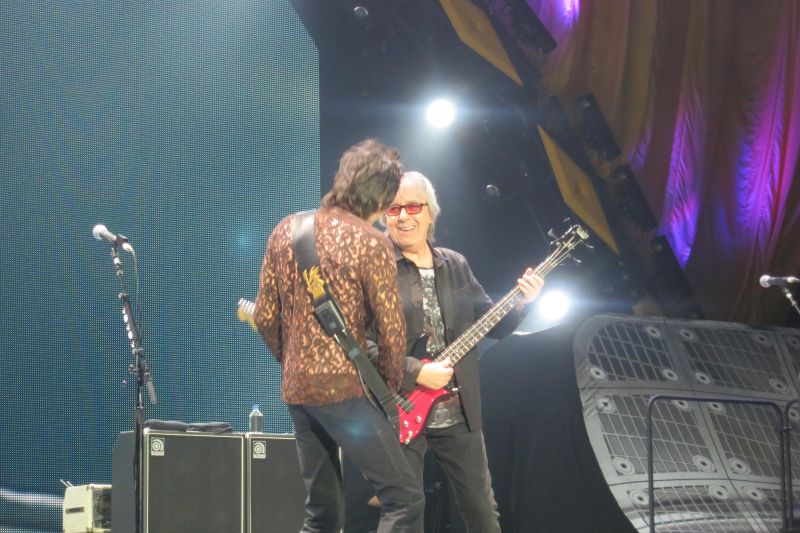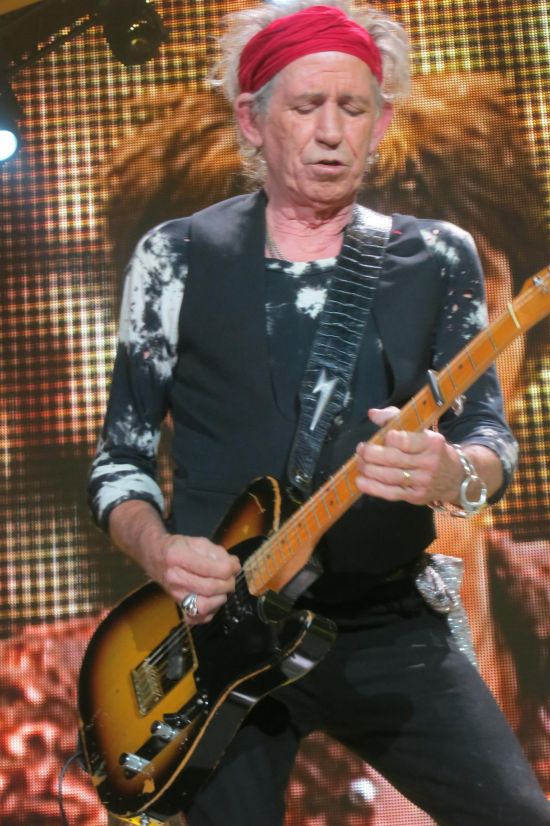 All above photos by Hendrik Mulder
---
Review by Richard Crooks, London, England
And what a night at the O2 on Thursday. What adjectives to describe the show ?....you can choose any number. I'd start with electric, magnetic, energetic, enthralling, raw, polished and utterly without parallel.

I'd last seen them at the O2 for their penultimate show in 2007 - this was light years different......refreshed and direct they let rip from the off. They engaged and captivated. Each of the Stones at the top of their game.

Particular highlights - Gimme Shelter........Florence Welch enveloped in and transformed by her role opposite Mick.....passionately beseeching him as the lyric reached its' height.....Mick responding in magnificent fashion. The guitars and drums played flawlessly as the song's foreboding built to a tremendous climax.

Eric Clapton sublime and assured in his playing on a beautifully constructed and delivered "Champagne and Reefers" - I've seen him play once previously with the Stones....at Leicester Granby Halls in 1976. He was even better here - charismatic, polished he engaged effortlessly with the band and made the song even better..

Mick Taylor on Midnight Rambler - brilliant playing....Bill solid on his two numbers. Each of the least played numbers - Get Off of My Cloud, I Wanna be Your Man and particularly Lady Jane were a strong positive feature of the show in their own right.

The set, lighting, animation as always well produced....perhaps the video behind the stage and therefore behind the band occasionally distracting from the band itself.

Mick Jagger........no words required. Imagine him at his energetic best, holding and captivating his audience, in total control of his surroundings and the show. His vocals strong and to the fore. He was loads better than that. Only one small criticism - his 30 second fashion faux pas when he wore a guerilla suit at the beginning of Sympathy for the Devil - he looked daft.

Overall - a simply fantastic show. I'd paid a lot for my ticket. Having seen the show I'd pay a lot more.
---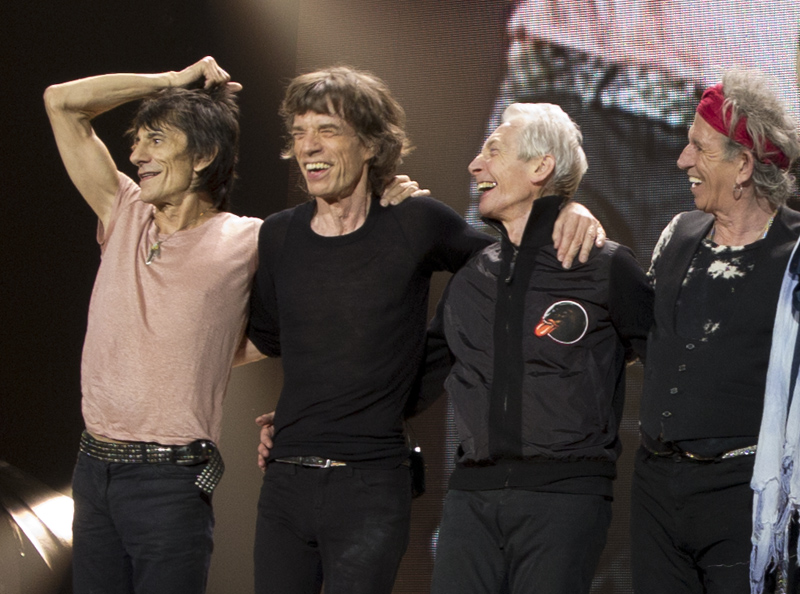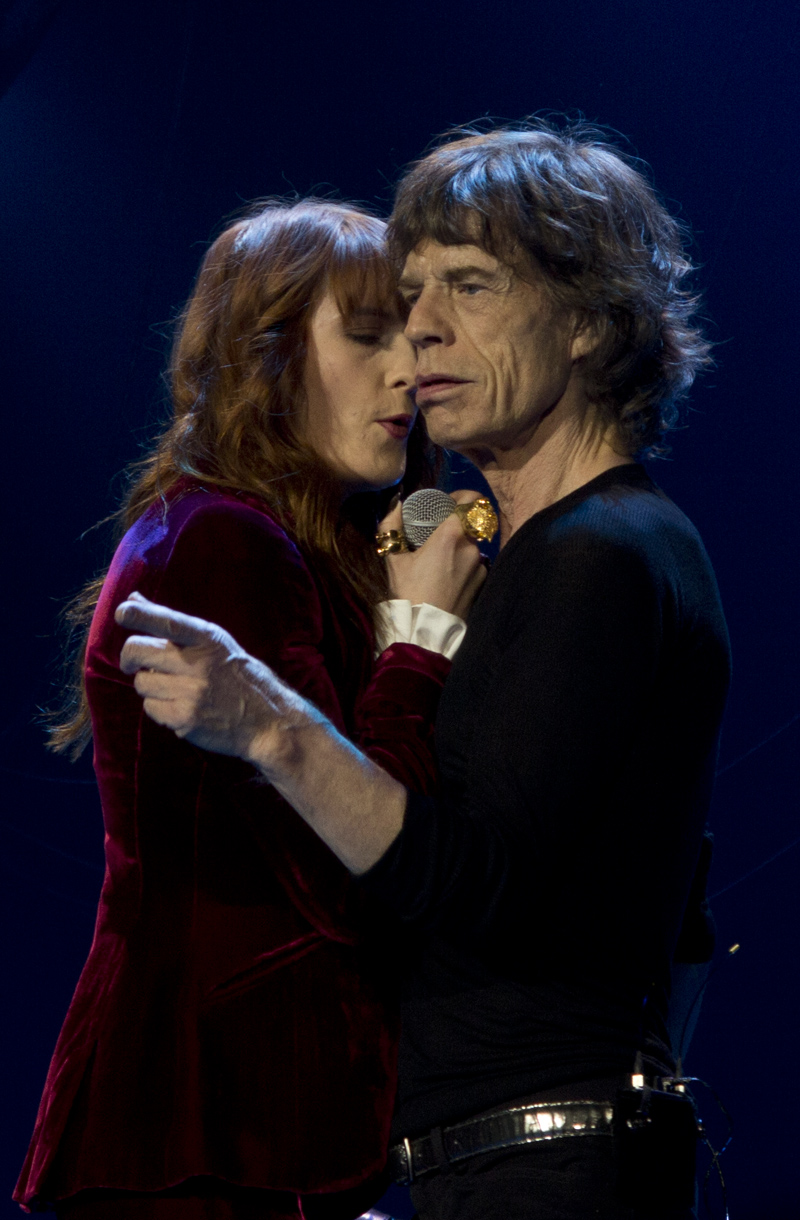 The above photos were taken by Jim Pietryga.
---
Review by Judd Marcello
This review is also published on Popdose.com
"Boldly going where no band has gone before: Keith Richards leads the Rolling Stones into their 50th year with two bow-down London gigs"
"I've always wanted to find out what would happen if we just kept going." – Keith Richards
"To boldly go where no man has gone before." – Captain James Tiberius Kirk
That Keith quote came from an interview with Rolling Stone mag's then-reporter, Kurt Loder. The interview took place on November 12, 1981 on the eve of the Rolling Stones' Still Life tour. That was 32 years ago.
Tonight I saw my second Stones gig in London in the span of five days. Tonight I saw a group of guys who have been prowling stages across the globe for the last 50 years. Tonight I saw grown men, elderly people, play rock and roll music with the reckless abandonment of piss-and-vinegar teenagers.
Tonight I saw the Stones go where no band has gone before … and they did it in bold fashion.
Disclaimer time: I am a certified Stones freak. This post is an unapologetically gushing review/commentary on the band that I love to love. If they sucked, I'd tell you, because I have high expectations every time I see them. They didn't suck … not even remotely close. In fact, these were the best Stones shows I have ever seen. These gigs were bow-down quality; so damn good you have to genuflect whenever you speak of them.
The two Stones shows that I saw this week were my 19th and 20th. I happily paid those ugly, greedy, what-the-fuck prices that everyone is bitching about. After the first show on Sunday night, I claimed that it was the "best I've ever seen." Tonight, Thursday night, after seeing the Stones again, I can now say that this gig was THE best that I've ever seen. I am going to the December 15th show in Newark, N.J. and I am sure that I will proclaim that show as … drumroll please … the best ever.
I have seen the Stones on three continents and in four countries.
I have sold possessions to get tickets. I have given blood and sperm to get tickets (not at the same time). In college I lied to my parents, telling them I needed money for a school project to get bread for tickets. I have burned savings and bridges to get tickets.
One time, late on a Wednesday afternoon, I chartered a small four-seater twin engine plane to fly me and three friends from Nashua, N.H. to Buffalo, N.Y. to see a show that I had randomly bought tickets for (I had never even been to Buffalo). The round trip flight-concert-flight took 13 hours.
Another time, a group of twenty or so people I was going to college with drove from Plymouth, N.H. to Montreal, Canada to see the Stones. Most all of us got separated at the gig. The next day, after sleeping in a bus station, myself and two buddies had to hitchhike to the Canadian border and wait there until someone from Plymouth made the four-hour drive to come pick us up.
On another occasion, myself and a handful of other Stones nuts woke up one morning and decided to drive from N.H. to Philly, without tickets, to see a Stones gig … and then drove the eight hours straight back home (we scalped good seats).
I have had similar, madcap, illegal activity-filled, over-the-top incidences in Boston, New Jersey (don't ask!), Vegas, Miami, NYC and Sydney, Australia. The list goes on and on and on.
I have seen the Stones many times, but what I saw this week in London was something truly special. This wasn't a nostalgia act. This wasn't some un-retirement "we're back!" bullshit. This definitely was not a last hurrah. Nope — the band that performed in London this week was a working band. This was a band that, though they have an average age of 69, played as though they still had something to prove.
Maybe that's what keeps them going, as Keith says. Maybe they think they owe it to themselves, to their fans, and to rock and roll itself to keep this thing of theirs moving forward; to see how far they can take it; to set a bar so damn high that it forces those young upstarts not just to reach for the stars, but to reach for stars in other galaxies. To boldly go, indeed …
For these two shows they played a total of 46 songs; nine of those unique (set list from night one and night two ); one of them they hadn't performed since 1964 ("I Wanna Be Your Man"). They had four special guests: Jeff Beck, Mary J. Blige, Florence Welch of Florence and the Machine, and Eric Clapton . They invited two old pals back to play along with them in their hometown: Bill Wyman (76 years young) and Mick Taylor.
They played with a stripped-down band (just the core four guys) with Darryl Jones on bass, plus Chuck Leavell on keyboards and with appearances by their normal back-up singers and brassmen, including the legendary Stones co-hort, Bobby Keys. They played with as small and uncomplicated a stage as they'd used since their Some Girls US tour in '78. They kept it relatively simple: it was about the guys and, righteously, about the music.
A playlist of fan videos from the two London Stones gigs:
Right, the music. I have to talk about the music. I will focus mostly on the second show, because it was superior in a few ways. The band was far more relaxed the second night. The guests, Clapton and Florence, were much better.The set list, in my opinion, was better. The true reason the second night was better was because Keith Richards was playing out of his head.
Keith has been a longtime hero of mine, and not just for the debauchery. I admire the man because he has lived life on the terms that he dictated … for better or worse. He's never had a real job in his life; his life is his job. He is the Rock and Roll archetype that many others try and fail to duplicate. Charlie Watts recently said that "when people are hanging around Keith, they start believing that they are Keith. That's where all the trouble starts."
The trouble with Keith is that in the past decade or so, he has been caught up in his own myth — and to be honest, riding on the coattails of his legendary guitar work. The hardcore Keith/Stones fans will tell you that he hasn't been playing well at all on recent tours. His playing was sloppy: missing intro riffs he has done gazillions of times; flicking away at his fretboard when he should be chugging away at his classic Keef riffs; not singing and playing at the same time; using hired sidemen to stand off stage and play fills for him. It was getting to the point that you expected Ronnie to carry the show (and to carry Keith). Some people thought that when he fell out of that tree in Fiji and had brain surgery that he lost basic motor skills. There were reports that on the last tour in 2005 he was drinking too much … yeah, too much for Keith Richards (this was confirmed in a recent interview with three years sober Ronnie Wood).
Actually, I read recently where Keith recently said that he has slowed down his drinking to the random glass of wine with dinner. If this is true, it may be the reason why he is now playing his face off. In 1978 the Stones went on tour to support the Some Girls album. Keith had just kicked the junk. Go watch that recently released tour video, Some Girls – Live in Texas '78 . Keith's playing is renewed and downright possessed. Hopefully history repeats itself.
I went to the (first) Sunday show with a worried mind: what kind of Keith would show up at the London gigs? I had heard reports that at the warmup gig in Paris a month earlier, Keith was not in good form. Could Keith be the reason there are only five shows? Are they testing him to see if he can hold up? Are they testing him to see if he has the chops? Are they testing him to find out if he can still deliver the goods?
If the band was testing him … he fucking aced it.
Keith Richards' performance for these two shows was something to behold. He is 69 years old and carries the heavy baggage of a life not just living on, but peering over the edge 24/7. He should not have been able to do what he did on Sunday and Thursday night … but he did. By the end of the Thursday night gig he was prowling around the stage like the feared and proud black panther of "Midnight Rambler" fame. He owned that stage … flat out owned it. And he knew it, too.
The first night you could actually see it start to happen. For the first three songs you could tell he was feeling his way around. He was casing the joint and trying to figure out where the entrance was. Then, when they kicked into "Paint it Black," his switch flipped. He came alive. He started moving around the stage and laying down the riffs with authority. It was as if he just said, "Aw, fuck it … I'm all in. Let's do this."
Fast forward to the final encore of Thursday night, "Satisfaction." Three minutes into the song, Keith starts in on a solo that lasted well over two minutes. I remember thinking, "Holy shit … this is the real Keef, the real deal rock and roll legend as I've never seen him live before." The band was locked in Keith's groove. It was Keith's band on this night.
To say he was on fire would be too cliche. He wasn't on fire, he was a fucking raging furnace with its big steel doors wide open exposing the glowing red coal carpet that was fueling the night's performance. Mick, Charlie, Ronnie and the fans just kept shoveling coal into Keith's belly and the flames got brighter, the heat got hotter and the music warmed our rock and roll-loving hearts.
Ladies and gents, on Thursday night, Keith Richards played some of the best live guitar work of his career. And it isn't just me saying this. Go check out the forums on the long-running fan site It's Only Rock and Roll and you'll read the same. All of the talking heads on the radio stations here in London can't stop talking about how shit-hot Keith's playing was. You can catch his performance on YouTube clips, but I beg you to go see them live in the States next month if you can … you have to experience the energy Keith is giving off right now firsthand. It's sick.
Don't let a Keith fan run amuck when at the keyboard, eh? Let me get back to the shows.
They kicked off with four early hits: "Get Off My Cloud," "I Wanna Be Your Man" (a Lennon/McCartney penned tune specifically for the Stones), "The Last Time," and "Paint It Black," which was the showstopper of the lot. Lot of pumping energy and great lighting effects.
Next up was my favorite song of all time, "Gimme Shelter." Florence Welch of Florence and the Machine guested on this. She nailed it. I am not a fan of her voice, but she was provoking the hell out of Mick. She was right up in his face to the point where you thought she was going to bite it off. She brought a lot of energy to the song. Keith's solo was spot on.
Next up was the treat of the night: "Lady Jane." Mick said that they hadn't played it live in a while … didn't show. Ronnie and Keith pulled up a couple chairs, plopped down with their acoustics and delivered a gorgeous version of the song.
Time for special guest number two: Eric Clapton . While Jeff Beck was a worthy guest on Sunday night, he overpowered the entire building with his wizard-like technical skills. It was impressive, but it didn't completely jibe. Clapton was a true pro and a gentleman. They played a Muddy Waters song, "Champagne and Reefer." Clapton didn't overplay or overpower, but he did play some killer blues. He took two solos that were tops. Ronnie took one as well and, per usually, was brilliant. Then, quite unexpectedly, Keith took a solo! It was a statement solo: "Hey pal, this is my stage … you think you know the blues? This is the blues." He had this look on his face when he was playing it, too: Don't fuck with me, I'm working here. The song was an all-around crowd pleaser.
Then they went into "Live with Me." This is where Keith started to stake claim as the baddest motherfucker in the building. He got right into this one, he hunched over his fretboard, didn't move from it and delivered those hybrid Chuck Berry solos that had me playing some serious, if not embarrassing, Keef-like air guitar.
"Miss You" came next. Whether you like this tune or not, you can't help but get up and dance (I was on my feet, but then again, I never sat down once during the entire gig). Mick leads the crowd in a great sing-along with everyone delivering horrible falsettos that seem to work in unison.
The two new tracks were next: "One More Shot" and "Doom and Gloom." Hey, for new tunes, these worked well. A lot of people left for the toilets, but I don't think that was a reflection of the songs. Remember, this is an old crowd, and bladder control ain't what it used to be.
Hopefully they got back in time for the next few songs, because they featured Bill Wyman, the Stones' original bassist (yes, I know, the true original bassist was Derek Taylor … but let's keep this history lesson short, eh? This review is long enough). They played huge sing-along favorites for Bill: "It's Only Rock and Roll" and "Honky Tonk Women." Bill got huge applause, but really, you couldn't truly tell if he made a difference. His style is distinct, but in the setting, not so much. It was just cool to have him there. He stood there and smiled a bit and the crowd was happy. Hell, he's 76 years old! Keef was down right countrified on this one.
After Bill left, we got to the band introductions. All the core guys received huge applause, and they saved the best for last: Keith. Deafening cheers were delivered in acknowledgement of the man's playing. He delivered none of his usual tour schtick ("It's good to be here … it's good to be anywhere"). You don't need schtick when you got chops. Keith slashed through his two most popular hits, "Before They Make Me Run" and "Happy." Believe it or not (and now this is where I will lose anyone still reading), Keith's vocals were actually damned good on both numbers.
Then the lights dimmed and glowed blue on the stage and a familiar riff came out of Mick's harmonica: The Rambler. The band exploded into "Midnight Rambler" just as the house lights came up to reveal that Mick Taylor had joined the band. Taylor was damn good on Sunday night — and on Thursday night, he was brilliant. On Sunday he was hopping around the stage as if he was trying to find his spot. He seemed to be thinking and playing at the same time. Between the two gigs he must have watched some footage of his performance, because the second time around he was much more controlled in his movements and his playing was more dynamic; more in the groove with the song. He took some great solo runs that made you wish we could get more of him on the night. I think the Stones should hire him as a sideman, like they do with the horns and Bobby Keys. Bring Mick T on tour and let him come out on four songs.
After "Rambler" we hit the home stretch: a powerhouse lineup of some of the most familiar, time-tested and genre-changing music ever created. One by one, Keith led the band through stomping, raw and rowdy versions of their best of the best: "Start Me Up," "Tumblin' Dice," "Brown Sugar," "Sympathy for the Devil," and then three encores: "You Can't Always get What You Want," "Jumpin' Jack Flash," and "Satisfaction."
The band was in full stride at this point. Charlie Watts was steady and punctuated every familiar riff with fills, rolls and bashes. At 72, the man is not slowing down. A phenomenal performance by Charlie. Mick is a complete wonder … how the hell does he do that? He never stopped moving. His voice is in damned good shape. He works hard to keep his health and his voice up to scratch, and it shows. He is the master showman and there is (and never has been) anyone better. Ronnie, as always, was having fun and playing solo after solo. His work on "You Can't Always Get What You Want" was outta sight … my fave rave Ronnie solo of the night.
But the final run of War Horse classics came down to Keith. These are his riffs. He knows them inside and out. As mentioned previously, he hasn't been doing them justice as of late, but tonight he put them on display in all of their raunchy glory.
His solo on "Sympathy" had that beautiful thing he does with adding white space between the notes. So simple, but so poignant. His solos on "Gimme Shelter" were full of that toughness, that cock-sure attitude. His solo on "Honky Tonk" had that trumpet-y, horn feeling to it and it rang out in the venue. Yeah, if he ever left, no bones about it … Keith Richards is back and in top form. Do not miss him live.
During "Jack Flash" there was a great montage video on the screen. It showed clips of fans at Stones concerts for the past 50 years, which was very cool to see.There was 50 years of culture change flashing before our eyes. There was black and white footage. There were small rooms and huge crowds of people. There were scenes of fans from all over the world. There were generations of fans getting lost in the fun of being at a Rolling Stones gig.
It made you think of all the people that have attended their concerts over the last 50 years. How many lives have the Stones been a part of? How many memories have they created for people? How many people have actually seen the Stones? You watch this video and you see the joy on people's faces and you realize that it is the Stones — who they are and what they represent — that are the constant. Though they are now old they still represent youth, rebellion and fun. Who doesn't want that? The Stones are still around because we need them.Yeah, you forget about them on a day-to-day basis, but when you go to one of their gigs and they play like they did on Sunday and Thursday, you realize just how alive and ambitious they make you feel.
Near the end of the song, the video changed from showing old images to live shots of the crowd. A nice touch, and you know what? There was no difference between the past and the present. People were LOVING it. People were still just as excited to be a part of a live Stones gig today as they were 50 years ago. This struck me when I saw the live footage. I thought, "That's me." Yeah, I'm a nut and I think into this a bit too much for the average punter, but last night I was a stark raving mad fan singing along to every tune and dancing in the aisles while doing it. Shit, I went to the damned gig by myself. I needed to be there. I love being a Rolling Stones fan.
As they were playing to the end of the last encore, "Satisfaction," I started to mull over the thought I always have at a Stones gig: That this might be the last time I see them live; the last time that I might be in the same room, breathing the same air, listening to my fave guitar player play my fave songs at the same time. Then I smiled, knowing full well that our time together was not over. I'm flying to the States for the final gig on their five-show mini-tour on December 15th in Newark, New Jersey.
Where the Stones go after that is anyone's guess. Maybe a world tour? Maybe into the studio. Maybe they'll go and play a few clubs. Wherever they go, however Keith decides to keep this thing going, I know that I'll be going along with them.
Carry on, boys … see you next month in the States. Thanks for all the turn-ons in London.
P.S. If I had to choose which gig was better, I would have to say this: The second night was superior musically, while the first night had a very special feel to it due to it being the tour opener and the first show in five years. There was so much excitement in the air on Sunday. Which leads me to this …
P.P.S. Just so you understand I'm not the only Stones freak in London, check out this video from the bar right before the gig. You think fans don't want to see these guys go on a world tour? (video) : Brown Sugar sing-a-long at bar before Stones show on 25.11.12
---
Photo by Niklas Nilsson.
---
Review by Peter Lacres (Belgium)
What can I say about the second show at the O2… Firstly, it's great to see the Stones 'live" with all special guests and of course, Bill Wyman and Mick Taylor. But first things first, it's fantastic to see back all the Stones fans I've met during the years. Drinking pints of beer, meeting at Sticky Fingers, ordering some fish & chips in a traditional pub and meeting before the show at the Pilot Inn, thanks IORR!

I must admit that I'm a bit embarrassed to say that I've seen Stones fans back from Sweden, Switzerland and the US and that they still knew my name whereas I was thinking, that's the guy I spoke to waiting for the Astoria gig etc… and it was nice to finally meet Facebook Stones friends that I never had seen or spoken before! It's only rock and roll.

I was glad to witness the concert from the pit area and standing second row after a bunch of Japanese Stones fans that had booked a VIP arrangement. Before and after the show I heard stories of fans who bought tickets online and their tickets were false or they paid a lot of money though a fake ticket office and if you travel for only this concert, you're really disappointed and even angry!

But back to the show, oh my goodness, who could have imagined this one year ago? The Stones opened with 60's classics such as Get Off Of My Cloud, I Wanna Be Your Man, The Last Time and Paint It Black. Gimme Shelter was a strong performance and I really liked the voice of Florence Welch.

There was no Out Of Control tonight but oh man, Lady Jane just as Champagne and Reefer were highlights for me. The first one because all Stones came together in the middle near Charlie (it seemed a small club gig) and Eric Clapton is a blues man… what a performance together! Jeff Beck tried to be a star on Sunday, but he failed in my eyes. And I must say that I really like the new stuff as well, I really enjoyed Doom but I sang all along One More Shot, this one starts to grow on you!

One more highland stays You Can't Always Get What You Want whereas the show ended with Satisfaction, not my favorite song but it really rocked! Goodbye to the pints of beer, Fish & Chips and Stones for now… Newark will luckily be my next stop!
---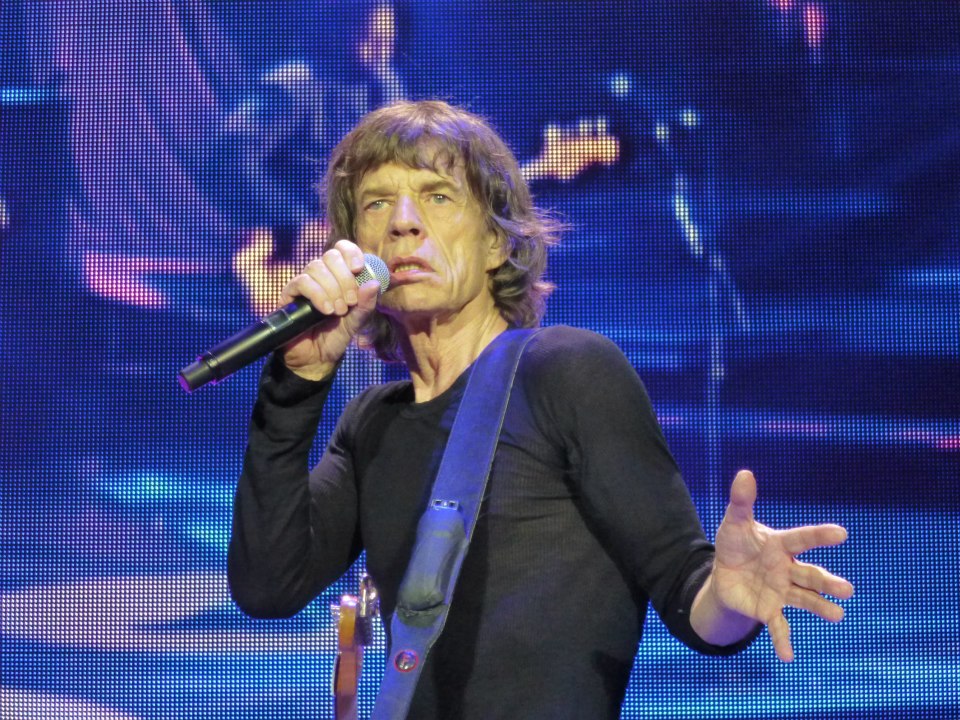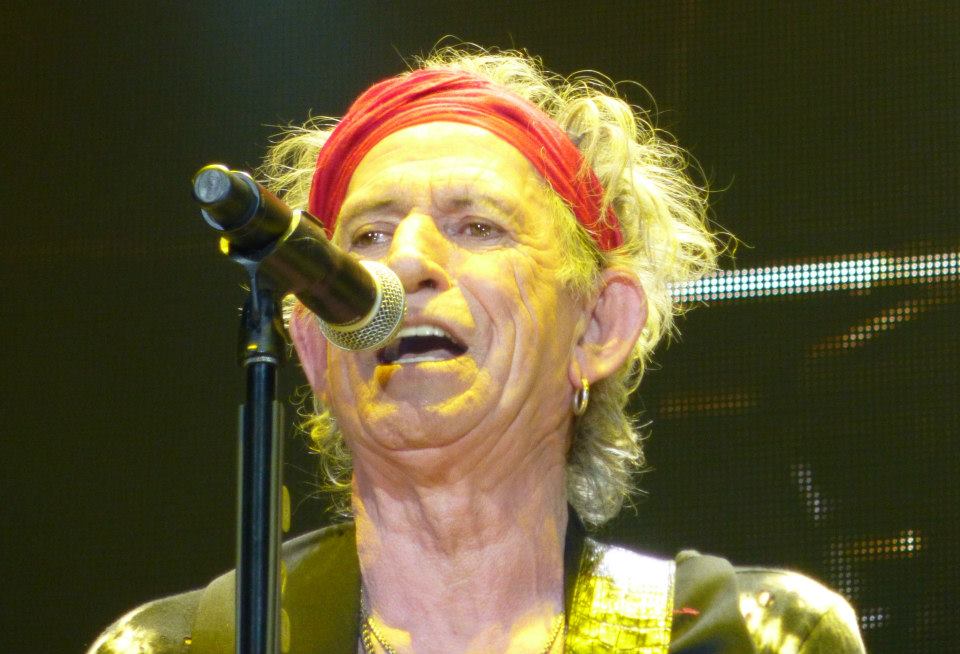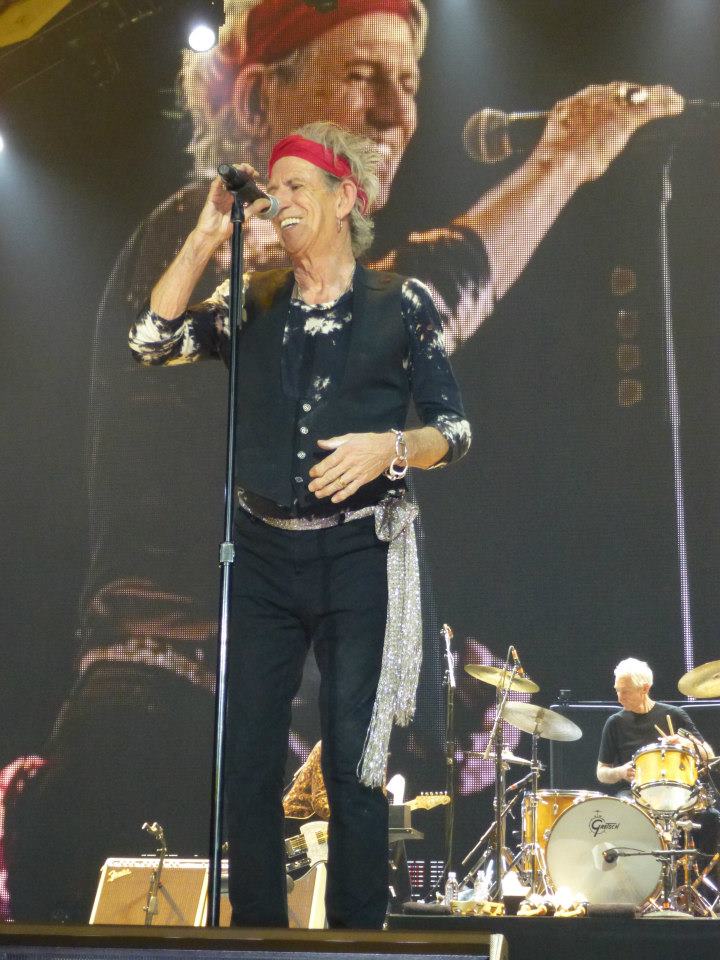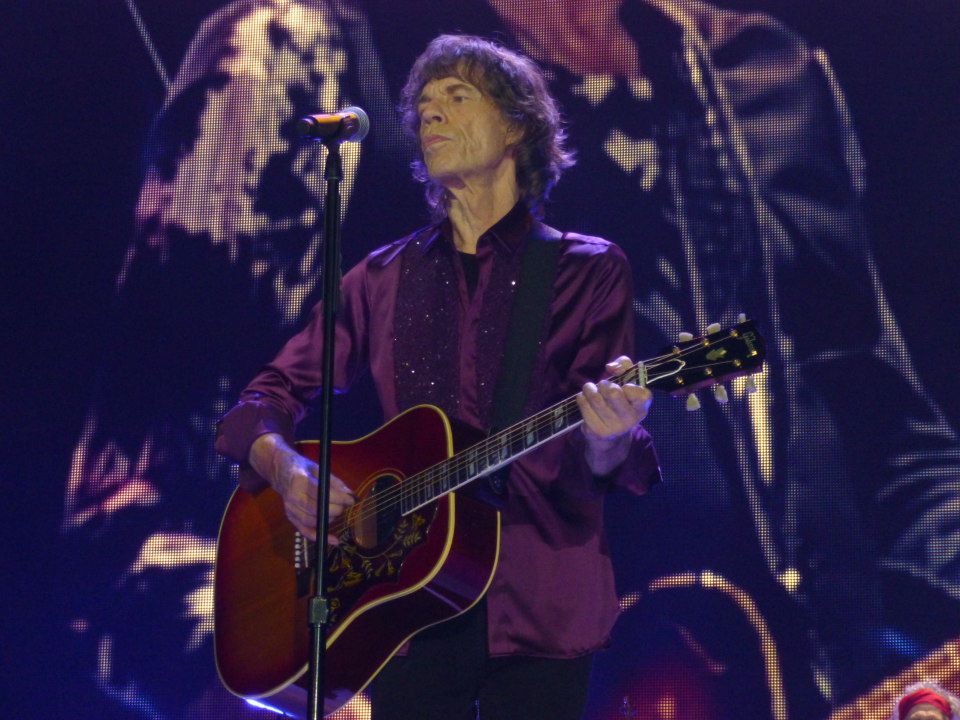 The above photos were taken by Peter Lacres.
---
Review by Nick
' I have seen the Stones many times before and on every tour since 1976, but Thursday night was different in so many ways.

Stripping it down to the bare bones of the band for the old numbers really worked in MHO and it was a delight to see them dig right back into the catalogue with 'I Wanna be Your Man,' 'The Last Time' and 'Get Off My Cloud', some of the songs that launched their career all those years ago. For me, the real surprise number was 'Lady Jane,' which was played with precision and was fairly true to the studio recording; indeed it appears that the band dusted off some of their old vinyl to remind themselves what the originals sounded like, as 'YCAGWYW' (thank you choirs!), 'Honky Tonk Women' (much tighter than usual) and even 'Brown Sugar' (slowed down somewhat) were much truer to the studio recordings than I have heard on stage before.

You get the feeling that the 'Let it Bleed' era is perhaps their favourite, 'Gimme Shelter,' 'Midnight Rambler' and 'Live With Me' have made regular appearances over the years and we were treated to barnstorming versions tonight – great to finally see Mick Taylor playing with them.

The guitars weaved their magic and really were to the fore, Keith was far stronger than on recent tours, Ronnie was just enjoying himself, Bill played his two numbers like he had never been away (I think I even saw him move!), Charlie was Mr. Reliable and MJ's energy is quite staggering.

This really was a fantastic concert, full of raw energy and I actually came away feeling I had my money's worth. The highlight 'Tumbling Dice,' the only disappointment – they did 'All Down the Line' on Sunday. Despite going to some 20 concerts I have never seen it live……maybe next time!
---
The IORR Tell Me forum main thread following this show:
Show number 2: London O2 Arena Nov. 29 show updates
---
Help!
I have a big backlog of reports and pictures from the Sunday show to be published. Then I hope I get many great reports and pictures from this show as well. As soon as my flight takes me home on Friday I will spend the week-end updating the show reports. Thanks for your patience!
Bjornulf, IORR Editor
---
Reports please
Please send your comments, reviews, links and more to:

[email protected]
---
Press reports and links
Thanks to Axel Schumacher for links info!
---
This page will change over the next few days, as you and other fans send reviews, set lists and reports. Please send your e-mail to IORR. Thanks! For details and great photos from the Rolling Stones and their World Tour get the IORR magazines.




It's Only Rock'n Roll 1980 - 2012
© The Rolling Stones Fan Club Of Europe